Chicken and Steak Fajitas
This post may contain affiliate or sponsored links. Please read our disclosure policy.
These chicken and steak fajitas make a great go-to weeknight dinner that tastes like restaurant quality. They're quick to assemble, easily customized to your taste preferences, and a meal that all ages enjoy.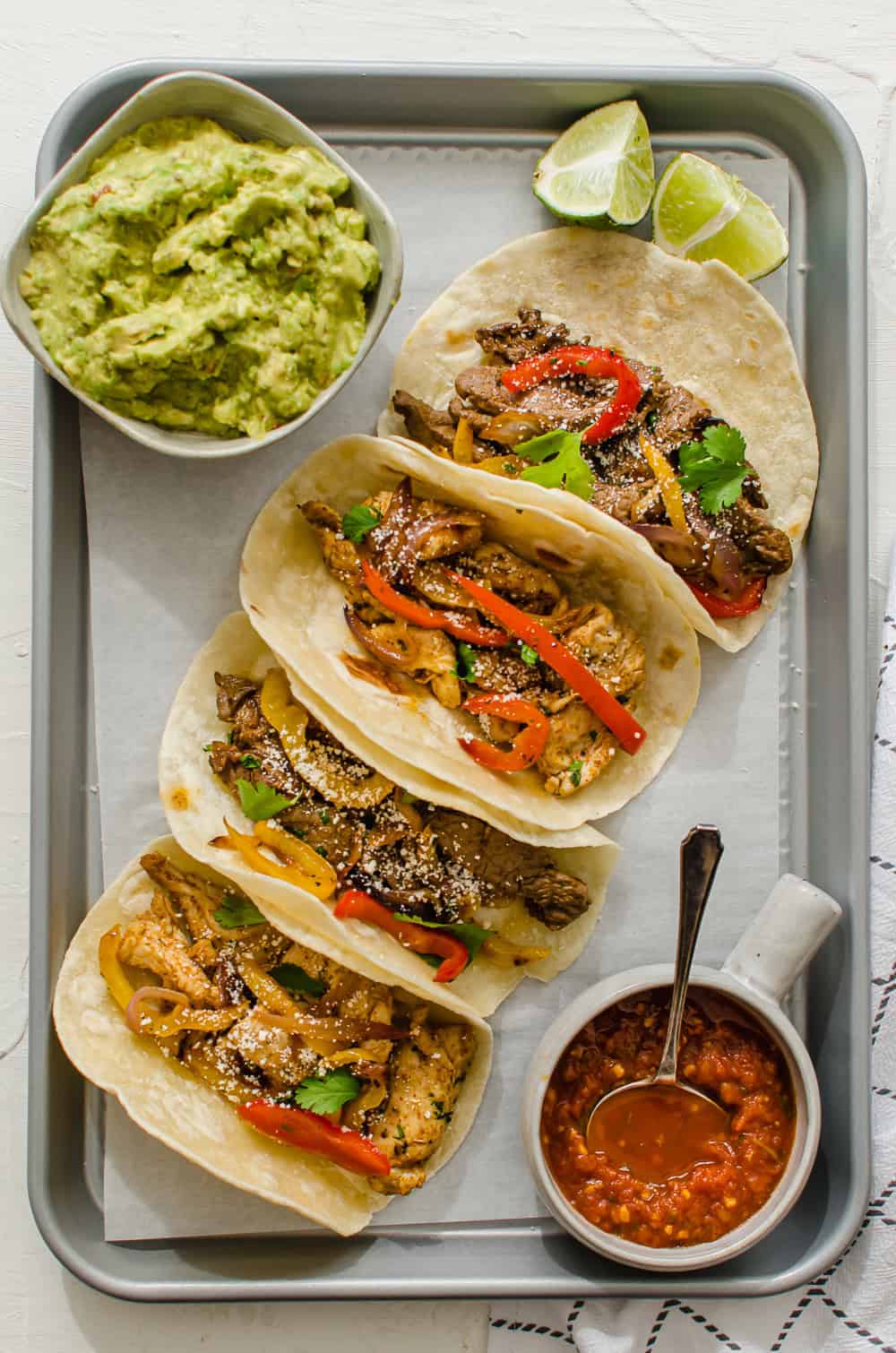 What Is a Fajita?
Let's start with the basics: what exactly IS a fajita? It may surprise you to know that the word "fajita" according to dictionary.com simply means "a thin strip of marinated and grilled meat". So, the dish we refer to as "fajitas" uses this kind of meat in a warm tortilla with various Tex Mex toppings like sautéed onions and peppers, salsa, and more.
P.S. We have a delicious Baked Fajita Casserole that you will LOVE if you like Mexican food.
What Makes These Chicken and Steak Fajitas the BEST
Now that the proper definition of "fajita" out of the way, you must know why this particular fajita recipe may be the BEST.
Thanks to an easy, yet complex-tasting marinade, the strips of chicken and steak turn out smokey, lime-infused, with a hint of heat in the background. They are perfectly seasoned and moist. The onions and bell peppers (thanks to a secret ingredient) turn out a little sweet which balances out the acid from the lime juice.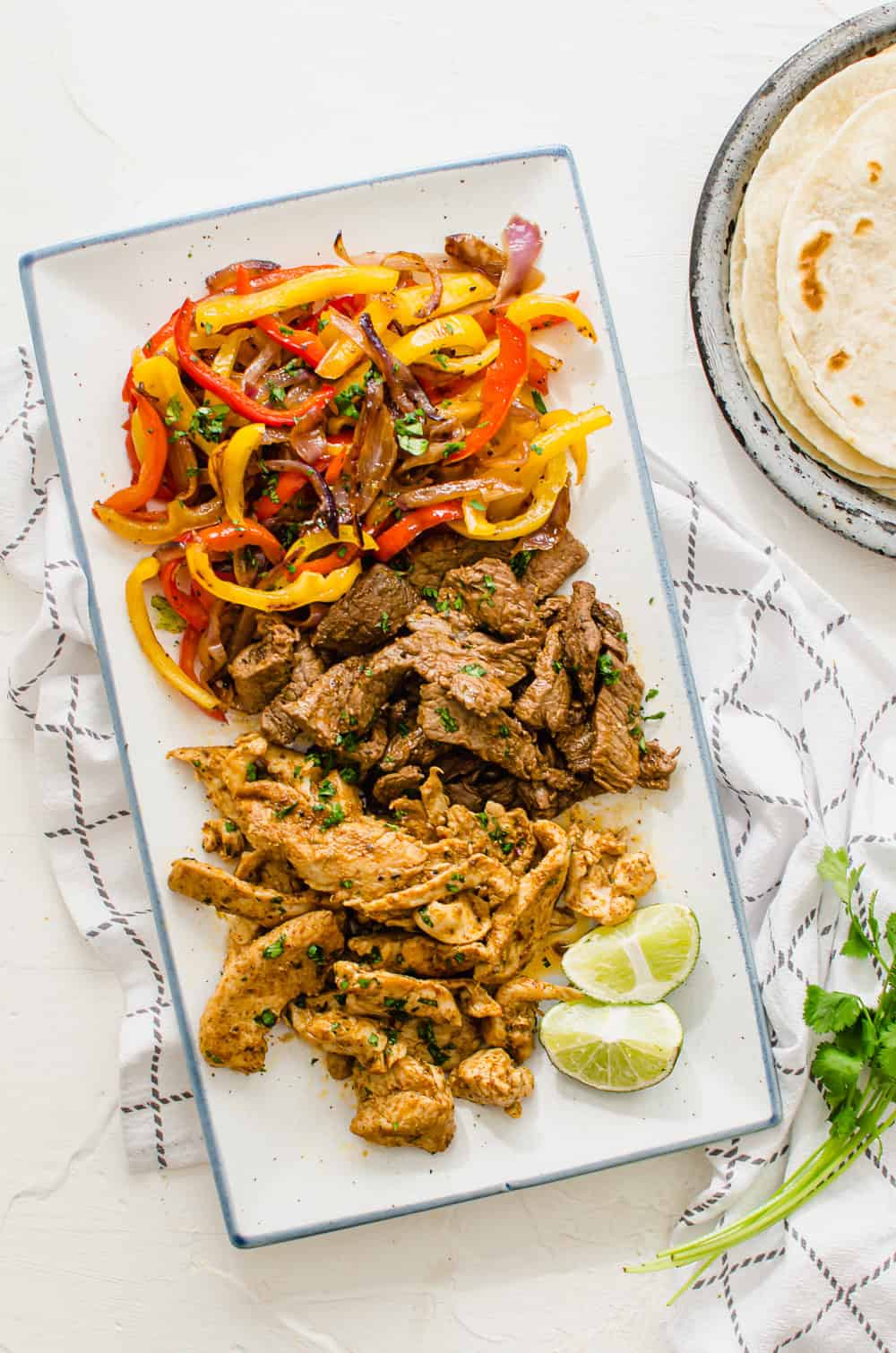 When served on warm tortillas, these chicken and steak fajitas taste like restaurant quality…especially if you squeeze some lime and add a little chopped cilantro over the top!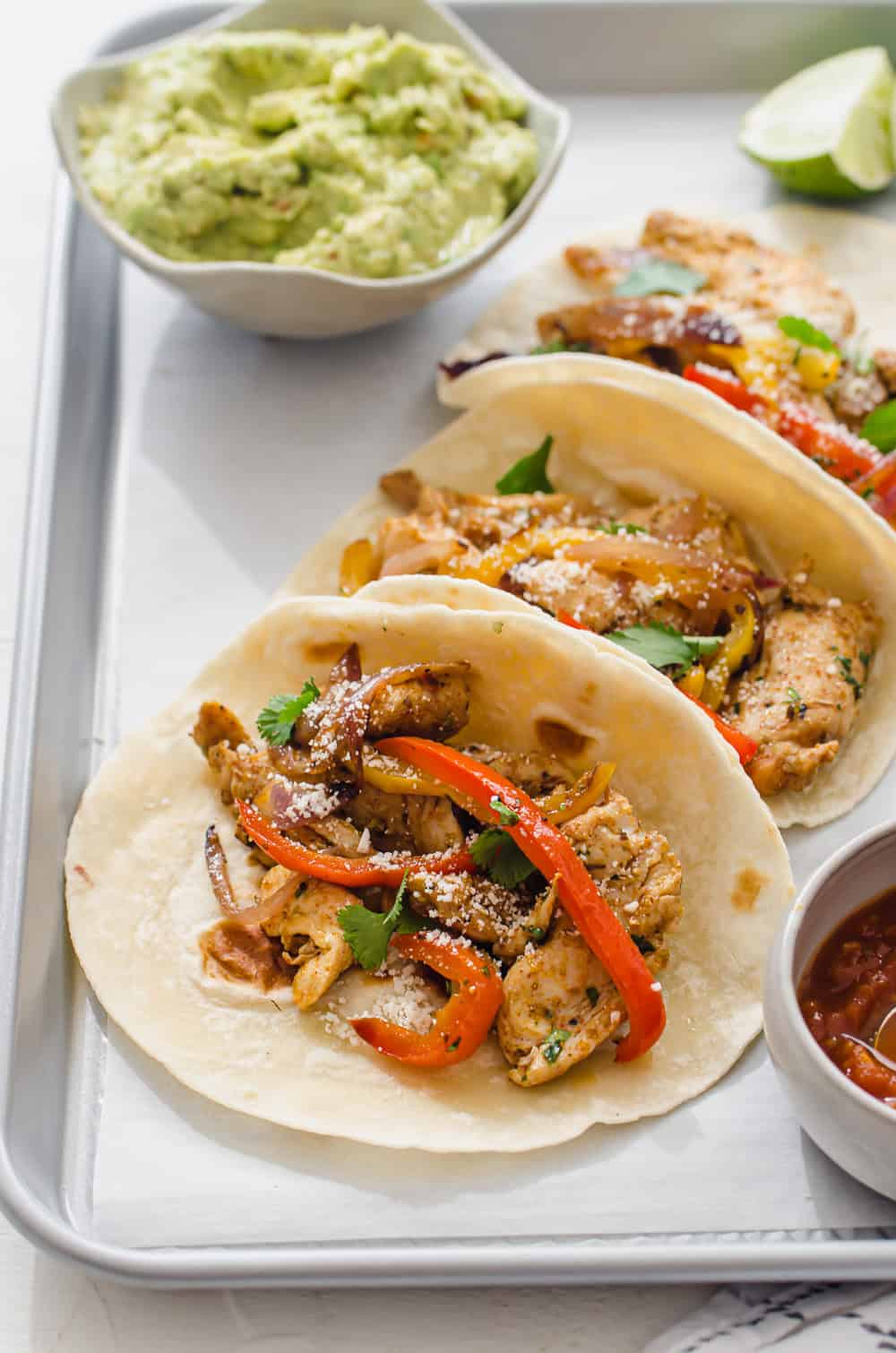 Ingredients for Chicken and Steak Fajitas
Ok, I know this may look like a lot of ingredients, but a) it's WORTH IT, and b) I bet you have a lot of them in your pantry already. You are going to be SO proud of this meal when you're done, friends.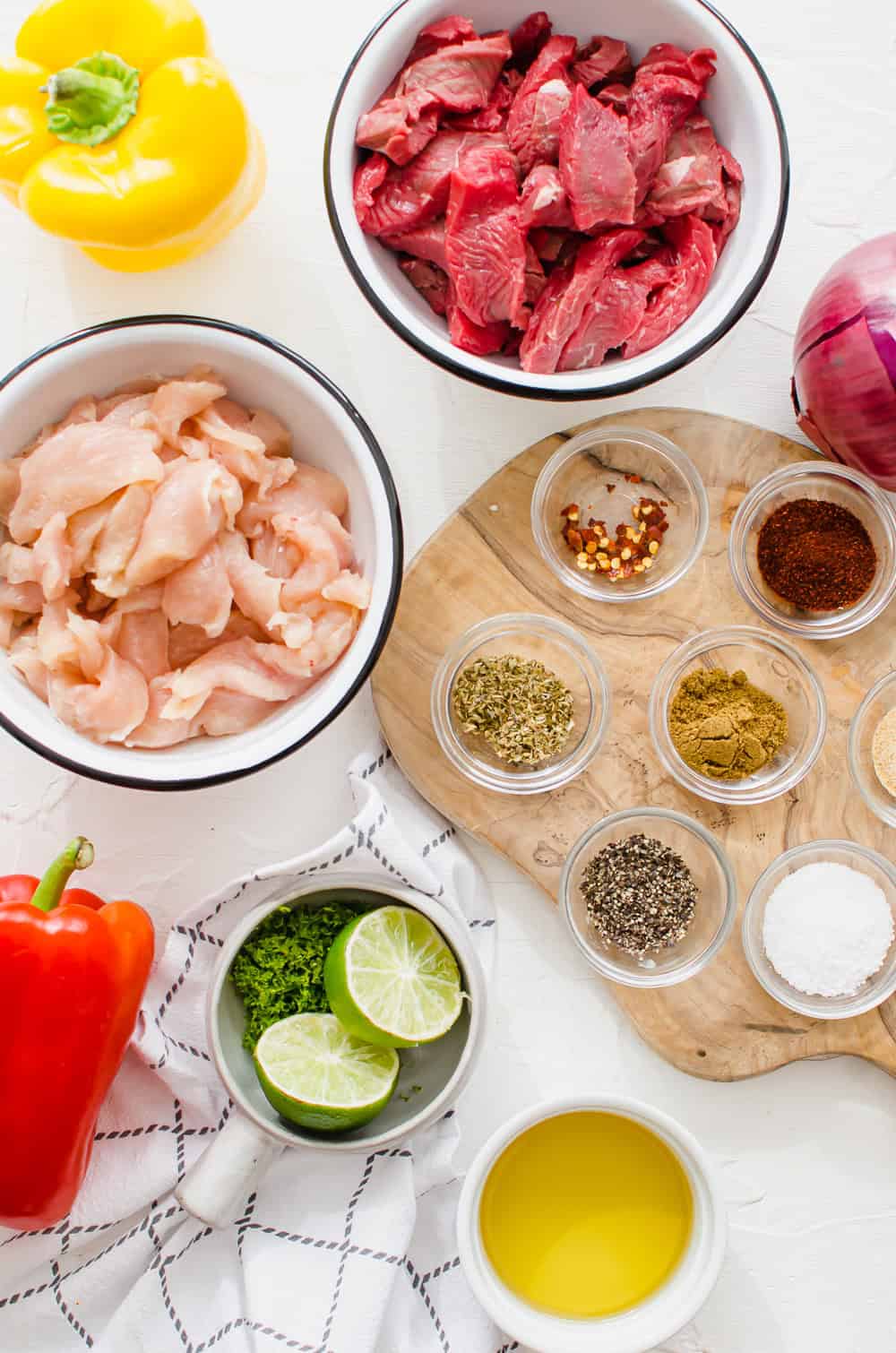 For the Fajita Marinade:
Avocado oil or olive oil
Lime zest of 2 limes
Cumin
Chili powder
Oregano
Salt and pepper
Garlic powder (sub: 1 ½ teaspoon minced garlic)
Red pepper flakes
Other Fajita Ingredients:
Steak (recommended: ribeye, sirloin, culotte) (sub: chicken breasts)
Boneless, skinless chicken breasts (sub: steak)

Bell peppers (your choice of colors)

Yellow or red onion
Sugar (secret ingredient!)
Fajita-size flour tortillas (GF option: corn tortillas or gluten-free tortillas)
Optional Toppings: lime wedges, chopped cilantro, salsa, guacamole or avocado chunks, sour cream (DF option: omit sour cream)
Step-by-Step Directions
I'll give you a bird's eye view of how this recipe is going to go down, but you can find the exact measurements in the recipe below.
Step 1: Make the Marinade
Slice your meat thinly. Then, add all the marinade ingredients to two gallon-sized storage bags. Use your hands to massage the bags from the bottom and combine the marinade. Then, add the steak to one bag and the chicken to the other, seal, and toss until the meat is evenly coated.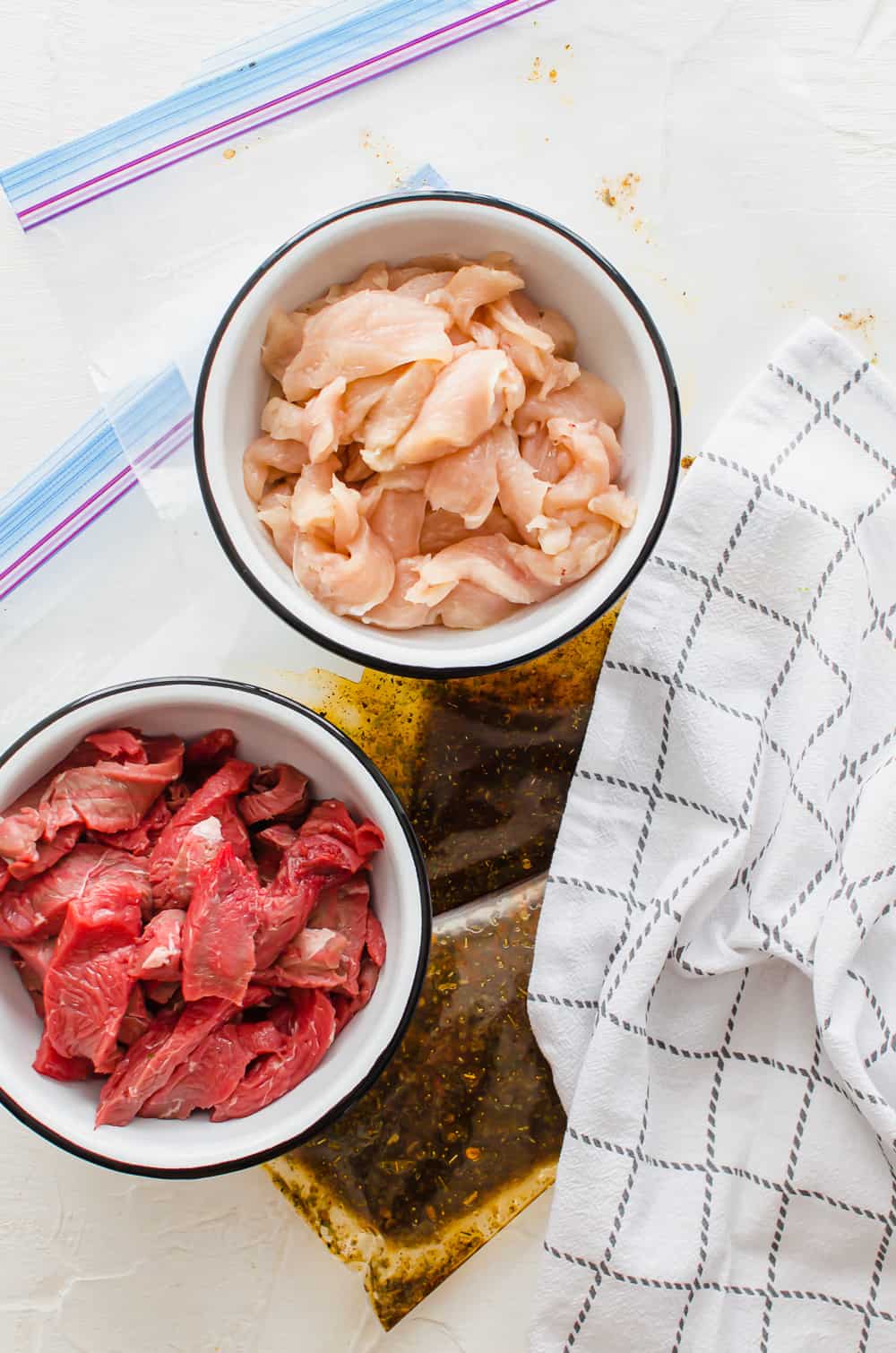 Step 2: Marinate the Chicken and Steak
Place the steak and chicken bags in the refrigerator to marinate for at least 1 hour and up to 24 hours, turning and/or massaging occasionally.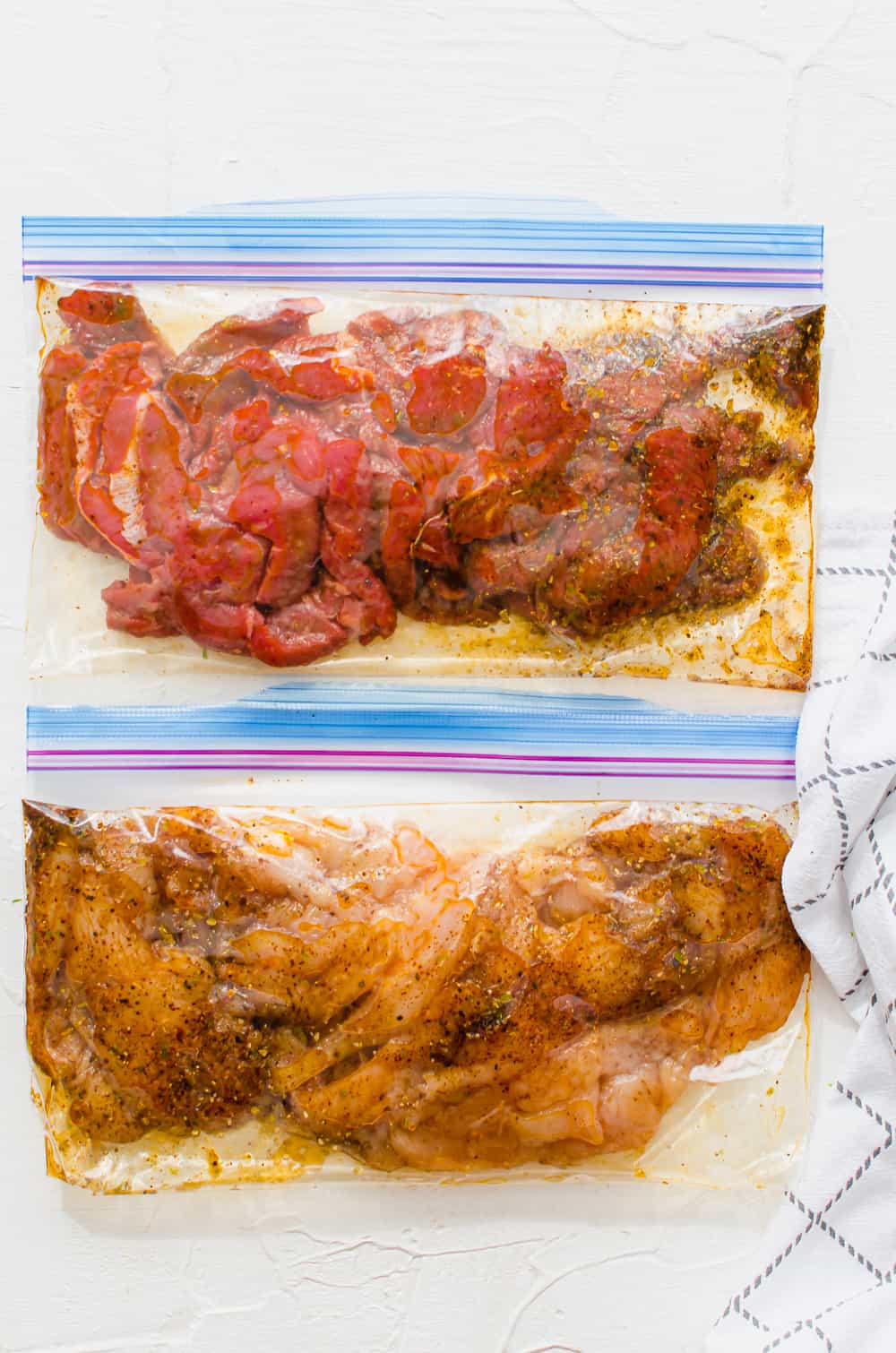 Step 3: Saute the Peppers and Onions
In a large skillet, heat 2 tablespoons oil over medium high heat until shimmery. Carefully add the peppers and onions to the hot pan and saute until softened and charred, 5-7 minutes for fresh veggies or 7-9 minutes for frozen veggies. Season lightly with salt and pepper and the sugar (this is a key ingredient!) as they cook. Remove to a serving platter.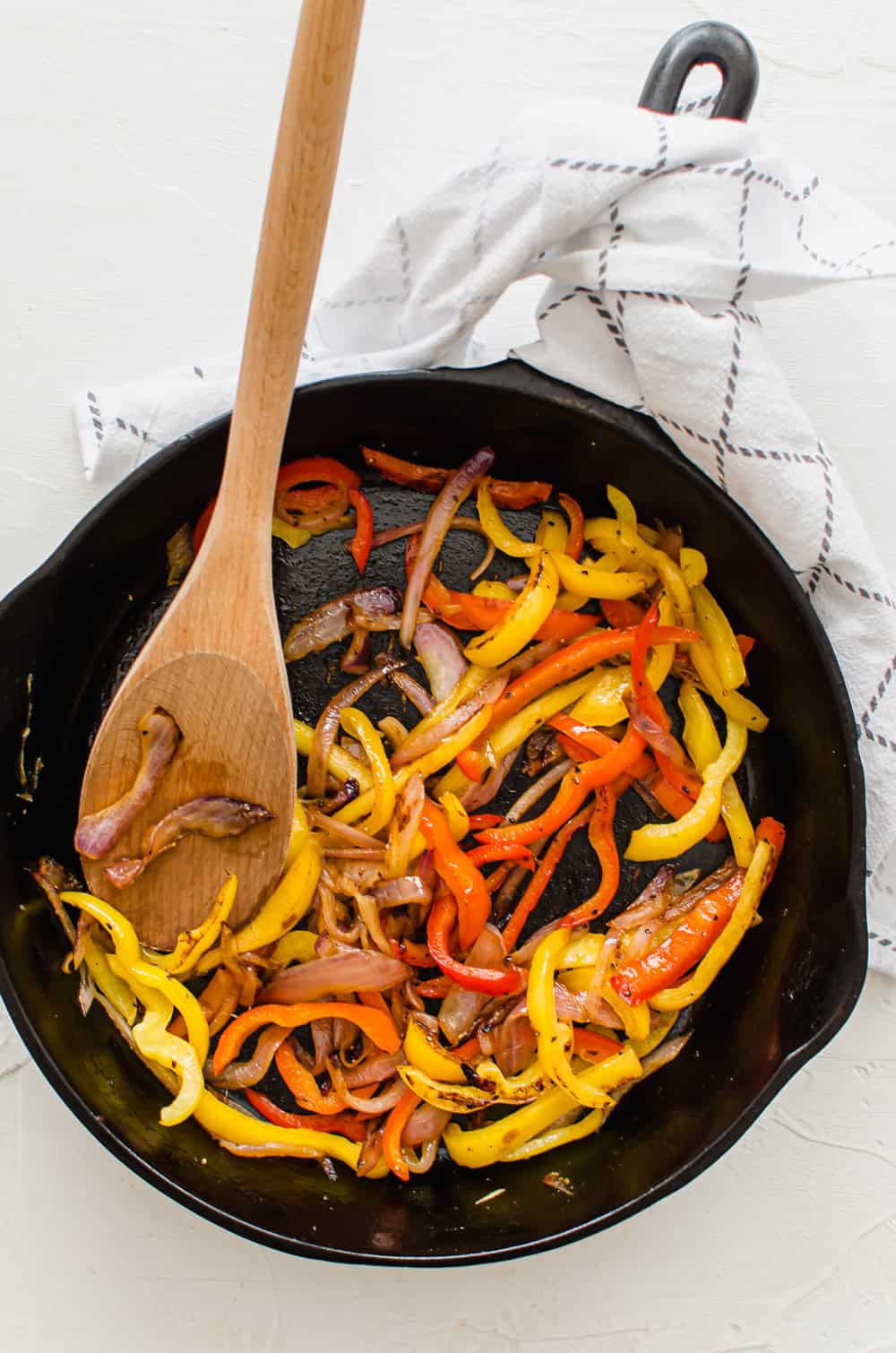 Step 4: Saute the Chicken and Steak
Add 1 tablespoon of oil to the pan. Once it's shimmery, saute the steak in one batch until brown on all sides, about 3 minutes.
Then, saute the chicken in second batch, about 4-5 minutes (make sure there's no more pink on any of the chicken!). Remove to the serving platter with the veggies.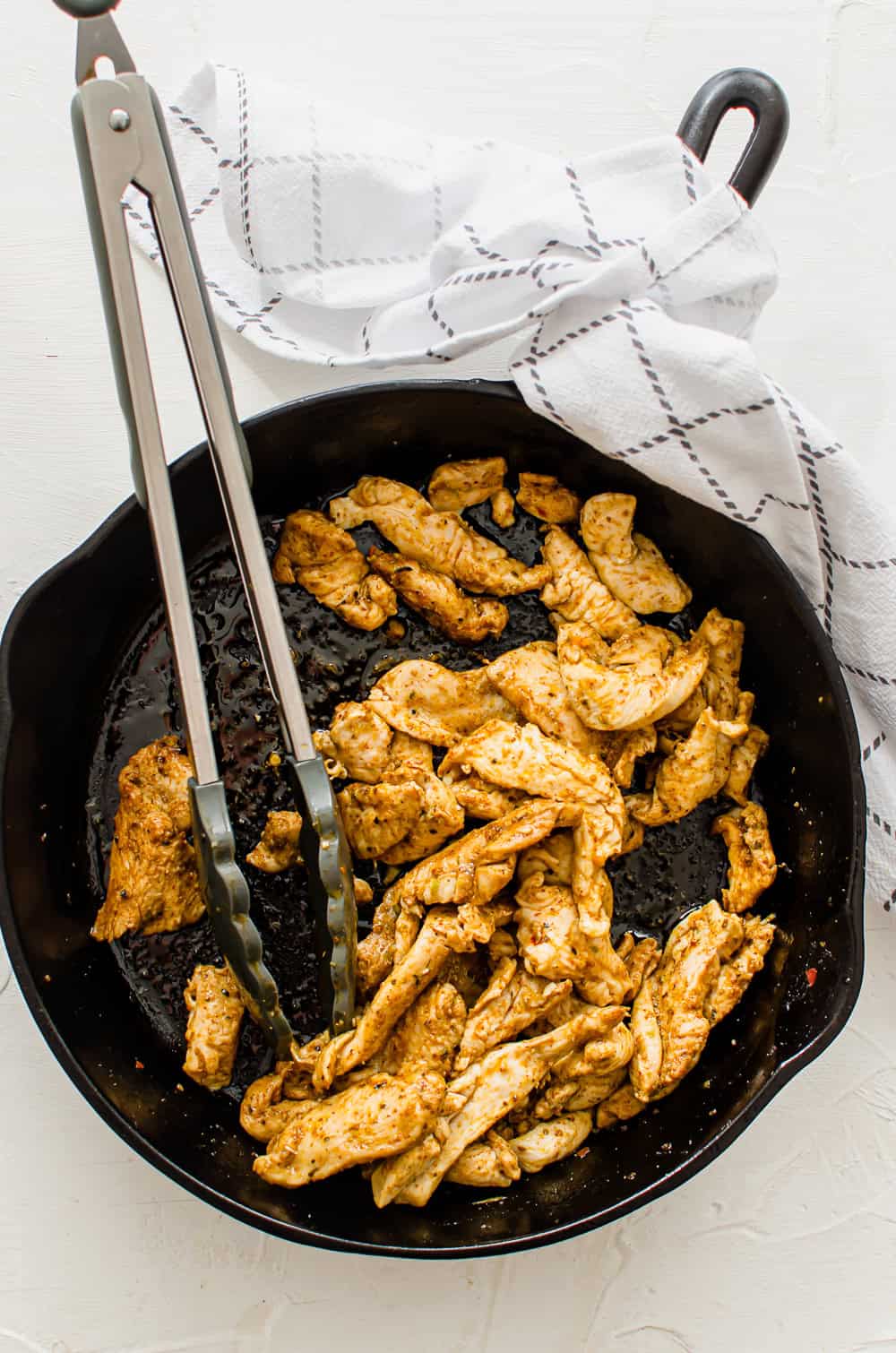 Step 5: Serve and enjoy!
Squeeze half a lime over all the meat and veggies. Top with chopped cilantro, if desired. Warm the tortillas according to package directions. Serve the meat and veggies on the tortillas with lime wedges and your favorite Tex-Mex toppings.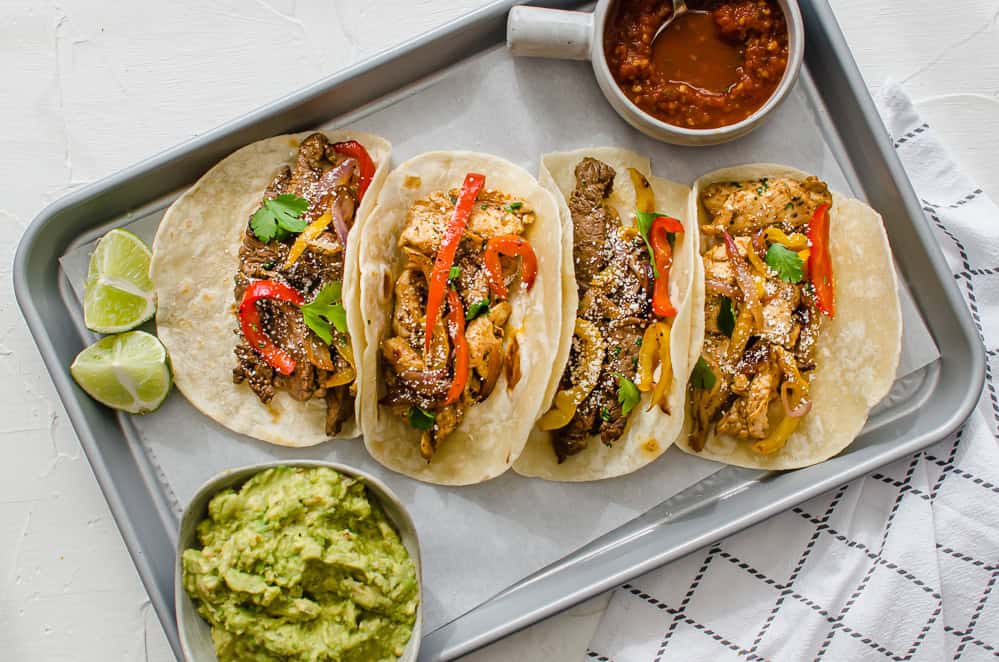 Tips for Making Restaurant Quality Fajitas
While developing and researching this recipe, I learned several tips to pass along for making outstanding fajitas.
Tip 1: How to Cut Fajita Onions
To cut an onion for fajitas, slice off the top and bottom of the onion and then cut it in half lengthwise. Remove the papery skin and lay each half flat. Then, slice very thinly across the grain. Pull apart the pieces.
Tip 2: How to Cut Fajita Peppers
Stand the pepper on end. Slice around the core from the top to the bottom in about 3 or 4 pieces. Lay those pieces inside up and slice into ¼ inch slices.
Tip 3: What Kind of Steak to Use for Fajitas
While developing this recipe, I picked the brain of Jeff, the long-time head butcher at my local Hy-Vee grocery store. He told me that for pre-sliced, marinated steak fajitas, the best beef is a tender steak that has marbling in it. He recommended rib eye, sirloin, and culotte cuts and said to absolutely ask your local butcher to slice them fajita thin for you!
Jeff mentioned that a tougher cut of meat like flank, skirt, or flat iron steak will work if you marinate it for a while and then grill or pan-sear it whole, slicing it against the grain only after it's cooked and rested. Try using this cooking method if you decided to use one of those steaks, instead of slicing it before cooking.
Jeff the Butcher also said beef is really expensive right now. That's why I provided a chicken fajita version, as well!
Tip 4: Add Sugar to the Veggies
I was shocked at how much this made a difference in the flavor of this recipe. Just a 1/2 teaspoon of sugar, in addition a little salt and pepper, helped the sauteed bell peppers and onions caramelize and accentuated their natural sweetness. Delicious!
Tip 5: Use a Cast Iron Pan
If you have one, I highly recommend using a cast iron skillet like this one for this recipe. It maintains even heat and helps to char the meat and veggies as they quickly saute in a little oil.
How to Serve Chicken and Steak Fajitas
Add the cooked meat and veggies to a serving platter and top with a good squeeze of lime juice and chopped fresh cilantro. Warm flour or corn tortillas according to the package directions and set them out on a plate wrapped in a tea towel to keep them warm. Place various Tex-Mex toppings (see below for ideas) in individual bowls.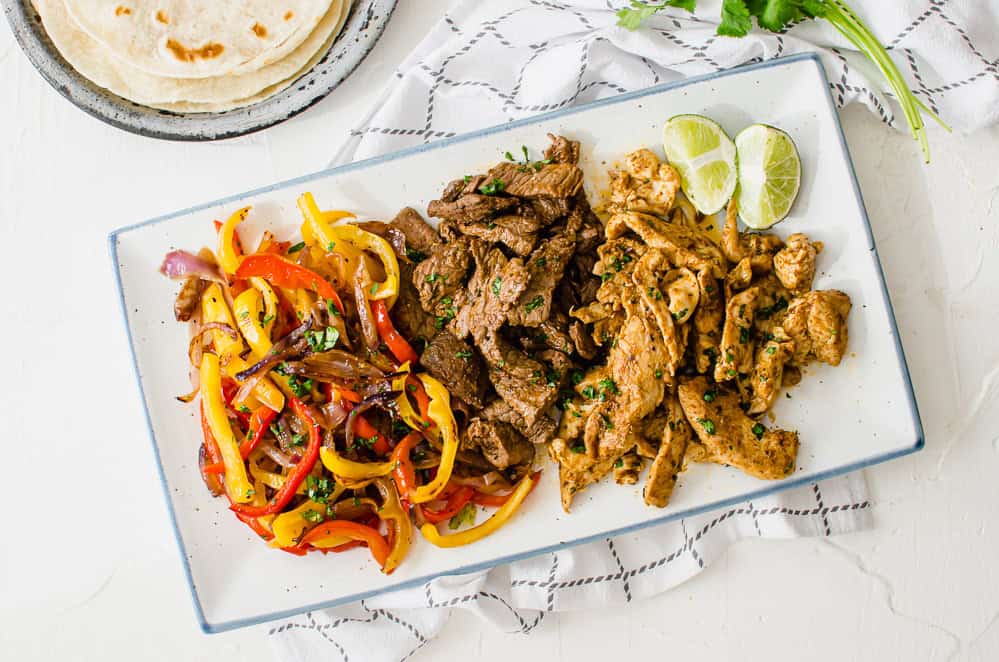 To build the perfect fajita, add some warm steak or chicken and veggies to a flour or corn tortilla and top with your favorite Tex-Mex toppings. Eat right away and keep a napkin handy!
Fajita Toppings
One of the best parts of fajitas is the wide array of topping options. Everyone can truly customize their own fajitas using these ideas. Try some of this ideas for your Tex-Mex feast:
Lime wedges

Chopped cilantro

(or fresh parsley)

Sour cream

Salsa

Queso fresco – A soft, moist, crumbly Mexican cheese like feta.
Cotija cheese – A harder Mexican cheese that's similar to Parmesan.
Shredded lettuce – A crisp variety like iceburg is best.
Chopped tomatoes or pico de gallo
Sides for Fajitas
While fajitas are a "one plate wonder", in my opinion, it can't hurt to have a side dish or two along with it. This is especially true if you're serving a crowd. Here are a few favorites:
How to Freeze Fajitas as a Meal Kit
As with so many of our recipes, we've figured out the best way to freeze this meal. That way you can use your time wisely in the kitchen. Simply double the meal, so you can eat one fresh and freeze another for later. Here's how to make this a meal kit to throw in the freezer.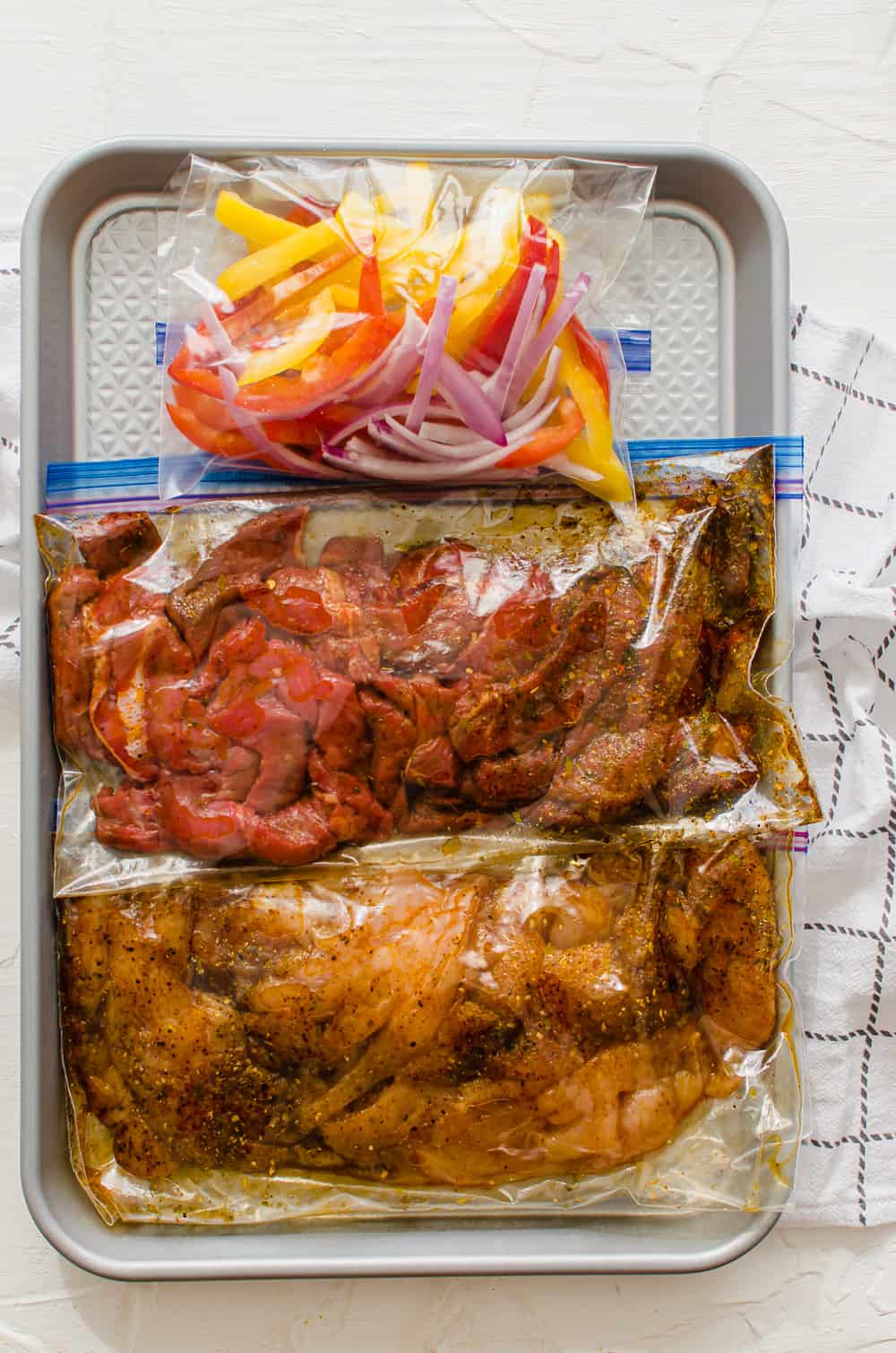 Freeze For Later: Freeze the marinated steak and chicken bags, alongside frozen peppers and onions. Two options for the frozen peppers and onions: 1) Buy a 20-22 ounce bag of frozen sliced peppers and onions, or 2) line up the fresh onion and pepper slices in a single layer on a sheet pan. Place in the freezer until solid and then toss the frozen veggies in a freezer bag. You can also freeze flour tortillas (not corn or gluten-free tortillas, though), along with this meal kit.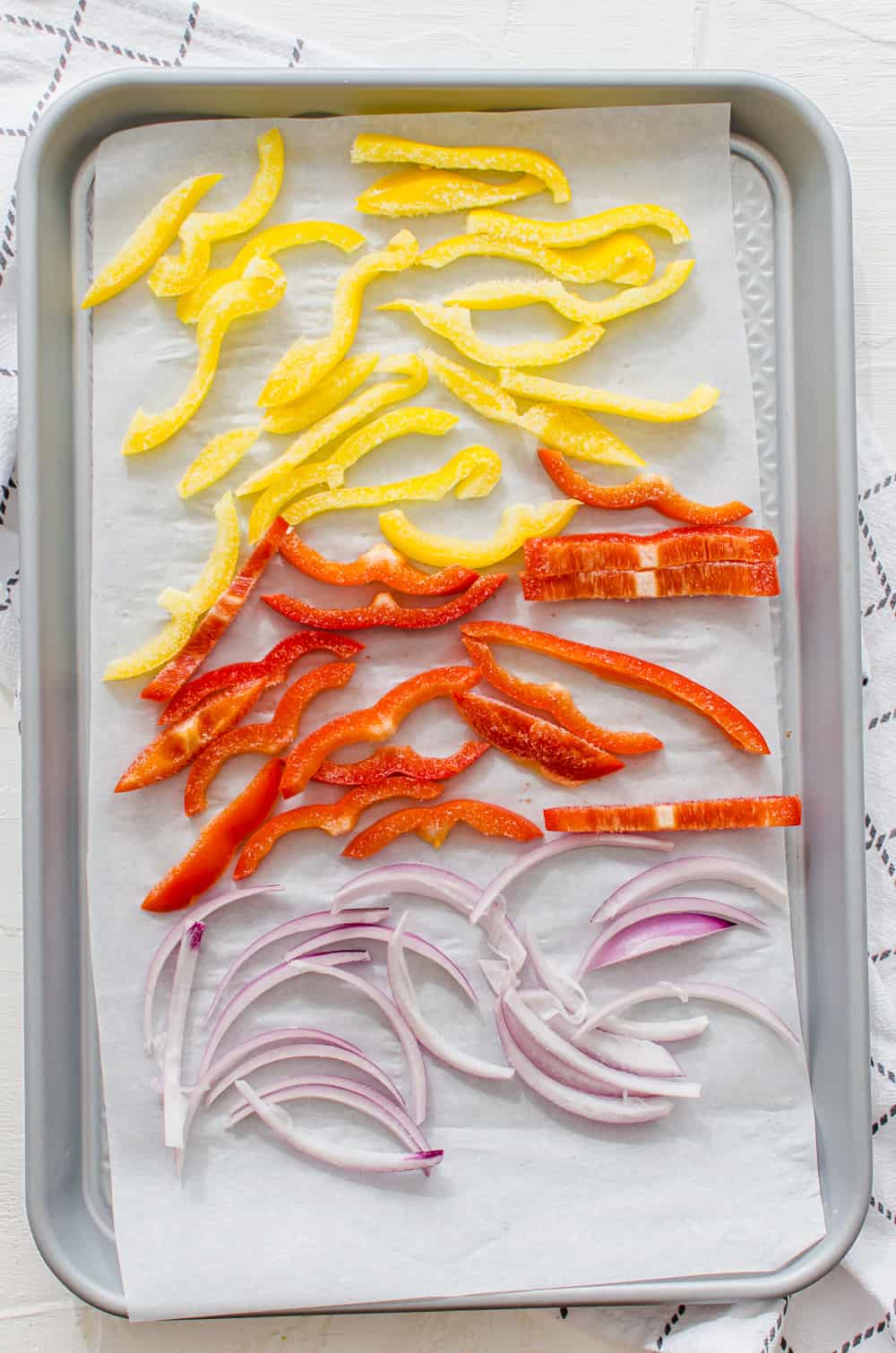 Prepare From Frozen: Thaw the bags of steak and chicken using one of these safe methods, but do NOT thaw the peppers and onions. Follow Steps 3-5 in the recipe.
What to Do with the Leftovers
I'm not sure you'll have any leftovers because these are so dang good, but just in case, try one of these ideas:
You now know almost everything I know about fajitas. Only one thing left…get cooking!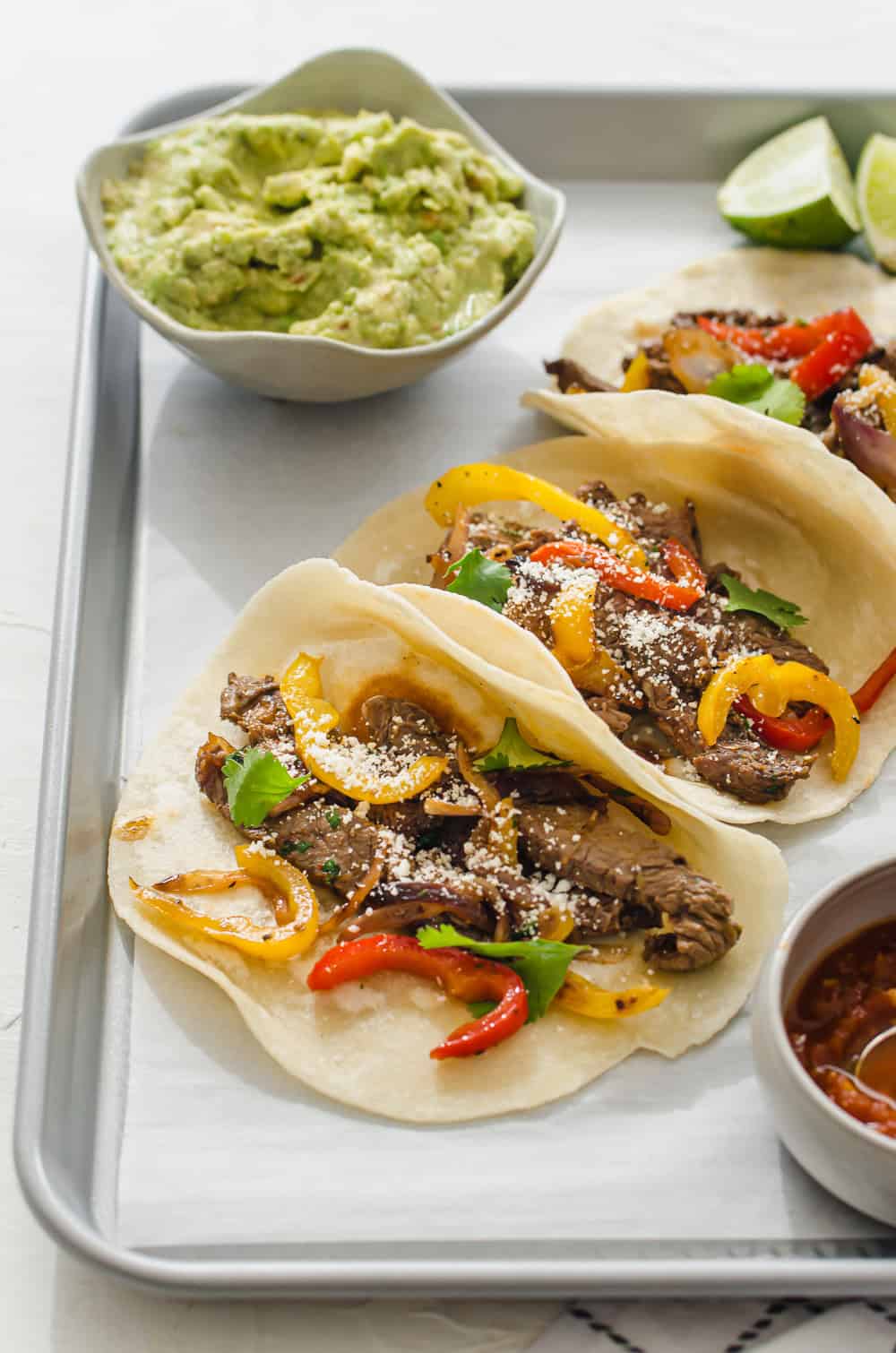 Did you make this? Snap a photo and tag us on Instagram at @thrivinghome so we can see your creations and cheer you on!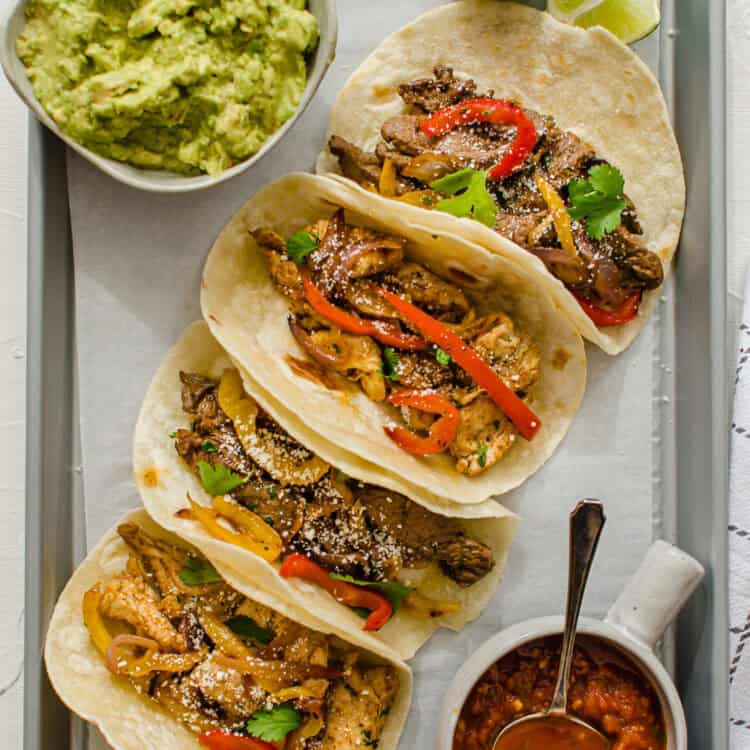 Chicken and Steak Fajitas
These chicken and steak fajitas make a great go-to weeknight dinner that tastes like restaurant quality. They're quick to assemble, easily customized to your taste preferences, and a meal that all ages enjoy.
Yield:
5

–

6

servings (about

2

per person)

1

x
Total:
25 minutes (+ marinating time)