Throw a Freezer Meal Party: The Ultimate Guide
This post may contain affiliate or sponsored links. Please read our disclosure policy.
Freezer meal prep with a group of friends! Use this step by step guide to plan and host a freezer meal party.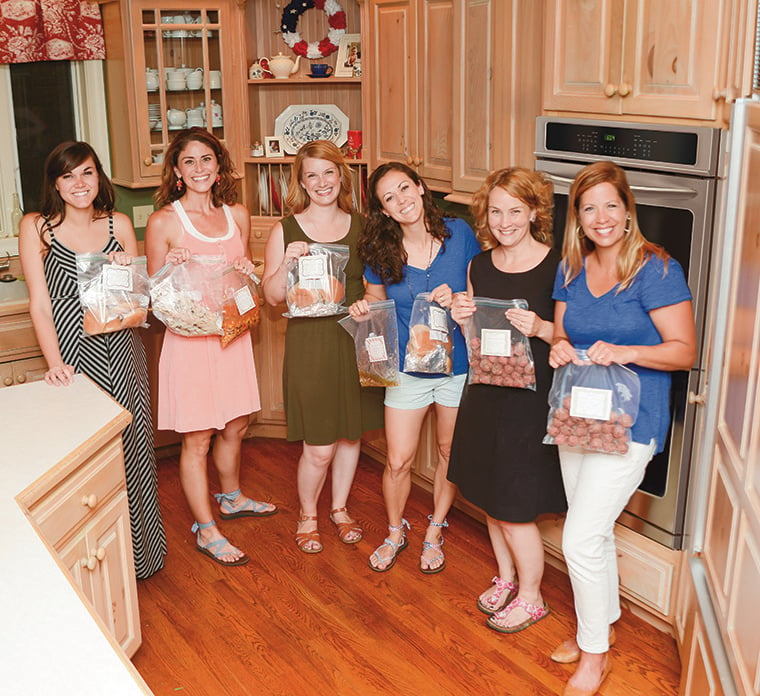 What Is a Freezer Meal Party?
So you might be wondering, what exactly IS a freezer meal party?
A freezer meal party is when a group of friends come together to prep, cook and package freezer-friendly meals for their families. With multiple recipes made in bulk, participants all go home with a variety of freezer meals that they can use for months to come.
The Benefits
The benefits that come from working as a collective are invaluable. Check out this list…
It's an excuse to spend an evening with friends. It's a great excuse to catch up with much-loved friends AND make meals for my family. I can't think anything I'd rather multitask doing.
Variety. When prepping 6 different recipes with friends who all have different tastes and preferences, it is inevitable that I'm going to go home with recipes I normally wouldn't try. This is a good thing!
Learn from each other. When you cook with other people, you often learn something new. Everyone brings a different set of skills and experience to the table and when you team up to make a recipe, tips and tricks are passed on.
Save money. Buy in bulk, baby. It is usually cheaper to buy most ingredients in bulk than it is to buy them in smaller quantities. This is especially true for meat. In the long run, we all saved some money by buying ingredients in large quantities and then split up. Plus, these six meals meant we weren't going out to eat that night, which can save a lot!
Save Time. If I were to make these meals at home by myself, the cooking time and clean up would be much longer than a 2-hour freezer party. Plus, think of all the time this saves on all those little grocery store runs throughout the week.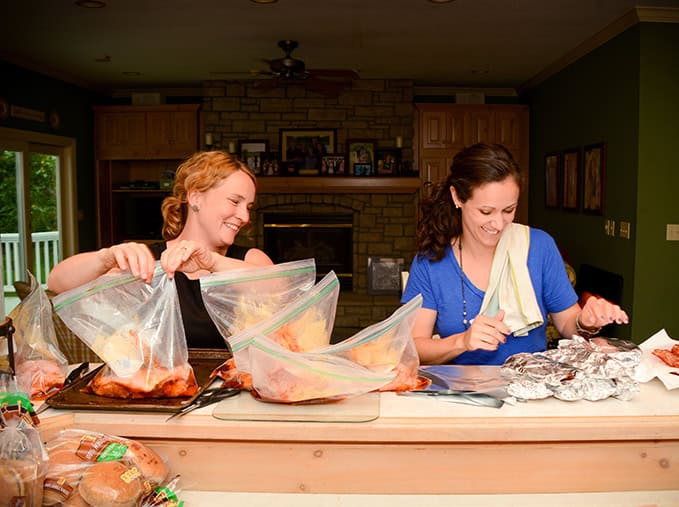 How Do I Throw a Freezer Prep Party?
We are so glad you asked! We will walk you through how to make freezer meals with friends below.
What to Do Ahead of Time
1 . Establish a date and location.
Weekends tend to work well, as they don't interfere with work schedules. Another option is a weeknight. A freezer party lasts around 2 hours, so plan accordingly.
You will need a somewhat large space to hold the party. A kitchen with lots of countertops, a large island, or other options for people to assemble their meals is necessary.
2. Invite Participants
Brainstorm up to 5 people, in addition to yourself, who would enjoy a party like this. You can have more or less, but we've found that 6 seems to be the ideal number. That way you can pair up people in the kitchen to each make 2 recipes together, resulting in 6 total freezer meals to take home. It's always more fun to cook with someone else!
3. Pick Your Recipes
Now it's time to decide what you will be making at the party. We recommend recipes that require little to no pre-cooking. One way that might work well to do this is to create a small list of freezer meals (see list below) and have your group members vote on their 6 favorites.
I've found it works best if you delegate a recipe to each participant. They are responsible for bringing all of the ingredients and utensils necessary to assemble that meal.
Freezer Recipes That Work Well to Prep in a Group:
You can also get some great recipes ideas by searching through our huge collection of Freezer Meals.
4. Send out a reminder.
A few days before the party, remind people to bring:
Enough ingredients to make 6 batches of the recipe they are in charge of
A cooler to transport meals home in
Tools and utensils they will need to assemble their recipe
Gallon-sized freezer bags (if you aren't providing those)
What to Do the Day of the Party
1. Set out food and drinks.
Lay out any snacks or drinks your group might like munching on while they assemble their meals. Not necessary but makes it feel more like a "party" if you have finger food snacks and drinks. Ideas: Veggie tray, chips and dip, cookies, fruit pizza, wine, etc.
2. Set up workstations.
Think through which station should be where in the kitchen. Does someone need to use the stove? Be close to the sink? Have an idea of where each person will be before they arrive.
Print the recipes and place them at each station.
As people arrive with their ingredients and tools/utensils, set them out in the designated stations.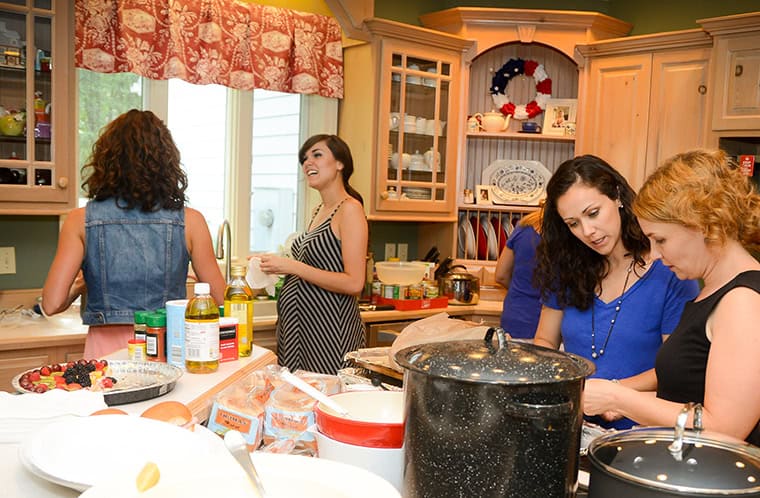 3. Get to work and have fun.
For the majority of the party, you'll cook and chat and laugh. At least we did.
I've found it to be most efficient if one person makes all 6 meals at once. So for example, if I were to be in charge of Italian Baked Meatballs, I would make all 6 batches of them, bag them up, and label them.
Some recipes will come together faster than others. Once someone is done with their recipe, they can jump in and help someone else if they need extra hands.
4. Label, package, and freeze your meals.
When a meal is completed, place it in the freezer container as instructed in the recipe. Be sure to add a label to it with instructions for how to cook it. (You can use our cute printable freezer labels.
As the night goes on, your collection of meals will start piling up! Be sure to store them in the fridge, freezer, or your coolers as they are completed.
If you like the idea of meal prepping, you'll love our 1 Hour Freezer Prep!
We give you everything you need to make 6 freezer meals in 1 hour on your own (or with friends)!
A Prep Session is a 13+ page digital download to use directly on your mobile device or to print out and includes:
Step-by-step instructions. Efficient and easy to follow.
A 1 page, organized grocery list.
Customized, pre-filled freezer meal labels ready to print and attach to your meals.
Amazing, well-tested recipes.
Full nutritional information.
Gluten-free and dairy-free substitutions for most recipes.
Serving and "Mix It Up" ideas for every recipe.
Access to our private "Freezer Foodies" Facebook group.
BONUS ITEMS:
A free "Cook Along with Us" video tutorial for every prep session.
Freezer Cooking Quick Start Guide (9-page ebook with our best tips!)