Pork Tenderloin with Seasoned Rub
This post may contain affiliate or sponsored links. Please read our disclosure policy.
This Pork Tenderloin Rub recipe is one of our family's top 5 favorites. I've been making it for YEARS, and it turns out perfectly every time. A wide range of seasonings from the pantry makes this simple main dish a win.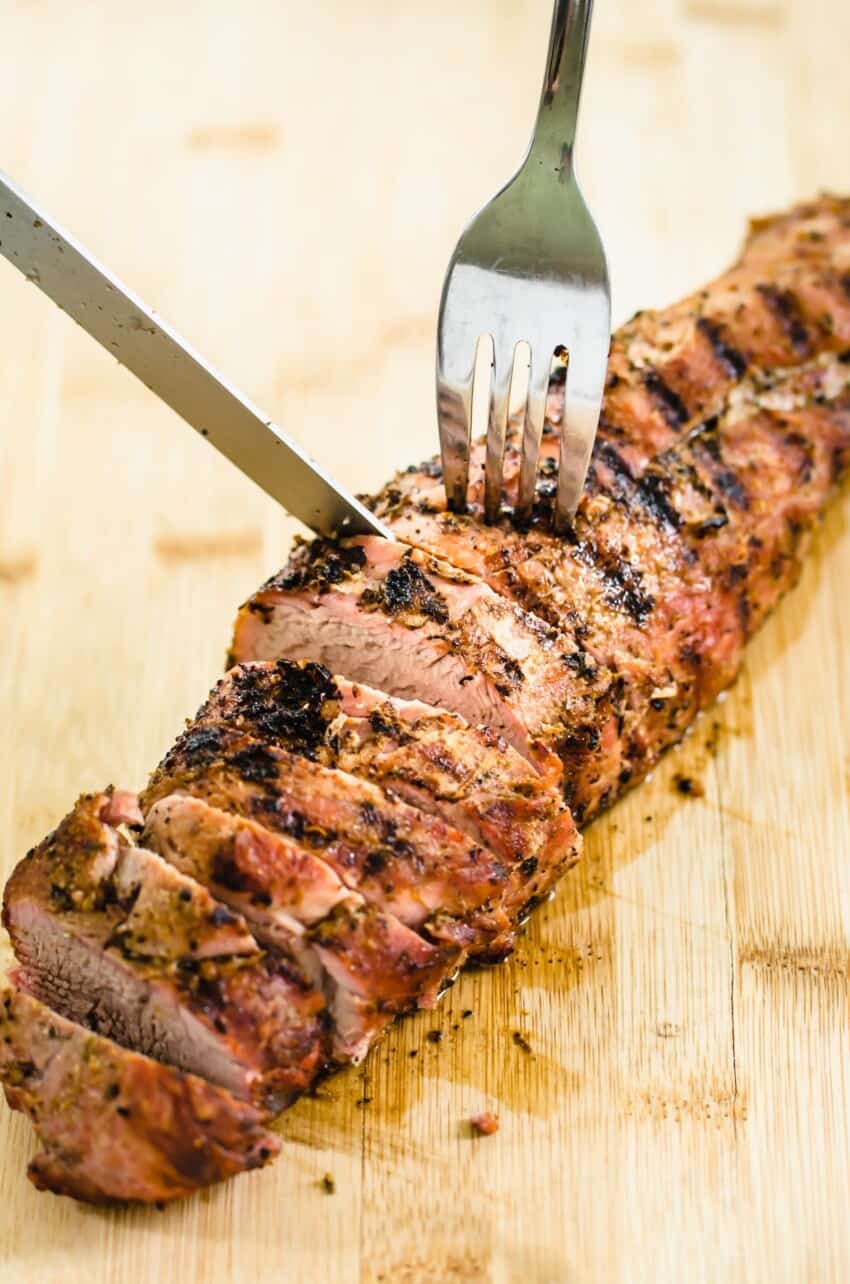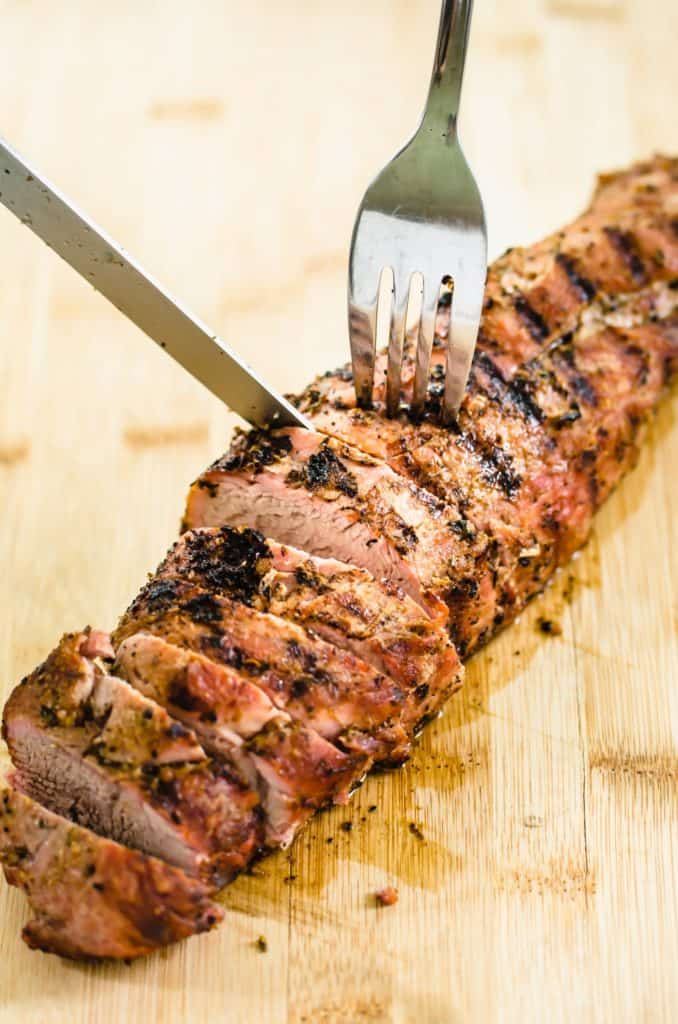 Reasons to Love Pork Tenderloin
As one of the most popular freezer meals on Thriving Home, this pork tenderloin recipe is requested over and over by my family.
It's so simple to make. Just mix up a rub and add it to the pork tenderloin!
It's unbelievably delicious. Even though the rub is simple, it brings SO much flavor.
It's kid-friendly. If your kids will eat meat (some don't because of texture), they will likely like this.
It's very affordable. People often overlook how cheap pork tenderloin is!
It's healthy! Pork tenderloin is a lean cut of meat and a great source of lean protein.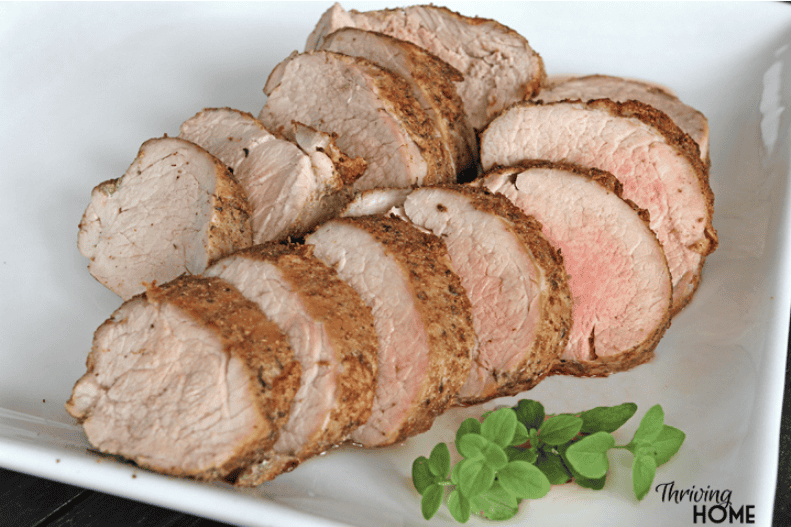 What's in the Pork Tenderloin Rub?
Like I said, the ingredients couldn't be easier. You likely have them in your pantry!
1 teaspoon garlic powder
1 teaspoon dried oregano
1 teaspoon ground cumin
1 teaspoon ground coriander
1/2 teaspoon ground thyme
1 teaspoon salt
Just look at how quickly they come together!
How Long to Cook Pork Tenderloin
It's important to not over cook pork, like most of us have done over the years. Otherwise, you'll end up with a dry, tough dinner. Yuck!
Several years ago, the USDA lowered their safe cooking temperature recommendation for pork, which means we don't have to overcook it anymore! Pork tenderloin is done at 145°F, so be sure to use an internal meat thermometer to get it just right.
1) Roast Pork Tenderloin in the Oven
Roasting at a high temperature creates a crust on the outside. Using this method, you'll cook the pork in the oven just until it's done (and not a minute more). Then, let the tenderloin rest to help keep all the juices inside. When you cook at 450°F, it should take around 20 minutes. Use a meat thermometer to test doneness (145°F internally), though.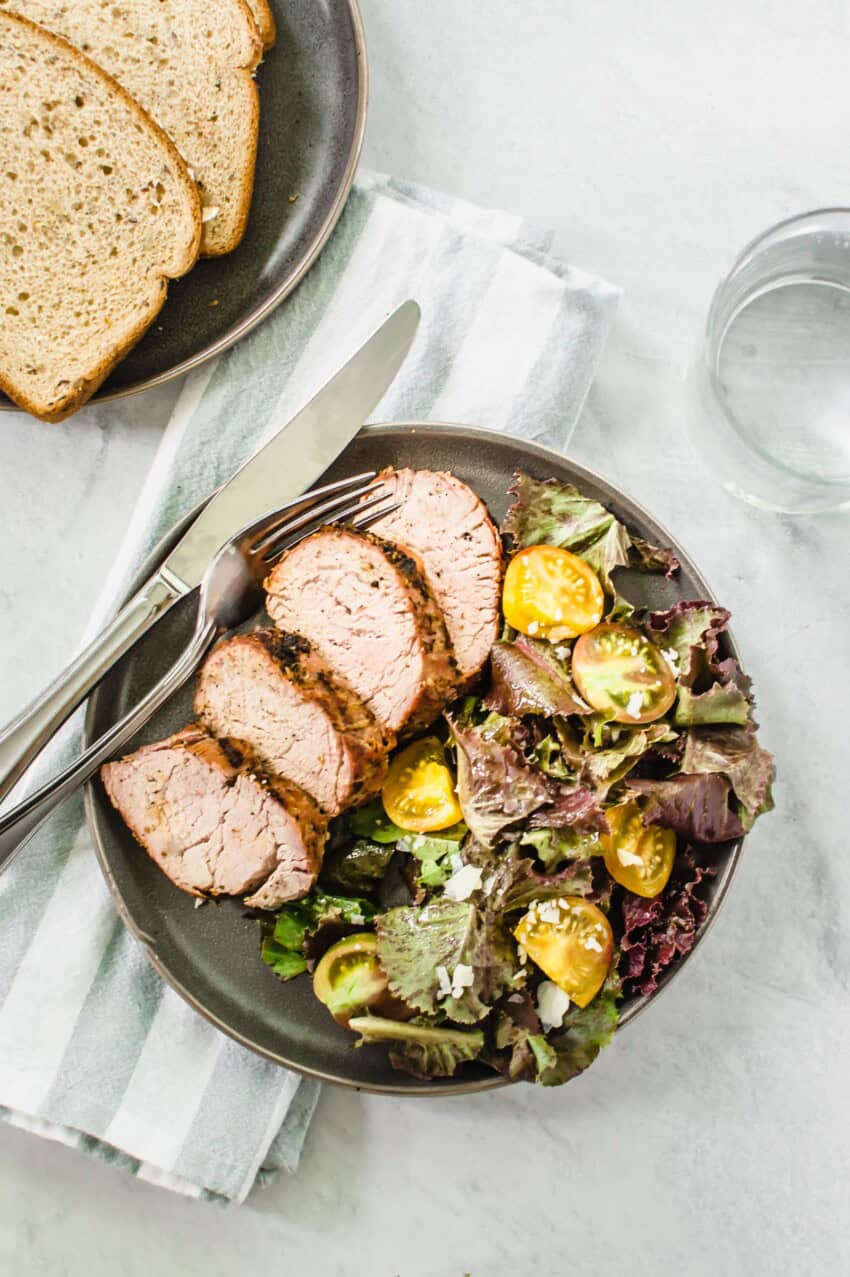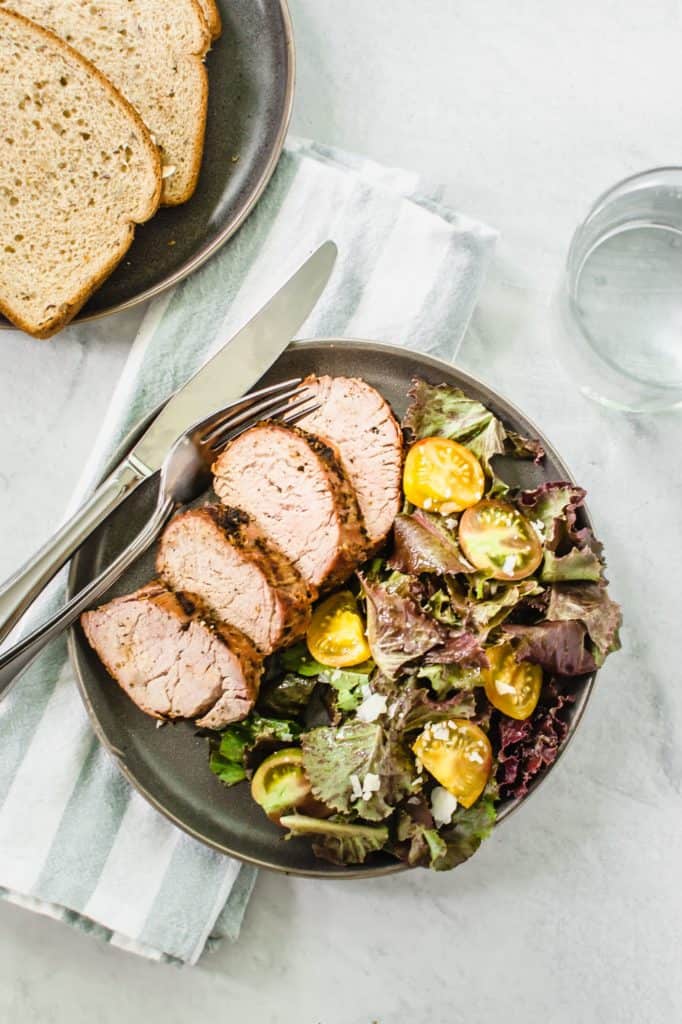 2) Grill Pork Tenderloin
When you grill a pork tenderloin instead of bake it, you still get great flavor and moistness but the bonus is the extra char-crispiness that coats the outside of the tenderloin. In this our post about how to grill a pork tenderloin, you'll see how long to grill it, well as tips to make it delicious!
In fact, I often make this when guests come over or for holiday meals. Don't forget to double, triple or quadruple this one and freeze for another day.
Can I Freeze Pork Tenderloin?
Oh yes! Pork tenderloin is a great meal to take to others or to take on vacation, too. In fact, it comes together so easily, we included it in our 1 Hour Freezer Prep Sessions!
FREEZE FOR LATER:
Rub the seasoning on all sides of the pork tenderloin and place in a freezer bag. Seal, label, and freeze.
PREPARE FROM FROZEN:
Thaw the meal using one of these safe thawing methods. Then either bake it with the instructions below or grill the pork tenderloin using our 7-6-5 Method.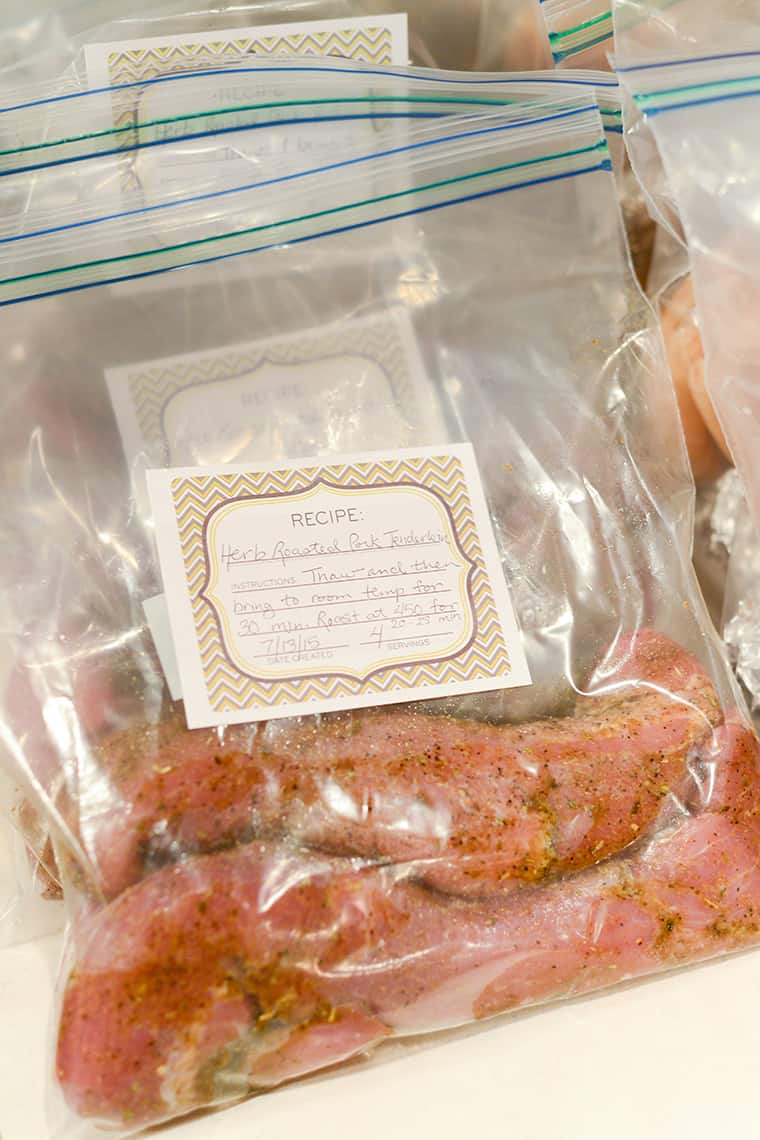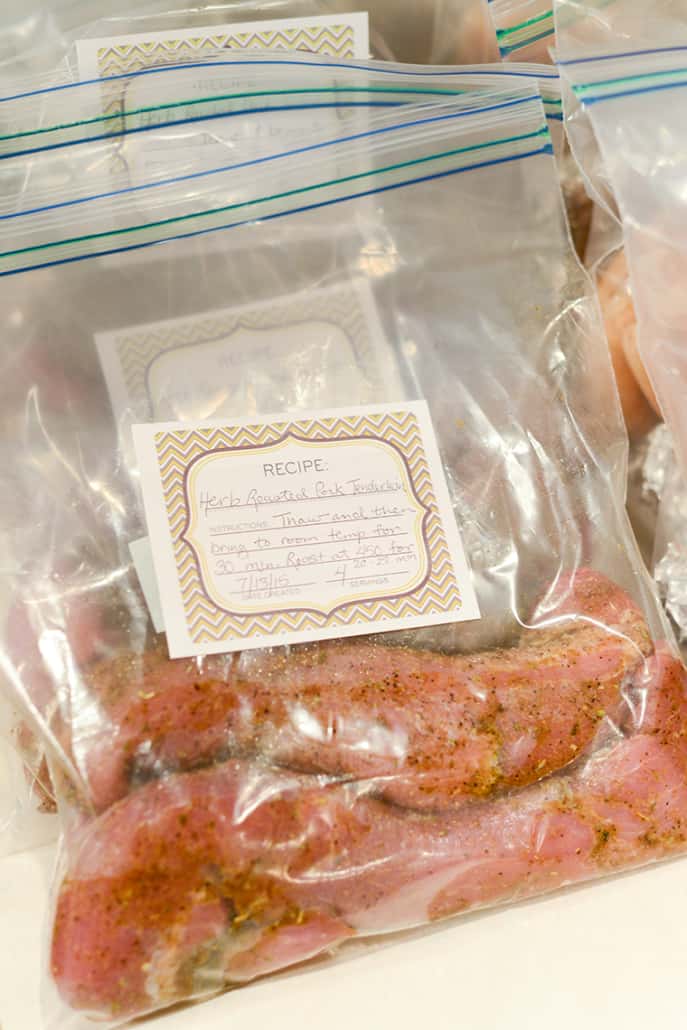 Want to Mix it Up?
Here are some different ways to serve our Pork Tenderloin:
Use leftover sliced pork for BBQ pork sandwiches. Serve warm on toasted buns or bread with BBQ sauce.
Chop up the leftover pork and use in quesadillas, tacos, or on top of your favorite salad.
Spread some chimichurri sauce on top of the pork; you can find recipes online or in either of our cookbooks.
Offer BBQ sauce on the side for dipping the pork tenderloin in.
Side Dishes That Go Well with Pork Tenderloin with Seasoned Rub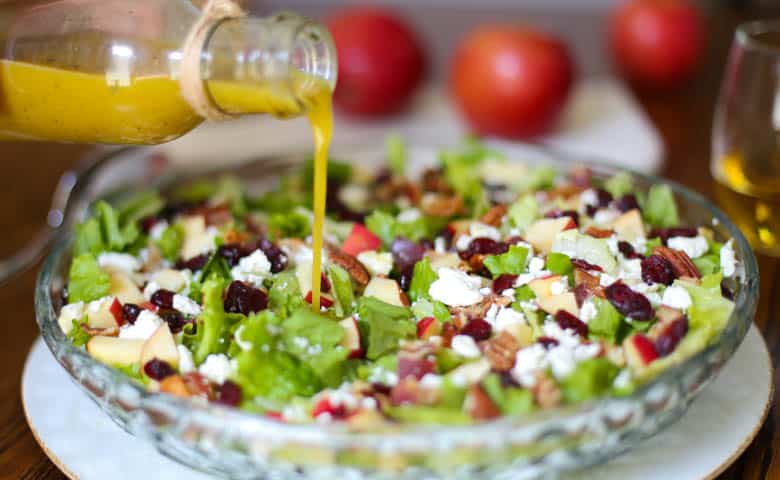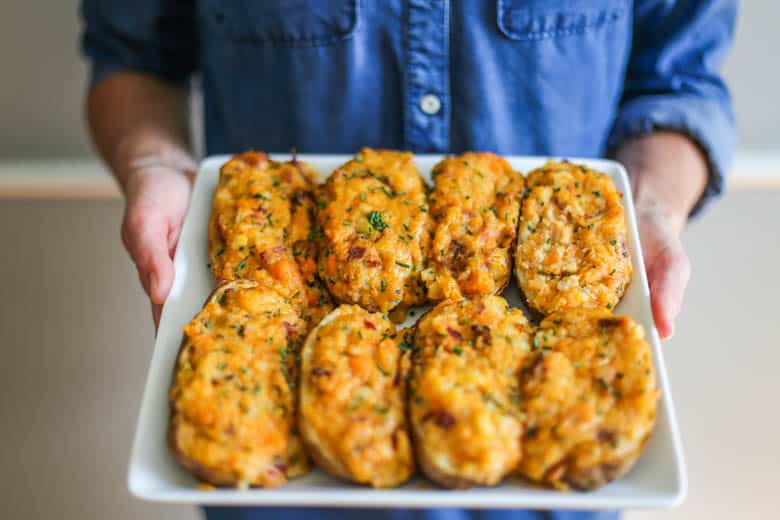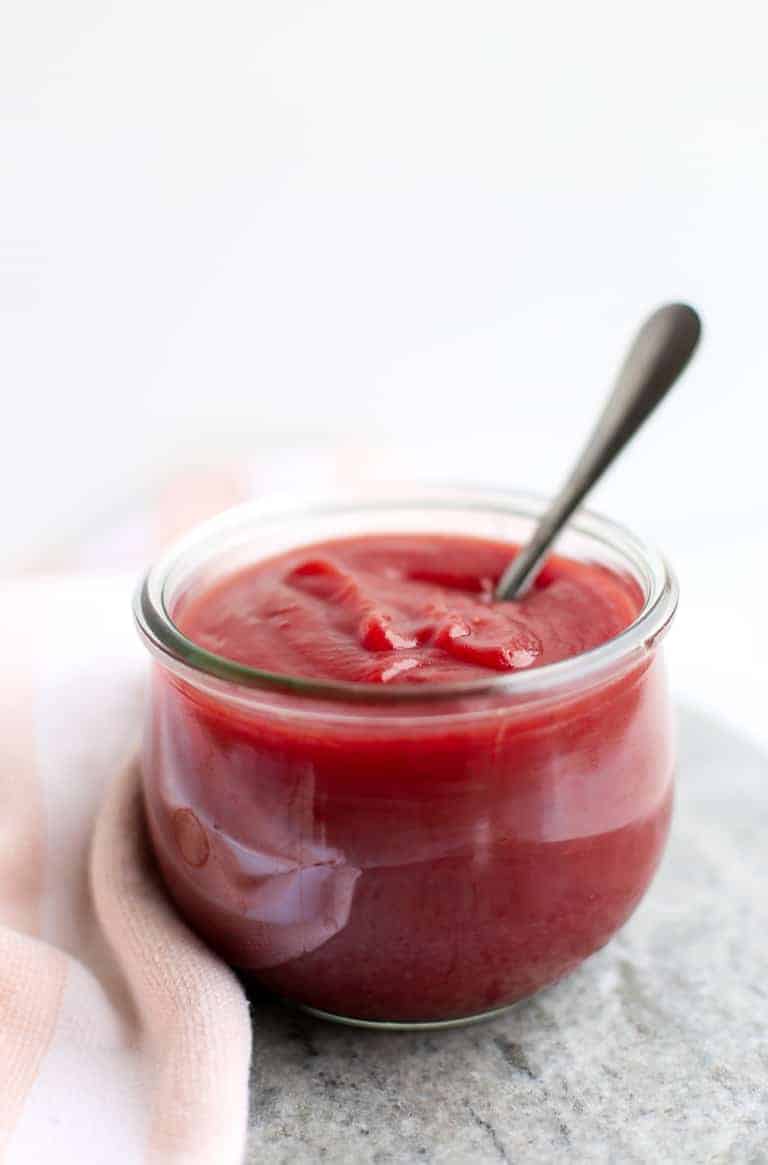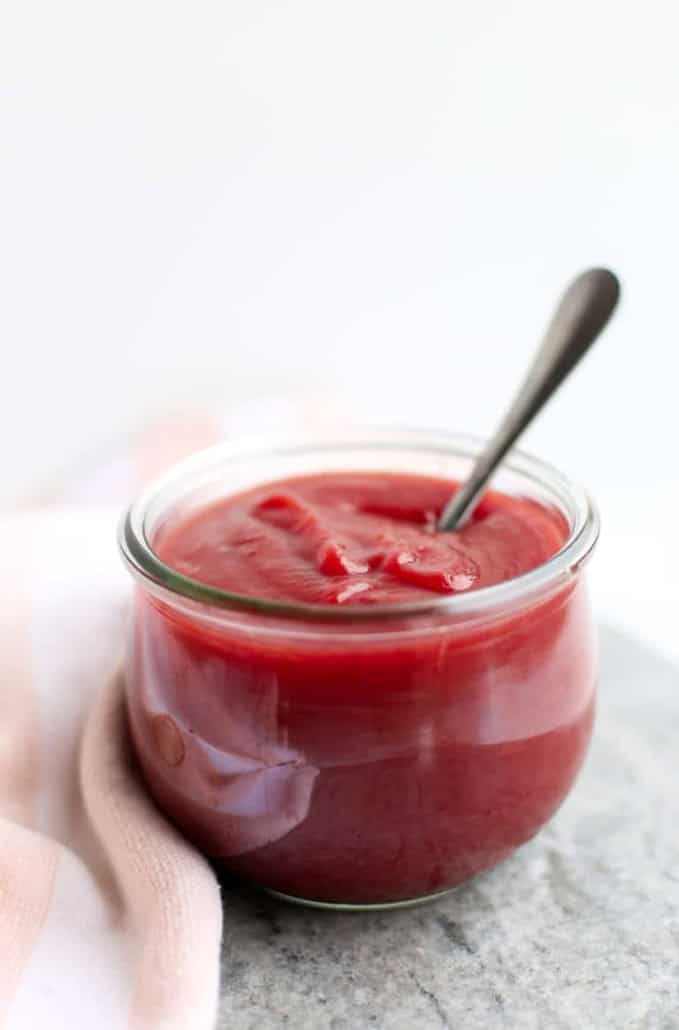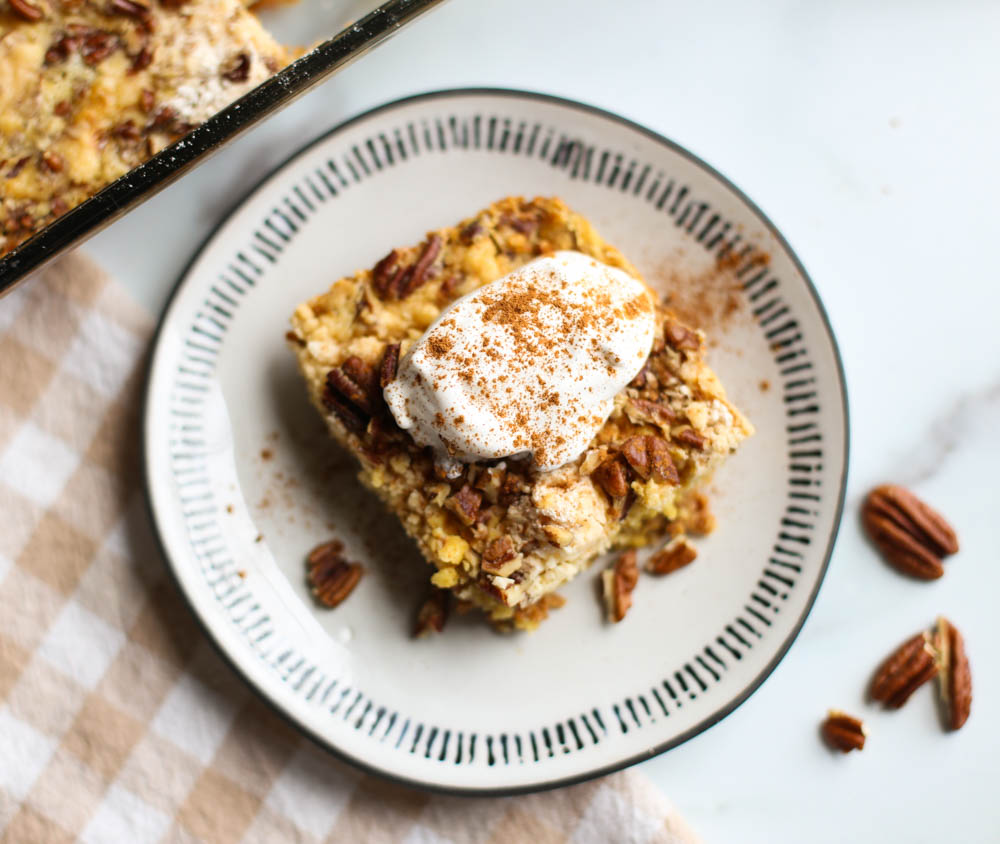 Did you make this? Snap a photo and tag us on Instagram at @thrivinghome so we can see your creations and cheer you on!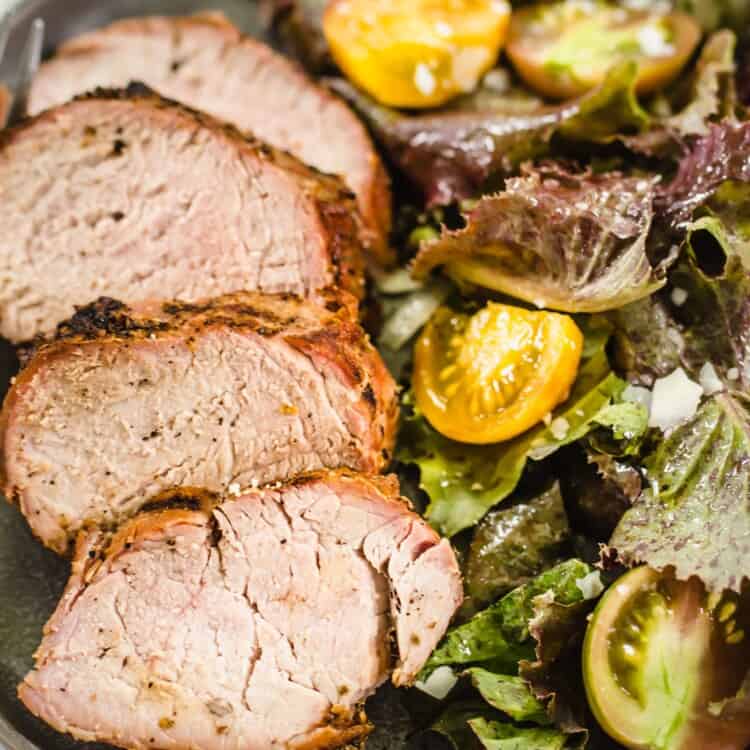 Pork Tenderloin Rub
This Pork Tenderloin with Seasoned Rub recipe is one of our family's top 5 favorites! Turns out perfectly every time and pleases all the palates.
Prep:
10 minute
Cook:
20 minutes
Total:
30 minutes
Ingredients
1 teaspoon

garlic powder

1 teaspoon

dried oregano

1 teaspoon

ground cumin

1 teaspoon

ground coriander

1/2 teaspoon

ground thyme

1 teaspoon

salt
About

1 1/4

pounds

pork tenderloin (This is where we buy our favorite pork tenderloin.*)

1 tablespoon

olive oil or avocado oil
*This is an affiliate link.
Before You Begin! If you make this, please leave a review and rating letting us know how you liked this recipe! This helps our business thrive & continue providing free recipes.
Make It Now:
Preheat the oven to 450° F.
In small bowl mix dry ingredients–garlic powder, oregano, cumin, coriander, ground thyme and salt. Stir mixture with a fork until all the ingredients are well combined and they form a seasoning. 
Rub the pork with the seasoning over all sides of the meat, pressing gently so the seasoning adheres well to the tenderloin. (Freezing instructions begin here.)
Optional Step (If freezing, skip this step!): In a large skillet (or oven-safe pan) over medium-high heat, heat the oil until it's shimmering. Carefully place tenderloin in the hot pan using tongs and cook for 1-2 minutes on each side, until the meat is browned evenly. 
Transfer the pork to a roasting pan (or if it's in an oven-safe pan, place direction in the oven) and bake until it reaches an internal temp of 145°F. This will take about 20 minutes. It will still be slightly pink inside.
Let meat rest for 5-10 minutes so juices redistribute. Slice on an angle and serve.
Freeze For Later: Follow Steps 2-3. (Skip step 4, as it's not safe to partially cook food and then freeze it.) Place the seasoned pork tenderloin in a gallon-sized freezer bag, squeeze out the air and seal tightly, and freeze for up to 3 months.
Prepare From Frozen: Thaw the meal using one of these safe thawing methods. Then, roast in the oven or grill according to recipe directions, making absolutely sure to cook until it reaches the USDA's recommendation of a safe internal temperature (145° F).
Photo credit: My dad, Curt