10 Reasons to Pre-Order our Cookbook: From Freezer to Cooker
Our second cookbook, From Freezer to Cooker, releases January 14th. While you will be able to snag it at any major bookseller on that day, we want to add some extra perks for those who pre-order it! In fact, we have 10 solid reasons that you'll want to get your pre-order in asap! Allow us to explore them, will ya?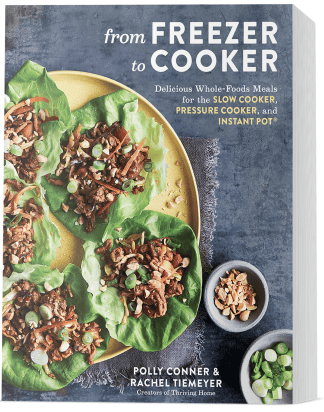 About From Freezer to Cooker
Before we dive into those, here is a quick rundown on what you can expect from From Freezer to Cooker. We'll let Publisher's Weekly explain it for us:
"Thriving Home bloggers Conner and Tiemeyer follow up From Freezer to Table with another family-friendly collection of hearty fare that can be prepped ahead of time, frozen, and reheated for mealtimes. The recipes include preparation instructions for both slow cookers and the Instant Pot, allowing readers to make informed choices regarding how and when they'll prepare dishes…"

Publishers Weekly
A bit more…
While freezer cooking allows for you to prepare meals in advance and store it until you're ready, your slow cooker or Instant Pot means you can whip up that tasty, filling, and healthy meal by simply dumping it in, setting the cook time, and forgetting it. Dinner done! Each recipe includes both Instant Pot and slow cooker instructions PLUS simple freezer meal instructions.
With simple recipe instructions, cooking times charts, and meal-prep tips, even the novice cook will find mealtime success quickly. We have tested every recipe and every cooking method in our own kitchen to make sure the instructions are right and to make sure it's delicious!
Got a picky eater on your hands, or feeding a family with specific dietary needs? You'll find gluten-free, dairy-free, and vegetarian dishes that will satisfy even the toughest critics. Our simple icon guide will help you locate these recipes quickly and easily.
OK, so now let's talk about why you should pre-order…

10 Reasons to Pre-Order From Freezer to Cooker
1. You get the lowest price guarantee!
This means, as the price fluctuates on the book, you will be locked into the lowest that it drops to, even if it goes back up. SWEEEEETT!!
2. Get 10 exclusive bonus recipes and exclusive content!
We have 10 bonus recipes that are NOT in the cookbook waiting for you! And get this, like the recipes in our cookbook, the ones in this printable packet have both slow cooker AND Instant Pot instructions. So essentially, you are getting 20 bonus recipes! These are only available until January 14th so pre-ordering is the only way to get them. Don't miss out!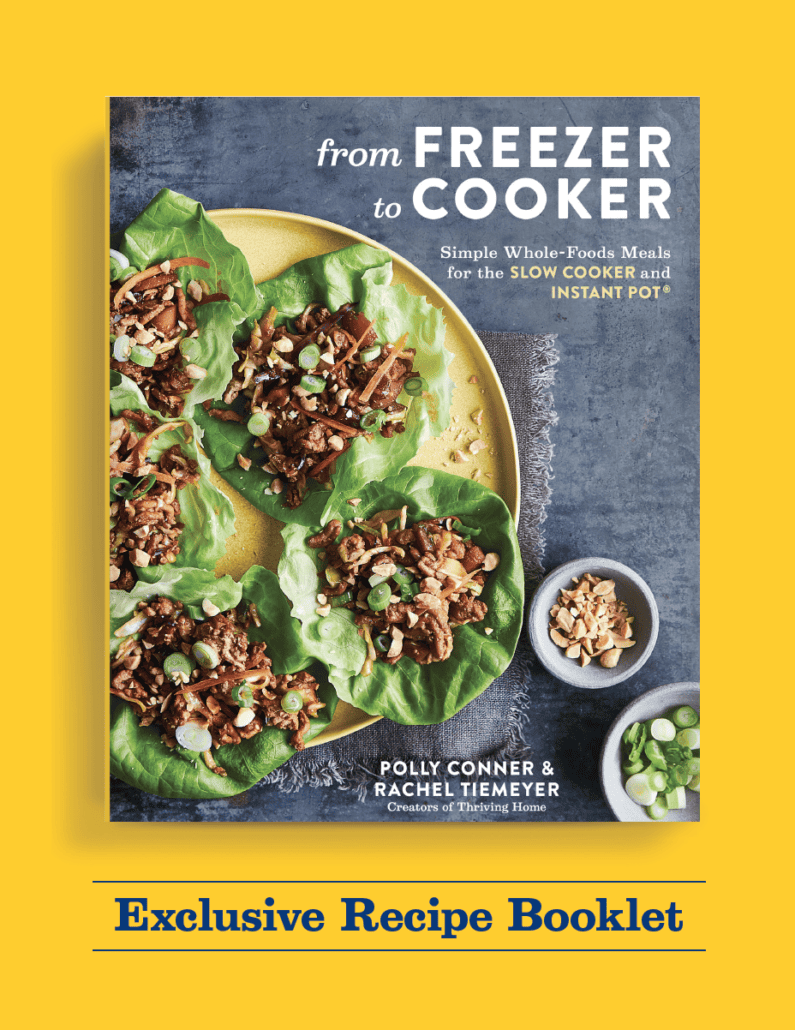 Want a peek into what the cookbook has to offer? In addition to the bonus recipes mentioned above, you'll find some of our most helpful cookbook content in the packet. You'll get cooking times charts, great information & tips about our recipes, and more goodies.
3. Receive our Table Talk Cards ($11.99 value!)
If you pre-order, we want to thank you with ALL THREE SETS of our Table Talk Cards! This $11.99 gift is one of our favorite products in our store. Our families use them regularly around the table and we think yours will, too.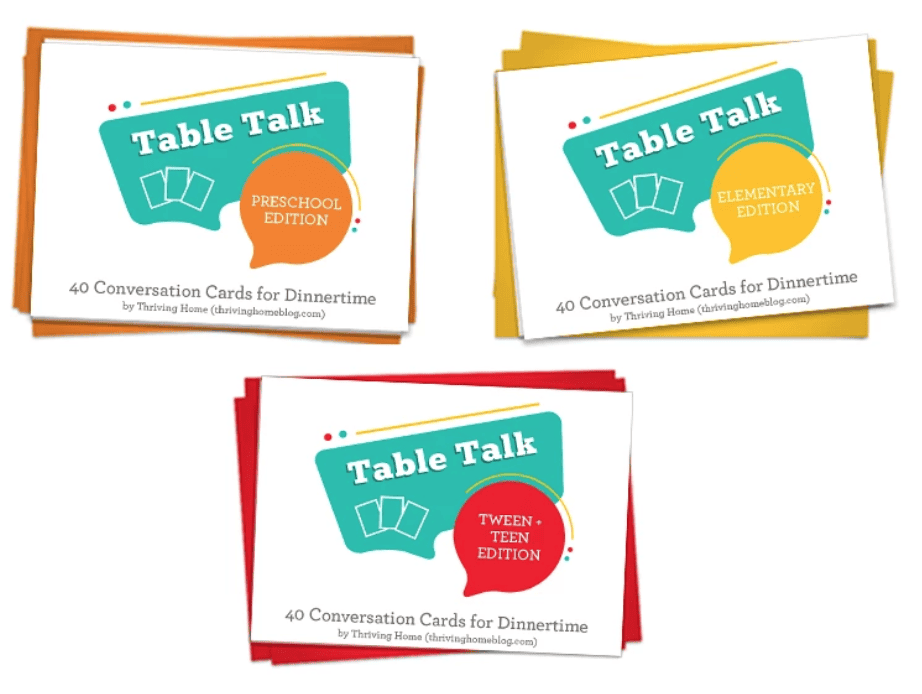 4. Freezer Meal Labels will come your way
Having a stash of meal labels is always SO helpful to keep the freezer organized. They are also great to stick on a meal you might be taking someone. We'll send you these to download and print these as much as you want!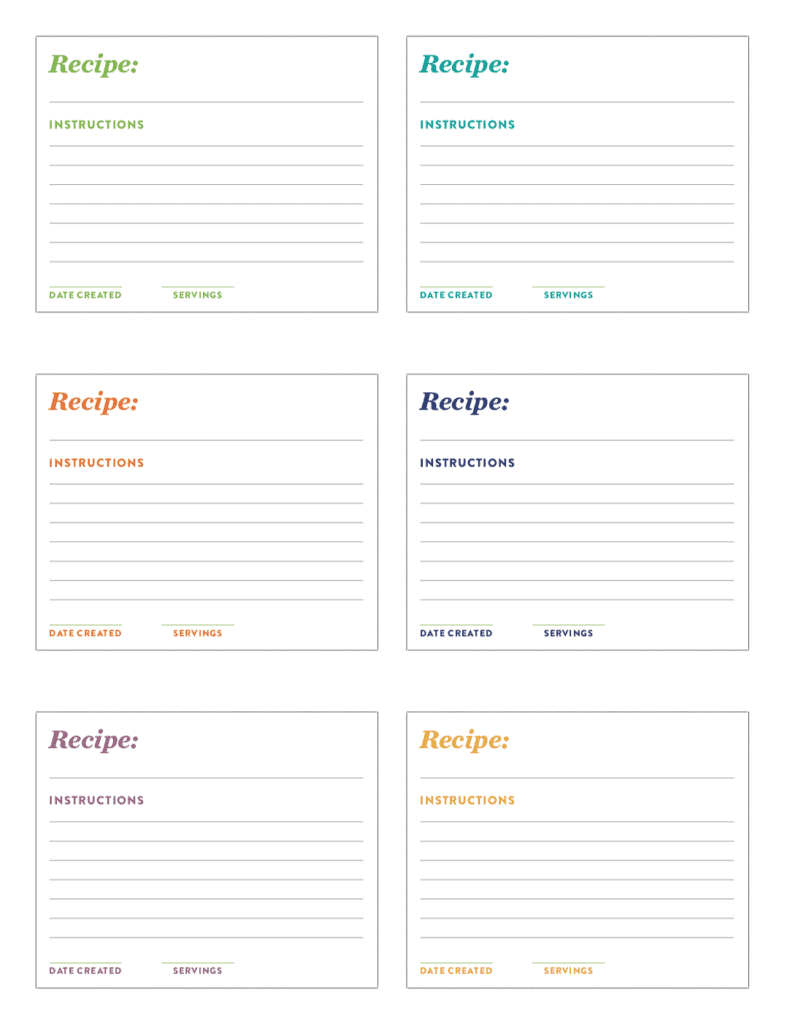 5. You'll be offered an amazing Butcherbox discount/perk!
If you've been toying with the idea of trying out Butcherbox (where we both get our meat) then you don't want to miss this pre-order perk. If you pre-order our cookbook, Butcherbox will throw in 2 pounds of ground beef, 2 packages of bacon AND $20 off your first box.

6. It makes a perfect gift for Christmas.
From Freezer to Cooker would be a great gift! Not only is it beautiful, but it's extremely helpful and practical. It would also be a fun surprise to pop up a few weeks after Christmas! To make gifting it a bit easier, we created a printable "gift certificate" for you to use. Simply download and print it off. Wrap it up and put it under the tree for a great surprise that will keep on giving all year long!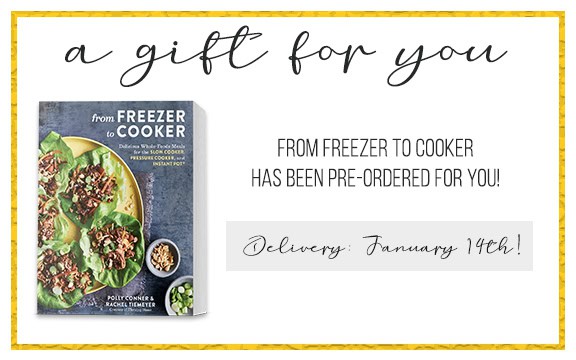 7. You'll get it on the very first day!
There is something really fun about being one of the very first people to have a book in your hands. After it's pre-ordered, there is nothing else to do either. It'll just pop into your mailbox on release day!
8. Bookstores will stock up accordingly.
It would be a cryin-shame if distributors ran out of our books and had to wait for more! Pre-orders send a message to distributors about how many to stock up on. This helps them have the right amount which assures their availability to people in your life who could benefit from a cookbook like this!
9. It sends a message to Amazon.
OK, full disclosure, this is more beneficial to us than you. BUT, this is huge. Amazon wants to feature what people want, right? If they see a bunch of pre-orders for a certain book, their ears will perk up and be more likely to put our book front and center on its release day.
10. It's a big help to us!
As you can probably gather, pre-orders are somewhat of a snowball effect, and we truly need YOU to help us get that rolling. The better this book does, the better we can serve you in the long run! So, from mom-to-mom, friend-to-friend, blogger-to-reader, woman-to-woman, we are asking of this favor from you. We'd love to have you pre-order From Freezer to Cooker.
HOW TO PRE-ORDER & SNAG MY GOODIES!
This is the easy part! Simply hop over to our cookbook landing page, order your book, and follow the instructions at the top. You'll see something similar to this on the page.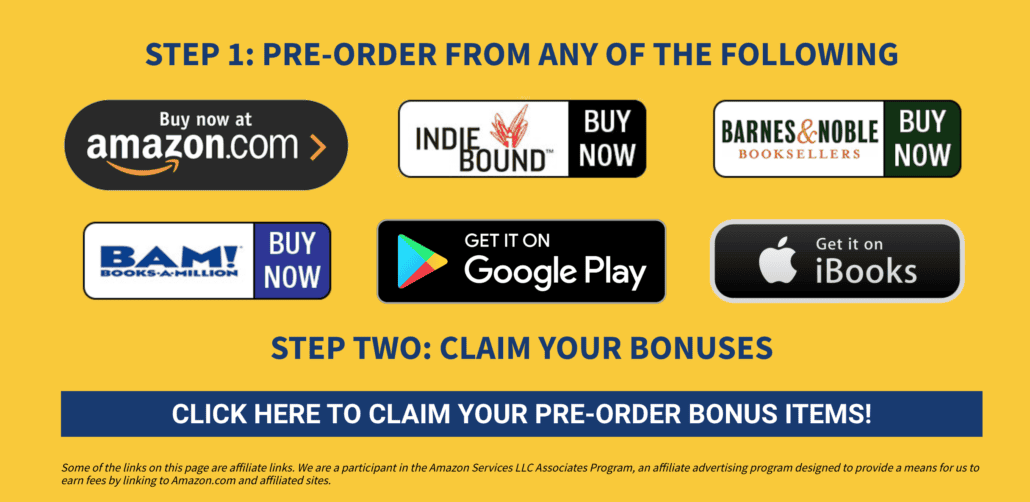 After ordering your book, click "Click Here to Claim Your Pre-Order Bonus Items!". You'll be taken to a page to fill out your contact information. It will look like this: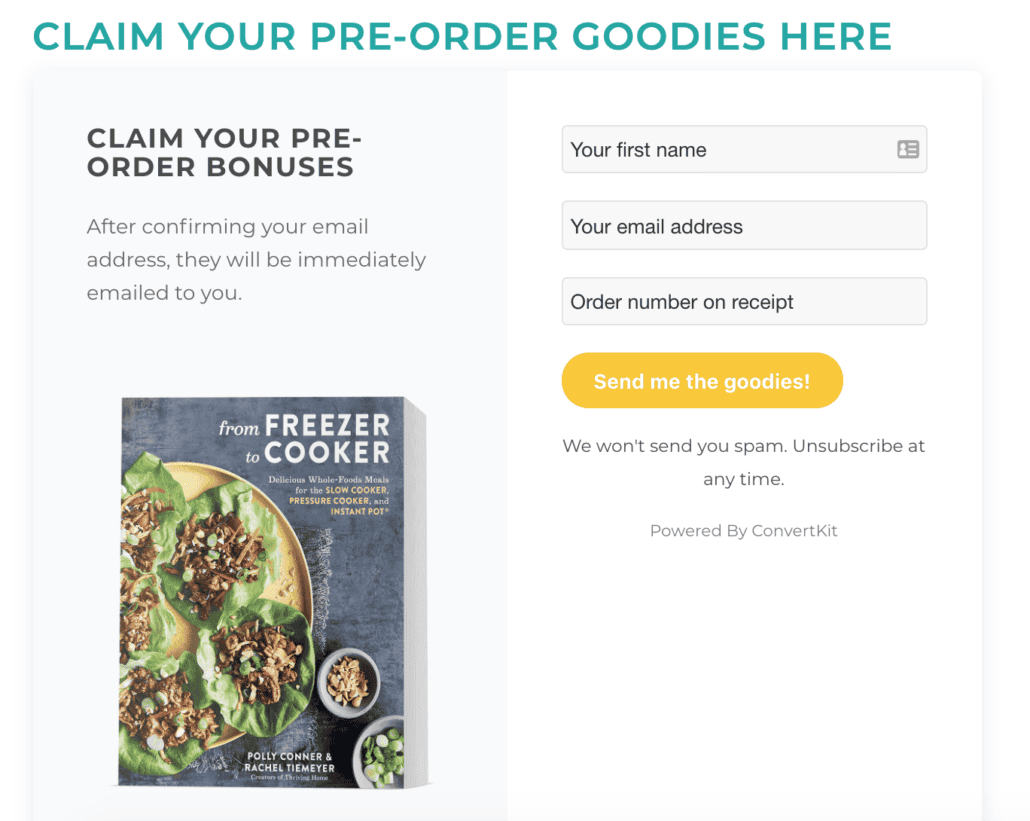 Once you've entered and confirmed your information, we will send your goodies right on over within a few minutes! So easy!
https://thrivinghomeblog.com/wp-content/uploads/2019/11/FFTC-feature.jpg
1500
1872
Polly Conner
https://thrivinghomeblog.com/wp-content/uploads/2019/10/thrivinglogo.png
Polly Conner
2019-11-20 08:00:00
2019-11-20 15:58:33
10 Reasons to Pre-Order our Cookbook: From Freezer to Cooker