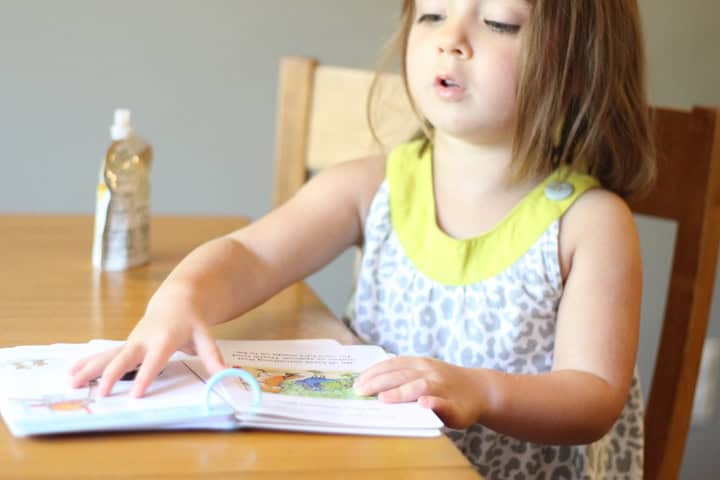 Dear New Homeschooling Parent,
Hi. I'm one of you who just got tasked with this new job title, too.
My inbox is filled to the brim with communications and assignments from our schools and our AMAZING teachers. My house is a wreck. My kids ask for snacks approximately every 10.2 seconds and are probably spending too much time on screens. We're all starting to be a little on edge with one another. I can't seem to figure out how to consistently work on my job in the midst of the chaos.
Maybe like you, I feel in over my head. I AM in over my head.
But, in my best moments, I realize that homeschooling my children during one of the most unsure times in our lifetime is also a chance to focus on what matters most. If I do one homeschooling thing right during this time of quarantining, it's this: I want to help my kids focus their hearts and minds on God and His promises each day.
By spending just a few minutes a day reading the Bible or a Gospel-centered devotional with our kids, we can help our children learn that nothing is more important than meeting God each day. It's where they will learn that are loved more than they could ever imagine. That they are part of the greatest story of all time. That they can depend on Him with their entire lives , even in the midst of a pandemic.
I would encourage you to find a few resources below that fit your family's needs and read with your kids just 5-10 minutes a day, perhaps before you start your schoolwork (or right before bed).
Why is Reading the Bible to Kids Important?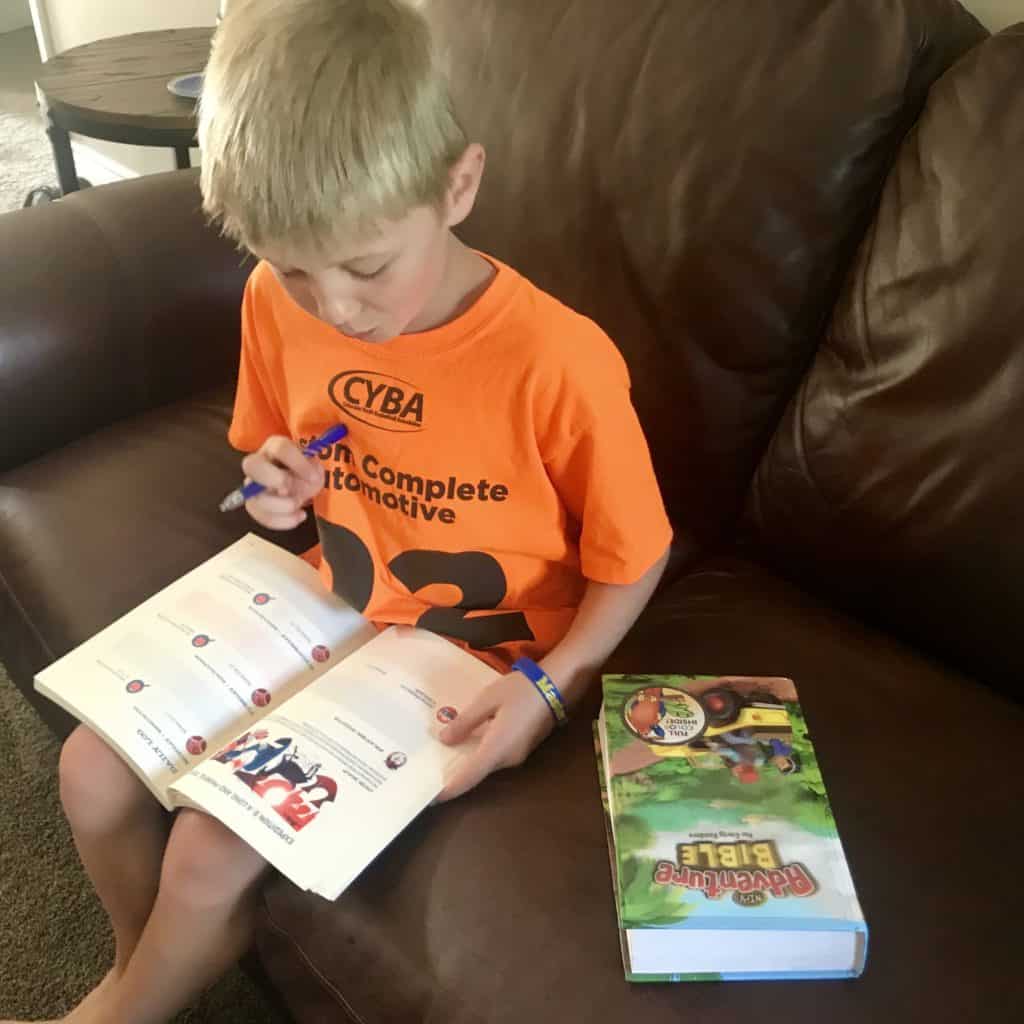 My husband and I lead a class for new parents at our church. One of the things we always encourage them to do is begin reading a children's Bible to their babies from very early on. Why is it so important to start this routine early on? Well, here are some of the benefits to beginning this routine from infancy or as soon as possible with your kids:
Your children will expect that reading the Bible is a part of their day. This is setting the stage for them to independently read God's Word by themselves as they mature. A study by Notre Dame professor Christian Smith shows that children who learn this discipline from early on are more likely to continue in their faith through the teen years and on.
Kids gain a longer attention span to sit and read. This is preparing your child to focus long enough to actually sit down and read the Bible later in life. So many of us, including me, struggle to sit still long enough to study and reflect on God's Word. It's important that we help our children learn to sit and listen to, age-appropriately discuss, and pray over what they read in the Bible from their earliest years. This requires practice and consistency.
Children will gain an understanding of the main storyline of the Bible and the Gospel that will help shape their worldview from early on. You've probably heard it said that children learn more in their first five years of life than any other time. This is prime time for shaping their view of God and the Gospel. And, guess what? If you don't shape their worldview, someone else will whether you want that or not. PBS will. Disney will. The school system will. Start reading the Bible early and you will give your kids a grid to see life through that makes the most sense. You will help them see their sin, their need for a Savior, and the hope that is found only in the Gospel.
Reading and believing God's Word produces good fruit in our lives over time, by the grace of God. 2 Timothy 3:16 says, "

All Scripture is God-breathed and is useful for teaching, rebuking, correcting and training in righteousness…."

In Psalm 19 we see that it refreshes the soul, makes wise the simple, gives joy to the heart, and gives light to the eyes. These are just a few of the promises about the work of God's Word in believers'–including even young children's–lives.
The Bible promises blessings for the family that faithfully instructs their children. I trust that the Lord's command in Deuteronomy 6 to all Christian parents is there for a reason. If we, as parents, are faithful to read God's Word to and talk about it with our kids, as well as strive to live it out (imperfectly and only by God's grace, I might add), there will be blessings for the family. It opens the door for God to do a great work in our kids' lives as they grow up.
Tips for Getting Kids on Board for a Bible Time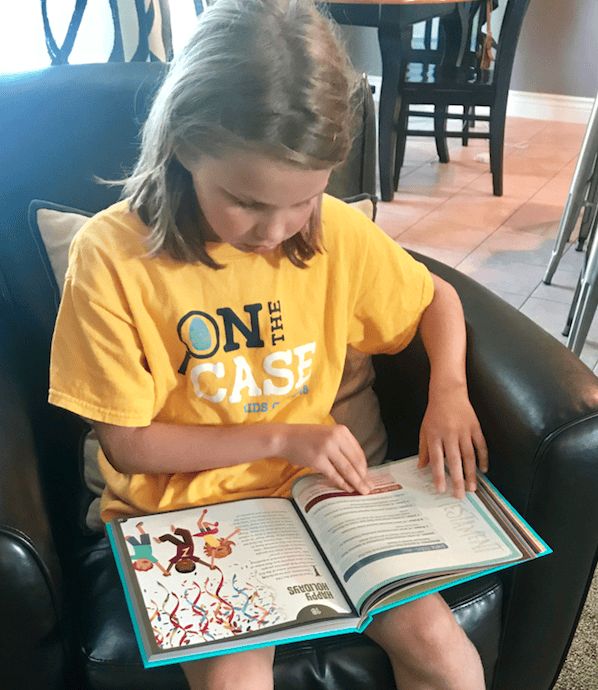 An important side note for parents who haven't started this routine yet or feel intimidated: From my 18 professional years of experience in children's ministry and 13 years as a parent, it's NEVER too late to start reading the Bible or devotional books to your kids. If you've never started this routine or feel intimidated by the thought, don't be discouraged.
Before getting started…talk with your children about the books below and involve them in the decision about which one or two to begin with. Explain to them that you can all learn together (I know I certainly learned a lot from the books below!). You do not have to have all the answers for your kids in order to read about God to them. I am convinced our children will remember most of all our example and heart for the Lord, rather than what we did and didn't read or what we know and don't know.
Some of these devotionals below are more appropriate for younger or older ages, as I've indicated. We've found one way to engage our older child is to have him read the devotional out loud to the younger children when using a "younger kid" book. We've also noticed that the 4-year-old really gleans more than we think when reading the "big kid" ones, and he's learning to sit still and listen for longer and longer stretches as a result. So, don't be afraid to try some of these with a wide variety of ages.
Our Favorite Bible Devotional Resources for Kids
Here are several of our favorite Bible story books and devotionals and why, in no particular order. May God bless your desire to teach your children about the One who created them and loves them more than we can imagine.
Disclaimer: Some of the links in this post are affiliate links. We are a participant in the Amazon Services LLC Associates Program, a means for us to earn fees by linking to Amazon.com and affiliated sites. Here's our full disclosure.
For Younger Kids: Bibles
We love this classic children's story Bible for three reasons. 1) God is the hero not the people. At the end of each narrative is a helpful page titled "What did you learn?" It states a few brief God-centered points in order to promote discussion with your child. 2) Lindvall has the gift of reducing complicated Bible concepts down to simple ones while remaining faithful to the original text. 3) The illustrations by H. Kent Puckett have always captured the attention of my young kids as we read together before bed. With large pages full of colorful and simple images, the kids' eyes are glued to what is happening in the story.
This small book has a simple, one page rhyming story and picture for each Bible story. It's a perfect Bible for young kids with a short attention span.
The beauty of this Bible for kids is that our children memorized many of the stories and helped us retell them because of the clever rhyming patterns.
This has been my kids' go-to Bible during the preschool years and even early elementary. They have learned so much from it. The advantages of this one are that it comes with a free audio download of the author reading the stories, it emphasizes the Bible has one big story with Jesus at the center, and the stories have depth but are simple enough for preschoolers.
For Younger Kids: Devotional Books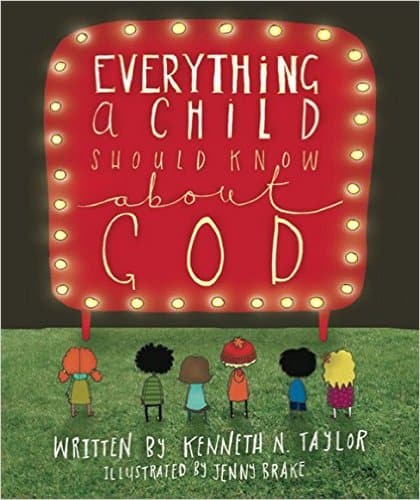 Everything a Child Should Know About God is probably most appropriate for ages 3-6, but older and younger children will certainly benefit from this simple yet profound children's book of systematic theology. In each chapter, the book addresses a question about God, Jesus, Salvation, The Bible, Christian living and more, providing an engaging illustration and a clear, age-appropriate answer. Even adults can learn from this clear-cut look at the basics of Christianity.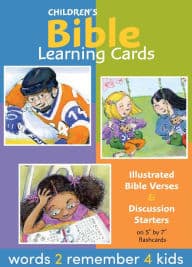 These Bible Learning Cards work especially well for preschoolers. Each card includes a Bible verse, a picture that illustrates that concept in daily life, a short story or question about the illustration. My non-readers always enjoyed holding the pictures, looking carefully at them, and offering thoughts about the Bible verse.
For Older Kids: Bibles
I'll never get tired of recommending this Bible for kids. This children's Bible is a beautiful narrative that helps families understand God's love for his people and how Jesus–God's greatest gift to us–is at the center of every story. My husband and I often tear up while reading it because it is so moving. The illustrations are interesting and well-done, too.
I can't say enough good things about this Bible. Written in the form of a comic book yet faithful to the biblical text, this storybook Bible has engaged my older son and the elementary children at our church in ways that I've never seen before. I like that it hits on the often missed portions of Scripture in children's Bibles–Judges, the minor prophets, Psalms, etc.
There is a simple version of the well-loved NIV Bible translation that is intended for young readers. We regularly use this version in Bible lessons at church.
Our 5th grade son uses the NIV Adventure Bible, as do many families with elementary-aged children at our church. The elementary curriculum-writing team I'm on at our church uses this NIV Adventure Bible in all our lessons and classrooms for elementary kids, as well.
If you're looking for a girl version of the NIV, my 4th grade daughter is a big fan of the Faith Girlz NIV Bible.
For Older Kids: Devotionals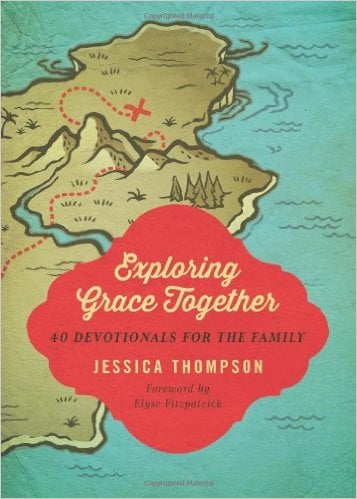 Exploring Grace Together is one of the best devotionals I have run across for elementary-aged children. As Thompson makes clear in this book, "Children need more than behavior modification. They need the gospel." And what I love most about this devotional is that each chapter uses a simple scenario or story of an elementary-aged child who is facing something (a trial, a temptation, a battle with sin, disappointment, a chance to serve others, etc) and how he/she can practically apply gospel-truths to his/her situation. Then, Thompson includes three outstanding comprehension and application questions at the end for parents and kids to discuss. Bravo Jessica Thompson for a well-done, grace-centered family devotional!
Your child doesn't have to be a little scientist to be drawn to this devotional, although your science-loving kid will absolutely love it. We received this book in one of our Seeds Family Boxes, and it's quickly become a favorite of ours.
Indescribable helps children (and parents) be amazed at the majesty of creation and our powerful, personal, and purposeful Creator. Each 2-page devotion includes a key Bible verse, scientific findings and fascinating facts, photography and really cool illustrations, and a short closing prayer. I usually try to ask a review question and sometimes a life application question (if I can think of one on the fly) of my own at the end.
Around every corner is a new surprise in this book! From the wide-ranging topics, to the vibrant and unique design, to a plethora of fun facts,The Radical Book for Kids is a home run devotional book for older elementary and tween boys and girls. It's a fun-filled explorer's guide to the Bible, church history, and the Christian life.
Some topic examples:
friendship
how to make good decisions
weapons in the Bible (and how to make your own catapult)
names of God
women and men who gave their lives for Christ
fun and games in Bible times
Latin words you should know
The best part of all is that deep biblical truths are communicated to kids while stimulating their curiosity and sense of adventure within a gospel-centered framework. Tucked in the midst of quirkiness is teaching about God's attributes, our salvation, and what radical faith in our promise-keeping God looks like.
Jack (my 11-year-old) read through this book in a matter of days last year, and Hannah (my 9-year-old) is currently working her way through it each morning. Sometimes I read it to her, and sometimes she reads it on her own. Both kids have required no prompting from me to keep at it and have enjoyed telling me the cool facts they are learning along the way.
Exploring the Bible leads kids ages 6–12 through the Bible one day at a time over the course of a year. For use alongside any Bible (here are my suggestions), this workbook will help them see the overarching story of God's Word and lay the foundation for a lifetime of discovering truths about God, humanity, and the gospel.
Each weekly entry includes:
Daily Bible readings
Prayer points
Memory verse
Discussion questions
Space for sermon notes and reflections
One of my favorite parts of using this resource is that it is teaching my children how to look up verses in the Bible and then to think about what they read. It's a simple resource, but I think it's effective helping children begin a daily habit of reading God's Word.
https://thrivinghomeblog.com/wp-content/uploads/2018/08/fullsizeoutput_33cf.jpeg
3024
3024
Rachel Tiemeyer
https://thrivinghomeblog.com/wp-content/uploads/2019/10/thrivinglogo.png
Rachel Tiemeyer
2020-03-14 11:35:00
2020-11-13 06:46:04
Teach the Bible to Kids at Home in 5 Minutes a Day