The Most Important Moment in My 39 Years
We love helping equip others with practical ways to thrive at home, especially through freezer cooking. But, every once in a while, I get an itch as a blogger to share something really personal or meaningful to me in my life. I've wanted to share a little bit about a story from my college years for quite a long time. It's one of those I've started and stopped and hemmed and hawed about. It's a little out of the ordinary for us to write about, and I understand if it's not your cup of tea. But I do hope it encourages someone out there who might be facing a similar situation or simply encourages you in your faith. 
—————————————————
About 20 years ago now, I had a growing weight on my shoulders. It felt heavier week by week. I didn't feel it all the time. Just in the quiet moments before bed or in the shower. 
I was a freshman in college and more or less living with my boyfriend at the time. We had pulled away for years from my friends and my family, who weren't keen on our co-dependent relationship. I thought I loved him, but inside I was growing weary. I felt guilty. I felt lonely. I longed for a bigger life, a bigger purpose than just "us" or "me". But I felt trapped and scared at the thought of leaving my security.
A few of my friends from my hometown—whom I had alienated in many ways–would swing by and pick me up on Sunday mornings to take me to church with them. They'd call the night before and say, "Sorry, you don't have a choice. We are coming to get you." And as soon as I got in the car, I felt the burden lift a little. I would morph more into my true self. Somehow the sun appeared brighter, the air was fresher, and I felt more alive.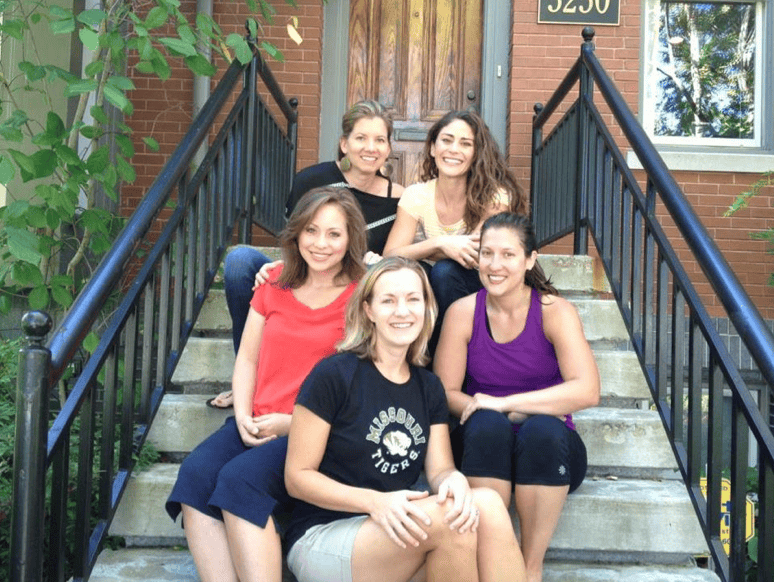 I'd sit through a sermon and sing some worship songs to a God I grew to want to know more and more. And, over the course of a year or so, I felt both a heavier burden on my shoulders—which I came to know as the weight of the knowledge of my own shortcomings before a perfect God—but also a sense of a light at the end of the tunnel. 
Soon, during those still moments, I began to hear simple truths I had learned or sang about God in my childhood echo in my mind. "God is so good" became a line from a church camp song I couldn't get rid of.
It gave me hope, but it also made me look at my own heart. A heart that looked for my security and satisfaction in another person, not in my Creator. A heart that often hated or talked badly about others. A heart that willingly betrayed what God teaches in his Word. A heart that thought my worth was wrapped up in being attractive or intelligent or the best in my class.
Was I good enough for a perfectly good God? In the shower one night, I knew. I knew I was absolutely, 100% NOT good enough. I could never be good enough. But I absolutely, 100% knew he loved me. Suddenly, all the "Jesus dying on the cross" talk made sense to me. I needed him to pay for my sin. That was the only way to know this good God forever. 
My once fearful, stubborn, hateful heart melted like wax in that warm shower. I cried until I had no more tears. I told the Lord I needed him. I asked him to forgive me for all the wrongs I had ever done and ever will do. I told him that I longed for him to save me from myself, from my messed up relationship, from my sin. And he did.
Coming to know Jesus was a process for me and still is. But stepping out of that shower that night at my boyfriend's apartment…I was a new person. My shame was washed down the drain. That heavy weight was gone. I knew it immediately. 
Getting out of the relationship with my boyfriend took many fits and starts. My fear didn't leave quickly. My feelings were completely tangled up with this other person, especially since we had been together for so long. But, God helped me. And it was the best thing for me and for him. 
I'm going to turn 40 in the next year. When you're 19, you feel immortal. When you're almost 40, you begin to see that life is far shorter and more significant and harder than you ever suspected. You witness marriages crumbling, friends getting cancer, loved ones dying, and a nation in turmoil. You witness more and more of a messed up and broken world. 
But after being a Jesus follower for almost 20 years now, I see how different life is when you have him near. He brings hope. He provides for my needs. He makes sense of this world. And he is waiting for his children—those who are ready to lay down their heavy burden—to come to him. God is so good.
https://thrivinghomeblog.com/wp-content/uploads/2017/09/friends.png
582
774
Rachel Tiemeyer
https://thrivinghomeblog.com/wp-content/uploads/2019/10/thrivinglogo.png
Rachel Tiemeyer
2017-09-20 10:33:08
2021-03-09 15:20:09
The Most Important Moment in My 39 Years