"Good News of Great Joy!" Family Christmas Devotional (Only $4.99!)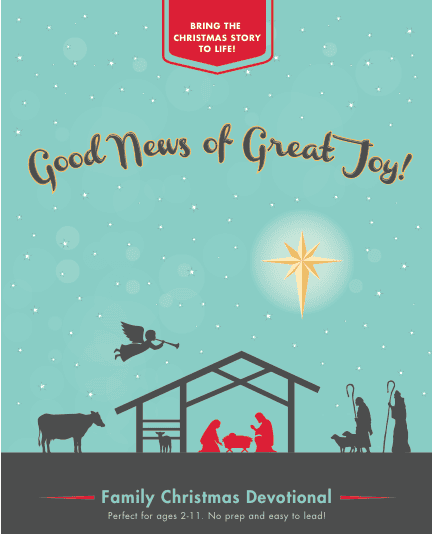 What story will most capture your child's heart this holiday season?
Children begin to form their understanding of what Christmas is about from very early on. The only real question is who or what will have the most influence in shaping it.
The biblical story of Christmas can be confusing to kids who are bombarded with our culture's holiday icons and values at every turn. You have an opportunity this December to spend time not only decorating, wrapping gifts, and going to parties…but, most importantly, focusing your family's hearts on whom it's all for.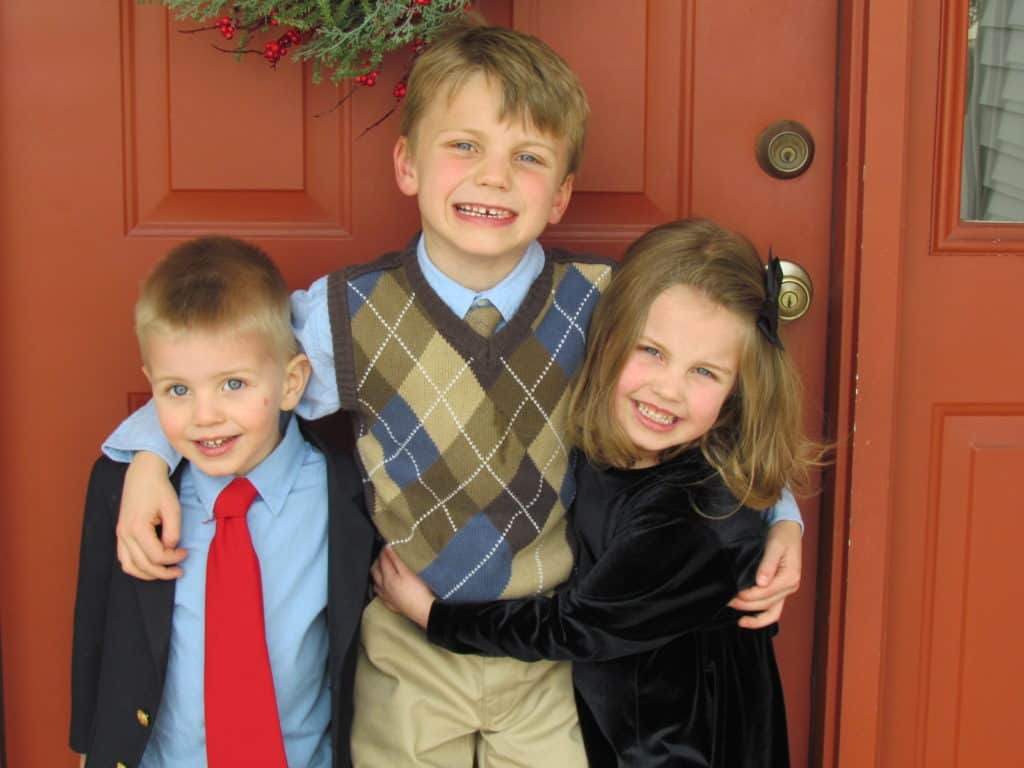 With 14 years of experience in children's and family ministry, I've written and taught Christmas lessons to kids of all ages for years. My husband and I have also led our three children through the Christmas story and several fun devotional activities over the course of many Christmas seasons, as well.
So now, I'm excited to share with you four easy-to-lead Christmas devotionals in my e-book, Good News of Great Joy. I created this devotional book for real life and a wide variety of ages! Any parent can lead these brief, hands-on, and discussion-oriented lessons.
What is this Christmas devotional about? Who is it for?

This holiday season, you can make the Christmas story come alive for your children! Good News of Great Joy is a simple devotional book that's intended to help your family focus on the story of Jesus' birth, who he is, and why he was sent by God to be with us. The discussion questions and wide range of activities are designed for children ages 2-11.
In each individual devotional in the book, you'll focus on a different aspect of the Christmas story, building on the previous lesson:
Devotional 1: The Story of Mary and Joseph
Devotional 2: The Story of the Shepherds and Angels
Devotional 3: The Story of the Wise Men
Devotional 4: Review and Celebrate!
Each of the four individual devotionals are organized in the same way, making it easy for parents to lead and children to follow:
Read: Choose one or more of the ways listed to communicate the story, depending on the age of your child.
Pray: Take a moment to pray the written out prayer or say your own to help connect the Bible story to your own lives. This demonstrates to children how we can use God's Word to help us talk to him.
Discuss and Do: To help children further understand and connect to the story, choose one or more of the simple activities. Have fun together and help the Christmas story come alive for your kids!
We hope as you read and talk about the story each week, your hearts will be captured by the "good news of great joy" this Christmas season.
How should I use this devotional?
A great first step for any family wanting to try this devotional is to set aside one, regular time each week to do it. Right after dinner works best for our (Rachel's) family, since we're already gathered together at the table. Other families I know use breakfast time, when the kids are fresh, to have a family devotional. Remember, this time doesn't have to be long and it won't be perfect! Do whatever length and format works best for your kids.
(Here we are after dinner having our annual "Birthday Party for Jesus" a few years ago, the ending highlight of every Christmas Day! It's tradition to read Song of the Stars by Sally Lloyd-Jones now.)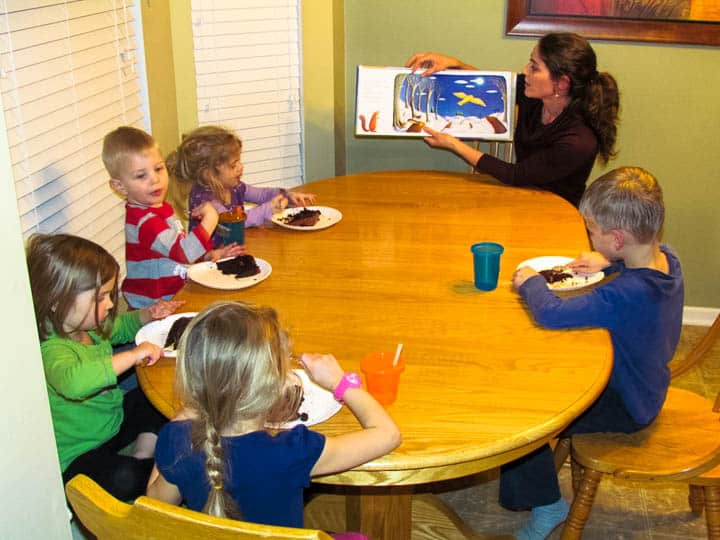 A good next step for using this family devotional is to read the same story from the different Bible versions we suggest and/or try a different activity more than once a week. Perhaps you'd like to even set aside a brief daily time to read and pray together, like before bedtime. Remember, children learn best through repetition, and it helps to look at the same story several times through different angles.
How do I purchase Good News of Great Joy?
Get your copy of our Family Christmas Devotional today and focus this holiday season around the greatest gift of all–Jesus, our Savior!
Note to church or ministry staff: If you're interested in purchasing this devotional for a group, please email us to discuss a bulk rate. We'd love to help you get this in the hands of the people in your ministry!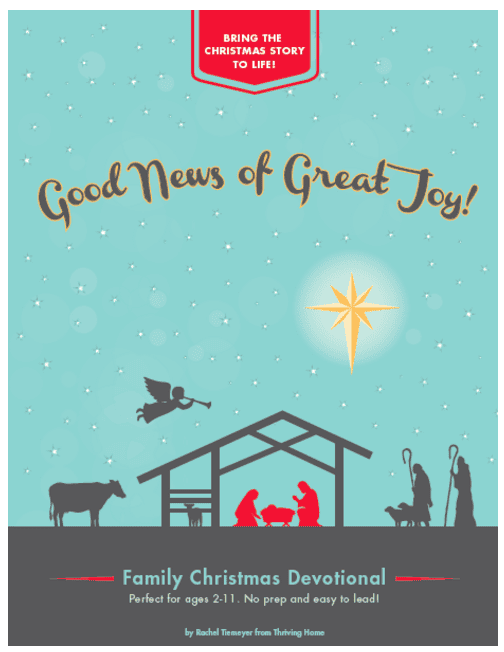 Copyright and Permissions
No part of this document may be reproduced or transmitted in any form, by any means (electronic, photocopying, etc) without the prior written permission of the publisher.
Although in electronic form, an eBook is meant to be the personal property of the purchaser. It is a violation of copyright and purchase agreement to forward the entire book to another person.
https://thrivinghomeblog.com/wp-content/uploads/2014/11/Screen-Shot-2014-11-24-at-8.18.54-PM.png
601
463
Rachel Tiemeyer
https://thrivinghomeblog.com/wp-content/uploads/2019/10/thrivinglogo.png
Rachel Tiemeyer
2014-11-24 22:00:37
2019-10-25 12:31:13
"Good News of Great Joy!" Family Christmas Devotional (Only $4.99!)