Good News of Great Joy
Updated: 5/16/22
This post may contain affiliate or sponsored links. Please read our disclosure policy.
What story will capture your child's heart this holiday season?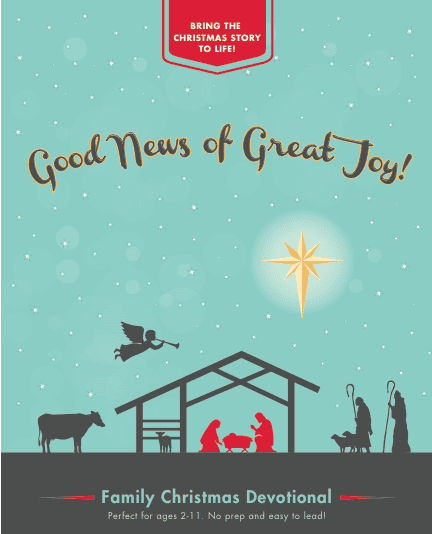 Good News of Great Joy: A Family Christmas Devotional
The biblical story of Christmas can be confusing to kids who are bombarded with our culture's holiday icons and values at every turn.
You have an opportunity this December to spend time not only decorating, wrapping gifts, and going to parties…but, most importantly, focusing your family's hearts on whom it's all for.
What's included?
Good News of Great Joy is a simple, weekly devotional that's intended to help your family focus on the story of Jesus' birth, who he is, and why he was sent by God to be with us.
The discussion questions and wide range of activities are designed for children ages 2-11.
Each weekly devotional focuses on a different aspect of the Christmas story, building on the previous lesson:
Devotional 1: The Story of Mary and Joseph
Devotional 2: The Story of the Shepherds and Angels
Devotional 3: The Story of the Wise Men
Devotional 4: Review and Celebrate!