15+ Advent Resources for the Whole Family
Updated: 10/11/22
This post may contain affiliate or sponsored links. Please read our disclosure policy.
The true reason we celebrate Christmas – that God sent His only Son for us – can get lost in the hustle and bustle of preparations for the holiday. Advent is a time to focus our hearts and minds on Jesus in the midst of the crazy. What could be more important than remembering Jesus?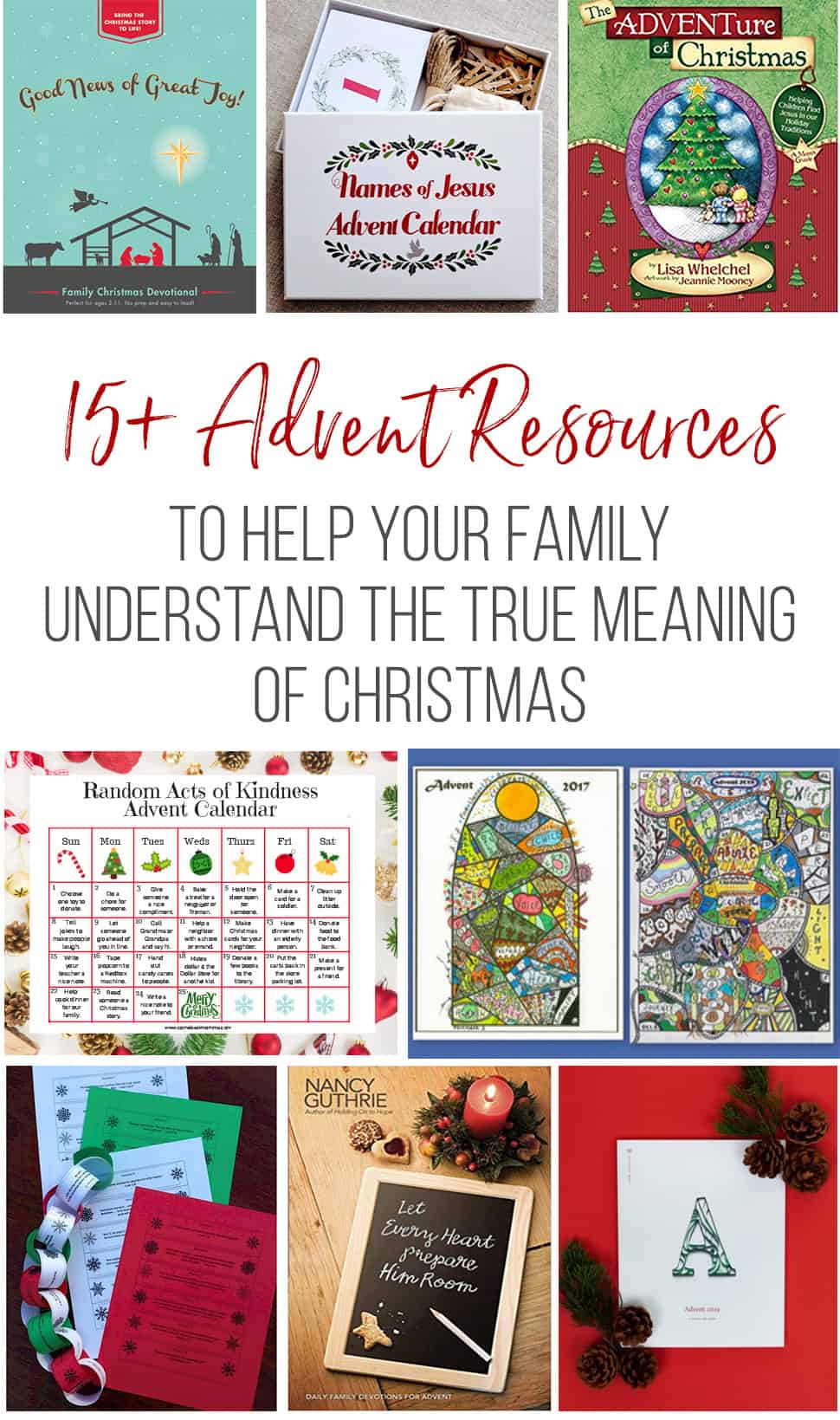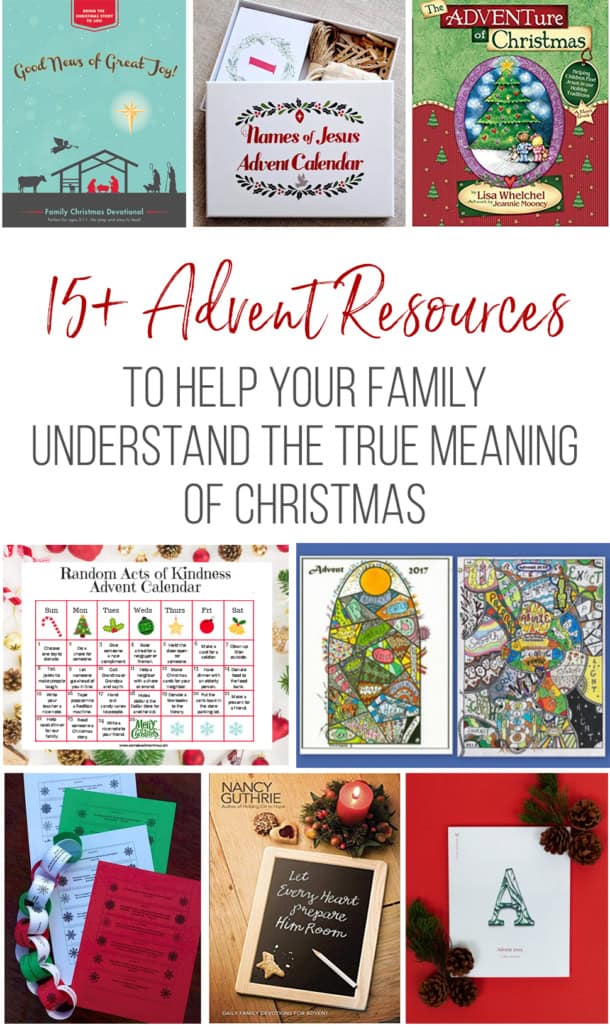 We know you're busy! We've got you covered so you can integrate intentional activity to focus your family on Jesus this holiday season.
We've sourced resources for Preschool, Kids, Teens and Adults to come up with Advent Resources to Help Your Family Understand the True Meaning of Christmas. In just a few minutes each day, your family can focus on the true wonder of the Christmas season.
Be sure to also check out our 15 Picture Books That Share the REAL Meaning of Christmas!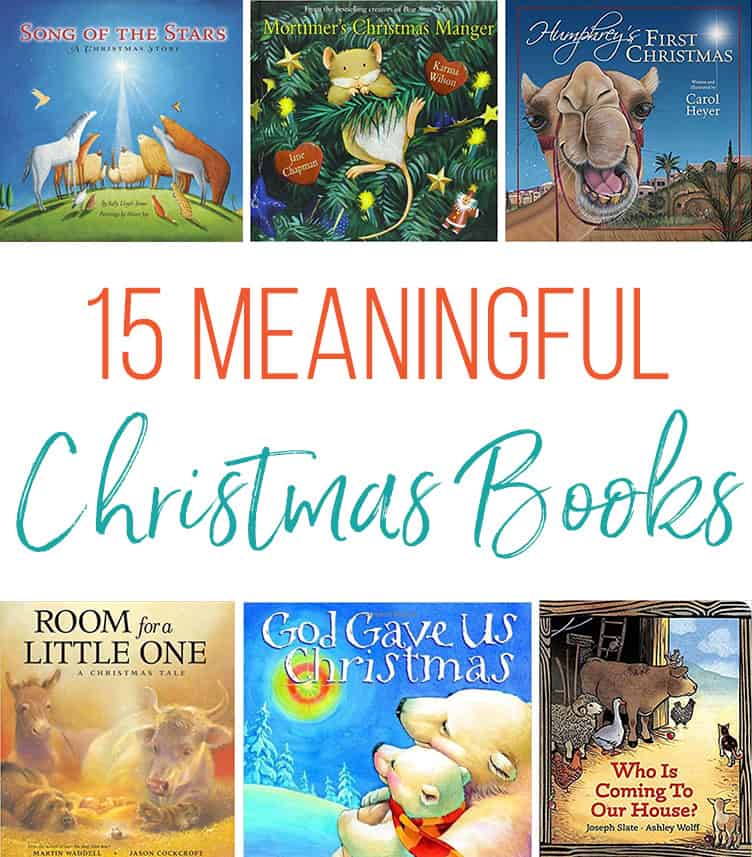 15+ Advent Resources for the Whole Family
For Preschool
This countdown to Christmas has a short reading with scriptures and activities. This book is a great way to keep even the littlest members of your family involved and focused on Jesus.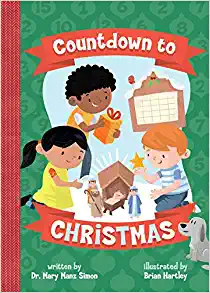 Advent Paper Chain
This is such a fun activity for your preschooler to make and enjoy each day in December leading up to Christmas. This free Advent paper chain tells the story of Christmas through Bible verses. Tear off one for each day, starting on December 1.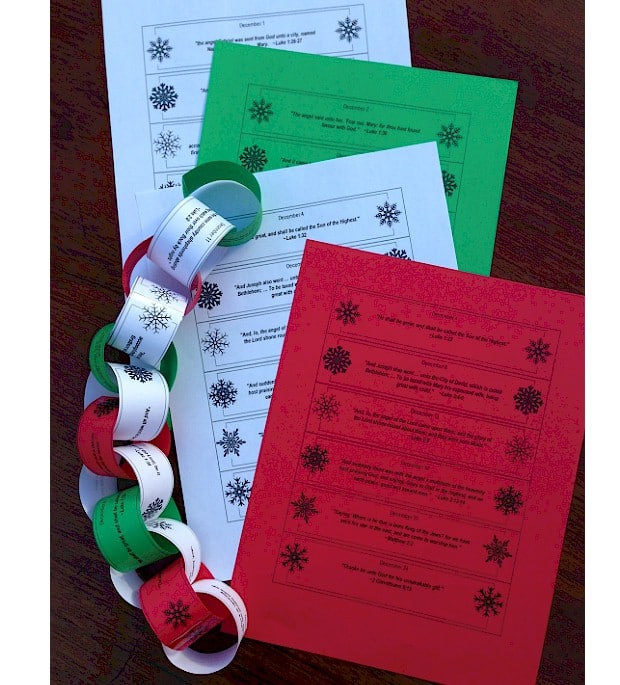 We also found a free printable pdf to make an activity Advent paper chain. Each day focuses on an act of kindness or activity. While this doesn't have an emphasis on the Bible, it's completely editable. I love the idea of taking your favorite children's advent book and adding a daily scripture and one of these activities. Your kids could read the book story, then tear off a paper chain link that goes along with it.
This has long been a favorite of our family. Well beyond the suggested age group, my teens are the first to set it up when the Christmas decorations come out. With so much of the Christmas decor being "don't touch", this gives little ones their own set to explore and play with. This would go perfectly with My First Countdown to Christmas. Each evening you read the story and set out the nativity to be a tactile prop. Have your child hold up and arrange the characters in the nativity as they are introduced so they can be a part of the story.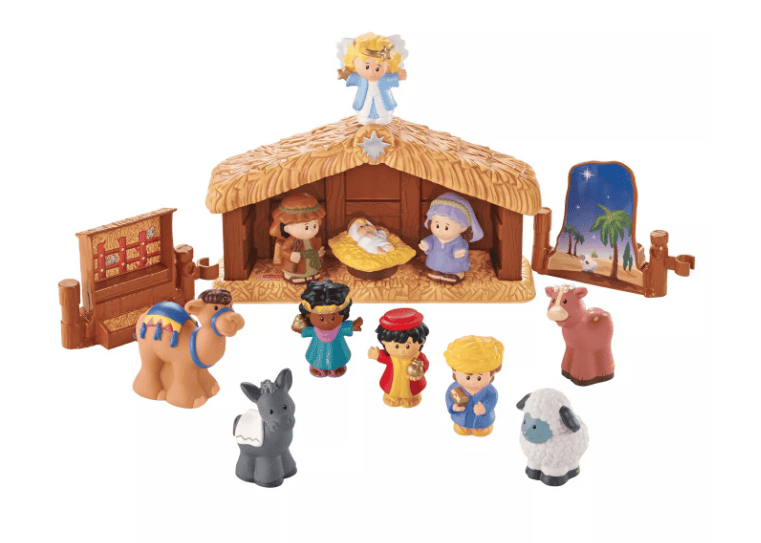 This is a perfect board book for littles ones. Simple, yet it introduces all the elements of the Christmas story. Toddlers loves the concept of "Baby Jesus" and this sweet version of the Christmas story could easily be read night after night.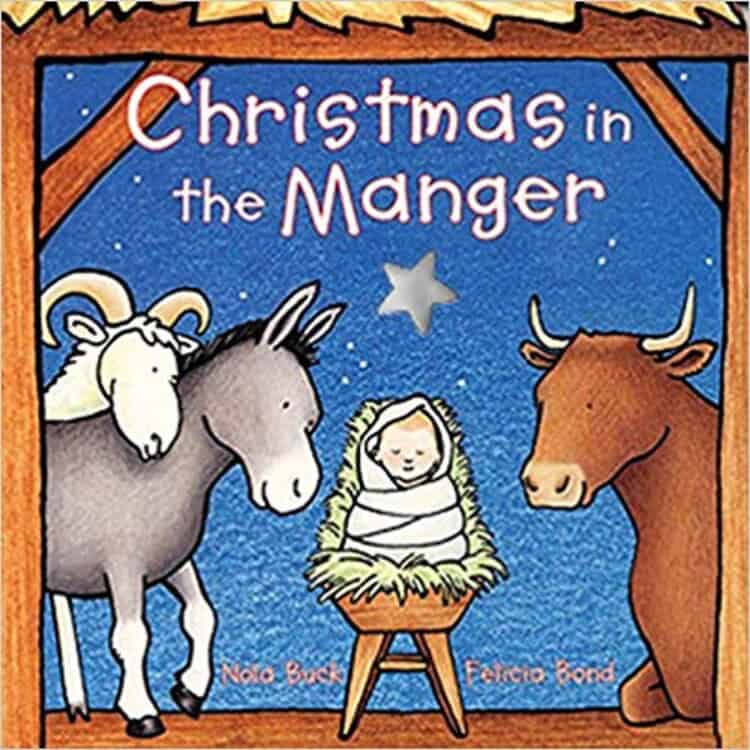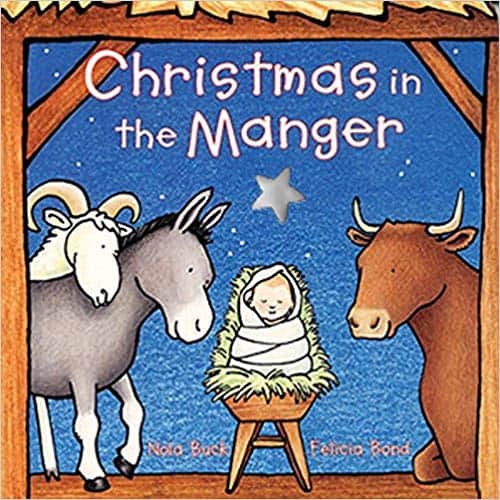 Nativity Sensory Bin
Sensory bins are always a huge hit with the preschool crowd. A really cool idea is to make for advent. The concept is to take a plastic bin or bucket and fill it with multi-sensory tactile props. Most likely you already have a lot of what is needed around your house. There are endless things you can add, but here are a few ideas to get you started.
­A quart size plastic storage bin like these from Target
Paper shreds – either recycled paper from a shredder or brown purchased from a Dollar store or on Amazon
Manger made out of popsicle sticks
Plastic animals – sheep, cow, donkey etc.
Wooden Star (you could have your child color or paint it!)
Wooden people
Here is a link to some more ideas on how to put it all together. Budget Tip: The Dollar Store is also a hidden gem for making sensory bins!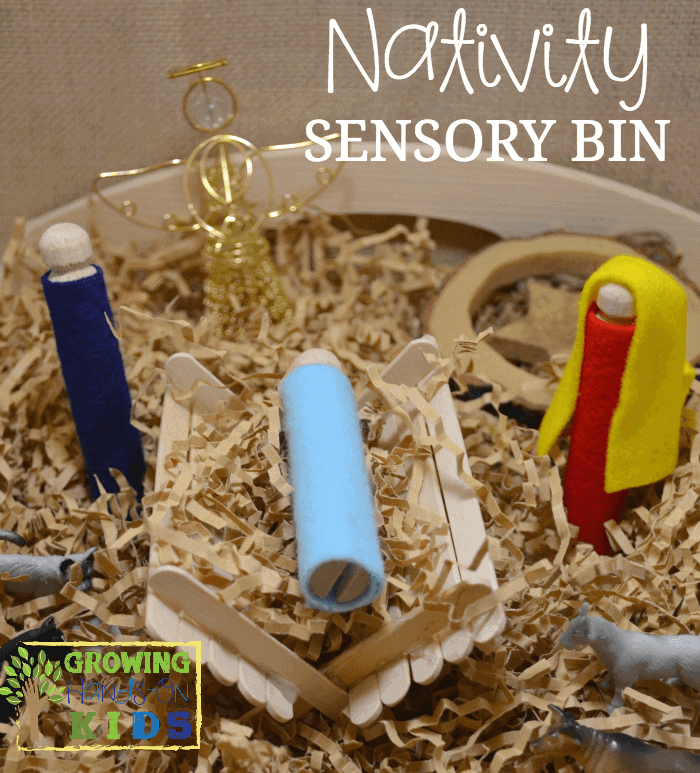 ---
FOR MULTIPLE AGES OF KIDS
This holiday season, you can make the Christmas story come alive for your children. Good News of Great Joy! is our own simple devotional book that's intended to help your family focus on the story of Jesus' birth, who he is, and why he was sent by God to be the Savior of the world. The discussion questions and wide range of activities are designed for children ages 2-11. You can download and print this digital product right now.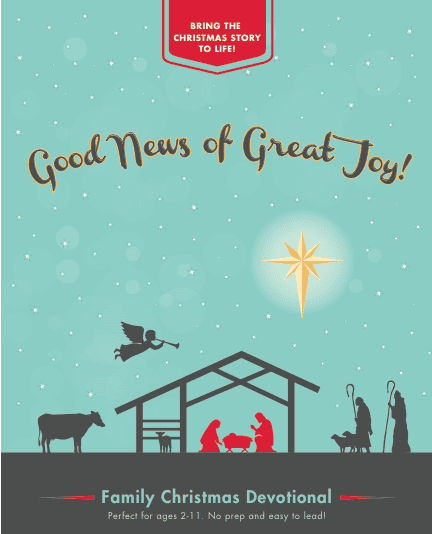 This book shares the significance behind how all the customs and traditions of the holidays came about and how they relate to Jesus birth. Candy canes, Christmas trees, lights, baking, Santa Clause, the star – the 24 chapters in this book explains how all of our customs point to the real meaning of Christmas – Jesus!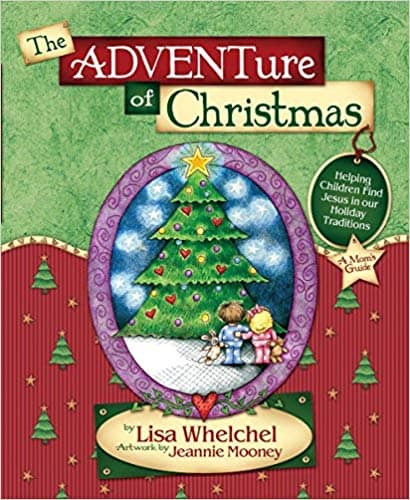 The Jesse Tree is one of my favorite traditions with my own family. This countdown to Christmas includes a daily scripture and devotional that tells the story of the Bible from creation to the birth of Jesus. Perfect for elementary on up, my kids really "got it" by learning the entire lineage of Jesus through the Jesse Tree. Each day, your child adds a piece to the tree that represents the story they've learned about. We review the ones we've learned each night before starting the next story.
There are some elaborate make your own sets, but we've found this simple DIY ornament kit if you want to create wooden ornaments with your kids. This one is a free pdf which has the scripture readings, key themes and prayer along with ornaments to color. It is a previous year version that starts on November 28th.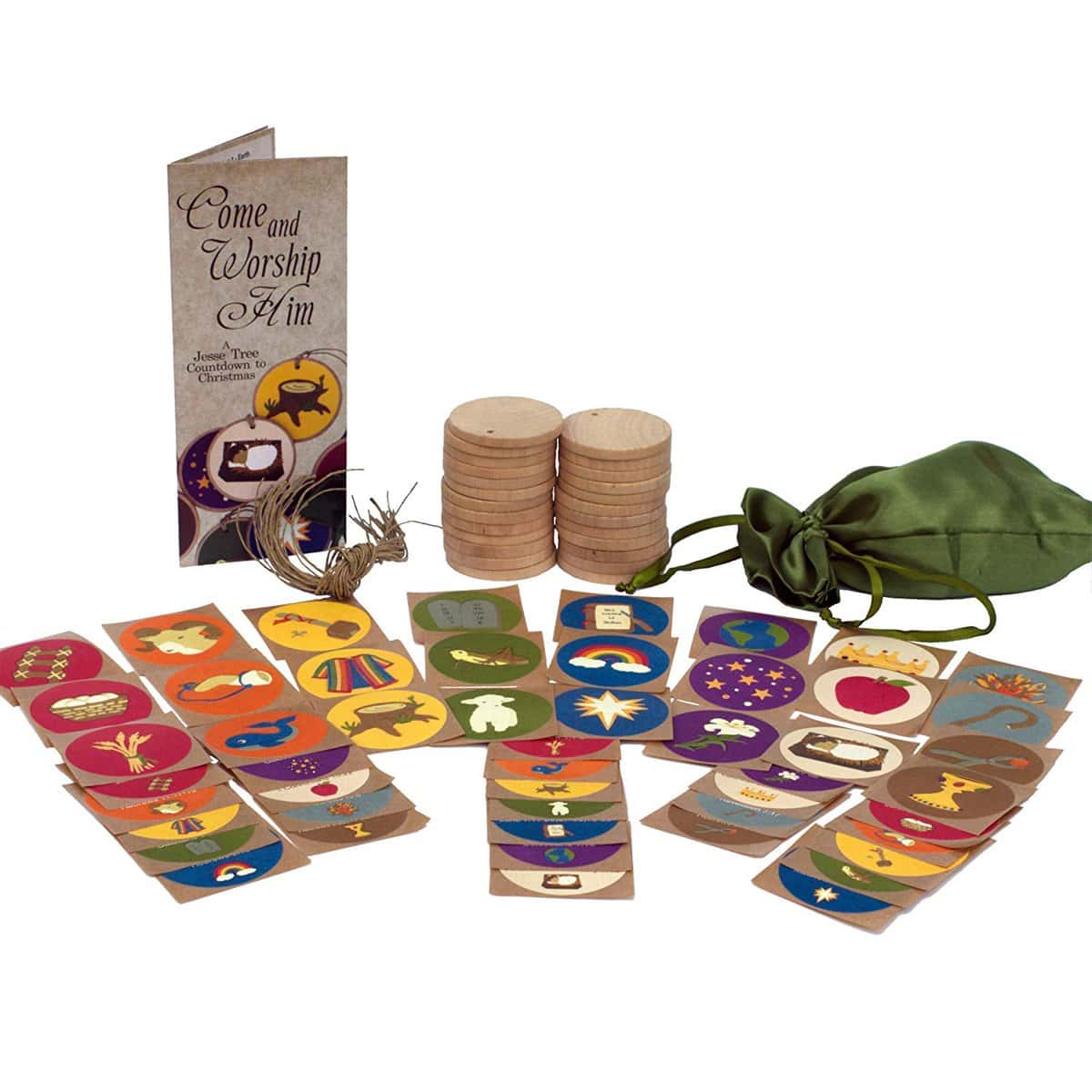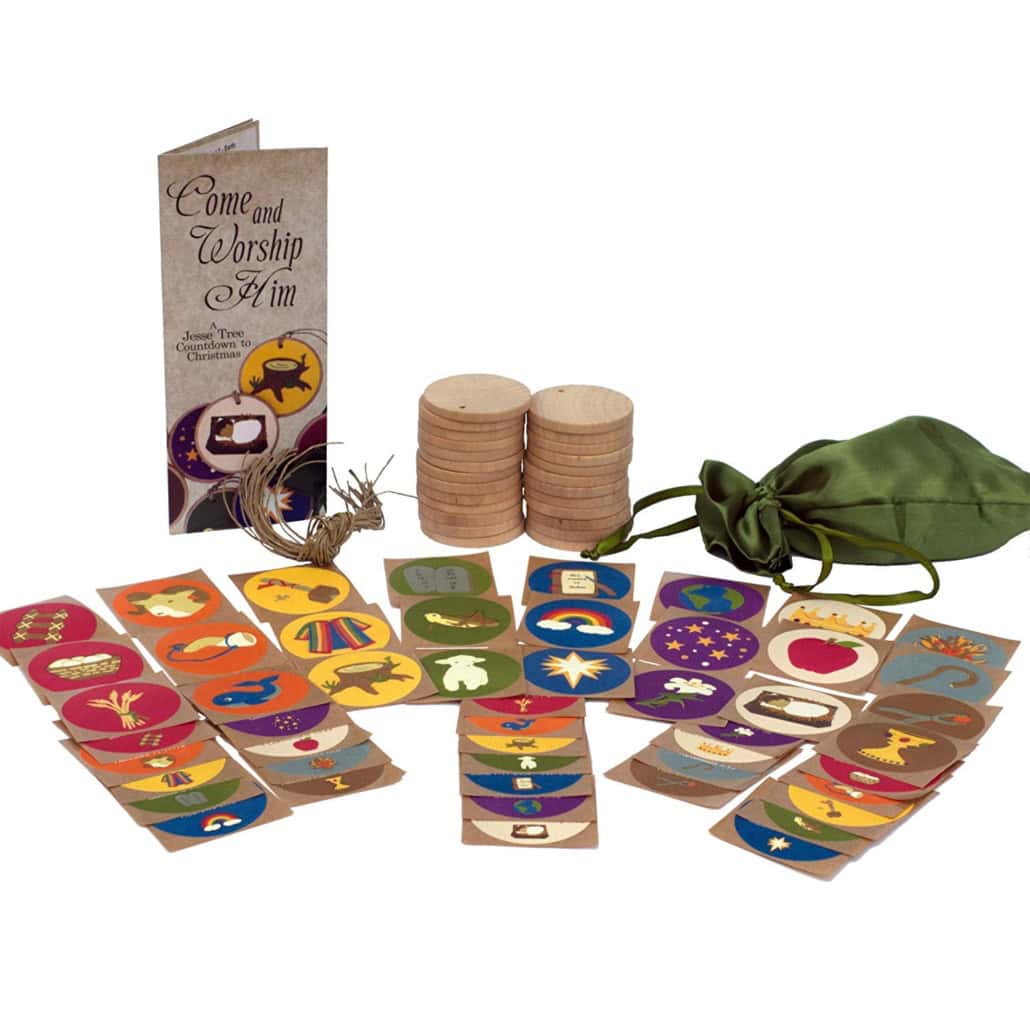 With such a heavy emphasis on what presents my kids will be receiving during the holidays, I love teaching my kids to be givers during the holiday. This random acts of kindness calendar would easily compliment a daily advent devotional and model in a practical way how God gave the ultimate gift of his Son to us. Here is a link for a blank one if you want to create your own!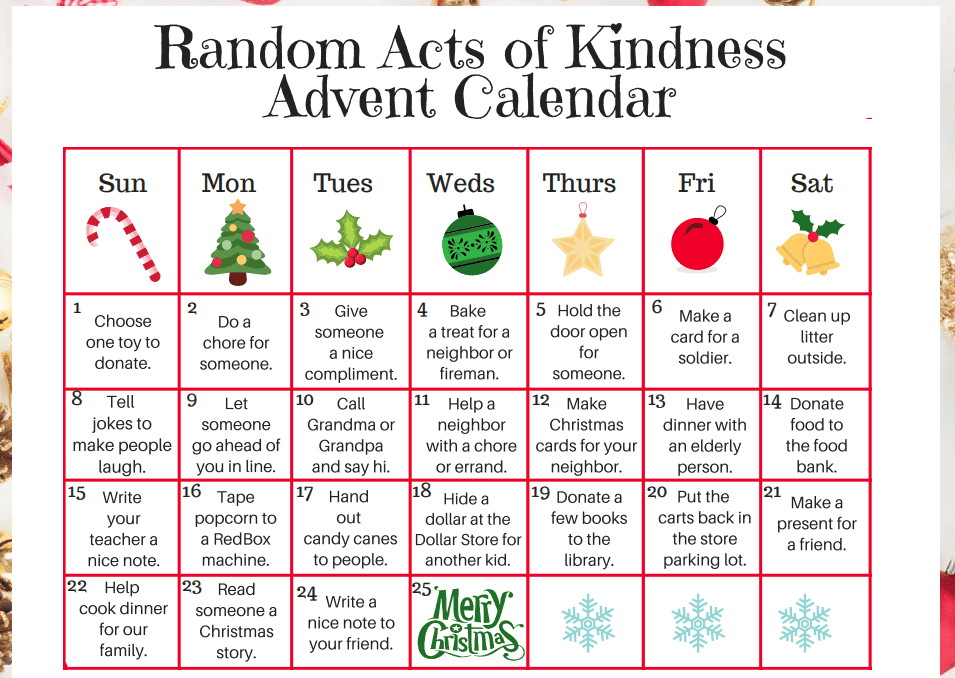 Twenty-five conversation cards will help you countdown to Christmas while exploring the biblical story of Jesus's birth. Celebrate our Savior each day by reading Scripture, answering age-appropriate discussion questions, and completing a fun activity.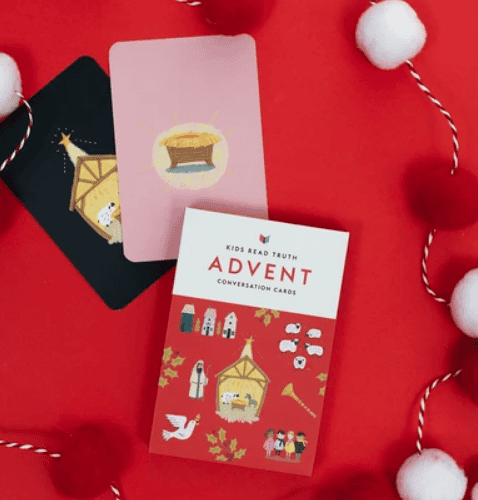 ---
For Teens and Adults
I get this almost EVERY year and love it. This four-week Advent experience features daily Scripture reading carefully curated for the Advent season. It is also filled with seasonal delights, from daily prayer prompts and reflection questions to favorite holiday recipes, festive hymns, and Christmas crafts.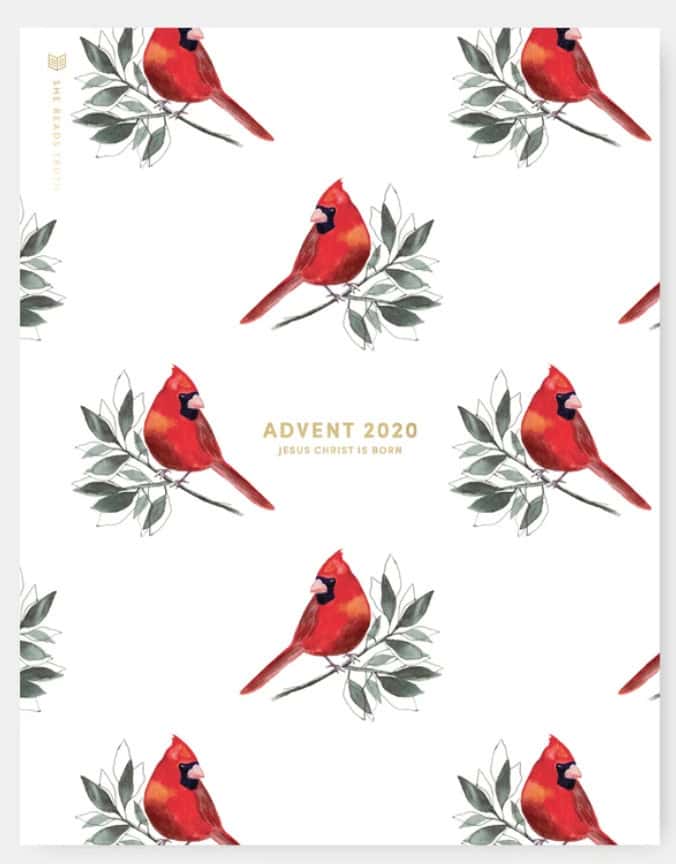 This is a set of beautifully hand designed cards with the names of Jesus. These are perfect to display on a teen's wall or even your mantle. It includes Bible verses for each day and a daily email to give insight into the name and meaning on each card. This set ships FREE!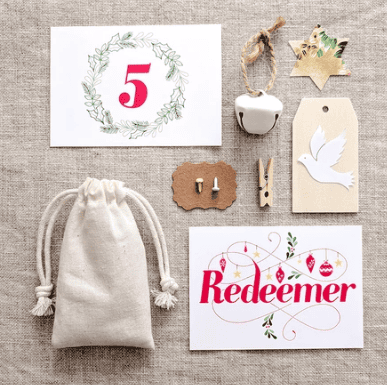 Perfect for all ages, this book is designed for those who want to keep Christ in Christmas. Giving insight to many popular traditions, this each daily devotional centers around a theme, application, prayer and scripture format.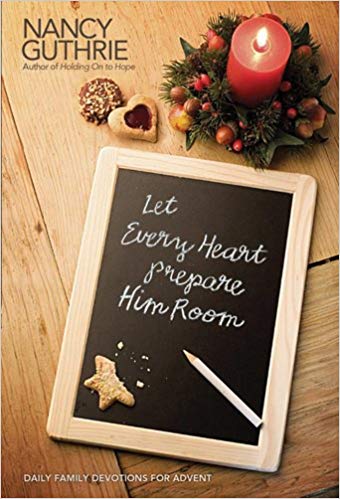 Advent Coloring Meditation
This is the perfect advent activity for teens or adults who are fans of adult coloring books. Get out your colored pencils and create an ornament or picture on a calendar each day leading up to Christmas. Pray and meditate as you color through your daily advent devotional. Here is a FREE printable for an ornament advent coloring page. Here is also a blogpost with a multiple FREE calendar options for coloring.