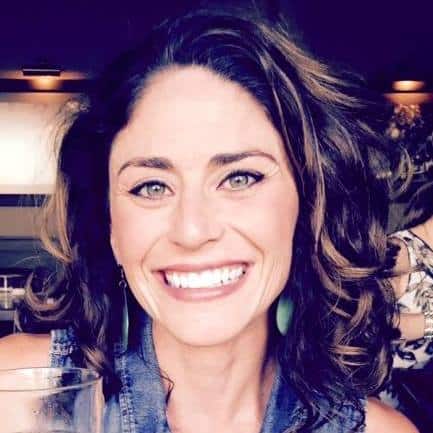 Thanks for stopping by Thriving Home. My name's Rachel. I'm a wife and mom to three kids. My husband affectionately describes me as "an endearing dork"–likely because of my keen abilities to crack junior high-level jokes and make a fool of myself to get a laugh. My friends probably have some good black mail photos of me somewhere as proof.
Before the Blog
I graduated with a degree in English Education and intended to sacrifice my life to reading, writing and grading late into the night. But, after becoming a Christian in college, my desire shifted toward vocational ministry.
Immediately after college, I was hired by a new church as the Children's and Student Ministries Director. Within my seven years on staff, our church of 30 people grew to about 2,000 and went from meeting in a small room on my college campus, to a high school auditorium and eventually to our own building. What an amazing experience! Then, when my first child was born, I decided to stay home full time and to work part-time as the Family Events Director for our church.
My Family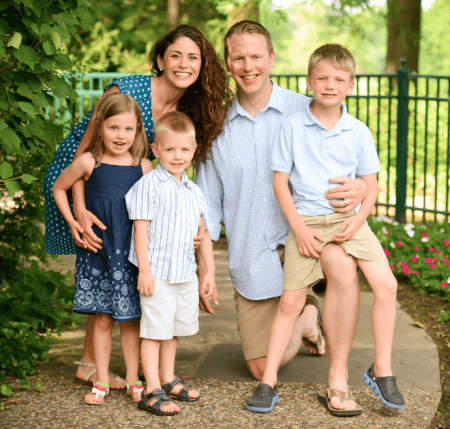 See that cute blondie that my kids all look like a clone of? He's the guy I became friends with (read: crushed on) my junior year of college, dated and broke up with twice, and eventually said "yes" to marrying while we were on a break. It's a long but good story. He graduated from Covenant Seminary with a Masters of Divinity and is the Pastor of Biblical Studies at our church. We've been married for 15 years. You might see him guest post on here from time to time, as he's brilliant and a blogger himself.
Then, there are the three clones of my husband. I just carried and birthed them really (I'm not bitter, I swear). We have a 9-year-old son, a 7-year-old daughter, and a 5-year-old son. Three words that describe our trio: energy, energy, energy. God has graciously given us charge over these busy little people, and it's forever changed us. We love them fiercely, pray for them often, and mess up frequently as parents.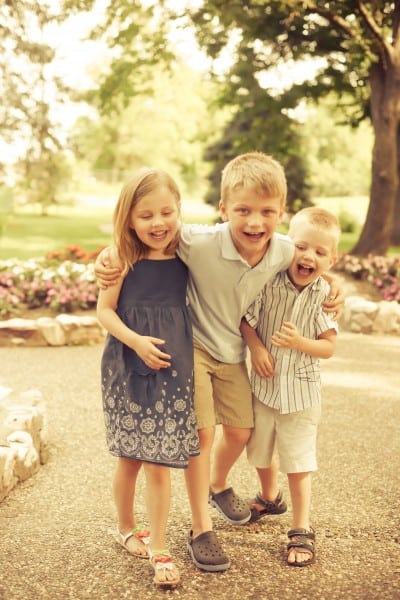 More About Me
You'll notice on the blog my bent toward natural, healthy living. Although I've always cared about being in shape and eating well, our family's lifestyle changed when my first born son was diagnosed with Crohn's Disease at age 18 months. I wrote a bit about his diagnosis here and here.  This post and this one explain some changes we made after that.
I've worked part-time helping in children's ministry at our church now for nine years, while staying home with my children. This blog has become my creative outlet, and now another part-time job (read about how that has happened here), during these wonderful but long days filled with raising kiddos and managing our home.
Polly and I are in process just as much as the next person. But, our hope at Thriving Home is that some of the things we are learning–whether it's a new recipe (here are my favs), a parenting resource, or something encouraging to our faith in Christ–can be a help to you and your family.
Let's strive together to create thriving homes!