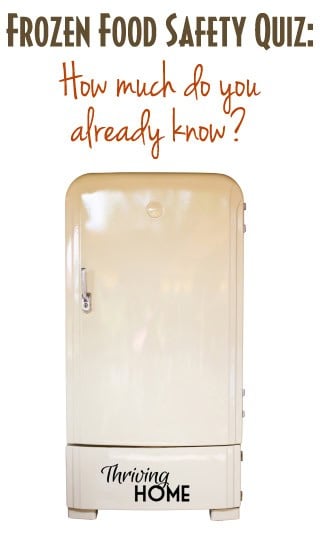 Polly and I are hard at work on our first e-book that will be filled with all our favorite, well-tested, and updated freezer meal recipes. In preparation, I've been doing a little research, including exactly what the USDA has to say about the safety of freezer cooking.
I have to admit…I was surprised by some of the information I found, even though I've been in a Freezer Club for years! So, I thought it might be helpful and fun to offer you a quick quiz. Let us know how you do!
QUIZ QUESTIONS:
1. Which food items DO NOT freeze safely?
a. eggs
b. tomatoes
c. canned food
d. mayonnaise
2. True or False? Frozen food can remain safely frozen indefinitely.
3. True or False? Freezing destroys bacteria and parasites.
4. True or False? The freezing process itself does not destroy nutrients.
5. True or False? It is safe to freeze meat or poultry directly in its original packaging.
6. Can you name the only three safe methods for thawing frozen food?
7. True or False? Once a food has been frozen and thawed, you cannot freeze it again.
8. How much longer does it take to cook raw or cooked meat, poultry or casseroles from a frozen state than from their fresh state?
a. twice as long
b. two times longer
c. one and a half times longer
Ready to see how you did???
Pin It