Baked Meatballs with Sneaky Veggies
This post may contain affiliate or sponsored links. Please read our disclosure policy.
These healthy baked meatballs are full of flavor, moist, and packed with nutrition thanks to the sneaky carrot, zucchini, parsley, and chives. Even the pickiest of eaters will love them! Serve with our Pesto Sauce or Marinara Sauce alongside your favorite pasta.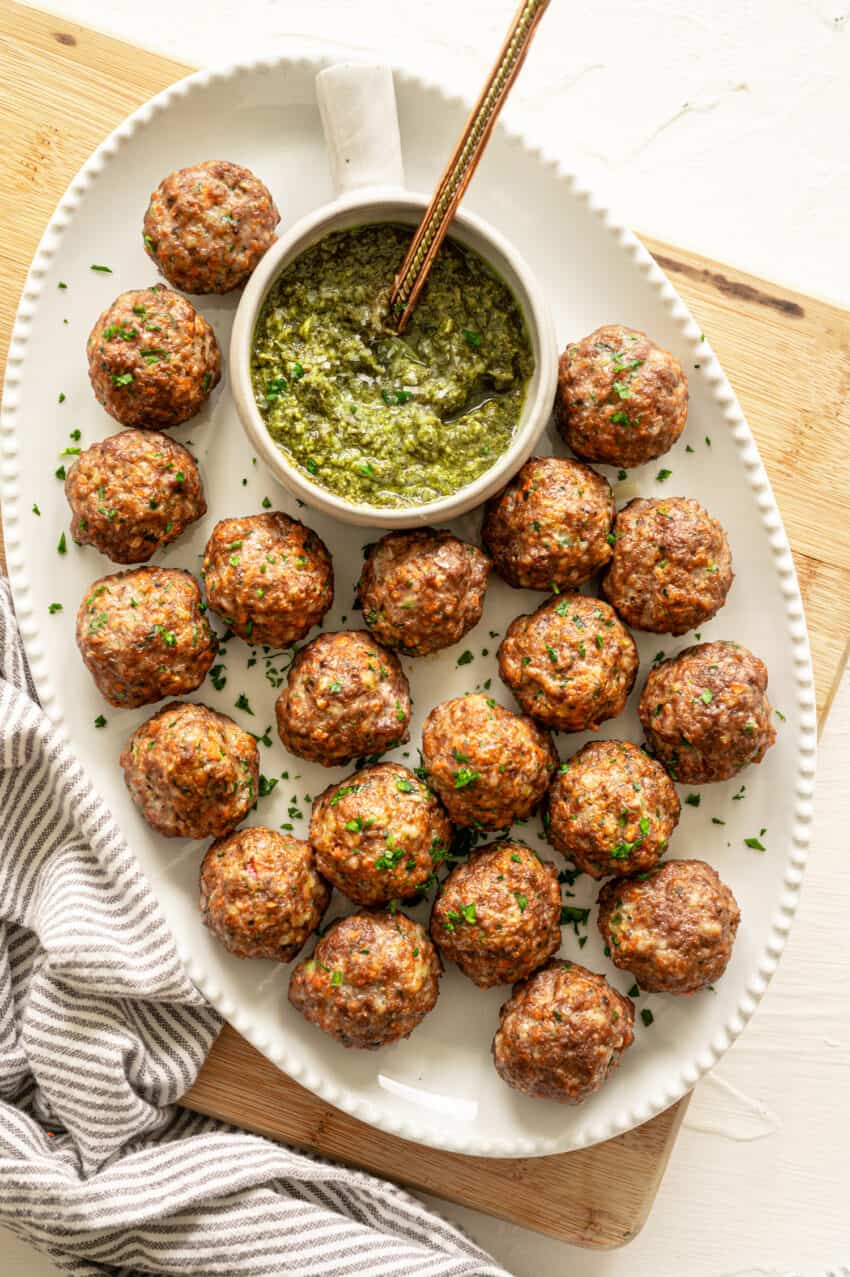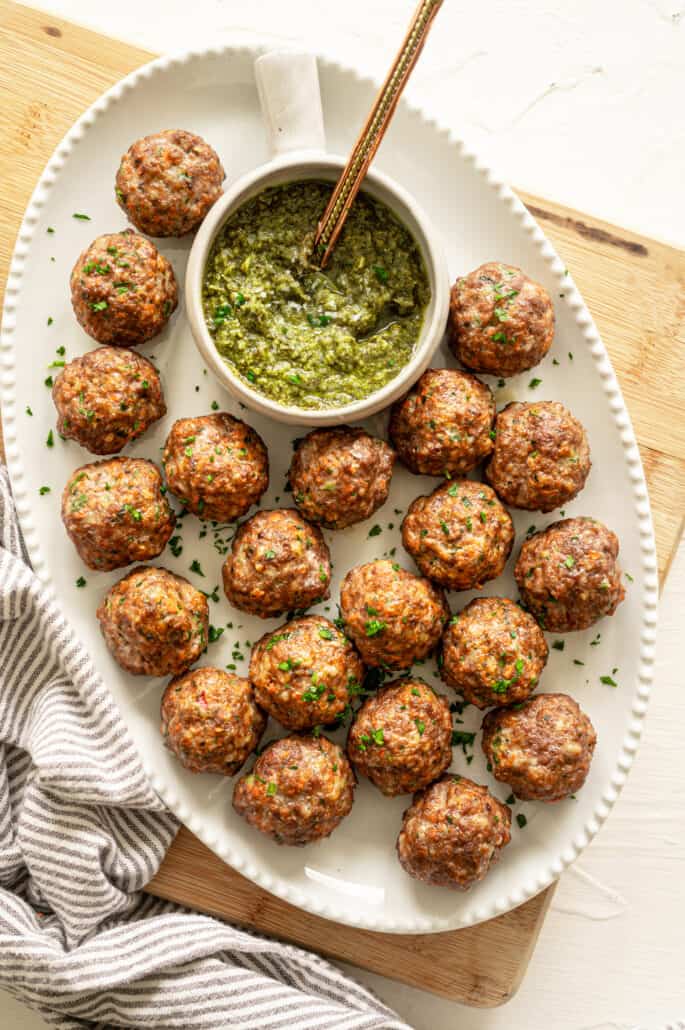 What Makes These Meatballs Healthy?
These delicious meatballs are healthier than most for a few reasons:
Sneaky Veggies and Whole Grains: This recipe includes virtually tasteless zucchini, carrots, parsley, and chives, plus whole wheat bread crumbs. I developed this recipe over a decade ago when my kids were super picky eaters. Although I always offered veggies at each meal, they just weren't getting the recommended 5+ servings (that's hard for most of us!). So, I began finding ways to incorporate vegetables into all their favorite meals. These meatballs were and continue to be one of our favorite healthy recipes!
Healthier Cooking Method: Rather than pan-frying these meatballs, I will instruct you to place them on a baking rack over a rimmed sheet pan. While they bake in the oven, the fat will drip below. They turn out crispy on the outside and moist on the inside.
Healthier Meat: I suggest using lean grass-fed, grass-finished beef like from ButcherBox. Or you can use ground turkey instead.
For even more nutrition, serve these meatballs with Homemade Marinara Sauce or Pesto Sauce (say hello to even more sneaky vegetables) over whole-grain spaghetti for added fiber, protein, and nutrients.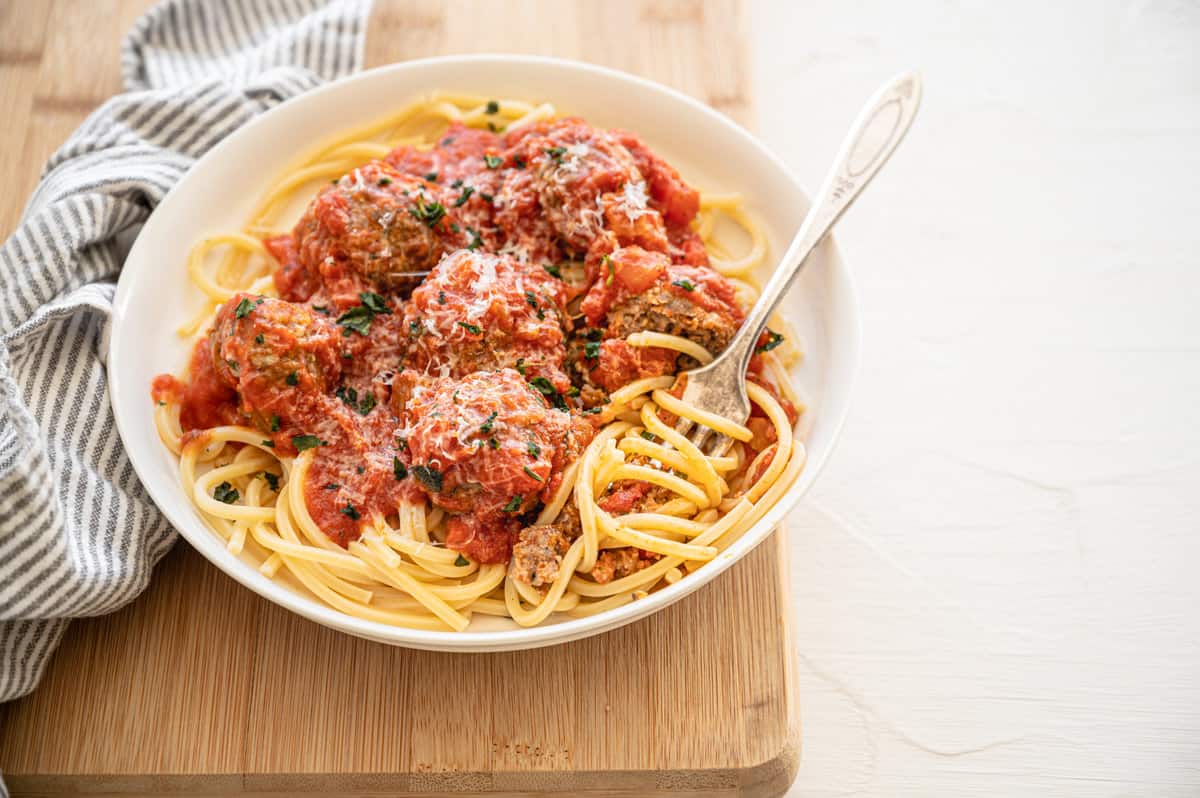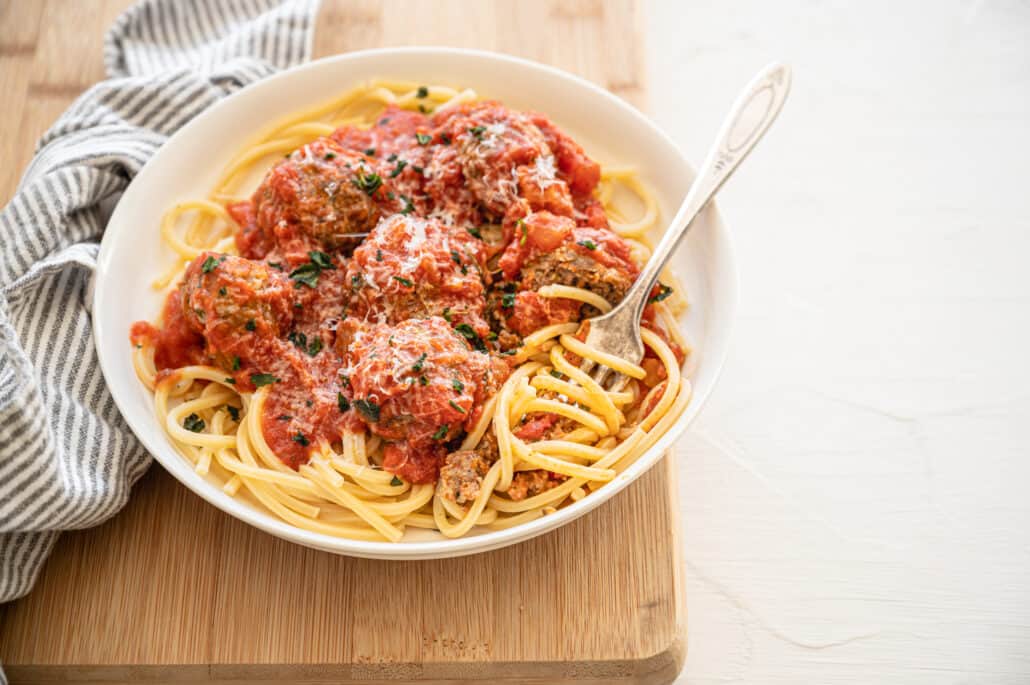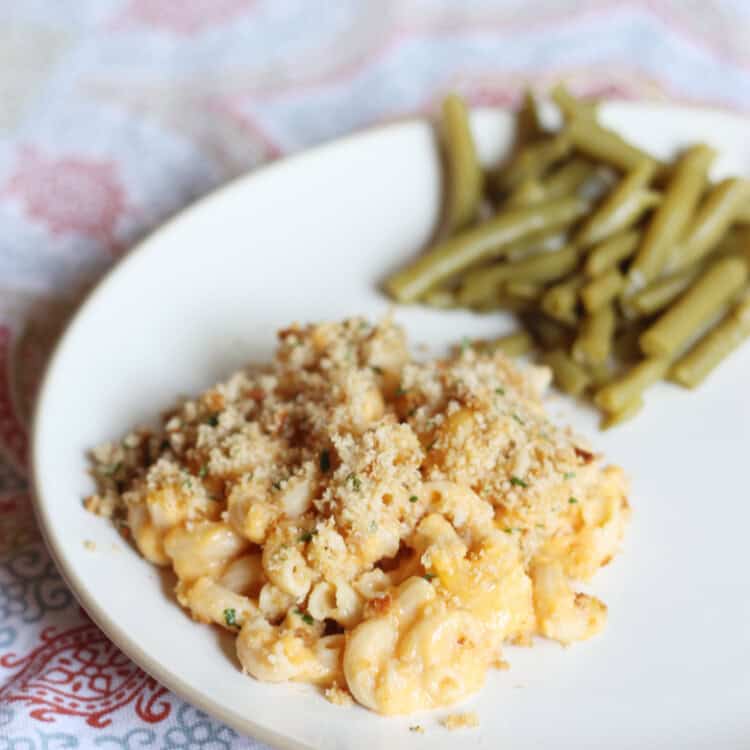 Tip: Sneak in Extra Nutrition
While I'm a big proponent of offering fruits and vegetables at every meal–even to the pickiest of eaters, I also have learned the value of sneaking in extra nutrition when possible.
If you have picky eaters, try these 50+ ways of adding in bonus veggies and fruits to kid favorites.
50 Ways to Sneak Vegetables & Fruits Into Kid Favorites
I'd suggest doubling your ingredients for this recipe, so you can make an extra batch for the freezer. These are so delicious and freezer-friendly!
Whole wheat bread crumbs – You can use store-bought dry breadcrumbs or make your own. Using whole-grain bread for your bread crumbs adds extra fiber and nutrients. If you are gluten-free, try subbing almond meal or homemade gluten-free bread crumbs.
Grated Parmesan cheese – This adds saltiness, and savoriness, and acts as a binder in addition to the bread crumbs.
Fresh parsley and chives – These finely chopped herbs add fabulous fresh flavor and a little pop of color. Don't forget these also add extra nutrition, too.
Finely shredded carrot and zucchini – Use a box grater (the finest grate side) or your food processor to shred or grate these virtually tasteless veggies. If you have picky eaters, I'd suggest making sure they are very finely shredded. Squeeze out most of the moisture before adding to the meat mixture.
Egg – Be sure to beat this large egg before adding to the meat mixture. It also helps bind the mixture.
Ketchup – This is a quick way to add extra flavor and moisture. Preferably buy organic or be sure to check the label for all ingredients you recognize (avoid the ones with high fructose corn syrup!).
Lean ground beef – I use grass-feed, grass-finish ground beef from ButcherBox for these but you could also use ground turkey.
Garlic powder – I found this works better than fresh garlic, so you don't bite into a chunk of garlic in the meatballs.
Salt and pepper – Key to adding the right balance of flavors.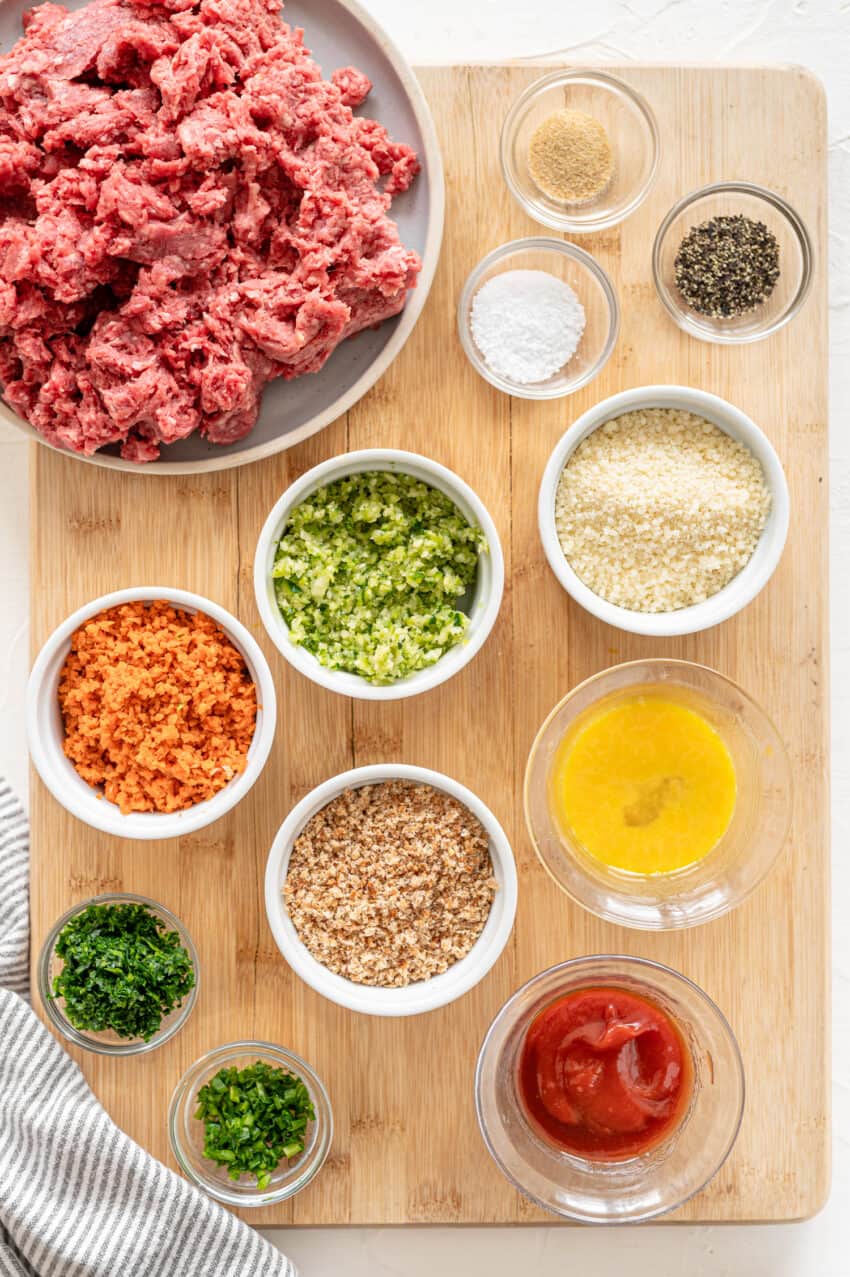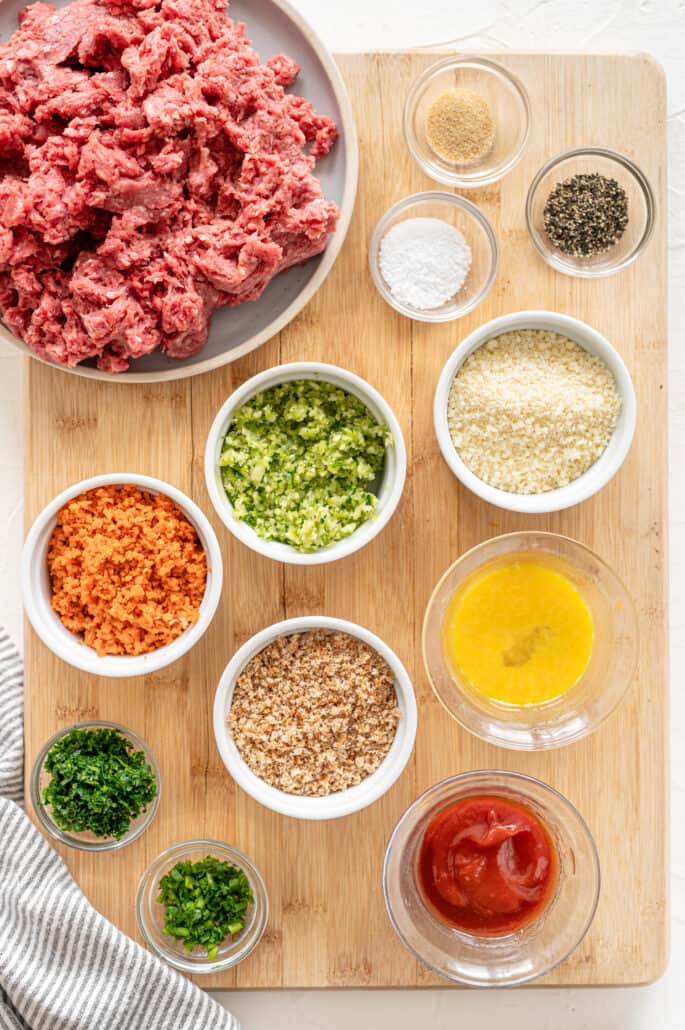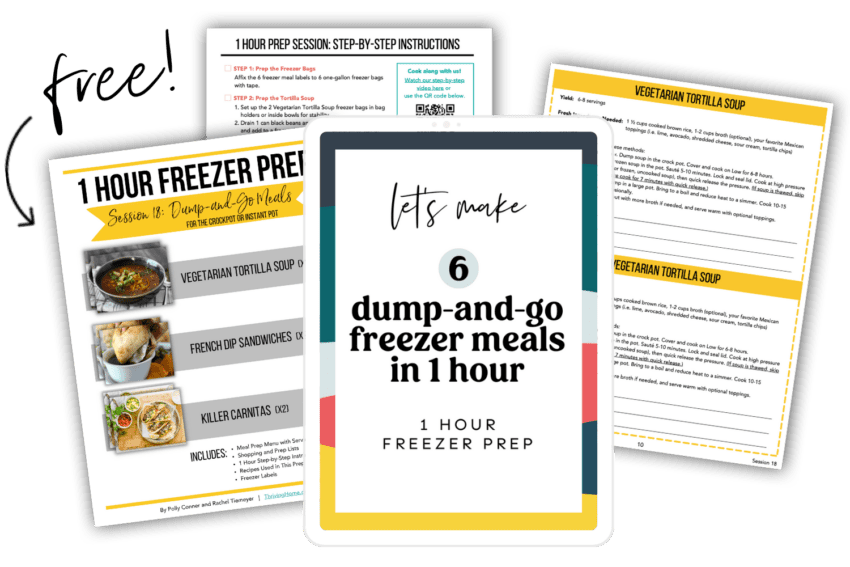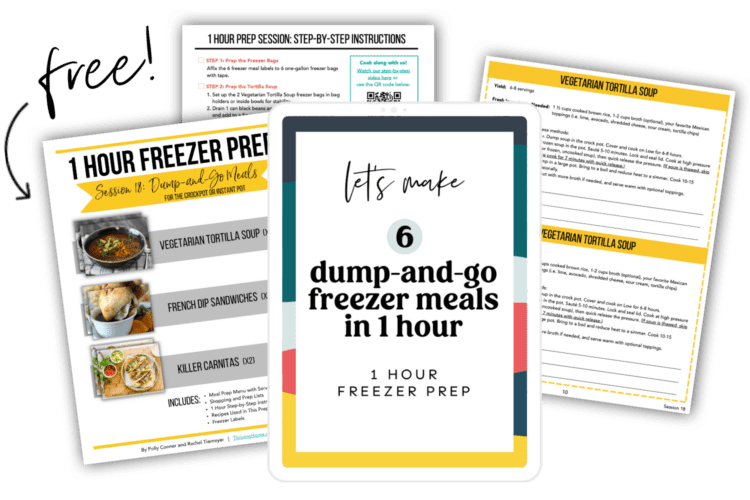 Make 6 Dump-and-Go Freezer Meals in 1 Hour!
Try a 1 Hour Freezer Prep Session ($6.99 value) for FREE!
Includes:
Shopping & equipment lists
Step-by-Step instructions & video tutorial
Serving suggestions & dietary substitutions & more
How to Make Healthy Meatballs
Preheat oven to 400°F. Cover a rimmed sheet pan with parchment paper or foil for easy clean-up. Optional: Place a cooking rack on top of the sheet pan to let the fat drip below.
In a large bowl, use a fork to stir together the breadcrumbs, grated Parmesan, parsley, chives, carrot, zucchini, beaten egg, and ketchup.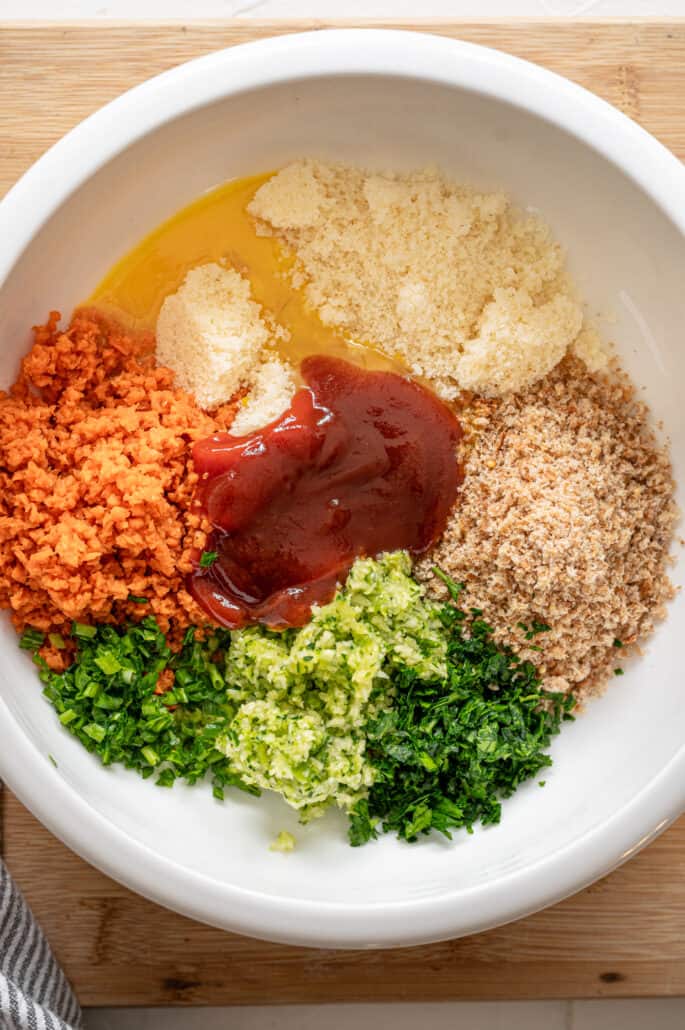 Add in the ground beef by pinches (to break it up a bit) and then sprinkle the salt, pepper, and garlic powder evenly over the top of the beef. Use your hands to combine the mixture but do not over mix.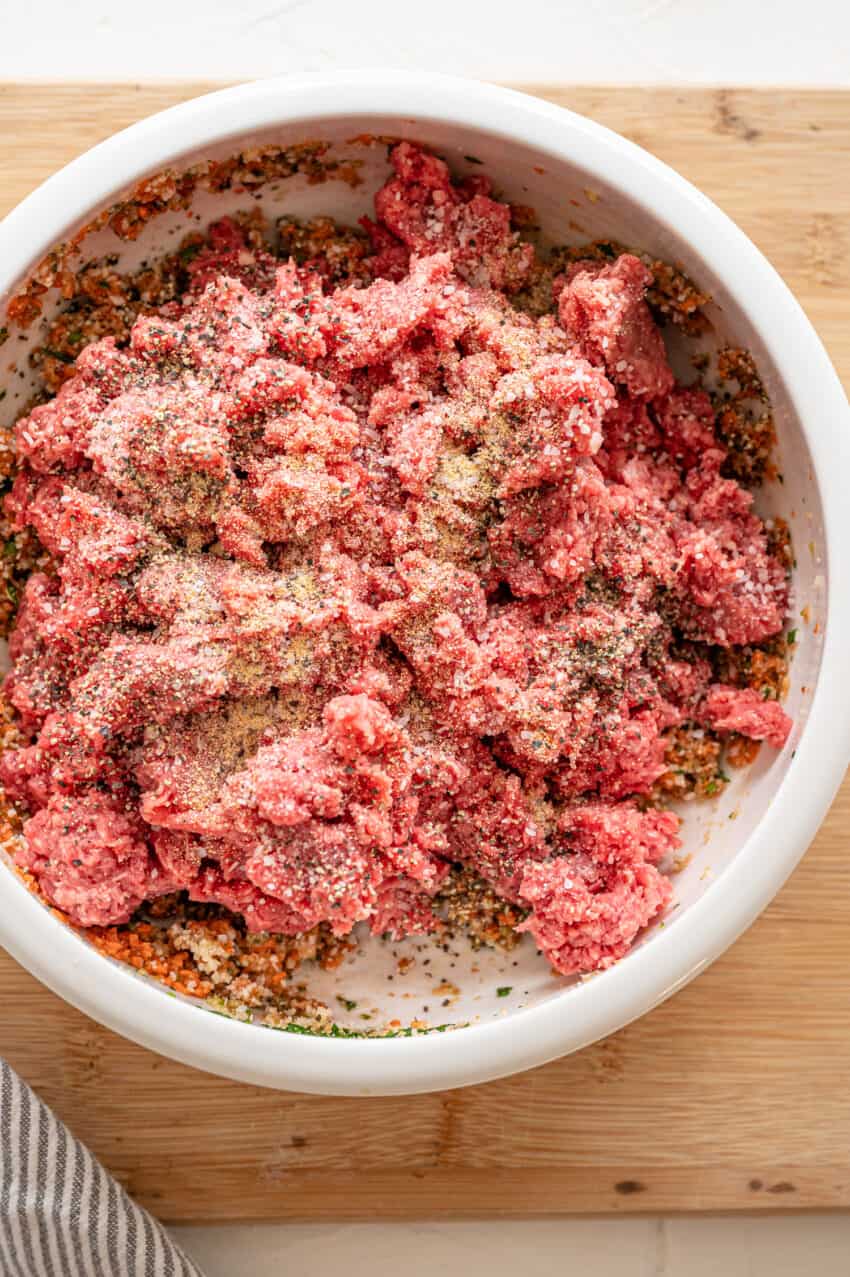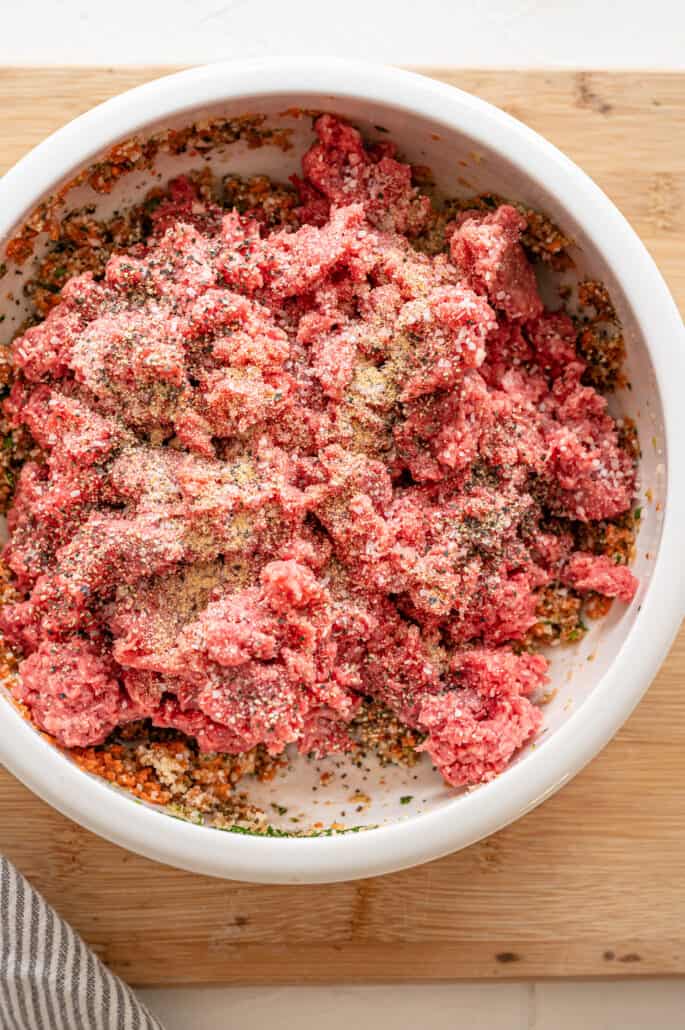 Using a heaping tablespoon of mixture per meatball, roll into 1 1/2 inch meatballs.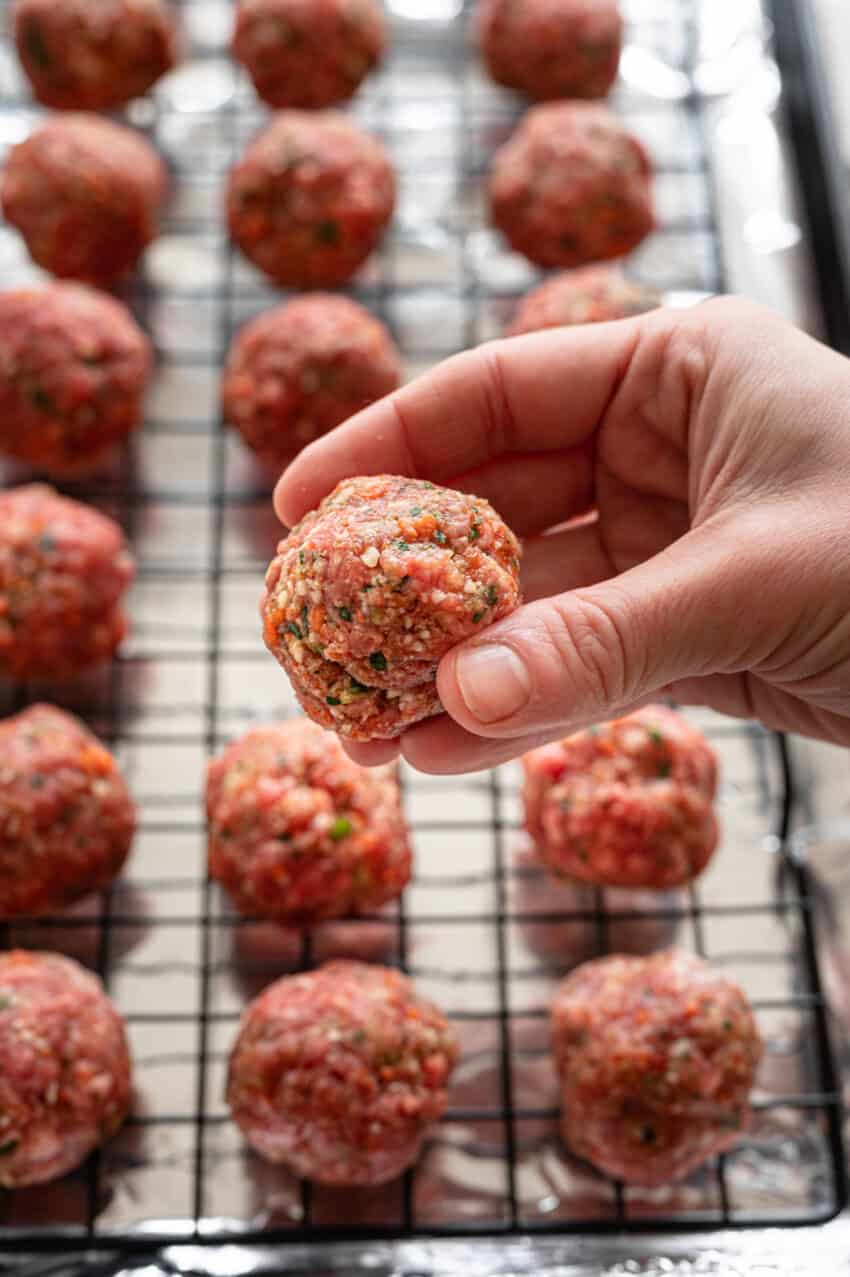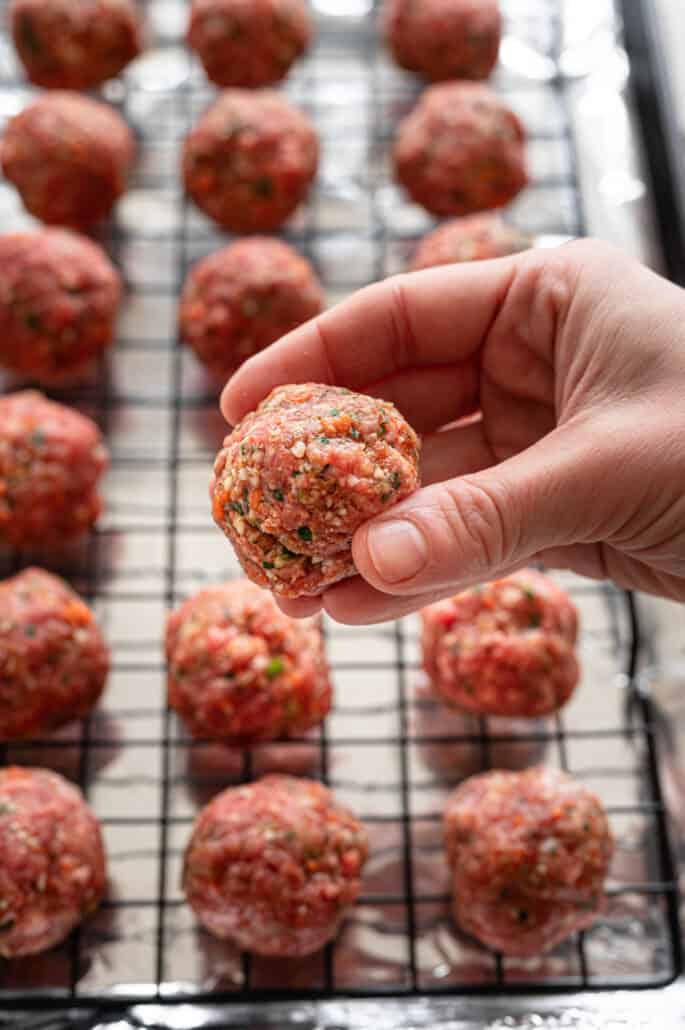 Place them on the sheet pan (or on top of a cooking rack), leaving a little room between each one. I prefer to place them on a rack so the fat drips below and stays behind.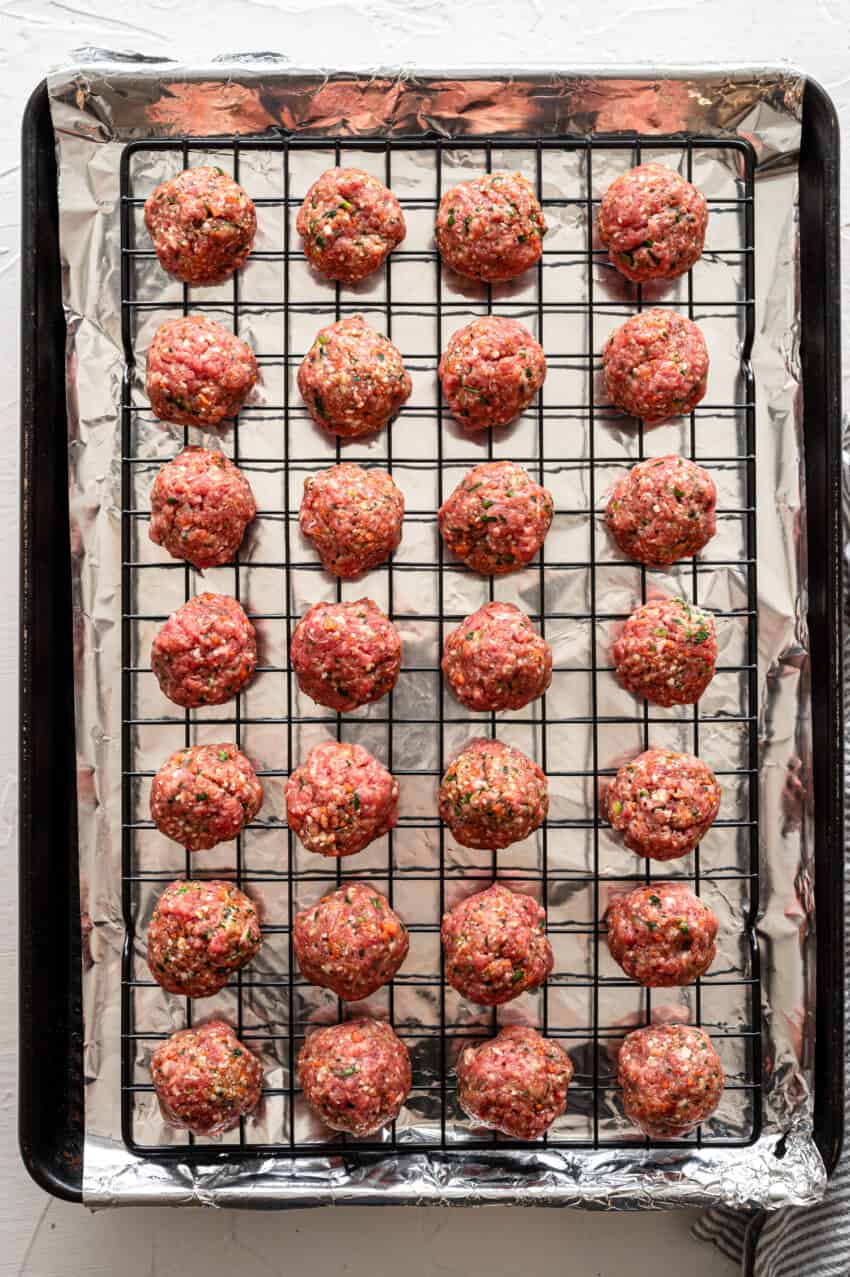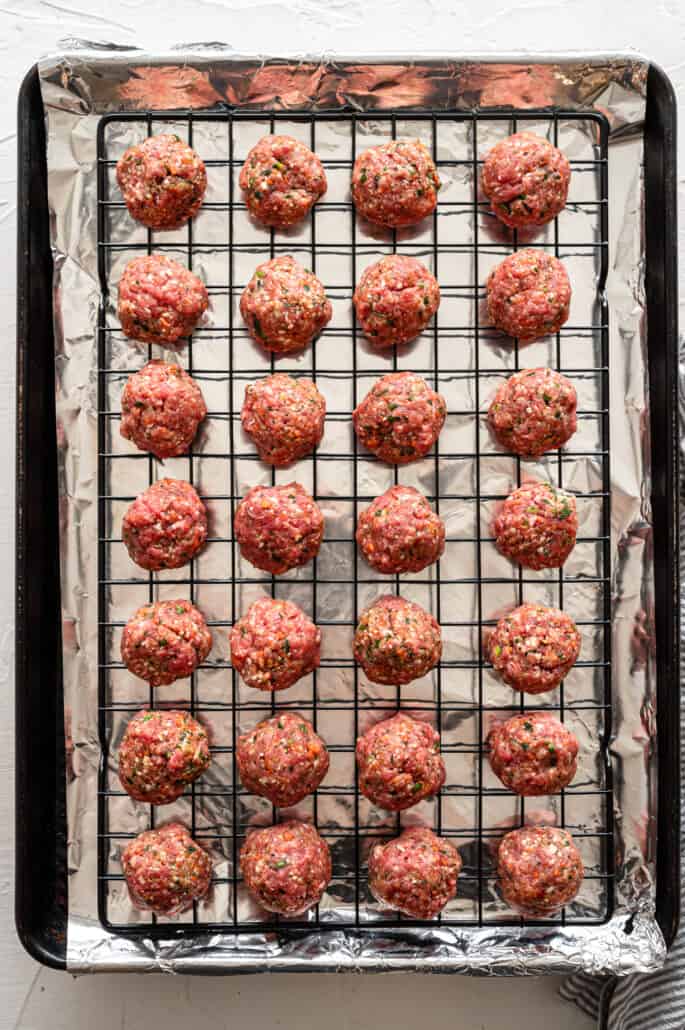 Bake for 15-18 minutes or until cooked through. (If your meatballs are on a rack, they may take a few extra minutes.) Cut one open and make sure there is no pink in the middle to assure doneness. Internal temp should be 160°F.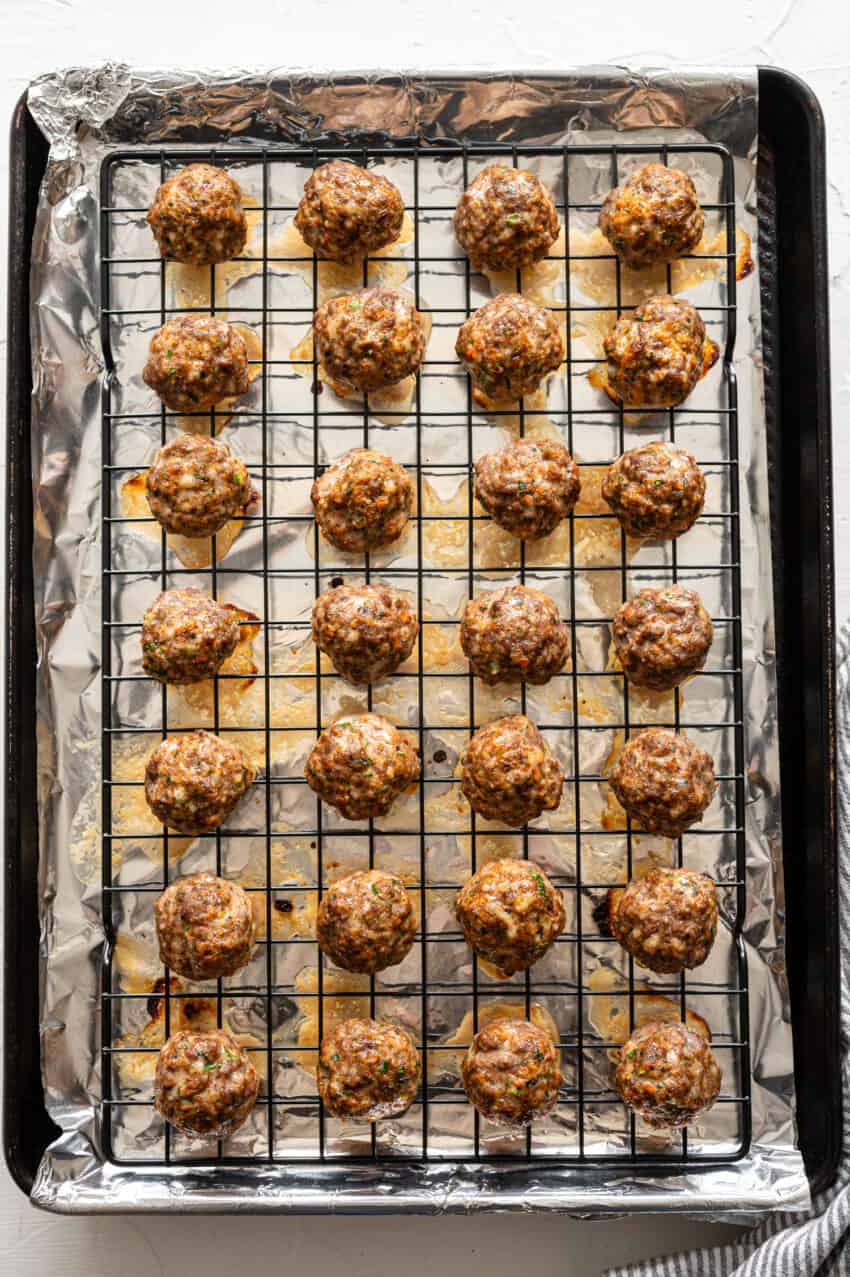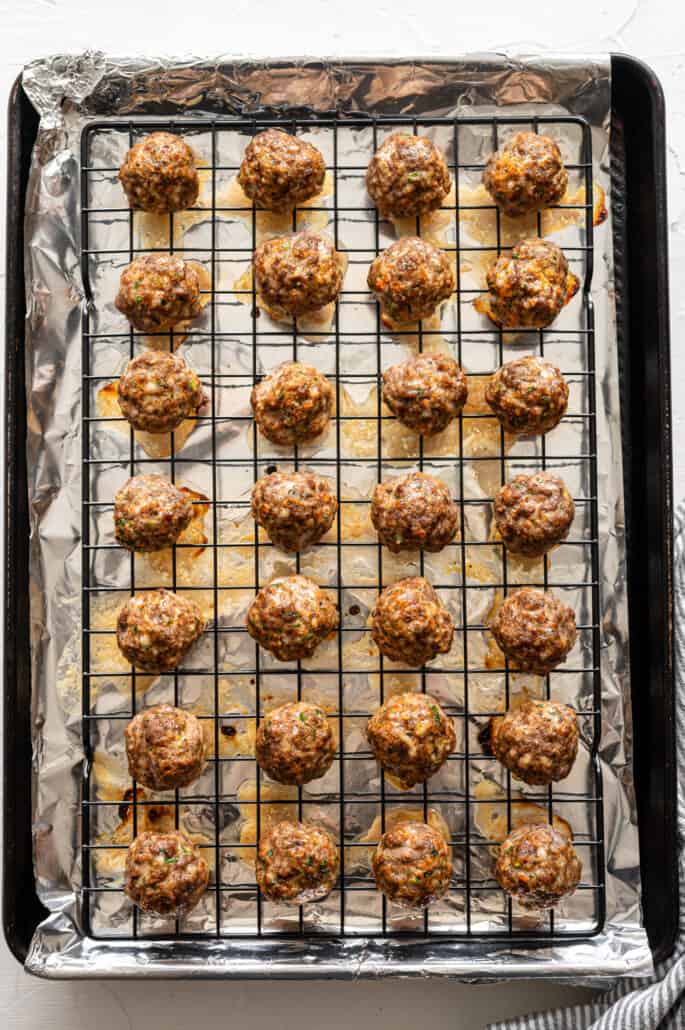 Serve with Pesto Sauce for dipping, with Marinara Sauce over pasta, or on Meatball Subs.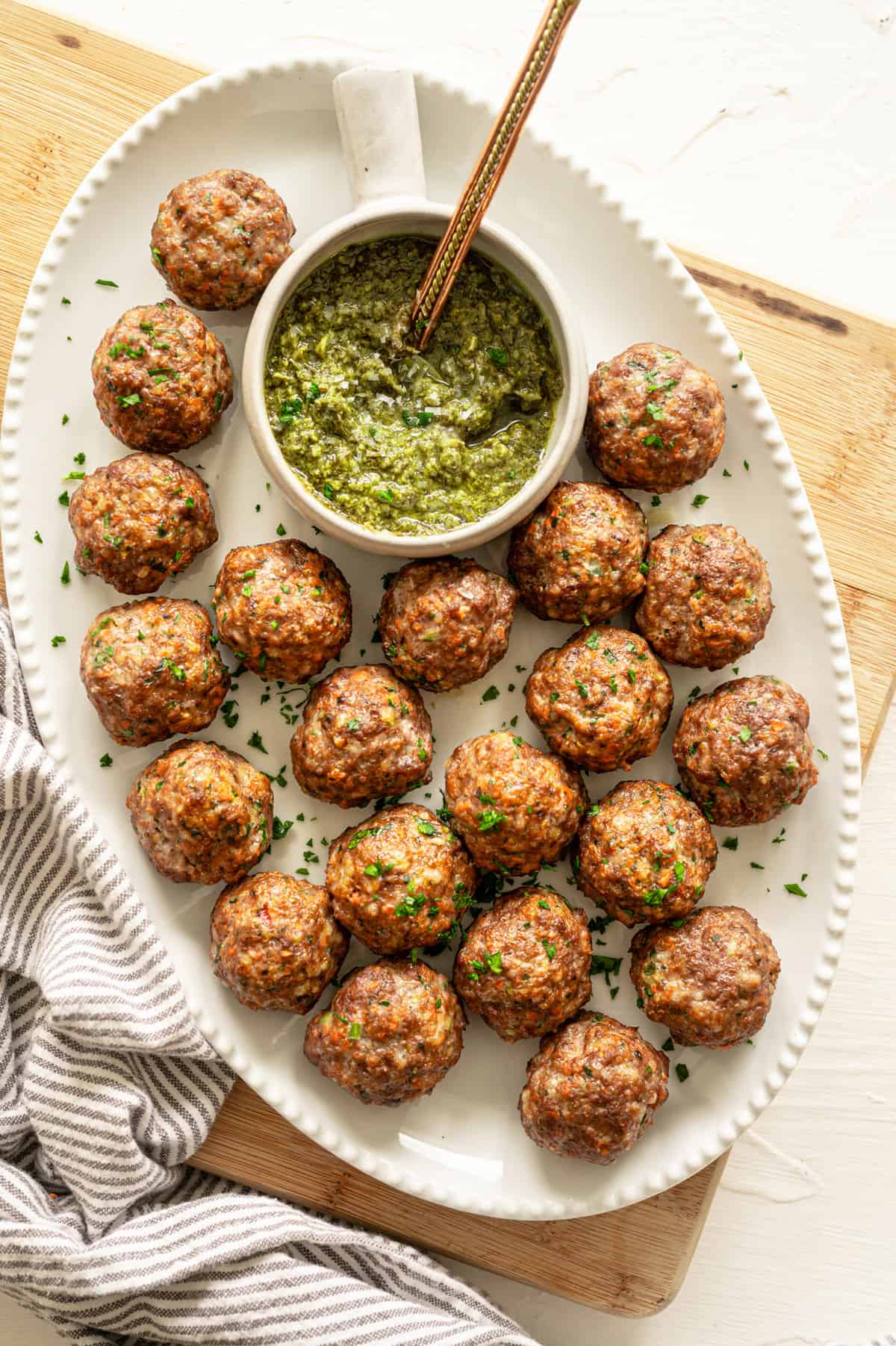 How to Freeze Meatballs
When I make these, I usually double the recipe and freeze half of them for future lunches or dinners.
Below are two ways to freeze these meatballs, but sure to read our whole article about Freezing Meatballs: Raw or Cooked for more expert tips.
Freeze For Later:
Option 1 (Uncooked Meatballs): Roll the meatballs, place on a sheet pan, and pop them in the freezer until frozen. Then, drop the frozen meatballs in a freezer bag, seal (squeezing out any excess air), and freeze.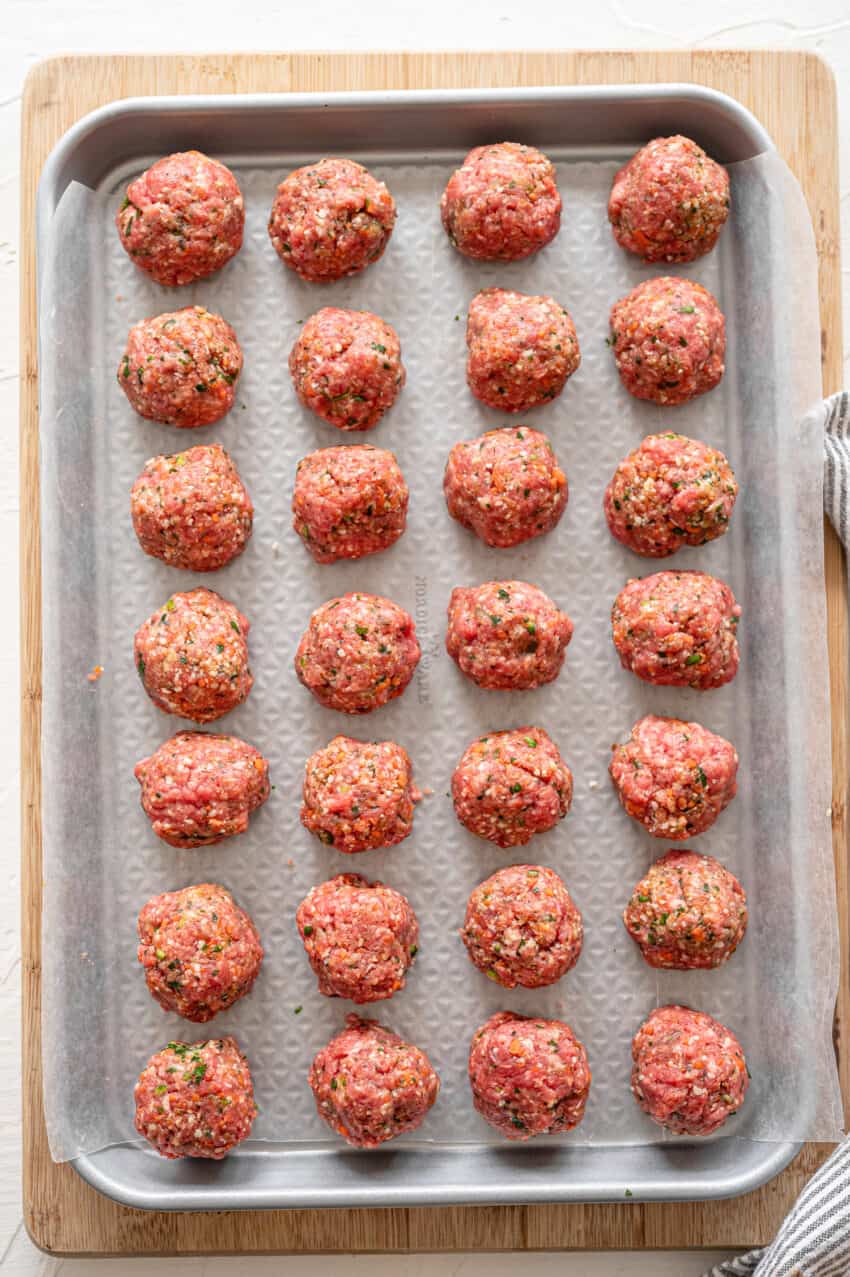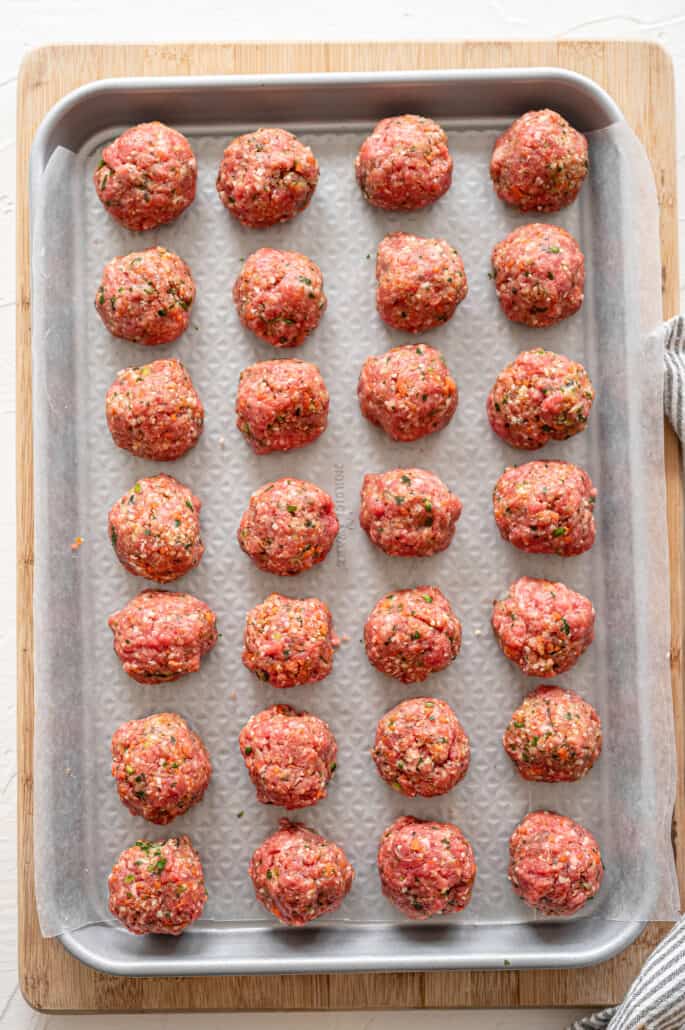 Option 2 (Fully Cooked Meatballs): Fully cook and cool the meatballs. Freeze the cooked meatballs in single layers divided by parchment paper in a freezer bag or container. (Tip: Freeze in marinara sauce instead to help them retain moisture.)
Prepare From Frozen:
Option 1 (Uncooked Meatballs): Thaw the uncooked meatballs overnight in the fridge. Place the meatballs on a rimmed sheet pan and bake according to recipe instructions below.
Option 2 (Fully Cooked Meatballs): When ready to warm up the fully-cooked meatballs, thaw in the refrigerator. Warm up using one of these methods: 1) Warm in a pot with marinara sauce over low to medium-low heat on the stove. 2) Warm them in the microwave in 30-second increments. 3) Warm up the thawed meatballs and marinara sauce in the slow cooker over low heat for about 2-3 hours.
What to Serve with Healthy Meatballs
Whether you're serving your meatballs with Marinara Sauce or Pesto over whole grain spaghetti or on a Meatball Sub, try a few of these healthy side dishes to round out your meal.
Did you make this? Snap a photo and tag us on Instagram at @thrivinghome so we can see your creations and cheer you on!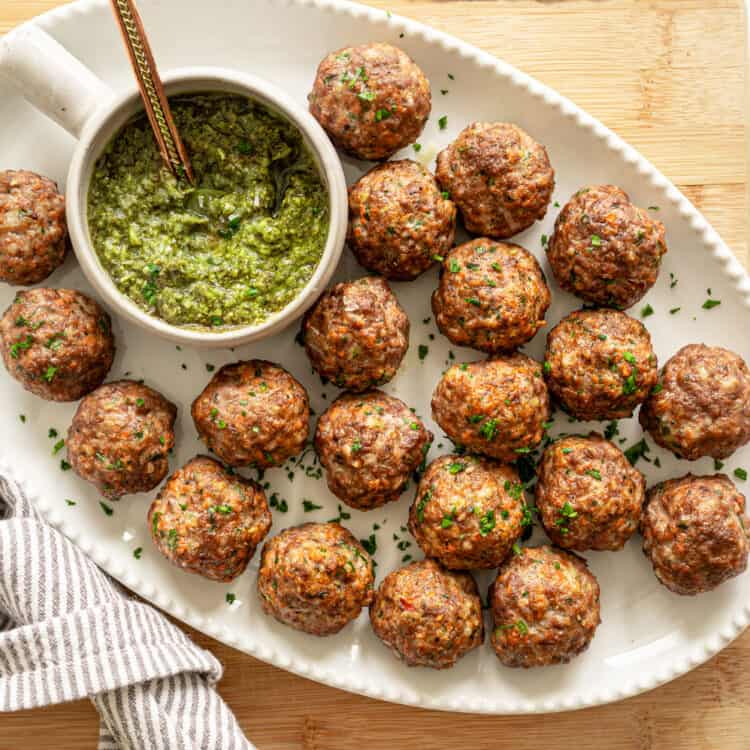 Baked Meatballs with Sneaky Veggies
These delicious healthy meatballs are packed with sneaky nutrition and kids love them. Makes for a flavorful dinner or freezer meal in 45 minutes or less!
Yield:
30

(1 1/2 inch) meatballs

1

x
Prep:
20 minutes
Cook:
20 minutes
Total:
40 minutes
More Meatball Recipes
We love meatballs because people of all ages love them, they are easy to make, and super easy to freeze for later. Try some of our other favorites.