15+ Stocking Stuffer Ideas (You Can Get at the Grocery Store!)
This post may contain affiliate or sponsored links. Please read our disclosure policy.
We couldn't believe how many cute, cheap stocking stuffer ideas you can snag in the grocery store. Two birds with one stone, people! Check out our top picks for stocking stuffers at Hy-Vee and save yourself some time.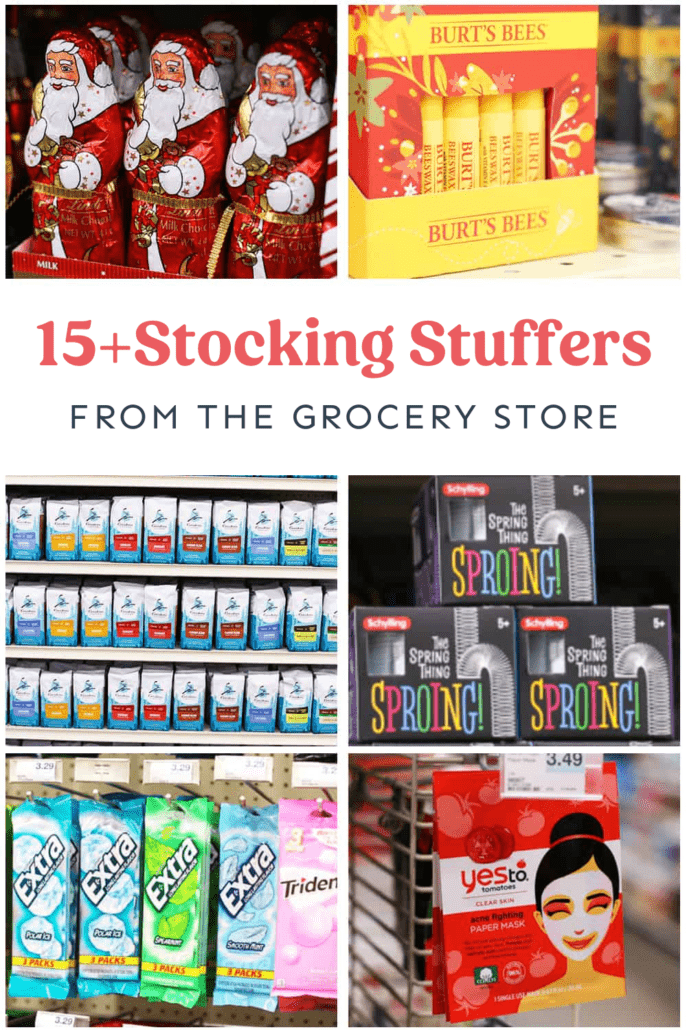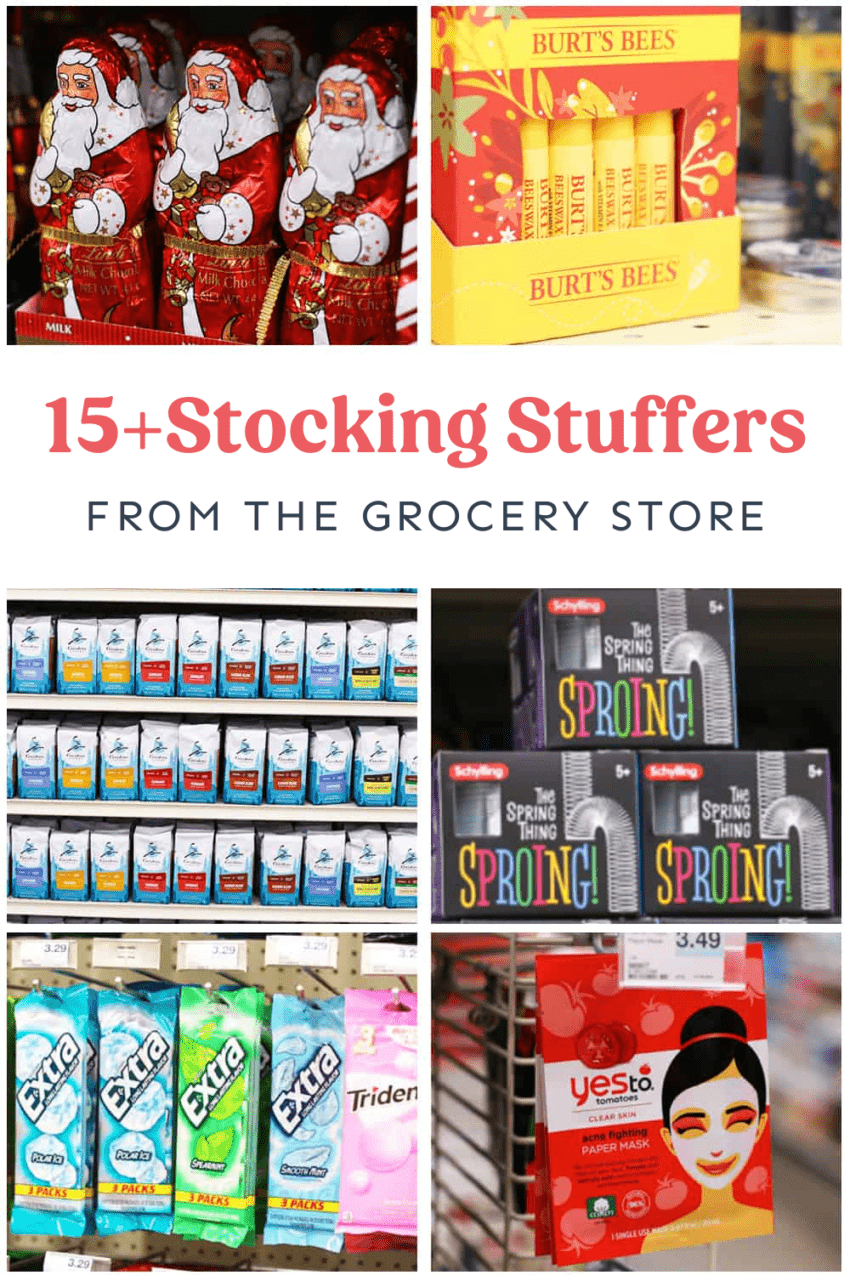 This post was created in partnership with Hy-Vee Columbia.
Hy-Vee: Your One-Stop Holiday Shop
All grocery stores are not created equal. If you hang around us much, you are well aware that we are big fans of Hy-Vee for so many reasons. I mean, hello Heat and Serve Holiday Dinners! We also love the ease of online shopping and free pick-up, especially during the busy holiday season.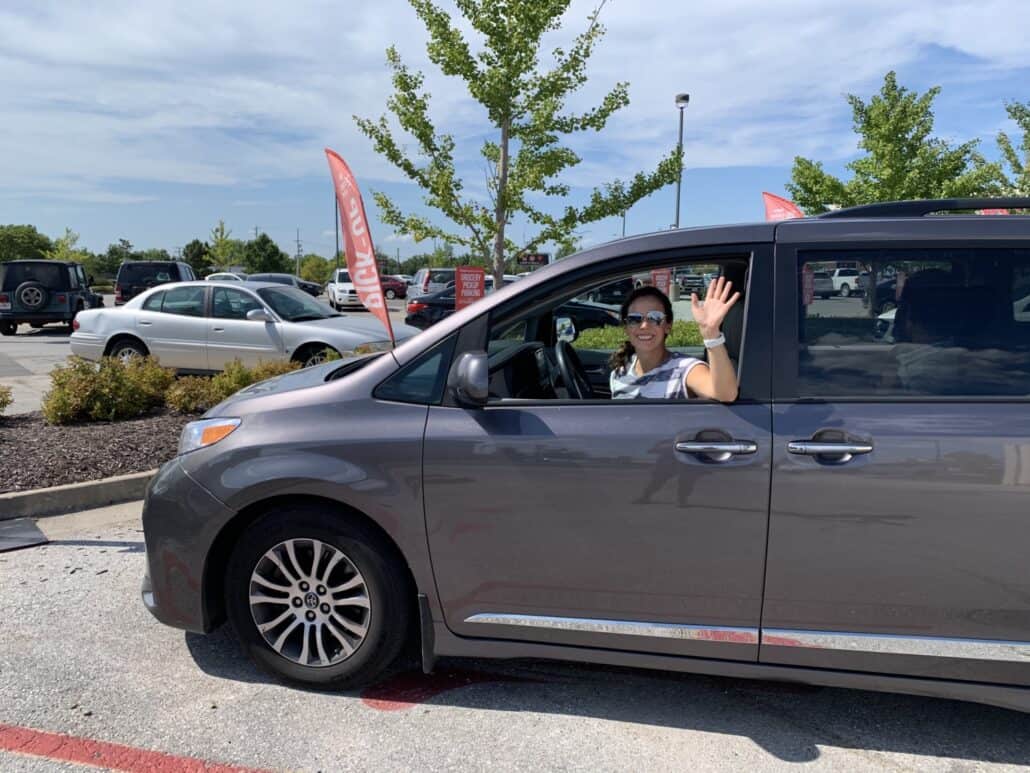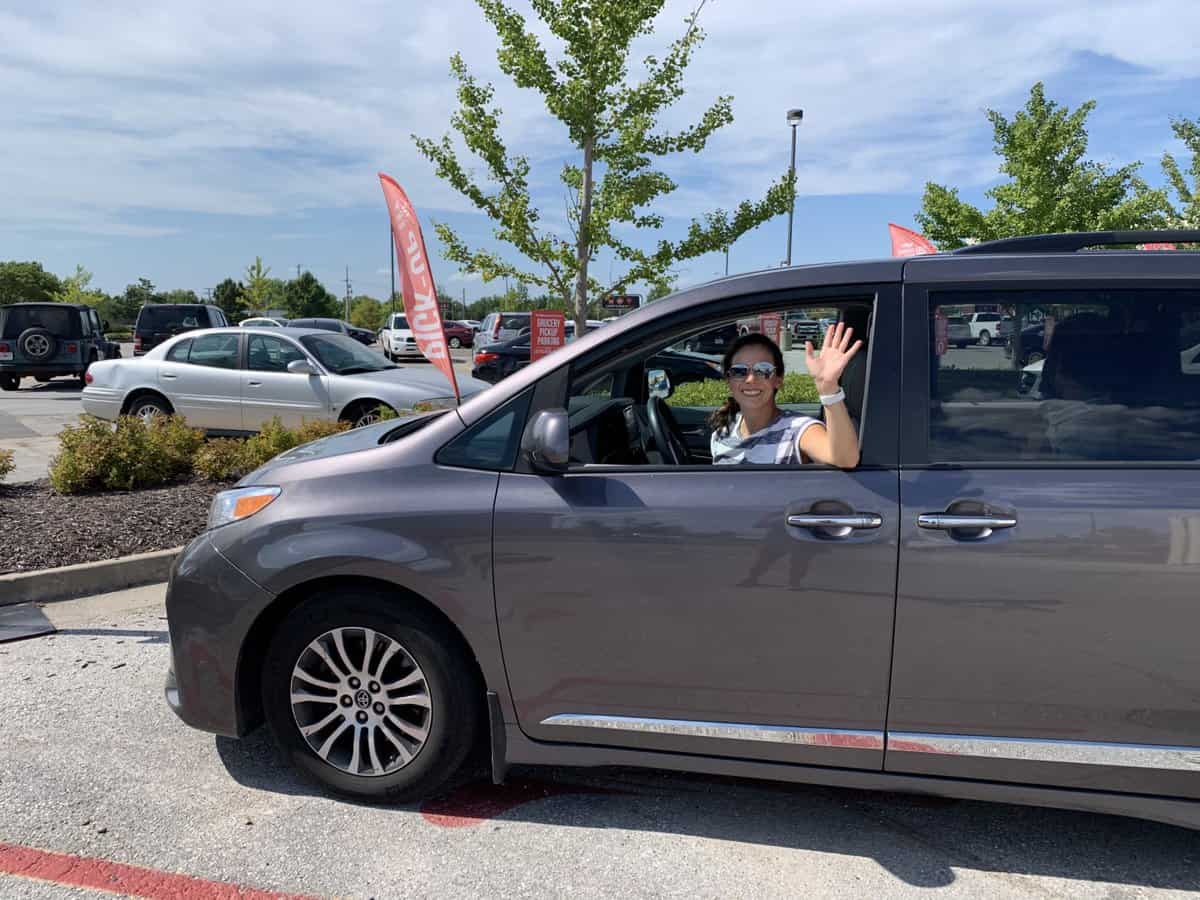 Another reason we are big Hy-Vee fans? You can knock out some Christmas shopping while you're grocery shopping. Talk about being efficient with your time!
15+ Stocking Stuffer Ideas from the Grocery Store
Below are some of our favorites (or watch our silly Instagram Reel!)…
P.S. Make sure to read all the way to the bottom where we included additional ideas contributed by our amazing Facebook Group of readers.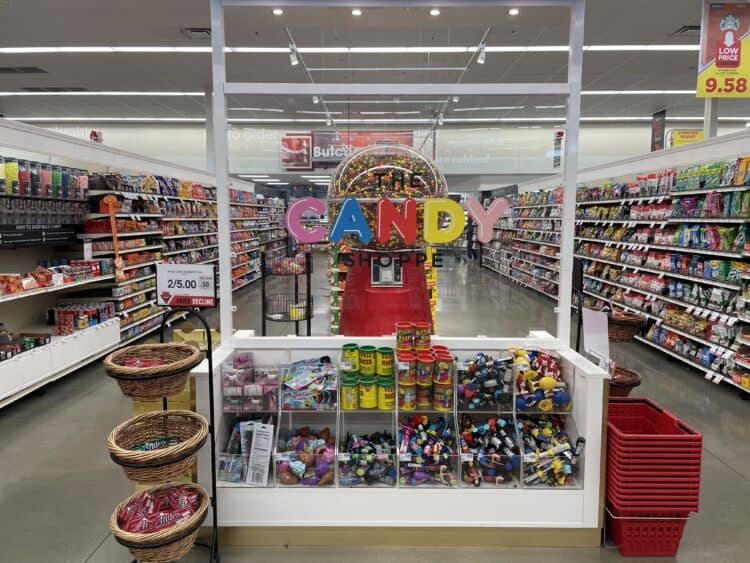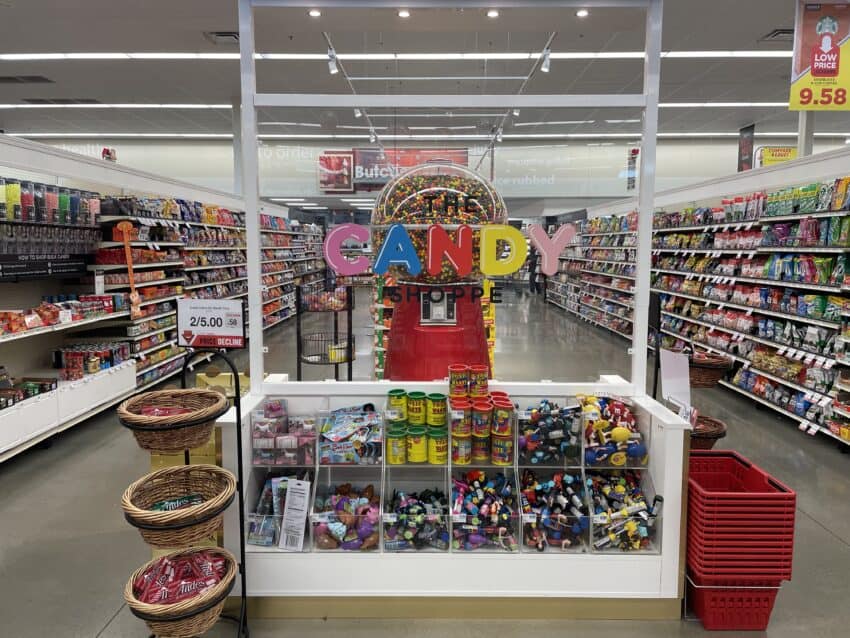 Candy, Candy, & More Candy
Wow, Hy-Vee has really upped their candy game. We couldn't believe just how many amazing options there are to stuff in your kids' stockings.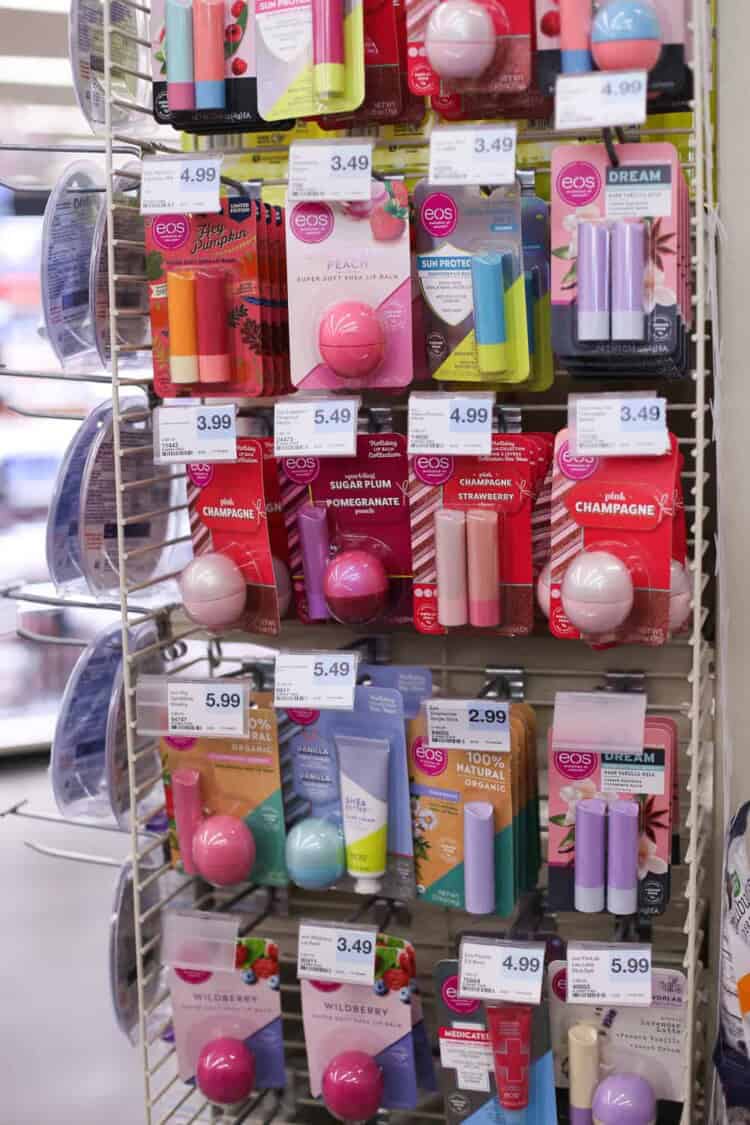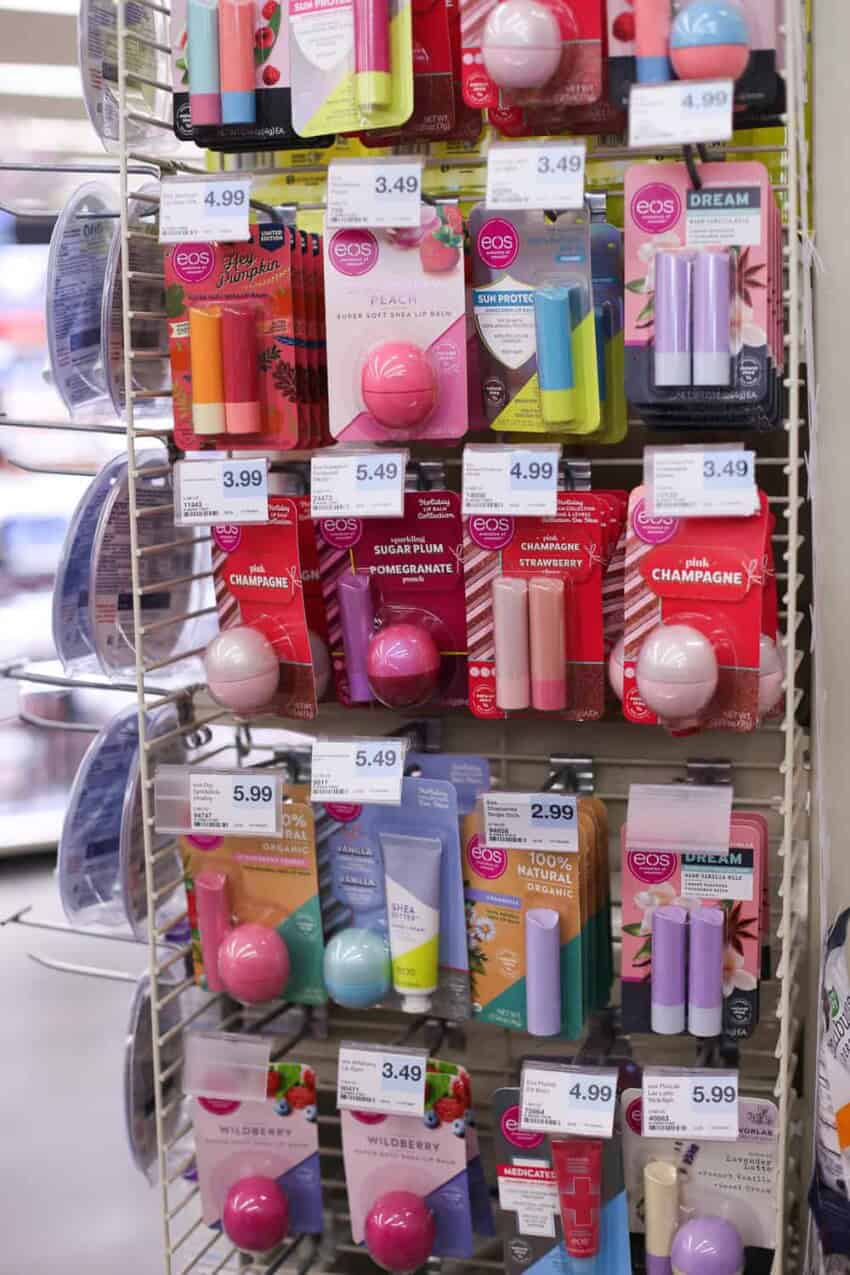 Flavored Chapstick
'Tis the season for chapped lips. Grab some flavored chapsticks for your kiddos. These are usually found near the pharmacy department. Girls love the fruity flavors and boys might like a peppermint flavor kind. I personally like EOS or Burt's Bees brands!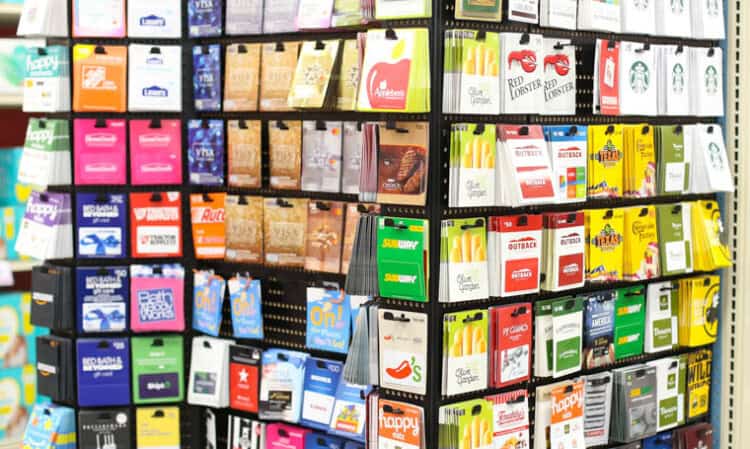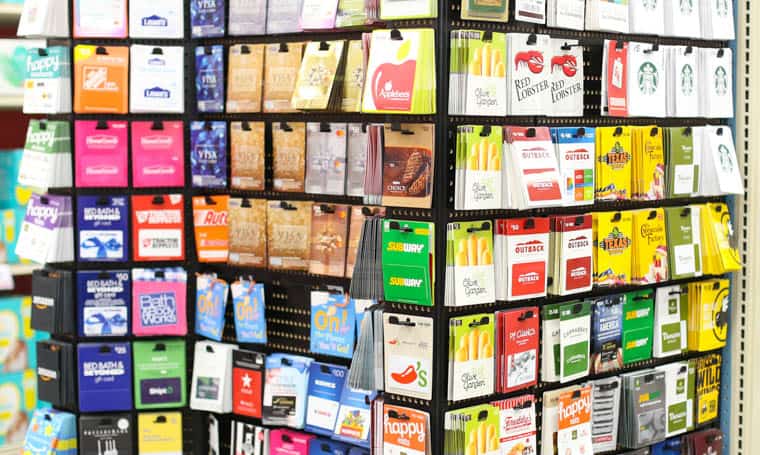 Gift Cards Galore!
I don't need to make a case for gift cards, do I? From restaurants to home improvement stores to online retailers and more, you'll find the perfect card for every person. You can also get some major fuel savers credit when you buy gift cards at Hy-Vee. I love earning money when I am shopping! Ha!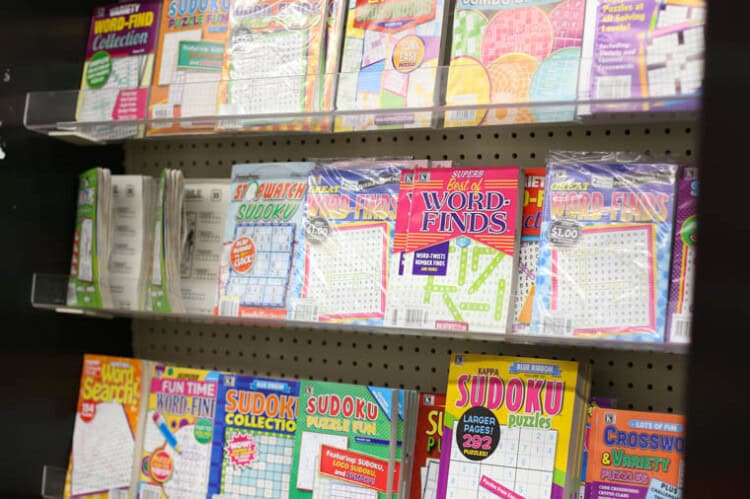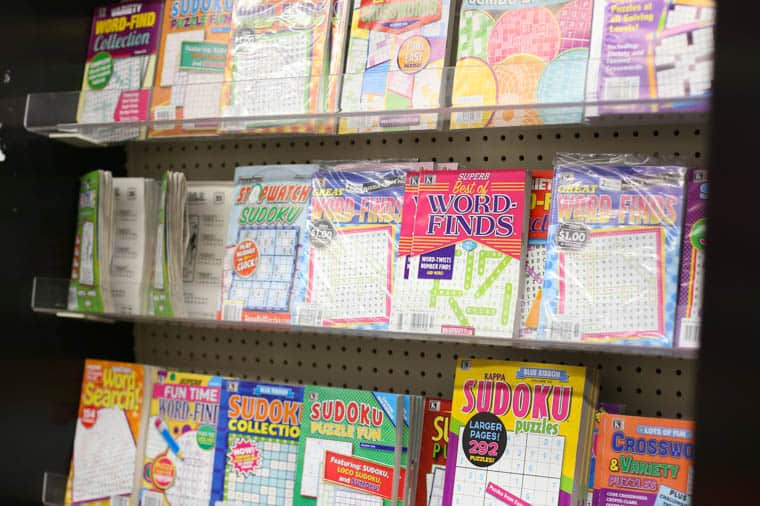 Coloring Books, Word Searches, Crossword Puzzles, or Magazines
Roll them up and tie a ribbon around them to make them extra special. This idea would work for any age!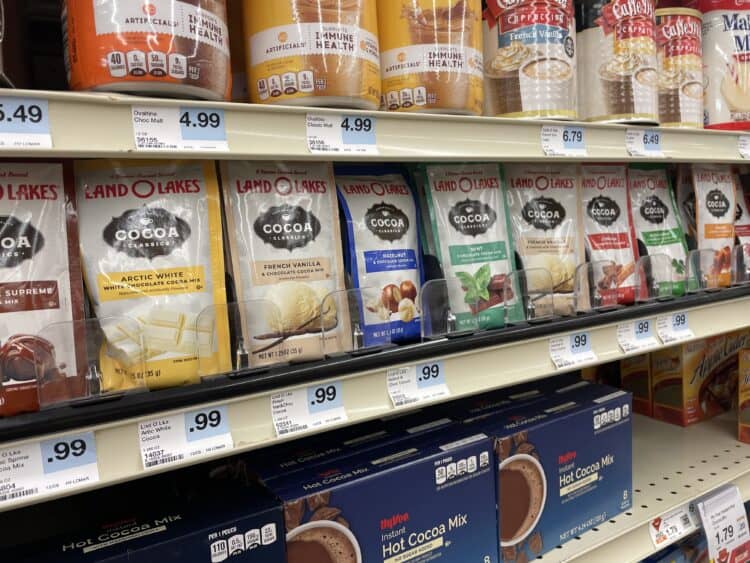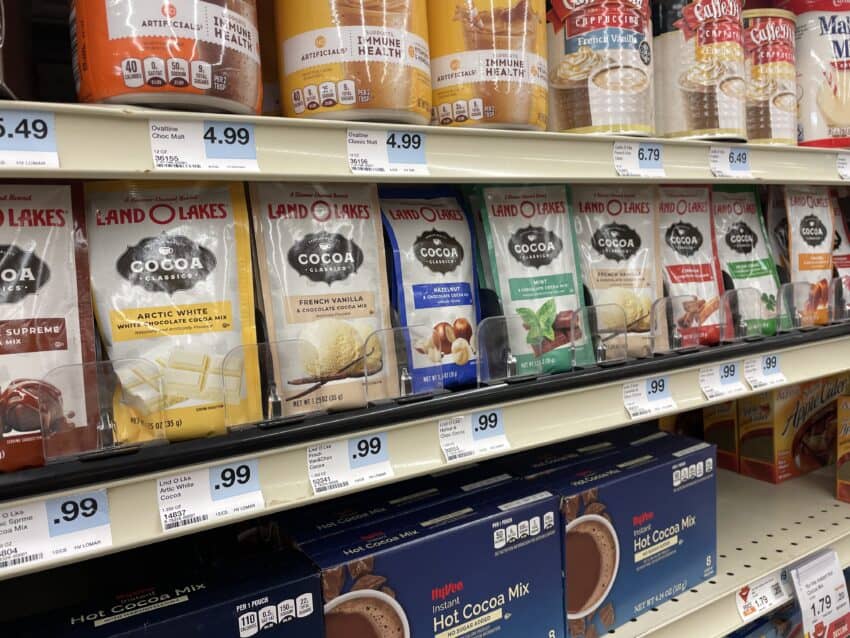 Hot Chocolate Packets
There are lots of flavored hot chocolates that serve as a special treat for kiddos and adults. Make sure to snag some marshmallows while you are there. You could also do specialty teas or coffees, which you'll find in the same aisle.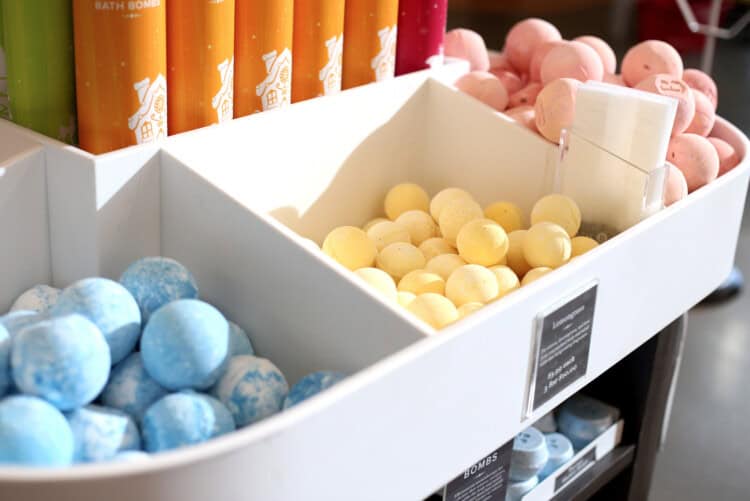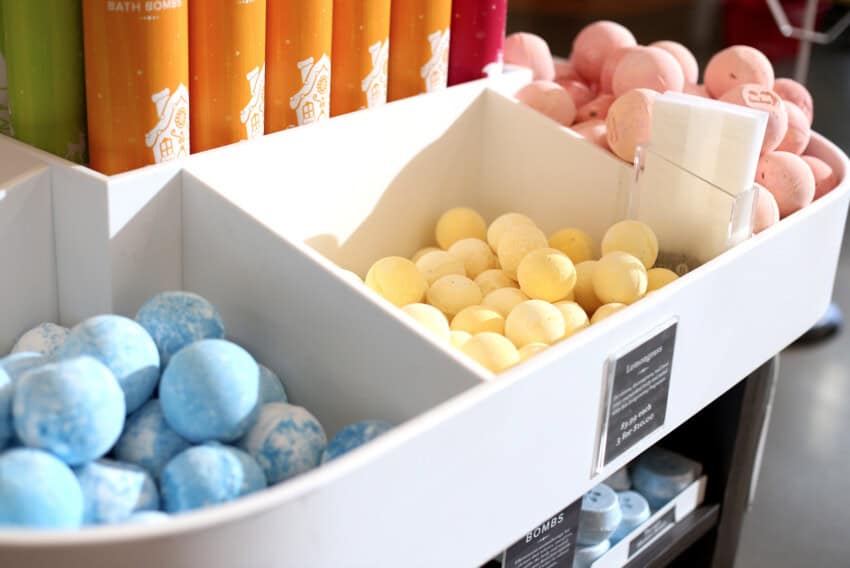 Bath Bombs
These are so popular right now and are the perfect size for a stocking! Hy-Vee has you covered. They have a huge display with a selection of colors and scents, as well as funny holiday-themed ones.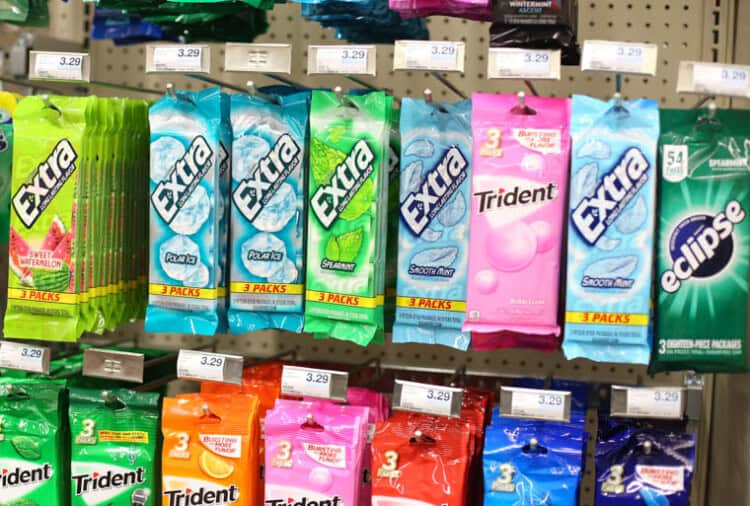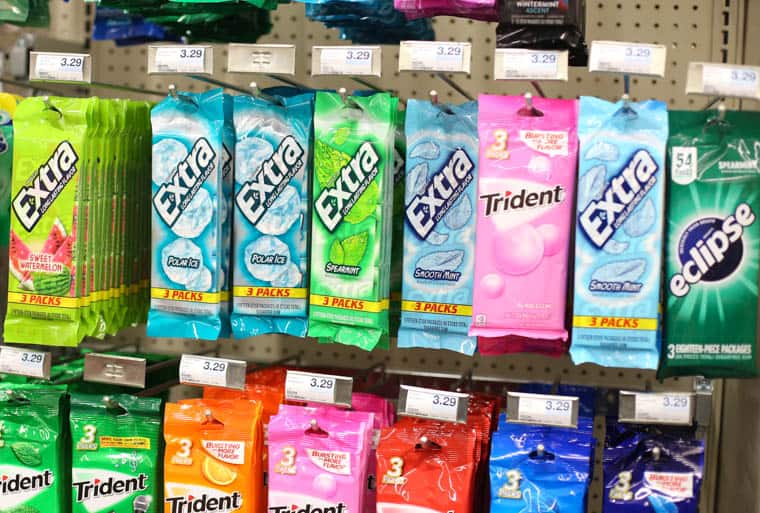 Gum
One of those ideas that is good for almost any age. We like them as a sugar-free treat, too. At Hy-Vee, there are so many flavors to choose from.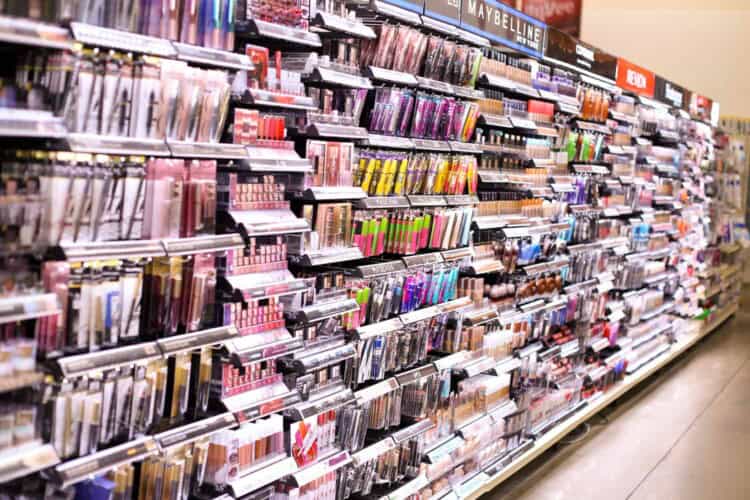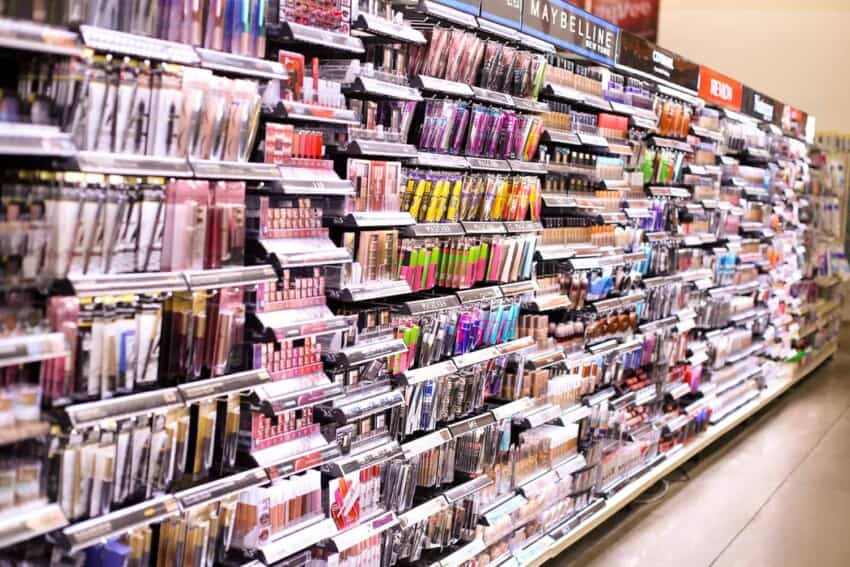 Nail Polish & Cosmetics
We were floored by how many colors of nail polish and the abundant array of cosmetics we found at our Hy-Vee (the pic below is only part of the selection). While you're in that area, you could also snag some hair bows, scrunchies, or other makeup items the gal in your life might like.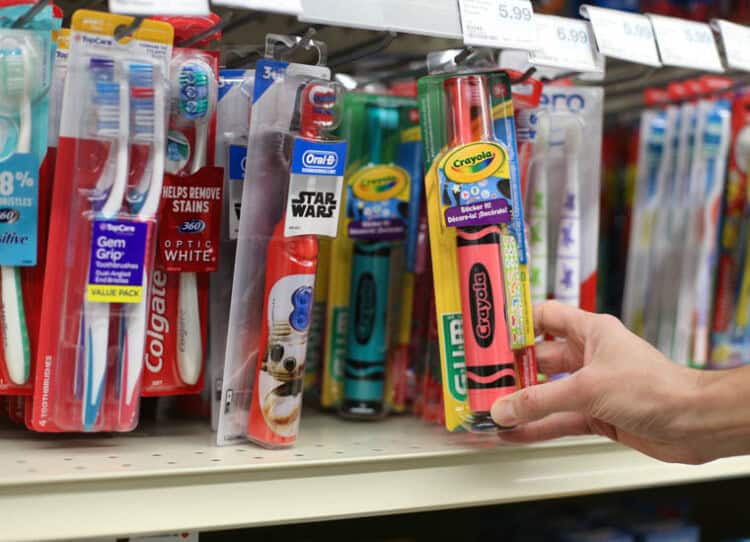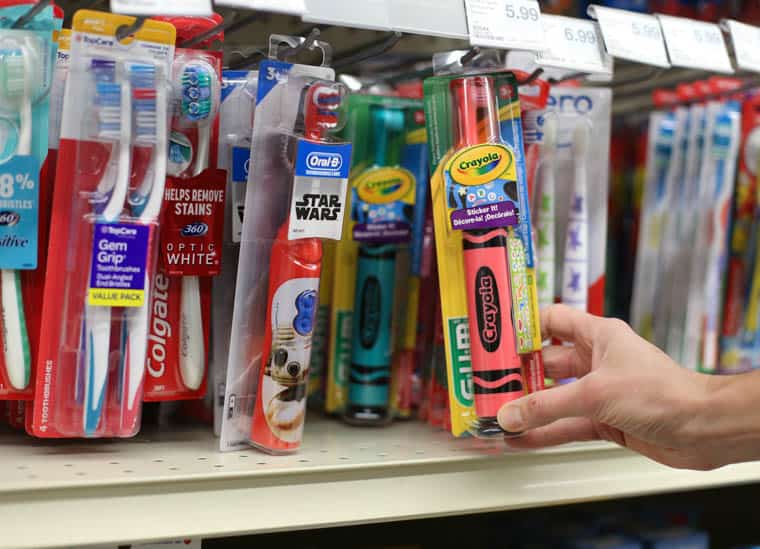 Electric Toothbrushes
Kids love character-themed electric toothbrushes! I get a different one for my kids every year. If anything makes brushing teeth a bit more fun in my house, I'm in.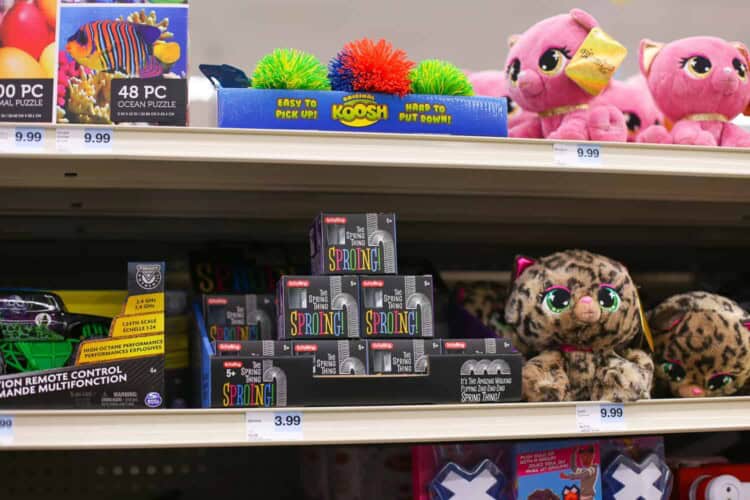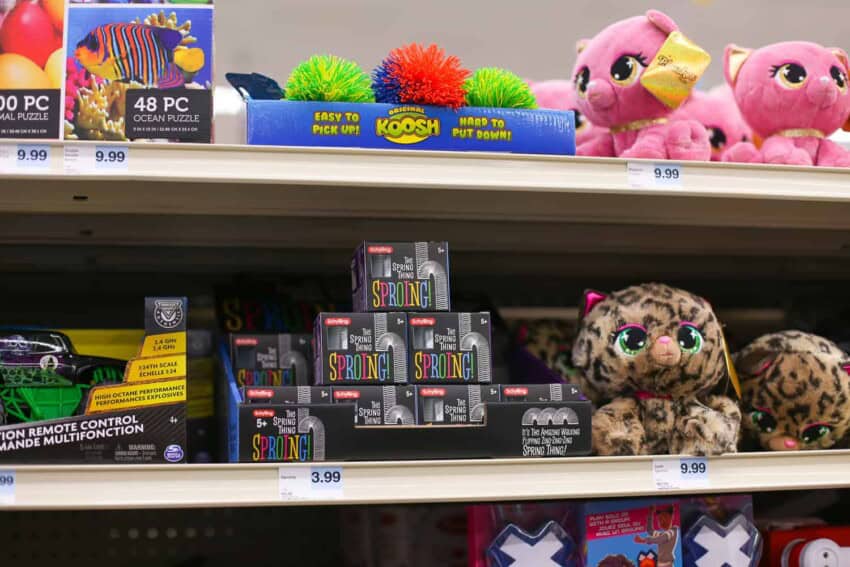 Small Toys
Oftentimes at the end of aisles, you'll find small toys or goodies that will work great for stocking stuffers. At Hy-Vee, there was a HUGE selection of small seasonal items for almost any age!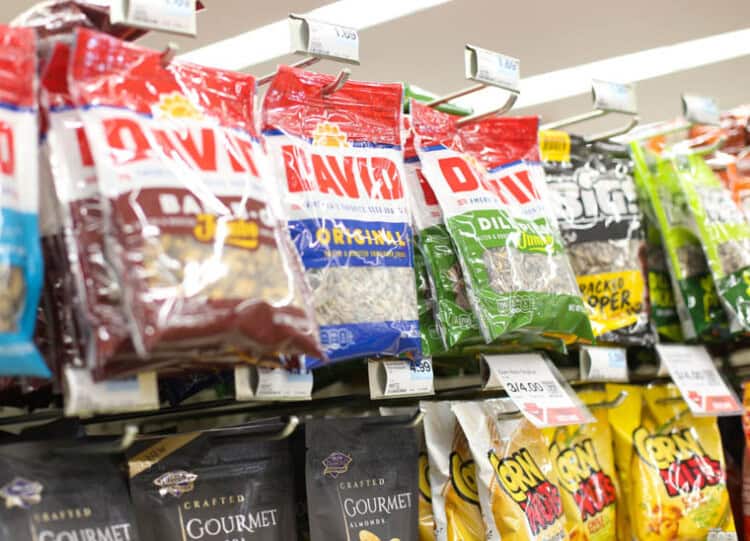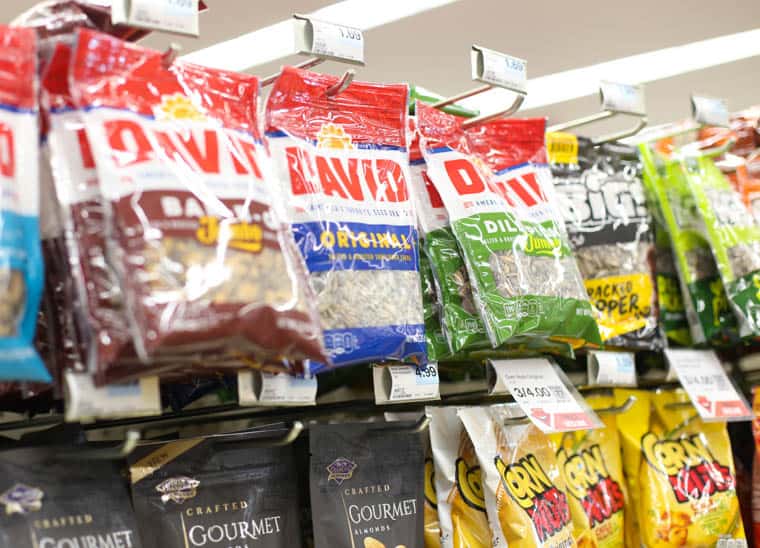 Snacks
Don't overlook the joy a good snack can bring! Sunflower seeds, gummies, white chocolate covered pretzels, trail mix, dark chocolate covered anything, etc. I almost always receive a few edible items in my stocking.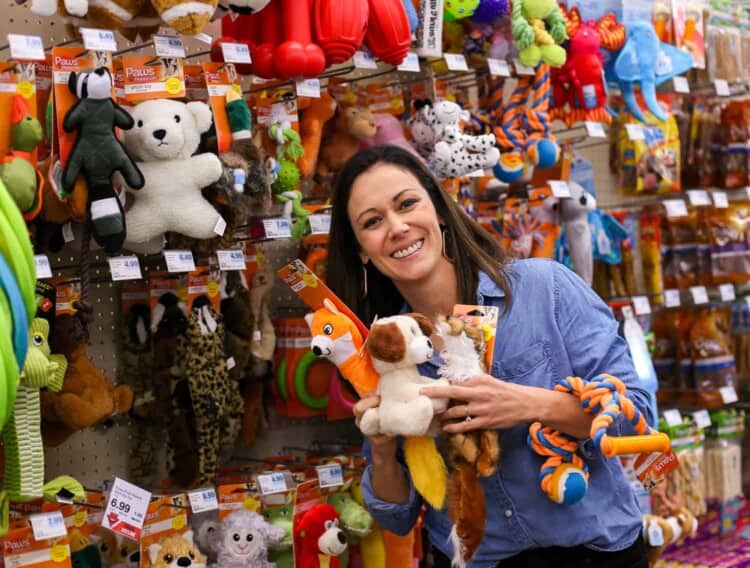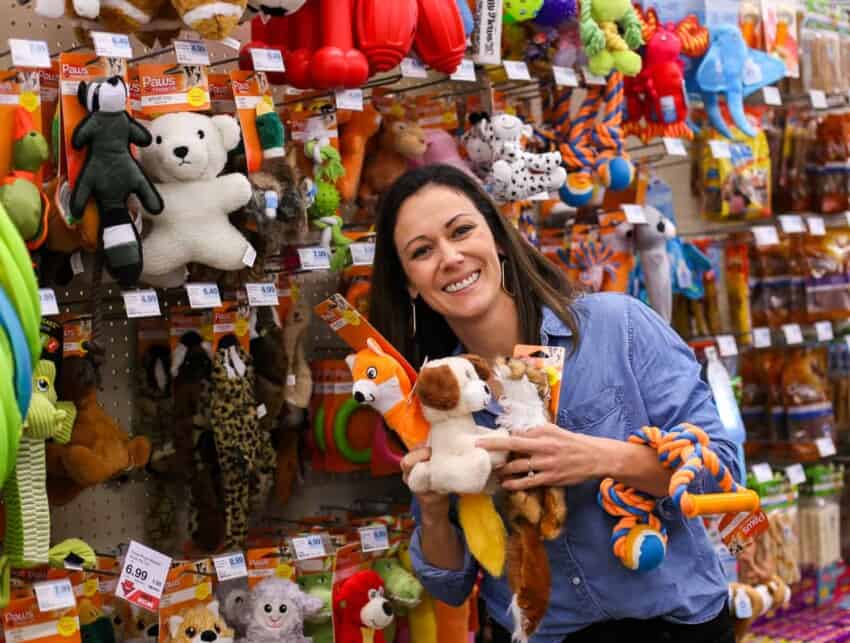 Dog Toys
Don't forget the doggy toys! Your pooch will enjoy a little extra goodie on Christmas as much as your kids will. There are SO many great options to choose from.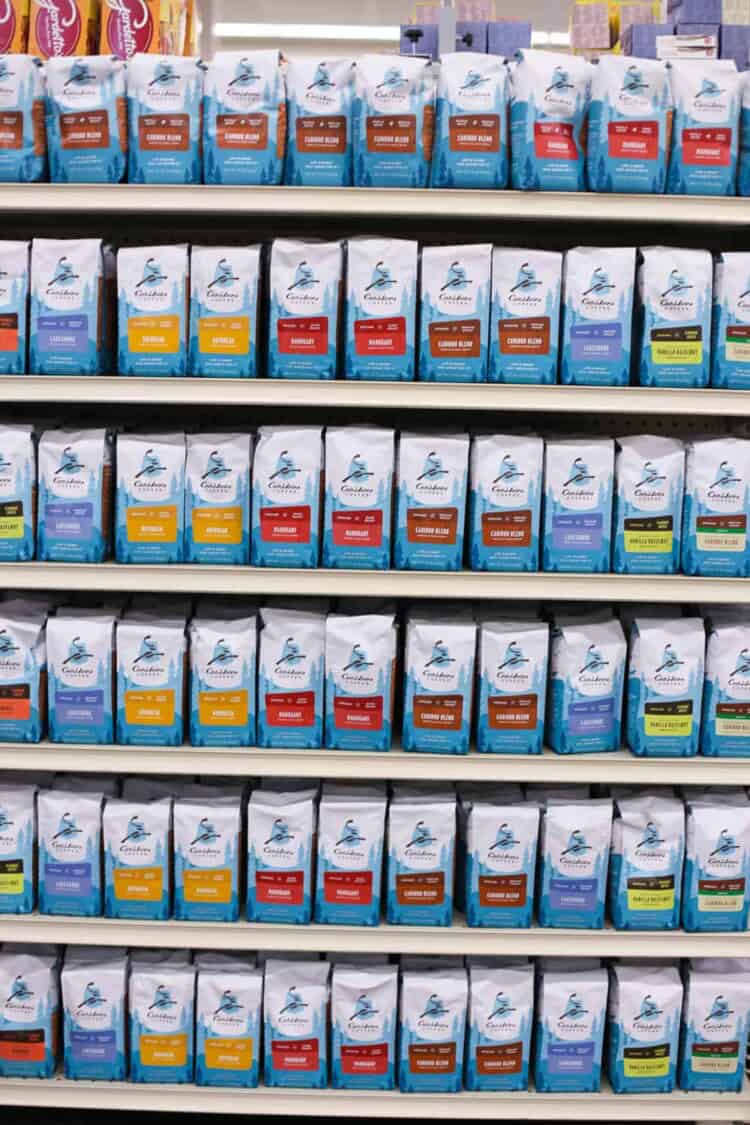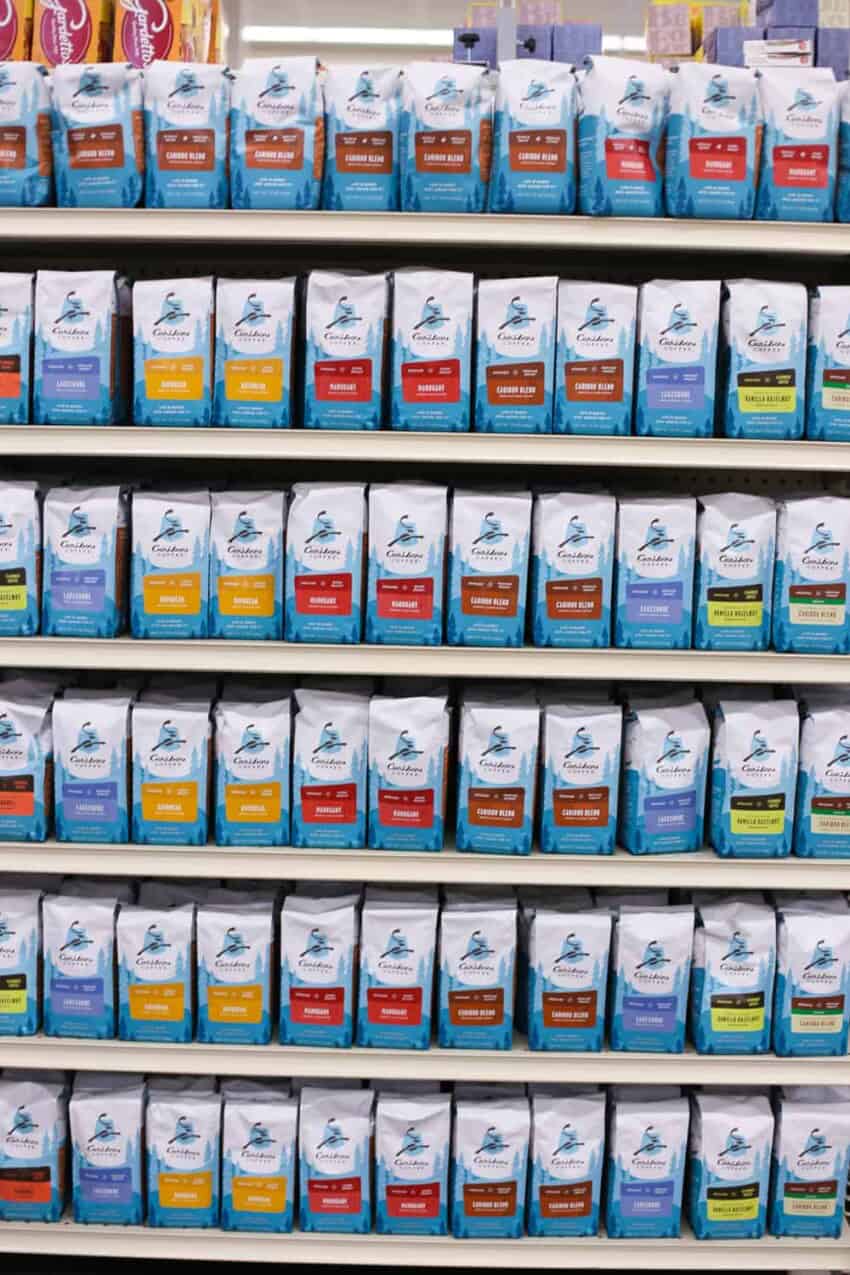 Coffee
Not many adults will be disappointed to find some quality coffee stuffed in their stocking. You can choose from their locally sourced, fair trade, or name-brand options.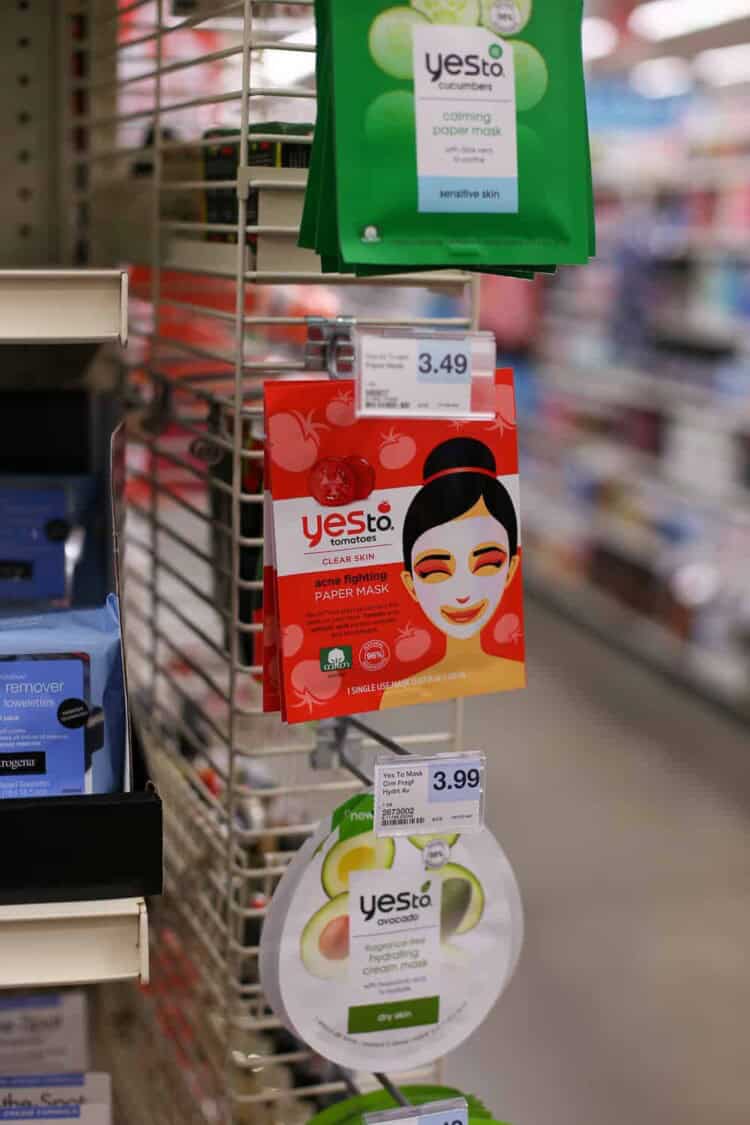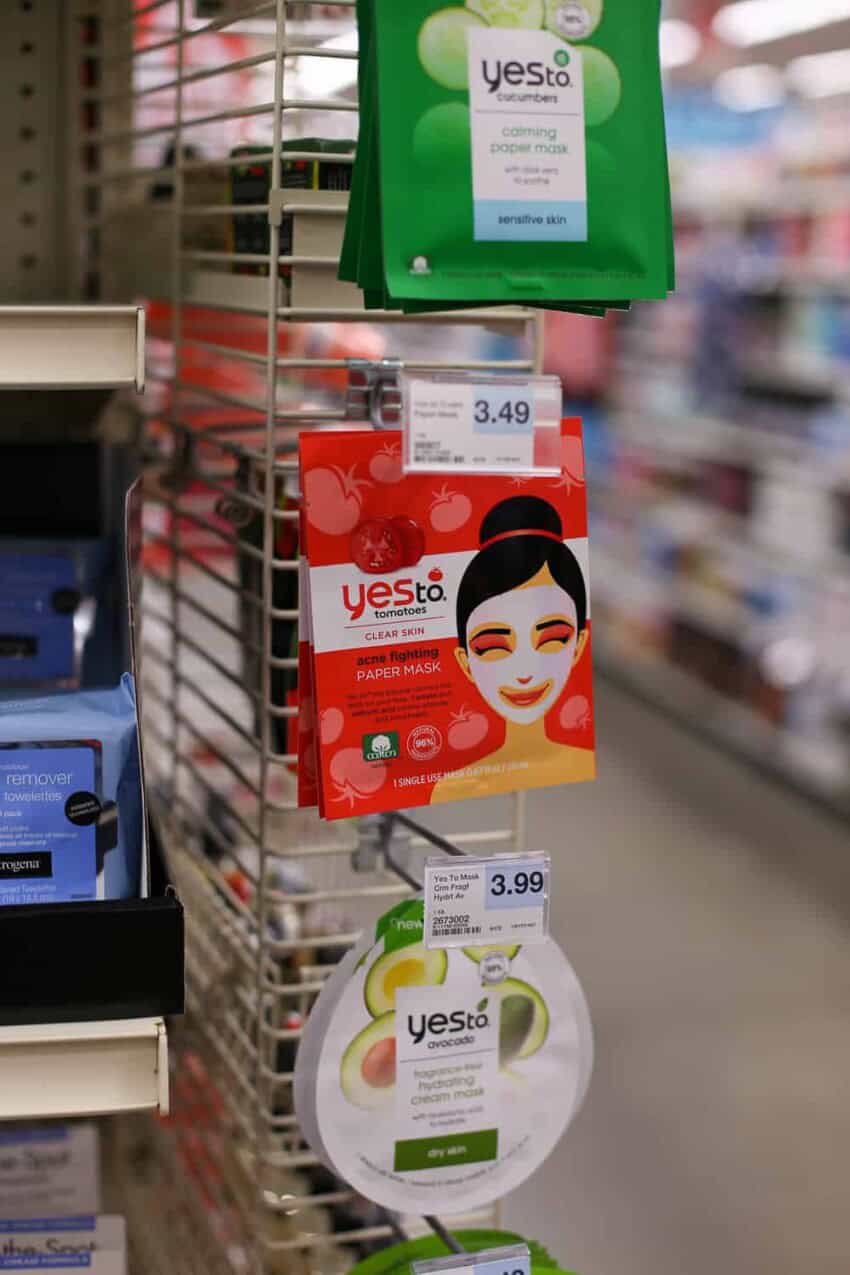 Facial or Spa Treatments
These little facial packets would be fun for some mother-daughter time.
One of our readers said:
"I like to do a 'spa day at home' theme: Bath bombs, bath salts, lotion, face masks, lip balm, good chocolate and canned wine."
Liz M.
A Few More Ideas
Phone charger. You can never have too many!
Make a "Movie Night Combo"–popcorn, movie candy, and a fun drink!
For adults, it can be fun to do lottery scratchers. They are sold at customer service.
$2.00 bills. Sometimes customer service will have these. Kids love them!
Reader Ideas
When we asked our Thriving Home readers about grocery store stocking ideas, they had quite a bit to say! Here are some of the highlights…
"Zumbar soap at Hyvee – I grabbed several bars of the frankincense and myrrh soap (thought it was appropriate) for my extended family one year and it was the most-talked about gift."

-Brooke M.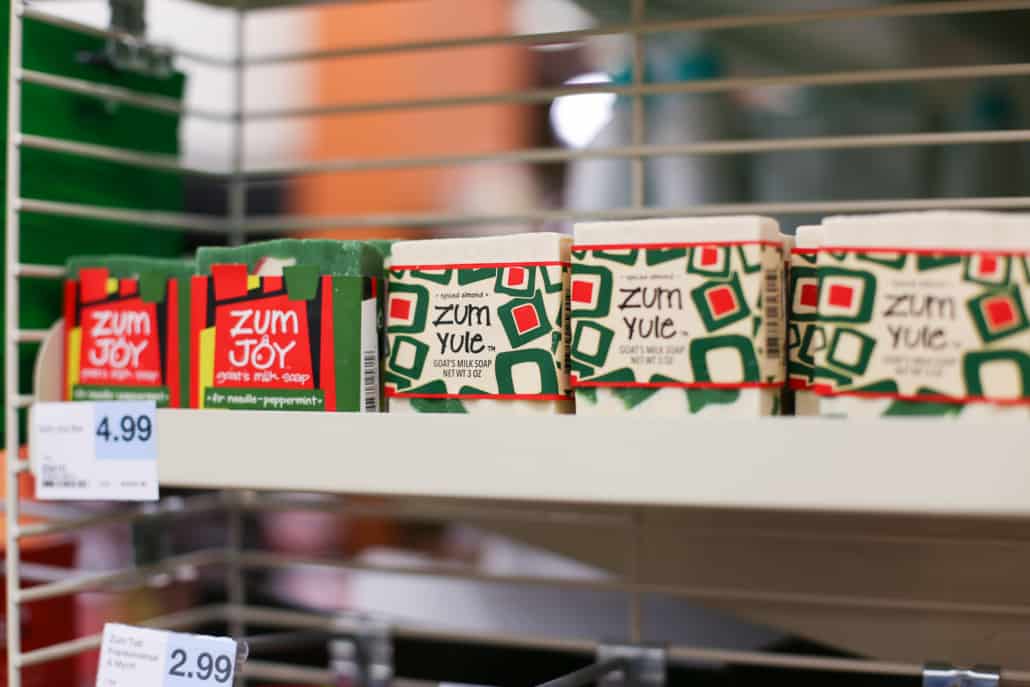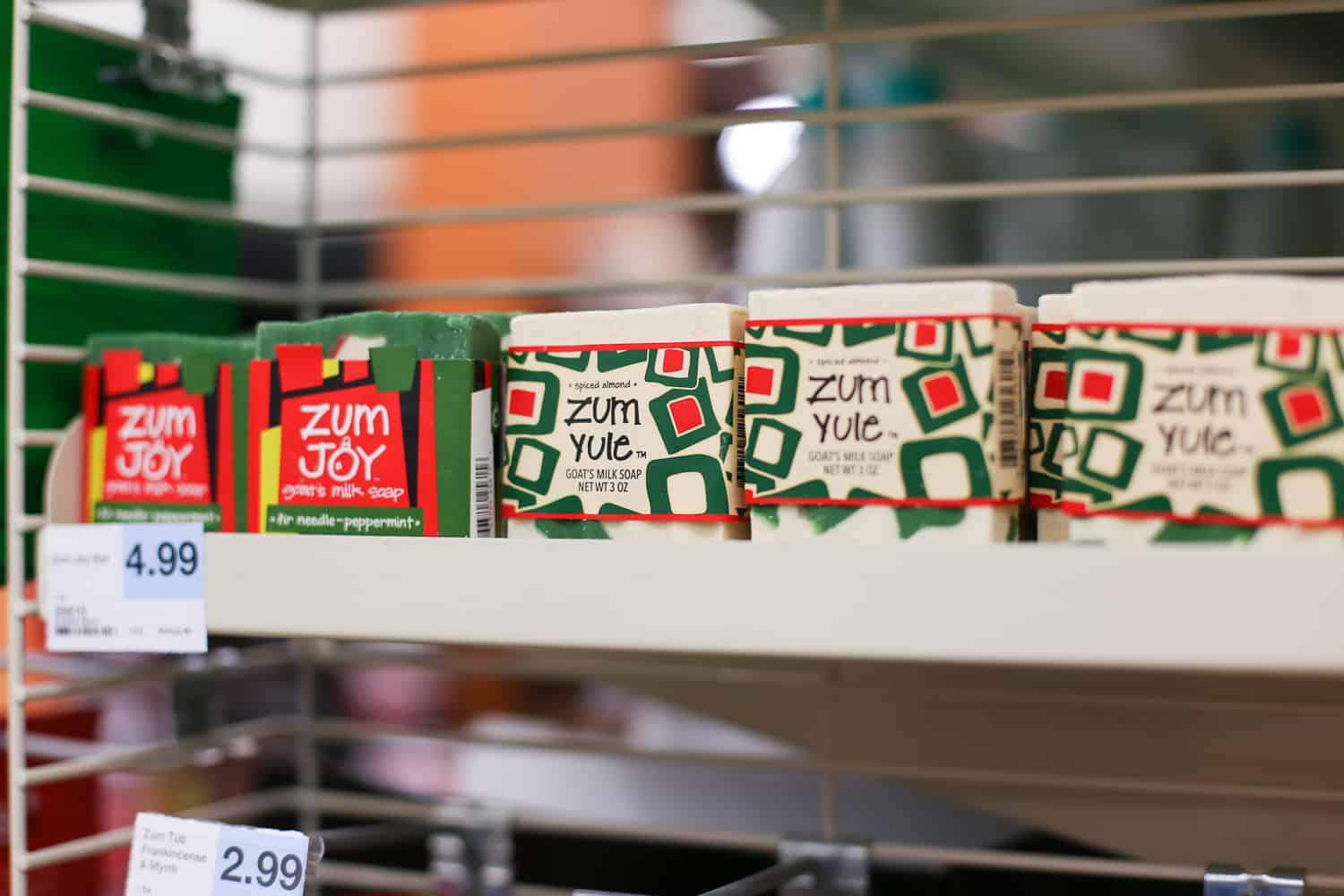 "Our stockings come almost entirely from the grocery store: an orange in the toe, toothbrush and toothpaste, special snacks we don't often get, KinderEggs, gift cards, little bottle of sparkling wine, beer with a silly name…"

Devin L.
"We always got gummy worms/fish/etc. My hubby gets black licorice (there are usually fun old fashioned varieties), beef jerky, other nuts/fun or original dried foods, and coffee…"

Cheryl W.
"Flavored milk straws. They should be near the Nesquick. My kids loved them when they were little, one still does!"

Laura M.
"Those little watercolor sets for kids, in the magazine/office supply aisle. Also word search and dot-to-dot mags for kids, logic puzzles / Sudoku for adults."

Diana B.
"I grabbed the real glass Coke bottles with Santa on them for my son."

Erin B.
Make filling everyone's stockings easier this year!
You've got your inspiration, right? Here's the easy part. All you have to do is either…
1) Grab some of these ideas when you are at Hy-Vee,
OR
2) Visit the Stocking Stuffers page to load some in your Aisles Online cart (and pick them up for free)!
Stocking Stuffers at Hy-Vee