15 Meaningful Easter Books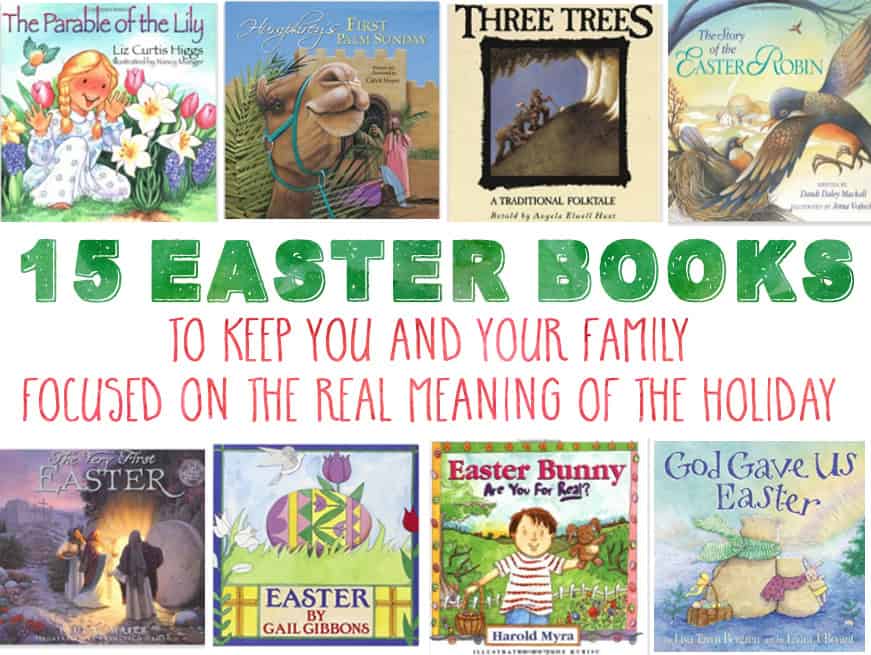 Easter is such a happy holiday.
Bunnies. Egg hunts. Special Easter Sunday dresses (and an excuse to put little boys in vests or ties). Easter brunch with the family. Fun candies. Spring time.
It really is one of my favorite holidays.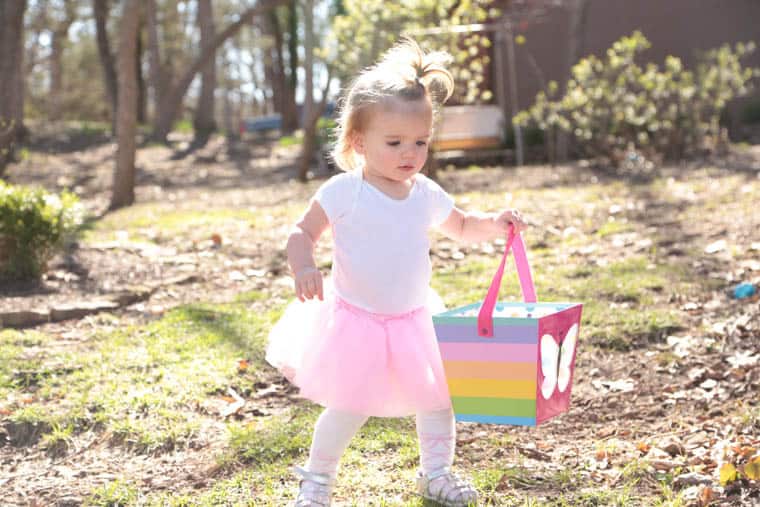 Note: We are a participant in the Amazon Services LLC Associates Program, an affiliate advertising program designed to provide a means for us to earn fees by linking to Amazon.com and affiliated sites. Read our full disclosure policy here.
Like most holidays, the original meaning can easily get lost in the celebrating and traditions. I'm pretty sure if I asked my four year old right now why we celebrate Easter her answer would revolve something around egg hunts and chocolate.
The truth is, I am guilty of the same thing. Without intentionally reminding myself and my kids about WHY we celebrate Easter, I am just as quick to get more excited about creating a fun Easter basket than rejoicing that Jesus conquered death and is very much alive today.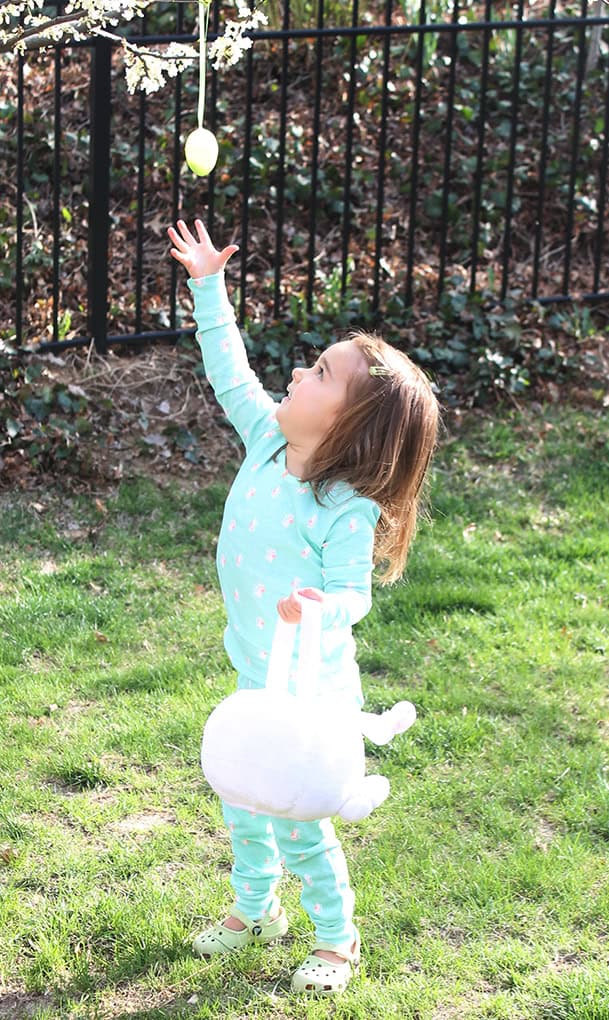 One way that I plan to fight the uphill battle of giving meaning to the holiday is to have a stash of good children's' books to read with my kiddos.
Much thanks to Crossing Kids and a few other intentional mamas who helped me put this list together!
15 Easter Books to Keep You and Your Family Focused on the REAL Meaning of the Holiday
(Book descriptions and age range are directly copied from their online description–I'm sure age range will vary depending on your child).
Age Range: 3-7
A farmer's daughter receives a mysterious gift which she neglects and then discards, only to find out on Easter morning how special it is. Bible verses link the story to the life of Jesus.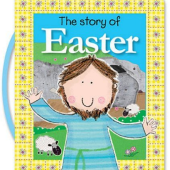 2. The Story of Easter by Thomas Nelson
Age Range: 2-5
This board book is a wonderful way to introduce young hearts to the miraculous story of the first Easter. Sweet text and adorable illustrations will engage kids as they read along with parents and grandparents. A padded board book is a soft but durable selection for little ones, and kids will enjoy the "carry-me" handle as they take their book on-the-go. The small trim size makes this book a great package to place in a child's Easter basket!
3. Humphrey's First Palm Sunday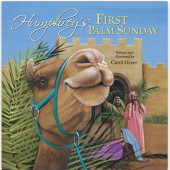 by Carol Heyer
Age Range: 4-8
The delightfully goofy camel we met in Humphrey's First Christmas is back, three decades older and not much wiser. He wants nothing more than to be the lead camel in the caravan, so he can improve his view. When the caravan leads him to Jerusalem, he crosses paths with Jesus making his triumphal entry. Humphrey is delighted to see Jesus, now a grown man, and remembers the Child to whom he gave his coveted blanket all those years ago in Bethlehem.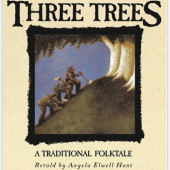 4. The Tales of Three Trees by Angela Elwell Hunt
Age Range: Non specified but from what I gather, it's about at a 2nd grade reading level
Once upon a mountaintop, three trees stood and dreamed of what they wanted to become when they grew up. As the years pass, "the three trees nearly forgot their dreams." Eventually, each tree gets its wish, although not in the way it had foreseen. They discover that things turned out just the way they should have. Readers will be reminded that God has plans for every one of his creations, that He never loses sight any of us.
5. God Gave Us Easter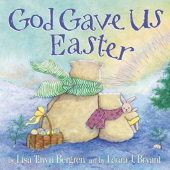 by Lisa Tawn Bergren
Age Range 3-7
"God loved us so much he wanted us to always be with him too. That's why God knew he'd need to give us Easter."  
As Little Cub celebrates Easter with Papa, Mama, and her brother and sister, she begins to ask her papa questions about this very special day of the year.  Papa lovingly explains God's plans for his children, while taking Little Cub on a memorable walk through her stunning Arctic world, and he shares how Easter came about in clear, simple terms that even the littlest cubs can understand.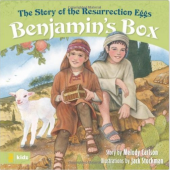 6. Benjamin's Box by Melody Carlson, Jack Stockman (Illustrator)
Age Range: 4-7 (although a friend of mine said she'd recommend it for older kids)
This tale of a child following Jesus during biblical times to find out who he is, will teach your children lessons from the Bible you'll want to share the whole Easter season. This story goes along with the Resurrection Eggs.
Age Range: 5+ (Had a friend say she used this as early as 3 years old)
Not so much a book but I love the idea of this! It's a plastic carton with 12 eggs each with objects that tell the story of Easter.
8. The Week that Led to Easter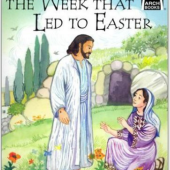 by Joanne Larrison
Age Range: 5-9
This book retells the events of Palm Sunday through Easter day (Matthew 21:1-28:10; Mark 11:1-16-8; Luke 19:29-24:12; John 12:12-20:10). The Arch(R) Book series tells popular Bible stories through fun-to-read rhymes and bright illustrations. This well-loved series captures the attention of children, telling scripturally sound stories that are enjoyable and easy to remember.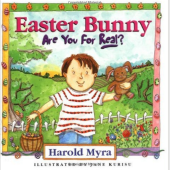 9. Easter Bunny, Are You For Real? by Harold Myra, Jane Kurisu
Age Range: Preschool and up
Easter eggs – Easter bunnies – Easter parades – what is Easter all about? This book helps parents teach their children to see beyond the commercialism of Easter. It gives a simple explanation of Jesus' death and how he rose from the grave. It also explains how celebrating Spring (new baby animals and flowers and trees blooming) "is God's picture of Jesus rising from the dead as all of Nature comes to life again."
10. Easter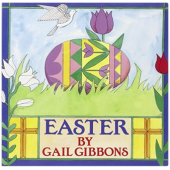 by Gail Gibbons
Age Range: 5+
The reason why Easter is celebrated–the death and resurrection of Christ–is explained clearly and simply, as are many Easter traditions. Illustrated by the author.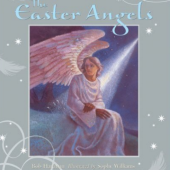 11. The Easter Angels by Bob Hartman
Age Range: 7-9 
In this moving retelling, Bob Hartman gets right to the heart of the Easter story—evoking its pain, its loneliness and, at last, its unexpected joy. The changing mood of the story is reflected in Tim Jonke's dramatic and powerful illustrations.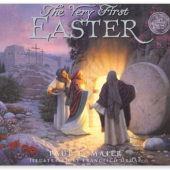 12. The Very First Easter by Paul L. Maier, Paul Maier, Frank Ordaz
Age Range: Preschool and up
Impressively enhanced with museum quality artwork, The Very First Easter has as its principle focus the story of Easter and the trial, death, and resurrection of Jesus. God's plan for the salvation of mankind through Jesus Christ is showcased in a perfect picture book format for young readers.
13. The Story of the Easter Robin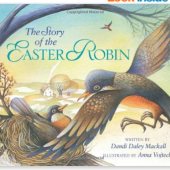 by Dandi Daley Mackall
Age Range: 4-8
Two stories fold into one as this contemporary tale reaches back to the first Easter. Tressa is worried about the robin's eggs outside her window. And even though Gran tells her to trust the one who watches robins and sparrows, Tressa knows everything from weather to raccoons could mean trouble. To get her mind off the eggs outside, Gran brings Tressa inside to make Easter eggs the Pennsylvania Dutch way: blowing out the insides, dyeing them, and fashioning paper into wings, heads, and tails for the egg bodies. It is while they are working that Gran tells Tressa a story. At the time of the Crucifixion, it was the small brown robin that pulled a thorn from Jesus' crown to spare him pain; the blood from the wound gave the bird its red breast. The next day, the baby robins have hatched, and Tressa knows whom to thank for their safety.
14. What is Easter?
 by Michelle Medlock Adams
Age Range: 2-5
Here is a book for toddlers that resolves the dilemma many parents have as they attempt to reconcile their religious faith with the secular celebration of Easter. The author first asks the question: Is this what Easter means? By the end of the story, even the youngest child will agree with the author, 'Now I get it, the eggs are fun and the Easter bunny is okay, but Easter's not about that stuff. It's about God's son.'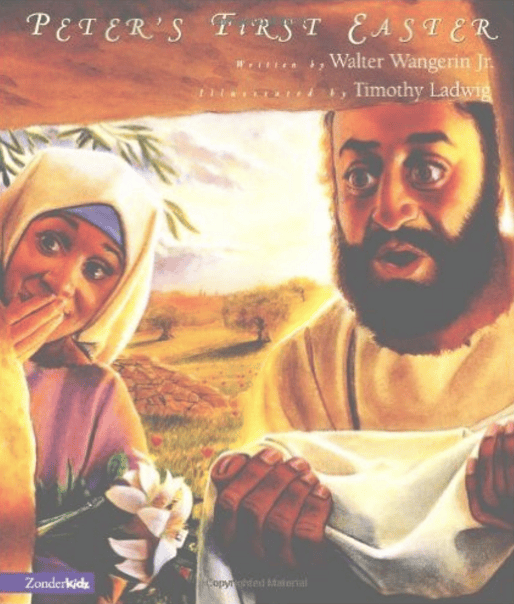 15. Peter's First Easter by Jr. Wangerin Walter
Age Range: 4-8
In Peter's First Easter, they tell the story of Jesus's last days on earth through the eyes of one of his disciples. In a conversational tone, disciple Peter tells the story of Judas's betrayal and his own shameful denial of his savior in his time of need. Lively, full-color pictures illustrate the sometimes gruesome, sometimes joyous events of Jesus's crucifixion, resurrection, and forgiving of Peter.
Please comment and share any that I might have missed!!
https://thrivinghomeblog.com/wp-content/uploads/2016/03/15-easter-books.jpg
655
871
Polly
https://thrivinghomeblog.com/wp-content/uploads/2019/10/thrivinglogo.png
Polly
2016-03-08 05:00:00
2019-10-25 12:31:04
15 Meaningful Easter Books