35 Takeaways from Our Trip to Disney World
Updated: 9/8/22
This post may contain affiliate or sponsored links. Please read our disclosure policy.
After our first trip to Disney World, we learned quite a bit! Here are 35 tips, tricks, and hacks for young families traveling to Disney World.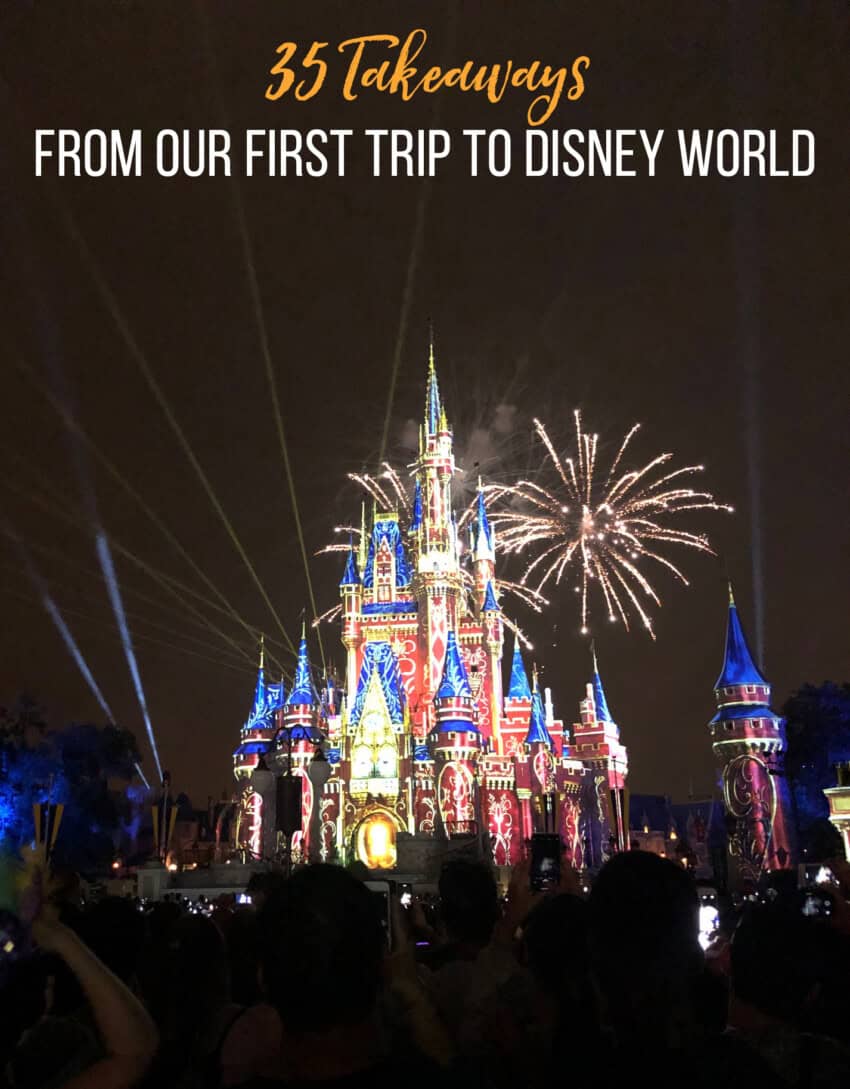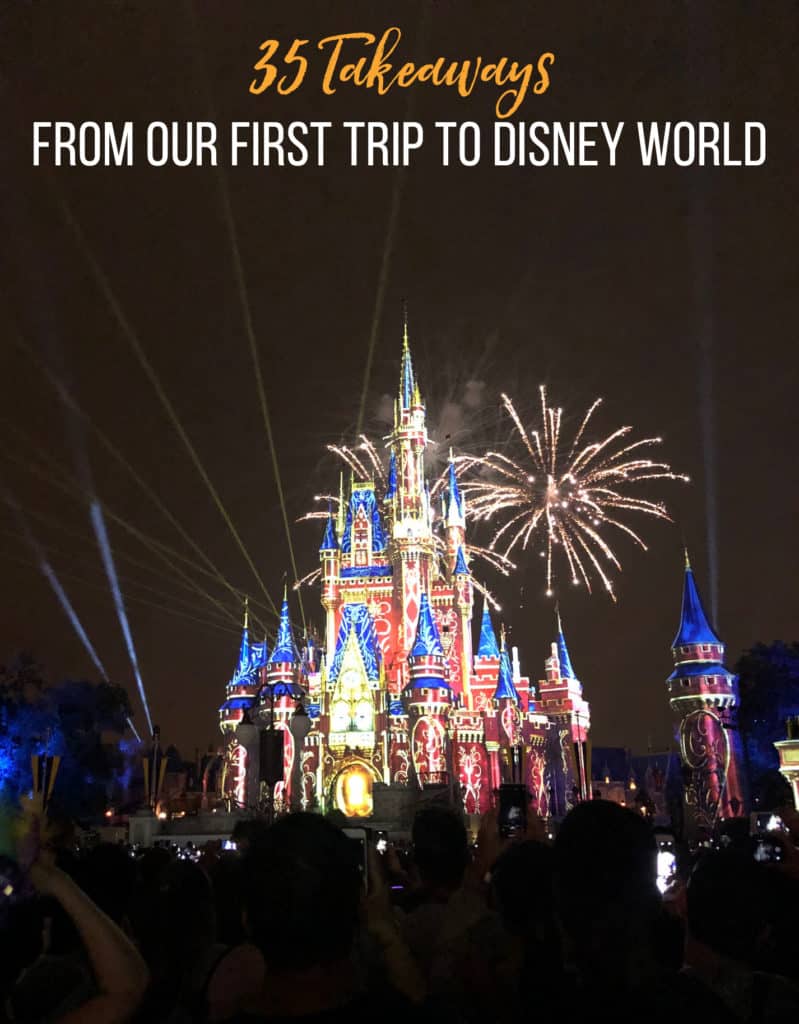 Last May, we went to Disney World as a family for the first time. When asked about our experience, my most common answer was, "Disney was a little bit of everything…" Taking 3 young children (ages 7, 6, & 3 at the time) is no small task and certainly came with its ups and downs. We packed all that we could into the 5 days and left with memories and stories that our kids will hopefully look back at with fondness.
A great Disney trip doesn't happen accidentally though. We spent hours and hours researching, plotting, planning, and educating ourselves on all-things-Disney months before the trip even happened. And I'm so glad we did. Even with all of our Disney knowledge, we learned tons while we were there and walked away with a list of things that might be helpful to anyone who might be Disney-bound soon.
It's also worth noting that every family experiences Disney differently. The opinions below are born out of our experience which is likely very different than yours.
To give you some context of our trip, my family (kids ages: 7, 6, & 3) along with my in-laws went in mid-May. We visited Animal Kingdom, Magic Kingdom, and Hollywood Studios with a rest day in the middle. We chose to do the Table Service dining plan and stayed at Port Orleans Riverside Resort.
5 Things I'm Glad We Did BEFORE our Disney trip.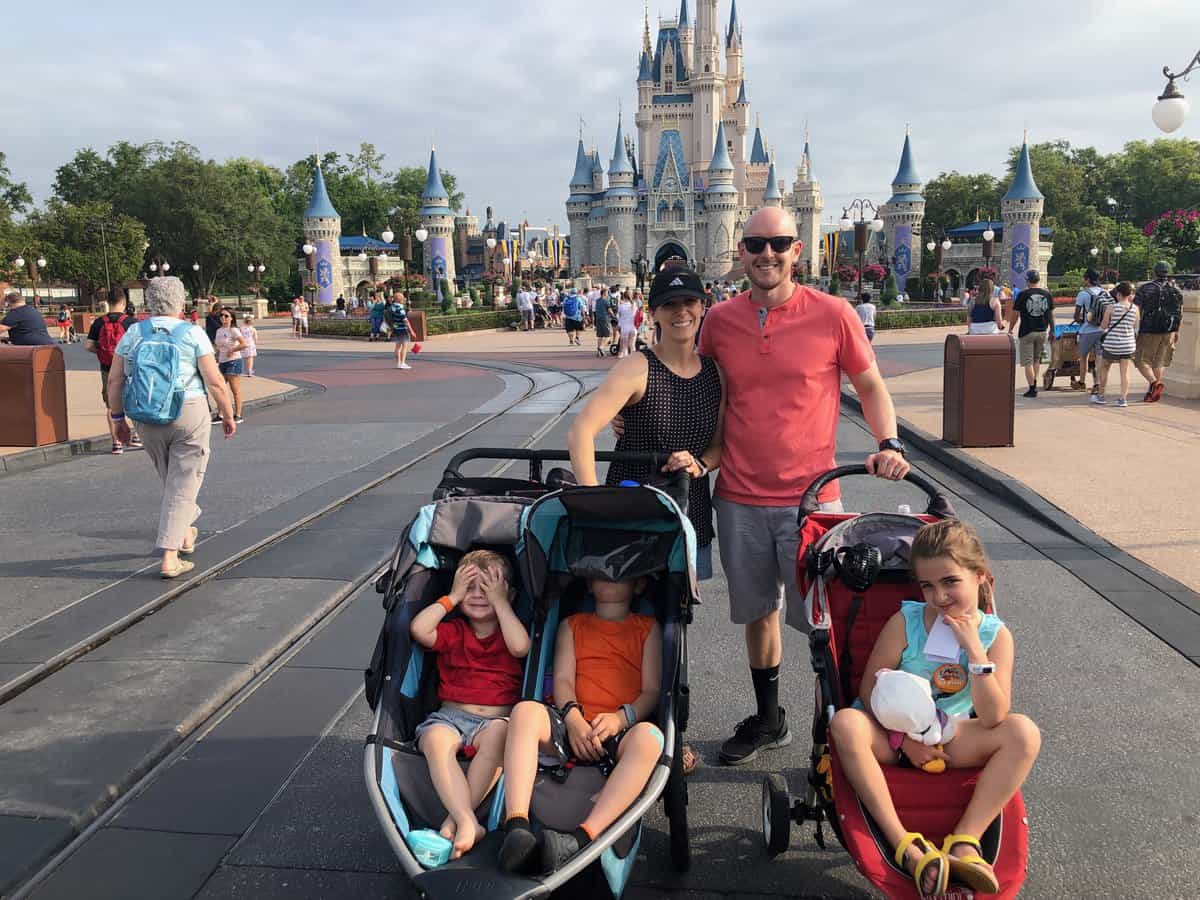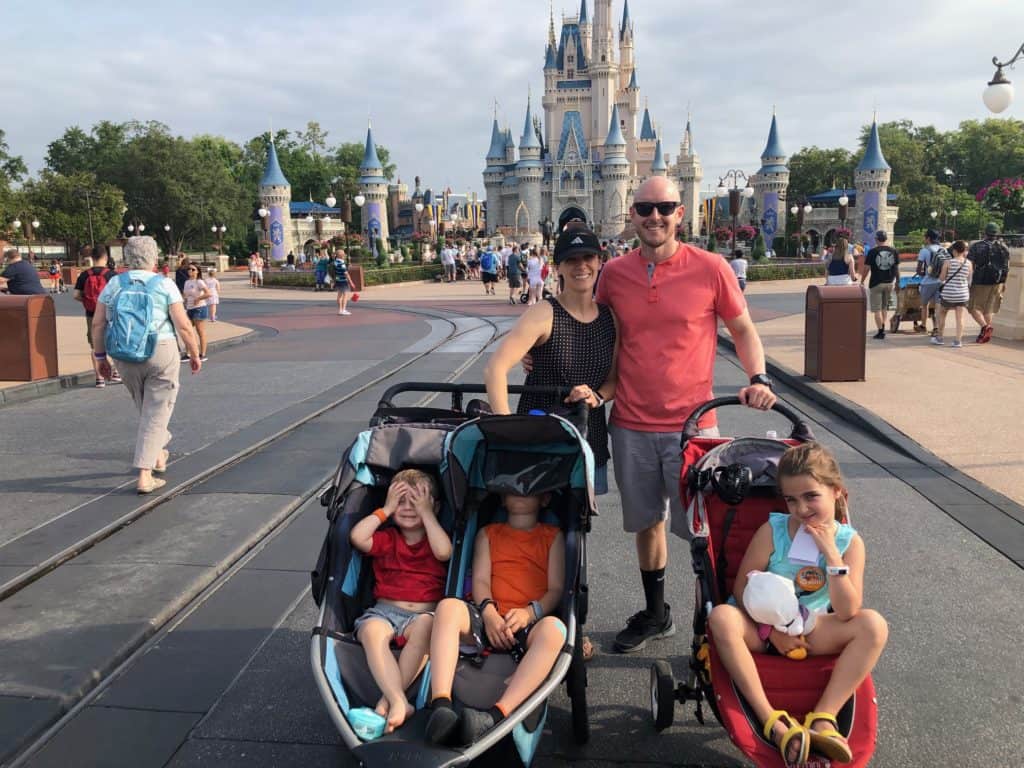 Hire a Disney travel agent! It costs nothing for you and made it way less overwhelming. We used Elizabeth from Magic Mouse Travel. She booked our hotel, meal reservations, and fast passes. She also served as a great person I could annoyingly ask 100 questions to in the planning process.
Talk to people who have similar aged children who have been to Disney. They will know what experiences and rides will be a big win (or a big flop!) for you. Also, I found it incredibly helpful to join a Disney Facebook group like this one. Those people chat about Disney all day long. Not even joking.
Have a plan and hold it loosely. I went to the effort of planning almost an hour-by-hour plan for each day. This took a lot of work but it was totally worth it. We were able to make the most of our time there and know where we were headed and when. BUT, every day, something didn't go as planned. A ride broke down, a rainstorm hit, a line was too long to wait in. Things happen so be prepared to hold your precious, perfect plan loosely.
Familiarize yourself with the park layout before you enter. This is tied to #3 but having an idea of where you are in the park and where you are headed saved us so much time and stress. We avoided cross-crossing across the park and made restaurant choices based on where we would be around meal times. I can't emphasize the importance of this one for a first timer enough!
Go into this trip knowing that it is no vacation. It is an amazing experience but it is WORK. You will be TIRED in every way. If you go in knowing that, your experience will be much better!
5 Things I Wish I Would Have Known Before Going to Disney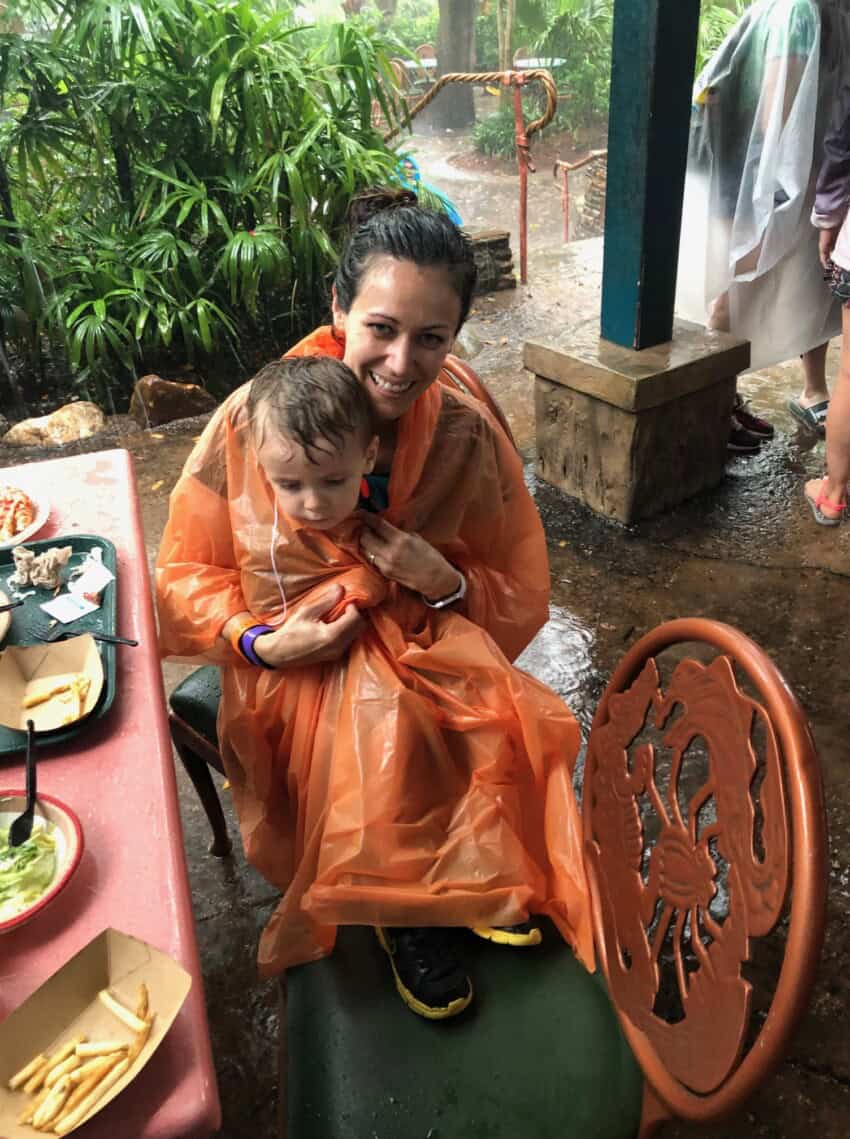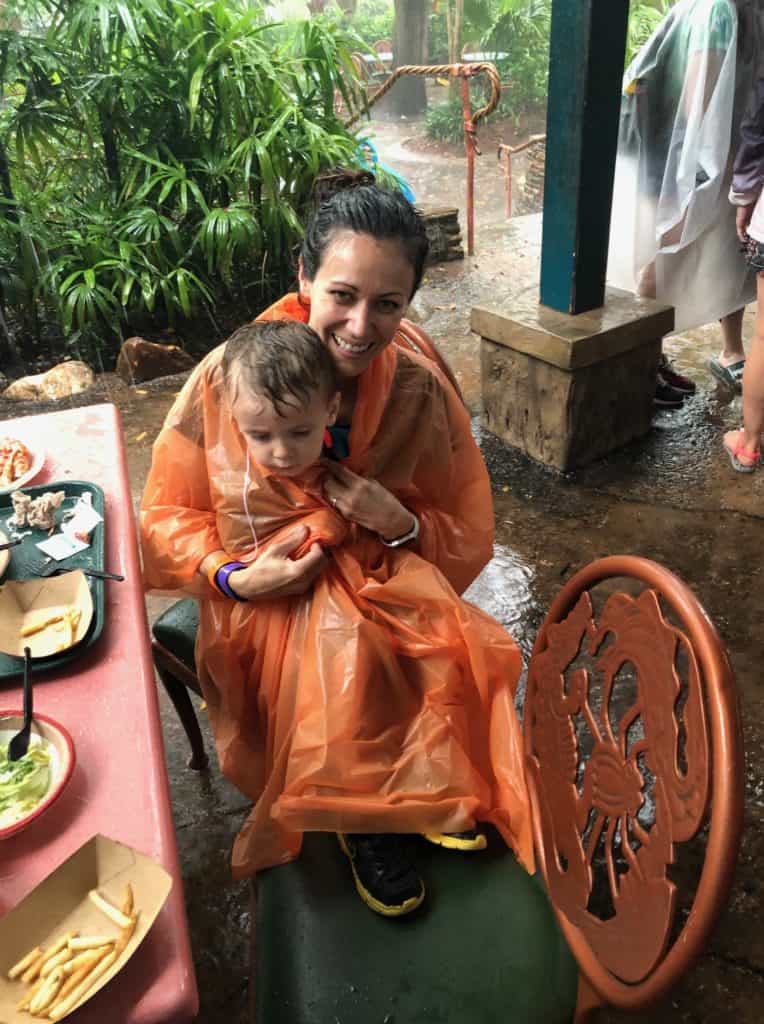 I would have brought more of our own snacks. Even though we had snacks on our meal plan, we oftentimes wanted something to munch on in our hotel room or in the park. I also learned on the last day that you can swap drinks for snacks (if you're on a meal plan.)
Your child's temperament will be exaggerated. The happy moments will be SO HAPPY and the grumpy moment were, well, pretty grumpy. If your child is young, just prepare yourself for them to be at their highest high and lowest low at some point every day. Disney brought out the best and worst of all of us. Just speaking truth, my friends.
The bus rides from the resorts to the parks were longer than I anticipated. You can't just buzz back and forth quickly. There are often wait times and even long lines if you hit it at the wrong time.
I would have bought bigger water bottles for the kids. They would go through their water so fast and we found ourselves stopping for water all the time. Tip: You can fill bottles up with water and ice at most quick-service restaurants in the park!
I wish I would have brought pool toys! We spent a good part of both travel days and our rest day at the resort pools. While they are really fun, my kids love them some diving sticks and floaty toys.
5 Things I'm Glad We Bought for the Trip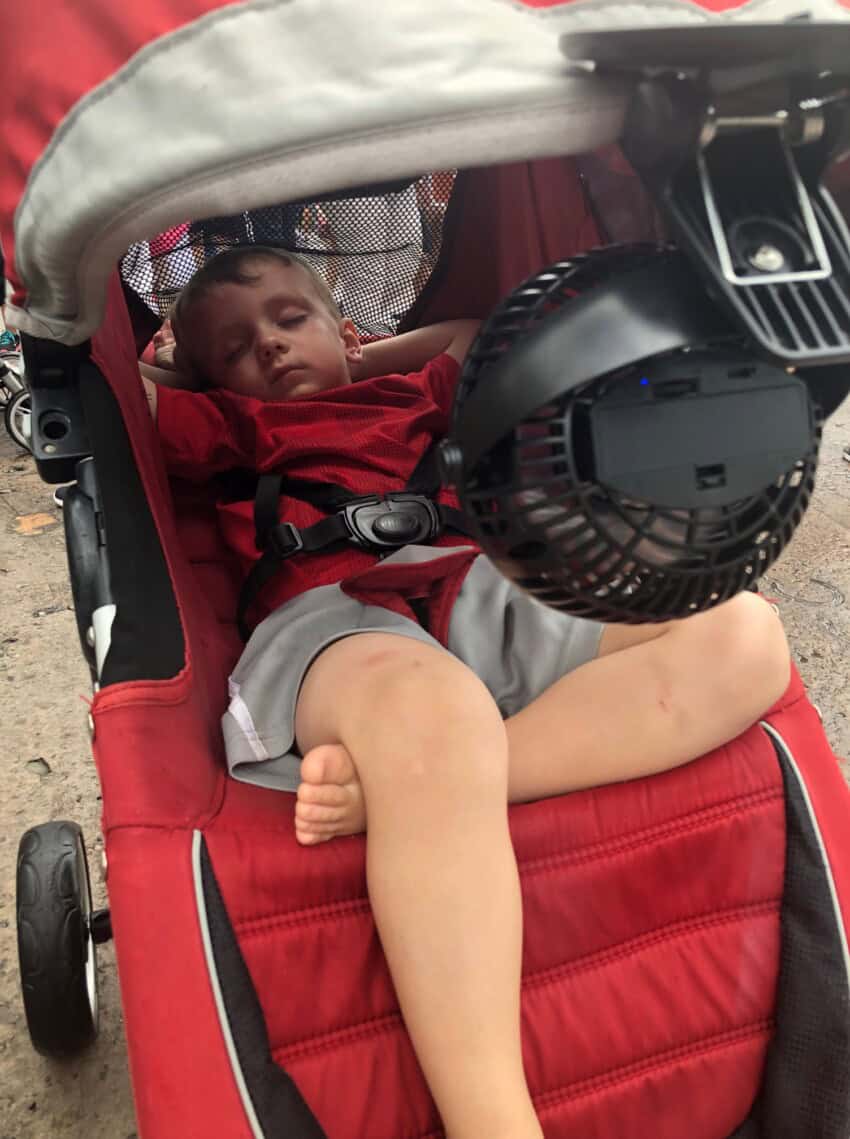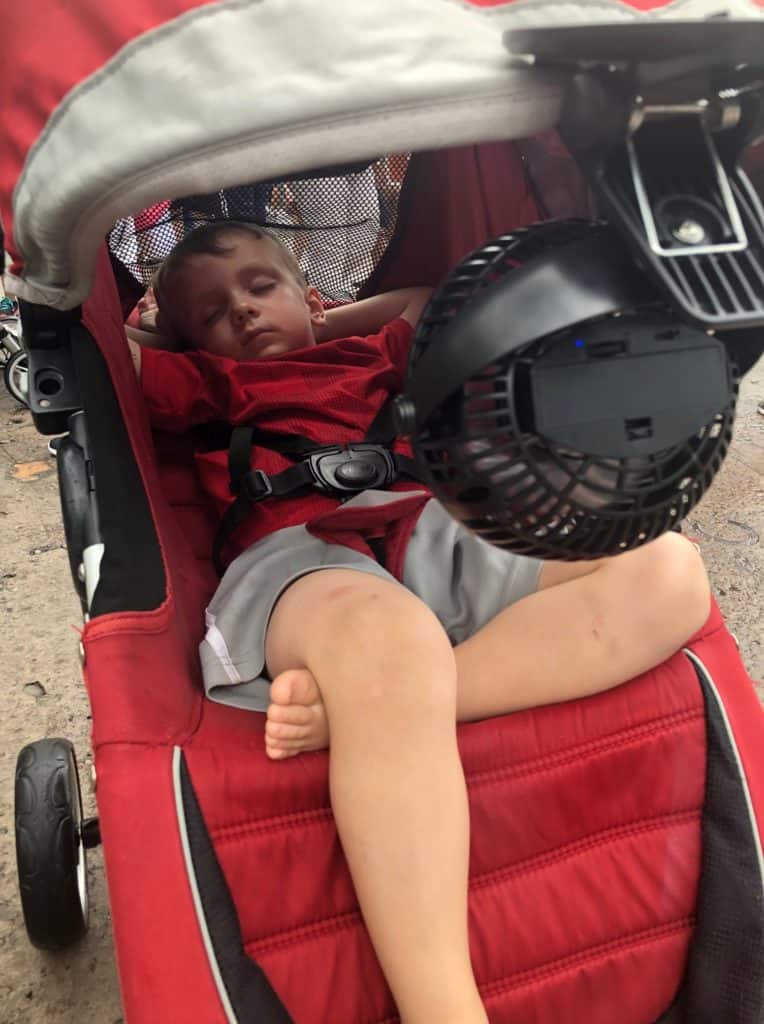 Note: Some links may be affiliates. We are a participant in the Amazon Services LLC Associates Program, an affiliate advertising program designed to provide a means for us to earn fees by linking to Amazon.com and affiliated sites. Read our full disclosure policy here.
Ponchos: Trust me on this. In Flordia, the skies unleash at a moments notice. Ponchos are for sale in the parks but they are marked up 1000% or something. We were SO glad to have these.
Portable, Clip-On Fan: If you have a napper, do them a favor and snag one of these for your trip. Those strollers can be hot! This fan recharges and was used for a naptime every day.
Rain cover for your stroller: We rented strollers and they came with rain covers. I am SO glad they did! Kids aren't too keen on sitting in a wet stroller and it also was a safe place to store things we didn't want to get wet in a rainstorm.
Insulated water bottles: Having cold water to drink at Disney is underestimated until you were there. I'd highly recommend bringing quality, insulated water bottles for everyone. I have a 32 oz version in the one linked above but that doesn't fit in a cupholder (boo). For that reason, I'd recommend the 24 oz.
Bandaids/First Aid Items: The last thing you want to do is to spend time finding a first aid station for a bandaid. Boo-boos and blisters happen and you can be one prepped Disney mama if you pack a small first aid kit.
(Bonus item: A Mesh Laundry Bag): This is probably more personal than necessary but I loved having a place in our crowded room where all the dirty clothes went and stayed.
5 Ways to Save Money at Disney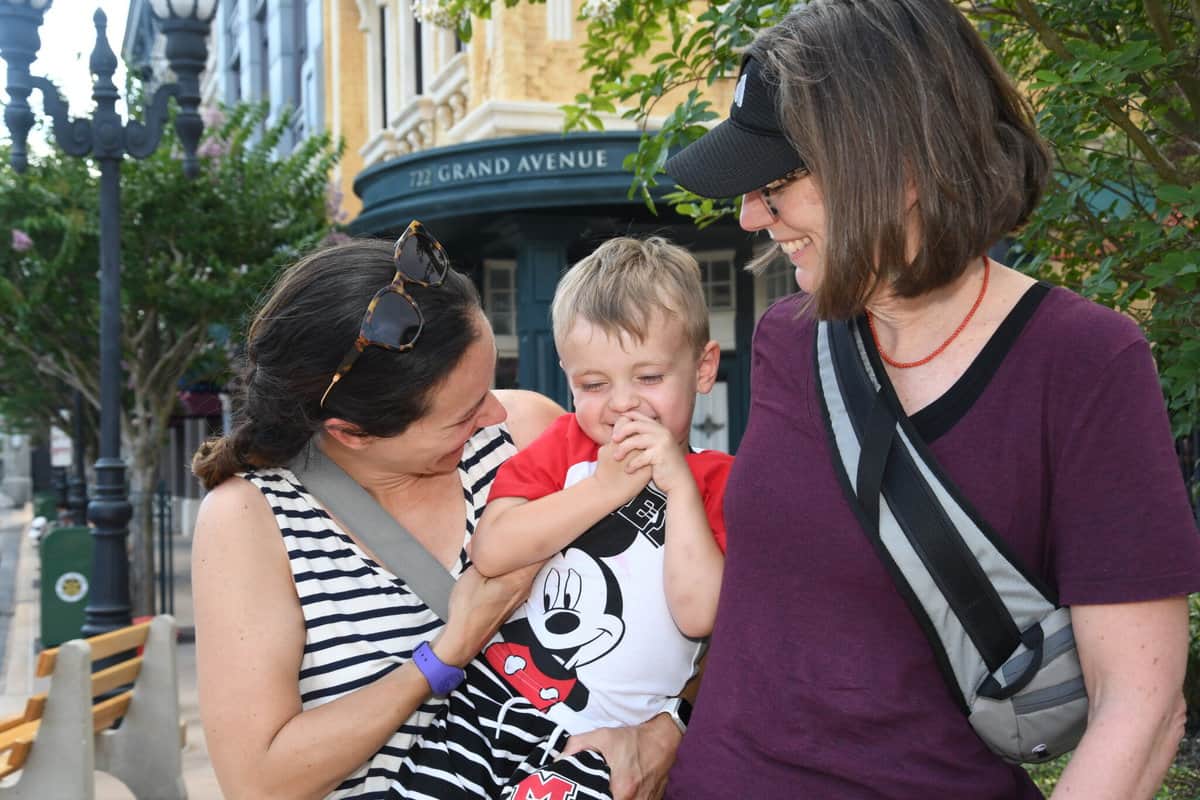 Bring your own glow sticks. Everything is overpriced at Disney so anything you can bring helps alleviate the cost. If you plan to stay into the evening, I can promise you that your kids will be begging for some expensive flashy light up toy. Mine were appeased with the glow sticks I got at the dollar store the week before.
Skip the meal plan. While it was nice to be in "yes-mode" when kids asked for snacks and food, there is no way my kids ate the amount we paid for their meal plans on their meal plan. We also don't do soda/sugary drinks so while those were included in the plan, we didn't get them. We could have saved a lot of money by bringing our own breakfast bars, snacks, and eating at a Disney restaurant once or twice a day.
Buy Disney gift cards at a discount. I didn't do this simply because I didn't have the time but some do this through Target or Sams.
Skip the park hopper option. We had plenty to do at one park each day. We stayed put and made the most of each park each day.
If you need to fly, you can get 40,000 free miles with Southwest Airlines simply by signing up for their credit card. Listen, I am not a multiple credit card person. I use one card and one card only the majority of the time. BUT, I was looking for ways to make Disney affordable and being able to fly my whole family of 5 down there for free was too hard to pass up. This was one way that we made the trip affordable for us.
5 Things I'm Glad We Splurged On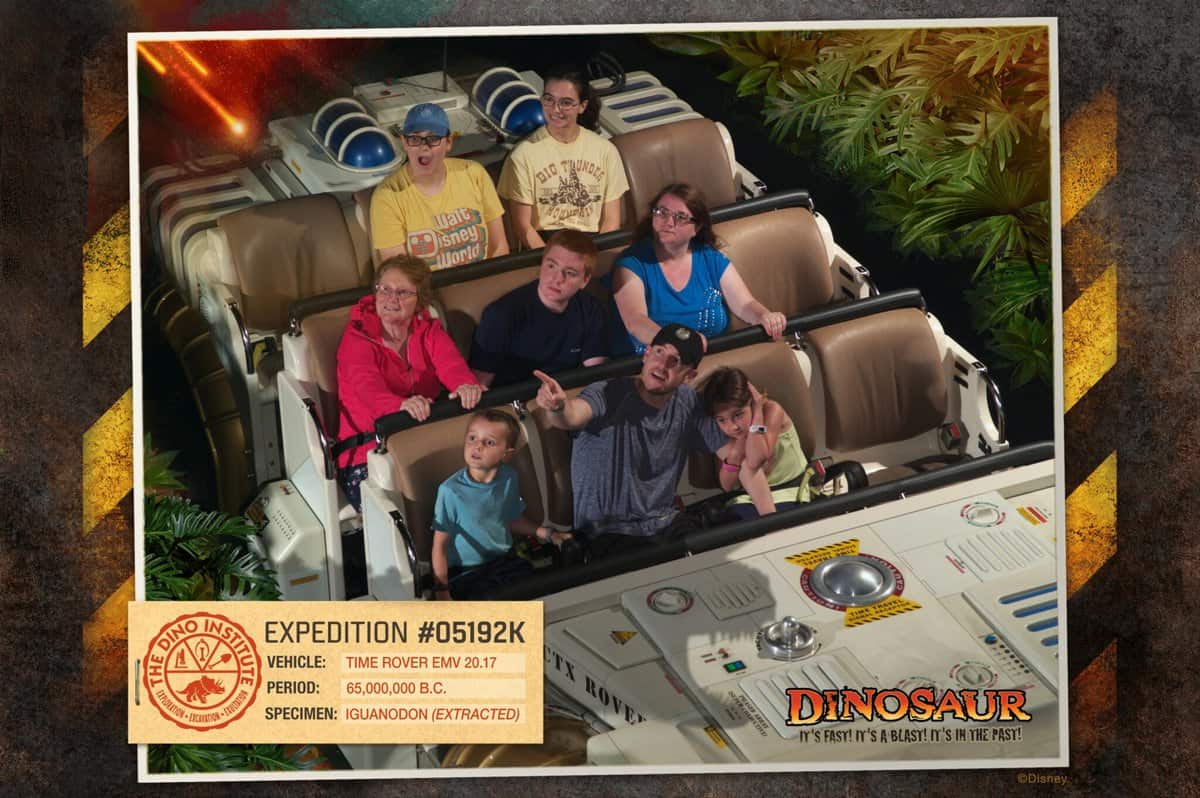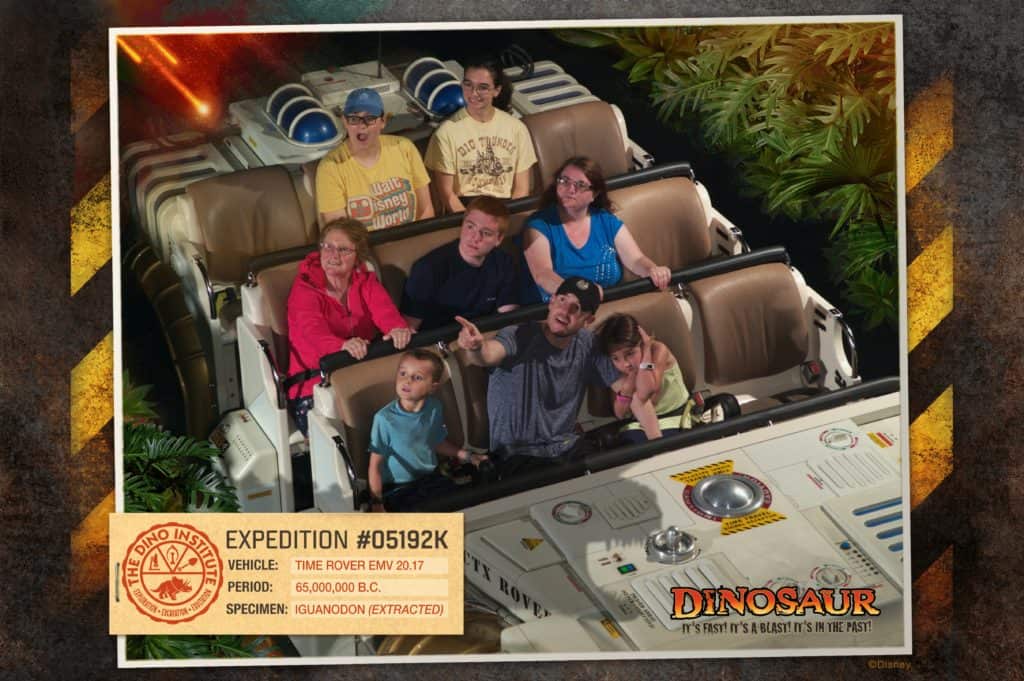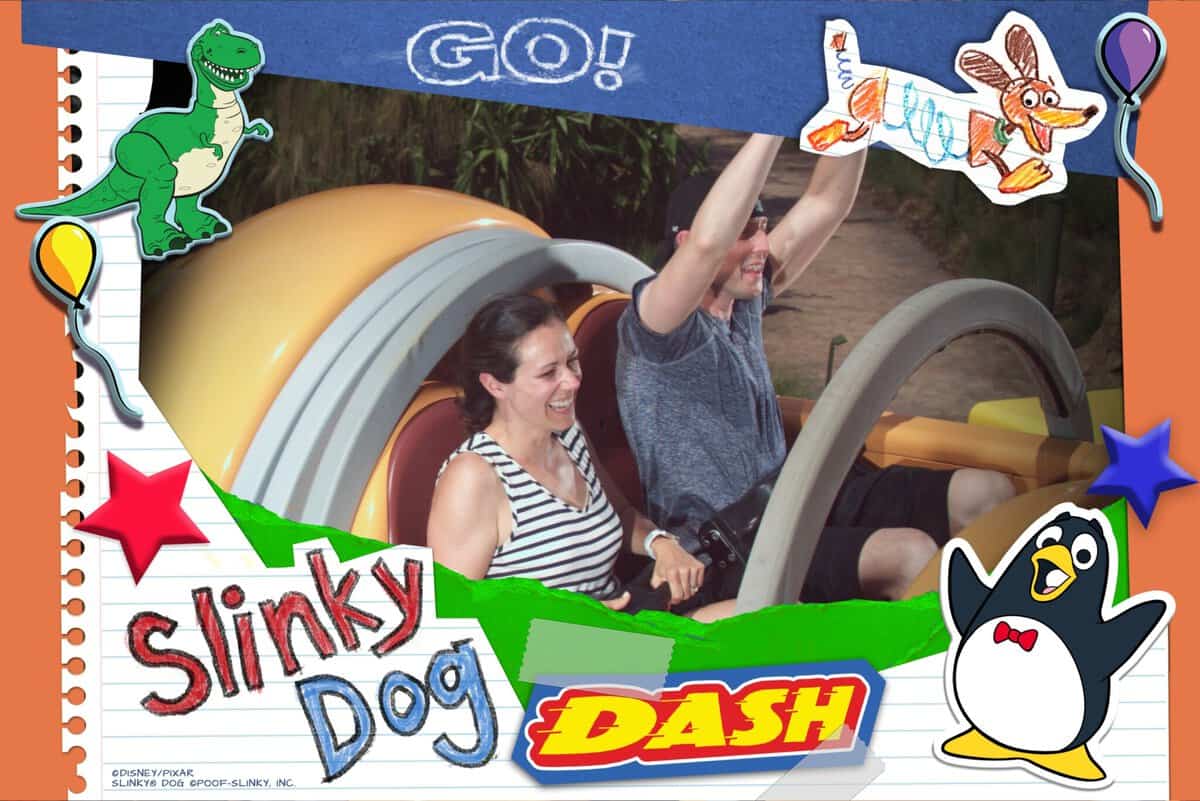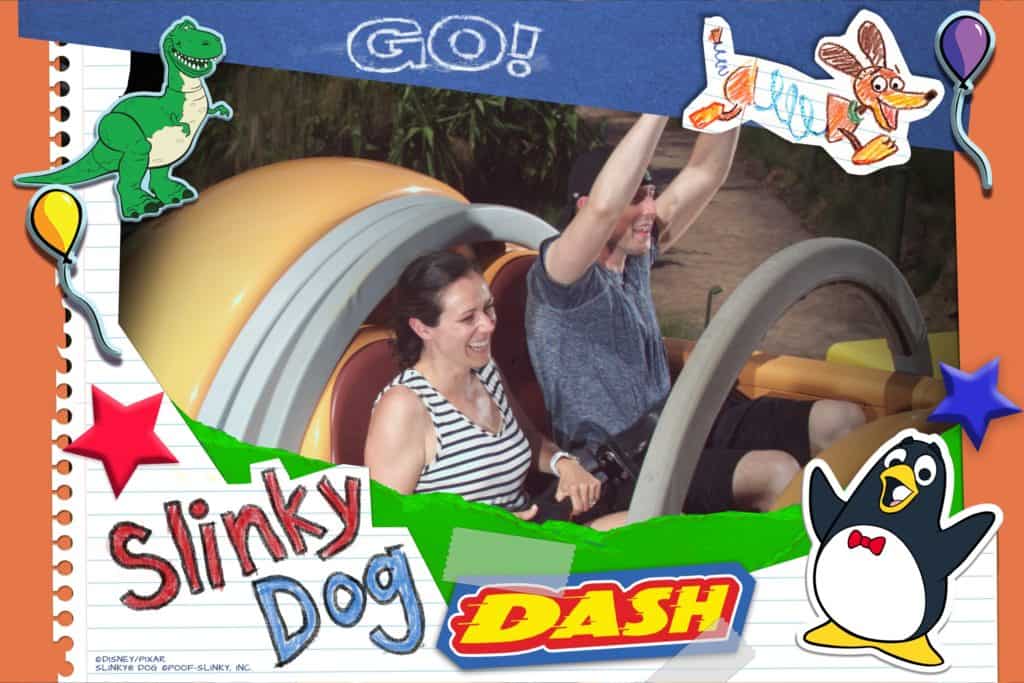 Memory Maker: Many rides will take pictures of you in action (see above) and they are included in the Memory Maker package. All over the parks are photographers capturing photos in the prime spots. It's nice to have a great photo of every one of those memorable places. We didn't take advantage of this nearly enough, to be honest!
Stroller rental: Since our stroller is old and clunky, I didn't want to haul it down there. We decided to rent a double Bob instead. They dropped it off and picked it up at the resort. It had its own rain cover and worked great for my kids. It was pretty much home base for everyone and I couldn't imagine a park day without it. We even ended up renting a 2nd one for my 7-year-old because her knee was bothering her.
Staying at a Disney Resort: We could have saved quite a bit of money by staying outside of the resort but since we knew this might be our only Disney trip, we splurged. There are lots of perks that come with staying at a resort and we happily welcomed them!
Spending Money for the Kids: My big kids were given a certain amount of spending cash to spend how they wanted. This helped alleviate the constant question of, "Can we buy that? I want that!" Once their spending money was gone, it was gone.
Flying instead of driving! See #5 in section above.
5 Things We Wouldn't Do Again at Disney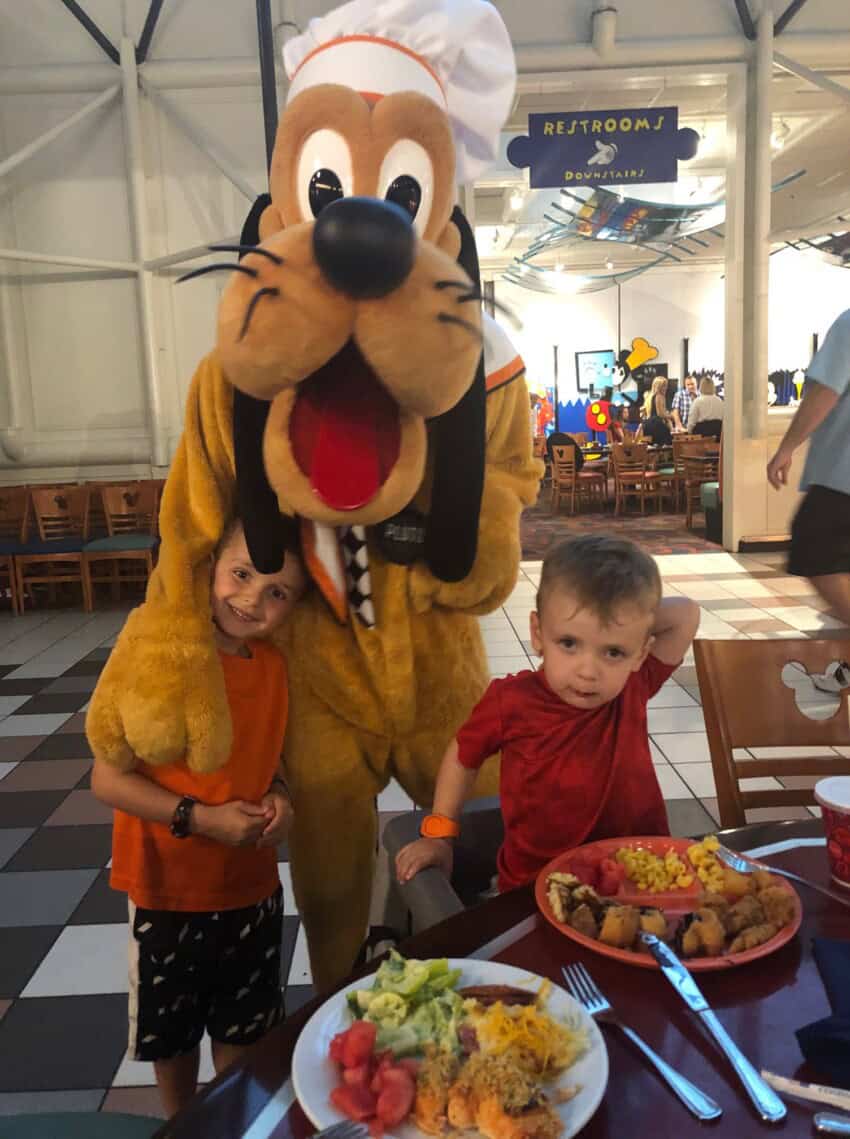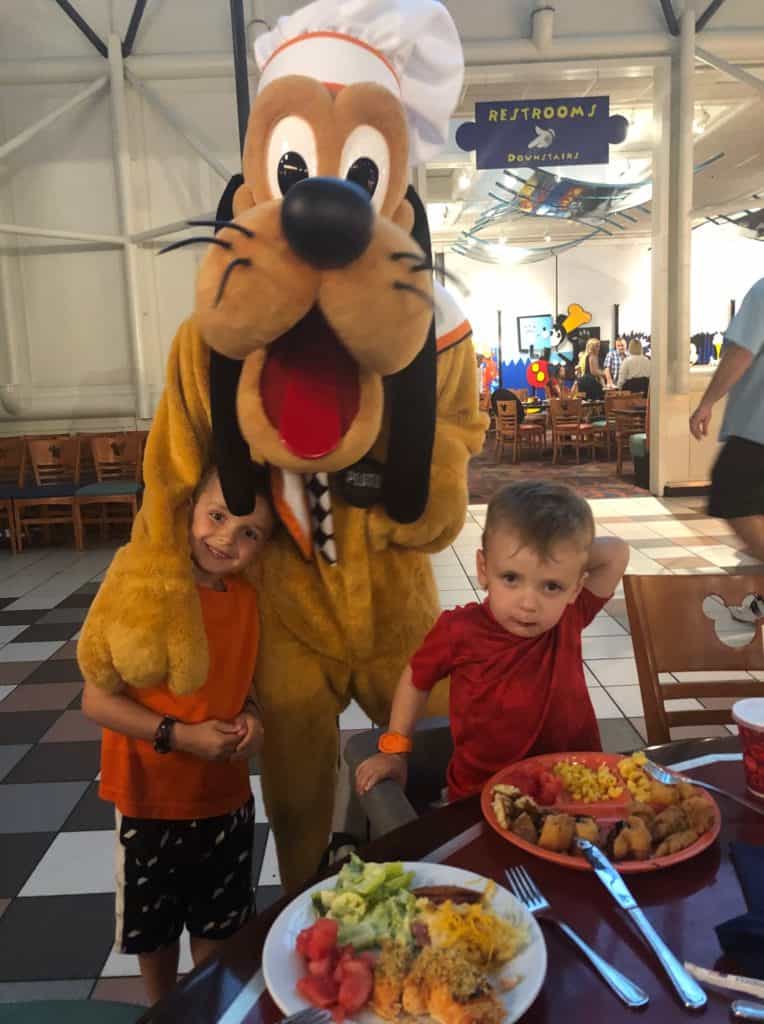 Character meals where the characters can't talk. It was nice to see Mickey and his friends but really all they could do was give your kid a hug, pose for a picture and then try to communicate love through some vague hand signs. We much preferred when the characters could interact with us like at 1900 Park Fare. Probably just my opinion though.
If we had a young family going back, we would skip the meal plan. Not sure I would say this with elementary aged and older kids though. They might actually eat enough to make it worth it.
Peter Pan's Flight ride. For some reason, this was hyped up and we were told by many to get a FastPass for it. It was forgettable in my opinion. Sorry, Wendy.
Sci-Fi Dine-In Theater at Hollywood studios. I only say this because the movie clips that they show were a bit too spooky for my kids. They were bothered by some of the images and storylines they saw. It'd be totally fine for older kids though. The food and atmosphere of eating in cars was fun. Just probably better for older kids.
Missed photo opportunities. We had paid for the Memory Maker (basically they capture photos of you all around Disney and you get them all for free.) BUT, a lot of times we were too lazy to wait in line for a great photo opp. I regret not taking the 5 minutes to have them get a great picture of us. Those pictures are what the kids will look at for years to come and I'm bummed I didn't see the value in taking the time to get more. I also didn't know that you could just snag a photographer and ask them to take a picture of you. Wish I would have done more of that!
5 Things We Would Do Again at Disney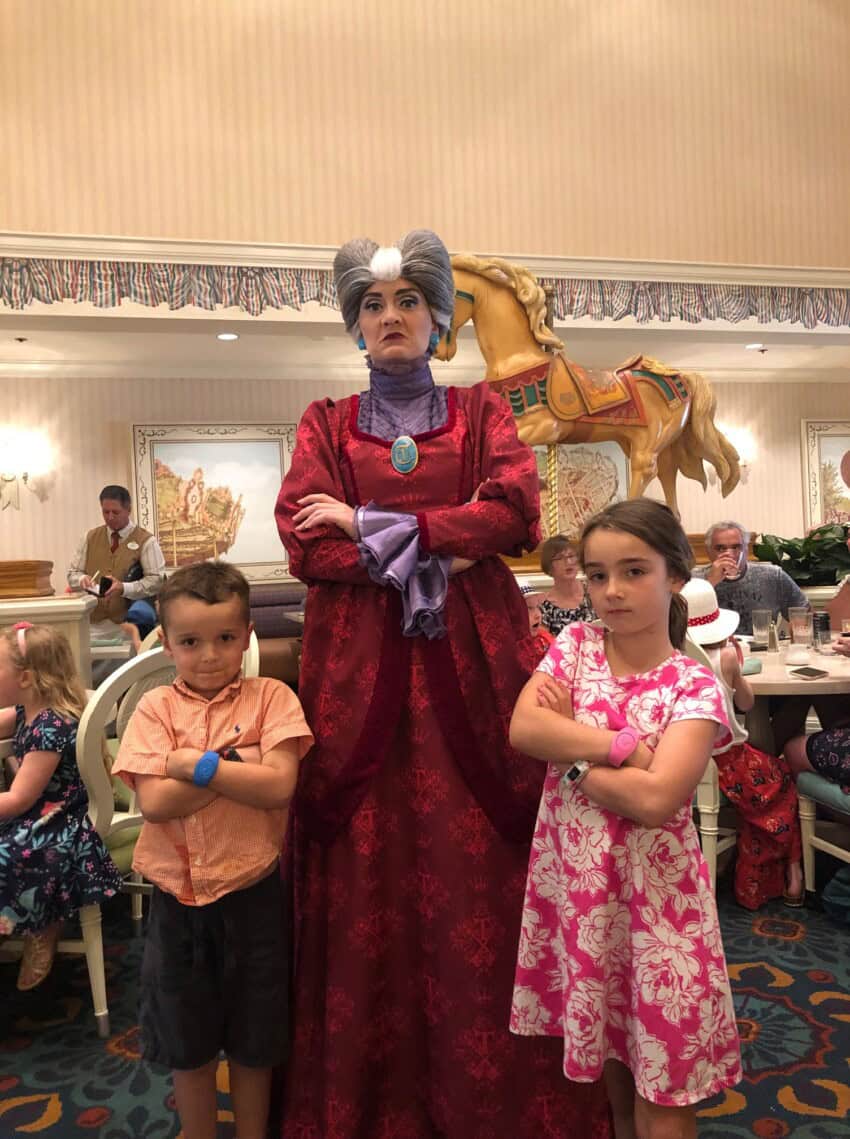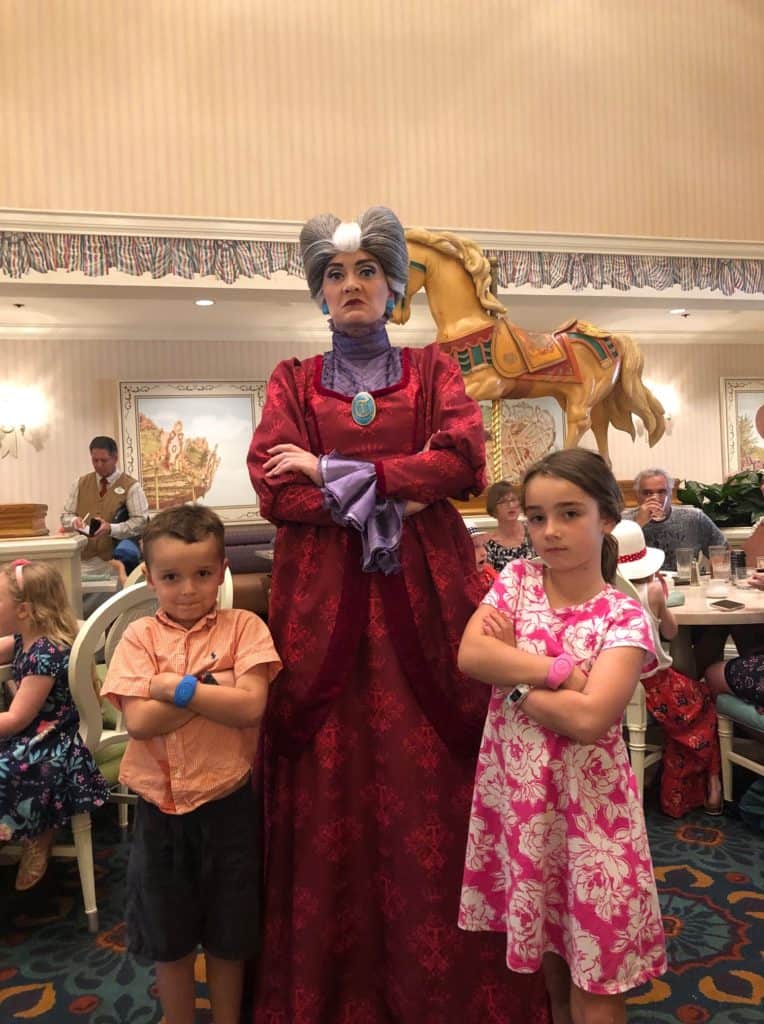 A rest day! It worked perfectly to have two park days and then a rest day. Both parents and kids needed a break from the nonstop action at the parks. The resorts also have great pools to explore and plenty to do throughout the day.
Happily Ever After Fireworks. Our kids were TIRED after a full day at Magic Kingdom so we considered skipping these. I'm so glad we didn't because it was one of the highlights of our trip.
The Jedi Training at Hollywood Studios. This can be a bit of a time-sucker in your day but if you have a little one, this experience is magical to them. (See picture below)
If our kids were older, we for sure would have done after hours at Magic Kingdom. (Basically, you pay extra to stay late when the park is closed to the public. No lines!) Our crew was much too tired to stay out late though.
Use online ordering through the mobile app. This was a godsend. If you know where you are going to eat, you can put in your order at any time in advance and skip the lines.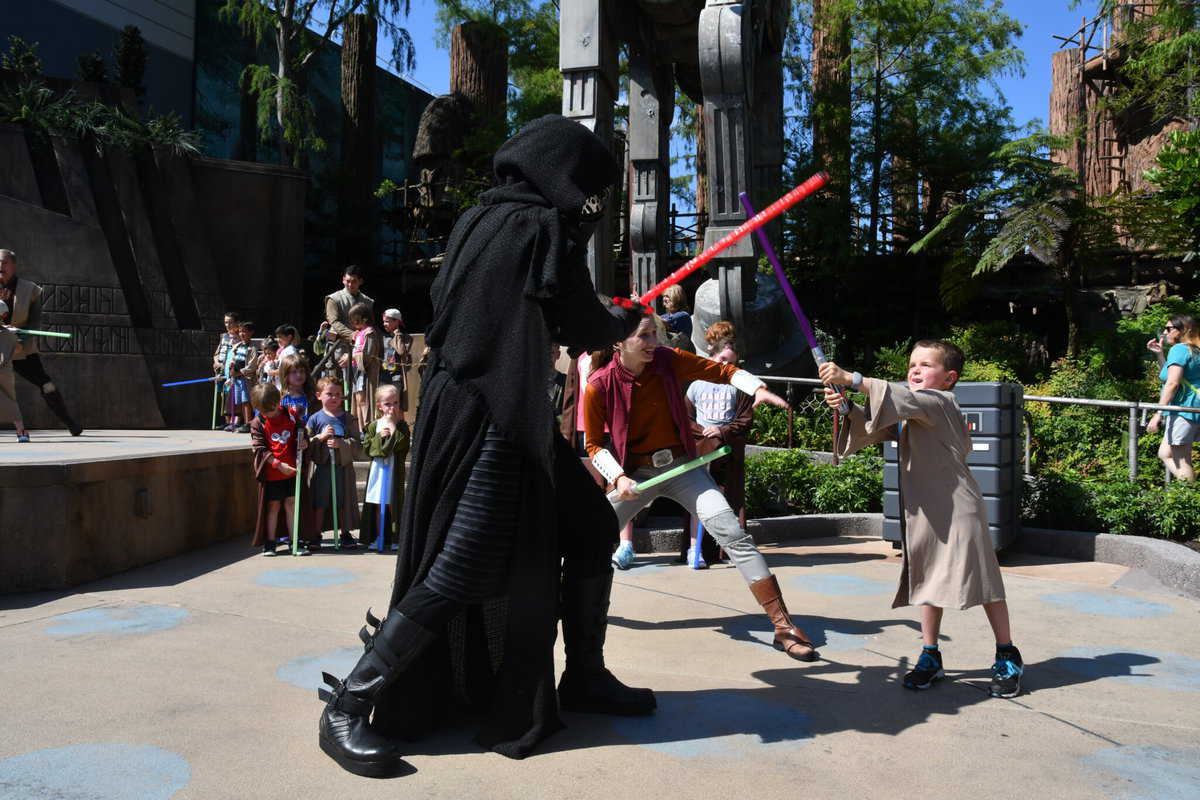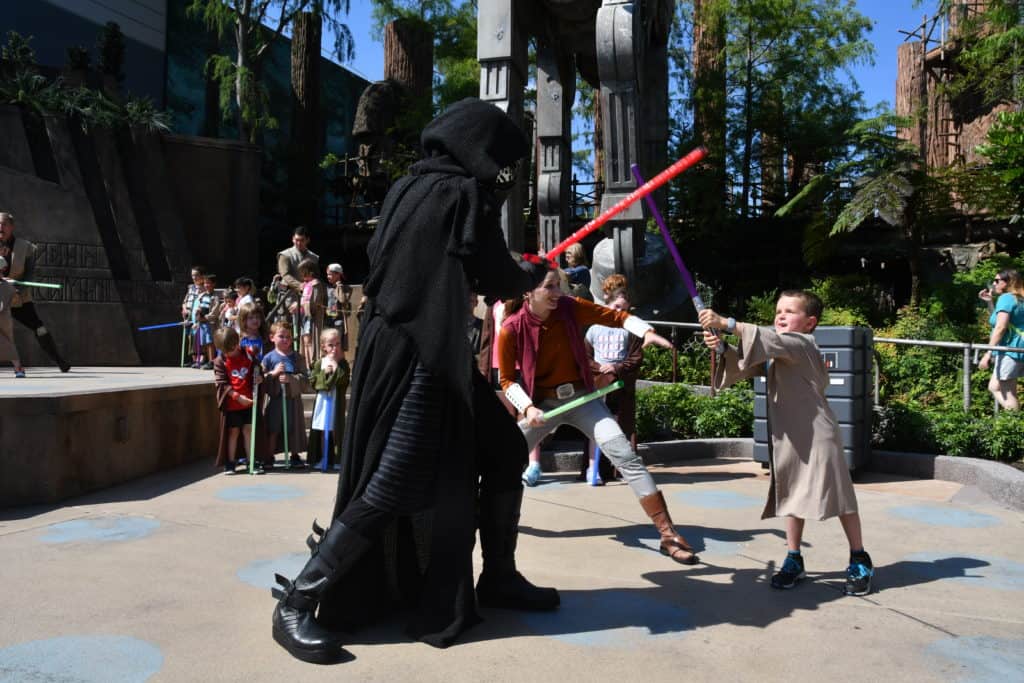 In Conclusion.
Throughout the trip, one of the things my husband and I kept saying to each other was, "Disney does it right." Part of their mission is giving their guests the best experience possible and we could see that oozing out in every corner of Disney. They seem to have done everything possible to make the trip easy for parents and magical for kids. We also found that if something wasn't quite right, they would go above and beyond to help. Even though we were one of the millions of families that visited Disney, we felt valued and taken care of. We are so thankful that we carved out the time and money to have this experience as a family.