This post may contain affiliate or sponsored links. Please read our disclosure policy.
It worked! This all-natural DIY Drano for toilets really worked. Not just once, but it did the trick several different times on my completely clogged toilet. (Yes, we have really crappy toilets–no pun intended.)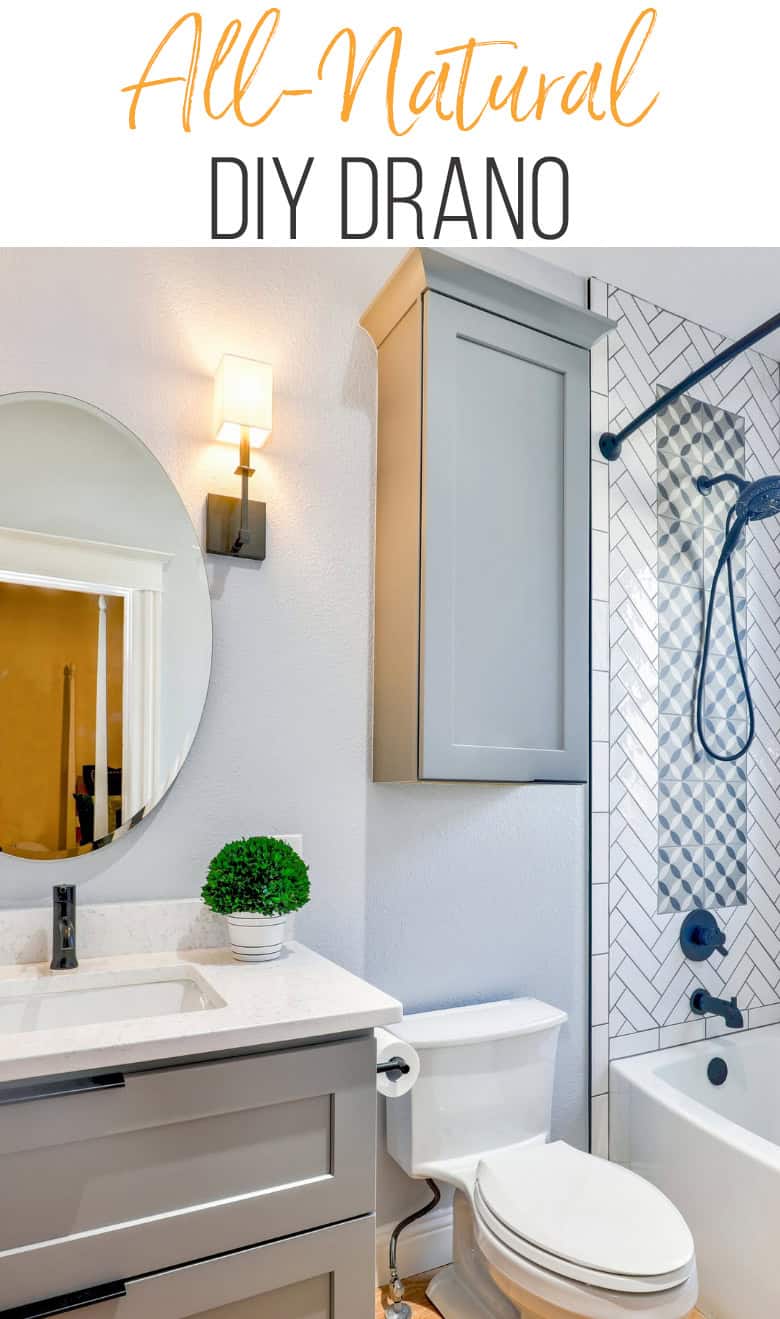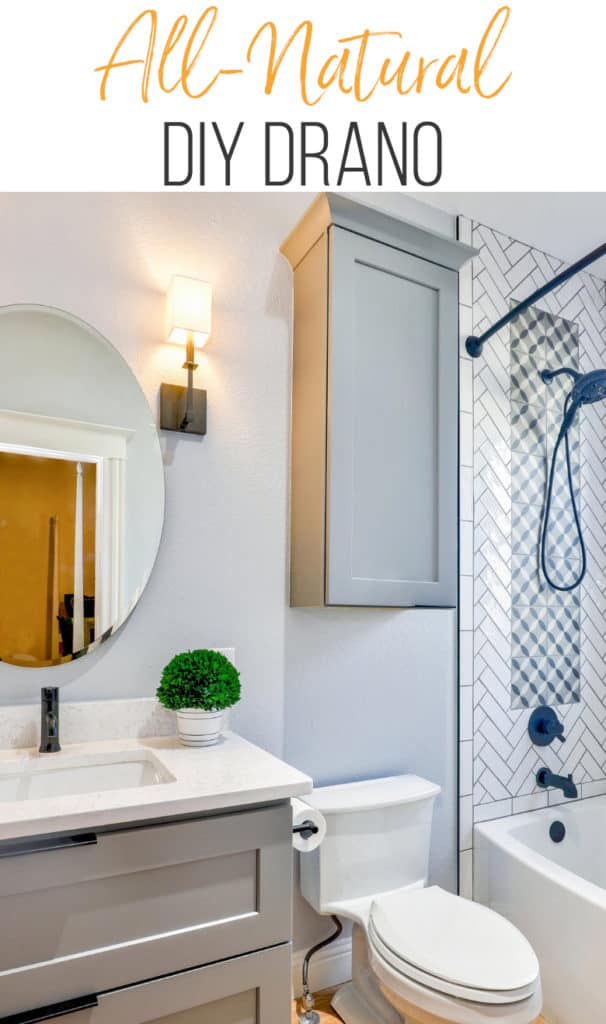 Why I Love this Home Remedy for Unclogging Toilets
Let me tell you, I was one happy homeowner upon discovering this simple, cheap, and safe DIY Drano solution! That's because a plumber visit costs at least $150 and Drano and Liquid Plumbr scare the snot out of me. Seriously, listen to the warnings from the Liquid Plumbr company itself about the dangers of its product:
"…Never use Liquid-Plumr with other drain-cleaning products. The bleach contained in Liquid-Plumr can react with other chemicals, such as ammonia, to create toxic vapors. Also, use of a plunger can be dangerous, as the product can damage skin, eyes and mucus membranes on contact…Handling lye in any form can cause chemical burns and skin damage, and ingesting it can result in permanent injury or death."
Do I want a chemical compound like that in my house, near my babies, in our water system? No spanks.
The best part, besides the fact that this all-natural DIY Drano for toilets actually works, is that it only requires two CHEAP ingredients out of my kitchen cabinets and perhaps a pot of boiling water. I know you're curious now.
My Test Results of This Home Remedy for Unclogging Toilets
Original Test Results from May 2013: The toilet was VERY clogged, as usual. I tossed in the DIY Drano and let it sit for a couple of hours. When I returned, the standing water was gone and the toilet flushed right away!
However, the first time I used this recipe, I had to let the concoction sit overnight in the toilet. After a good plunging, it began to work a little better. I used the DIY Drano one more time, and after a few hours, the toilet was completely unclogged.
Since my original test years ago, I've used this recipe countless times to unclog my toilets. You can see from all the comments that it's worked for many other people, too!
Can You Use Drano in a Toilet?
One question I originally asked was "Will store-bought Drano unclog a toilet?" (This also happens to be why I ended up making my own homemade version!) It turns out that the manufacturer, SC Johnson, doesn't recommend using Drano in a toilet. Not only will it act very slowly on tough clogs, if it all, but it will be dangerous if you decide to try to plunge it later. If you splash the Drano on you while plunging, it could harm your eyes or skin. So, please do not use the store-bought Drano in your toilets. Just use my safe, all-natural drano recipe that works!
All-Natural DIY Drano Recipe
Ingredients:
1 cup baking soda
2 cups vinegar
1 gallon boiling water (optional)
Instructions:
1) Into a clogged toilet filled with standing water, dump 1 cup of baking soda. Let it sink to the bottom.
2) If the toilet doesn't have much water, add 1 gallon of boiling water to really get things moving.
3) Next, add 2 cups of vinegar slowly, so it won't fizz over onto your floor. Ickkk!
4) Let it sit for a couple of hours and see if the water has drained. If it has drained, then try flushing. If it has not drained, then do this…
What If My Toilet Is Still Clogged After Using the DIY Drano?
Do not fear! Just let it sit overnight and then plunge, if needed, before flushing. If that still doesn't work, you may have add more of the solution, let it sit again, and plunge again.
Now, if it still doesn't work after a few tries, then call a plumber. Years ago, one of my kids flushed a toothbrush unbeknownst to me and it was the issue. No amount of DIY Drano was going to fix that problem!
Is This DIY Drano Safe to Use in Sinks?
From my research, it sounds like this recipe is safe and effective to use in kitchen and bathroom sinks and drains, as well. One tip I read was to hold something over the opening of the drain so the fizz goes down it instead of back up and out. Obviously, I didn't do this for my toilet!
May the toilet unclogging force be with you next time you give this DIY Drano a try!