On the Job Meditations: 25 Encouraging Bible Verse Cards for Moms
This post may contain affiliate or sponsored links. Please read our disclosure policy.
Just one minute of looking up instead of down–at the dirty floors or a crabby kid–can change your whole perspective as a mom.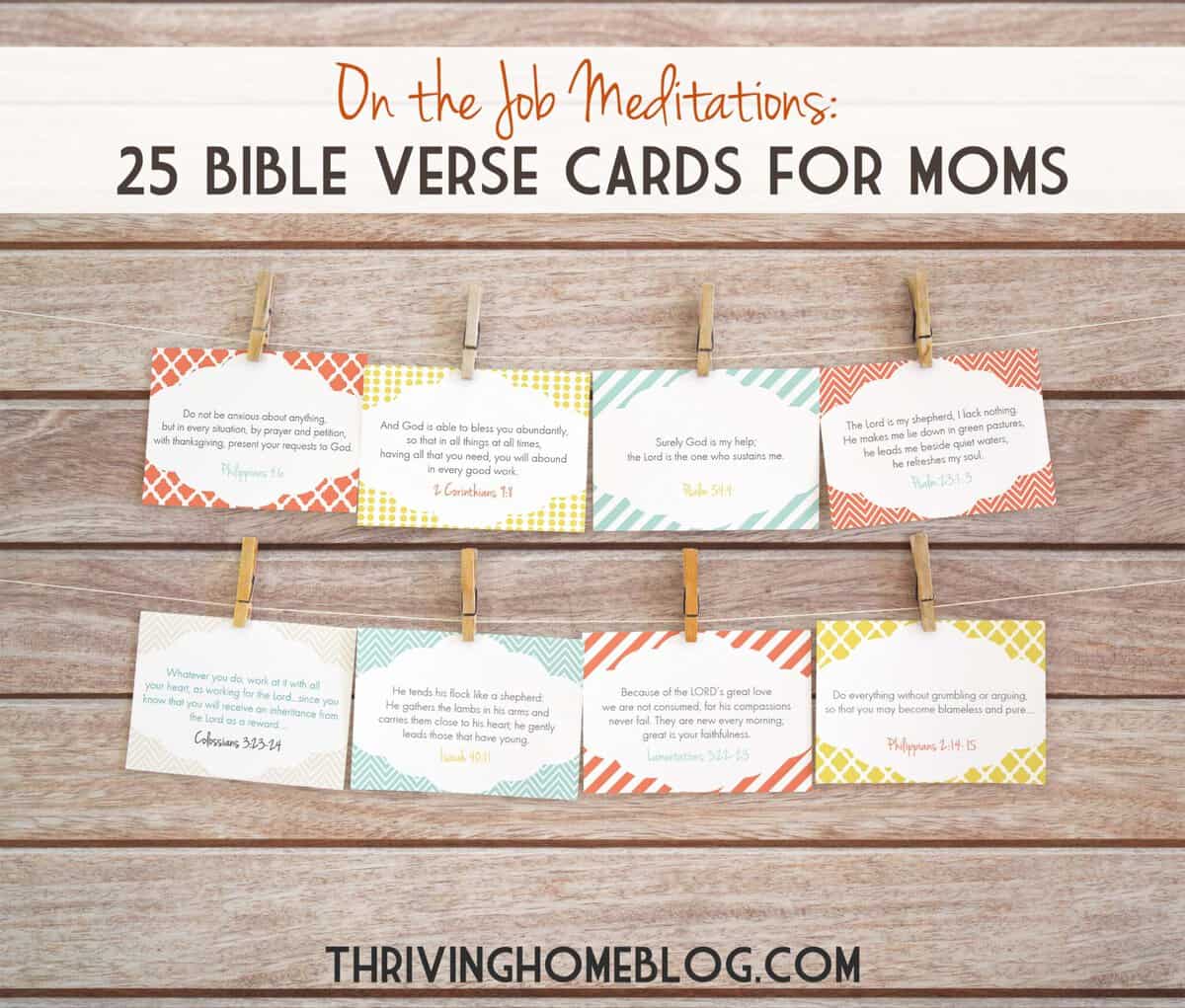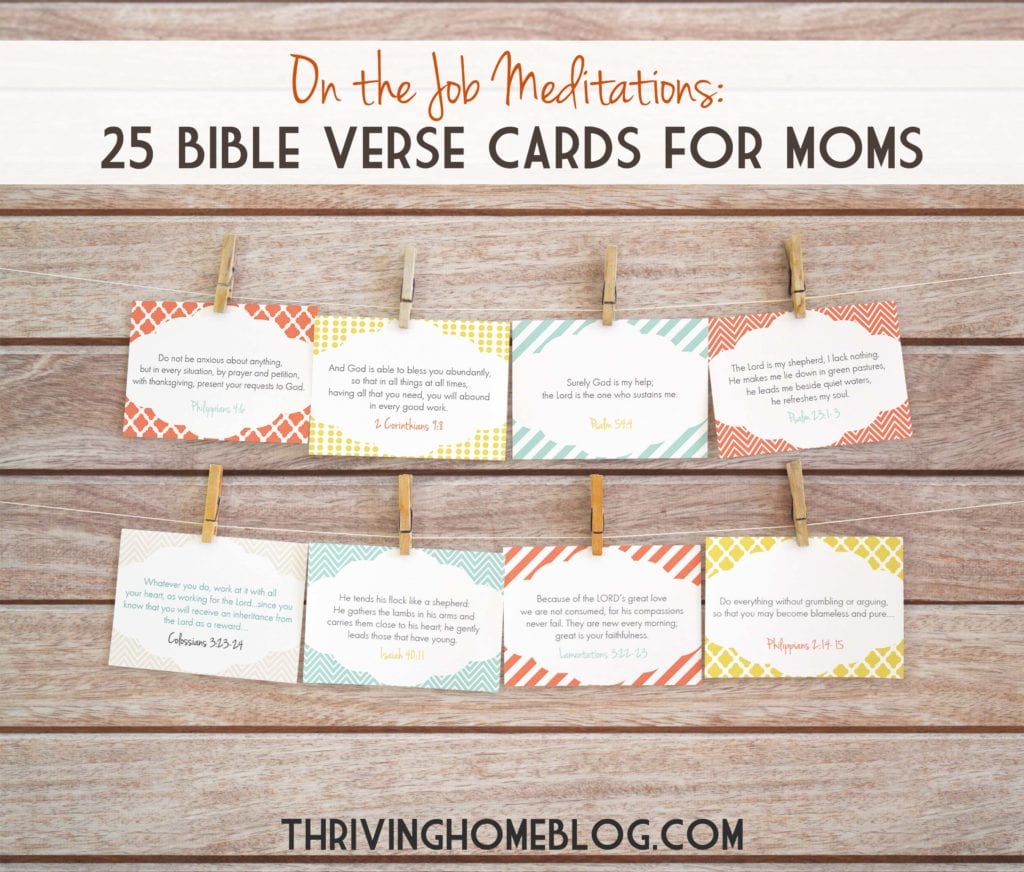 When you meditate on biblical truth throughout the day–whether it's in the car, at the kitchen sink, or while changing a diaper–your heart and mind are transformed.
Peace beyond understanding melts away anxiousness.
Thankfulness snuffs out self-pity.
Gracious words replace impatience.
Times of refreshment come to a weary soul.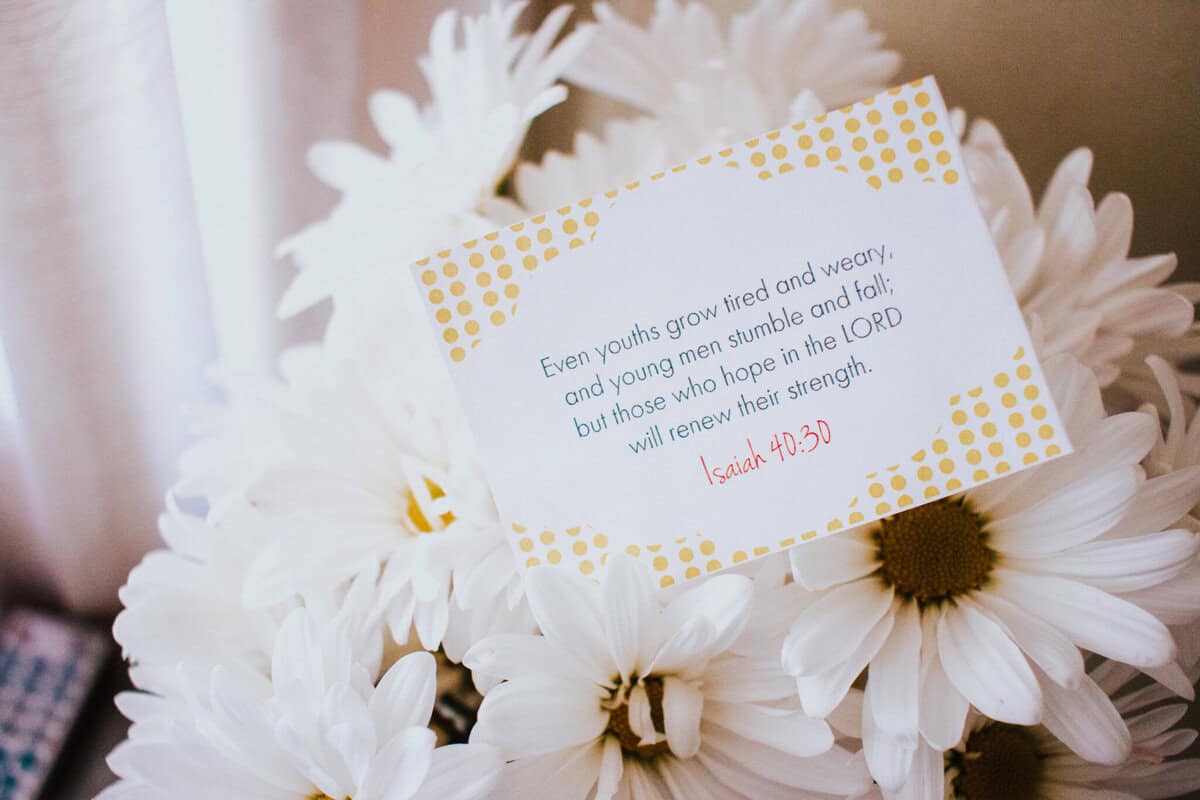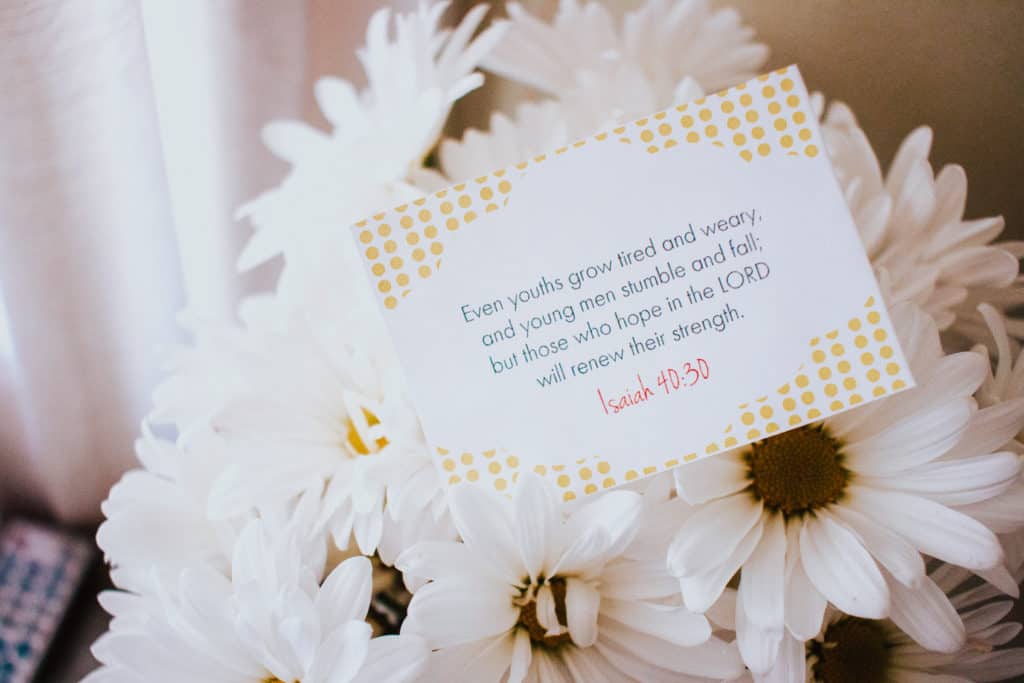 We know (oh how we know!) the struggle it can be for moms to find alone time to read the Bible, pray and be still before for the Lord. These 25 Encouraging Bible Verses (NIV version) are designed to help you get creative in your time with God, allowing you to practice "on the job meditations."
Place these cards where you traffic the most and lift your eyes up all day (or night, while you're nursing or rocking a sick child) to your Father in heaven. Or gift them to friends and family–especially new moms–so they can do the same.

Since we want these verse cards in as many moms' hands as possible, we are offering them for only $4.99. After purchase, you'll immediately receive an easy-to-print PDF file that includes:
25 encouraging Bible verses (NIV version) on trendy 3.5 x 2.5 note cards
A matching "Gift for You" card
Review
We received this feedback from an expectant mom who recently was gifted a set of our verse cards,
"I received a set of On the Job Meditations at a baby shower and am so excited to use them! I immediately started planning all of the different places I could put them: my car, bathroom mirror, kitchen sink, nursing station (maybe I will put 5 there), laundry room. The verses are carefully chosen and are words of encouragement that will help me focus on the cross when navigating motherhood during both its challenges and joys. Did I mention the cards are adorable? Modern, fresh and clean. I can't wait to purchase them for all my mom friends!"
– Megan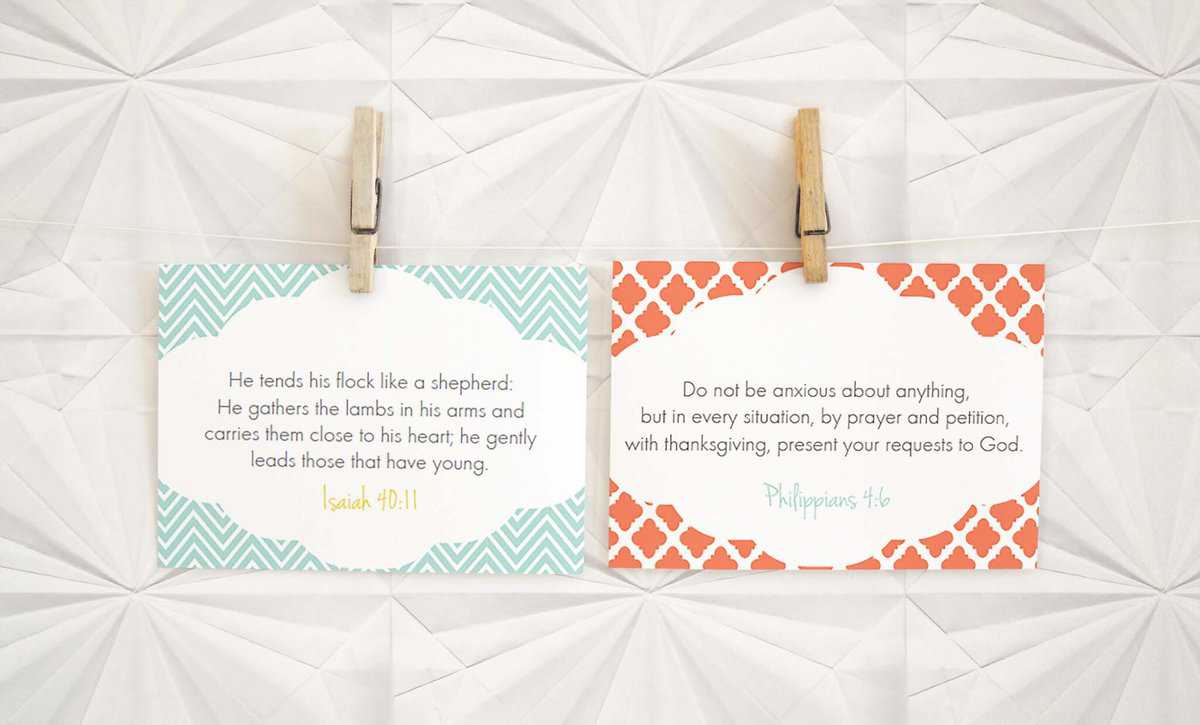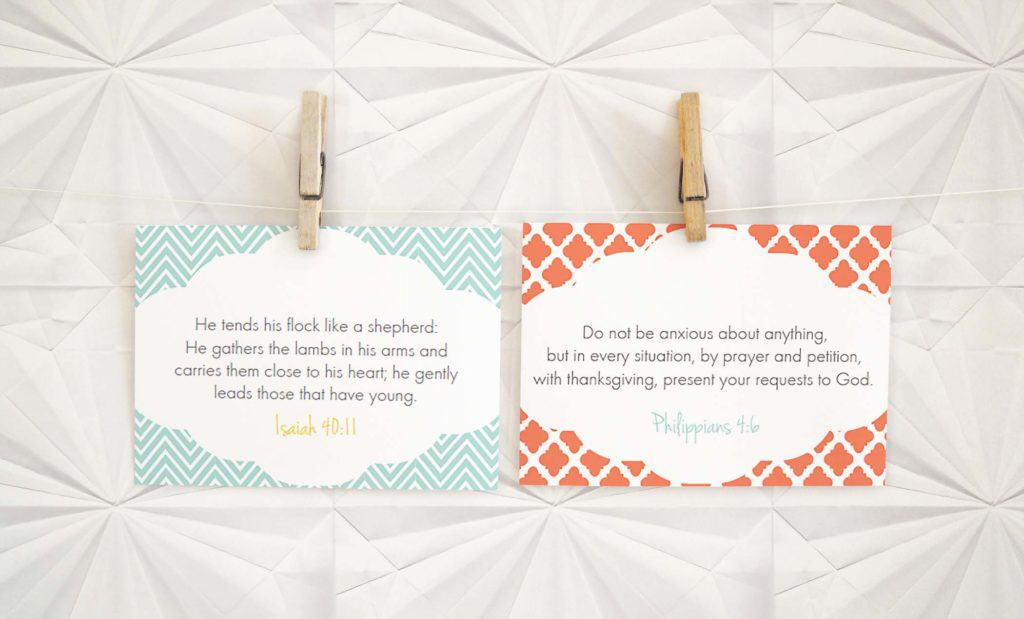 *PLEASE READ–How Permissions Work for this Printable: We had to sign a contract with Biblica (NIV's permissions division) because of our use of the NIV verses. So these verse cards are copyrighted by law and have some limitations. So, here's what this means practically for the purchaser:
You may not pass along this PDF to anyone else, sell or receive any contributions in exchange for these cards.
You may print this PDF for yourself as many times you like. We understand that you might lose them, spill your coffee all over them, or a toddler may use them as a coloring book.
You will need to purchase one set for each person you intend to distribute them to. i.e. If you want one set for yourself and another for your friend's baby shower, you need to purchase two sets. If you want to print more than 5, contact us and we'd be happy to give you a discount on additional sets.
Ministry Group Rate: If you want to give these away in bulk in a church or ministry setting, please email us to explain your situation. We want to work out a group rate to help you get God's Word in moms' hands.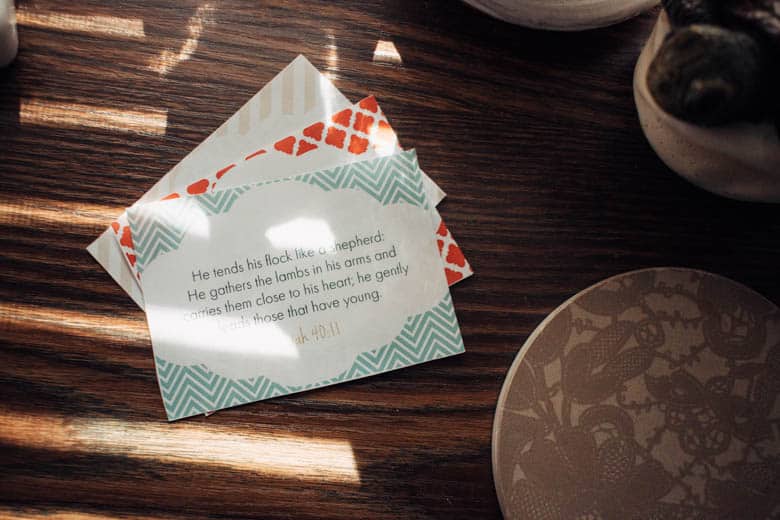 Are you ready to dive into God's Word or encourage others with this unique, life-impacting gift?