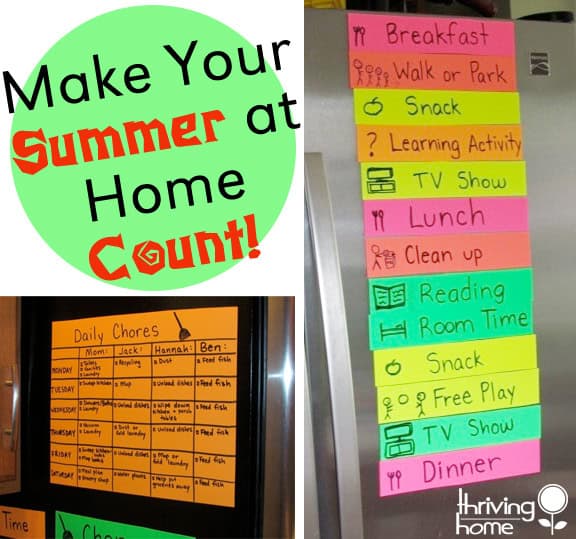 Ah, summer. For many of us, the word is synonymous with any number of good things: long, sun-drenched days, vacations, going to the pool, the smell of freshly cut grass, baseball, etc. But the summer months also offer a great chance for parents to help their kids grow and develop in an intentional way. As you read today's post, keep in mind that each family's goals will be different given all the variables, including the age of kids, work responsibilities, summer school, etc. And remember that reality sometimes falls short of even the best intentions. It's a lesson we're taught regularly at our house!
Some of the following post is borrowed and updated from my original 2013 summer goals post here.………
I love the idea of using summertime with my kids in a way that makes a lasting impact. But when it comes to parenting, if we don't have some goals in mind for our kids–whether long-term or short-term–it's easy to lose sight of where we are going. It's easy to waste the precious little time we have with these young souls in our charge. (I'm speaking from a "guilty as charged" place myself!) That's why it's helpful to think through some specific goals for our summer with our children. Here are a few things I've learned over the years about that process and what our goals are for Summer 2015.
Ask Yourself Big Picture Questions
This summer think about developing your child as a whole person: spiritually, physically, mentally, and emotionally. Start by praying for wisdom (James 1:5) about what your children need and for God to guide your goal-making process. Then ask yourself some of these questions as you develop summer goals:
If you could see your child grow in one or two particular areas, what would those be?
What is one or two routines you'd like your family to learn? (For instance: reading the Bible, doing chores around the house, establishing reading time, learning to swim, etc.)
What is a new experience or activity you could try?
What books would you like to read to your children?
Narrow Down Your Goals
One thing to keep in mind is not to have too many goals, otherwise you're likely to get discouraged and not follow through. Plus, having too many goals can lead to too many activities and not enough flexible time. We need to leave time for our kids to play and use their imaginations on their own, as well as for spontaneous teaching moments, times of discipline, sick kids, and the other inevitable but oh-so-important "non-planned for" events of the day.
Make Measurable Goals
It's also helpful to make your summer goals concrete and measurable. You should be able to answer periodically throughout or at the end of the summer whether or not you made progress toward each goal. In fact, last summer I posted our goals on the fridge and periodically asked the kids how they thought they were progressing. Here are last year's goals on the fridge…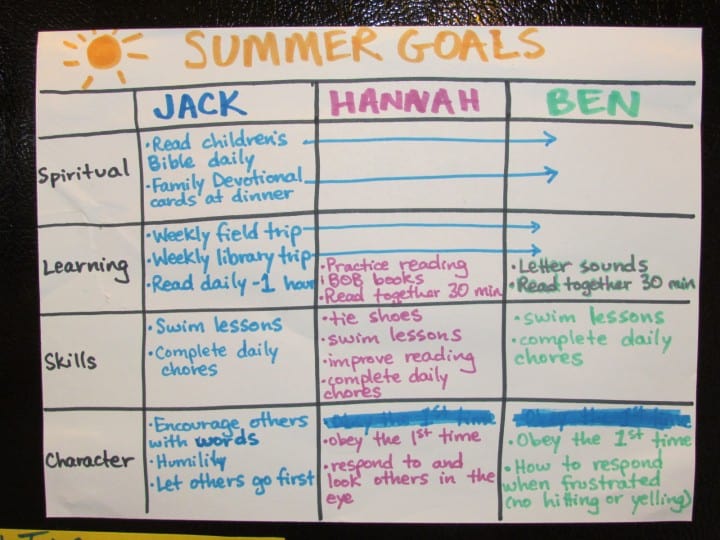 Example: Summer 2015 Goals for My Kids
Every family is completely different when it comes to our children's needs and what you as a parent are gifted at doing. We usually have some general goals for everyone and then a few specific individual goals (i.e. learn how to ride a bike, etc). But, just to give you an example, our Summer 2015 goals for our children (ages 4, 6, and 8) are these…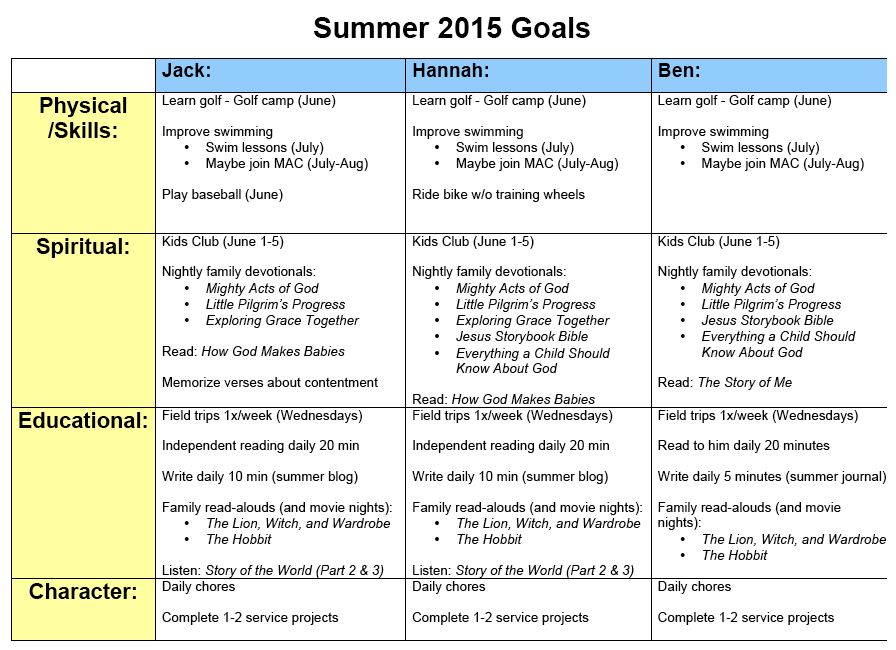 Now the next and perhaps hardest step is figuring out how to implement these goals! For several ideas for making your goals a reality, read my initial post HERE or my post from summer 2014 HERE.