How We Use Our 5 Minute Drive to School (+7 Devotional Resources for the Car)
Updated: 9/8/22
This post may contain affiliate or sponsored links. Please read our disclosure policy.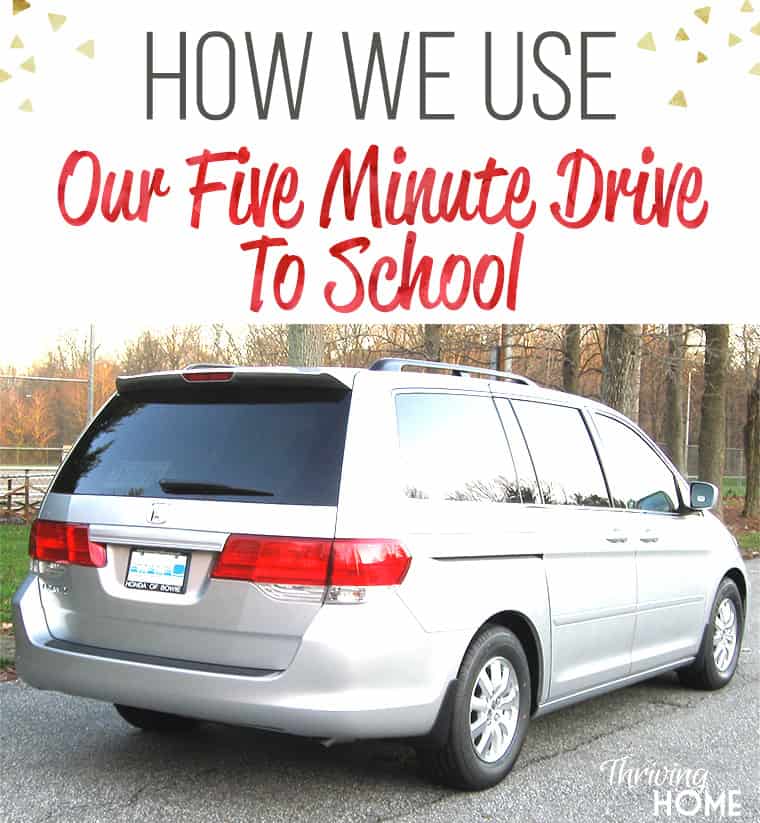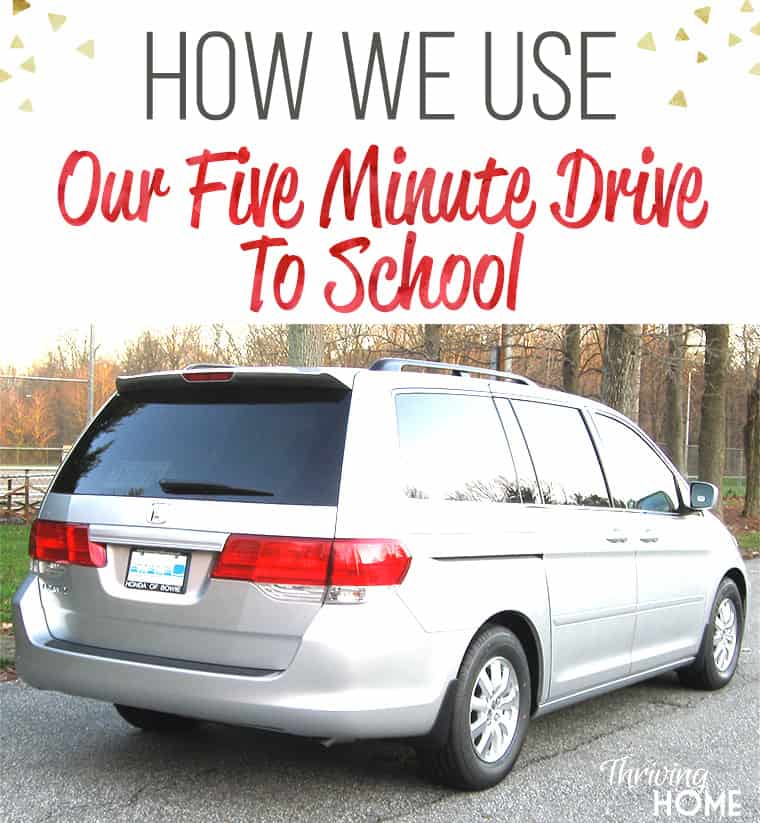 Every Monday through Friday my husband or I load our three kids, ages 6, 8, and 9, into our gray Honda Odyssey (along with every other middle-aged, suburban parent, right?) at 7:20 a.m. to head to school.
Our brakes always squeak as we back out of the garage. Our children typically have a small or large spat as they get situated. I often end up barking a "be quiet!" or "keep your hands to yourself" command at the offenders (and then regretting my tone). So begins our day.
We have 5 minutes together in the van between our driveway and the school doors. 5 minutes isn't much time. But, it's the only unhurried, un"get-your-clothes-on-eat-your-breakfast-get-in-the-van!" moment we have each weekday morning. I want to use that time wisely.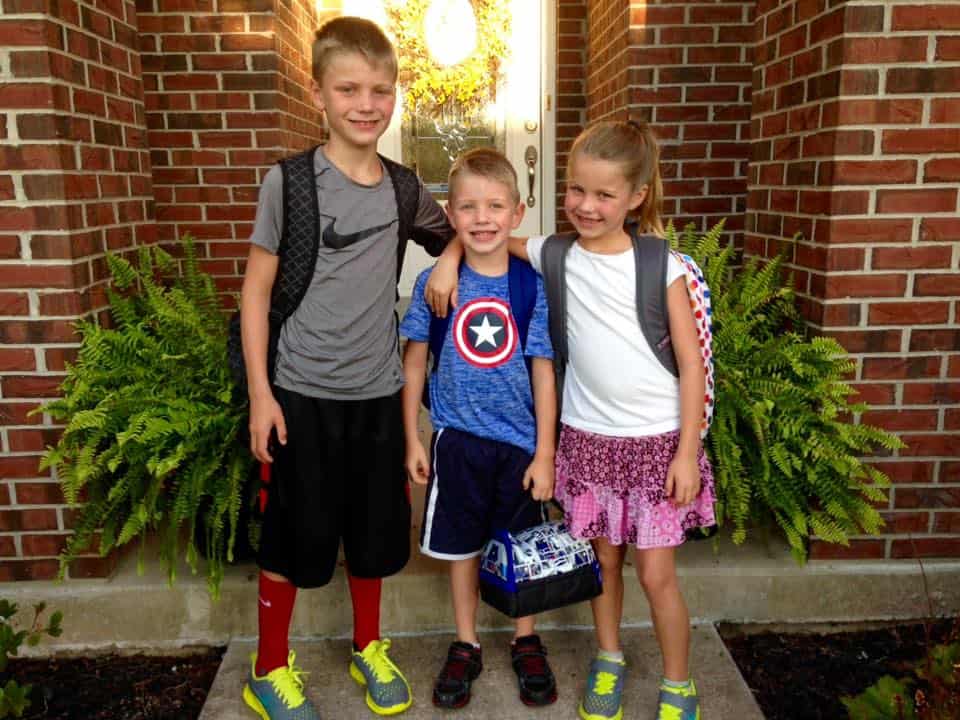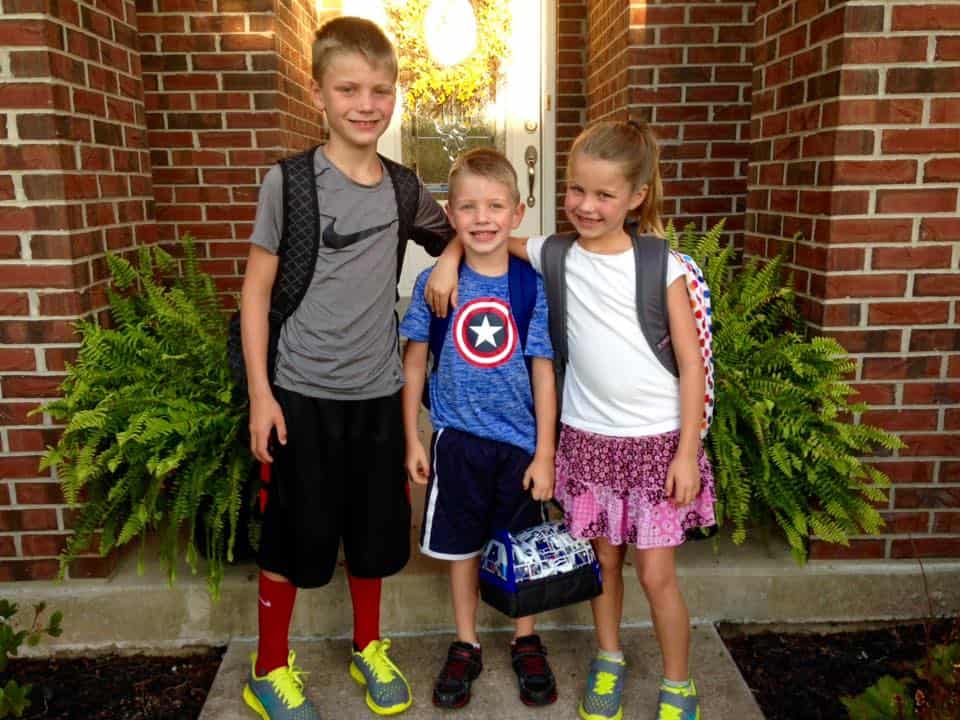 Years ago when our oldest started school, my husband and I decided we wanted to help our kids use that morning drive to set their hearts on what really matters. We wanted to use those precious few minutes to help all of us–parents included–to fix our eyes on Jesus.
How do we do we spend our 5 minute drive to school? We simply read a Bible verse, discuss it briefly, and pray. Depending on our kids' ages, we've used different resources and discussed different topics over the years. I'll share some of our favorites and how we've used them below.
To drive safely (cause that's important and all), we usually read a Bible verse while still in the driveway or at a stop light. Or, now that two of our three kiddos read aloud pretty well, they often read a devotional snippet to everyone in the car and ask the questions. At least one child is paying attention that way. Score!
You need to know that some mornings go well. Everyone meaningfully contributes to the discussion. One kid might even offer to pray. And my heart melts. Other mornings, not so much. A kid derails the conversation by mocking the devotional content. Another submits a ridiculous prayer request just to induce giggles. And my heart does something other than melt. (Grrrr.)
I did some quick math this morning, though, and realized that we've racked up approximately 900 minutes of this 5 minute devotional time together over the years now. That's not a pat on my back. It's just a reminder that those few minutes really do add up over time.
We can help our children learn that nothing (not school, not friends, not grades, not how they look) is more important than coming to God–even for 5 minutes–a day. We can teach them over time to depend on Him and that the Bible speaks wisdom into every area of life. Not in huge, mountain-top experiences, but instead one imperfect, sometimes frustrating "spoonful" at a time.
Looking for a few easy resources to use in the car? Here are seven devotional resources we've found useful on the way to school.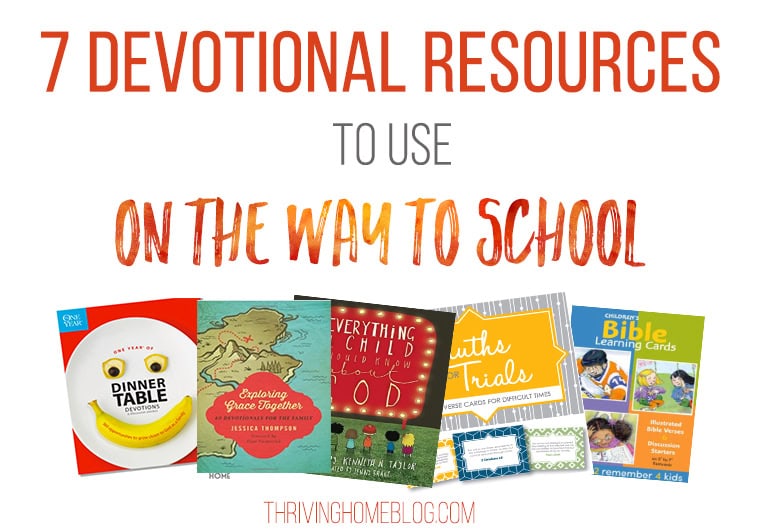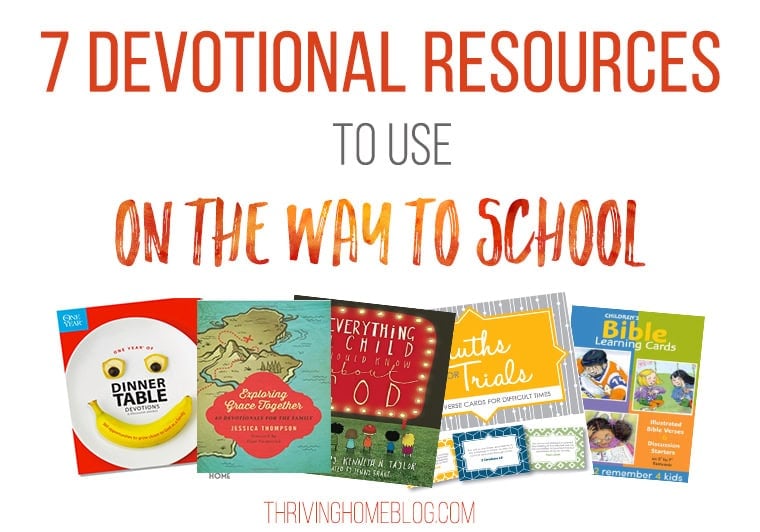 Note: Some of the links in this list may be affiliate links. Read our full disclosure policy here.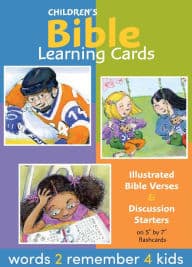 These Bible Learning Cards work especially well for preschoolers, but there are also versions for elementary students. Each card includes a Bible verse, a picture that illustrates that concept in daily life, a short story or question about the illustration. My non-readers always enjoyed holding the pictures, looking carefully at them, and offering thoughts about the Bible verse.


One of the easier things we do is read the "Verse of the Day" on the Bible Gateway App on our phones. This can work for all ages. You can even have play the audio version of the verse and listen to it together. Then, after reading it, we ask a few clarifying and/or application questions and then pray together. The downside to this resource is that sometimes it's hard to know what questions to ask kids about a verse without studying it first. Other times, it's pretty easy to apply, though.
Everything a Child Should Know About God is probably most appropriate for ages 3-6, but older and younger children will certainly benefit from this simple yet profound children's book of systematic theology. In each chapter, the book addresses a question about God, Jesus, Salvation, The Bible, Christian living and more, providing an engaging illustration and a clear, age-appropriate answer. Even adults can learn from this clear-cut look at the basics of Christianity.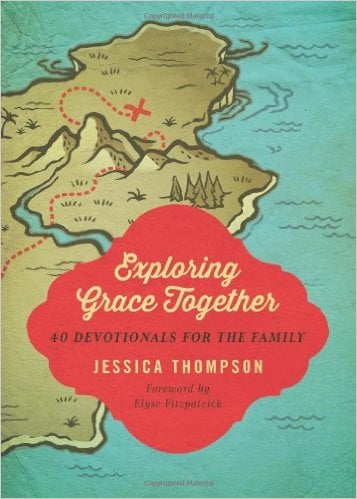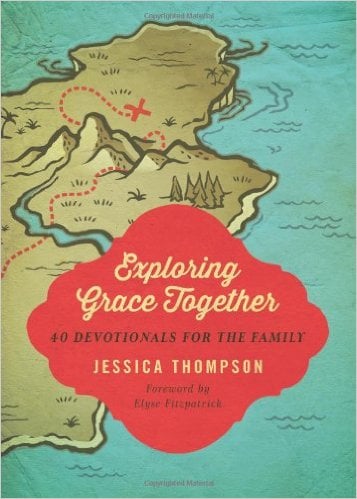 Exploring Grace Together is one of the best devotionals I have run across for elementary-aged children. As Thompson makes clear in this book, "Children need more than behavior modification. They need the gospel." And what I love most about this devotional is that each chapter uses a simple scenario or story of an elementary-aged child who is facing something (a trial, a temptation, a battle with sin, disappointment, a chance to serve others, etc) and how he/she can practically apply gospel-truths to his/her situation. Then, Thompson includes three outstanding comprehension and application questions at the end for parents and kids to discuss. Bravo Jessica Thompson for a well-done, grace-centered family devotional!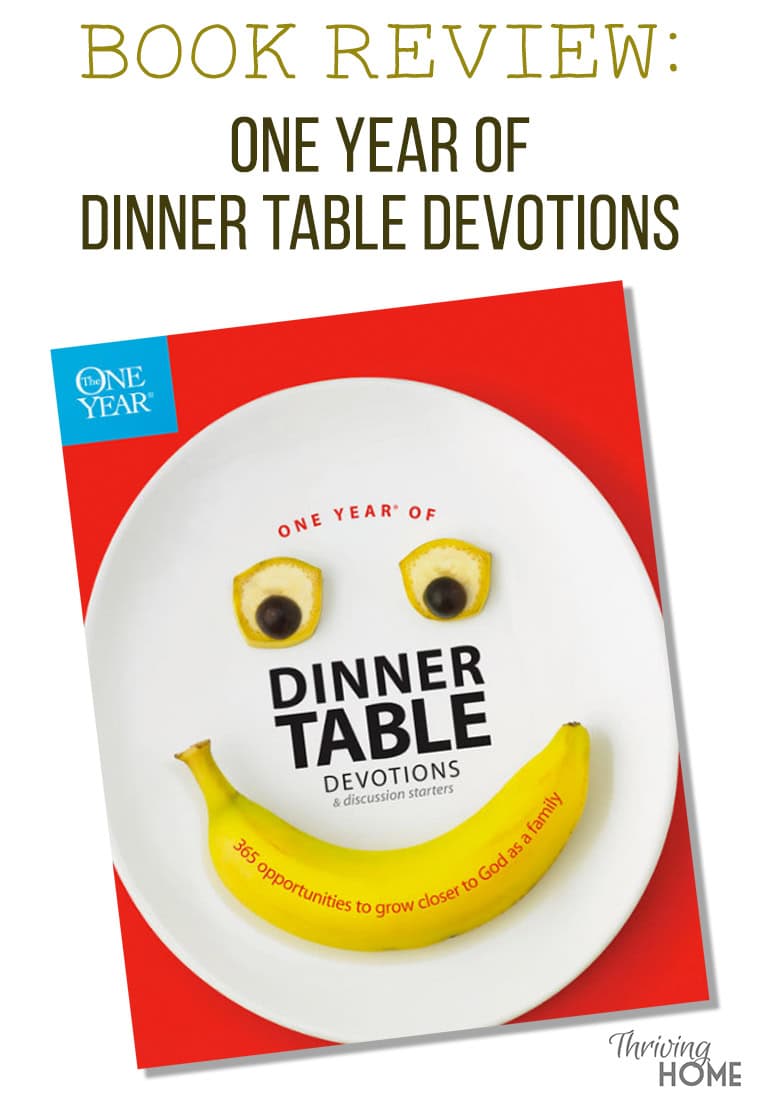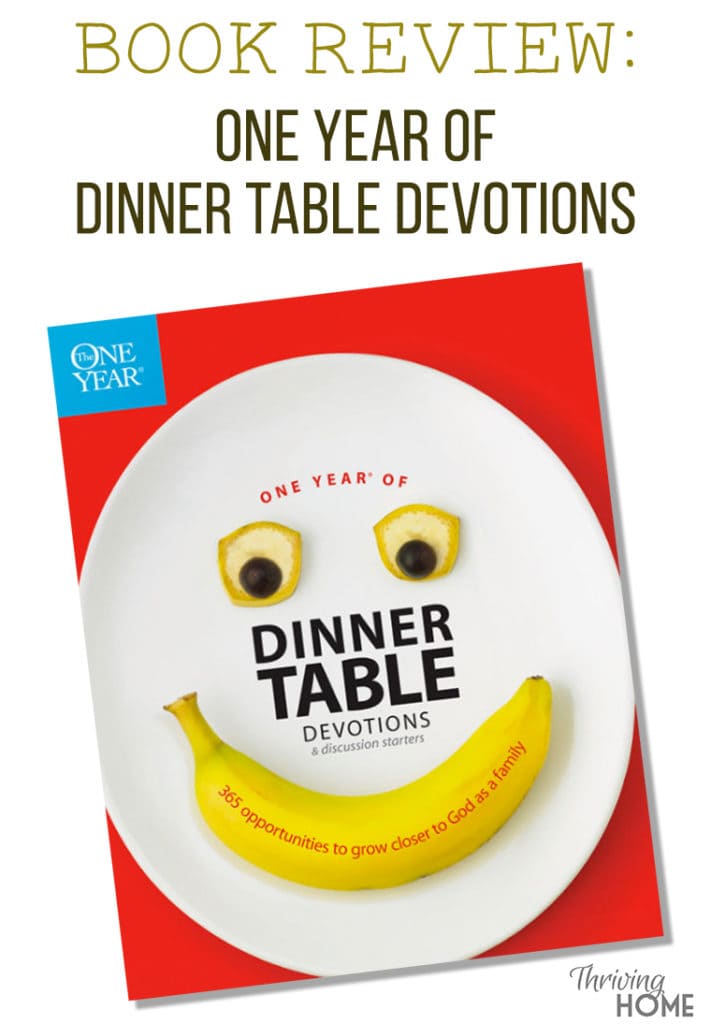 Although this resource is intended for use at dinner, we have regularly used it as a devotion on the way to school. It's probably best for upper elementary and middle school-aged kids. It can take anywhere from 5-15 minutes. Any parent can lead these, and the structure of the book makes it easy to dive in at any time of the year. On each page that's labeled by the day of the year, you'll find:
2-3 short Bible verses around one topic
a brief devotional that explains the verses and how they apply to our lives
then three short discussion questions.
The topics of these short devotions range from talking about God's love, our friendships, death, heaven, the Bible, you name it. In the course of a year, this book can help your family begin to develop a pretty healthy biblical theology about all kinds of topics and grow in your love of Christ.


Although these verse cards were designed for moms, I've used them in the car as our verse of the day. Many of these Bible verses are ones that are helpful to memorize, as well, so you can use them to do some memory work together, too. They can be used for all ages.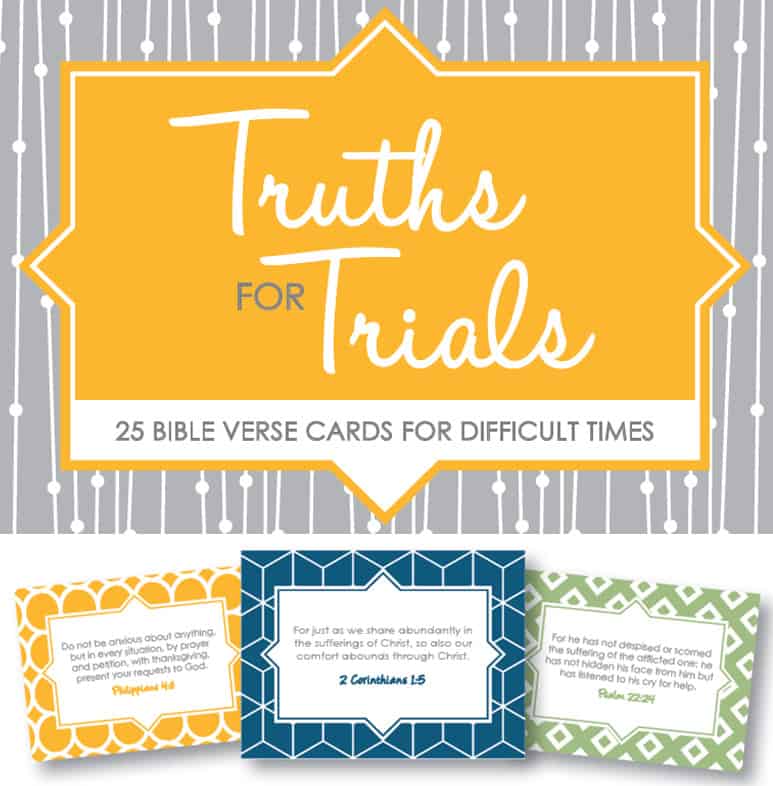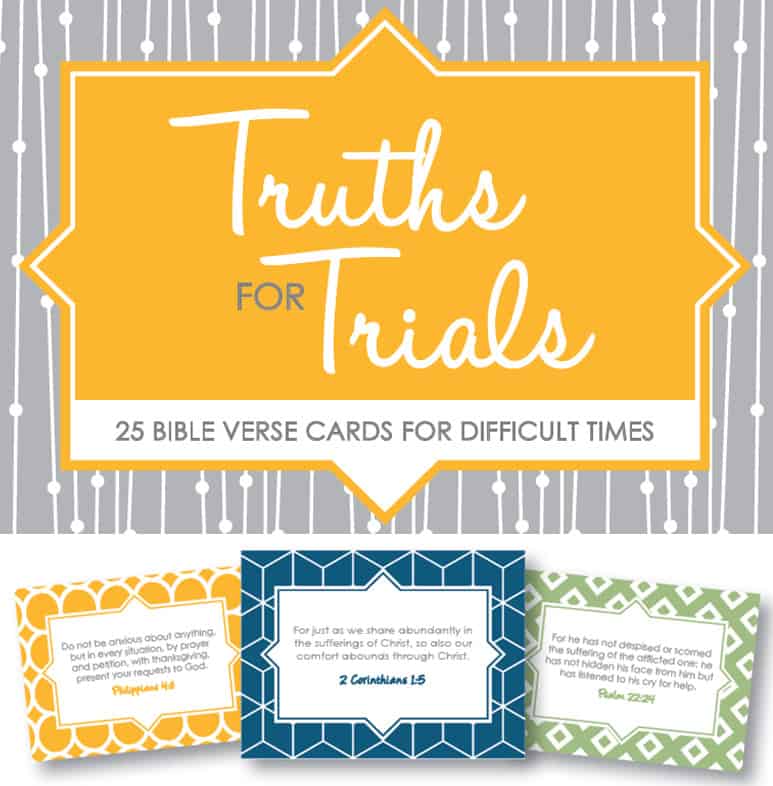 Here is another set of verse cards with a different emphasis that's just as important for children to learn. How do we trust God with our trials? You may want to throw some of these in the mix of car ride discussions, too. They can be used for all ages.
Looking for more excellent God-centered, gospel-centered resources for your family? Check out my other reviews (click on the images below)…