Budget Breakdown of the Kitchen Flip
Updated: 11/13/20
As you've probably gathered by now, we have done some major work on our kitchen. As I've been talking to friends about it, some have bravely asked how much we spent.


Something in me gets a little squirmy when I start sharing numbers. Not sure why because I'm always itching to know how much other people's house updates cost.
When you ask around and get an idea of how much updates cost, it helps to know if you are getting a fair price from a contractor or not. It also helps you evaluate whether it's worth it to pay someone or to DIY. So at the risk of people knowing how much money we put into our kitchen revamp, here is a breakdown of what we did and how much it cost:
Painting the Cabinets: $150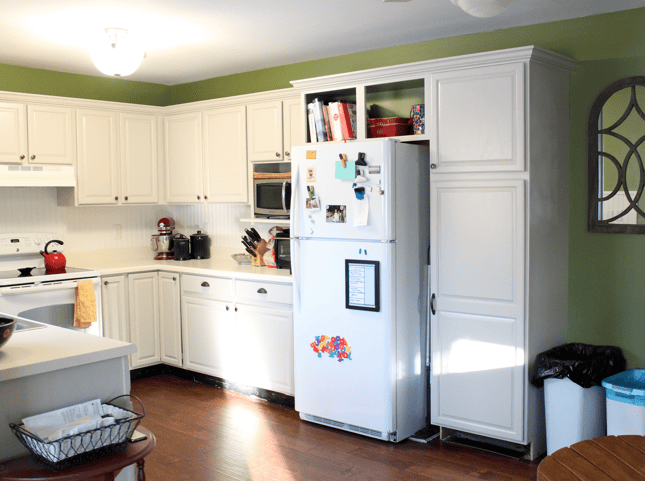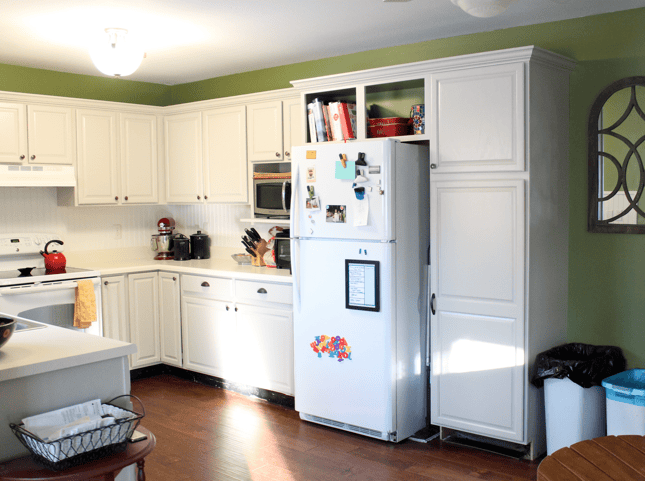 We paid $75 a gallon for Benjamin Moore Advance paint and $50 for a high quality primer. We spent about $25 on sandpaper and rollers. This seems so expensive for paint and primer but from everything I read, the paint you use is not something you want to go cheap on. We borrowed sanders from people so that wasn't a cost. Just to give you a little comparison, Rachel recently got a quote on how much a contractor would charge to paint their oak cabinets and he told her $3,000. Yes, $3,000!
See my entire tutorial for how to paint oak cabinets HERE.
Cabinet Hardware: $50

To save money, I got my hardware on eBay. It's a bit of a risk because you can't actually see the hardware until you get it but I felt pretty confident by the pictures I saw.
Crown Molding to the Tops of Cabinets:$200
We had a carpenter do this for us so $80 of this cost was labor. I thinking adding the crown molding to the tops of the cabinets gives them a very finished look. Before there was just a bunch of odd space up there.
Bead Board Back Splash: $320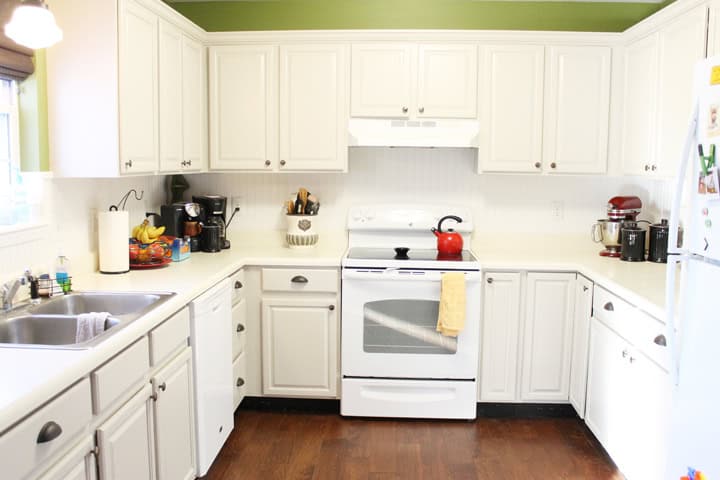 Materials for this were only $120 but it takes some skill to install it so $200 of that was labor from our carpenter. To save money we had him just install it and we filled the nail holes and painted it so we didn't pay him $30 and hour for something we could easily do. Not only is bead board way cheaper than a tile back splash but the look of it is totally my style.
Kitchen Lighting: $80

Here is what the lighting looked like before the changes: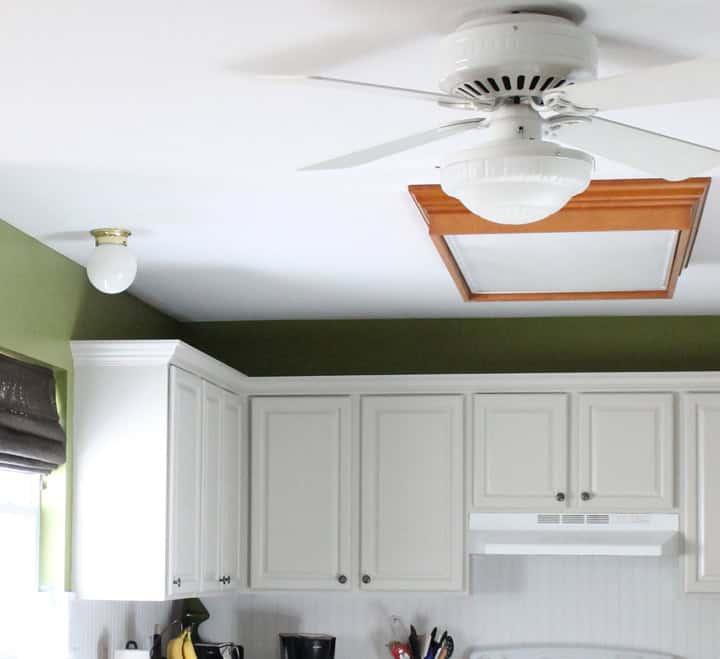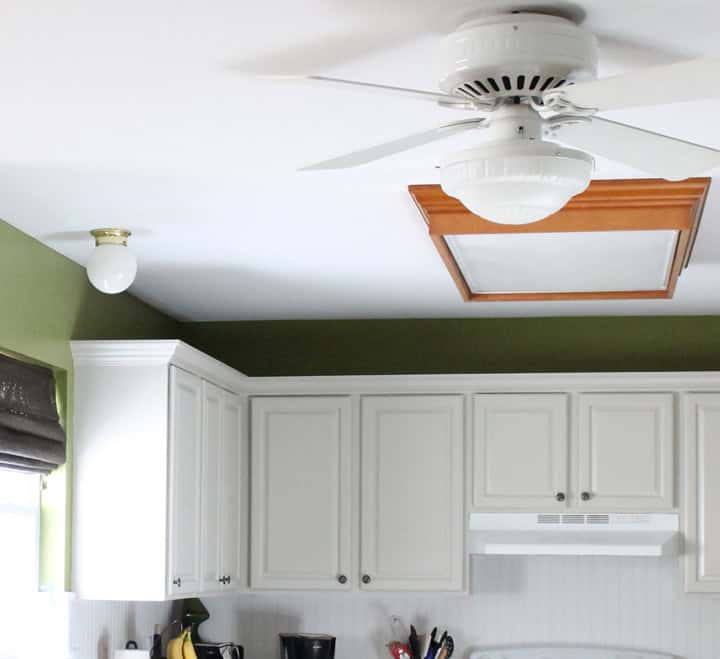 Kitchen Overhead Light: $40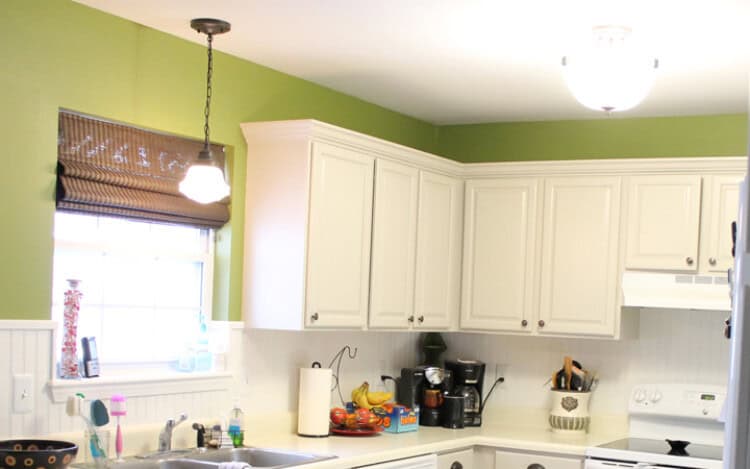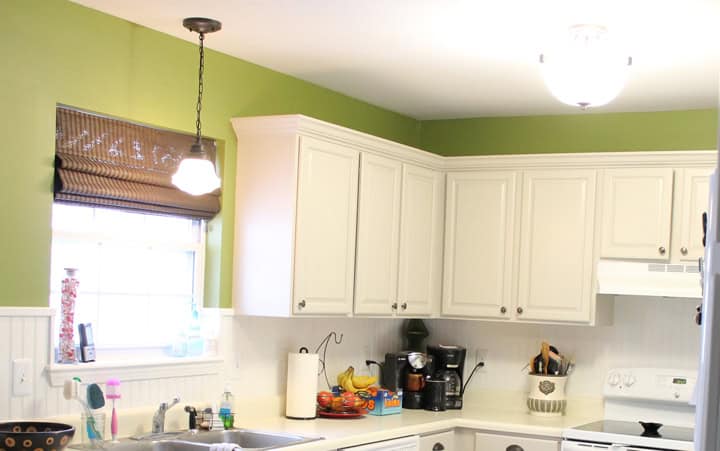 I got this fixture for $40.00 at Menards. In order to replace the huge fluorescent light fixture, we needed something that gave off a lot of light. The fixture that I was looking at online and was about to buy was close to $150 so you can imagine how excited I was to find this guy at Menards. I got a matching one to go in the dining room as well.
Pendant Light: $35-40
I honestly can't remember exactly how much this light was but it was around the $35.00 range.  Switching the canned light that was above the sink to this fixture was pretty simple.
Window Shade: $25.00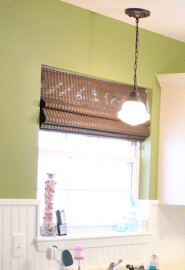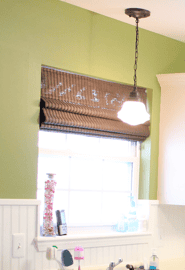 Got this Allen & Roth shade at Lowes. I originally wanted a dark bamboo shade but when I saw how much they were ($50ish) and how much this guy was, I was ok going with the knock off version.
Recess the Fridge: $300?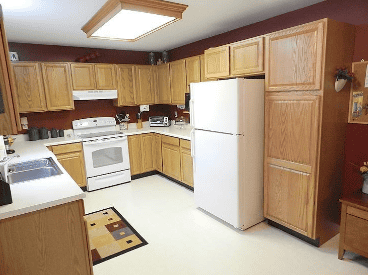 As you can see in the before picture, the fridge really stuck out into the kitchen making it feel smaller. It is now tucked back snugly into the wall where it should be.
What's funny is I actually don't know how much my contractor is going to charge for doing this. He threw out $250-300 in his initial quote to us before we even bought the house but since then he hasn't brought it up. Probably not the wisest business move on my part to hire him without knowing some clear cut numbers but it's just kind of the way things shook out.
(In the pictures above, the fridge is still sticking out a bit because they were still working on it. I don't have pictures of the finished product yet!)
Grand total:


One thing that is worth pointing out is that I did not count the cost of hardwood floors into this price. The hardwood we put in connects our entry way, runs through our kitchen and into the dining room. I guess if you divided the price of the hardwood into thirds, it would total to about $2,000 for the kitchen makeover.
Wait! I've got lots more ways to save on projects around the home. Check these out!