Can You Freeze Chicken and Dumplings?
This post may contain affiliate or sponsored links. Please read our disclosure policy.
As published cookbook authors and freezer cooking experts, we can assure you that you're in the right place for the answer to "Can you freeze chicken and dumplings?"
The short answer: You can freeze chicken and dumplings, but be sure to use our pro tips to make sure it comes out tasting just like a fresh meal. Otherwise, you'll end up with mushy soup rather than a creamy stew with pillowy dumplings on top.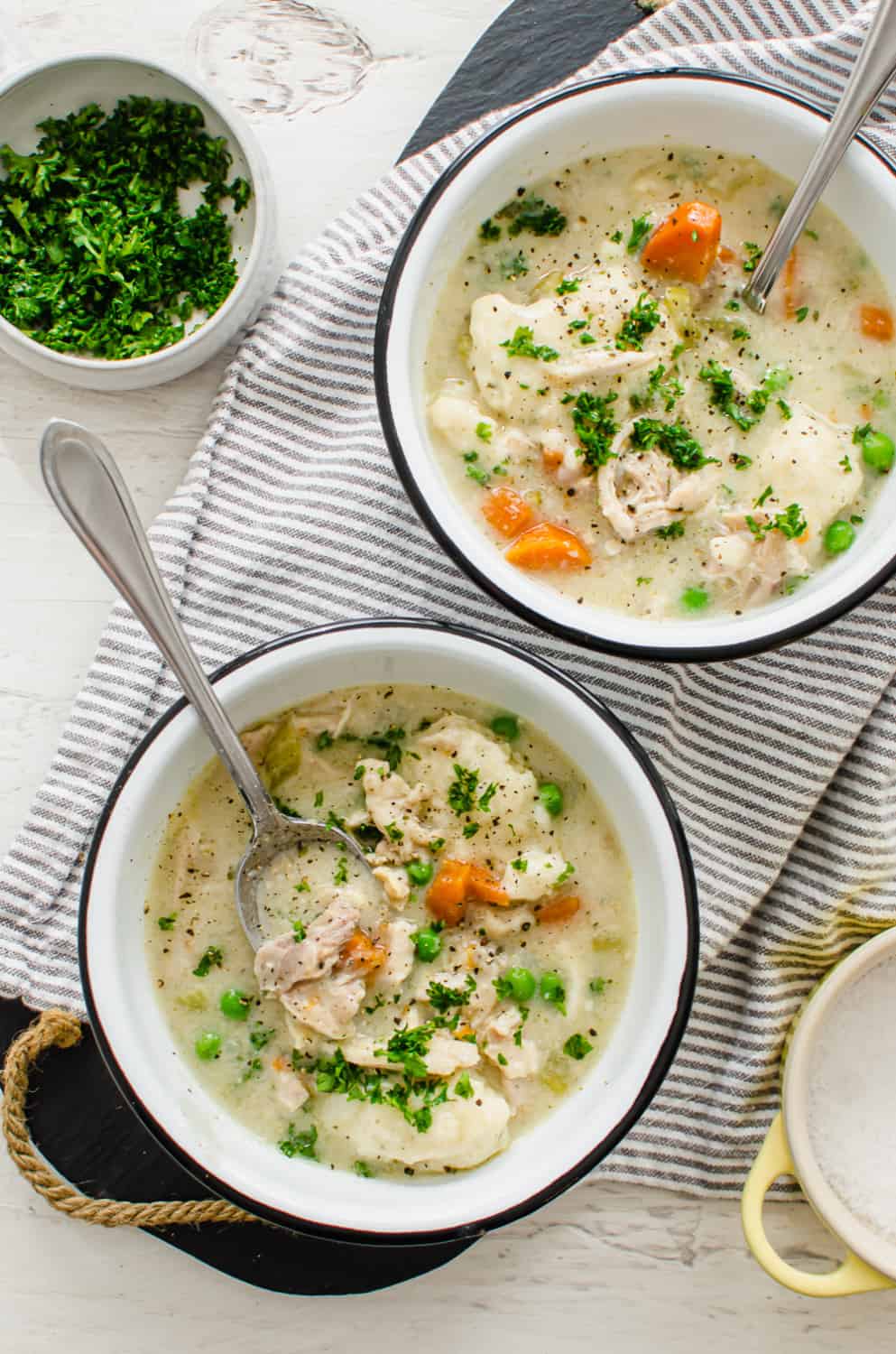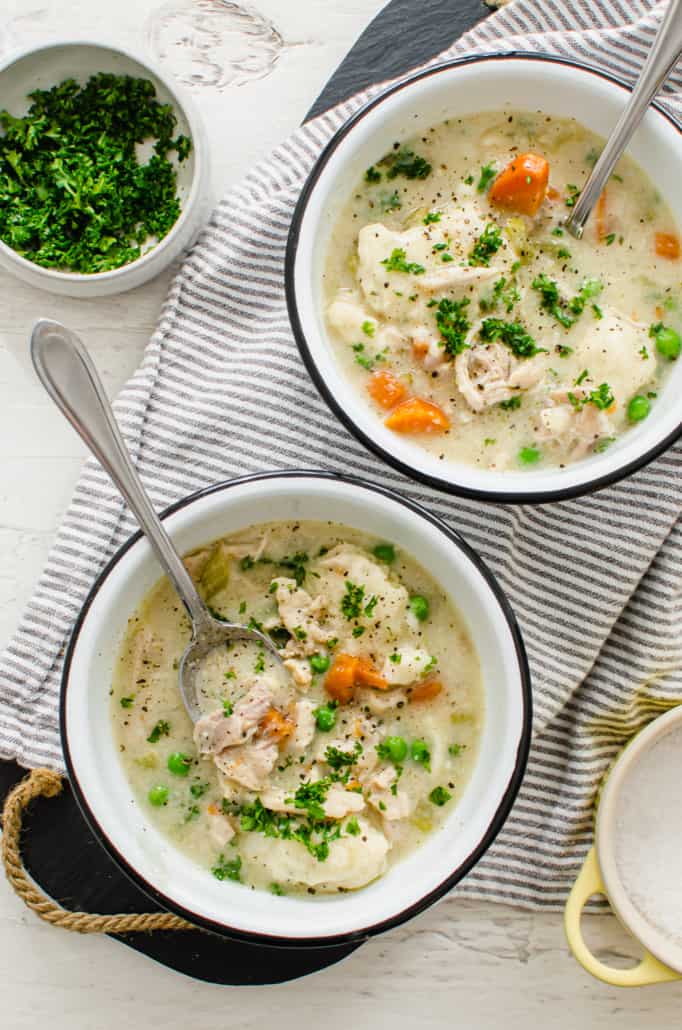 When it comes to freezing chicken and dumplings, we've not only personally made and frozen this meal many times, but our Thriving Home readers and recipe testing team have too! In fact, we had the chance to teach America how to make and freeze Chicken and Dumplings on the Hallmark Channel.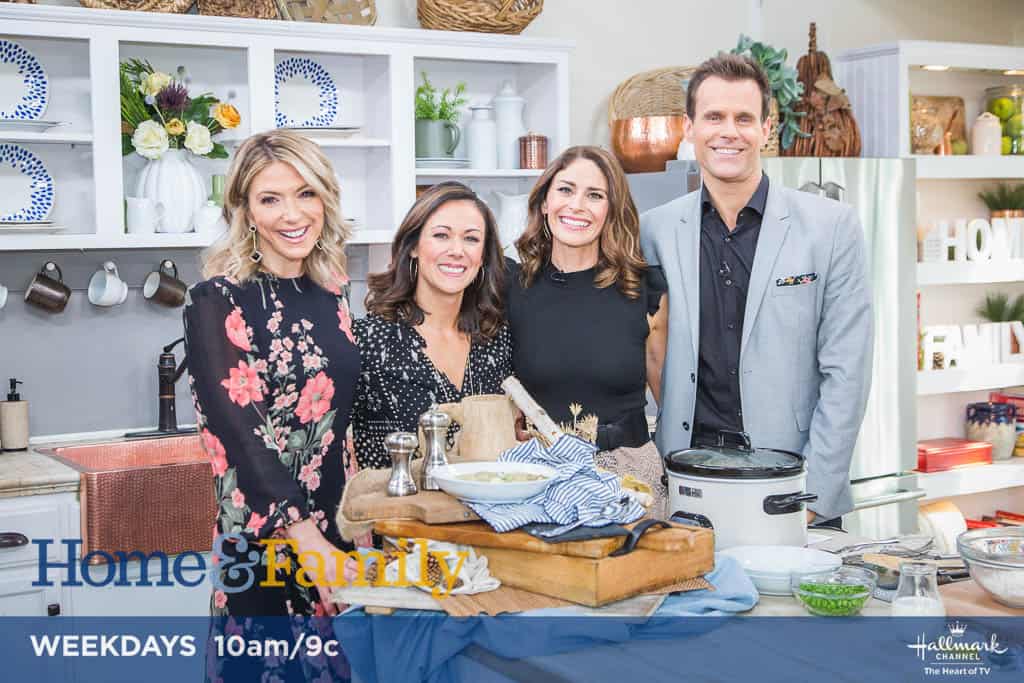 Be sure to try our TV-famous Crock Pot Chicken and Dumplings and our Instant Pot Chicken and Dumplings.
How to Freeze Chicken and Dumplings
The easiest thing to do would be to double our Chicken and Dumplings recipe, making one for tonight and freezing one for later using the instructions in our recipe. However, if you have your own recipe to freeze, use these tips…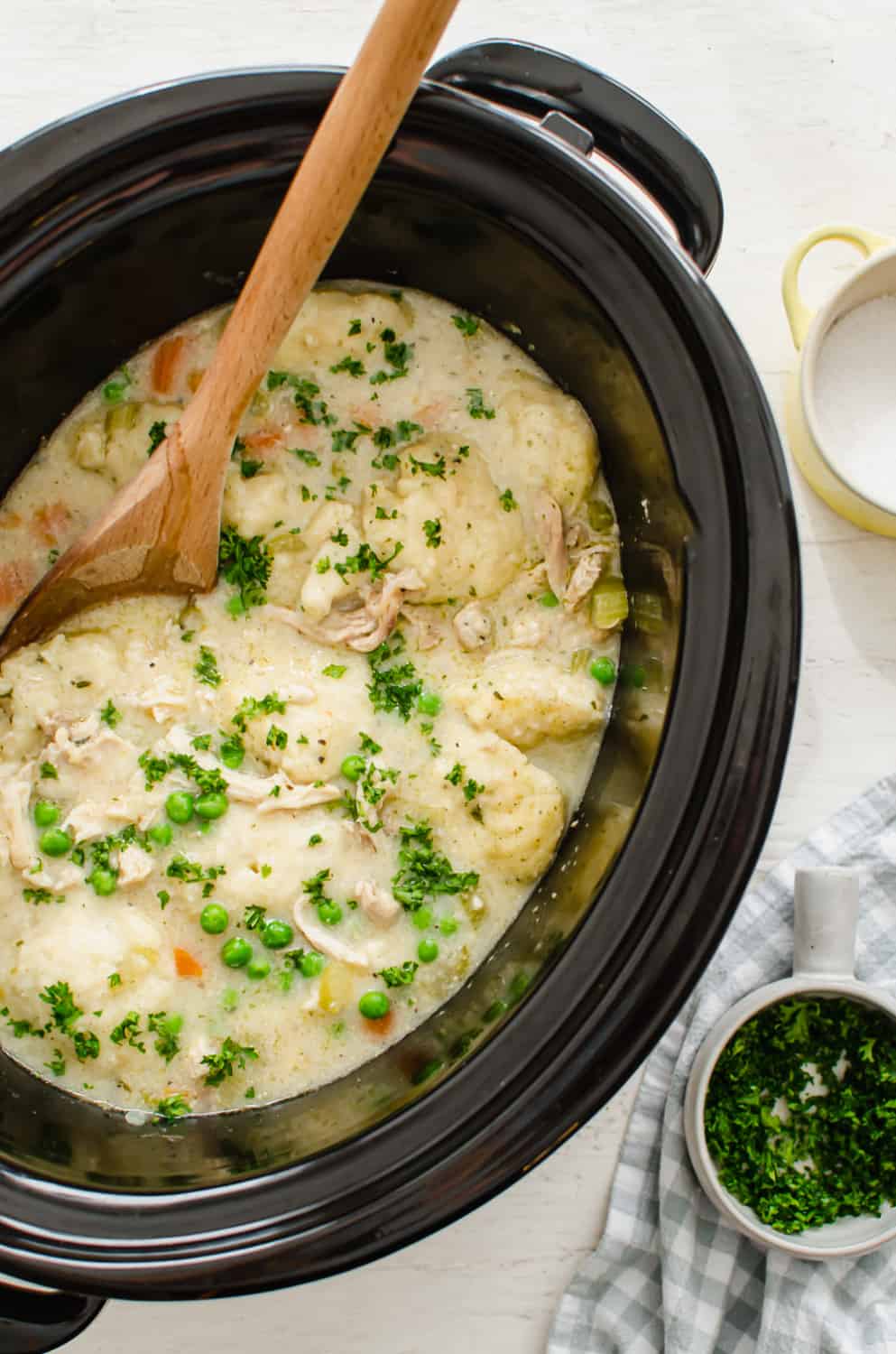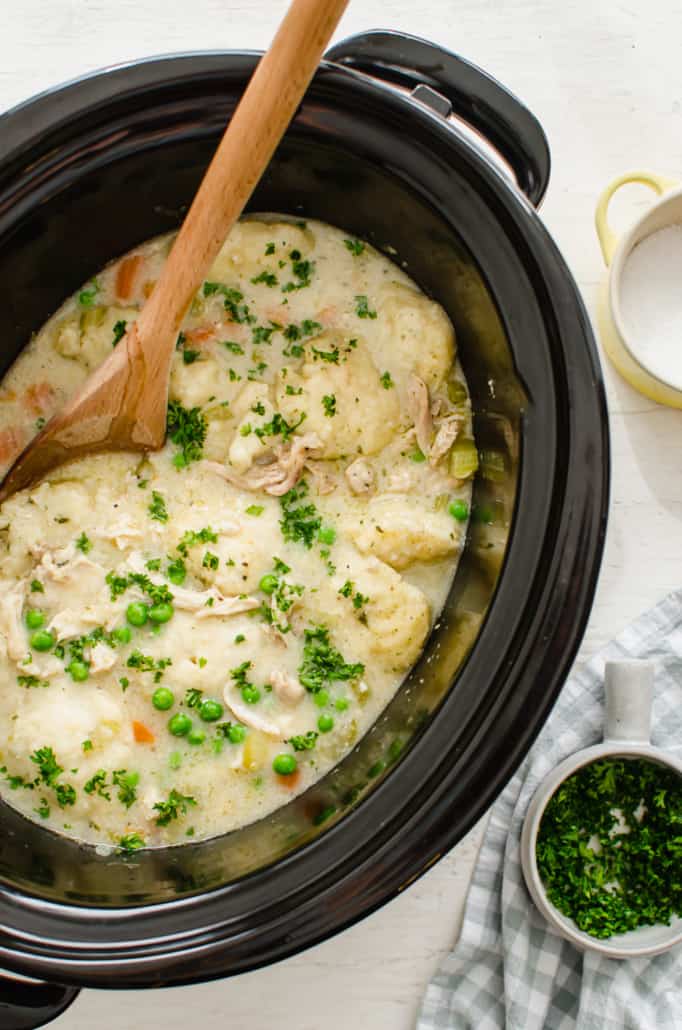 The BEST Method for Freezing Chicken and Dumplings
If you want your meal to turn out just like a fresh meal, you'll need to prep and freeze the meal before cooking.
First, saute your veggies according to the recipe. After they cool, place them in a gallon-sized freezer bag with chicken broth, boneless chicken thighs (or chicken breasts), and any seasonings. Squeeze out any excess air and seal tightly.
Then, add all the dry ingredients for the dumplings into a separate quart-sized freezer bag. Seal and shake to combine. Freeze together as a meal kit.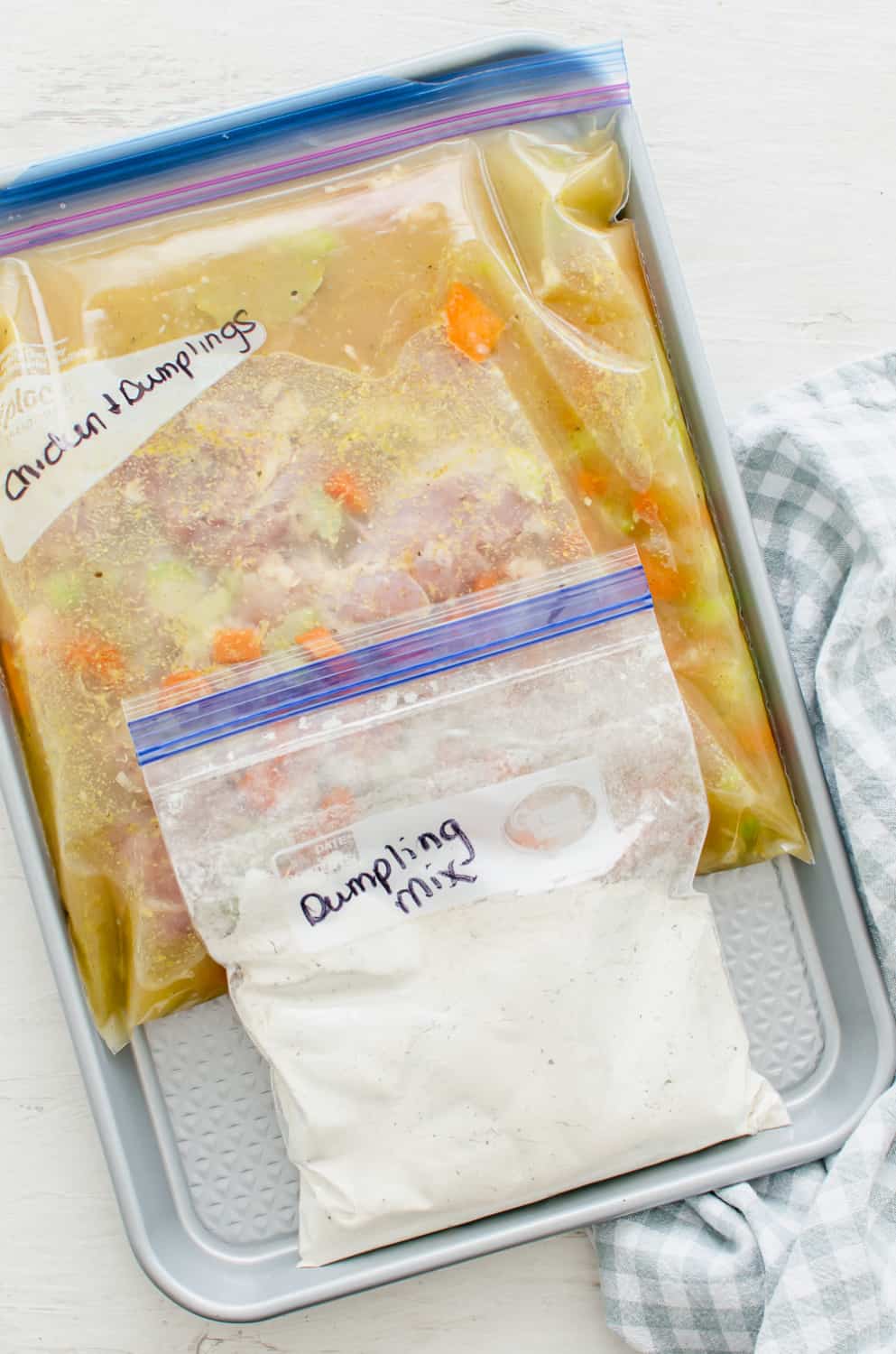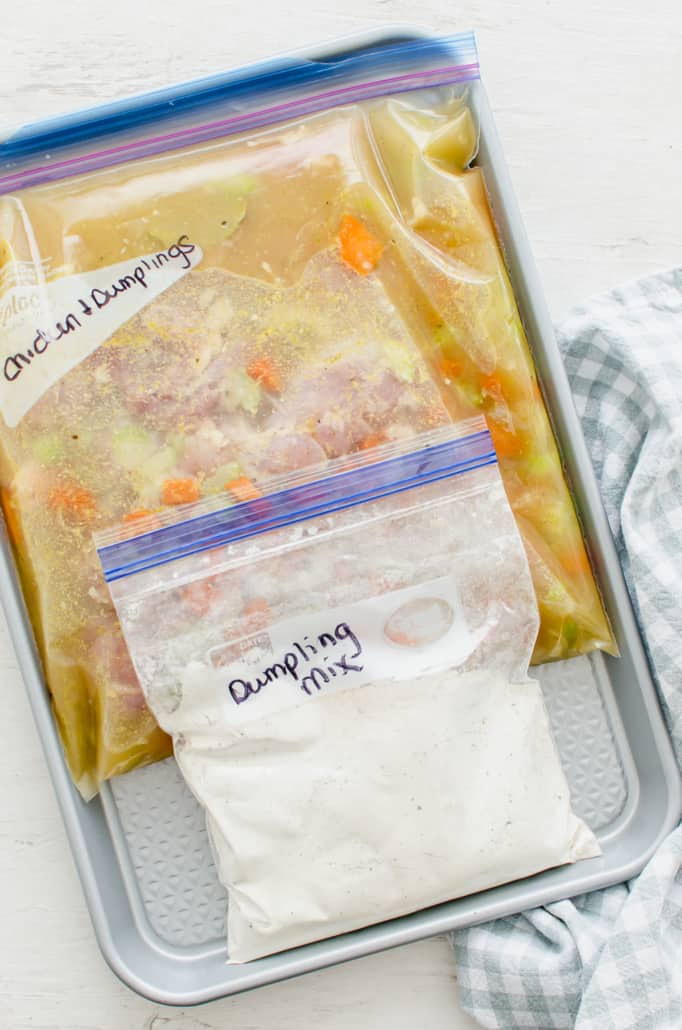 When you're ready to use your meal, thaw completely using one of these safe thawing methods. Then, cook according to the recipe directions, using the dry mix to make the dumplings at the end.
Freezing for the Instant Pot
One of the beauties of the Instant Pot is that you can cook freezer meals directly from frozen in it. But, there's a trick to this!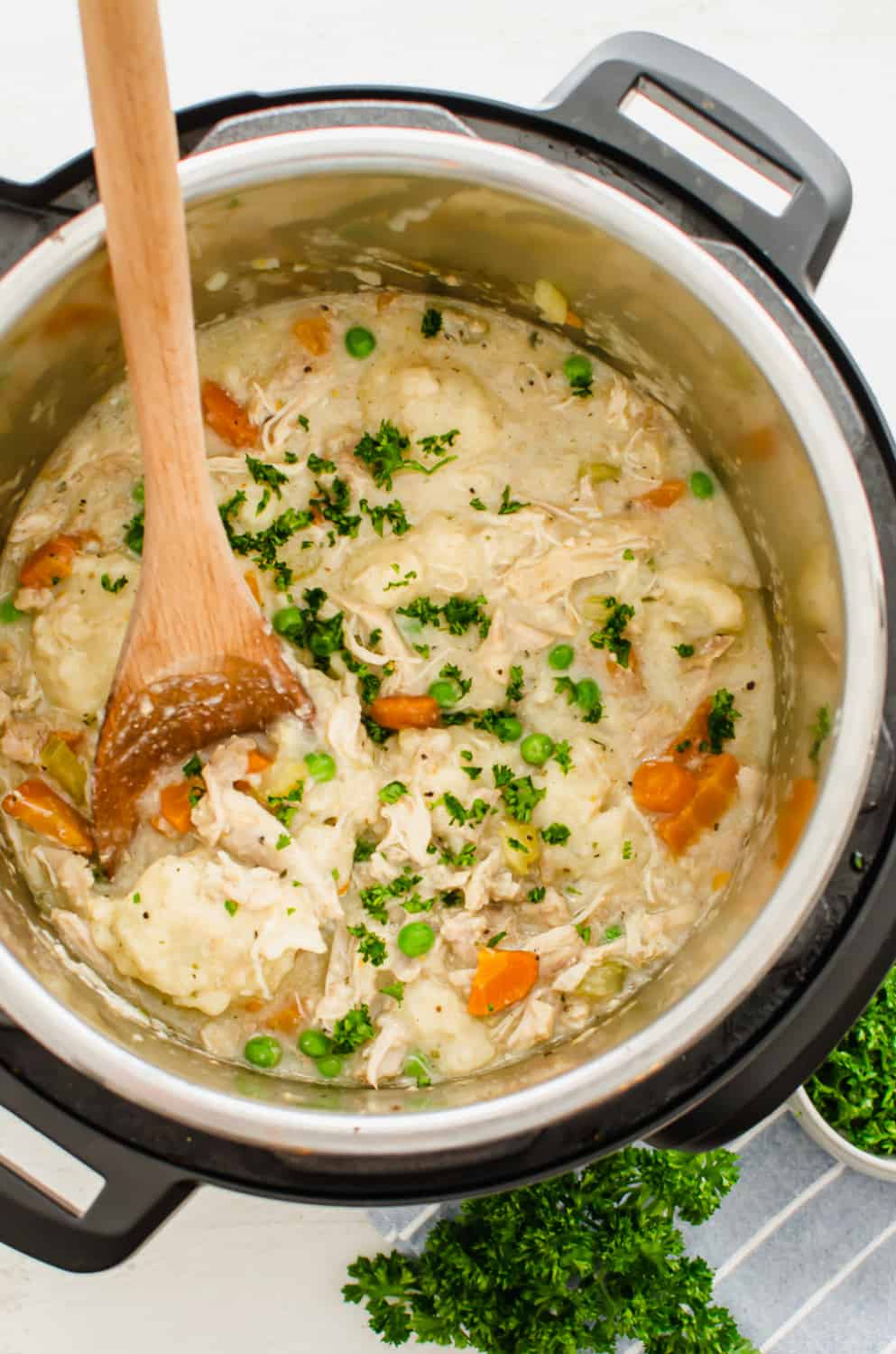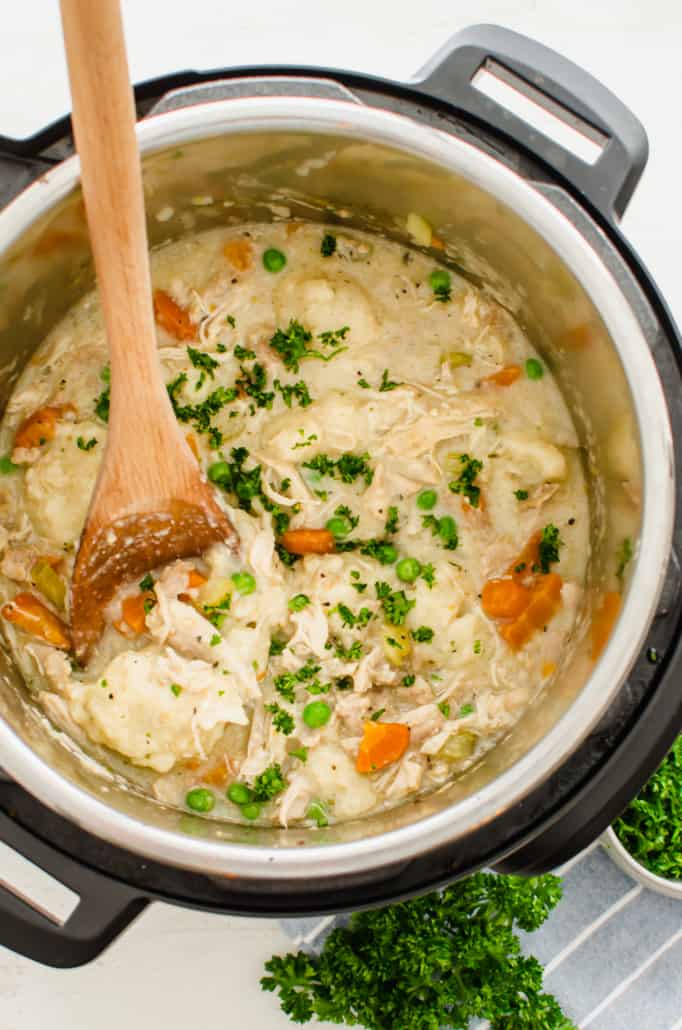 You have to freeze the chicken and dumplings meal in the shape of the Instant Pot. To do this, place your freezer bag of chicken stew into a round container that's the same diameter as the Instant Pot (or use the pot itself) and place in the freezer until frozen solid. Remove the bowl.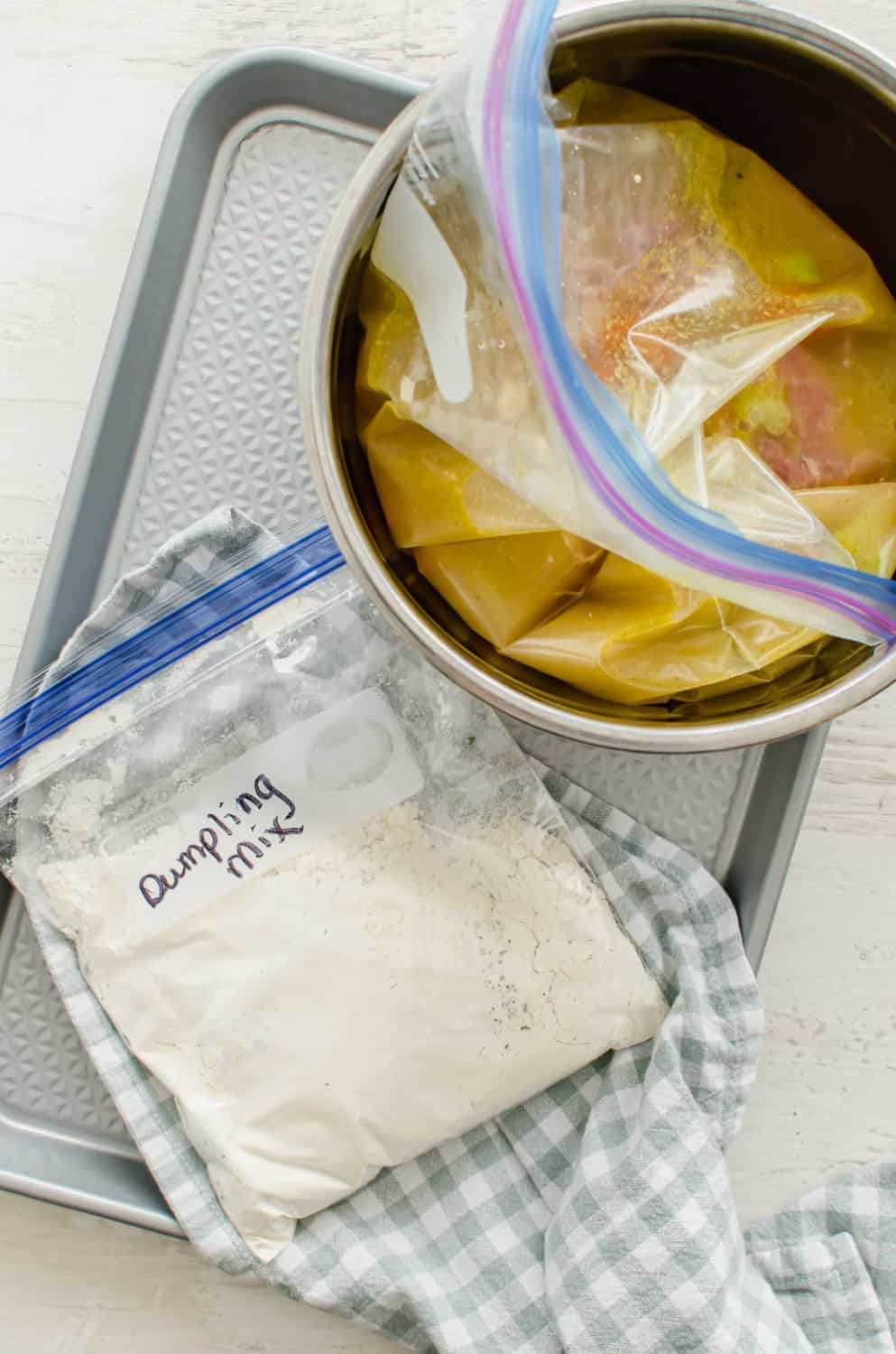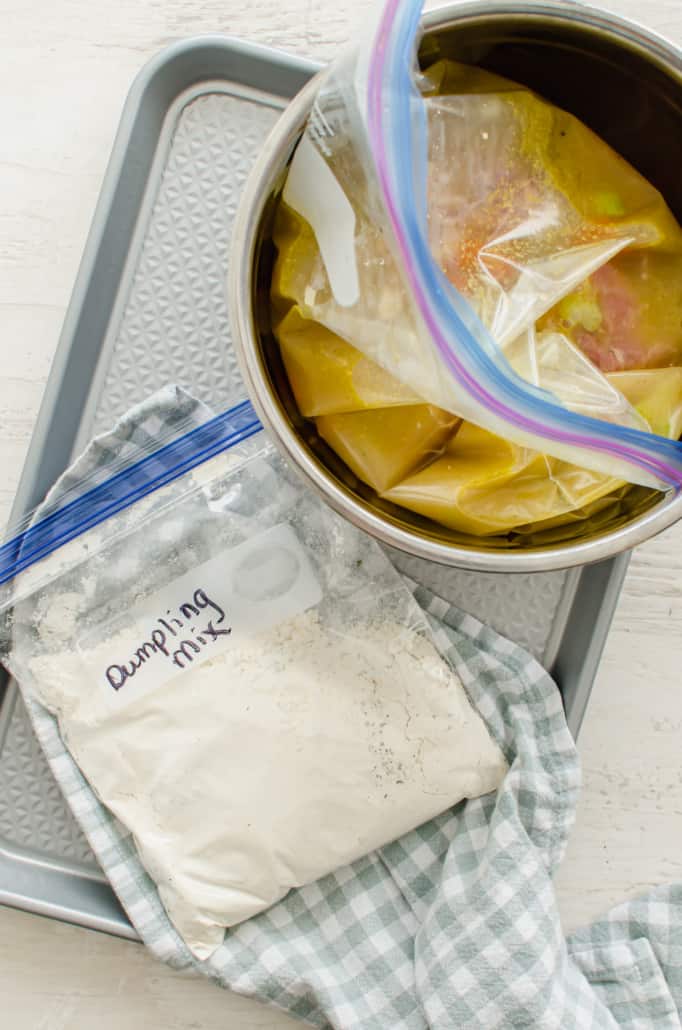 When you're ready to cook your meal in the Instant Pot, saute your frozen meal for 5-10 minutes before pressure cooking it, so it releases some liquid and can come to pressure faster. Use our Instant Pot Chicken and Dumplings recipe for the perfect cook time and freezer meal instructions.
Can I freeze it after it's fully cooked?
You for sure can. It's safe to do so and better than throwing away leftovers. However, the dumplings will mostly disintegrate into the stew…making it a thick, starchy stew. From my experience, it doesn't taste bad but it's definitely not the same texture you think of.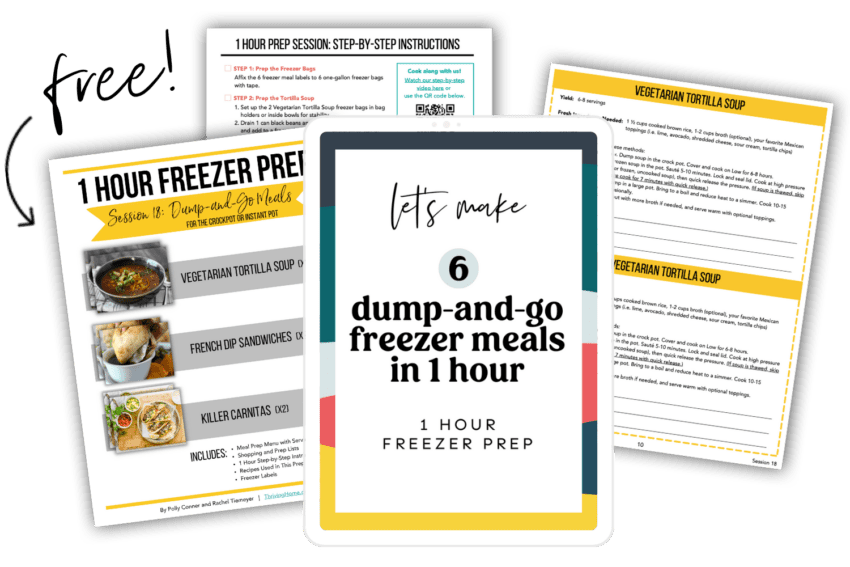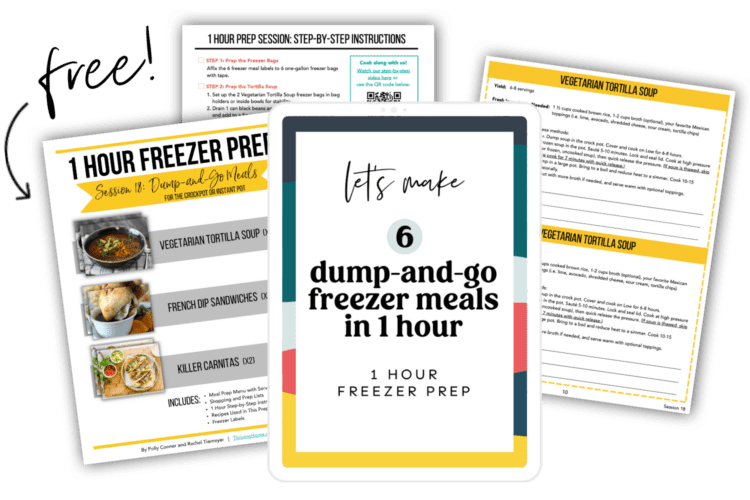 Try 1 Hour Freezer Prep Today!
Make 6 Dump-and-Go Freezer Meals in 1 Hour
Shopping & equipment lists
Step-by-Step instructions & video tutorial
Serving suggestions & dietary substitutions & more
Try Session 18 (a $6.99 value) for free!
How to Reheat from Frozen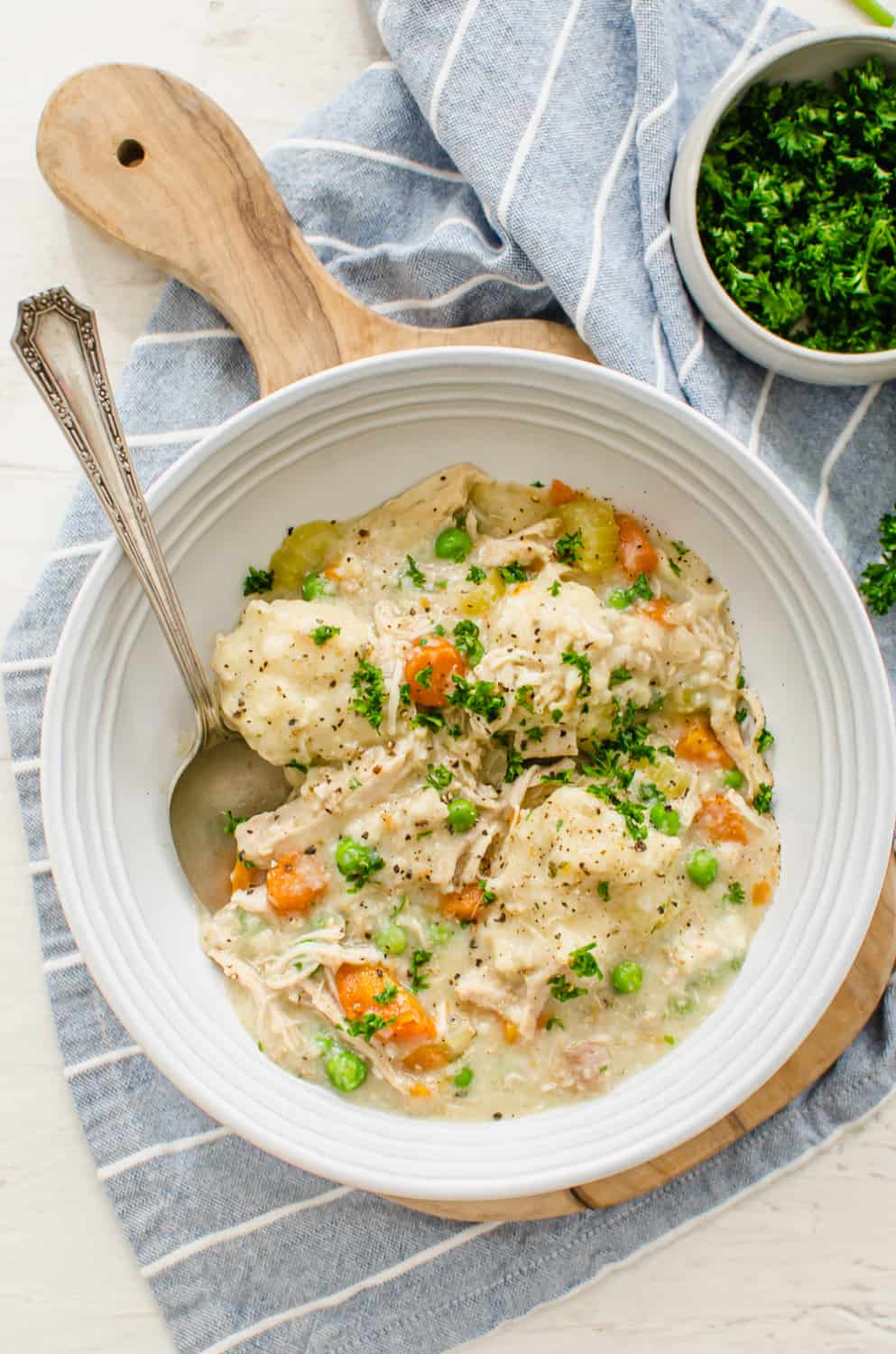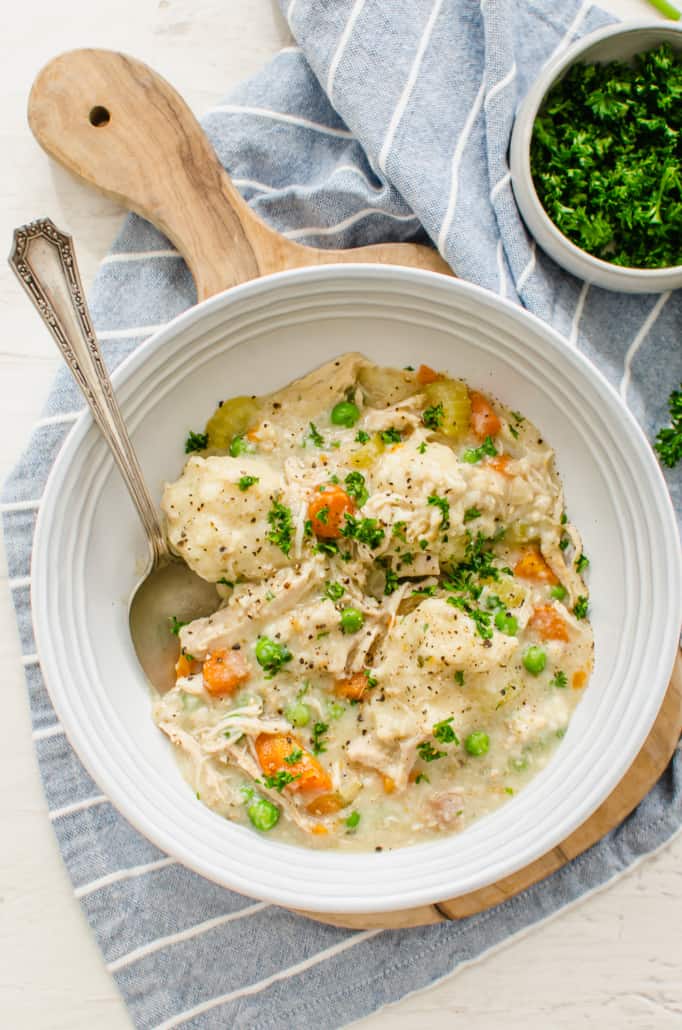 How you reheat frozen chicken and dumplings depends on how you froze it. Here are two methods:
Method 1 (Uncooked): If your meal was frozen before cooking, then thaw completely in the refrigerator or use the defrost setting on the microwave. Cook according to the recipe instructions, using the dry mix to make the dumplings at the end of the cook time.
Method 2 (Fully Cooked): To reheat fully cooked, frozen chicken and dumplings, first thaw the meal in the refrigerator overnight. If you're in a pinch, you can use the defrost setting on the microwave. Then, warm the meal in:
1) A pot over medium-low heat on the stove, stirring frequently,
2) A microwave-safe bowl in the microwave in 1-minute increments, stirring in between, or
3) The slow cooker over Low heat until warm, about 1-2 hours.
What Else Can You Freeze?
Wondering what else you can stock up on and freeze? Here are more well-researched and well-tested articles we wrote from our experience.