Can You Freeze Chicken Pot Pie?
This post may contain affiliate or sponsored links. Please read our disclosure policy.
Yes, you can freeze chicken pot pie as a convenient way to have a delicious meal ready to go whenever you want it. Use these tips for freezing and reheating two different versions of this comfort food dish.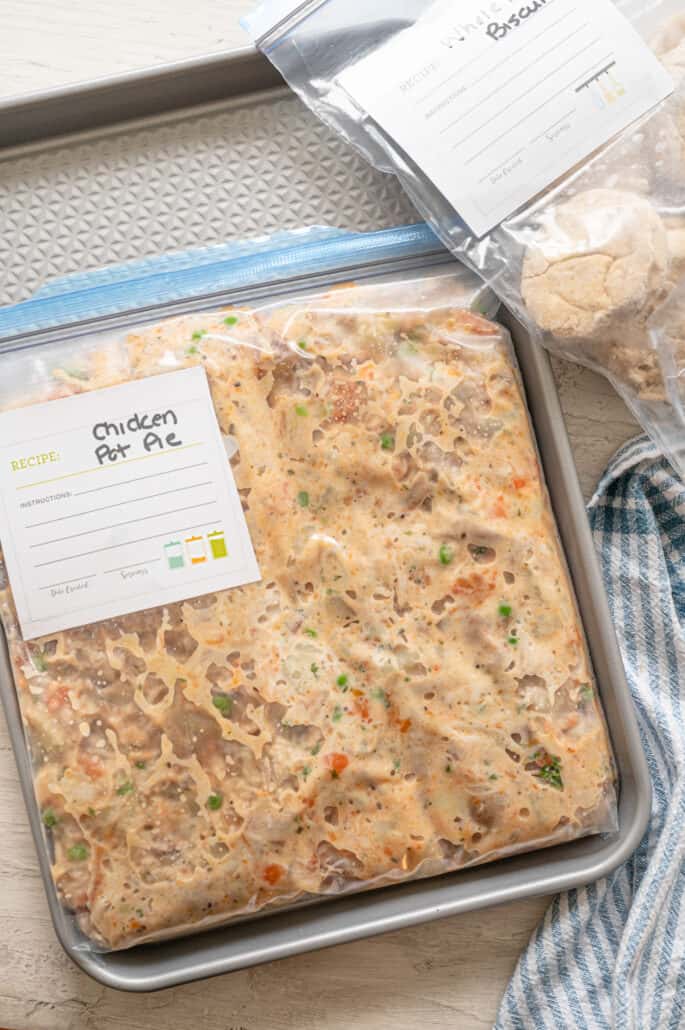 As authors of two popular freezer meal cookbooks, we've done our fair share of testing freezer meals of all kinds and have become experts at the best methods for freezing. This cozy dinner happens to be one of my personal favorites, especially our Crock Pot Chicken Pot Pie or our Instant Pot Chicken Pot Pie. We've frozen this recipe many times, so you can be assured our directions are correct.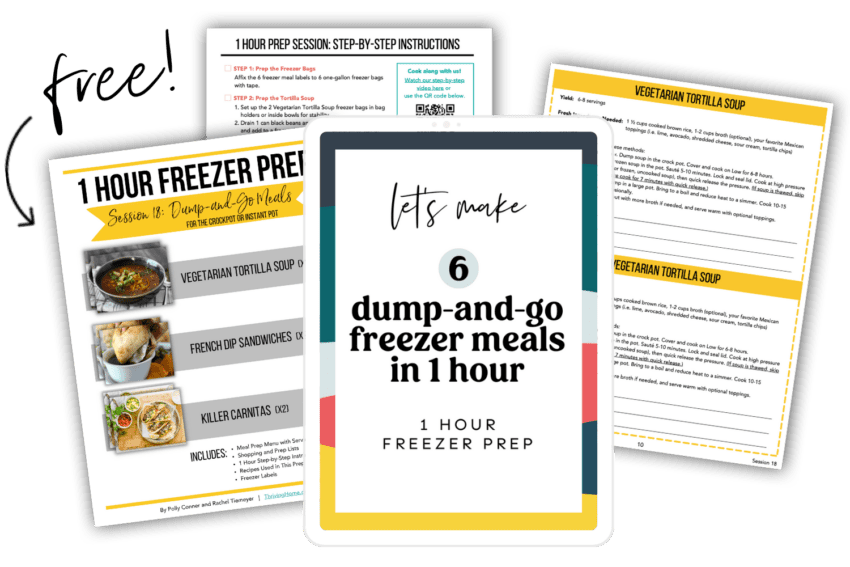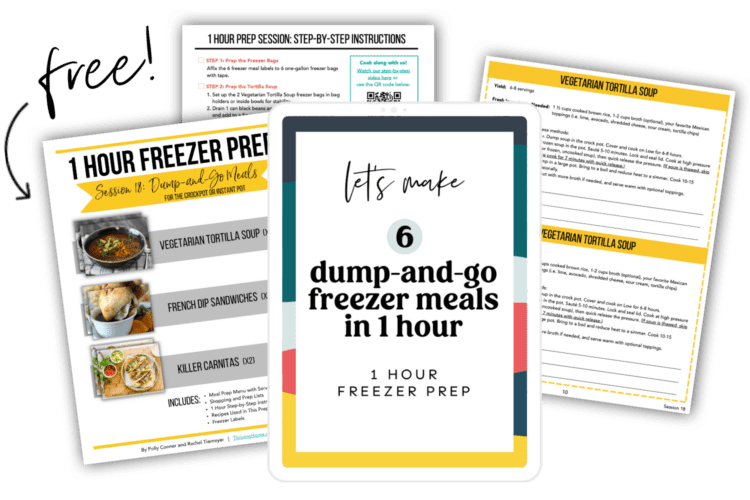 Make 6 Dump-and-Go Freezer Meals in 1 Hour!
Try a 1 Hour Freezer Prep Session ($6.99 value) for FREE!
Includes:
Shopping & equipment lists
Step-by-Step instructions & video tutorial
Serving suggestions & dietary substitutions & more
How to Freeze Classic Chicken Pot Pie
Classic chicken pot pie is made in a pie dish and has a crust with filling. Here's how to freeze and reheat this version.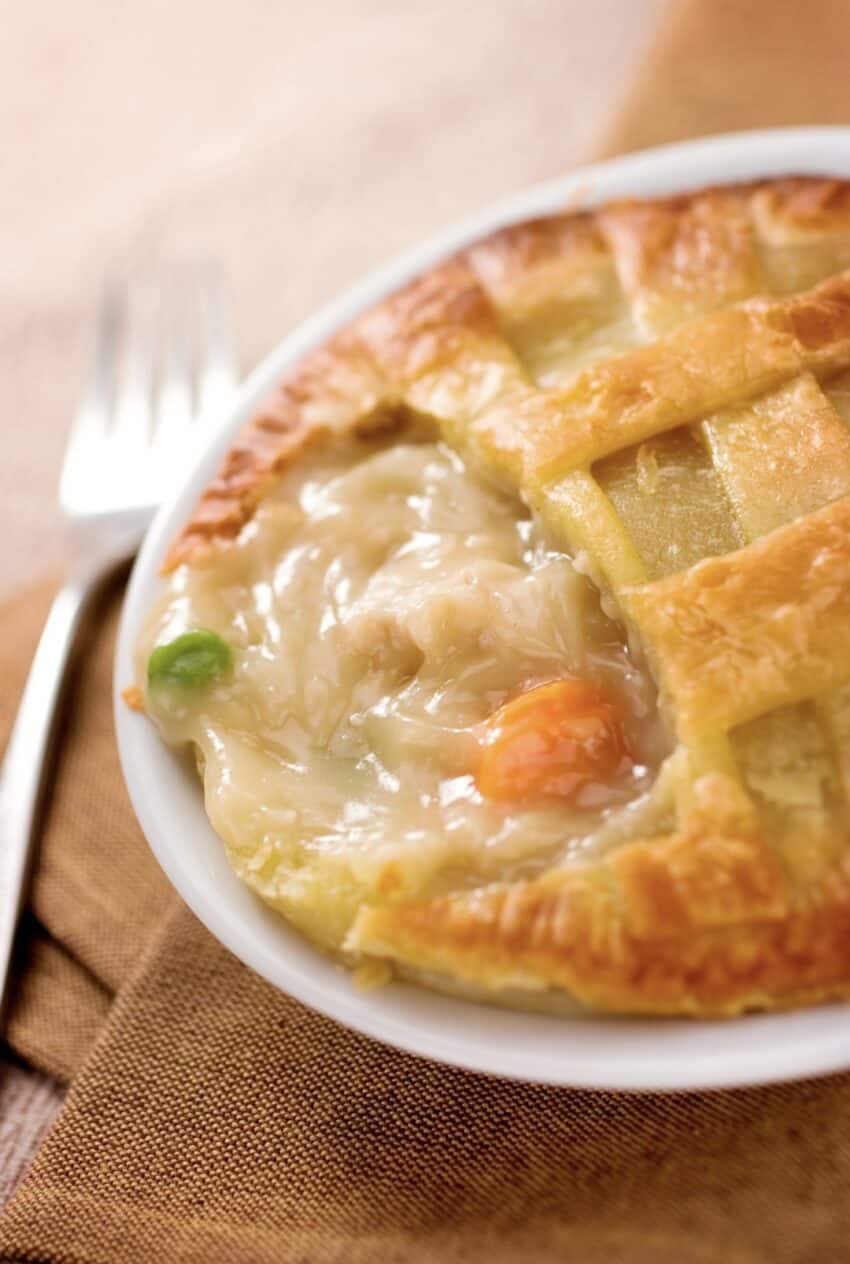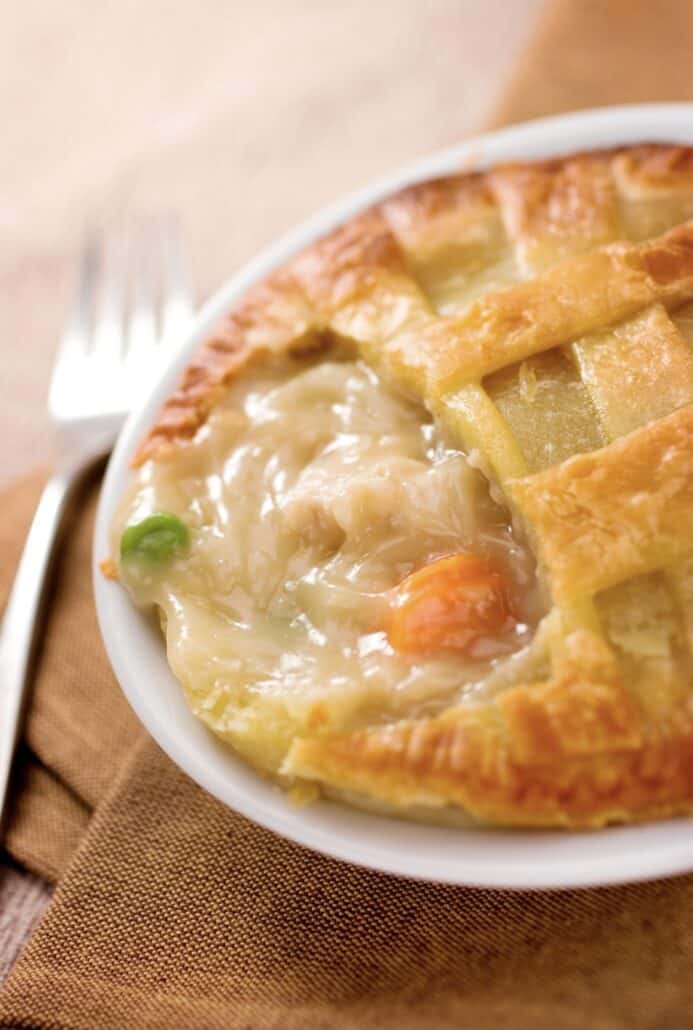 Make the pie filling and allow it to cool completely (this prevents condensation from forming when you freeze it). Then, put together the chicken pot pie in a pie dish according to the recipe.
Wrap the chicken pot pie tightly in a few layers of plastic wrap or aluminum foil, squeezing out any excess air.
Label the package with the date and contents, and freeze for up to 2-3 months for best quality.
Place the meal in the back of the freezer where it's coldest. It's best to use this freezer meal kit within 3 months.
To prepare the pot pie from frozen, it's best to thaw it in the refrigerator for about 24 hours first. Bake according to the recipe or until the filling is hot and the crust is golden brown and crispy.
When freezing chicken pot pie that has a crust, it's important to keep in mind that the quality of a pie version might be affected. The crust may not be as flaky or crispy as it would be if freshly baked, and the filling may become a bit more watery. However, if the pie is wrapped and frozen properly, it should still be pretty darn tasty!
How to Freeze Chicken Pot Pie Filling With Biscuits
Another form of chicken pot pie is one that has a creamy filling that's topped with biscuits, like our Crock Pot Chicken Pot Pie or our Instant Pot Chicken Pot Pie. Follow these tips for freezing this version.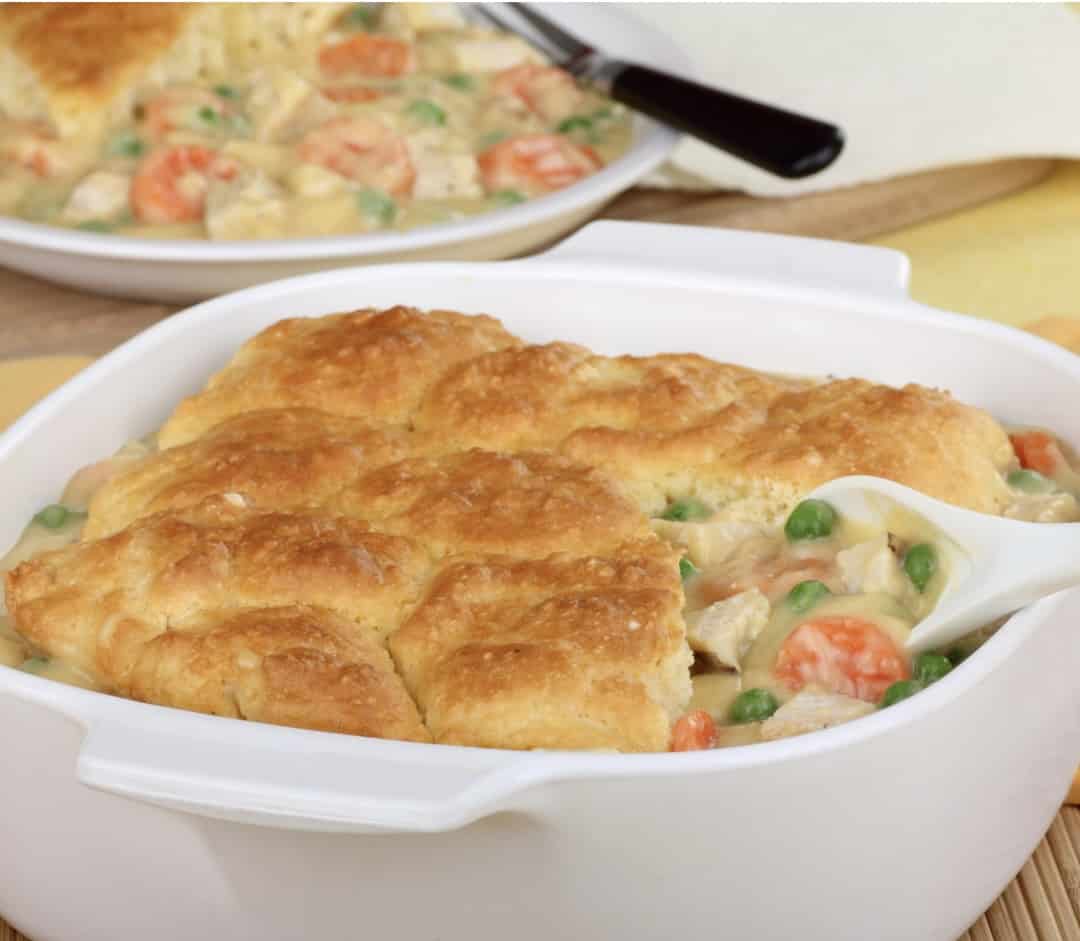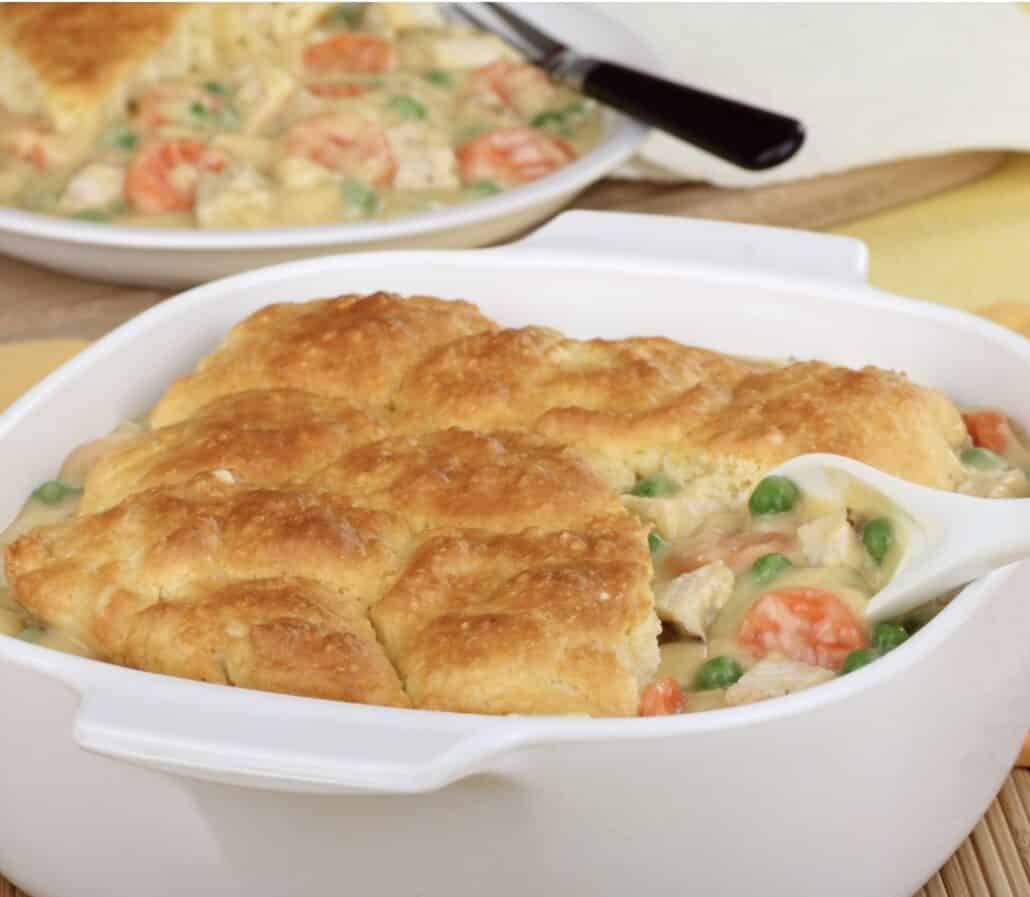 To Freeze the Filling and Biscuits:
Make the chicken filling according to the recipe and let the mixture cool completely. Place in an air-tight freezer bag or container and squeeze out any excess air.
The uncooked biscuits can also be frozen alongside the chicken pot pie mixture to create a meal kit. To do that, dust the cut-out biscuits that haven't been baked yet with a little flour, place on a sheet pan, and flash freeze for about 2 hours until frozen solid. Place biscuits into a gallon-size freezer bag, squeeze out any excess air, seal, and freeze along with the chicken filling.
Place the meal in the back of the freezer where it's coldest. It's best to use this freezer meal kit within 3 months.
To Prepare the Frozen Filling and Biscuits:
Thaw the frozen chicken pot pie mixture in the refrigerator or use the defrost setting on the microwave.
If biscuits were frozen, thaw completely on the counter or refrigerator and bake according to directions.
Warm the chicken pot pie filling over low heat on the stove, in the crockpot, or in the microwave, stirring regularly until heated through.
Serve the warm chicken mixture in bowls with a biscuit on top.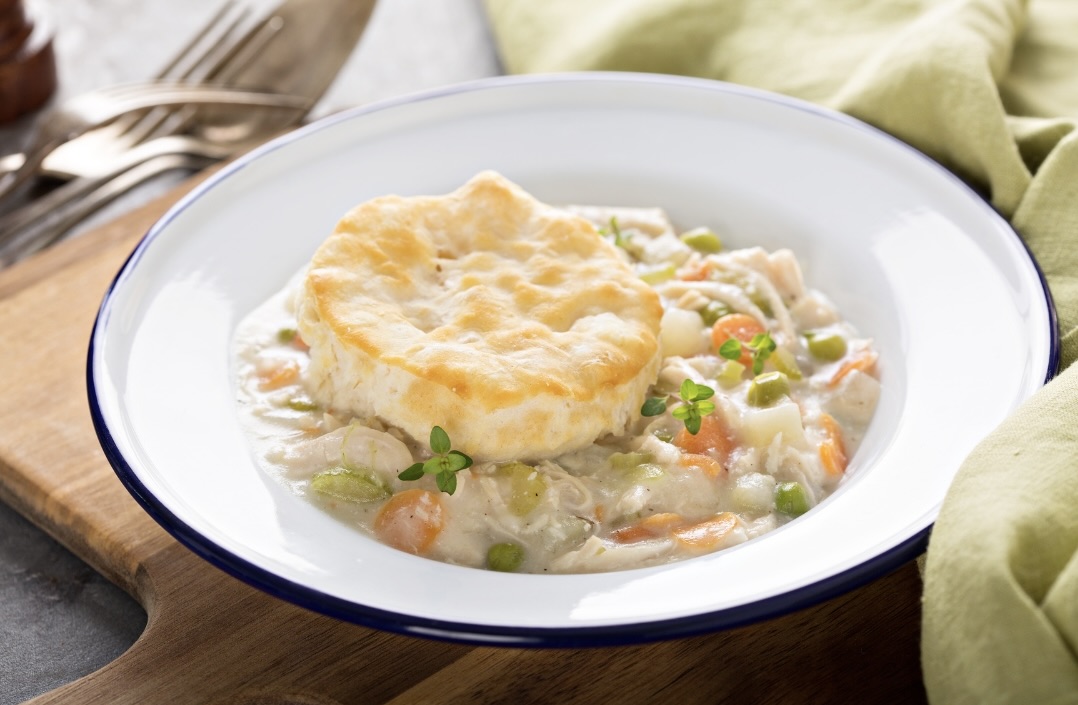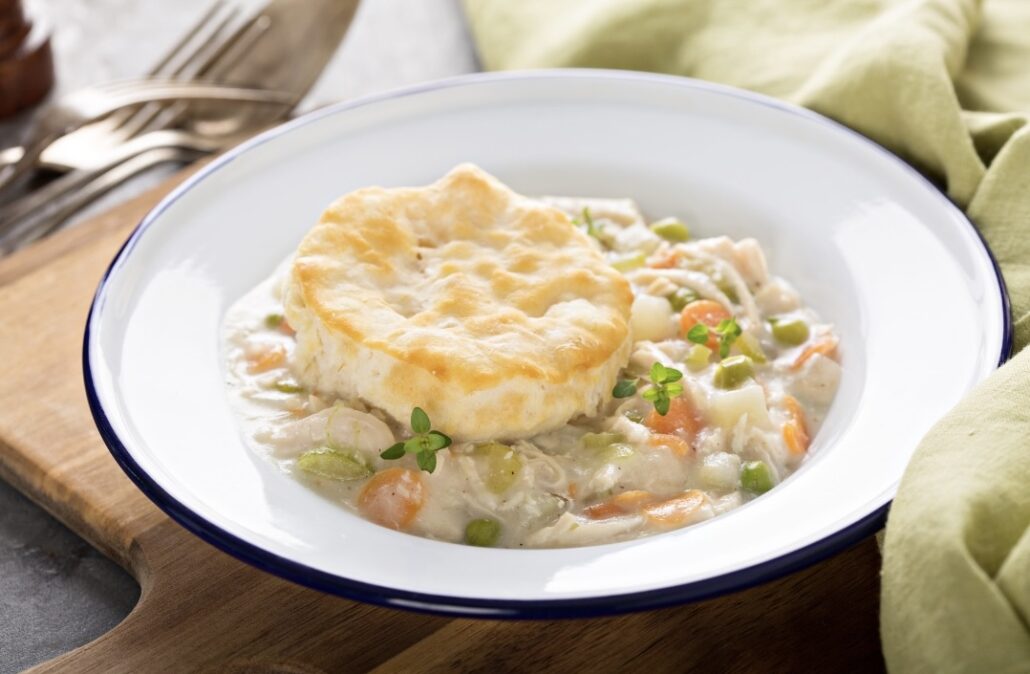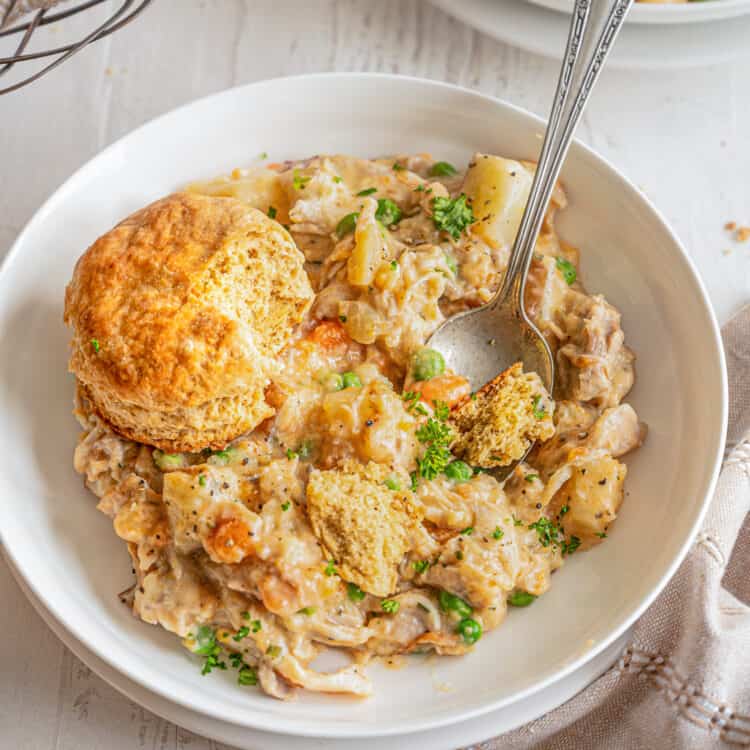 Make Crock Pot Chicken Pot Pie
Our slow cooker chicken pot pie recipe with a secret "flavor bomb" ingredient is creamy, dreamy, and super easy to make. Plus, it's healthier than most versions and freezer-friendly, too.
My family will eat the chicken and veggie filling with or without the homemade biscuits on top–it's that good.
P.S. We have an Instant Pot Chicken Pot Pie version, too.
Crock Pot Chicken Pot Pie
What Else Can You Freeze?
Wondering what else you can stock up on and freeze? Here are more well-researched and well-tested articles we wrote from our experience.
Either freezing chicken pot pie filling with biscuits or the classic version that's a pie with a crust is an easy and convenient way to have a great meal on hand anytime.