This post may contain affiliate or sponsored links. Please read our disclosure policy.
Homemade Brownie Mix is easier, cheaper, tastier and a little bit better for you than the boxed stuff! You likely have the ingredients in your pantry right now. Use this recipe to make ahead, gift to someone, or to just make a batch of delicious, moist homemade brownies.
Why Make Homemade Brownie Mix?
My mother, the hostess extraordinaire, has given me many useful hospitality tips over the years. One helpful thing she has passed on to me is to always have a ready-to-make dessert on hand. You never know when you'll need something sweet at the last minute.
Well, I have taken her advice for a long time now and have almost always had a box of brownie mix in the pantry. I can't tell you how many times I have been glad I did. Both my husband and I have had small groups through our church that come over frequently. When I don't have time to run to the store, that box of brownie mix comes in handy!
More recently, I've been making my own homemade brownies, and they are really easy! I realized that this recipe's dry ingredients could be put together ahead of time and saved in the pantry (or freezer) like my precious boxed brownies. Great way to save money is to prep this dry mix in bulk.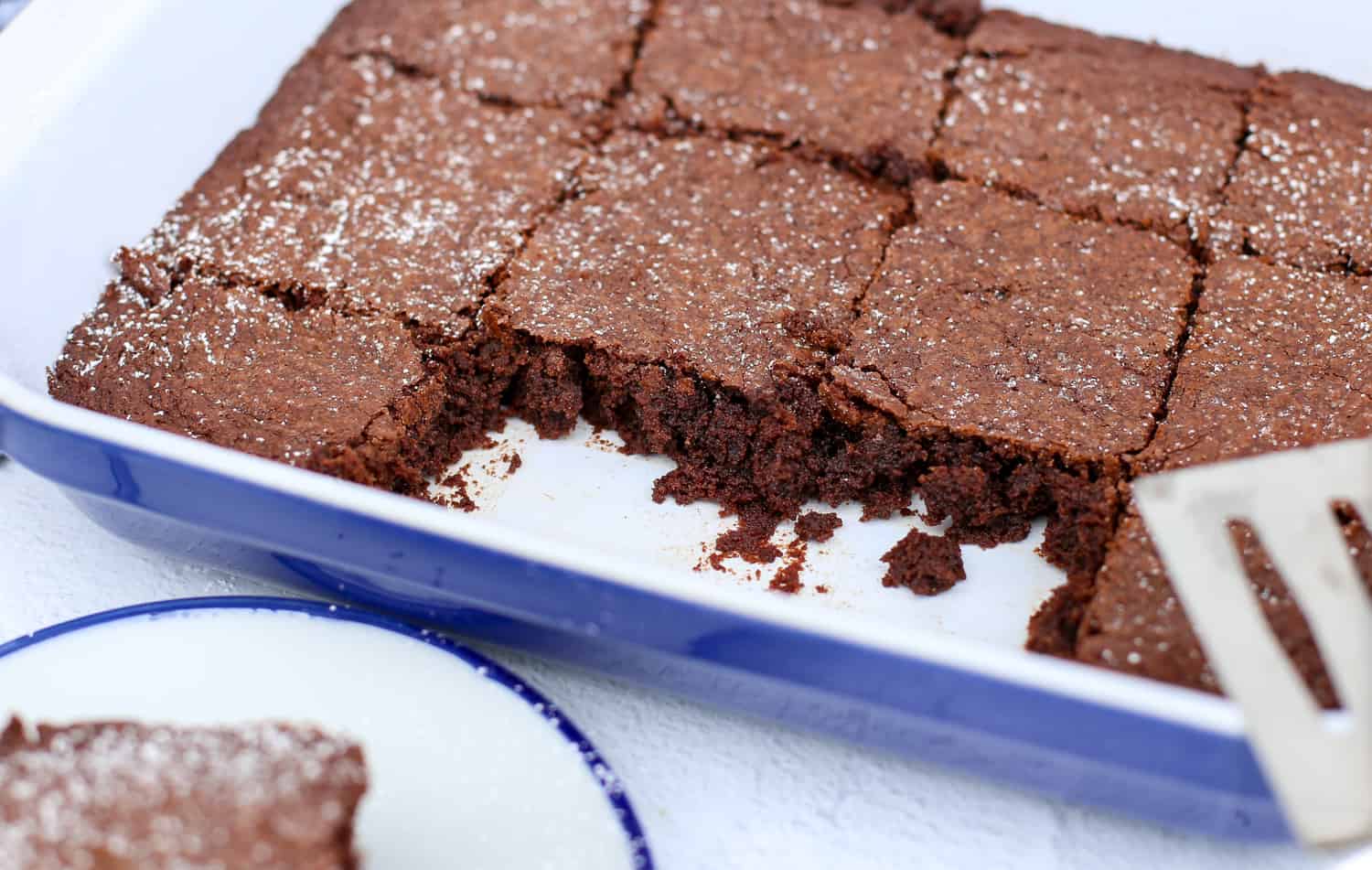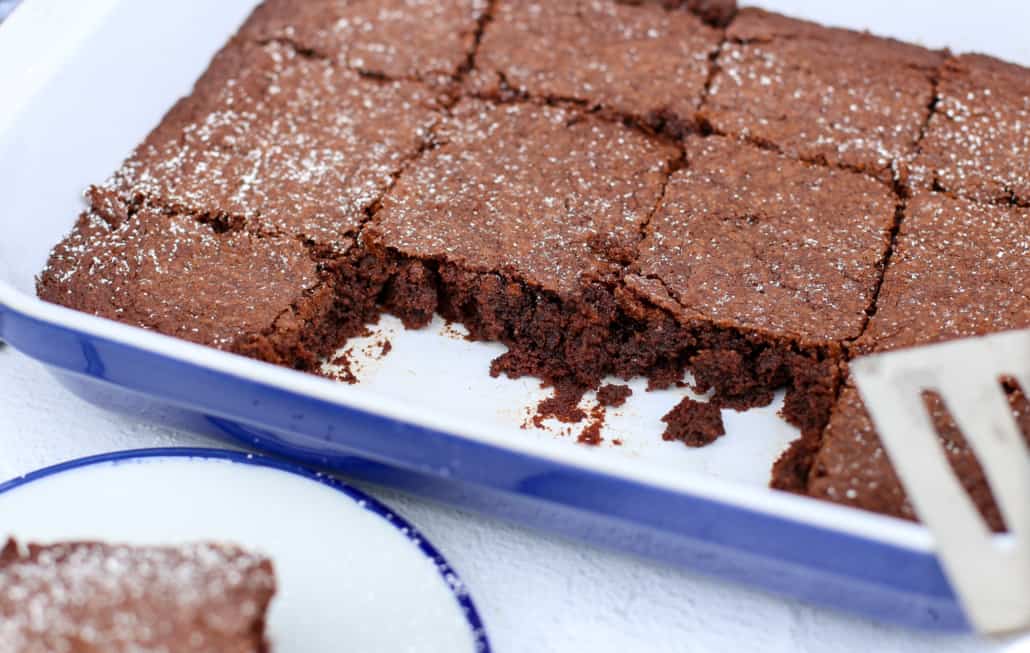 Ingredients for Homemade Brownie Mix:
Here's what you'll need from the store. You can make several batches and store it in an air-tight container/bag in the pantry for up to 1 month or in the freezer for up to 6 months.
For the Dry Mix:
Sugar
Cocoa powder
Baking powder
Salt
All purpose flower
To Prepare the Brownies:
Mason Jar Brownie Mix
You can easily give this brownie mix as a gift! We've made it super easy with our printable gift tag that you attach to a mason jar. You'll need:
Large Mason Jar – Use a funnel to make adding ingredients easier
Dry Mix Ingredients – Be sure to start with the sugar. It looks prettier that way!
Printable Brownie Mix Tag – Download yours for free below.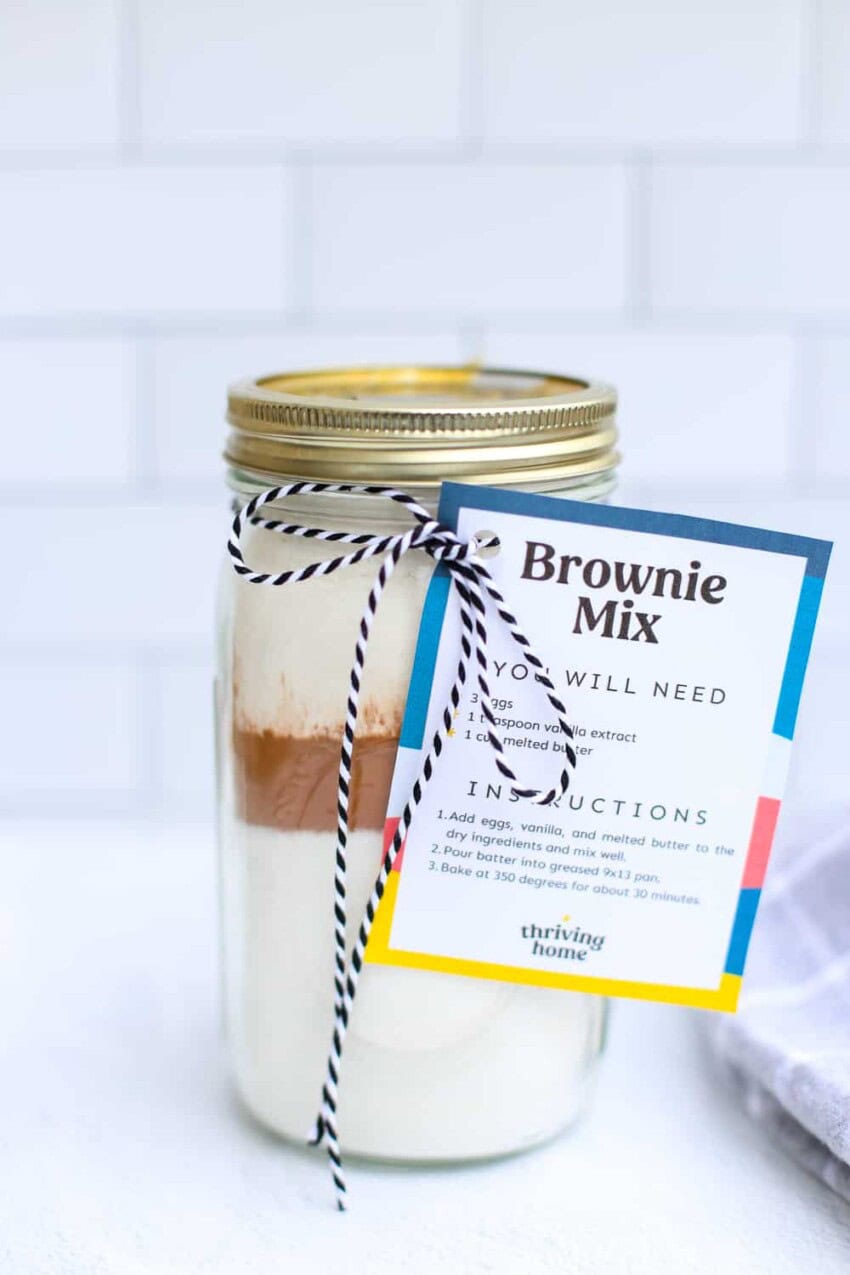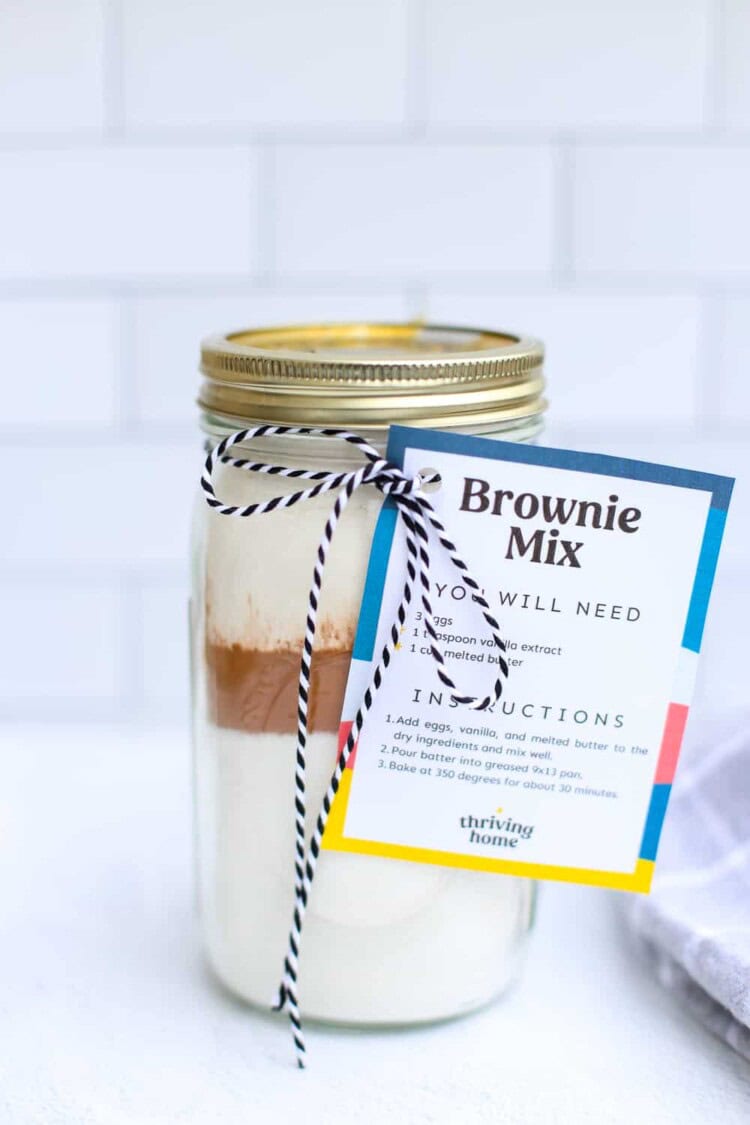 Download and Print
Brownie Mix Tag
How to Prepare the Homemade Brownie Mix
Step 1: Add in the eggs, melted butter, and vanilla and mix with a wooden spoon or beaters until well combined. Fold in a handful of chocolate chips in there too. You know you want to.
Step 2: Mix and pour into a greased 9 x 13 pan.
Step 3: Bake at 350°F degrees for about 30 minutes.
Our Review of the Brownie Homemade Mix
They turned out DELICIOUS. Way better than the boxed brownie mix I normally use. I'm not the only one who thought they were good.
I took them to a small gathering and two people asked for the recipe. They were thick, moist, flavorful, gooey (but not too raw), and delicious.
Anyway, give them a try. Mix up a few batches extra for future use and save some money at the grocery store by not buying the boxed brownies.
Did you make this? Snap a photo and tag us on Instagram at @thrivinghome so we can see your creations and cheer you on!
Easy Homemade Brownie Mix
Whip up these dry brownie ingredients to keep on hand! You'll be so impressed with the taste and simplicity of putting it all together. Plus you're giving your family the gift of none of the added yucky stuff.
Prep:
10 minutes
Cook:
25 minutes
Total:
35 minutes