How to Make Your Own Non-Toxic Foaming Hand Soap
This post may contain affiliate or sponsored links. Please read our disclosure policy.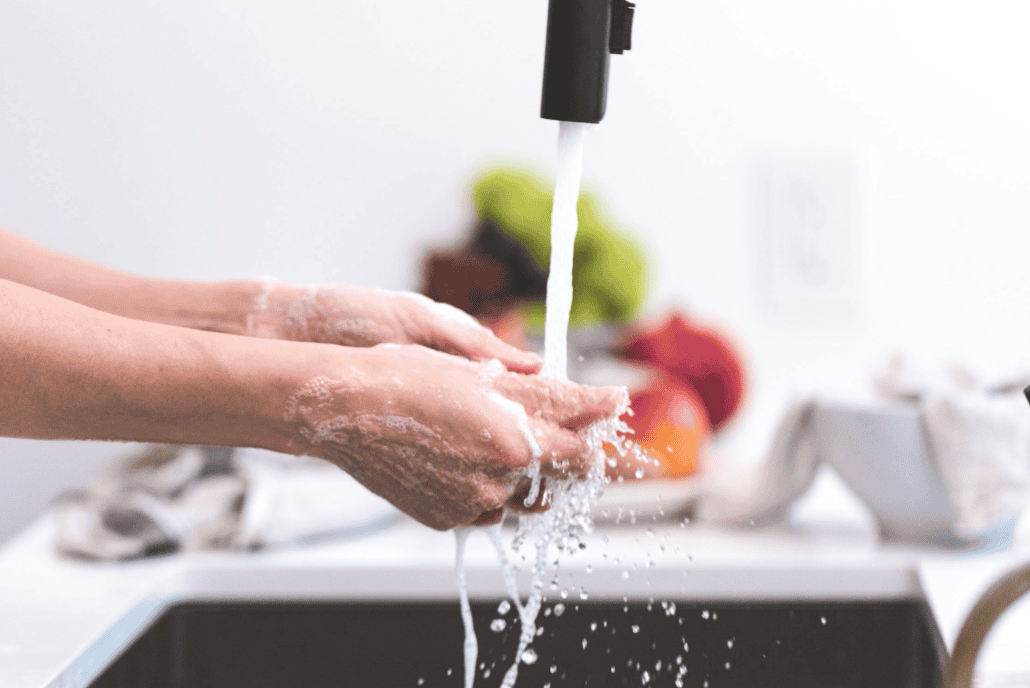 Seriously…why did I wait so long to do this? For years I've either been buying way over-priced safe hand soap or cheap unsafe soap. Those days are over.
This past weekend, I used three simple ingredients to make my own non-toxic foaming hand wash. It is the perfect consistency, smell, and price! Read on to find out:
why regular hand soap is unsafe
what supplies you'll need to make your own non-toxic foaming hand soap
how to make non-toxic foaming hand soap in about 5 minutes
and how much money I saved!
What Makes Regular Hand Soap Unsafe?
From commons allergens and skin irritants to chemicals that are known to cause brain damage in rats, most soap on store shelves is full of ingredients that can be both harmful to our bodies and our environment.
The great thing about my non-toxic foaming hand soap "recipe" below is that you don't have to worry about exposing you and your family to any of the unsafe chemicals in store-bought soaps ever again!
Supplies You'll Need To Make Your Own Hand Soap
You'll need three simple ingredients (only 2 if you don't want scented soap) plus foaming soap dispensers.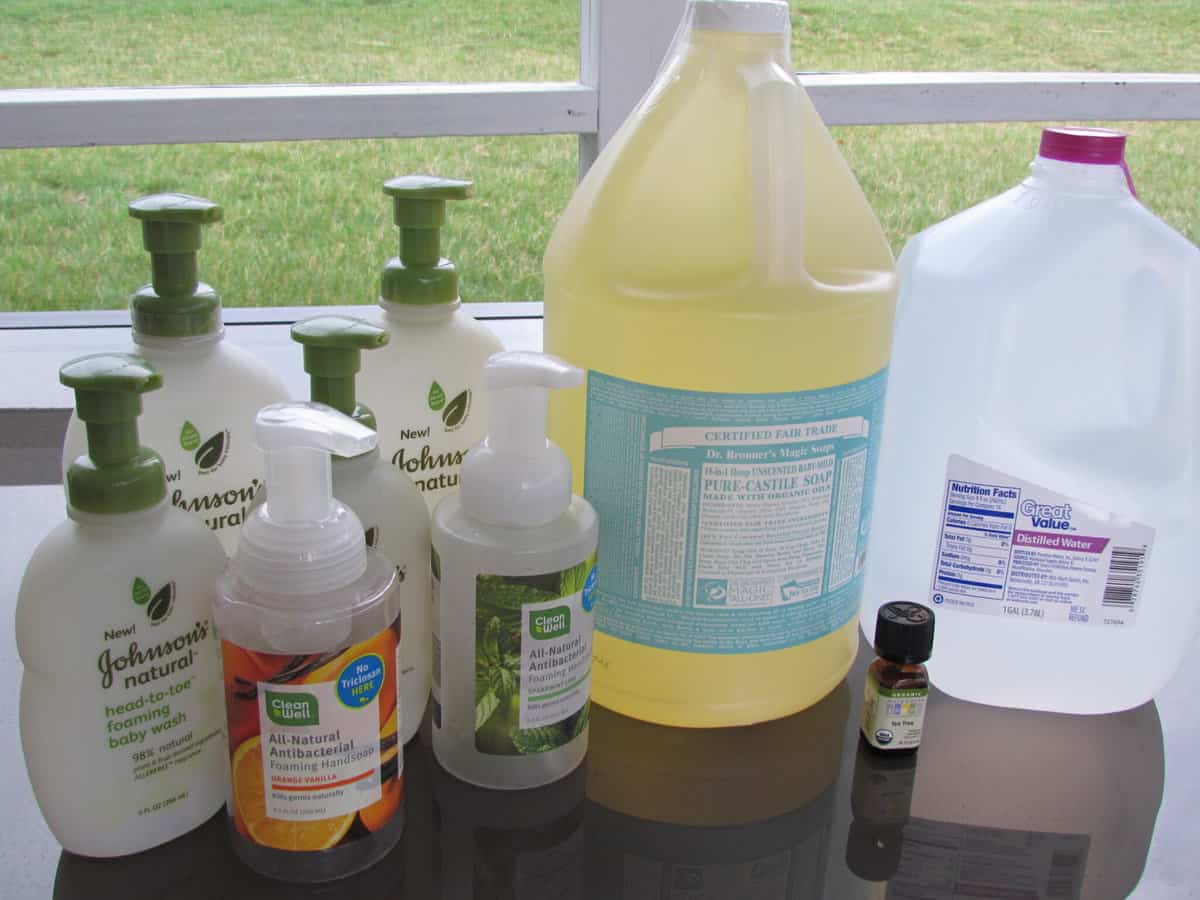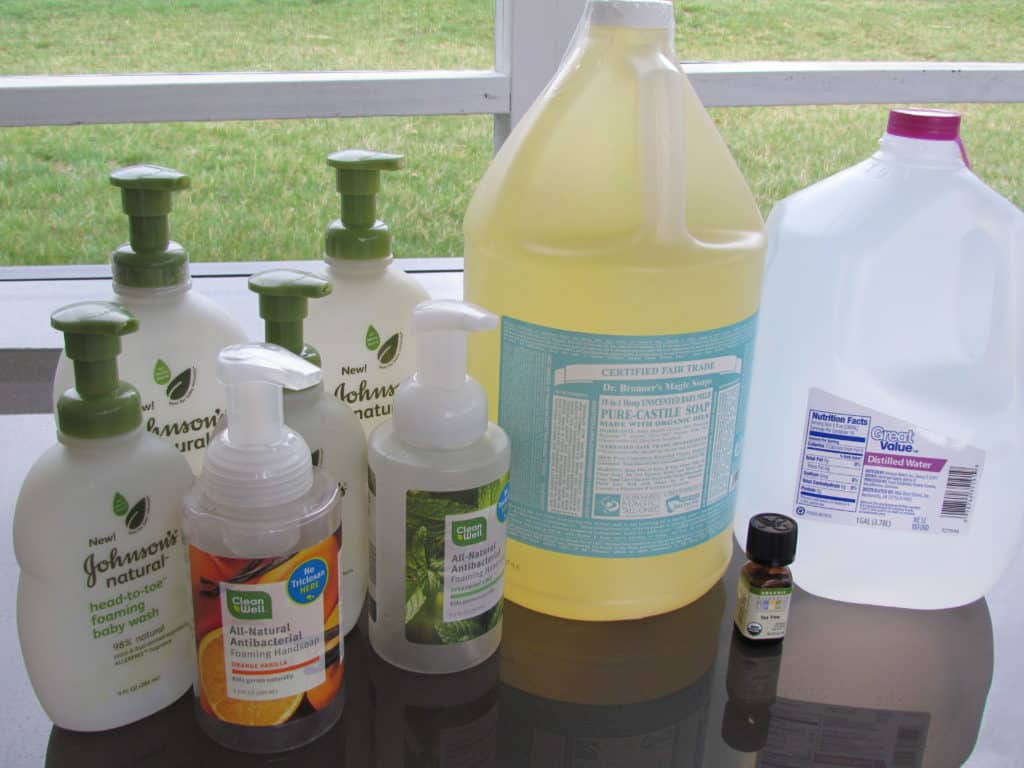 The supplies I recommend using are an upfront investment but will save you money in the long run, as you'll see at the end of this post.
1 – Distilled or purified water – About $1/gallon at Walmart in bottled water aisle. This kind of water has had many of it's impurities removed.
2 – Dr. Bronner – Castille Soap, liquid – I bought the unscented, mild formula since I figured it is the gentlest on our skin, and we are using it on our kids in the tub. Check out how simple and recognizable the ingredient list is: Water, Saponified Organic Coconut & Olive oils (w/ retained Glycerin), Organic Hemp Oil, Organic Jojoba Oil, Citric Acid, Vitamin E.
3 – Optional: Tea tree oil (or your favorite essential oil) – Tea tree oil not only adds a fresh, clean scent, but it also lends natural anti-bacterial qualities to the soap.
4 – Foaming Soap Dispensers – I just used empty ones I had previously purchased.
5 – Optional: A funnel – You don't have to have one, but it helps cut down on potential mess.
How to Make Non-Toxic Foaming Hand Soap
Step 1: Pour enough castile soap in bottle to fill it about 1/5 of the way full. For a 9 oz bottle, I put in roughly 2 fl oz. I just eye-balled it.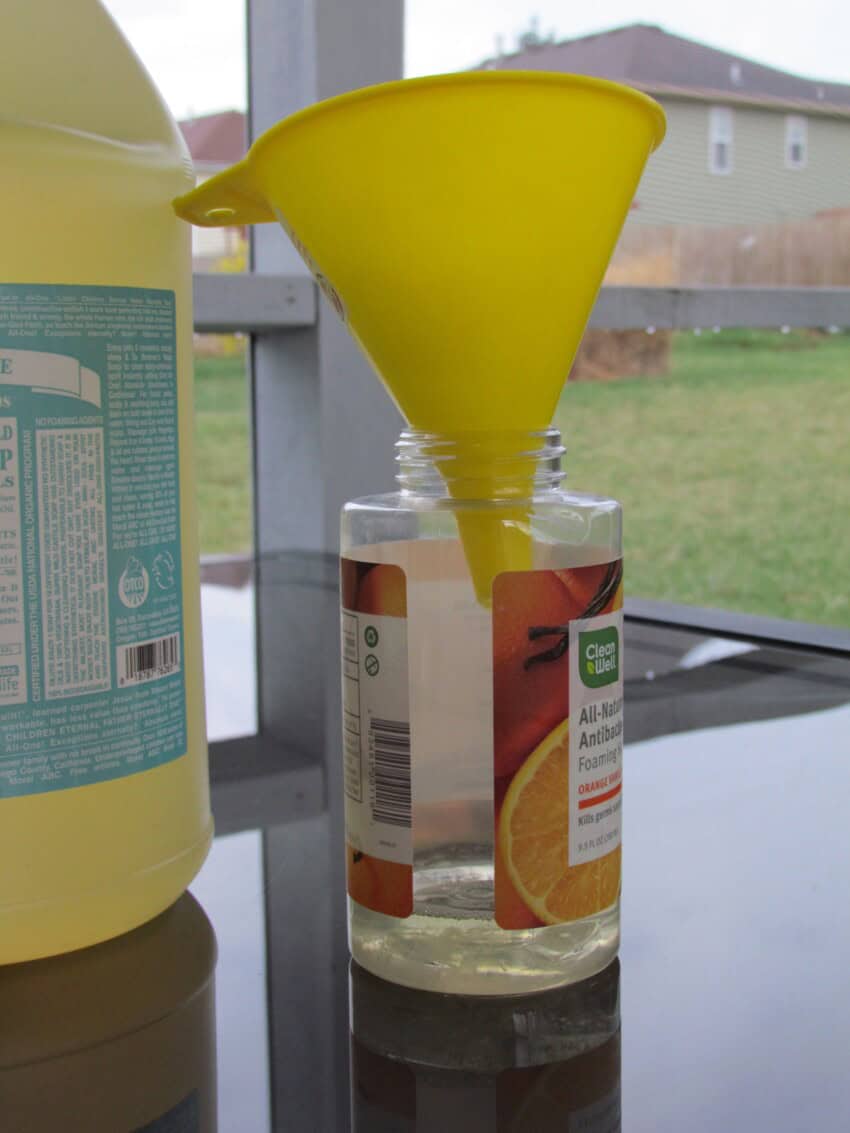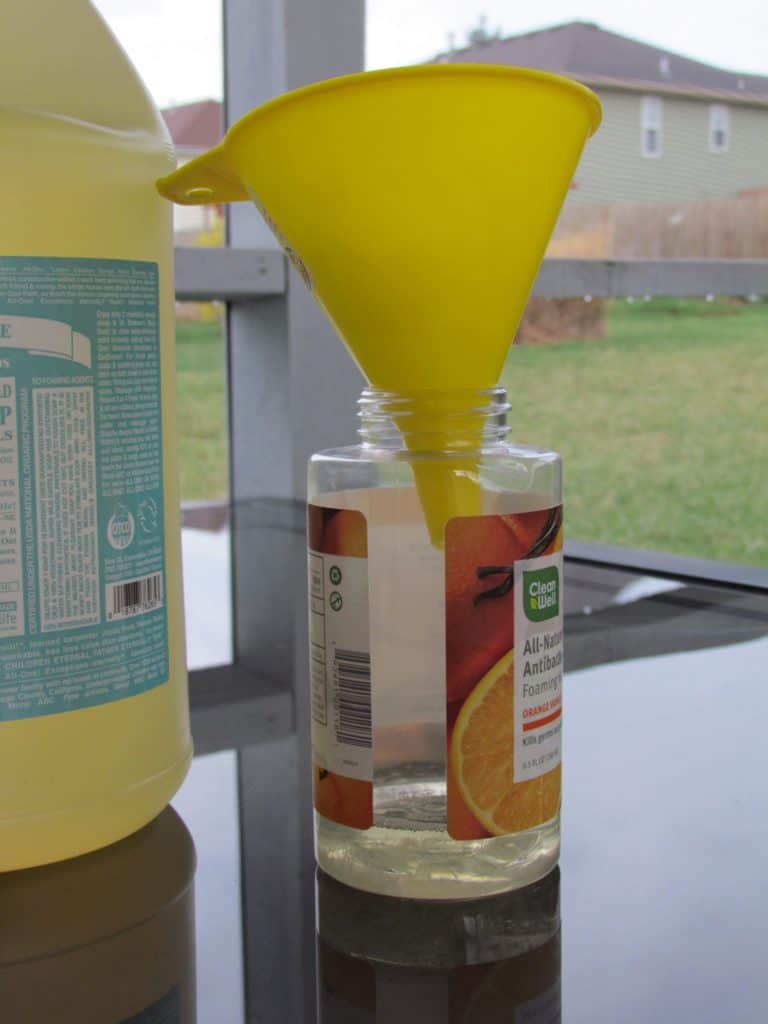 Step 2: Fill the rest of the bottle to the fill line or almost to the top with the water.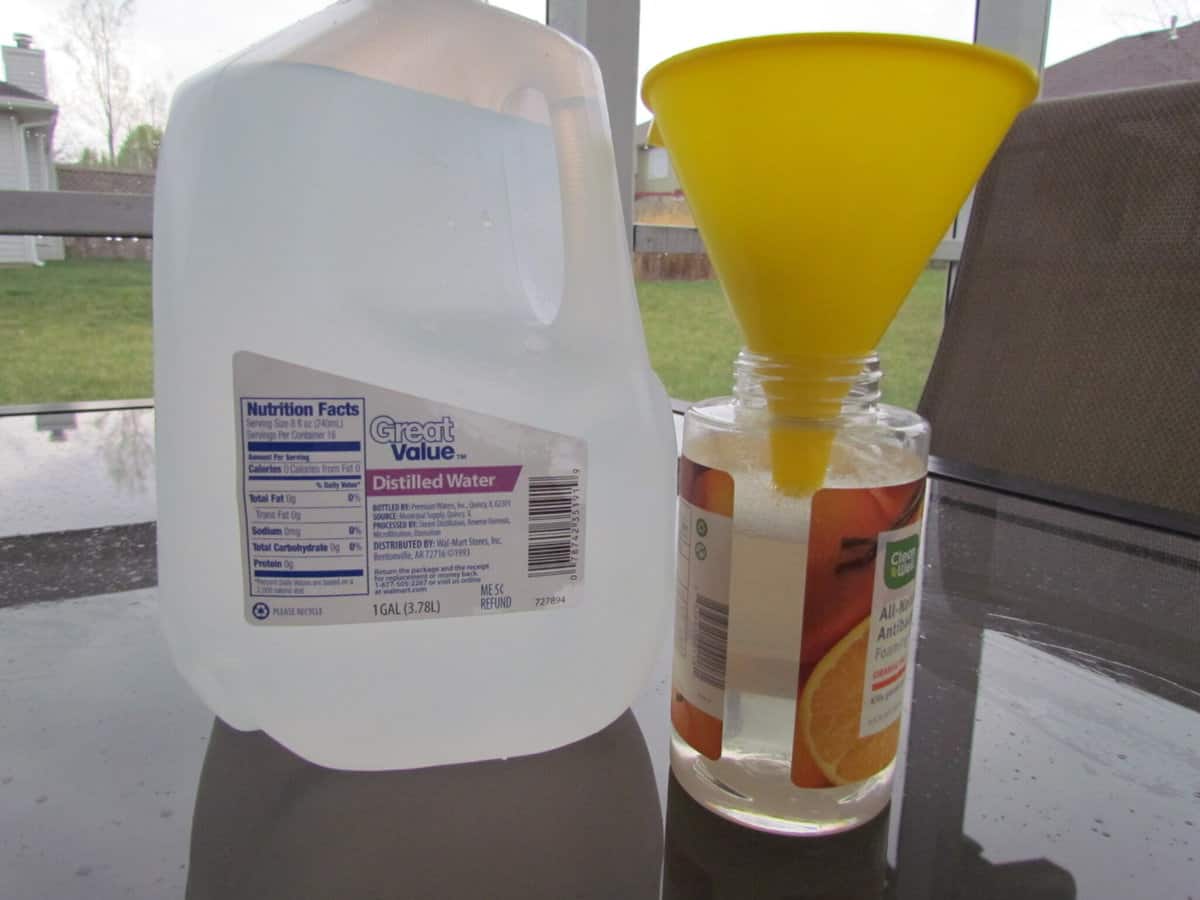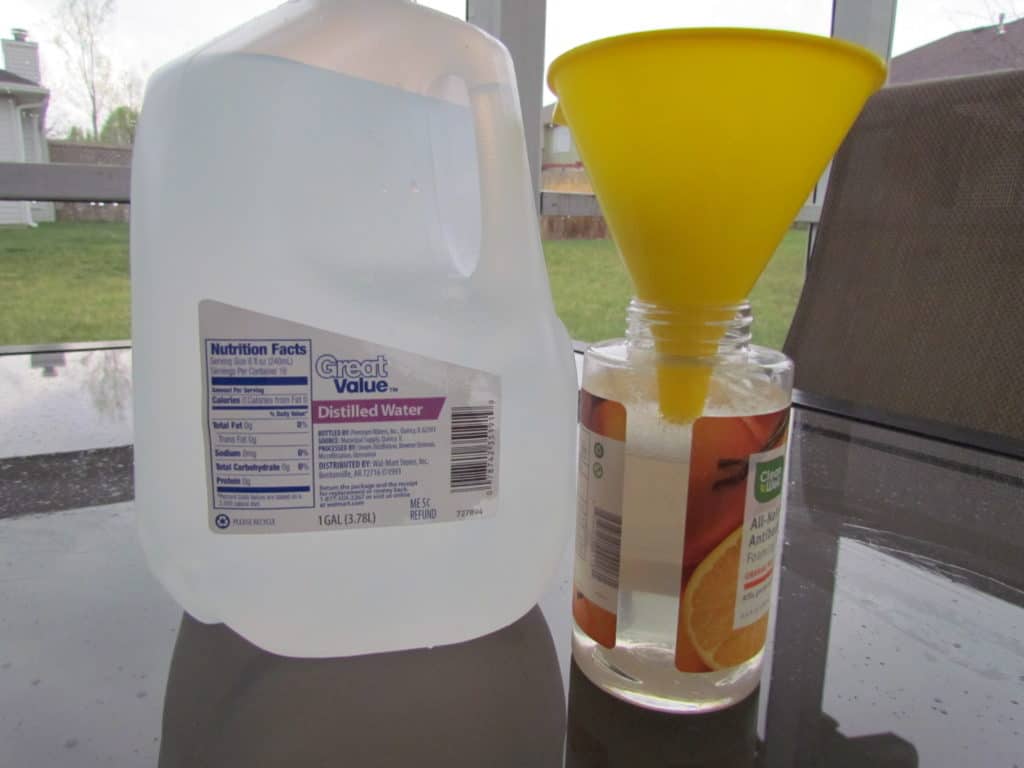 Step 3: Add 1-2 drops of tea tree oil (or your favorite essential oil). Don't go too crazy, though, since it has a strong scent. Note: If you have sensitive skin, you may want to skip this step.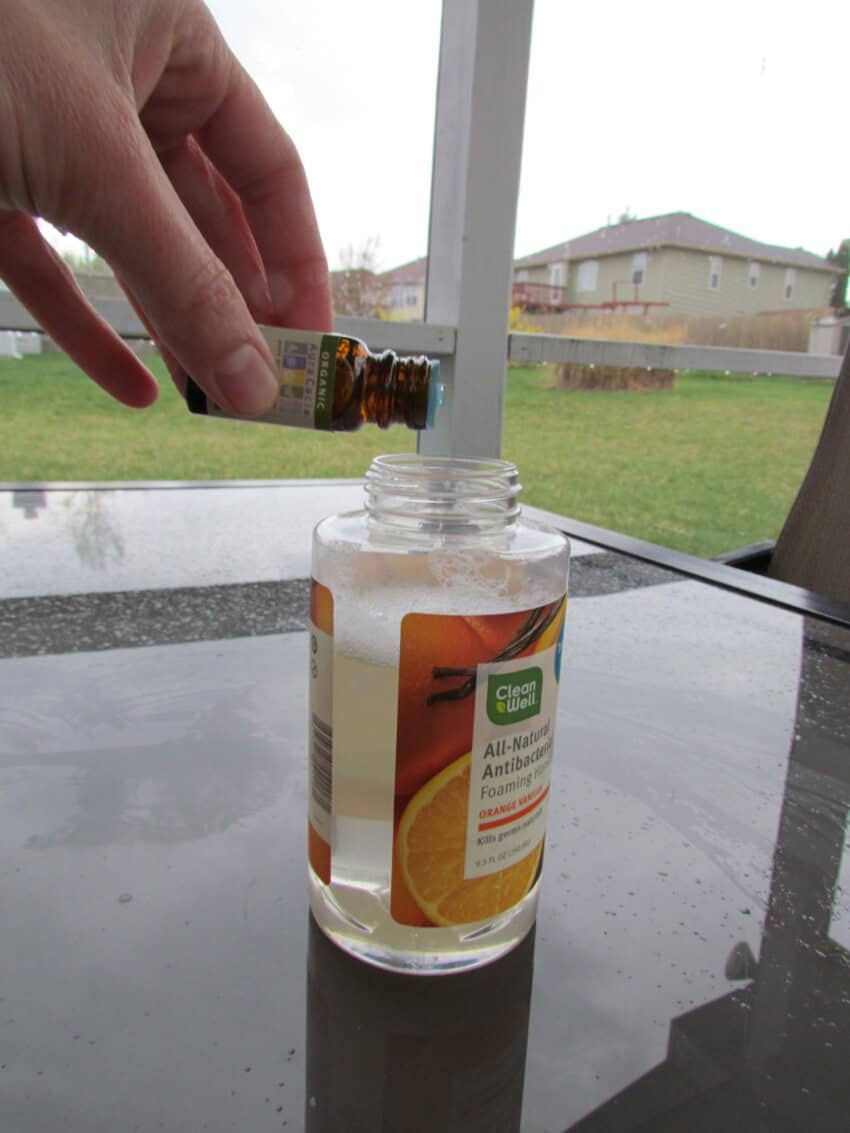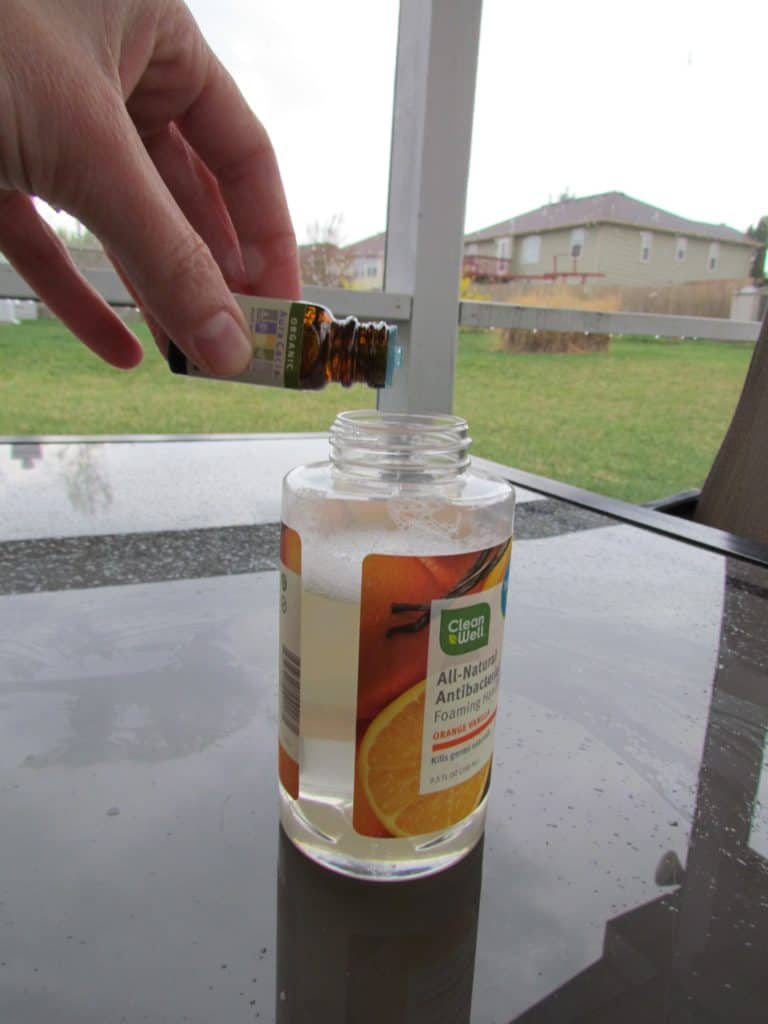 Step 4: Screw on the lid and give a little shake.
Step 5: Wash hands and enjoy the fresh smell and feel of clean hands!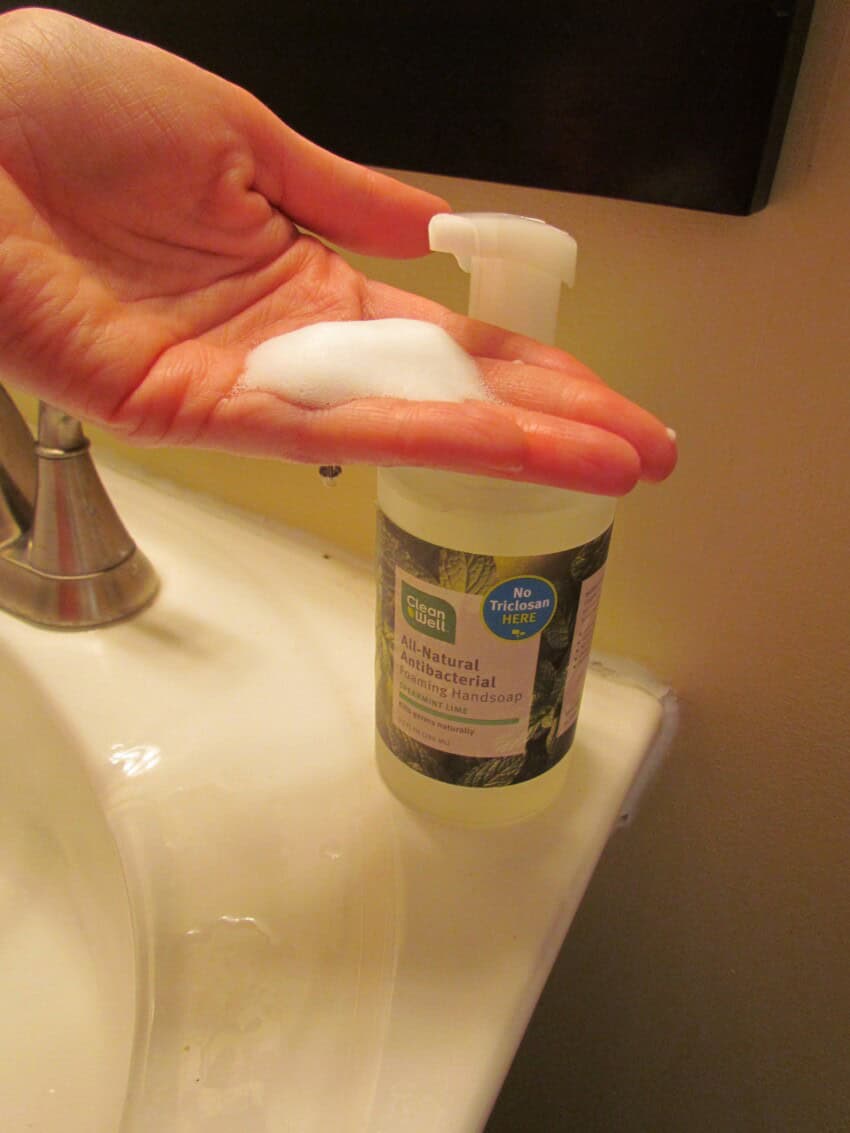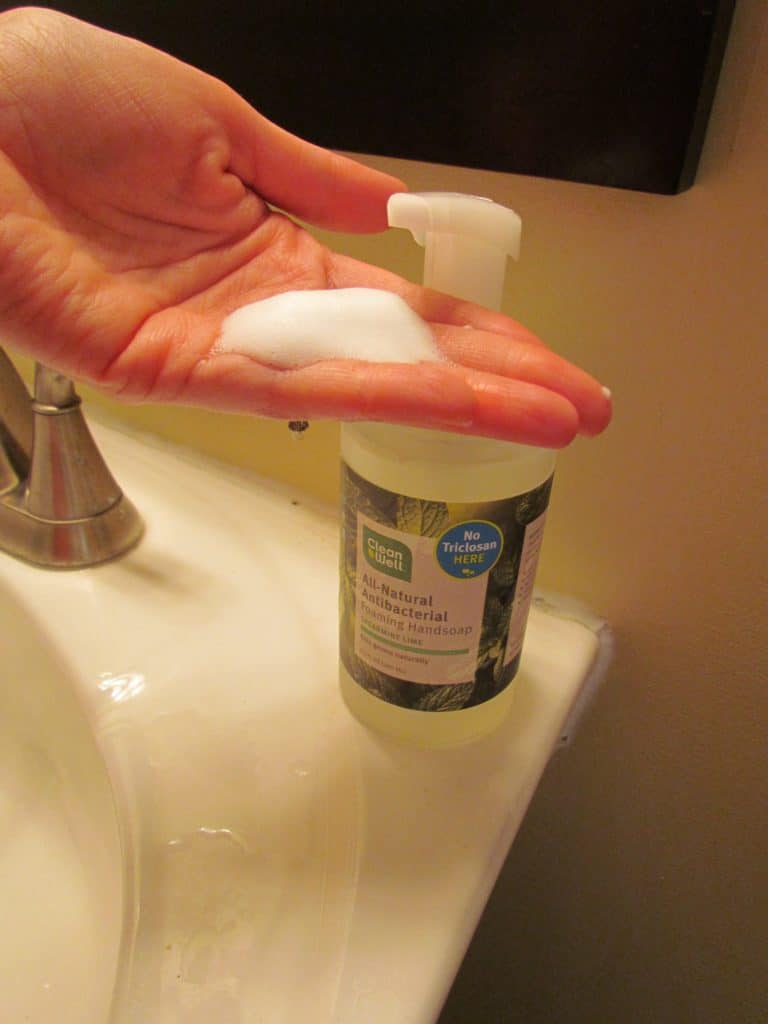 How Much Money Did I Save on My Foaming Hand Soap?
Here are my finished products–six dispensers with a total of 73 fl oz of foaming hand soap–that took about five minutes to make. Want to see how much money I saved?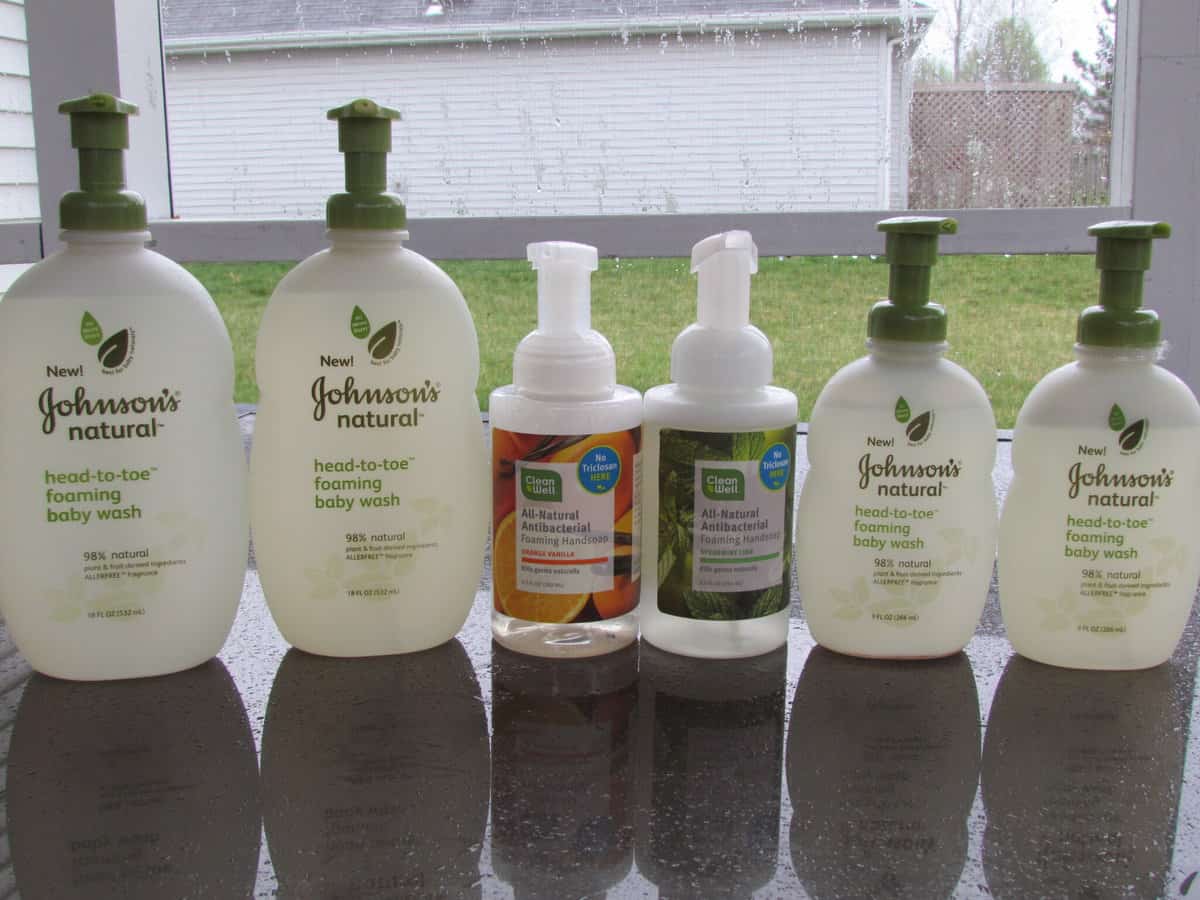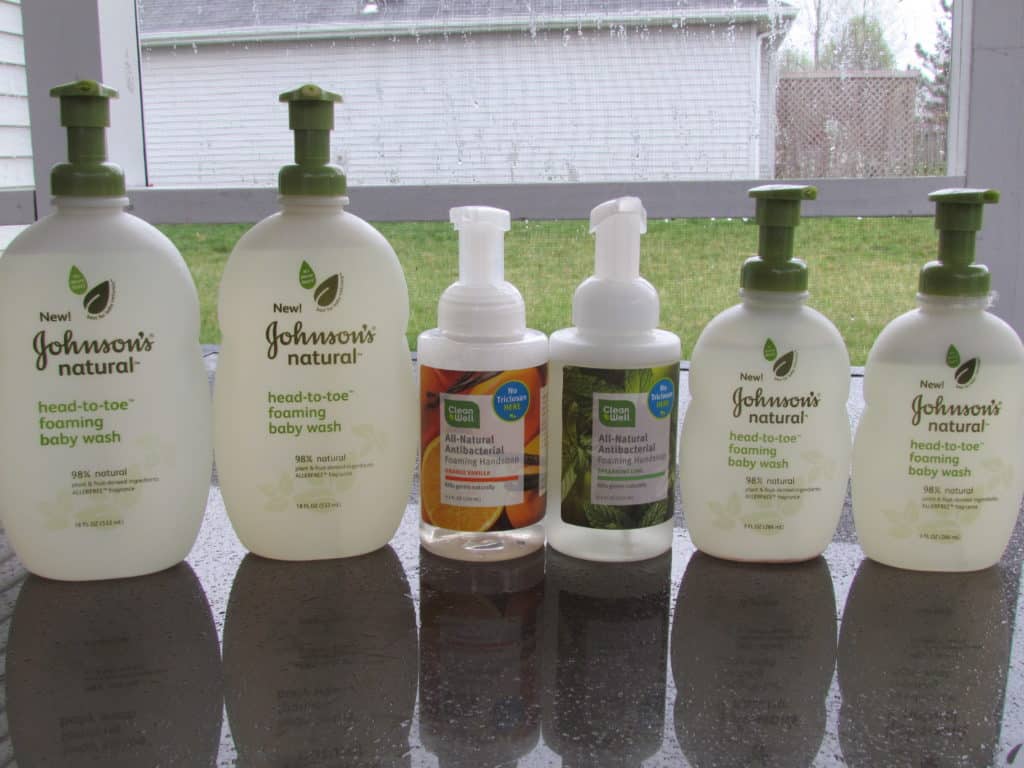 Here's the cost of the original safe store-bought soaps:
Johnson's Baby Natural Wash (9 oz): $4.49 x 2 = $8.98
Johnson's Baby Natural Head-to-toe Wash (18 oz): $7.79 x 2 = $15.58
Clean & Well All Natural Antibacterial Foaming Hand Soap (9.5 oz): $4.33 each x 2 = $8.66
Store-Bought Safe Soap Total = $33.22 ($.46/fl oz)

Here's the cost of my homemade non-toxic foaming hand wash in the same containers:
9 oz containers: $.90 x 2 = $1.80
18 oz containers: $1.55 x 2 = $3.10
9.5 oz containers: $90 x 2 = $1.80
Homemade Non-Toxic Soap Total = $6.70 ($.09/fl oz)
TOTAL SAVINGS BY MAKING MY OWN = $26.52!!!!!!
Like this DIY all-natural household product? Try this thrifty, non-toxic solution that's worked for us…
All-Natural DIY Drano – Naturally unclogs your toilet or any drain with only 2 ingredients!