My Journey Towards Healthier Living
True or False: At my peak weight, I was 25 pounds heavier than I am right now.
True.
True or False: In my last weeks of pregnancy, I weighed only 5 pounds more than I was 8 years ago.
True again.
Check out some of the pictures I dug up the other day. I'm surprised I hadn't thrown them away by this point! These pictures actually inspired this post.
I set them up next to a current picture of me so you could tell the difference.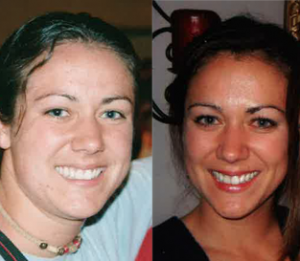 I don't show these to brag or to build up my ego or anything. I show these to (hopefully) inspire others that small changes in lifestyle can make a big difference.
My journey towards healthier living is uneventful. I don't have any weight loss secrets or special diets to recommend. Nope. I did it the hard way. The RIGHT way. Slow and steady. More exercise and better food choices. Nothing you haven't heard before.
It all started when a friend of mine from high school lost a lot of weight through Weight Watchers. She told me about their point system and how it really worked for her. I was intrigued but way too prideful to set foot into a Weight Watchers meeting. Wasn't that for women in their 50's? Months later I found myself looking up their meeting times and decided to sneak into the back of one. I walked away from the meeting signed up for the program and beginning my journey.
Was it humbling to admit to my friends and family that I was doing weight watchers? You bet. But it was also accountability. I would call my mom after each meeting updating her on my loss (or gain) that week. I was officially signed up and doing the Weight Watchers program for probably 4-5 months. It gave me the tools I needed and established some healthy habits that I still do (as best as I can) to this day.
Here are some things I learned in the process:
1) Small things add up, good or bad.
I didn't drastically change my eating habits. I just made small changes. I added more veggies to my plate, said no to a second roll, ate half of my piece of cake, chose balsamic instead of ranch, drank water instead of orange juice, etc. All these little things that I didn't think made a difference in my health really added up!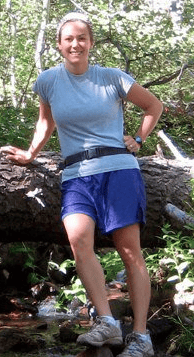 2) I made exercise a priority.
On the weight watchers point system, more exercise meant I could eat more. That was motivation for me! If I knew I was going out to dinner or to an event where I would want to indulge a bit, I would make sure I got a good run in or something to earn me some flexibility. I found ways to sneak exercise into my day. I joined a gym and sacrificed downtime and sleeping in to be there.  I for sure took days off but slowly, this habit became a norm and continues to be one in my life today.
3) Living a healthy lifestyle is not easy.
If it were easy, everyone would be in perfect physical condition! It takes discipline to say no to cravings or unhealthy foods that I was used to eating. I had to say no to things I really wanted! That is hard to do when you aren't used to it. It took (and still takes) tons of discipline to work out and stay active. It takes planning and research. If I knew I had a high calorie evening coming up, I would be careful to eat a healthy lunch and breakfast. I sometimes looked at menus online before I would go to the restaurant. I would pack lunches or find a way to swing by home to eat rather than eating out. I researched foods before I would eat them to find out what they actually contained. It took consistency. Many times before, I would try to make changes in my life but they would be short lived. It was only when my choices remained consistent that I began to see results.
4 ) You'll never be exactly the size you want to be.
It's part of our curse as woman- dissatisfaction. I remember when I had gotten down to a healthy size and weight and I had the thought, "You know, I could try to lose more." But after some more reflection (and probably the Holy Spirit's intervention), I realized I didn't need to. It wouldn't be healthy to lose more. Ladies, it's so easy to make our appearance our identity. It's easy to find pride in it or to be ashamed by it. I, like many other women out there, constantly walk the fine line of striving to live healthy verses striving to LOOK healthy for the approval and praise of others. I have to constantly remind myself that satisfaction and joy will never be found in my appearance– no matter what I look like. We are to be good stewards of the bodies that God gave us and part of that call is taking care of it without worshiping it. It's a battle- every day.
As I wrap up this post, I am currently finishing off a chocolate chip cookie. I enjoy cookies. I love dessert. I love food. God made our bodies to need it in order to point us to our daily need of him. Don't make food and calories your enemy. They are good things. Like most women, my weight has fluctuated over the years but I try not to focus on the numbers but on the tools and habits that help me to live a healthy lifestyle.
https://thrivinghomeblog.com/wp-content/uploads/2019/10/thrivinglogo.png
0
0
Polly Conner
https://thrivinghomeblog.com/wp-content/uploads/2019/10/thrivinglogo.png
Polly Conner
2012-04-16 05:42:14
2020-01-05 16:05:27
My Journey Towards Healthier Living