Slow Cooker Whole Chicken and Veggies
This post may contain affiliate or sponsored links. Please read our disclosure policy.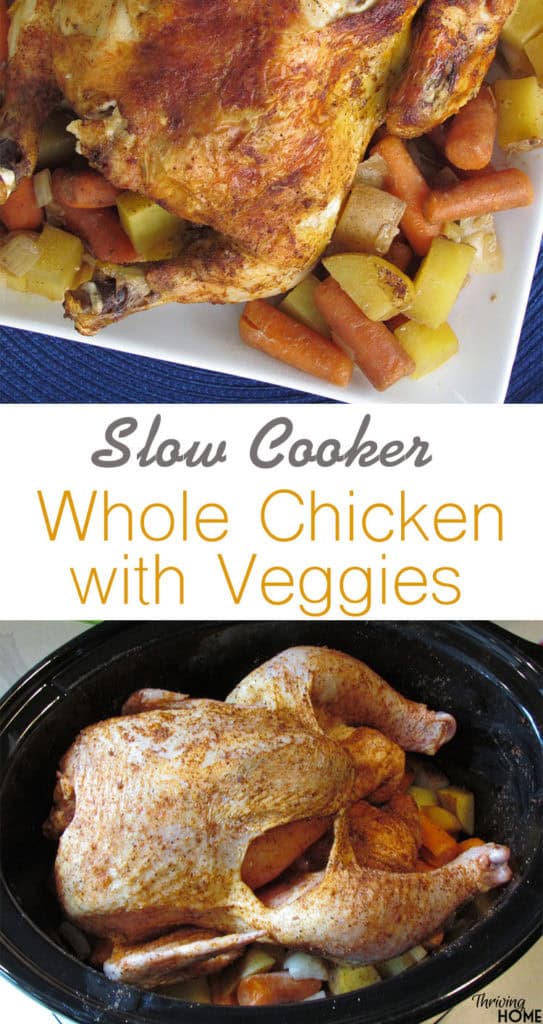 Between baseball games, multiple school drop offs and pick ups, working two part-time jobs, and pretending to keep up with laundry…I am ALL ABOUT my slow cooker these days.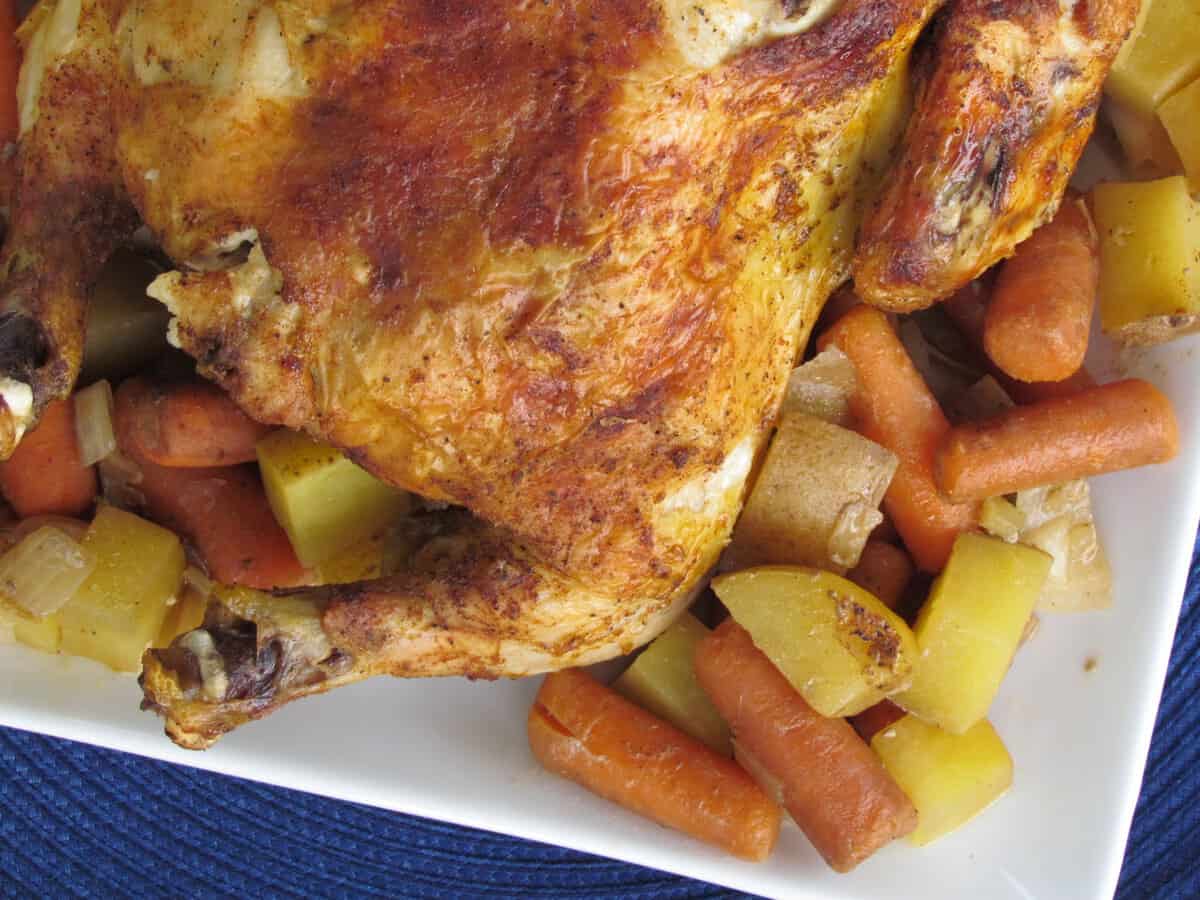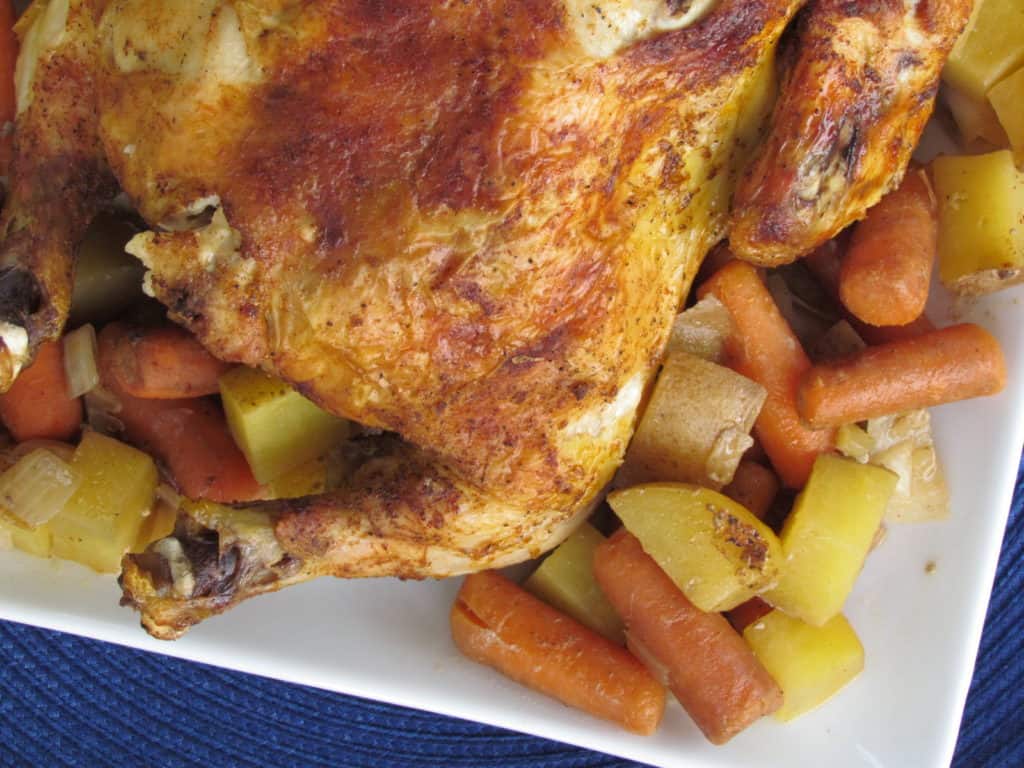 The best meals we have at this life stage tend to be ones that require opening the slow cooker lid (and maybe adding a quick veggie, fruit, and some sort of quick starch to the table) at 5 p.m. That's because I can enjoy my family during the dinner prep hour instead of getting frustrated at interruptions.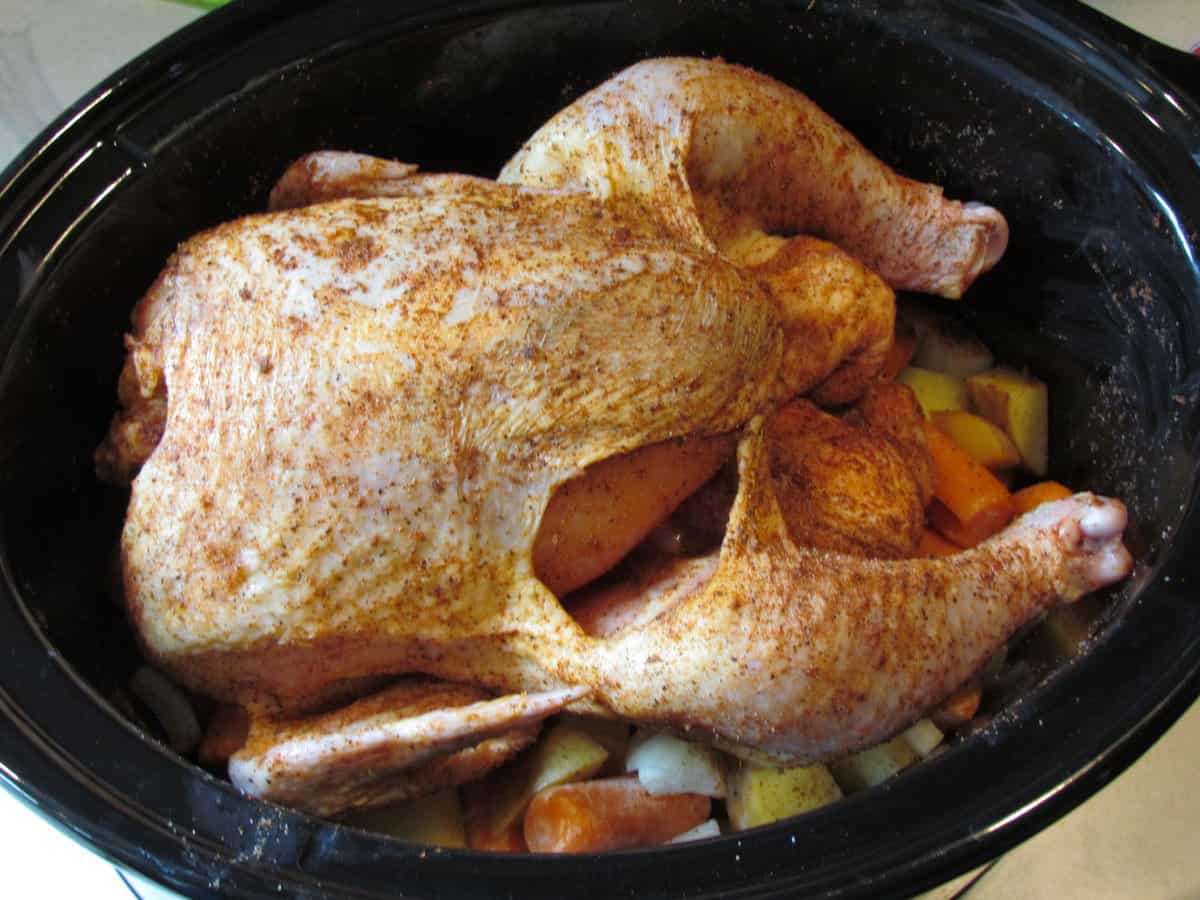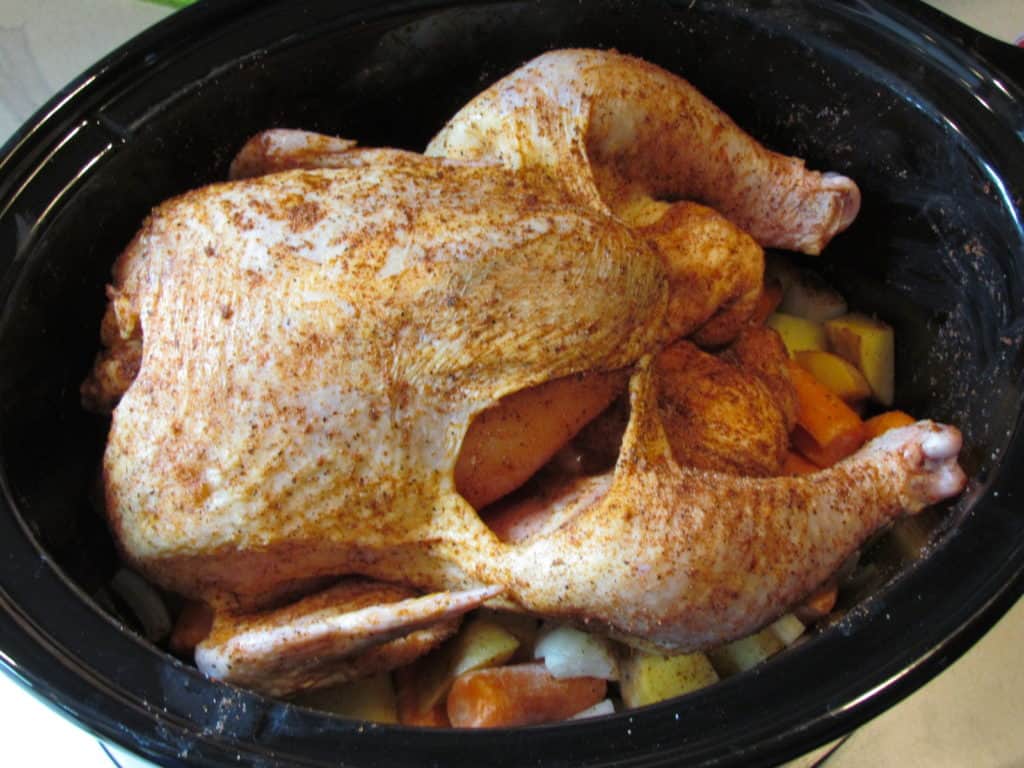 One of my family's favorite meals over the years is this older Roasted Chicken with Veggies recipe. It's to die for. Plus, whole chicken is one of the cheapest ways to enjoy chicken, especially when you try to buy the organic birds like I do. But, because of my infatuation with the slow cooker, I began researching what it takes to "set it and forget it". Last night, I gave Slow Cooker Whole Chicken and Veggies a shot.
The chicken came out perfectly moist and flavorful! And the veggies were a bonus, as well. I tried a simple method of generously seasoning the chicken inside and out based on advice from Gimme Some Oven's similar recipe, which took no time at all. And, the chicken juices made a nice sauce for the veggies, too. I can't wait to try my original Roasted Chicken recipe with lemon, rosemary, and garlic in the slow cooker, too.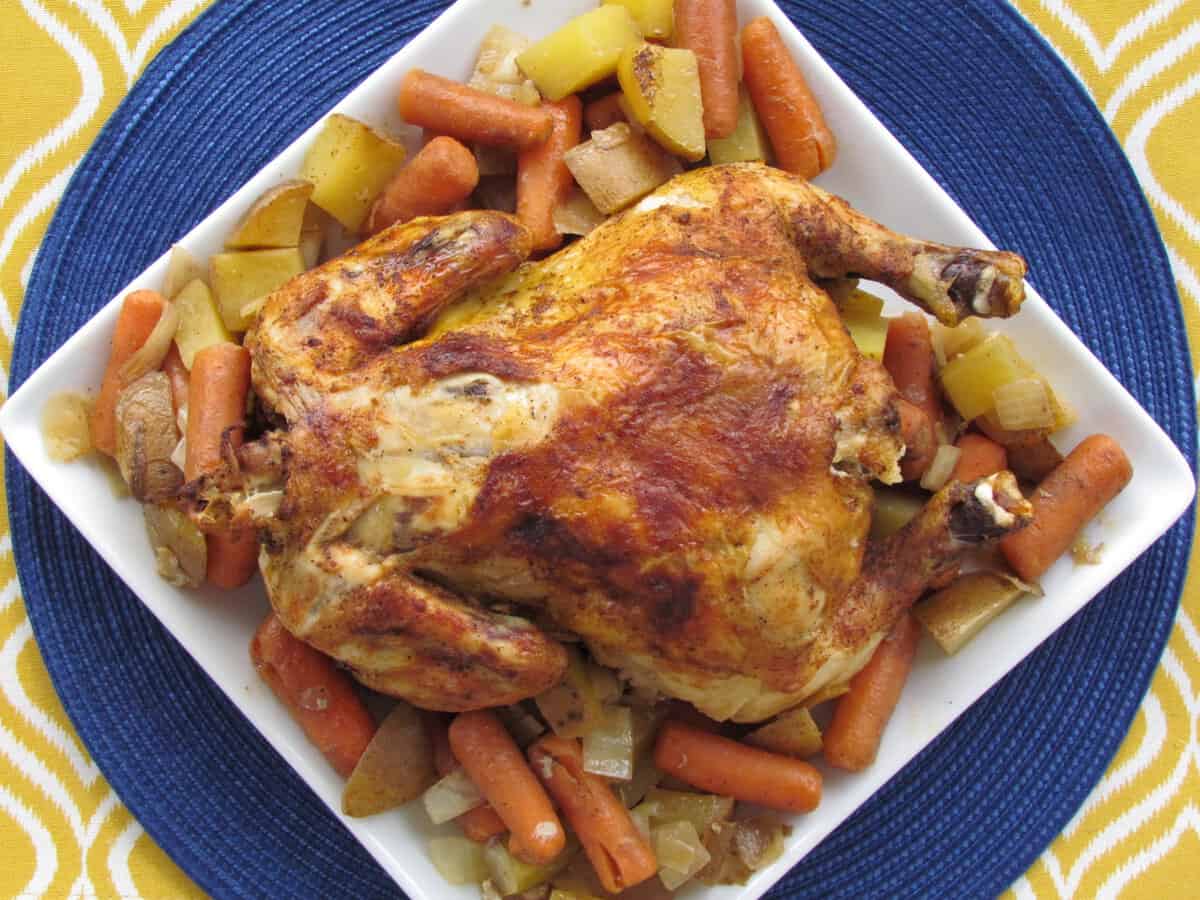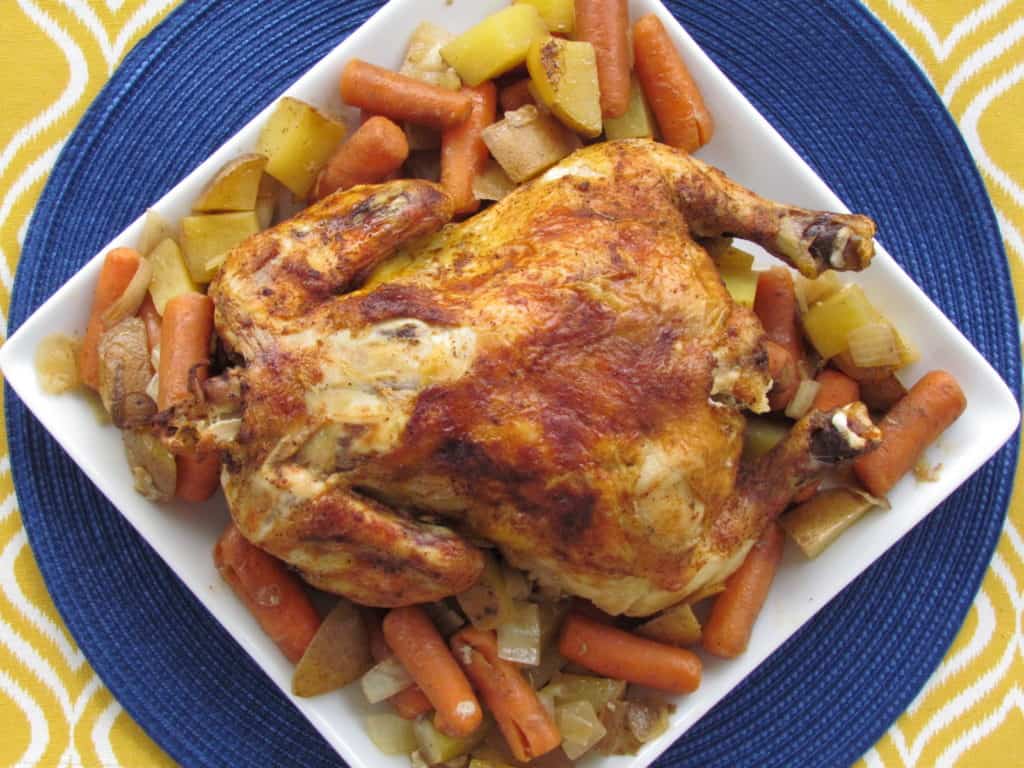 Now, one thing to note is that the Slow Cooker Whole Chicken does not come out with a nice browned crust like it does in the oven. So, I went ahead and broiled it in the oven for a few minutes at the end to get that texture on the outside. You can certainly skip this step, though.
Happy weeknight dinner to you!
Did you make this? Snap a photo and tag us on Instagram at @thrivinghome so we can see your creations and cheer you on!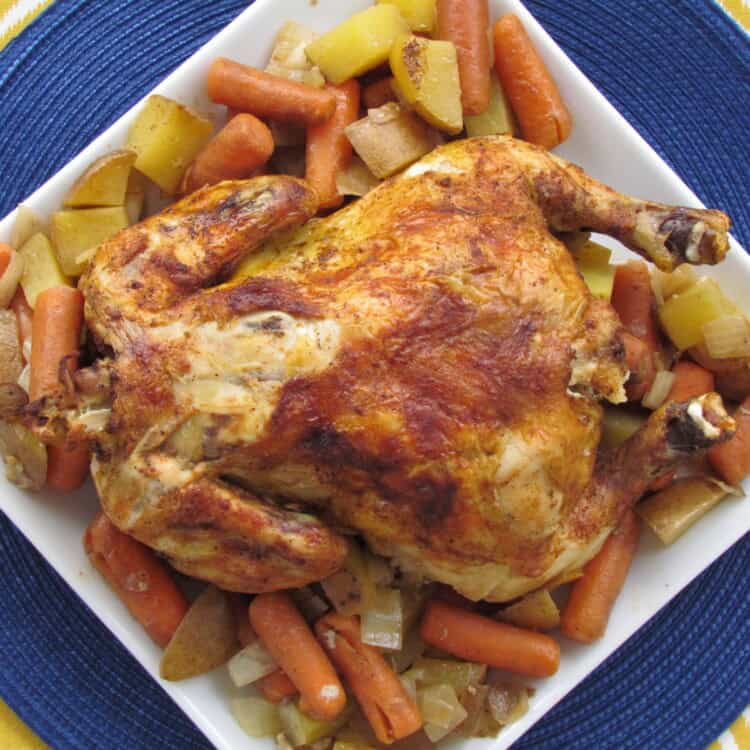 Slow Cooker Whole Chicken and Veggies
An easy and healthy weeknight dinner that can stretch a buck. Put this one on your repeat list.
Prep:
15 minutes
Cook:
6 hours
Total:
6 hours 15 minutes
Ingredients
1

whole chicken (

3

–

5

pounds)

1 tablespoon

smoked paprika

1/4 teaspoon

cayenne pepper (increase for more heat)

2 teaspoons

salt

1 teaspoon

pepper

1 teaspoon

garlic powder

1/2 teaspoon

onion powder

2

–

3

medium yukon gold potatoes, diced

2

cups

carrots, diced

1/2

medium onion, finely diced
Before You Begin! If you make this, please leave a review and rating letting us know how you liked this recipe! This helps our business thrive & continue providing free recipes.
Instructions
In a small bowl, combine the paprika, cayenne, salt, pepper, garlic powder, and onion powder.
Place the vegetables in the bottom of a large (6 quart) slow cooker.
Remove the neck and other parts of the chicken that are inside the cavity. (Be brave!) 

Place the chicken, breast side down, in slow cooker. 

Rub the spice mix all over the bird, inside and out. Wash your hands well.

Cover and cook on low for 4-6 hours, until chicken is cooked through. (Chicken is done when it registers 165°F  near the inner thigh, between the leg and breast.)

OPTIONAL: To get a crispy skin, remove the chicken from the crock at the very end of the cooking time and place in a baking dish. Place under a preheated broiler for about 3-5 minutes. Keep a close eye on it so the chicken doesn't burn.
Let rest for 10 minutes before carving. (I recommend carving on a large wooden chopping board.)
Bonus: Save all the bones and leftover juices (and even the neck!) to make bone broth in your slow cooker. Throw all the bones/leftover juice, along with some onion, celery, carrots, and a bay leaf back into the crock. Set to LOW and let cook overnight. Strain out the vegetables and bones. Cool and freeze the broth for later use.
---
Notes/Tips
To ensure that the vegetables cook evenly, be sure to dice them the same size. I would also suggest cutting them smaller than I did in this picture! My carrots were still a bit too crunchy, but the potatoes were perfect.