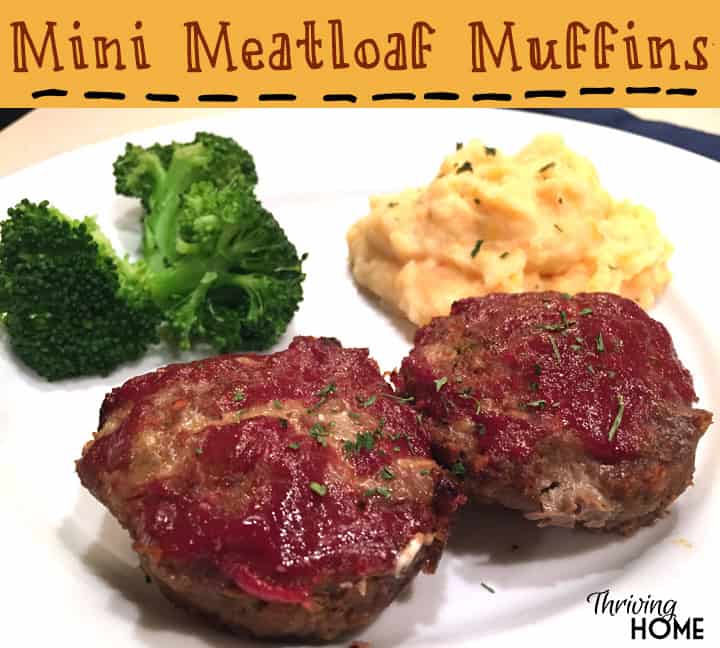 These Mini Meatloaf Muffins are a newer recipe that has already made it's way into the regular rotation of family meals in our house. Everyone loved them! Plus, they have some sneaky nutrition in them with some added fresh herbs and veggies.
I serve these with a combination of mashed Yukon Gold potatoes and sweet potatoes and some steamed broccoli or green beans. As with so many of our recipes, you can make a double batch and freeze a muffin pan for later (before baking), too.
Mini Meatloaf Muffins
Serves:
Makes: 12 meatloaf muffins or 4-6 servings
Ingredients
1 tablespoon olive oil
½ medium onion (about ⅓ cup), finely diced
one small carrot (about ⅓ cup), finely diced or grated
1-2 garlic cloves, minced
¾ teaspoons kosher salt
¼ teaspoon freshly ground black pepper
¼ cup chicken stock
1 tablespoons Worcestershire sauce
1 tablespoons tomato paste
1¼ pounds lean ground beef (preferably grass-fed) or ground turkey
2 tablespoons fresh parsley, minced (plus more for garnish, if you'd like)
1 extra-large eggs, beaten with a splash of milk
1 cup whole wheat bread crumbs or almond meal (gluten-free option; I often do a mix of the two)
½ cup all-natural ketchup (for topping)
Instructions
1) Preheat oven to 450 degrees F.
2) Heat olive oil in a medium sauce pan over medium heat. Cook the onion, carrot, garlic, salt, and pepper until vegetables are softened, about 3-4 minutes.
3) Add the chicken stock, Worcestershire sauce, and tomato paste. Mix well. Remove from heat and allow to cool to the touch.
Cooking Note: You can skip Step 2 and 3 if you don't want to precook the onions and carrots, but I find that the muffins have a better texture in the end if you do. If you decide to skip those steps, simply mix all of those ingredients into the meat mixture in Step 4.
4) In a large bowl, use your hands to combine the cooled veggie mixture, ground beef, parsley , egg, and bread crumbs. Do not over mix. Wash up.
5) Next, generously grease a 12 hole muffin tin with baking spray. Use an ice cream scoop to help fill meat evenly into each tin. Gently press to fit into muffin tin mold.
6) Top each mini meat loaf with a spoonful of ketchup.
7) Bake about 20 minutes. Cut open a muffin to test that the middle is cooked through (no more pink). Sprinkle with a little chopped parsley at the end, as garnish.
Freezer Meal Instructions:
To freeze: Follow instructions through Step #6, but DO NOT bake. Then, wrap the muffin tin well with plastic wrap and a layer of foil and freeze.
To prepare: Thaw in the refrigerator for 24-48 hours. Set muffin tin out on the counter for about 20 minutes before baking. Bake according to directions, but increase baking time if muffins are still partially frozen or really cold. They should be 160 degrees F internally when done.
You might also like...