This post may contain affiliate or sponsored links. Please read our disclosure policy.
Indulge in the irresistible combination of crunchy Oreo cookies enveloped in smooth white chocolate! These delectable Chocolate Covered Oreos are the ultimate treat for any occasion. Whether you're hosting a party, celebrating a special event, or simply craving a sweet delight, these heavenly confections will satisfy your chocolate cravings in the most delightful way.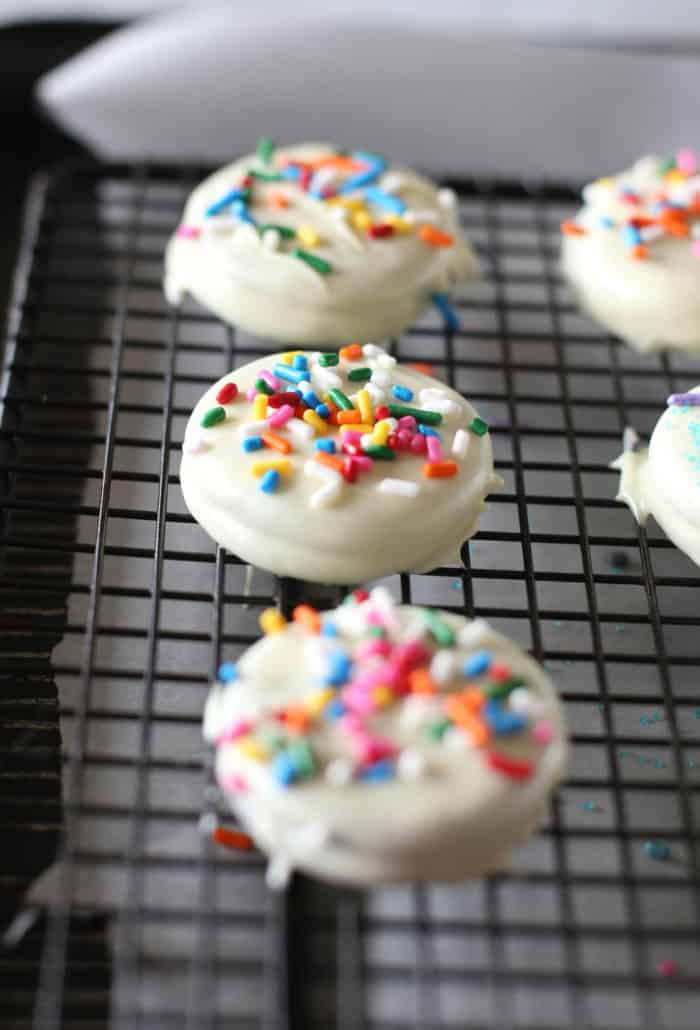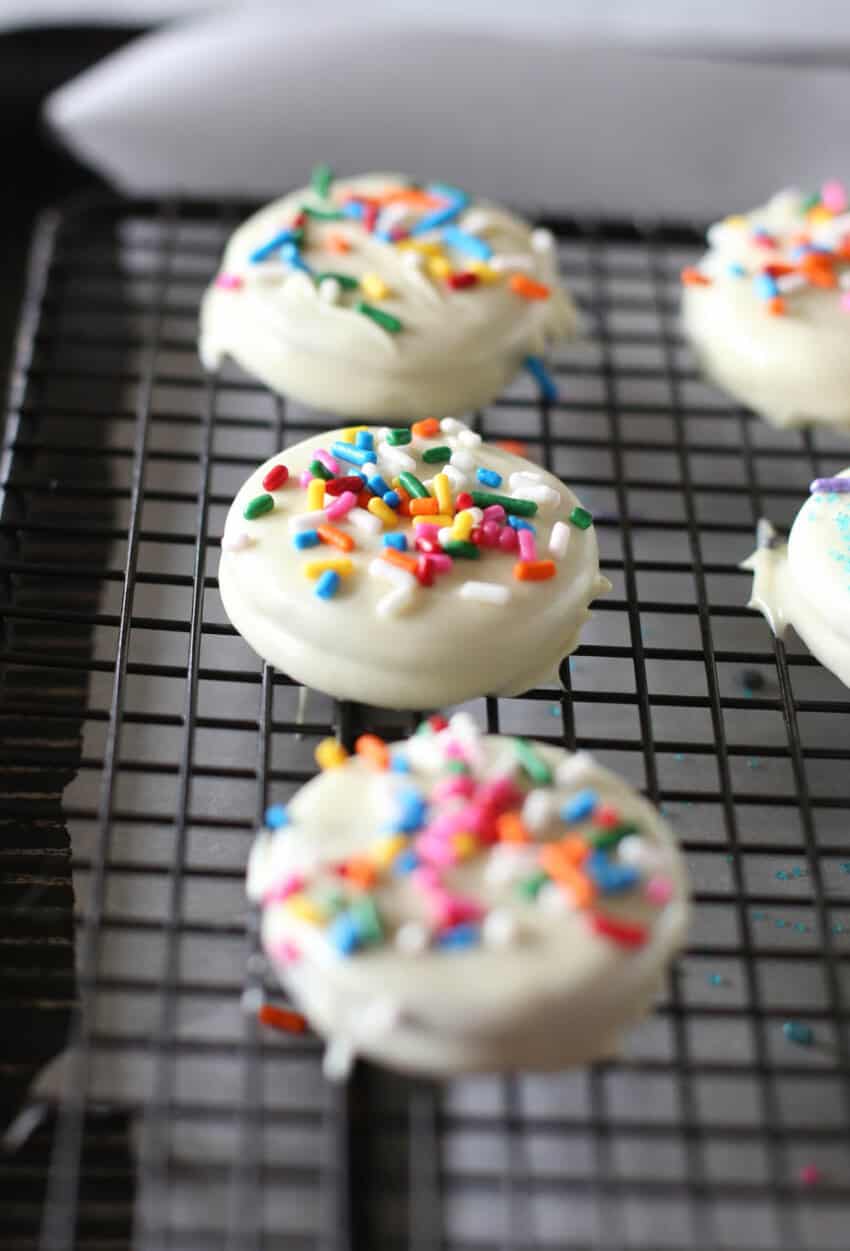 "How fun! I love the idea of dressing these up for different seasons. ⭐️⭐️⭐️⭐️⭐️" -Louise
Ingredients Needed
The ingredients needed are SO simple. You can mix up the sprinkles based on the holiday or occasion you are making this dessert recipe for.
Oreos – Off-brand will totally work!
White chocolate – Any form will work. It will all be melted down.
Sprinkles – This is where you can have fun with them! If you are making these for a Birthday Dinner or holiday meal you can customize them.
How to Make Chocolate Covered Oreos
Melt Your White Chocolate
I used about 8 ounces of white chocolate to make about 15 cookies.
The first step is to melt down the chocolate. I have a double boiler for this task but if you don't have one of those, microwave it in 30 second increments, stirring in between will do the trick.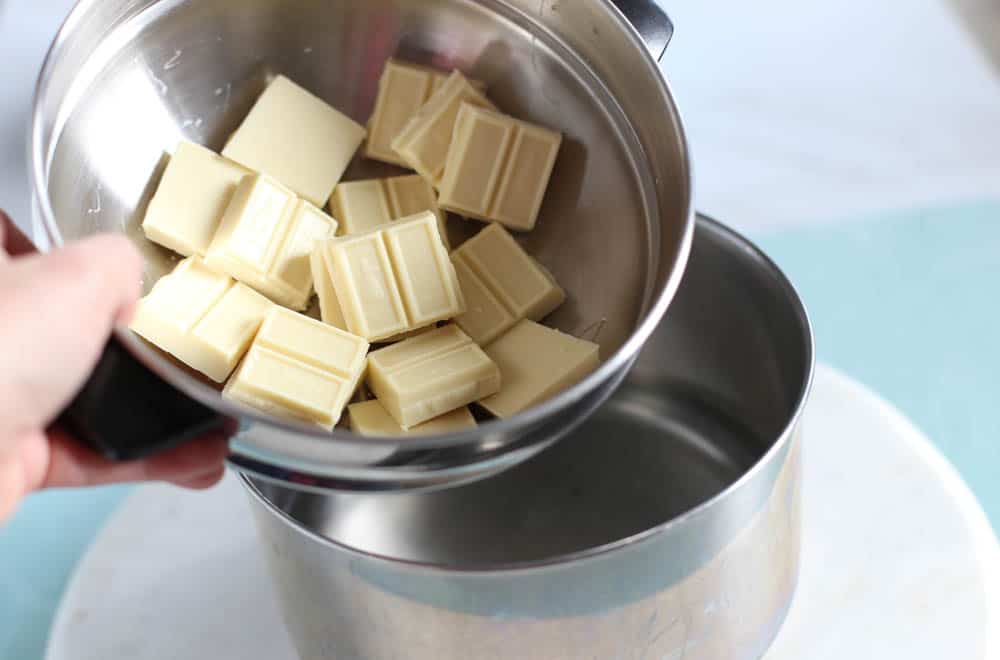 Coat Your Oreo with Chocolate
How you do this is a matter of preference. I like getting chocolate all over my Oreo.
I have also done just the half dip into the chocolate as well.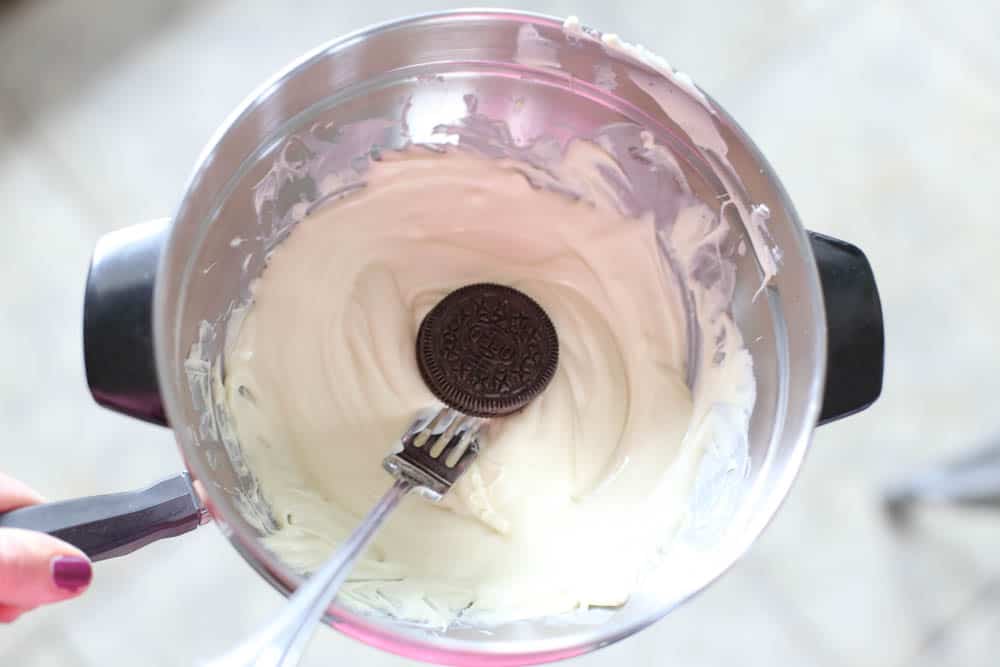 After the cookie goes for a swim in the chocolate, lay them out on either a baking rack or flat onto parchment paper.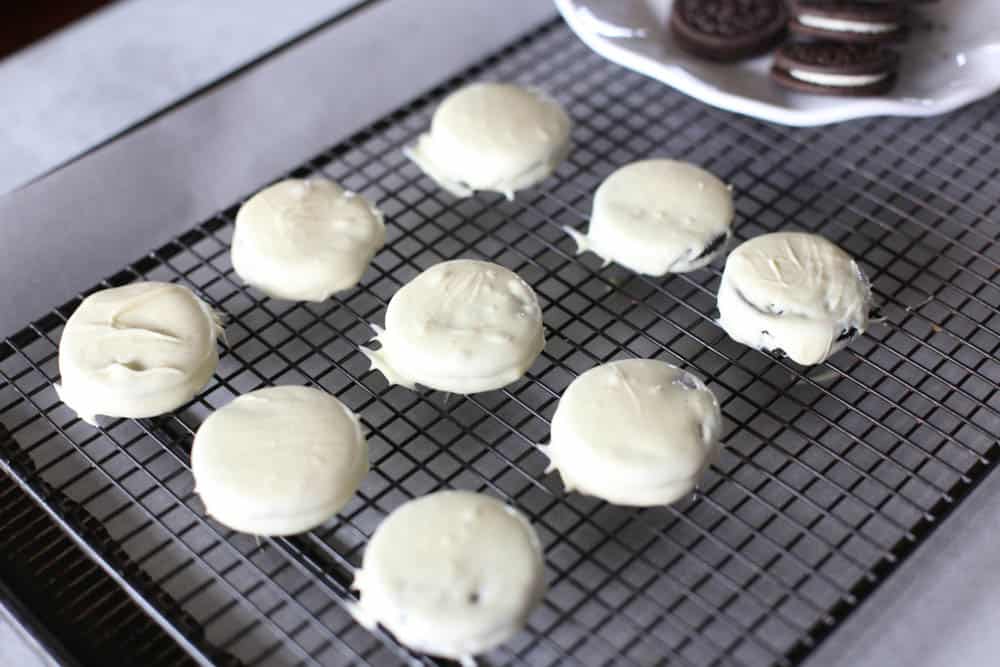 You need to move somewhat quickly at this point.
You just want to make sure that the chocolate doesn't start to solidify before you add your sprinkles.
This is the fun part that kids like to help with. Sprinkle those cookies up with whatever theme you're feeling!
Here are some ideas to get your creative juices rolling.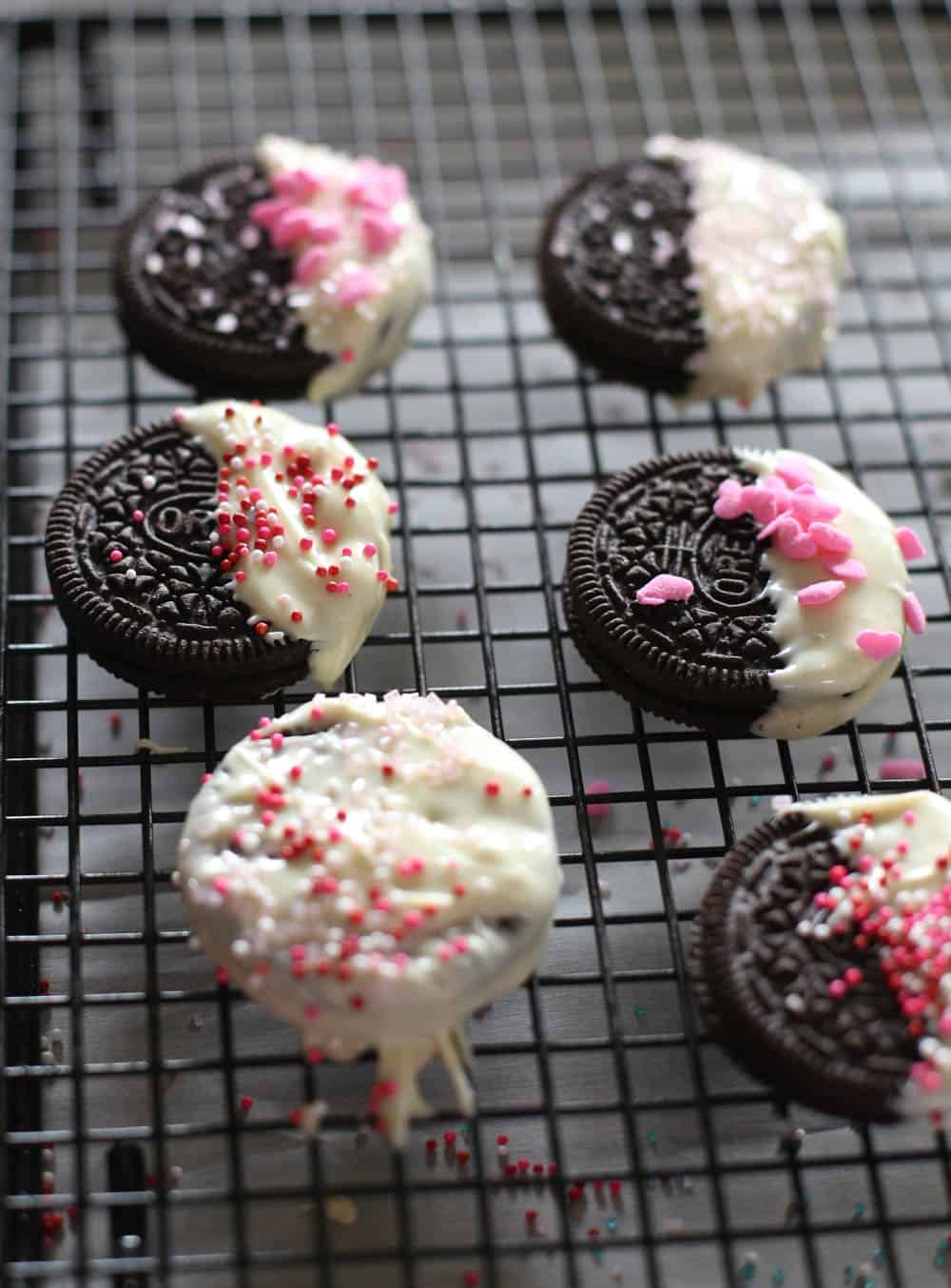 How long do chocolate-covered Oreos last?
When stored properly, Chocolate Covered Oreos can typically last for about 1 to 2 weeks. However, it's important to check the expiration date of the chocolate used for coating, as it may vary depending on the type and quality of the chocolate.
How should chocolate-covered Oreos be stored?
Chocolate Covered Oreos should be stored in an airtight container or a cool, dry place to maintain their freshness.
It's best to avoid exposing them to direct sunlight or high temperatures, as this can cause the chocolate to melt or lose its shape.
Can I freeze chocolate covered Oreos?
Yep! They will freeze and thaw just fine. Just place them in an airtight container and freeze them for up to 3 months.
Place them in the refrigerator for a few hours when you want to thaw them.
Did you make this? Snap a photo and tag us on Instagram at @thrivinghome so we can see your creations and cheer you on!
Chocolate Covered Oreos
An easy versatile dessert for any holiday!
Prep:
15 minutes
Cook:
0 minutes
Total:
15 minutes
Ingredients
15

Oreos

8

ounces

white chocolate
Sprinkles
Before You Begin! If you make this, please leave a review and rating letting us know how you liked this recipe! This helps our business thrive & continue providing free recipes.
Instructions
Using either a double boiler or microwave, melt your chocolate. Be careful not to burn it!
Dip the Oreo into the chocolate.
Move dipped Oreo to parchment lined drying rack.
While chocolate is still warm, add desired amount of sprinkles
Move to refrigerator to cool for 5-10 minutes