Five Tips to Help a Child's Separation Anxiety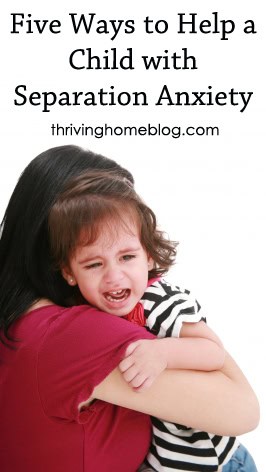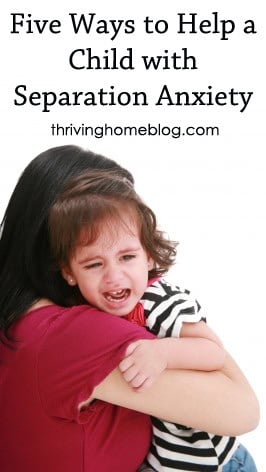 Thanks so much to our friend, Jess, for guest posting today. After volunteering and working full time in children's ministry for years, Jess has a lot of wisdom to offer on this subject! Take it away, Jess!
It happens every Sunday in churches everywhere: a mom or dad hands a kiddo over our door and they sob inconsolably. I'm not a parent yet, but I know this is a tricky and trying situation for any family facing it. As a seasoned nursery worker (I spent 4 years with 25 one-year-olds every Sunday) and in my current position as the Early Childhood Director for my church, I've seen lots of families successfully and unsuccessfully navigate the difficult path of separation anxiety. So today, at the recommendation of Rachel and Polly, I thought I'd pass on some ideas for dropping off little ones at church. These tips can also be applied when hiring a babysitter or dropping a child off at childcare.
5 Tips for Dealing with Separation Anxiety:
1. Be Consistent
We all know kids thrive on routine. One of the best indicators as to whether a kid will struggle is if they aren't used to church. Even the most easygoing toddler gets thrown off when life isn't like they expect it to be. So if at all possible, come to church every week. Even better: come to the same service. They'll be used to the time and, even more importantly, the volunteers. Once childcare becomes a regular part of their routine, they'll be more likely to settle in quickly.
2. Give the Volunteer Every Tip They Can Get
If your child has a lovey, passie, or special pair of PJs in their bag, let their volunteer or caretaker know. Sometimes a comforting item can make all the difference. We've had kids who wear their backpack the whole hour or refuse to take off their knight's helmet. Totally fine with us! It's much easier for us if we know what to try. Other hints include telling us if Lula loves snacks or singing or if she really only calms down when facing out. Does she like to settle down on her own or will a stroller ride do the trick? Letting your volunteers (or babysitter) know will make everyone more at ease.
3. Set a Specific Time to Call
Each child and each family is different. Some parents are ok with children crying it out for a while and others only want to give a small window of time. If you want to make sure you get called at a specific time, tell your volunteer or babysitter when you leave. For instance, if you want Ben to have ten minutes to try to settle down and you drop him off at 9:26, tell that person to check at 9:36 and call if he's still crying. The majority of the time, Ben is perfectly settled at 9:27. But if he isn't, giving a specific time to the volunteers will take the guesswork out of contacting you. And please remember to keep your phone out so if we do call, you see it right away.
4. Walk Away
Sometimes it's harder for mom than it is for their kiddo. Many times. So even though it would be ideal to stay and watch and make sure he calms down and plays the game with everyone else, it's not the best idea. Often, your child won't settle if they know you're watching. You're only one door away from grabbing them back and they know it! So walk away instead and give a time to call. Or if you really want to check, let the supervising intern or staff member know you want to check on Sophie. They can make sure they're not looking and you can pop your head around to see. It's possible for your child to settle down and get all fired up again if they see you, so even though it's tough, refrain yourself from standing right outside the door while your child works to calm down.
5. Know It's Normal
We know it's not normal for you to see your kid cry as you walk away. But as volunteers in the classroom, it's pretty normal to us. Like I said earlier, a day doesn't go by that there isn't at least one kiddo who puts on the sad face and lets those tears roll. Even if your child has been happy-go-lucky in their classroom for weeks (or years) it's totally normal for a child to suddenly decide this "letting go of mama" thing isn't so great after all. Sometimes getting back into the groove takes a week, sometimes a month. And sometimes kids go through season-long phases. In fact some kids roll through the settling-in process in each of their classrooms in early childhood, all the way up to fives. We've seen it all. So don't worry about the volunteers. We want to take care of your child and we want you to be able to enjoy church. And if it's necessary, we'll call.
Sometimes, even after all of this, the only thing that works is time. It's ok if that's the case with your kiddo. I would encourage you to pray with your child about it. I served in the walkers room for years and I now see some three, four, and five year olds thriving that Mom and I really had to work through in the walkers room. Know that your child will eventually get used to the new environment and will build the trust necessary to have a blast. One of my favorite things to witness is that first week when a kid who struggled and cried each day at drop off finally smiles and waves at mom and hops into class. So give it your best shot.
Thanks again, Jess. Every mom is going to need this advice at one point or another!
Photo credit: freedigitalphotos.net
https://thrivinghomeblog.com/wp-content/uploads/2013/03/Help-a-child-with-separation.jpg
472
266
Polly Conner
https://thrivinghomeblog.com/wp-content/uploads/2019/10/thrivinglogo.png
Polly Conner
2013-04-29 05:53:16
2020-11-18 10:46:45
Five Tips to Help a Child's Separation Anxiety