Halloween Adventures and Hy-Vee Walk the Aisles
Updated: 11/13/20
This post may contain affiliate or sponsored links. Please read our disclosure policy.
Now that my oldest is 4, we have officially entered into the Halloween madness that occurs once a year. I mean, you guys. This holiday is crazy. It's super fun but it was also slight madness at times.
First of all, when you put kids into costumes, their crazy level goes up 30%. Put them together with additional wound-up children and you are now up to a crazy level of 70%. Now, add the element of free candy and you are off the charts.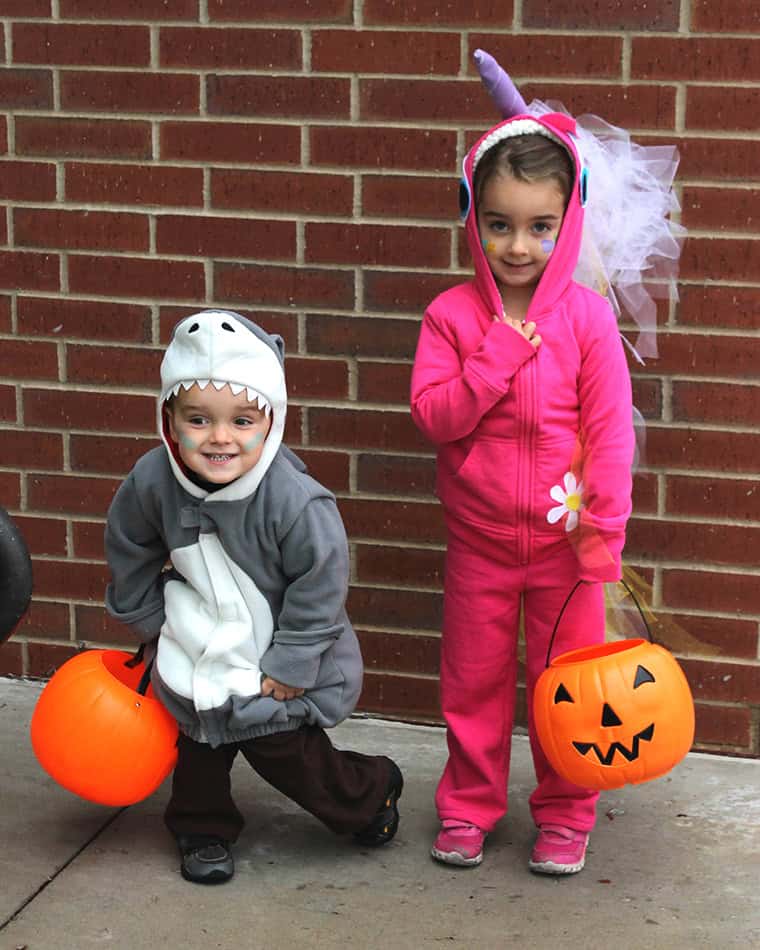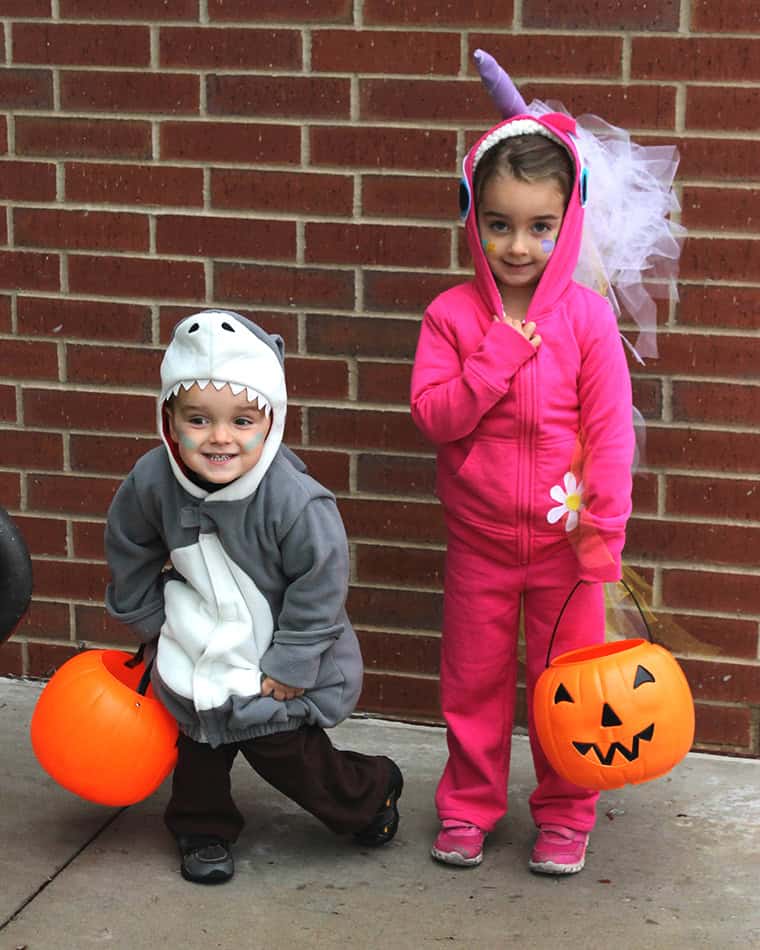 The only goal I had the entire evening was to not lose my children.
Truth be told, I even failed at that when my toddler disappeared for a bit while trick-or-treating in Rachel's neighborhood. (Don't worry, when the parents were distracted with a candy-bag crisis, he had just taken the opportunity to charge ahead to scout out the candy situation down the street. All is well.)
Before the whole losing-my-toddler incident, we kicked off the evening a bit differently than we ever had. Rachel and I rounded up some friends and tried out the Walk the Aisles event at Hy-Vee.
Walk the Aisles at Hy-Vee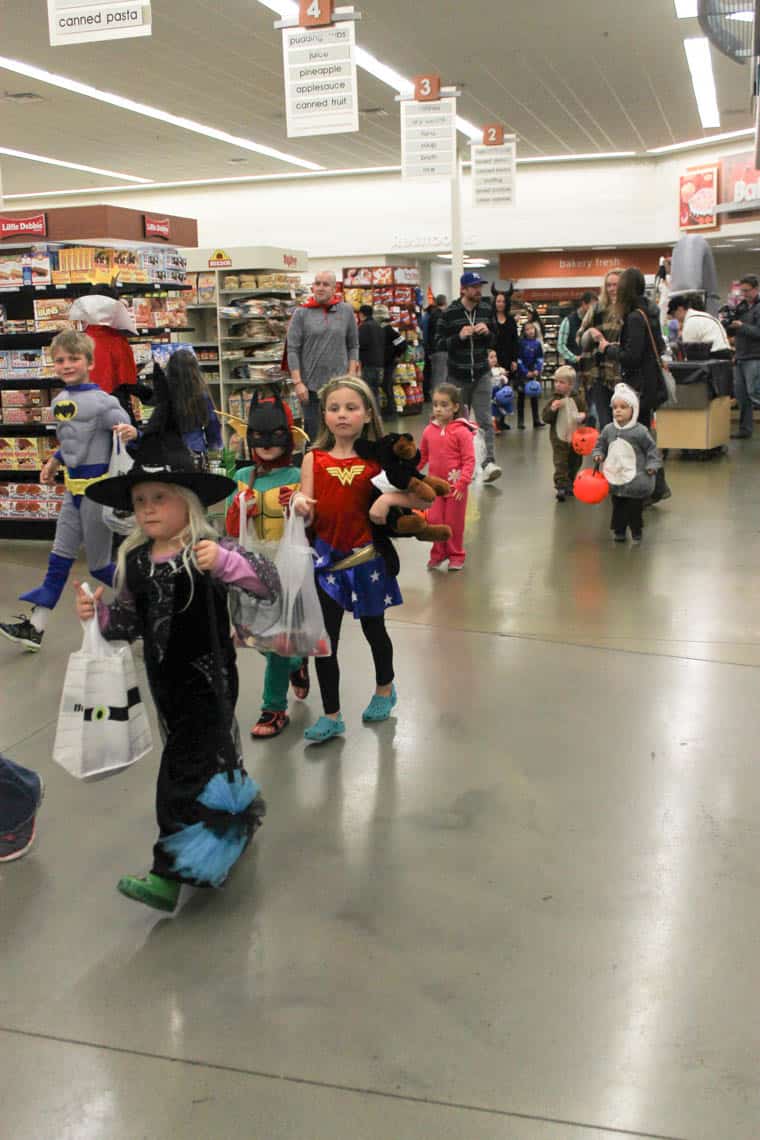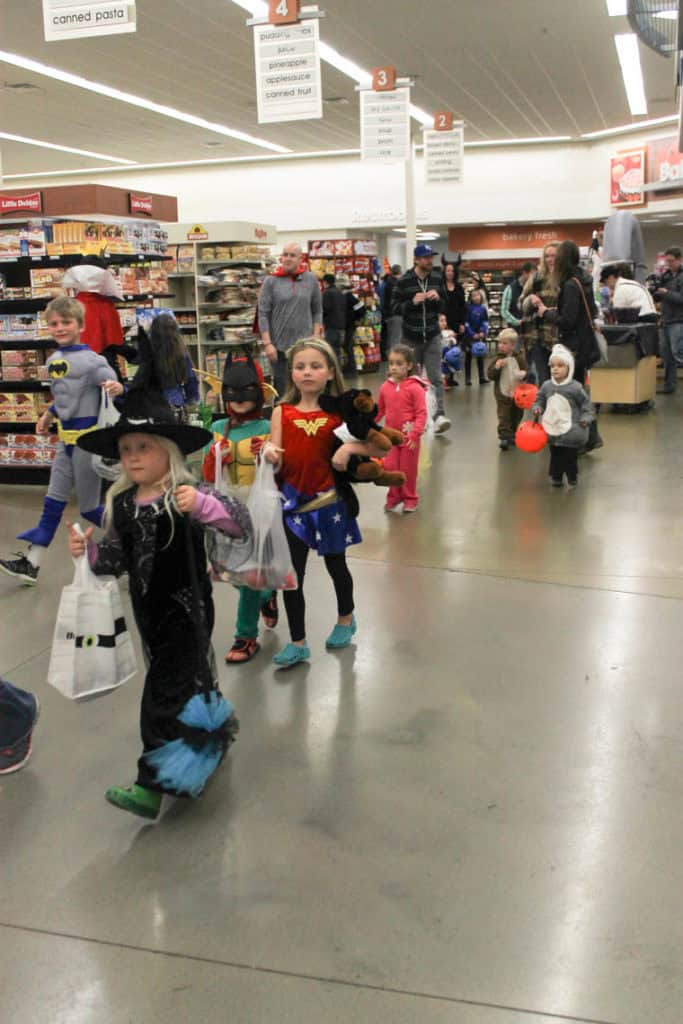 I had heard that Hy-Vee opens up their store to trick-or-treaters but couldn't quite catch the vision of trick-or-treating in a grocery store.
If you have similar skepticisms, take a peek at this video. It'll help give you a visual of what this event felt like.
Can I just say that I love that Hy-Vee does events like this for the public…for free!?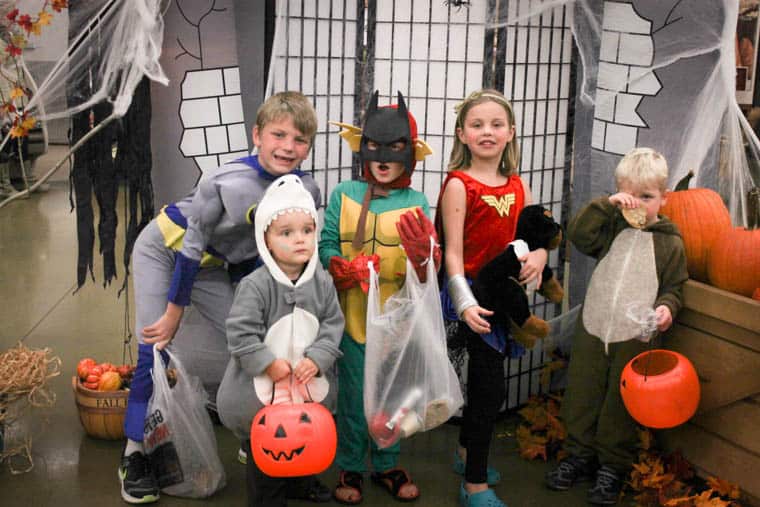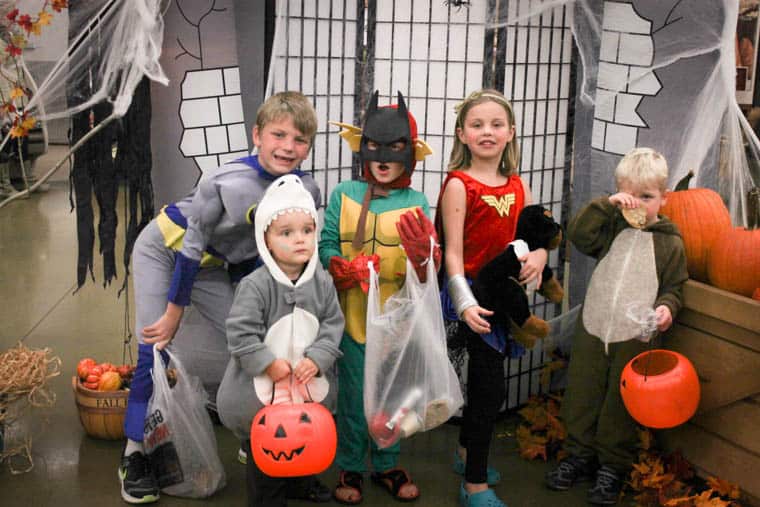 I mean, think about it. They have to hire extra staff for the evening, provide hundreds (maybe thousands) of dollars worth of snacks and goodies to giveaway and even take the risk of inconveniencing regular evening shoppers.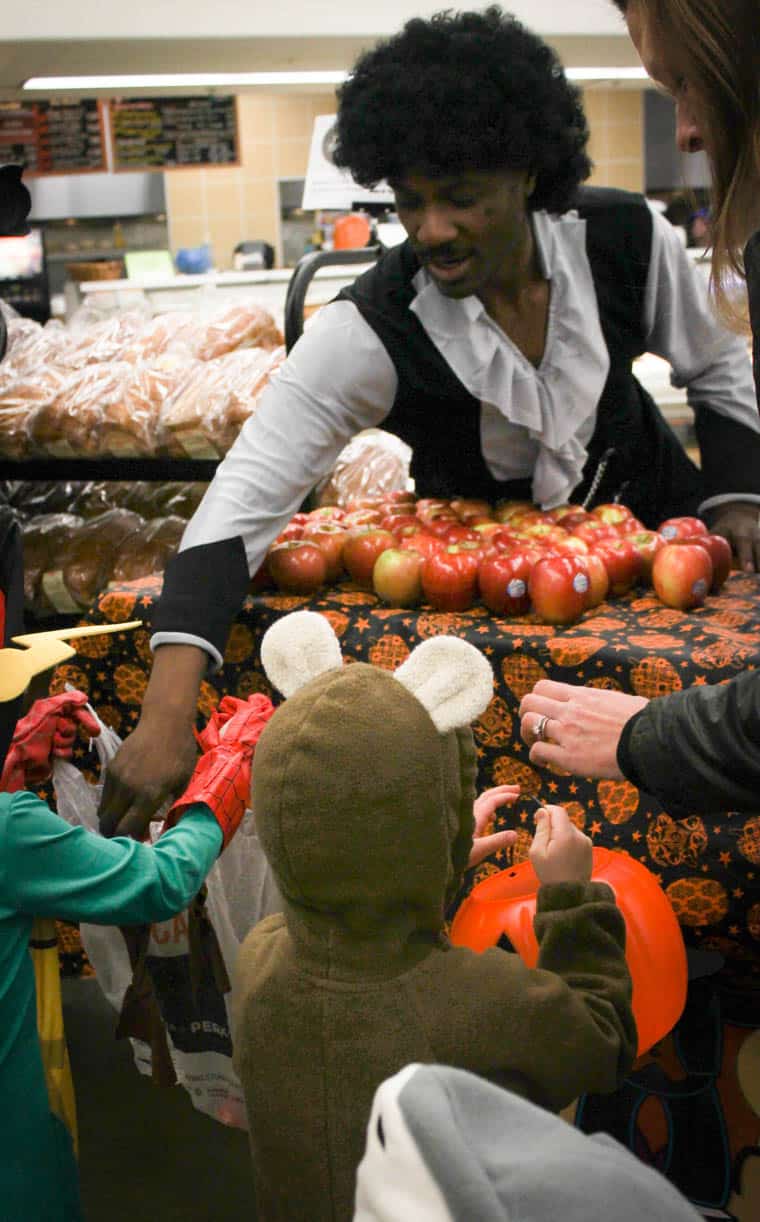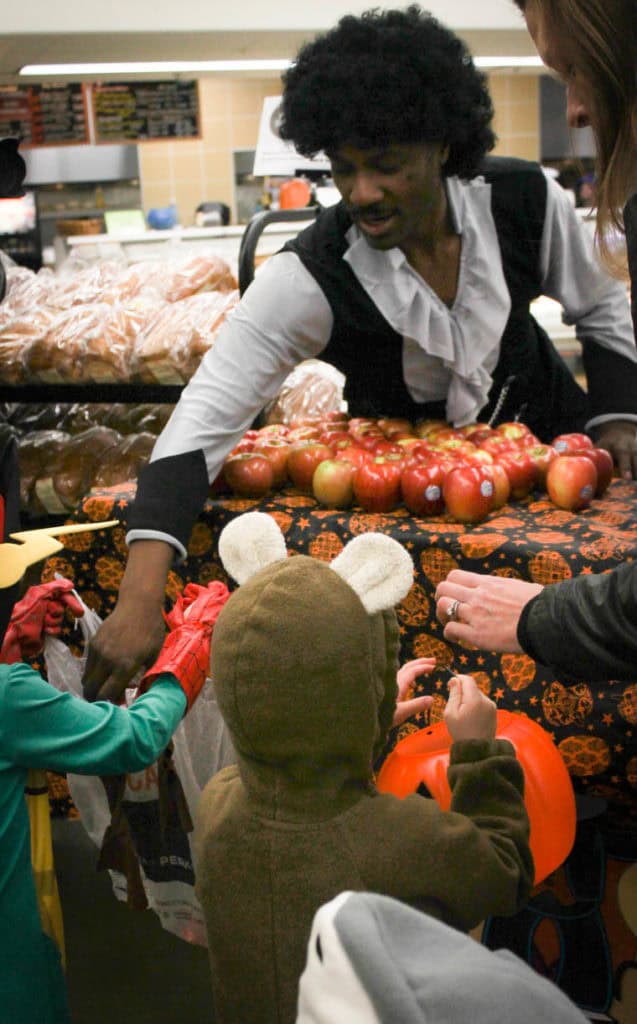 All of this for the sake of opening their doors to toddlers and kids who are 110% crazy by the time they get there.
It's such a great service to families in the community.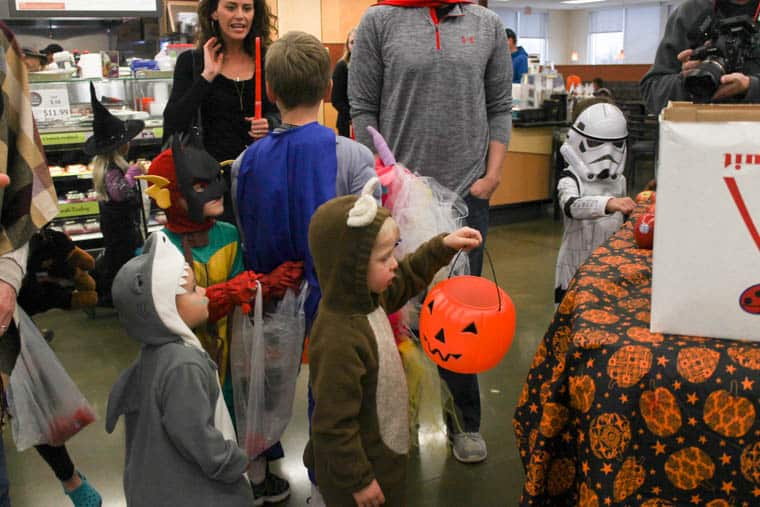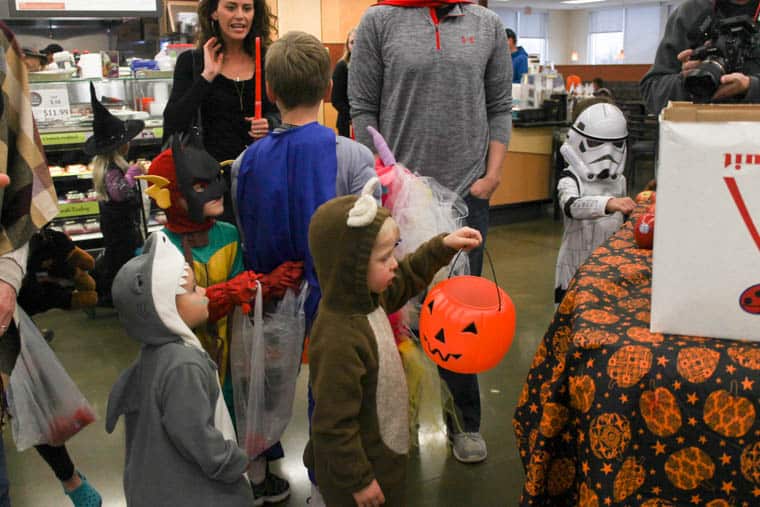 One particular aspect that I really appreciated is that the stations kids visited had a variety of snacks and treats–not just candy. Yes, there was candy here and there but there was also cheese sticks, apple sauce packs, pudding, fruit drinks, apples, granola bars, cookies and even non-food items like pencils, cozy cups and other goodies.
My kids were particularly excited about the squeeze yogurt packs. Apparently I've been depriving them of such delights. Sue me.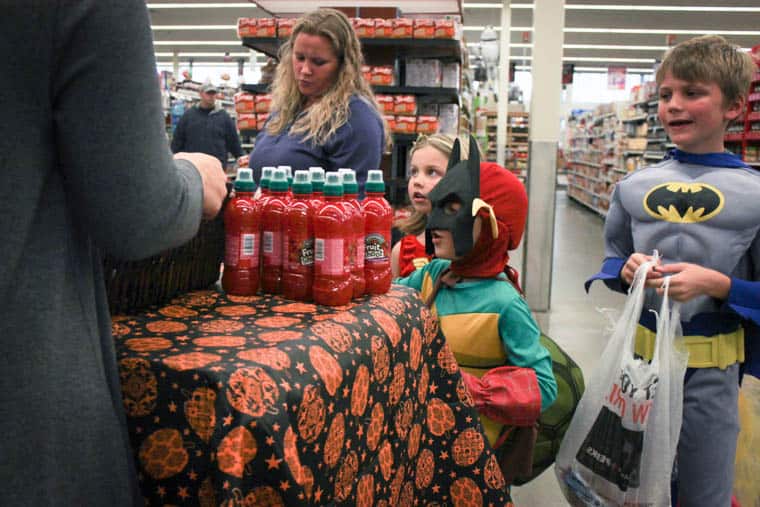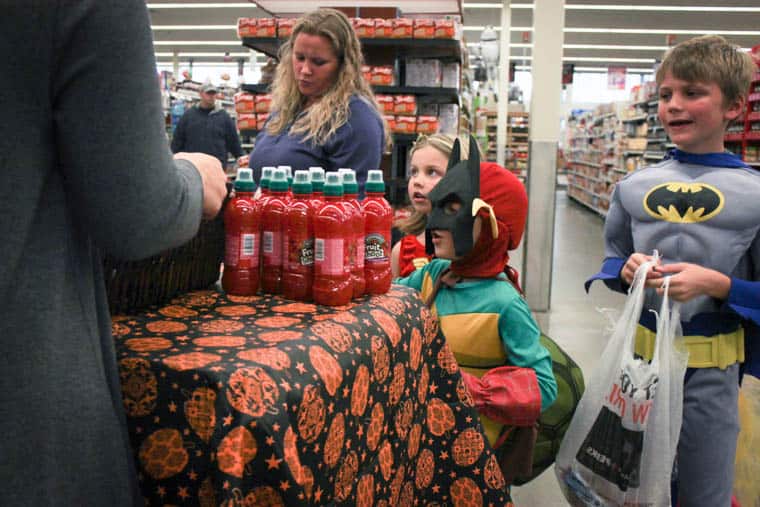 I love that the employees dressed up for the occasion as well. It would have been easy for them to just show up and do their job but I could tell that they were genuinely enjoying the event and handing out goodies.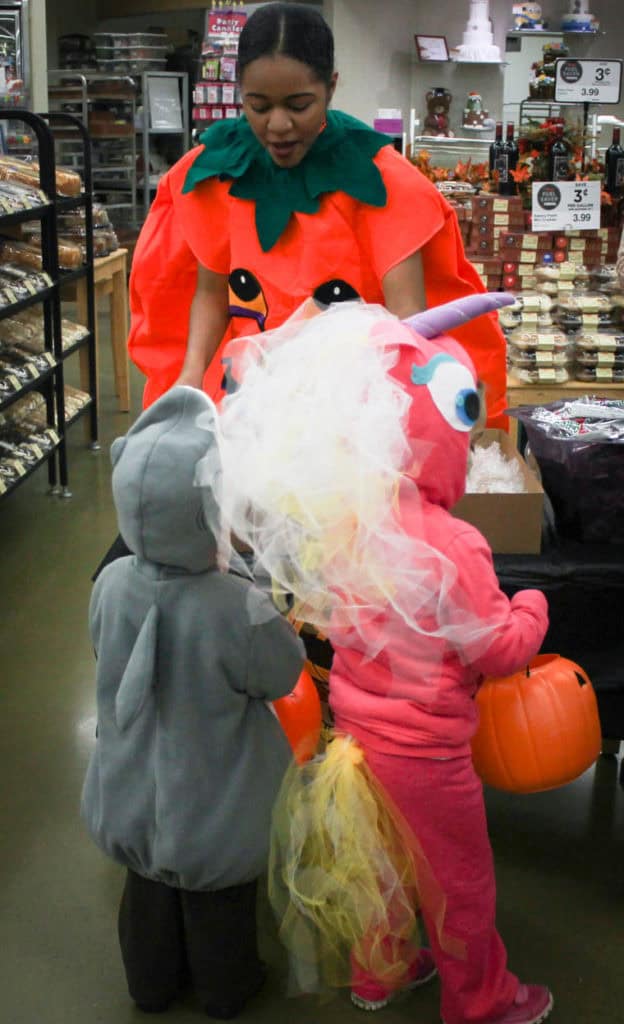 This is just one example of the many great family events that Hy-Vee hosts. Coming up in about a month is breakfast with Santa on December 5th. We for sure plan on attending that as well. For Santa, yes, but also for the free breakfast for kids they offer that day.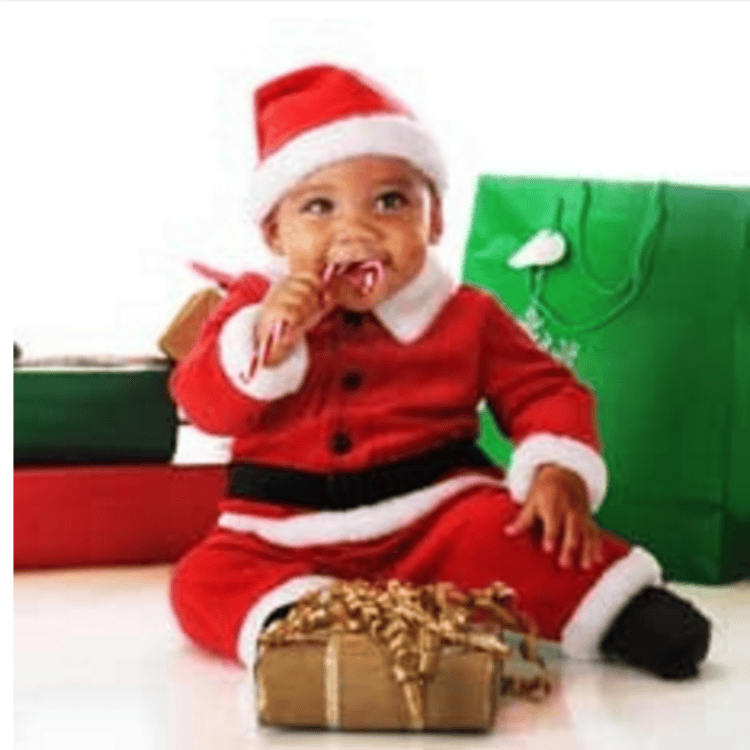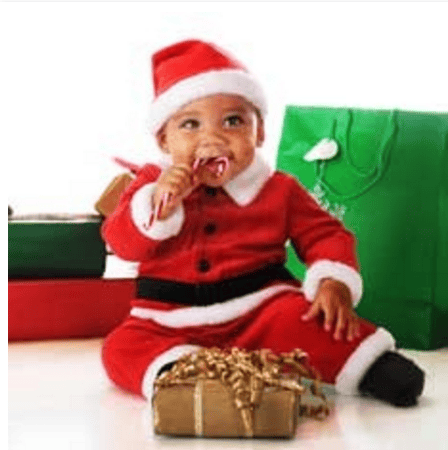 OK, back to the Halloween adventures.
We ended up back in Rachel's neighborhood, met up with some friends and began the Trick-or-Treating (I.E. herding a bunch of sugared up cats). Here is the crew we started out with.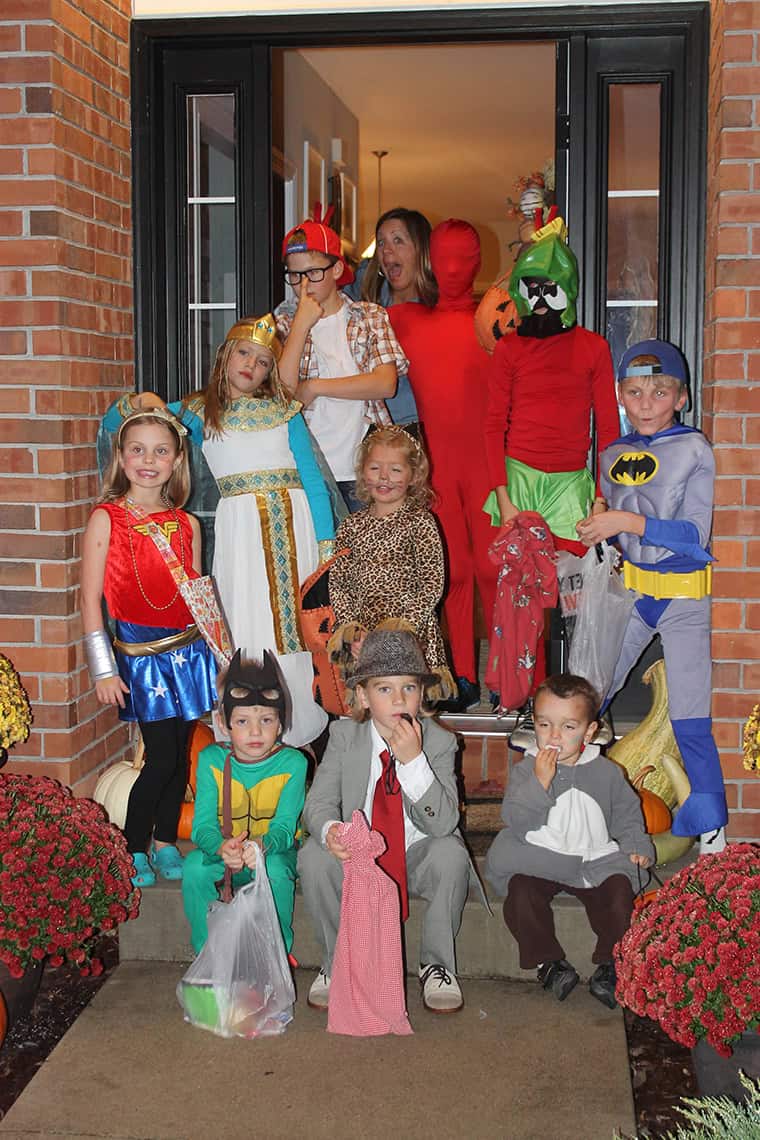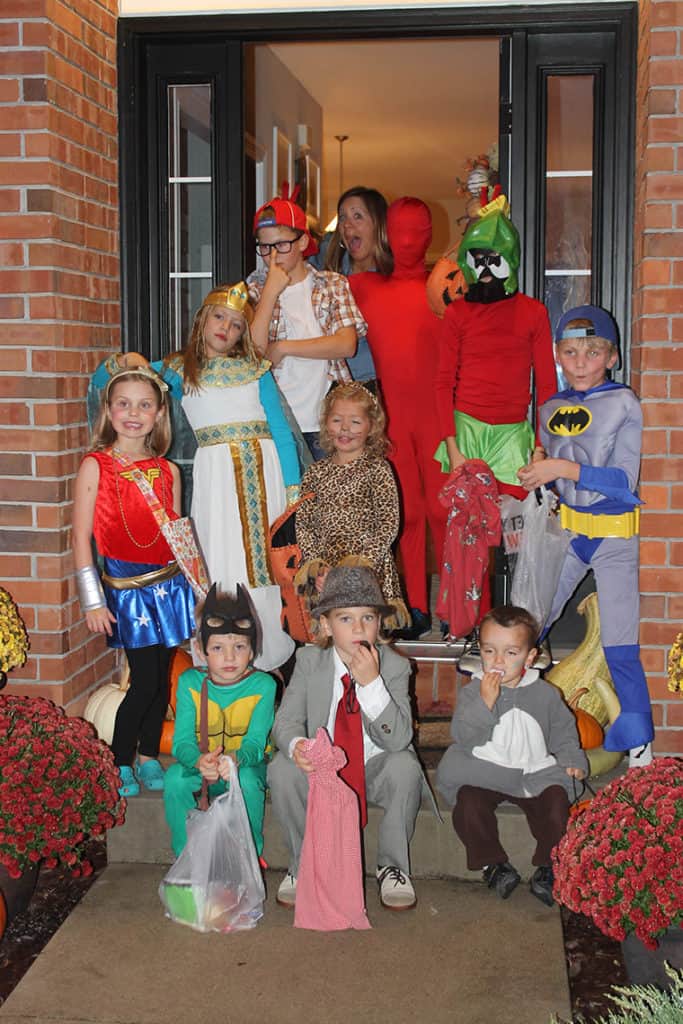 Annnnd… a four year old unicorn who refused to be photographed.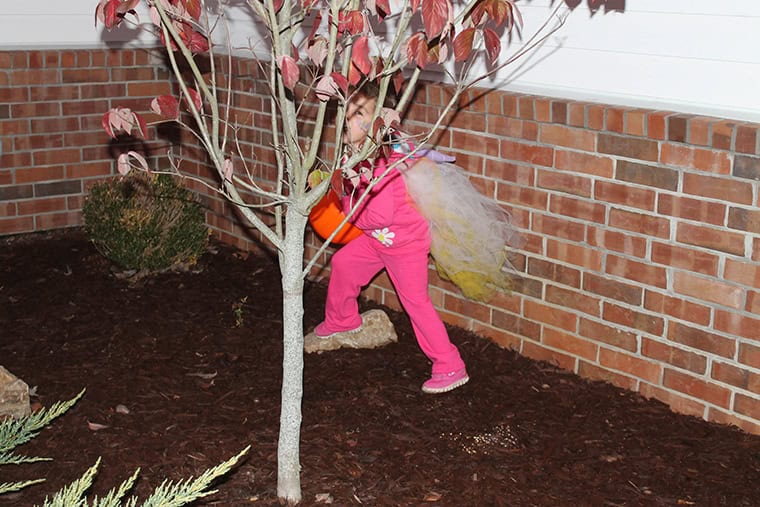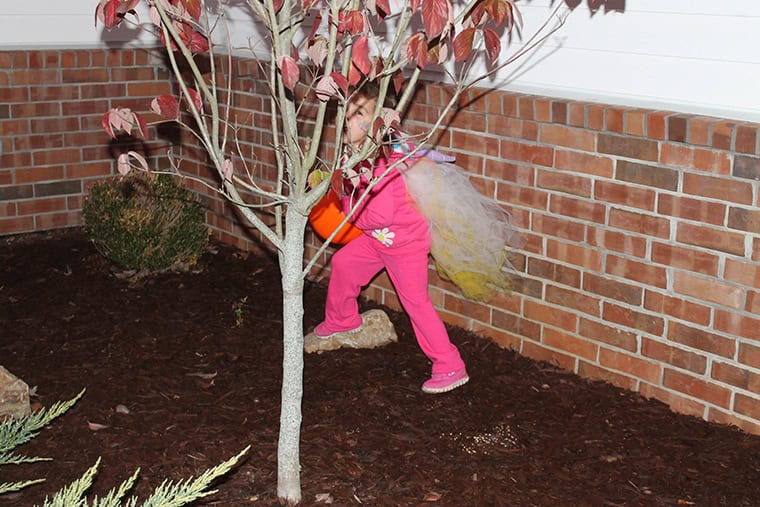 Parents pretty much played zone defense and we even ended up having to split up because some of the littles couldn't keep up with the bigs.
After a solid amount of trick-or-treating we corralled our tired crew back to Rachel's house and continued to fight the losing the battle of, "Just one more piece of candy…"
Sensing that the end was near for my crew, we called it a night and headed home.
Good thing we did because this pretty much sums up our car ride home.
I mean wow. We all slept well.
So in conclusion:
Kids on Halloween=Crazy
Walk the Aisles at Hy-Vee=Success
Too Much Candy=Candy Crash on the Way Home