How Long to Cook a Roast in the Instant Pot
This post may contain affiliate or sponsored links. Please read our disclosure policy.
Ever forget to put the Sunday pot roast in the oven or slow cooker? Been there, done that! Thankfully with modern-day cooking technology, we have a miraculous gadget called the Instant Pot to save us time, dishes, and energy when it comes to cooking beef roasts. In this article, we're sharing ALL you need to know about how long to cook a roast in the Instant Pot!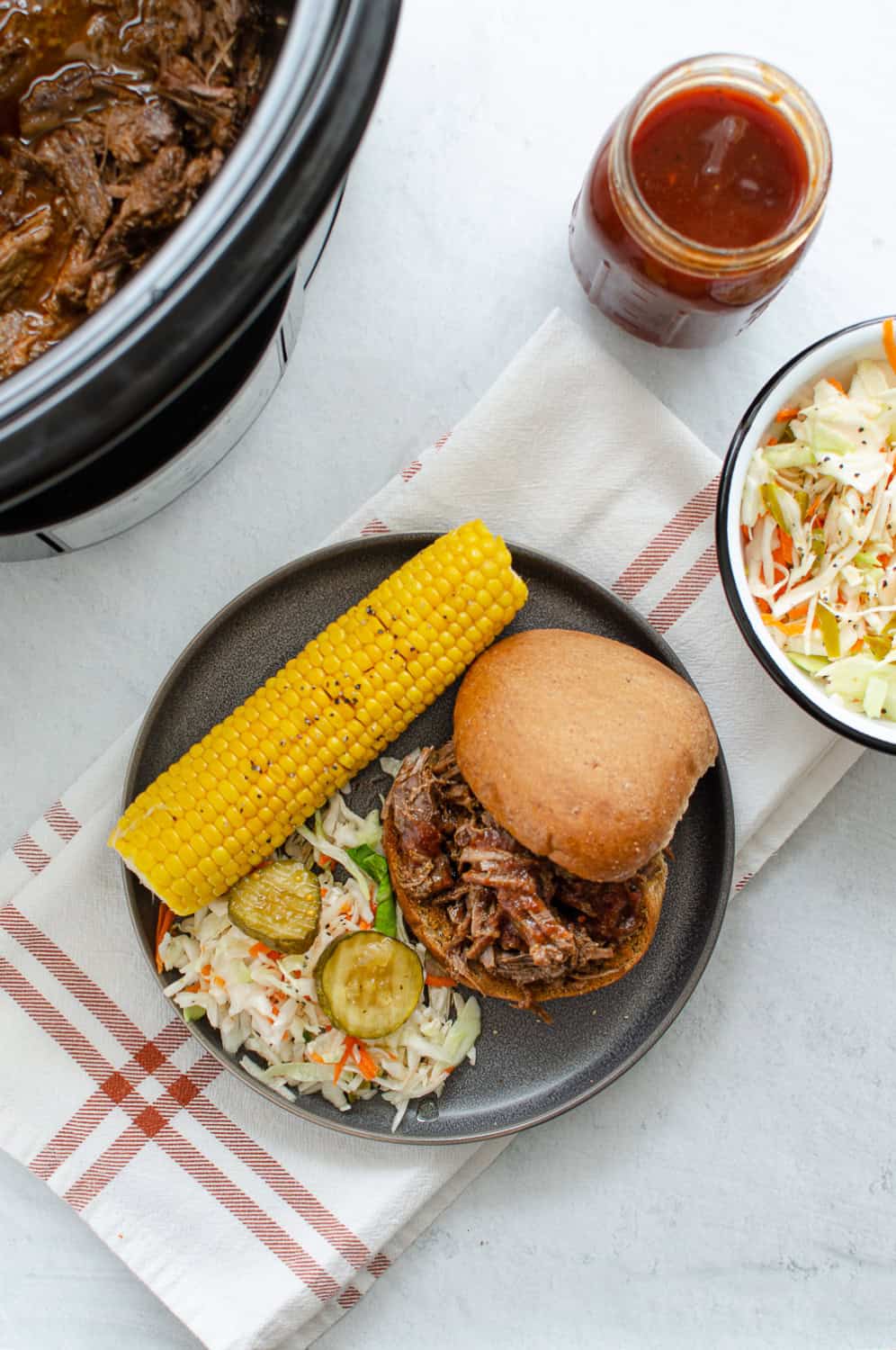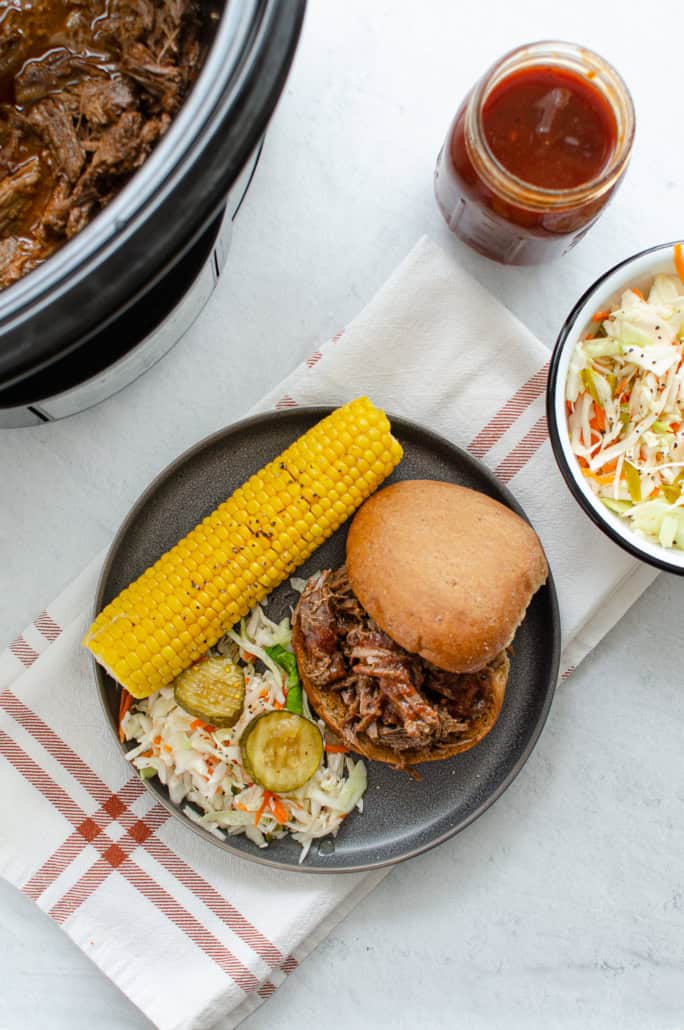 We've been around the block and back again when it comes to testing and developing recipes for cooking in the Instant Pot. After all, we have written two cookbooks full of them, with TONS of feedback from recipe testers and readers like YOU. We are so excited to share all the details about cooking a roast in the Instant Pot and more in this post!
How Long Should You Cook a Roast in the Instant Pot?
For a boneless beef chuck roast that is approximately 3 pounds, you will cook the roast in the Instant Pot for 30 minutes in manual mode at high pressure with a 10-minute natural pressure release. For even and accurate cooking, you will want to cut the roast into 2×2 inch pieces before placing in the Instant Pot. Typically, the pieces of roast will be seasoned and cooked in some type of sauce or marinade.
Can I Cook a Frozen Roast in the Instant Pot?
You'll be thrilled to know that the answer is YES, you can cook frozen roast in the Instant Pot! There's just one little caveat: you will need to have cut the roast into 2×2 inch pieces prior to freezing it. Trust us, it's pretty much impossible to cut up a chuck roast once it's frozen. Don't try it!
You will cook the pieces of frozen roast in the Instant Pot for 30 minutes in manual mode at high pressure, just as you would fresh pieces of chuck roast. Plan for a 10-minute natural pressure release once the cooking time is up.
Testing the Internal Temperature
We can assure you we are NOT just guessing about these cooking time recommendations. While writing our cookbook, From Freezer to Cooker, we methodically tested recipes by taking the internal temperature with our trusted meat thermometer (pic below) at different points during the cooking time.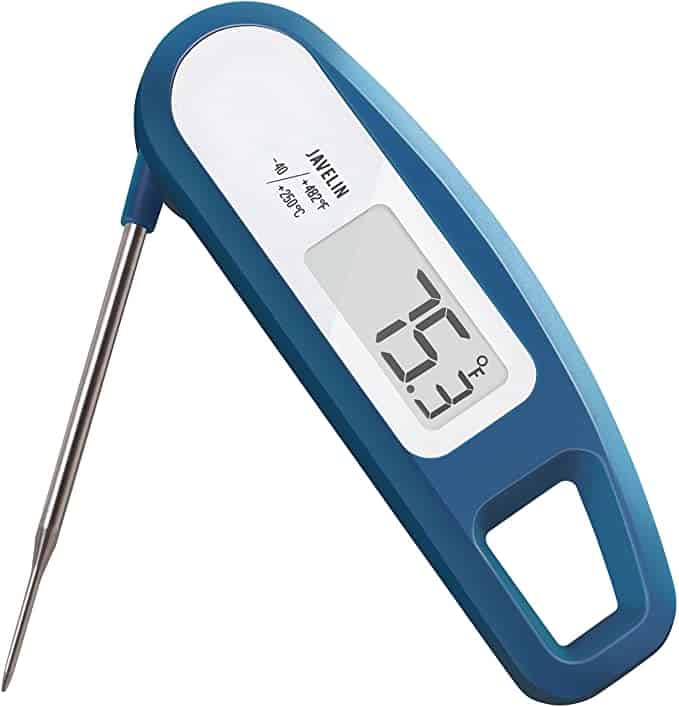 If you don't have one of these digital meat thermometers, be sure to snag one. It's one of our top kitchen tools because it prevents undercooking or overcooking all kinds of dishes.
Free Cooking Times Chart for Instant Pot
In an effort to save you from overcooking or undercooking future Instant Pot meals, we wanted to equip you with this free Instant Pot Cooking Times Chart. (We spent two years testing the most accurate Instant Pot cooking times for our second cookbook, From Freezer to Cooker.)
Download it, print it, snuggle it, and thank us later.
How Long Do I Cook a Roast in the Slow Cooker?
We are so glad you asked! We have an entire post dedicated to How Long to Cooker a Roast in the Slow Cooker. Hop over and read up over there.
Beef Roast Instant Pot Recipes You Might Like
Instant Pot BBQ Beef Sandwiches
This well-seasoned, fall-apart shredded BBQ Beef takes under an hour in the Instant Pot or pressure cooker. Instructions for how to make ahead and freeze included!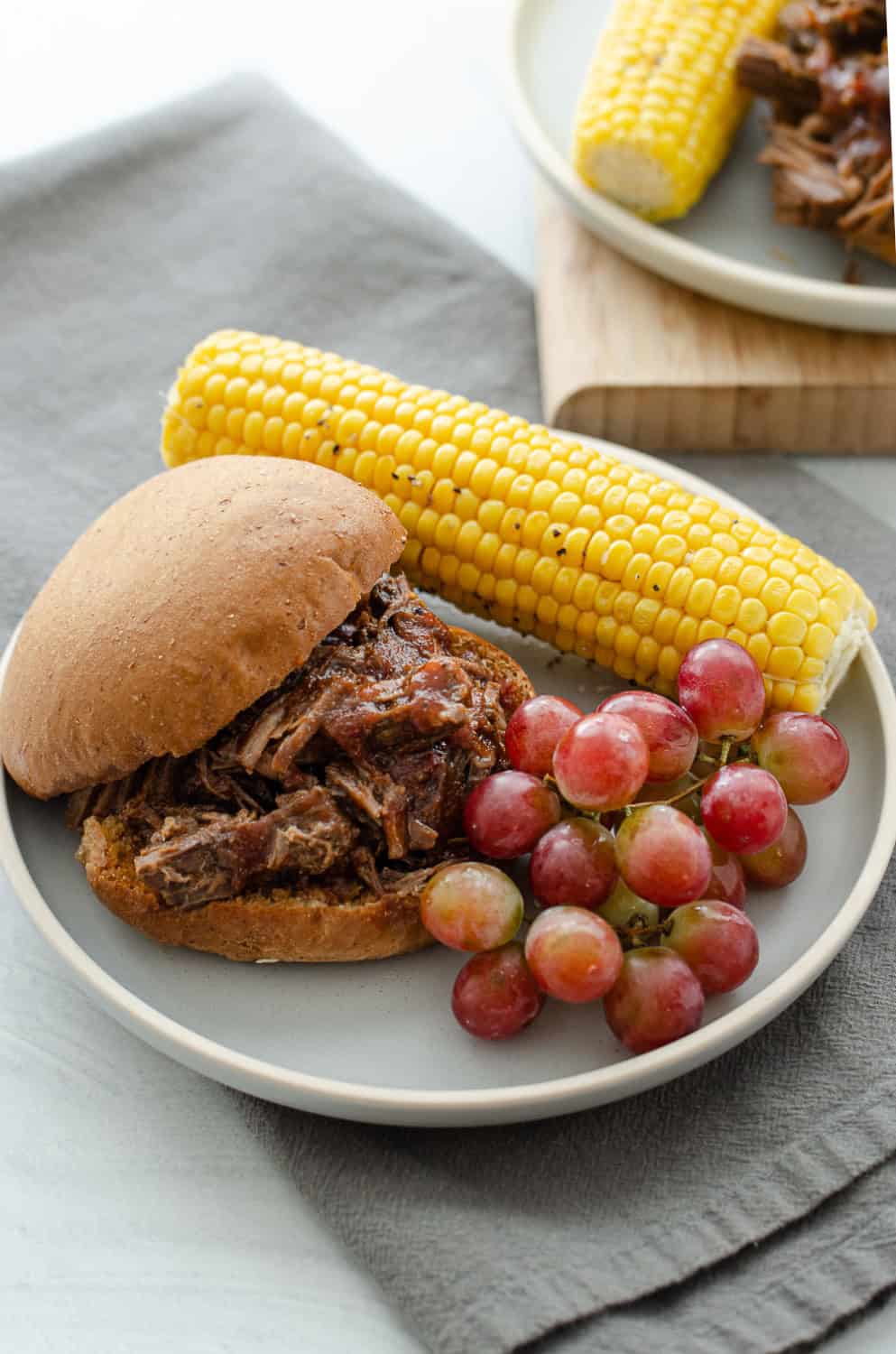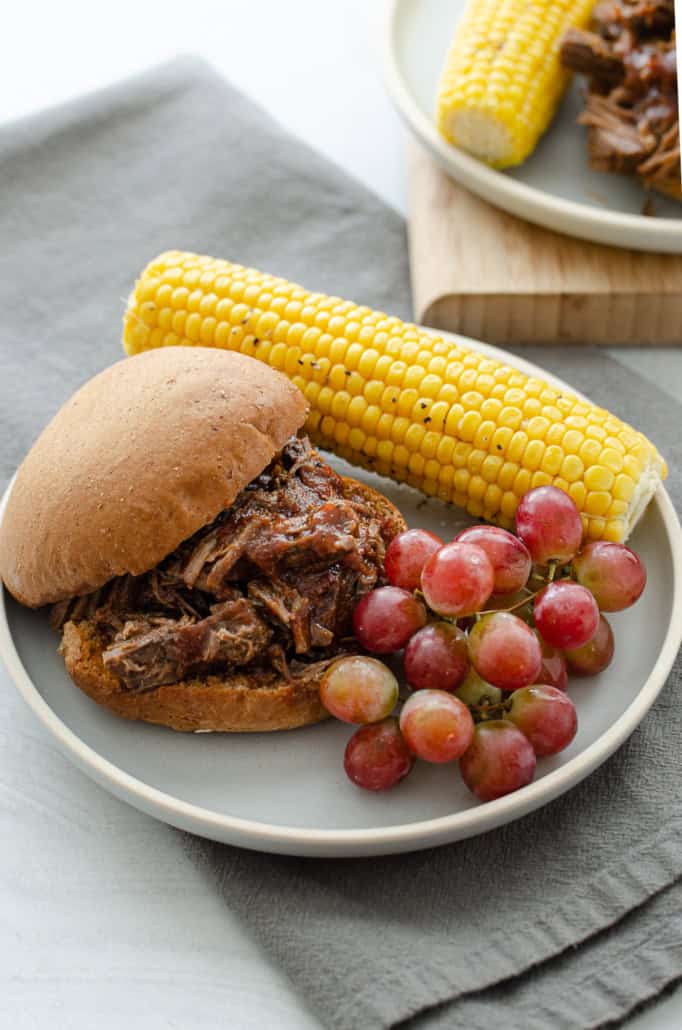 Making Beef Taquitos with a chuck roast in the slow cooker or Instant Pot is a breeze. The flavorful, moist beef is shredded, mixed with cream cheese & salsa, and then wrapped in a tortilla. Once beef taquitos are prepped, they can be baked or frozen for later.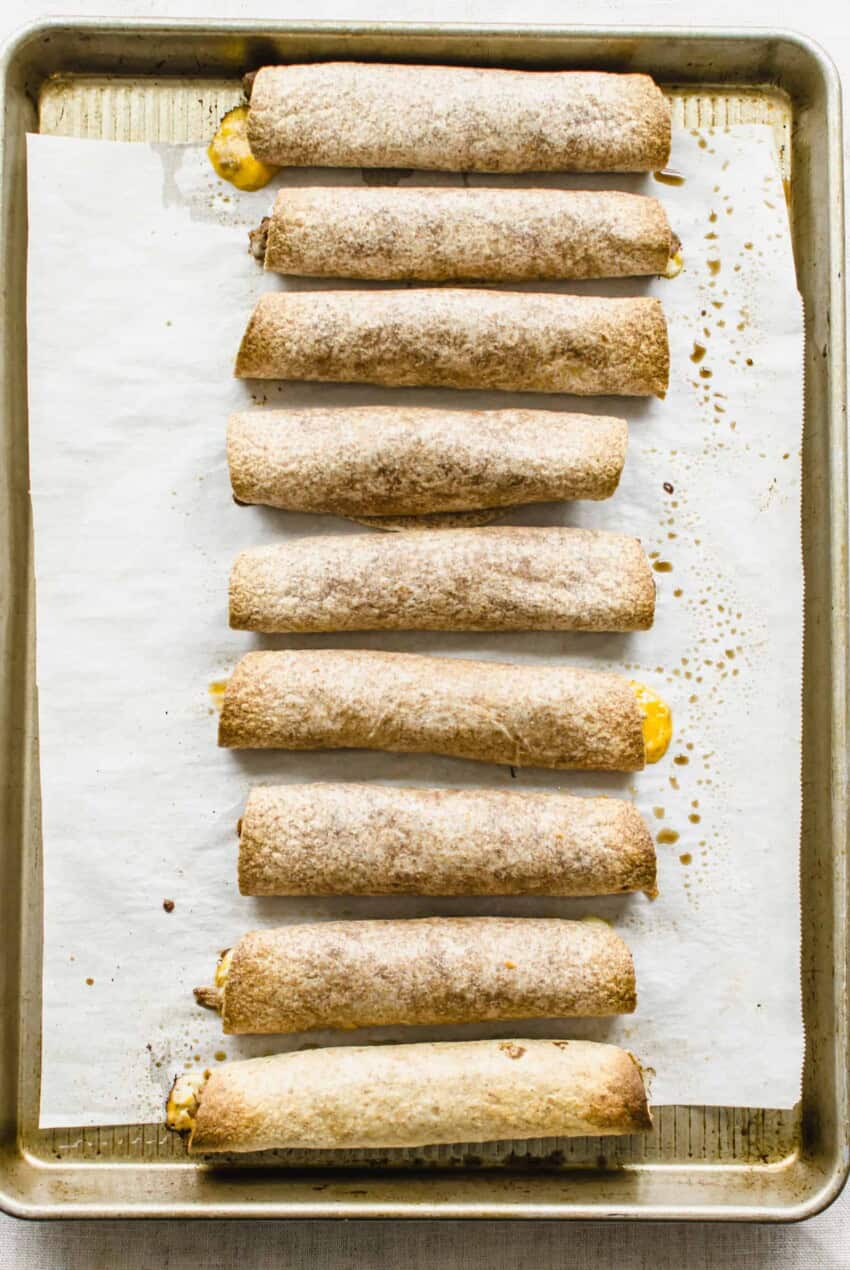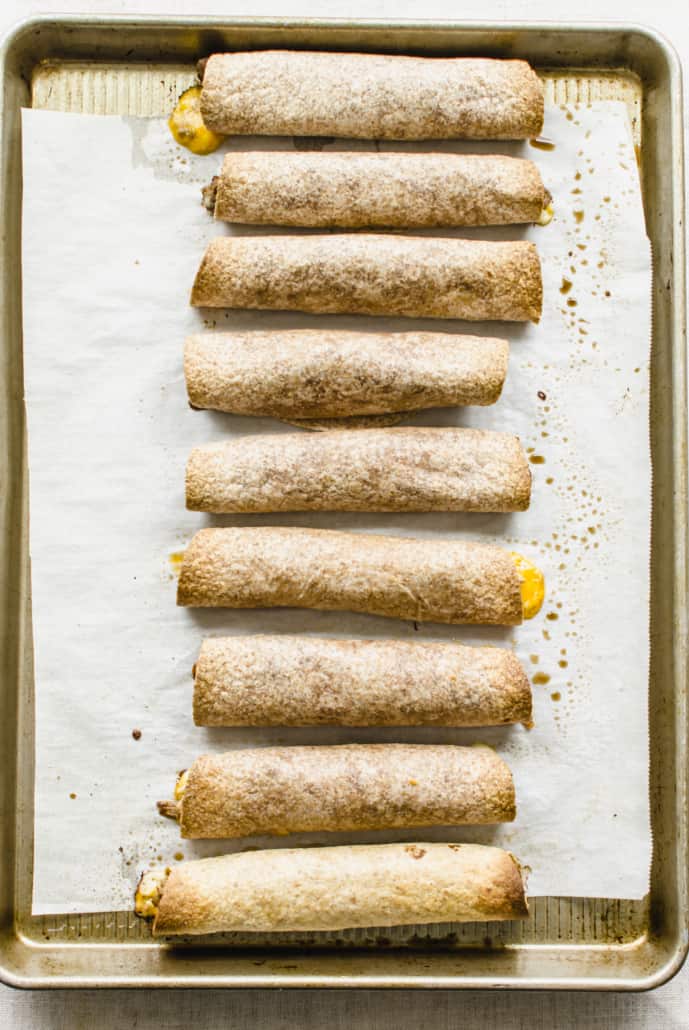 With only 4 simple ingredients, you can have a batch of Shredded Beef Tacos slow cooking in your crockpot (or Instant Pot) in minutes. This Mexican shredded beef packs a TON of flavor and will fall apart after a full day of cooking. Say "holá" to a new weeknight favorite in your home!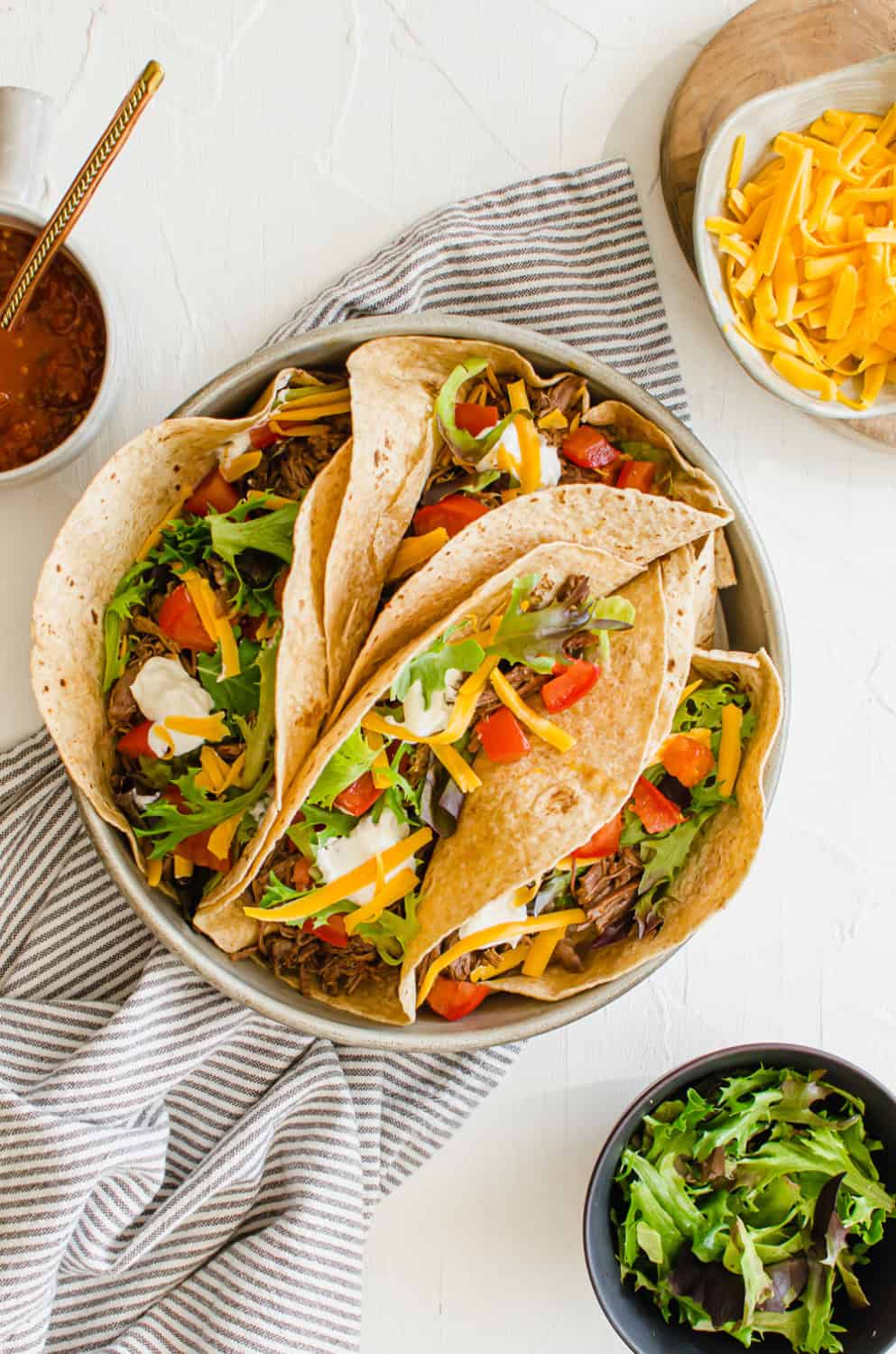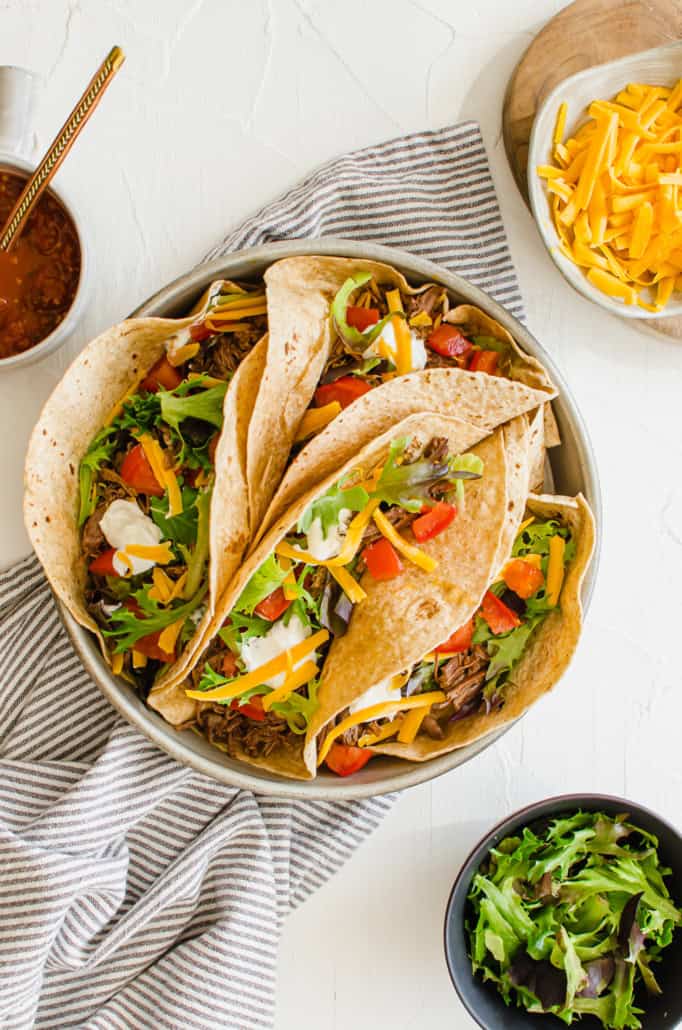 Where We Get Our Beef Roasts From
We are HUGE fans of Butcherbox and have been getting our beef (and beef, seafood, and chicken) from them for years now. In fact, Rachel wrote a comprehensive honest review about this meat subscription service.
We love that all their meat is healthy and sourced responsibly. It's so convenient to have it delivered to our doorsteps whenever we choose!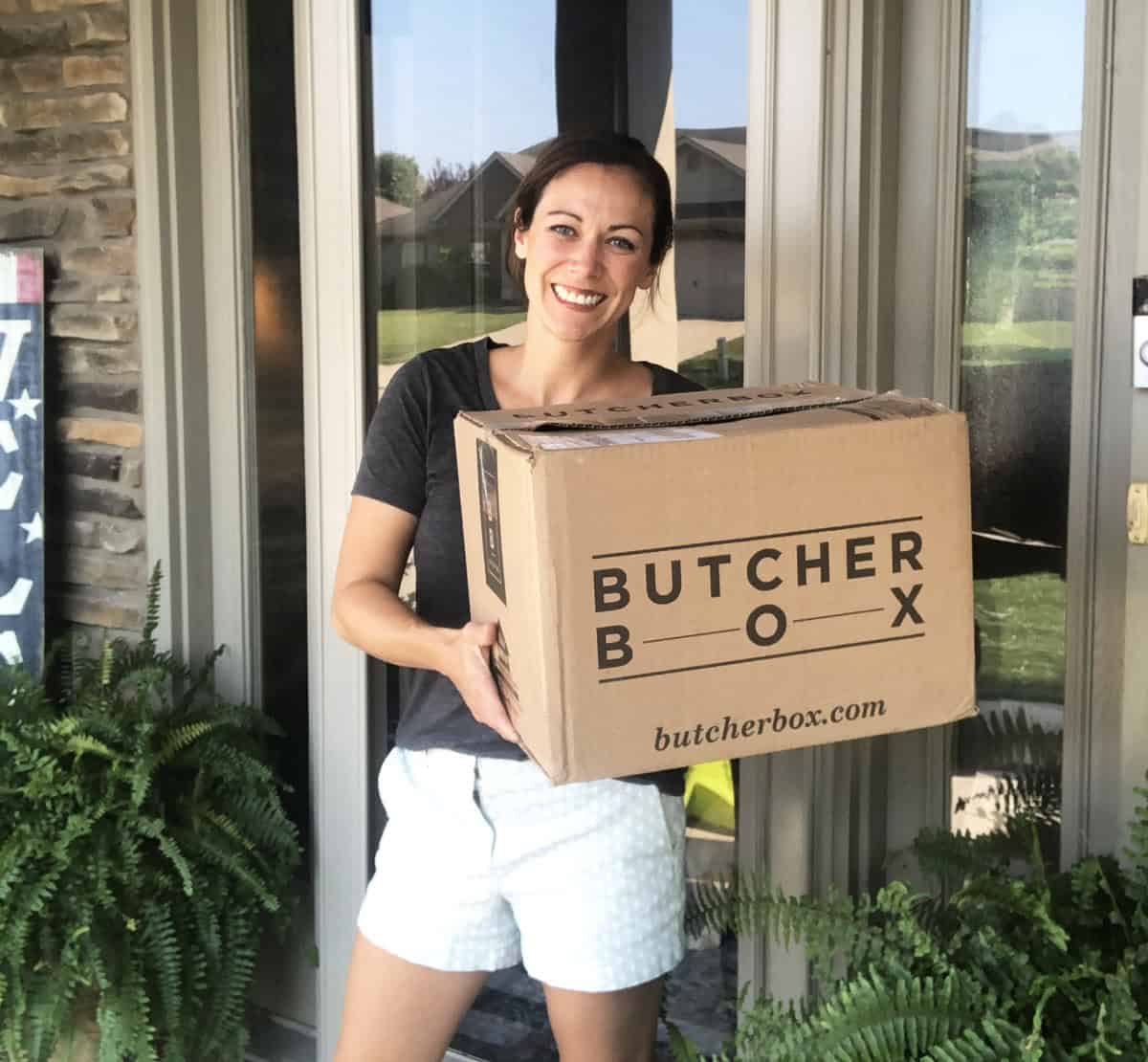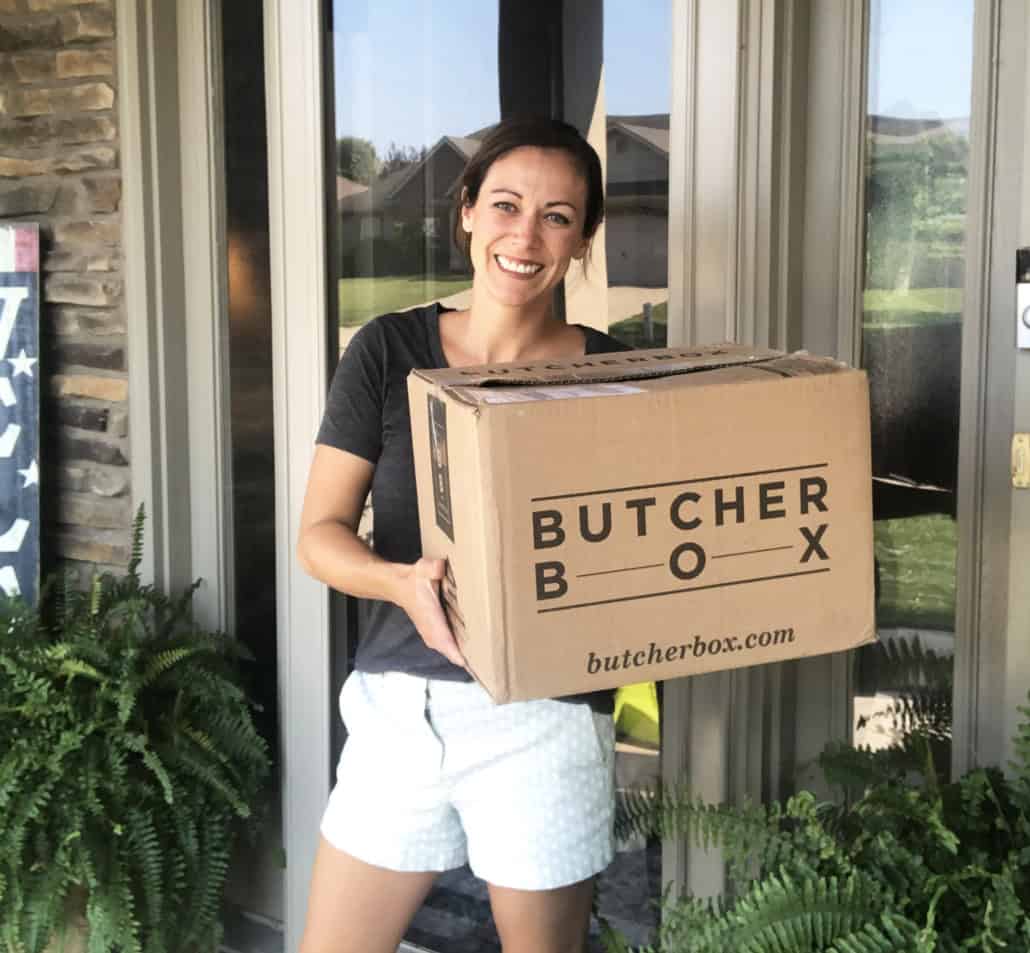 Tips for Cooking Frozen Food in the Instant Pot
Tip 1: Freeze Your Instant Pot Meals in a Circular Form.
While many are accustomed to freezing meals in a nice flat square-shaped freezer bag, this shape won't work when trying to cook a freezer meal in the Instant Pot. It simply won't fit.
Our preferred method is to freeze the meal in a zip-top freezer bag and place the meal in a bowl (or something that is a round shape). After it's frozen, snatch the bowl back and leave the meal in the freezer. Then when you want to make your meal, it'll plop right into that Instant Pot!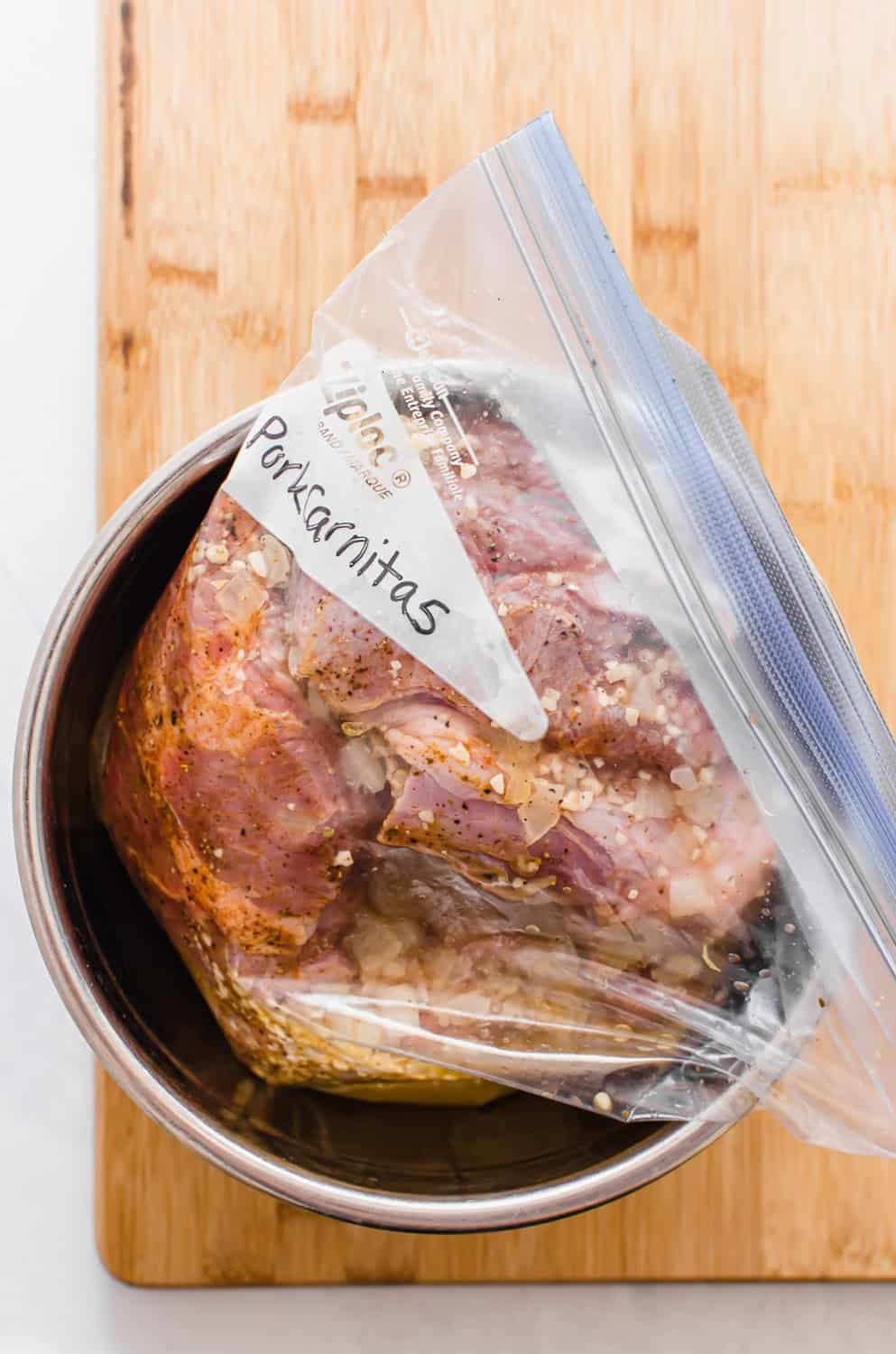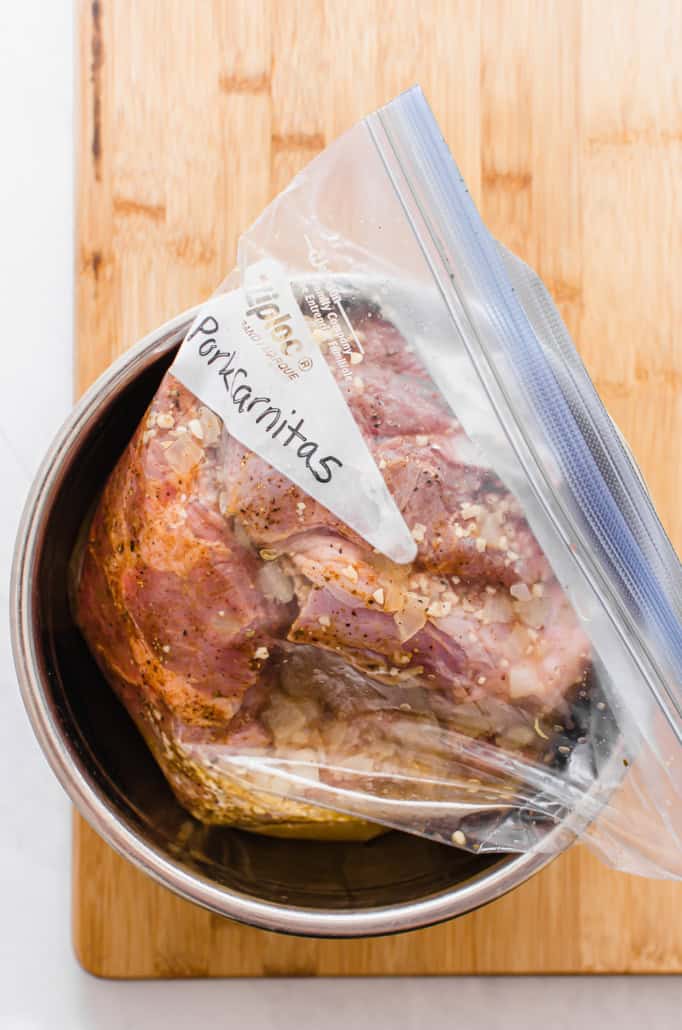 Tip 2: If Possible, Don't Stack Your Meat When Freezing Meals in the Instant Pot.
We have learned this the hard way. Because the Instant Pot cooks so fast, if meat (especially chicken breast) is stacked, it's really hard for it all to cook evenly. The outside gets done and the inside remains pink as a pig. (Is that a phrase? It is now.) If it's impossible to not stack your meat, just be sure to check for doneness throughout. If it's not done, move the meat around with some tongs and cook on high pressure for a few more minutes.
Tip 3: Large Cuts of Meat Should be Cut into Small Pieces Before Freezing.
We're talking pork shoulders and beef roasts. In order for meat to cook evenly and to get really tender, it's better if it's not in one big chunk. We recommend quartering our pork shoulders and cutting our chuck roasts into 2 inch cubes. It's some work on the front end but worth it. Chicken breasts and thighs seem to do fine as they are.
Tip 4: Saute the Freezer Meal in the Instant Pot for 5 Minutes Before Cooking.
One trick that we have learned about cooking a freezer meal in the Instant Pot is to let the frozen meal simmer for about 5 minutes. Simply turn on the Sauté function, place the meal in the pot, and let it do its thing.
Tip 5: Allow Extra Cooking Time for Coming to Pressure and for Cooking Freezer Meals in the Instant Pot.
We've found that freezer meals take almost twice as long to come to pressure than a thawed meal does. Make sure you allow for that time when prepping or you'll have a hangry family. I wish there was a one size fits all pattern to freezer meal cooking times in the Instant Pot but there just isn't.
One trend we see is that the longer it takes a meal to come to pressure, the less additional time you need to add to cook a frozen meal. It seems counterintuitive, I know. You'll just have to trust us on this one. So for example, in our recipes for a large batch of soup, we don't add any additional cooking time when cooking from frozen. On the flip side, we add 10+ minutes to a small chicken recipe.
Want More Instant Pot Freezer Meals?
Be sure to check out this post packed with 20+ Instant Pot Freezer Meals!