How to Freeze Cookie Dough
Updated: 9/12/22
This post may contain affiliate or sponsored links. Please read our disclosure policy.
Freezer cooking is a lifestyle for us. We use it to save time, money and sanity on a daily basis. While we specialize in delicious freezer meals, we love teaching about how to freeze basic household ingredients and recipes. This is why we are taking the time to teach others how to freeze cookie dough. It's a simple trick that you will use almost every single time you make cookies in the future!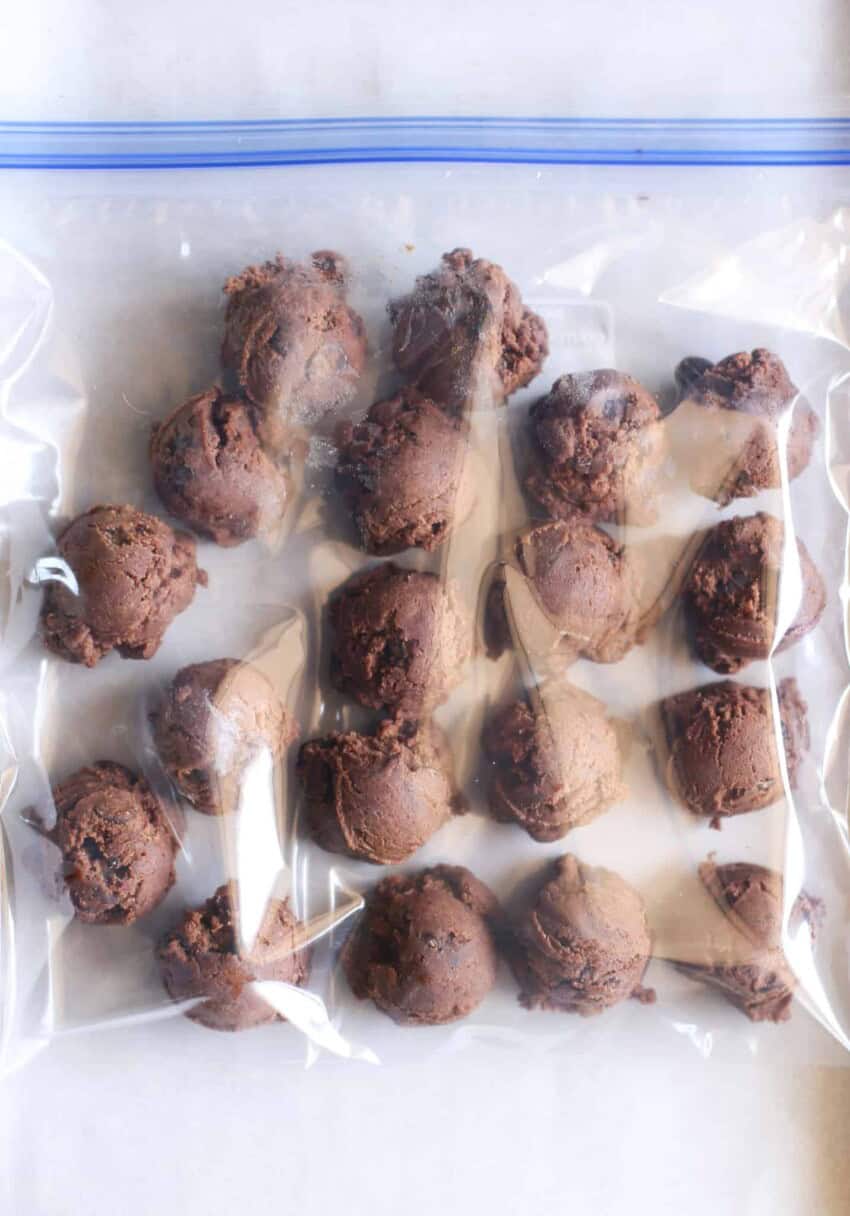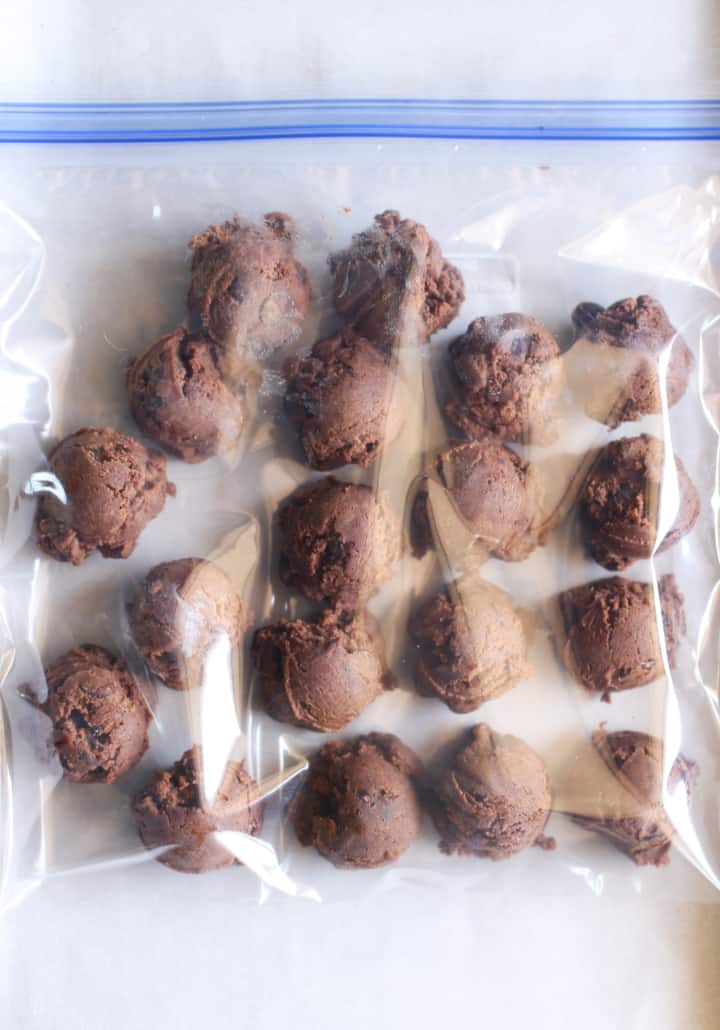 Why Freeze Cookie Dough?
Baked cookies have a very short shelf life. If you don't eat them within a day or two, they start to quickly dry out. Freshly baked cookies are ALWAYS better!
But, most of the time, all of the cookies from a batch of cookie dough don't get eaten. Unless you are cooking for a group of people, it's unlikely you'll end up eating all of the cookies a batch makes.
This is why I LOVE the concept of freezing cookie dough. Cookie dough freezes beautifully and after thawing them out for 15-20 minutes on the counter, they bake up perfectly. You'll never know they were frozen!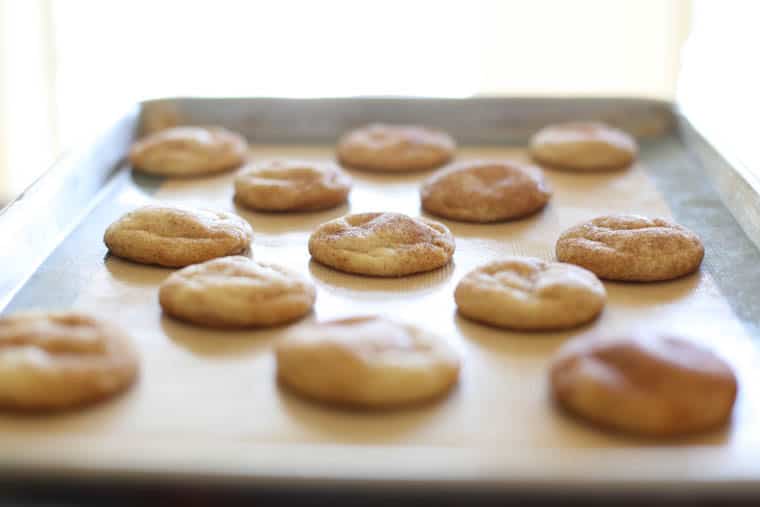 How to Freeze Cookie Dough
It's easier thank you think.
Step 1: Scoop Them
Simply scoop up the cookie dough in the portions that you would normally cook it in and place them on a baking sheet lined with parchment or foil. They can be really close to each other since you won't be baking them that way.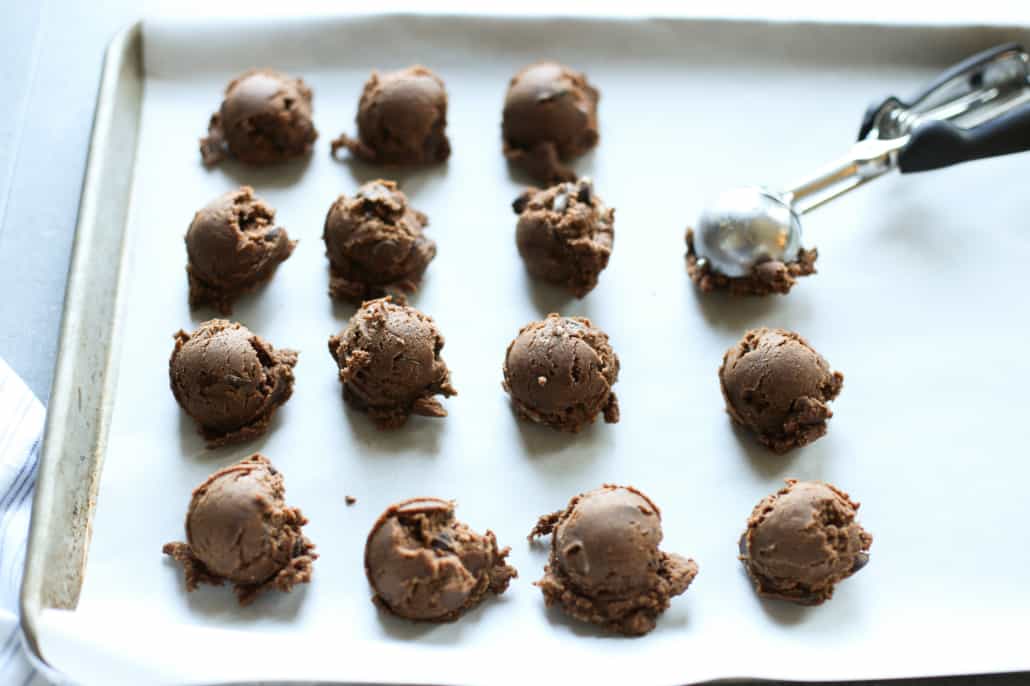 Step 2: Flash Freeze the Cookie Dough
Pop your baking sheet in the freezer for a few hours and let the dough harden up. Mine baaaarely fit in the freezer. (Pay no attention to the MONGO bag of walnuts hanging out in our freezer.)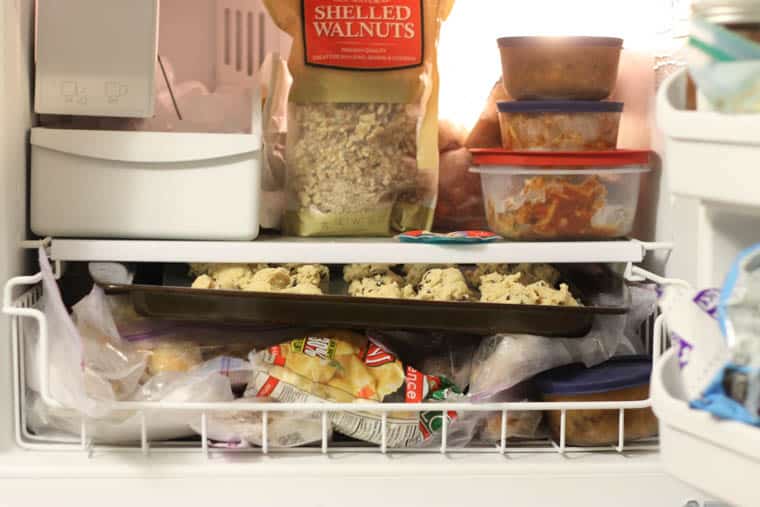 Step 3: Store the Cookie Dough
Now just put them all in a gallon Ziplock and write the baking instructions on the front.
Or if you're like me, you have the baking time and temperature memorized so there is no need for instructions. It's second nature to us.
To bake your cookies, take as many out of your bag as you want, let them thaw 15-20 minutes on the counter, and bake them as the recipe instructed.
Done!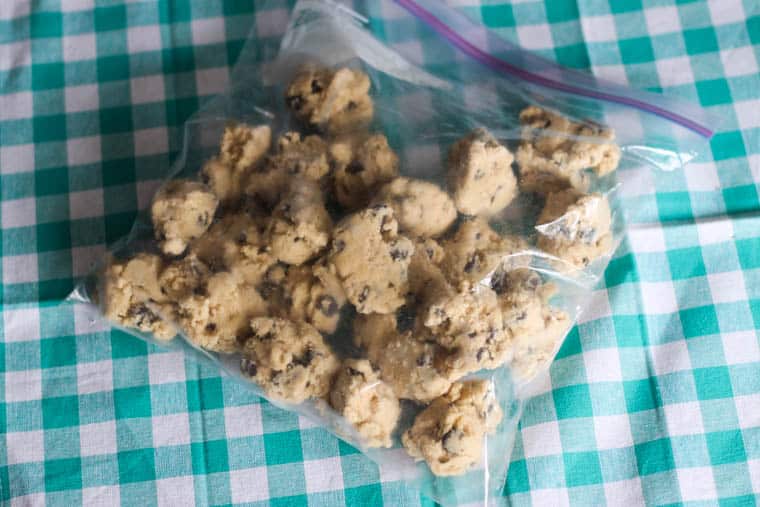 Cookie Recipes
Now that you equipped with a trick to make the most out of your cookie recipes, here are some yummy ideas to try out!
Monster Cookies – This Monster Cookie recipe has been tucked away in my recipe stash for years. You'll find that this cookie is easy to make and your people will gobble them up.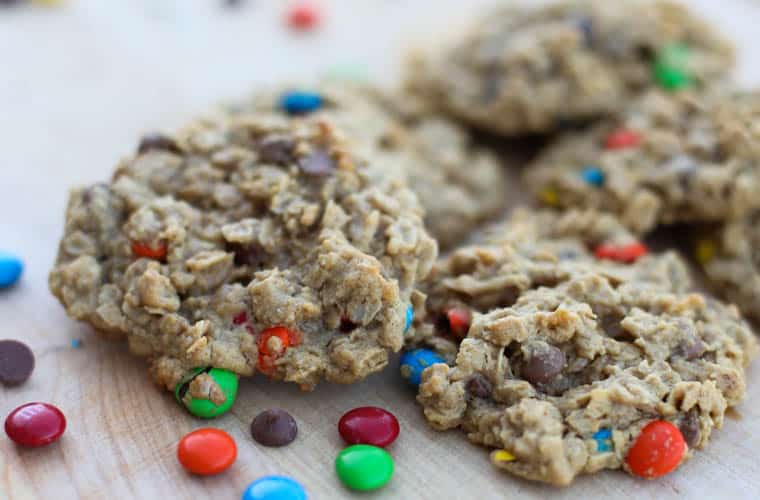 Snickerdoodle Cookies – If you are looking for a GREAT Snickerdoodle Cookie recipe, go no further. Stop searching. Don't try anything else. You have arrived. These Snickerdoodles are easy to make, so soft & chewy, and so delicious.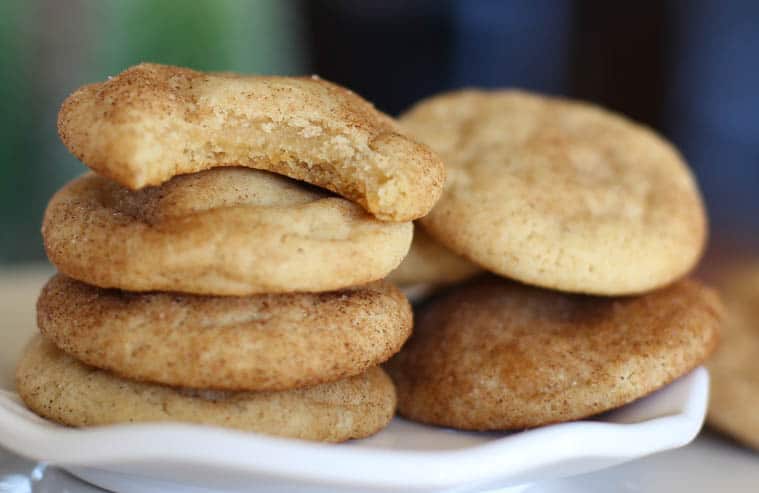 Dark Chocolate Coffee Cookies – The perfect afternoon treat to pair with coffee! These Dark Chocolate Coffee Cookies are rich, moist, and have a balance of not-too-sweet-sweetness thanks to the dark chocolate and instant coffee in the recipe.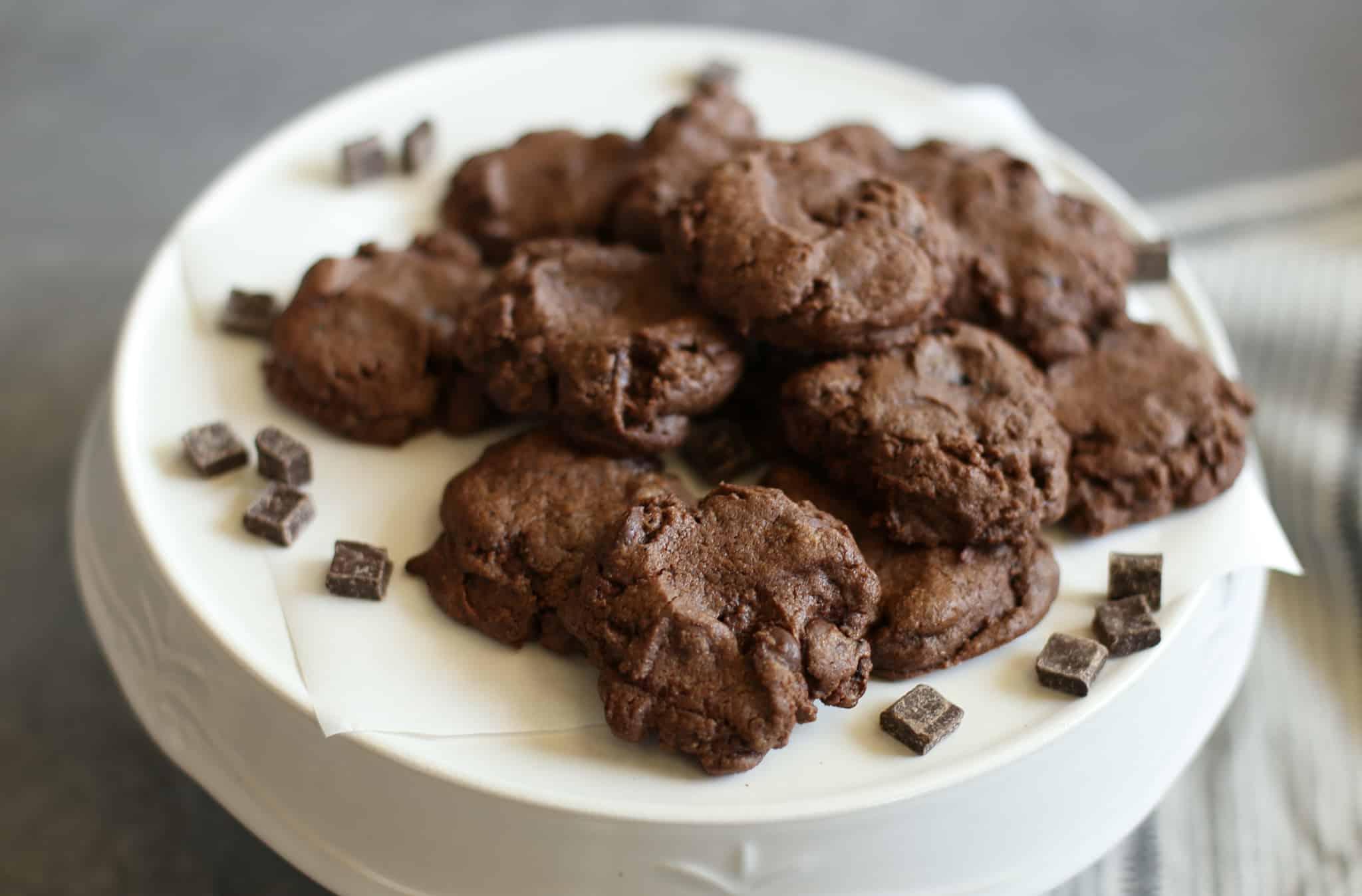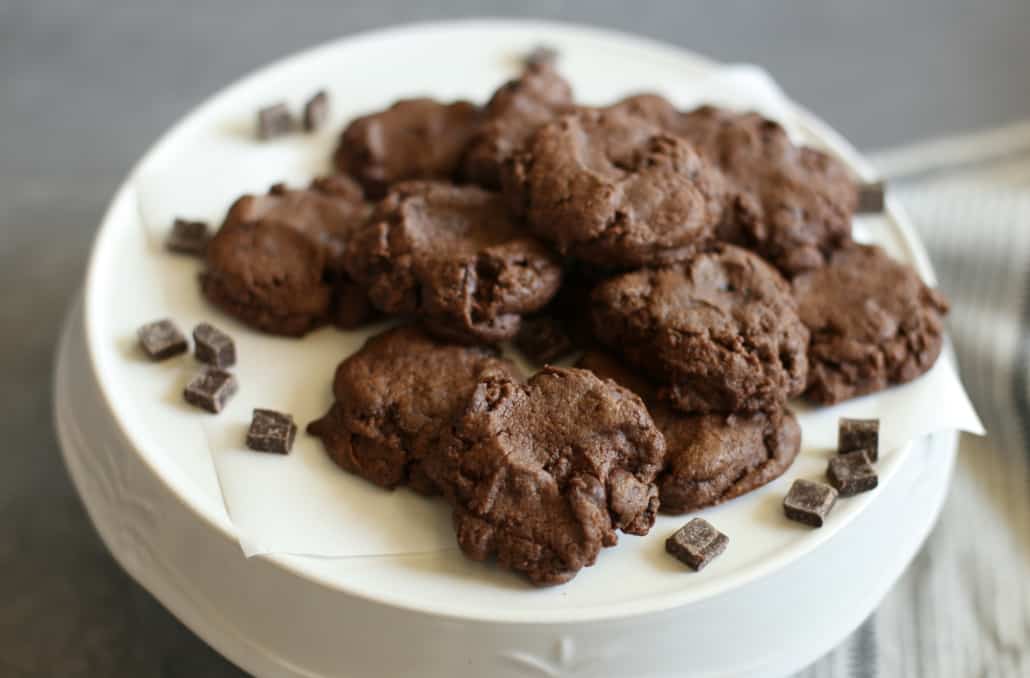 Whole Wheat Chocolate Chip Cookies – These are the BEST EVER soft batch, whole wheat cookies. They include all real food ingredients but retain the flavor and texture of the classic version.