How To Get the Best Produce At the Best Price: 6 Insider Tips
This post may contain affiliate or sponsored links. Please read our disclosure policy.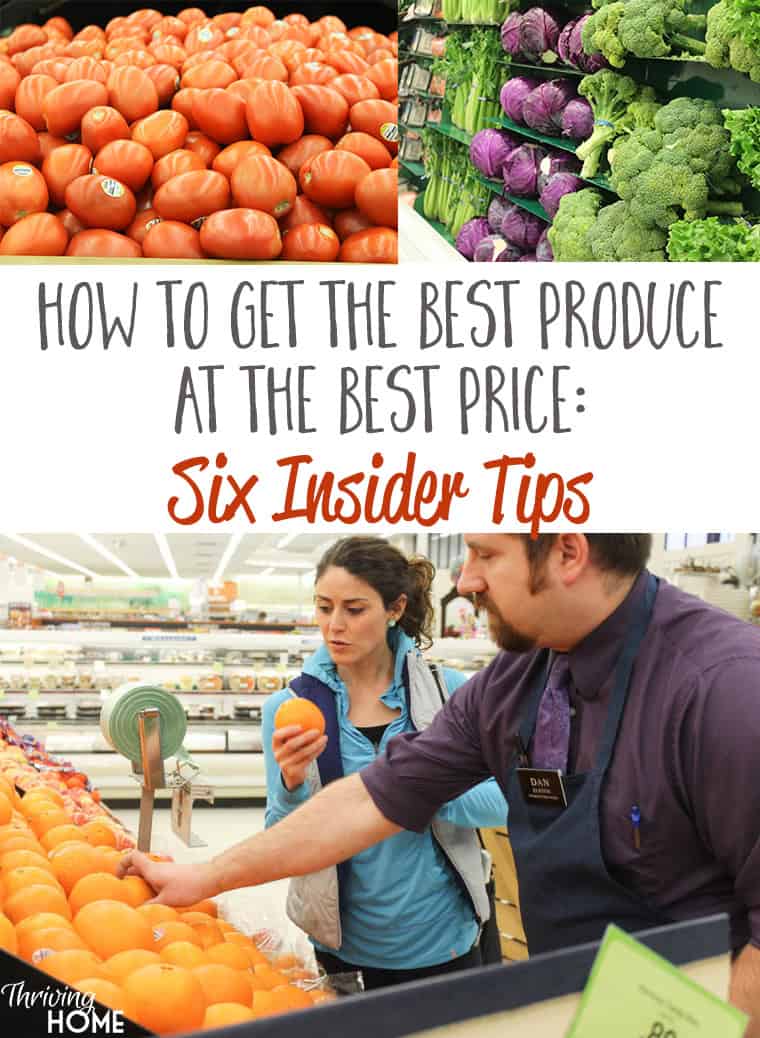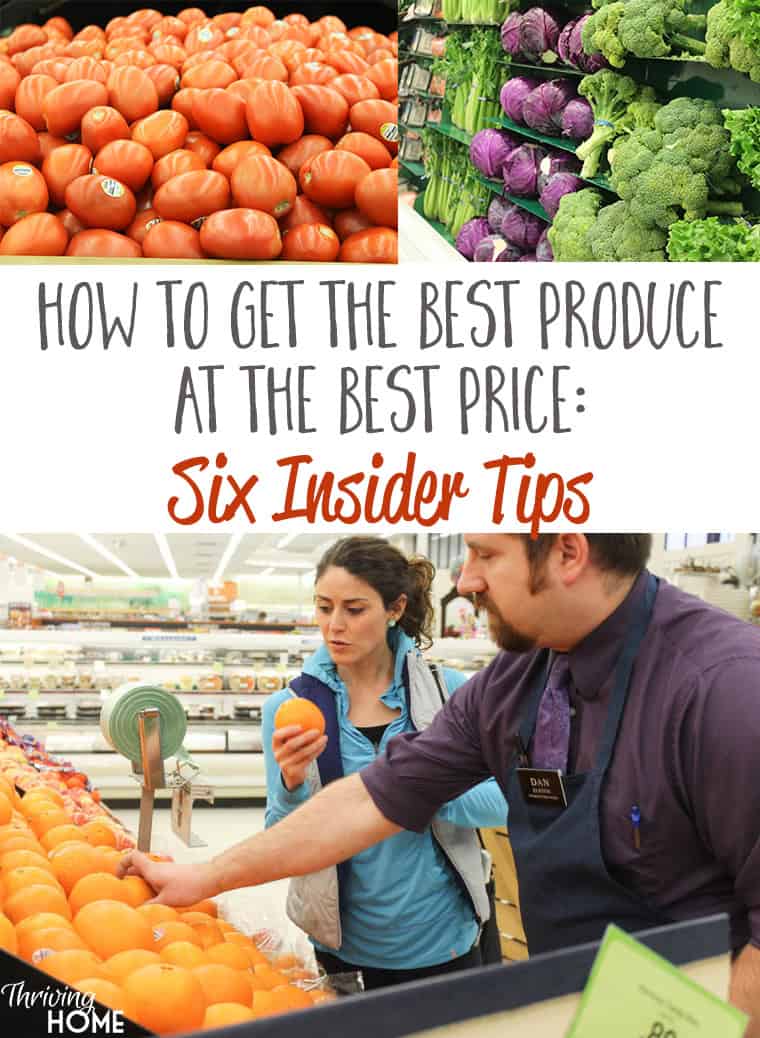 Sponsored by Hy-Vees of Columbia
Who doesn't love a perfect peach at peak season? Or a juicy summer tomato from a local farmer? Our family always tries to keep the veggie and fruit drawer of our fridge packed. But, let's face it. There are some hurdles when it comes to buying high quality produce in town at the best price. Some of my biggest grocery disappointments have been spending $8 on grapes that tasted like battery acid or raspberries that turned moldy within 24 hours.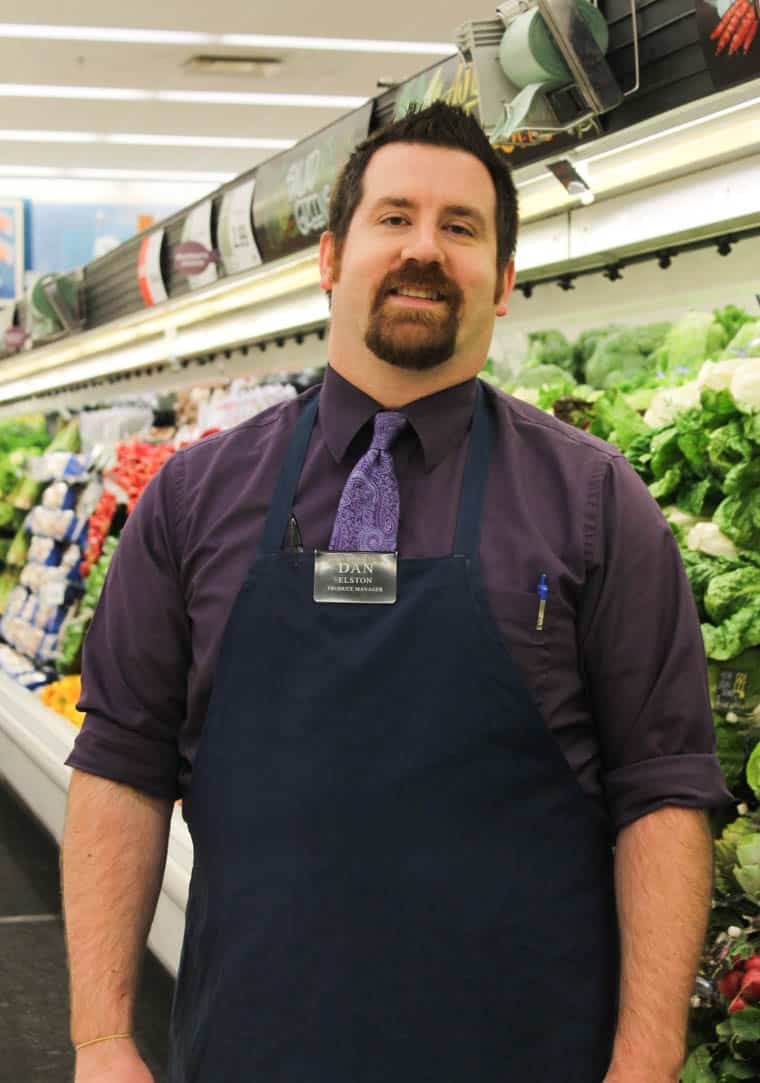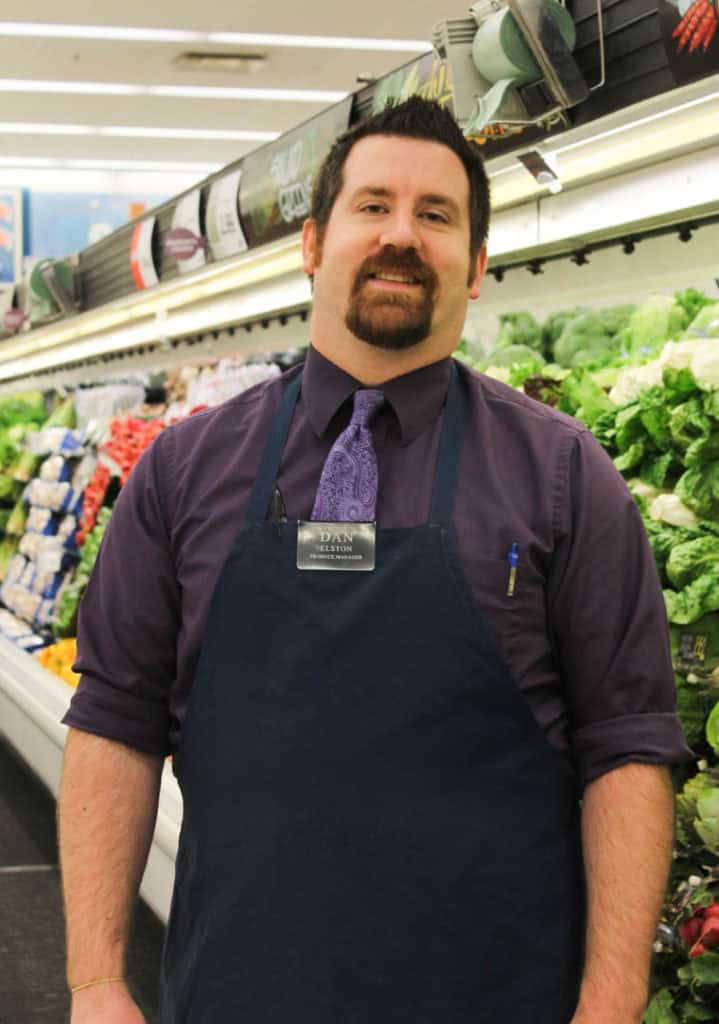 So, in a quest to answer one of life's biggest questions–How do I find the best produce at the best price?–I headed over to visit with Dan Elston, the produce manager at Hy-Vee on West Broadway in our town of Columbia, MO. Here are his six insider tips for selecting the best produce at the best price. I learned several new things along the way, and I think you will too!
P.S. Dan is a great guy. If you have a chance to visit with him, he is very passionate about his job and knows produce inside and out!
Tip #1: Buy the highest grade of produce. There is a difference between stores.
Q: What is the difference between Hy-Vee's produce and that of other grocery stores?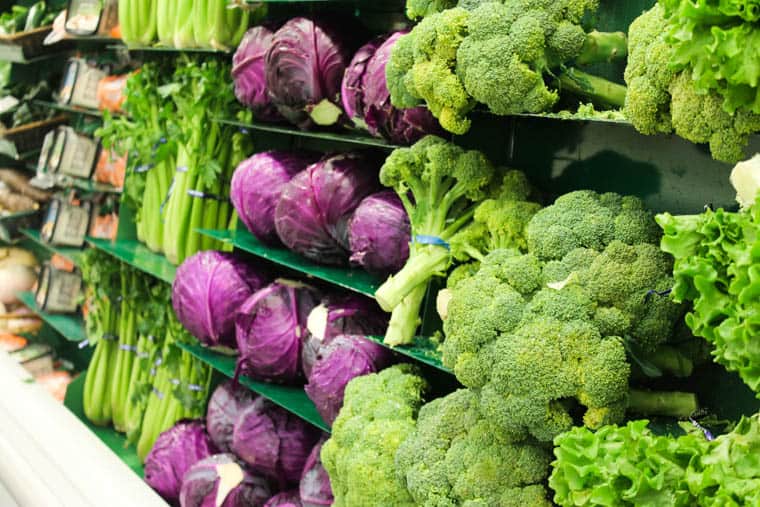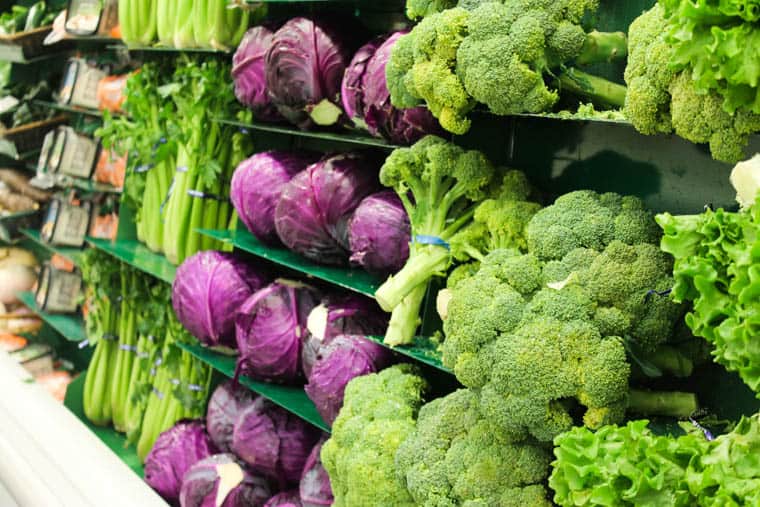 A: Hy-Vee always strives to buy the highest grade produce that we can. We only carry extra fancy apples. That is the highest grade available. With other key items, avocados for example, our produce is pre-ripened. That means that it is ready to go for the customer in a day or two instead of a week or two. In the winter, our stone fruit (peaches and nectarines) is flown to the United States instead of shipped by boat. This saves us many days in travel time and thus has a longer shelf life for the customer. Hy-Vee is always looking for new items and strives to be the first to market with them. We carry some items and brands exclusively, like Holiday Seedless Grapes. Many Hy-Vee stores receive 6 or 7 deliveries a week, so fresh produce is only a day away.  
Tip #2: Buy produce that is "in season." 
Q: What does it mean to buy "in season" produce? What difference can buying produce that's "in season" make to the customer?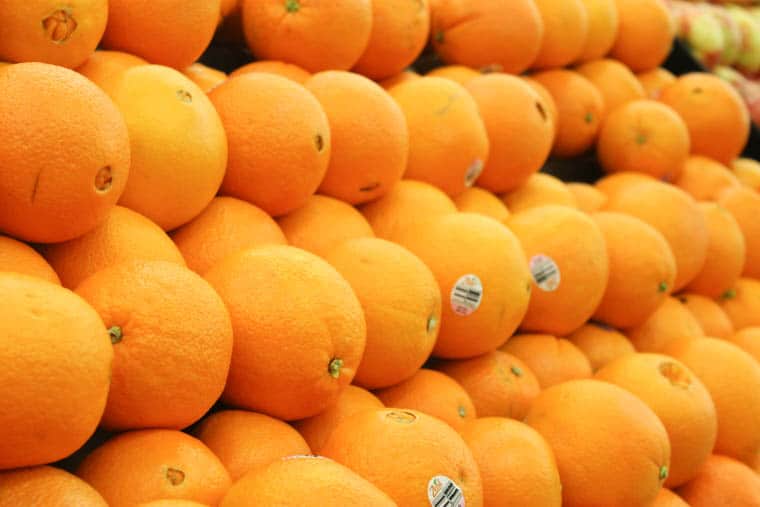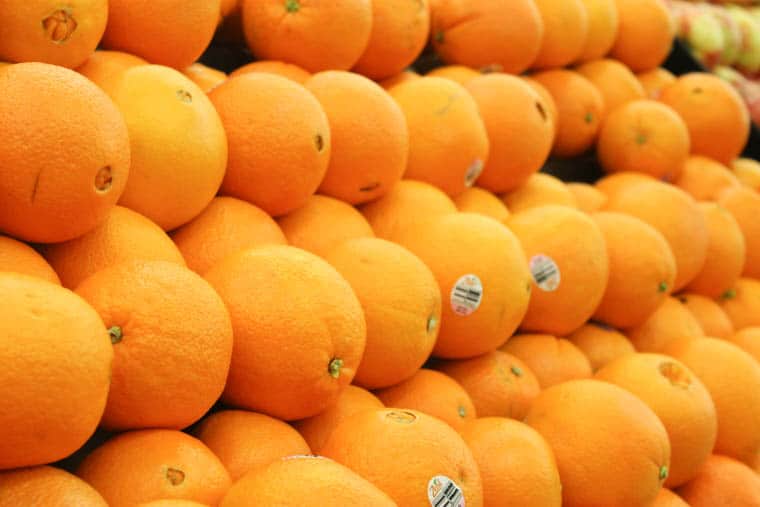 A: In season produce is typically fresher and cheaper. Peaches in June come to the store by truck and in January they come by jet or boat. In season produce is allowed to ripen in the field longer and thus the sugars develop more and that means better tasting fruit. Out of season produce must be picked sooner and often chemically ripened. In season produce is less expensive to pick and ship and thus costs less to the store and to the consumer. Buying produce that is in season also means that there is simply more available to choose from. In the fall we carry close to 20 apple varieties; in the summer we only carry about half that many.
Tip #3: Buy local produce when possible.
Q: What are the advantages of buying local produce?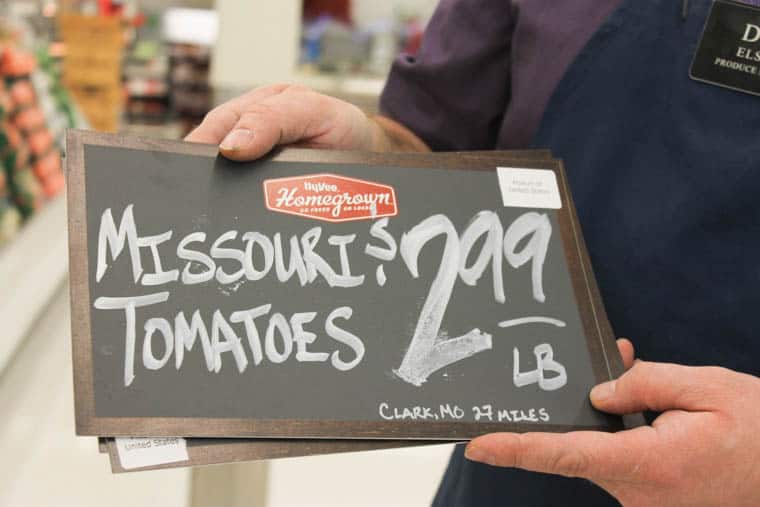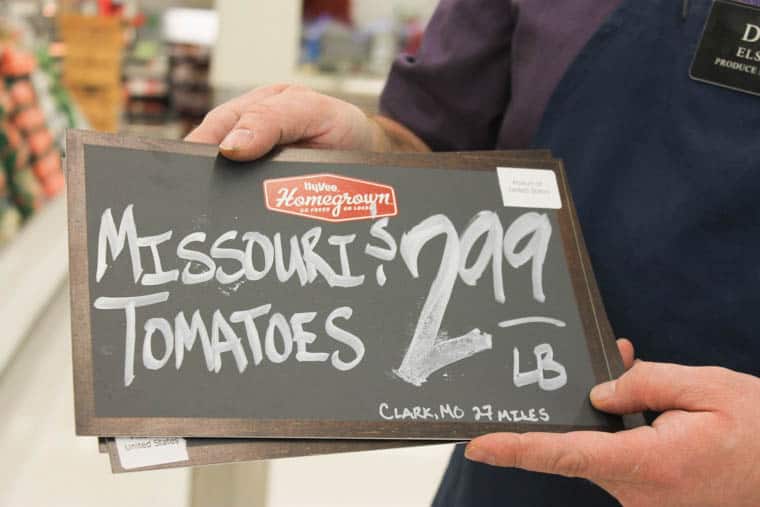 A: It's great to support local farmers and customers love to be able to put a name and a face with the produce that they are buying. Local produce is often cheaper than non-local as well. Local produce is usually grown more sustainably and with fewer or no chemicals. Much of the local produce that I buy is organic but it's not certified so I cannot sell it as organic.
Q: Does Hy-Vee carry much produce from our area? How do we know what's local and what's not? 
A: In season, Hy-Vee tries to carry as much local produce as possible. Many stores say they carry local produce, but they use the term VERY loosely. We can only call an item locally grown if it comes from within 200 miles of our store. In the summer and fall time we will have many items from within Missouri and dozens more from around the Midwest. During the locally grown season, it is the focal point of my department and we have lots of custom designed signage to tell the story to our customers about the farms and famers we support. We have special signs to show customers exactly what items are locally grown.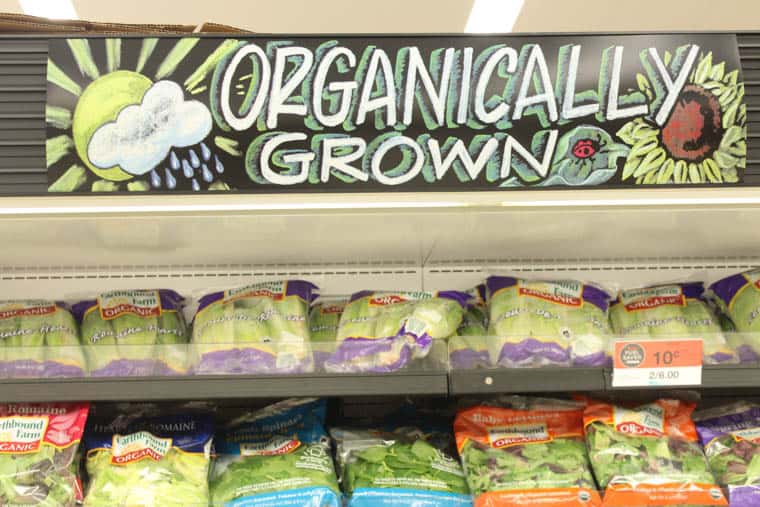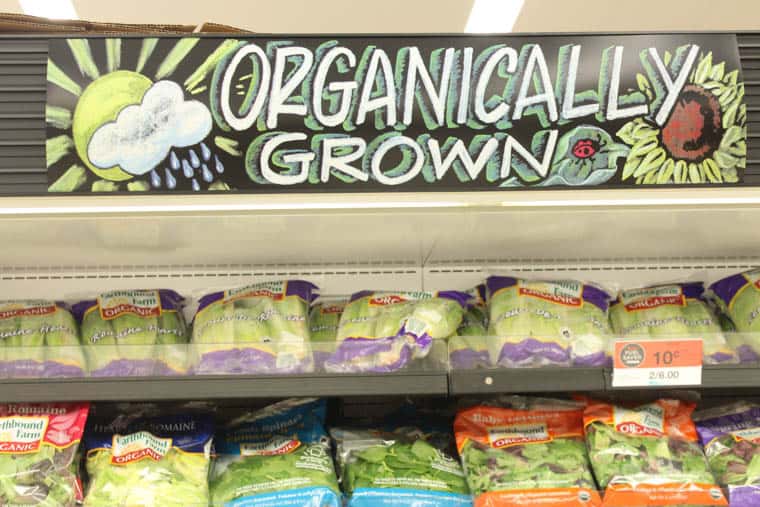 Tip #4: Touch, smell, and look carefully before you buy.
Q: Ok, give us some of your best tips for selecting the best quality produce in store. What should I be looking for?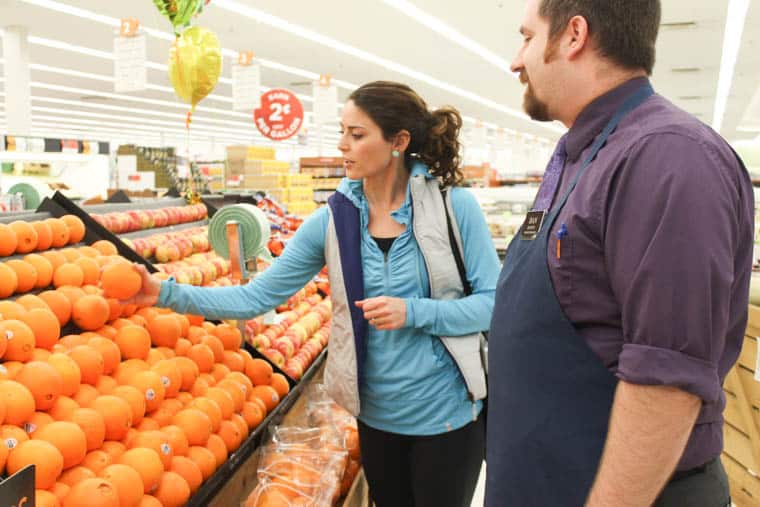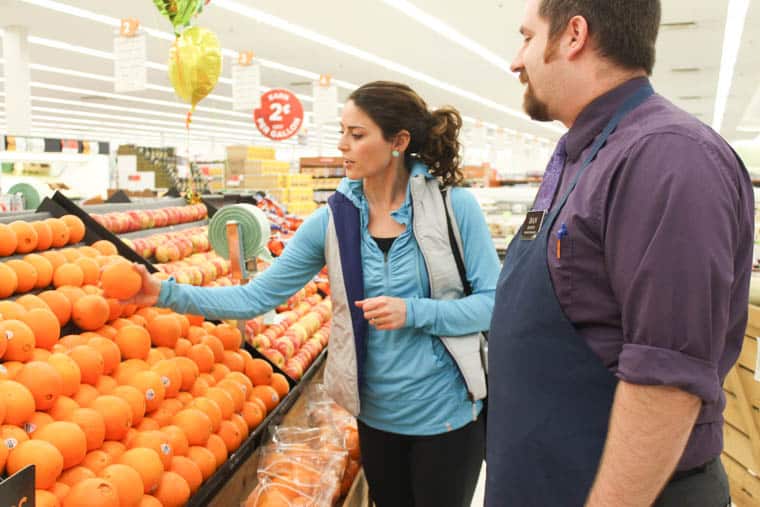 A: This varies so much from item to item. Apples are the easiest: just don't buy soft or wrinkled ones. Greens should be green and the stems should be crisp, not soft. Strawberries should be red from the tip to the top with green stems. Color doesn't mean anything when it comes to selecting mangoes, just select fruit that yields to gentle pressure. They don't change color as they ripen. Pat watermelons with an open palm, they should sound hollow. Cantaloupe and other melons should be slightly soft with a pleasant aroma emanating from the stem end. Pears should be soft around the stem or "neck" of the fruit, remember that only Bartlett pears change color as they ripen. Avocados should be black and soft, they start out green and hard. Some items are just a matter of personal preference: some people like green bananas and some like yellow. If you ever have a question about a specific fruit, just ask a friendly Hy-Vee produce clerk.
Tip #5: Don't be afraid to ask for help at the store.
Q: Can you tell me anything about your produce department staff? How can they help customers?
A: All Hy-Vee employees are trained to engage the customer with their needs and answer all of their questions as best they can. If they don't know the answer, I tell them to find someone that can. I also tell my employees to just google the question if needed. I still get asked questions that I don't know the answer to. I'll get out my phone and search for the answer. If a customer wants to try a certain fruit, all they have to do is ask.
Tip #6: Meal plan and shop according to the weekly ads.
Q: Any last tips for selecting the best produce at the best price?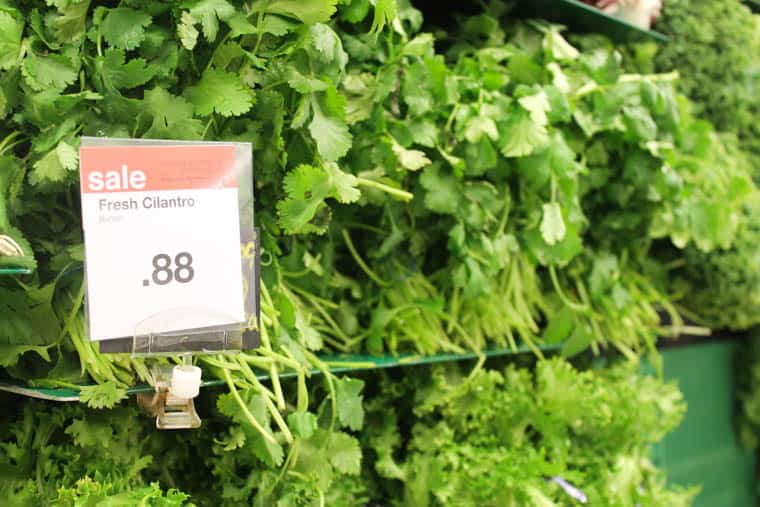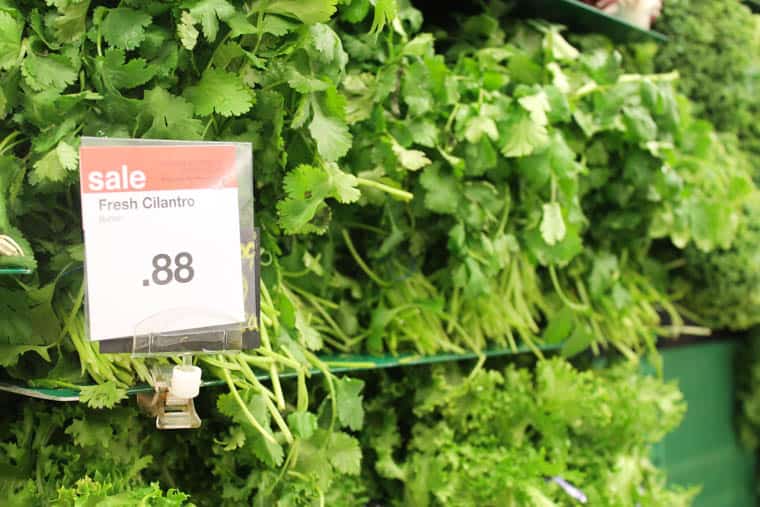 A: As far as price goes, it's best to watch our ads and just come in our stores and see what we have. Our purchasing department is always searching for great deals that we can pass on to our customers.That's what I love most about working in produce, it's a new adventure every day.
Thriving Home Tip: Use our weekly meal plans that are based around Hy-Vee's weekly sale items in order to plan ahead before shopping. It's one of the best ways to save money and eat healthier.