2 Easy Ways to Get Hy-Vee Groceries without Stepping into the Store
(This post is sponsored by HyVee. Have no fear, opinions expressed are ALL mine. I wouldn't lie to you.) 🙂
The way busy parents grocery shop has changed quickly. It was only a few years ago that getting groceries delivered to your home was almost luxury service. Now, it's almost expected! In fact, the stores that haven't evolved to offering online ordering, pickup or delivery seem to be losing traction.
Truth be told, I don't mind going into a grocery store. I like to see and touch the produce I'm buying, survey the new products and some of my favorite local items, and peruse the ailses for new meal ideas. If I have a kid with me, using one of these 8 Hy-Vee Hacks Every Parent Should Know, makes the trip even easier. I can even pop into the dietitian's office with any questions I have!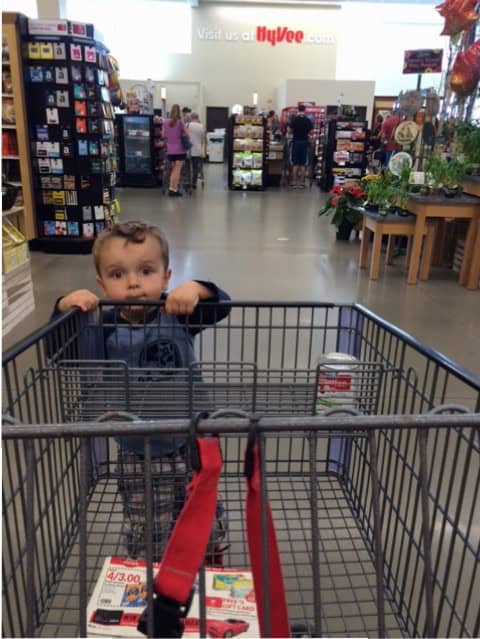 Despite all of the perks of stepping into a store, sometimes it's just nice to have options. Whether your time-strapped, have a sick kiddo, or just don't feel like getting out of your car, Hy-Vee has all sorts of ways for you to get groceries without even stepping into the door.
2 Ways to Shop at Hy-Vee without Even Stepping in the Door
1. Curb-Side Pickup (FREE!)
I love this option because unlike delivery services, it's FREE (for any order over $30) and non-commital. No membership. No monthly fees. You can do it 1 or 100 times and it'll be free every time.
It does take a bit of planning a head but can be a huge time saver in the long run.
Here's how I've found it works best for me. After menu planning for the week, I create my grocery list and hop onto the Hy-Vee website. Pssst… when shopping online, you can easily scout out the sales and lowest prices! Just another perk worth mentioning.
After putting all of the items on my list in my shopping cart, I select a time to pick them up. This is the factor that's a bit unpredictable. Sometimes every slot is available, and sometimes not. It really depends on the store and how many people are wanting curb-side pickup that day. You can almost ALWAYS find one for the next day though. (This is why I mentioned that it takes a bit of planning but with our menu plans, you can do it!) Here is a free printable menu planner to help!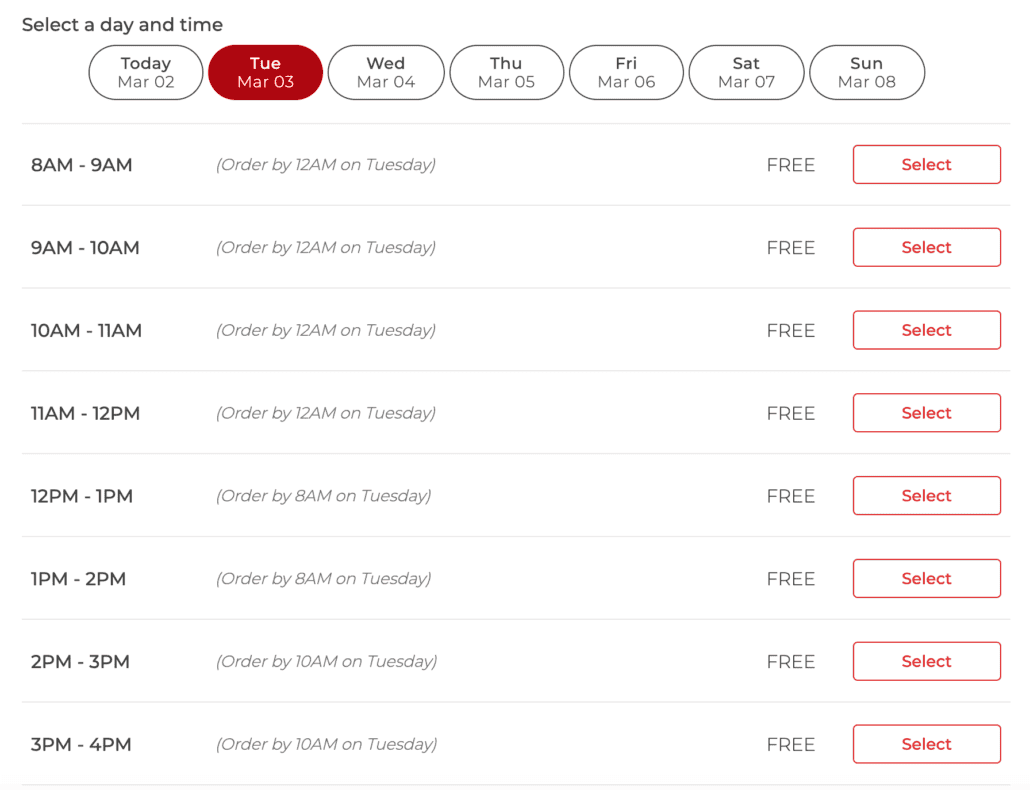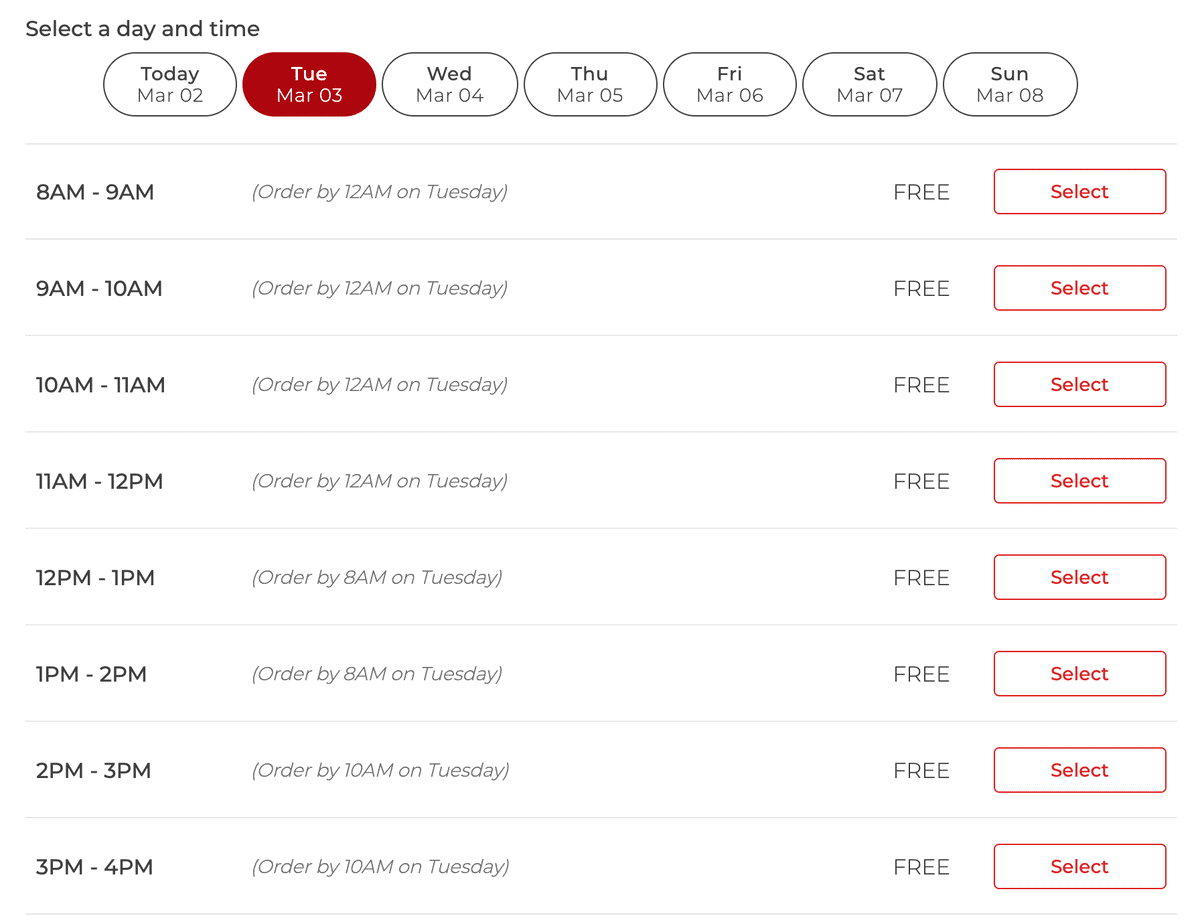 Last thing to do: show up! There is a designated, easy place to park for curb-side pickup. Simply pull in sometime during your designated time window and give them a ring to tell them you are there. A friendly staff member will roll your groceries right out and even put them in your car for you. BEST. DAY. EVER.
2) Hy-Vee Grocery Delivery
With 3 high-energy kids, going to the store is WORK. It feels like I come home running low on patience but with plenty of items that weren't on my list. When they were younger, even picking up groceries had to be properly timed between naps or other necessary errands. And then there are those days where someone is sick. Leaving the house isn't an option but the pantry staples are running thin. The solution: Grocery Delivery!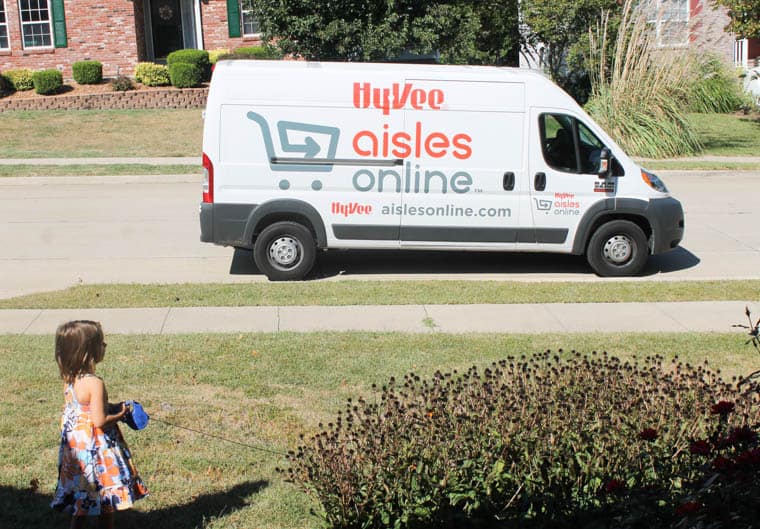 Here are a few things that make Hy-Vee Grocery Deliver stand out from its competitors:
Hy-Vee employees are picking out the food. These are people who know their store and the food in it. This is especially important when it comes to produce!
You can create a shopping list of frequently purchased items. This is a huge time saver!
Money back guarantee if the item is now what you expected. If you're not happy with something that came in your delivery, a quick call to the store will make it right!
Hy-Vee has many household items. You aren't limited to ordering groceries through Aisles Online. You can also grab many household items like paper products, laundry detergent, sunscreen, over the counter meds, band-aids and even stamps! This a great time to scan the sales and stock up.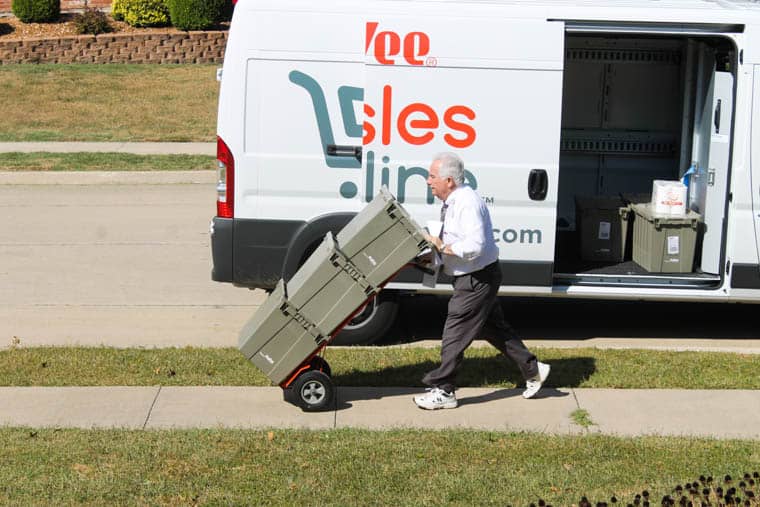 Bonus: Use Instacart!
If you are an Instacart user, they will shop Hy-Vee for you! Want $20 off your first order through Instacart to use at your next Hy-Vee trip? Go through this link and use the code: P8AEC141F0
The Verdict
Online shopping is the future. Since someone else will be doing the hands-on shopping for you, it's important to shop from a place that has high quality ingredients and a money back guarantee if you're not happy. Hy-Vee has all of that to offer and more.
Still have more questions? Swing by the FAQ page to get some of the nitty-gritty details.
Ready to shop? Hop over to HyVee Aisles Online and get shopping!
https://thrivinghomeblog.com/wp-content/uploads/2014/09/how-to-save-time-and-money.jpg
673
760
Polly Conner
https://thrivinghomeblog.com/wp-content/uploads/2019/10/thrivinglogo.png
Polly Conner
2015-09-30 05:00:31
2020-04-05 10:58:50
2 Easy Ways to Get Hy-Vee Groceries without Stepping into the Store