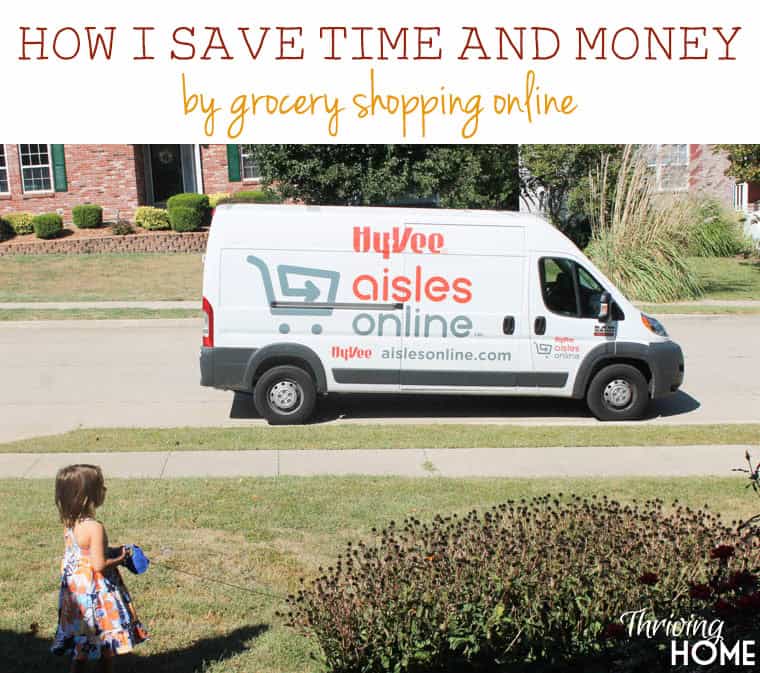 Hey guys. I've been itching to share this video and post with you for so many reasons. Kick back (for like 3 minutes) and give it a watch. Then read on for more info!
(This post is sponsored by HyVee. Have no fear, opinions expressed are ALL mine. I wouldn't lie to you.) 🙂 
As I mentioned in the video, I'm in this stage of life in which errands are not easy. In fact, errands are WORK.
There are two reasons for this: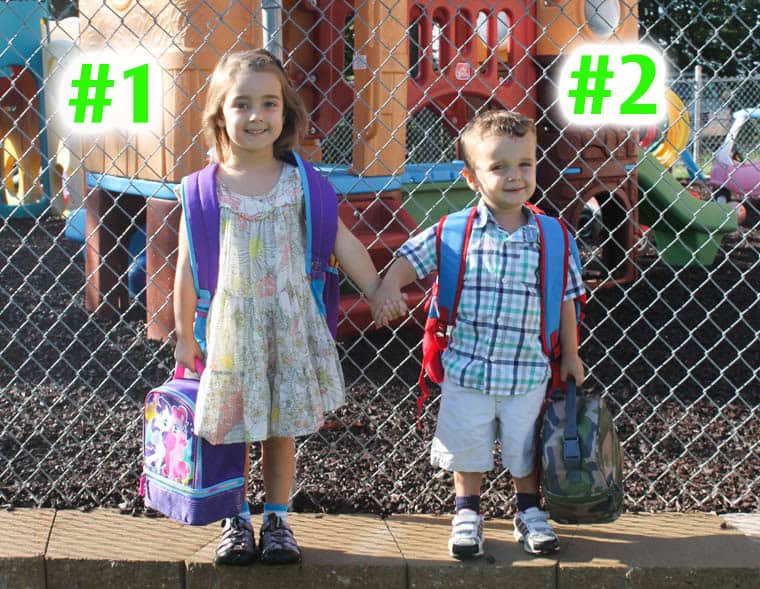 When my kids were younger–like infant and toddler age–errands, particularly the grocery store, had to be properly timed between naps and nursings. Not to mention the ridiculous amount of things you had to bring along for a "just in case" scenario. If you miss that 30 minute window of the day where nobody has a primary need, a trip to the store is a nightmare.
Now, with a 2 and 4 year old, I have a different type of preparation for the store. A mental preparation. I have to jazz myself up to be kind, firm, patient, disciplined, agile (yes, agile) and extremely efficient. No backtracking. No innocent browsing.
Parents of littles- you know what I'm talking about.  Idle hands are the devils workshop. Especially at the grocery store. Oftentimes, when I leave the grocery store I seriously feel like I've gone through some sort of obstacle course.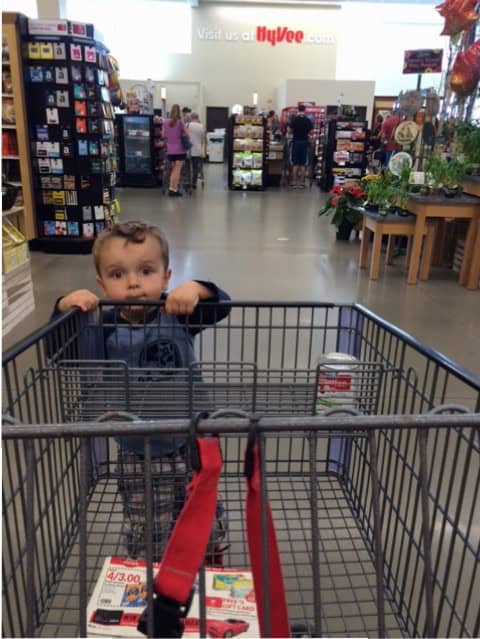 Even though I stay at home with my kids, I sometimes just don't have time to go to the store. We stay busy and taking a morning to go to the store means saying no to something else we could be enjoying together.
So in this crazy, busy, sometimes-stressful season of life, here is a dream of mine.
In my perfect world, my groceries would show up at my doorstep. OR I'd even be OK with them waiting for me in their bags AT the store. I'm not picky. I just don't want to chase my herd of kittens through the bakery anymore.
Seems far-fetched. Yes, I know.
Or does it?
Well, friends. Dreams do come true.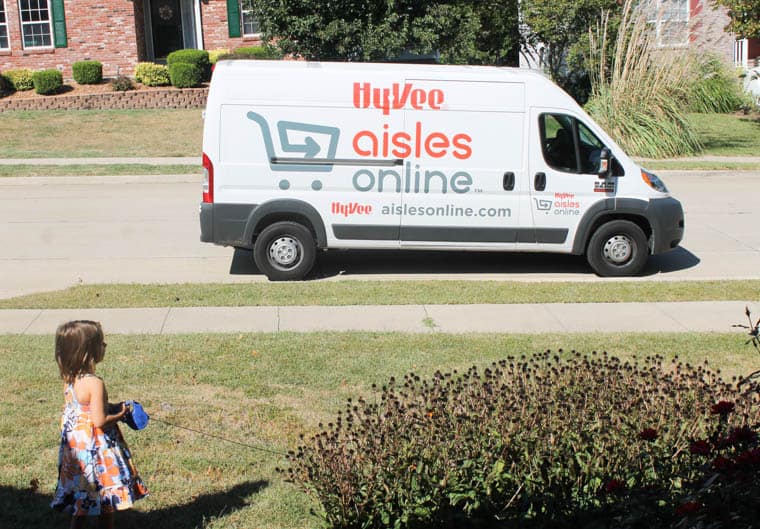 My favorite local grocery store in Columbia, HyVee, is now offering online shopping delivery or pickup.
("Praise God from whom all blessings flow…." Is running through my head.)
I repeat. HyVee will deliver your hand-picked groceries to your home.
How to Order Groceries with HyVee Aisles Online
First things first. Make a menu plan for the week. To make this super easy for you, we create weekly menu plans that actually plan meals and recipes around the sales at HyVee. Here is an example of one. Swing by our other menu plans to find the most updated plan and current sales at Hy-Vee.
Whatever method you use, create your shopping list as if you were going to go to the store.
Now, you're ready to shop.
OK, so right up front, I think it's worth mentioning that the feature can be a little hard to find on the website. Have no fear. I'm creating a step-by-step tutorial for you.
Saddle up. Here we go.
1. Start at the Hy-Vee Website. Click on the "Shop" Tab at the top left (Shortcut: Click on the "Aisles Online" image on the homepage.)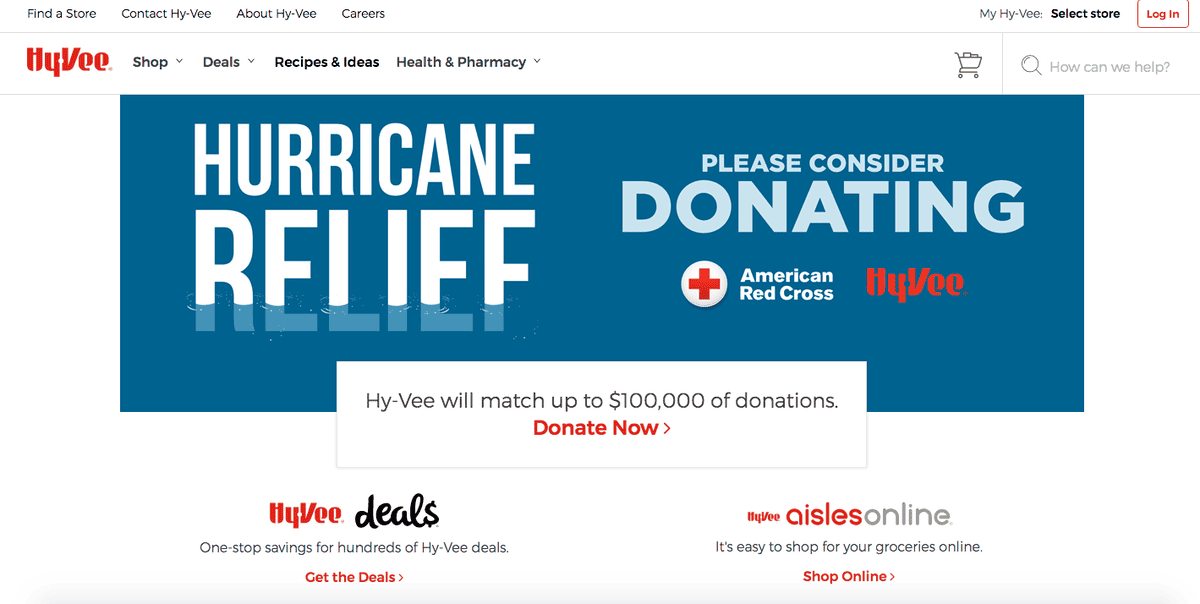 2. Select "Aisles Online" from the top of the drop down menu.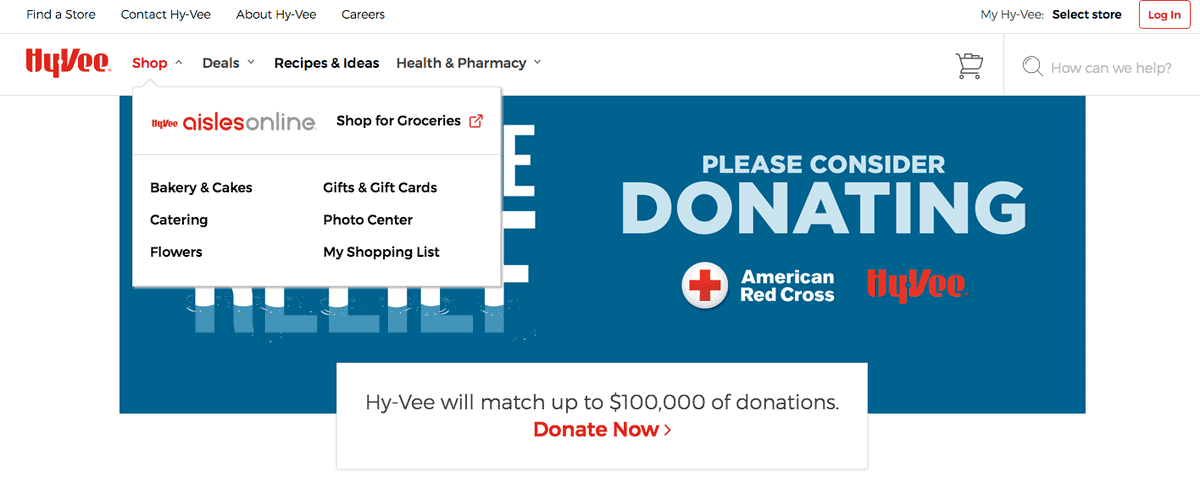 3. Click the "Login" button at the top right to get started. 
4. Create an Account, if you don't have one.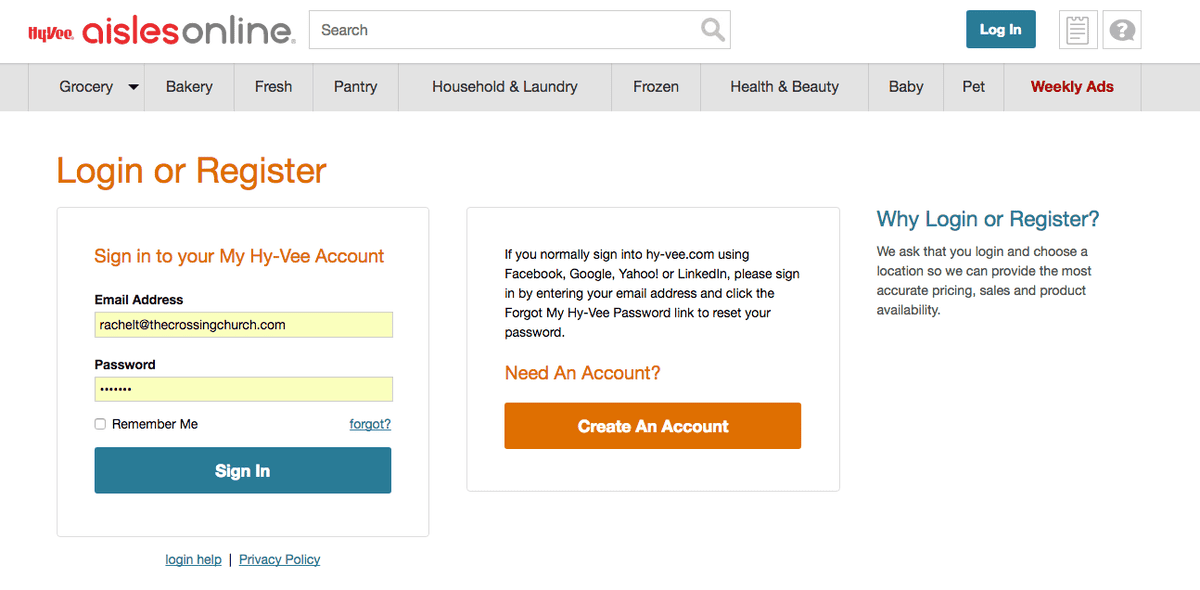 5. Start Shopping!
Either search for the products you need or start exploring the "aisles" and adding things to your cart. The website will only feature exactly what is in the store that you are shopping at. I found that the site was very easy to navigate and that the search option worked great on finding the items I was looking for. I also love that it tells you what's on sale.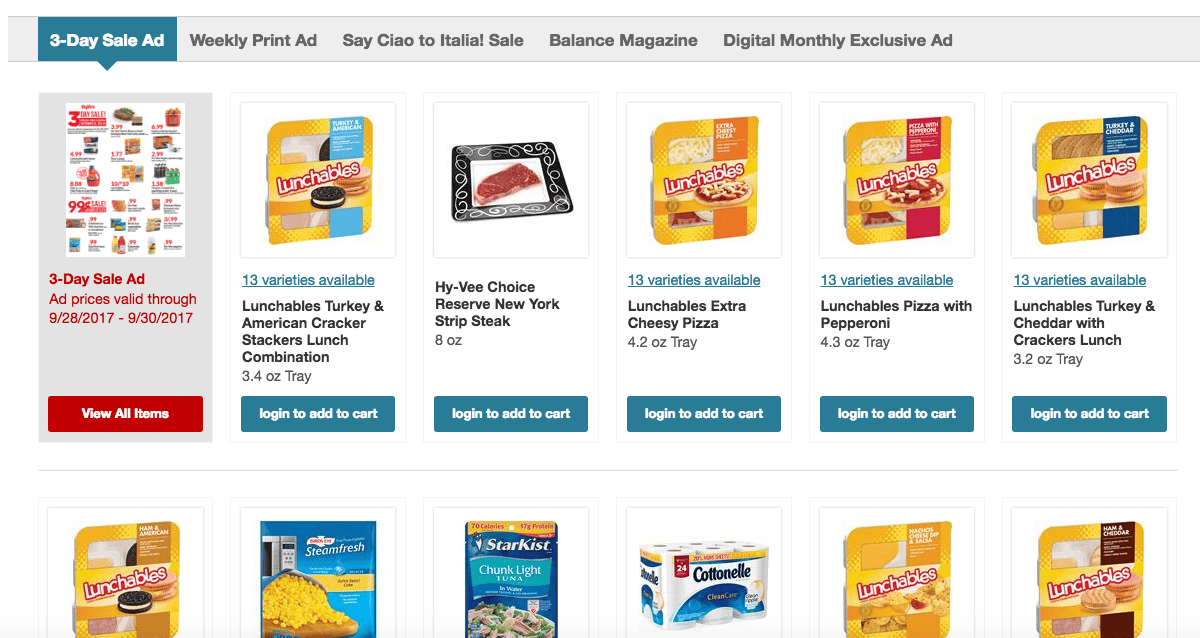 Here is another added bonus.
You can look at your cart and see EXACTLY how much you are spending. So if you are on a budget or have spending goals, this makes it very easy.  (And yes, as you can see below, I did add face lotion to my grocery shopping list.) If it's in the store, you can add it to your list!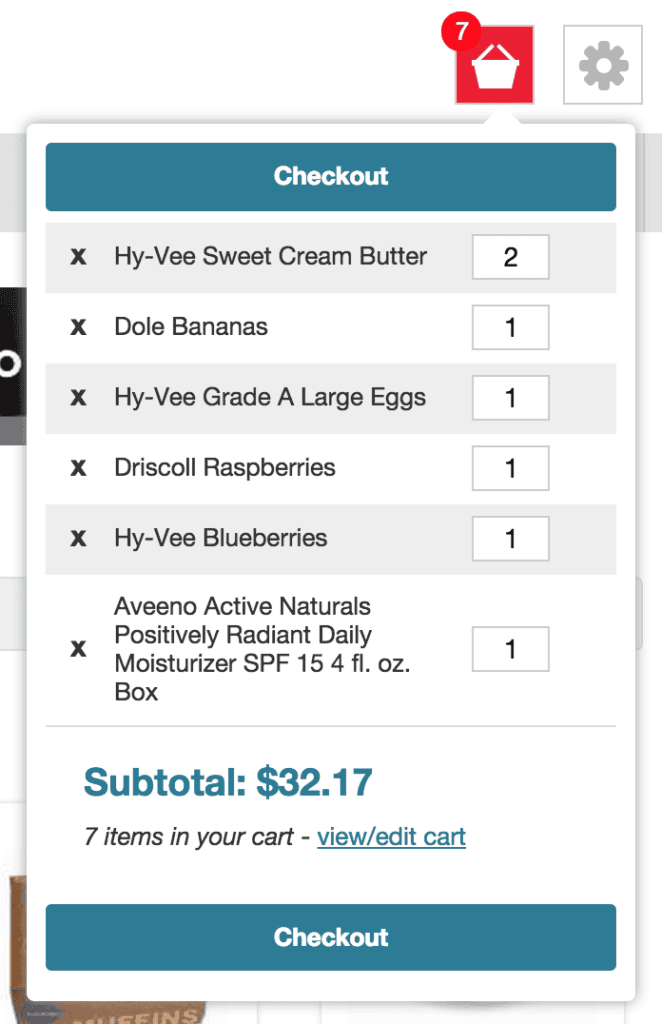 Once you begin your checkout process, you will clarify delivery or pickup dates and times. My store delivers anywhere from 9 a.m. until 8 p.m., while some stores only offer pick-up. You simply select a one hour window that you want your groceries to arrive and they will be there!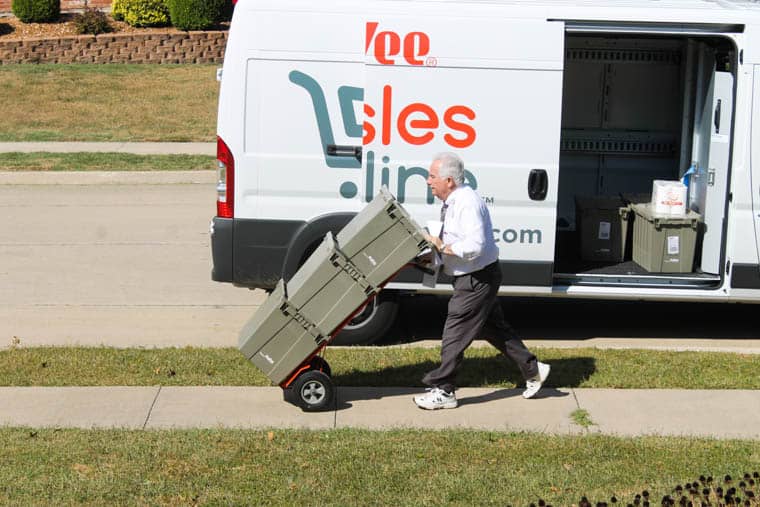 If you do the pick-up option, you'll just pull your car into a reserved parking spot out front and call the phone # on the parking sign. They will walk your groceries out to your car and help you load.
The Verdict
I'm for sure doing this again. And again. And again.
They got my order perfect and even had customer service call with a clarifying question before they delivered. I think I for sure saved money by sticking to my list and not impulse buying. Lastly and most importantly, I saved time. Time that is spent with my family and doing other things that I enjoy rather than power shopping with two kids in tow.
Still have more questions? Swing by the FAQ page to get some of the nitty-gritty details.
Ready to shop? Hop over to HyVee Aisles Online and get shopping!
https://thrivinghomeblog.com/wp-content/uploads/2014/09/how-to-save-time-and-money.jpg
673
760
Polly
https://thrivinghomeblog.com/wp-content/uploads/2019/10/thrivinglogo.png
Polly
2015-09-30 05:00:31
2019-04-29 20:01:08
Groceries Delivered to My Doorstep: A Review of Hy-Vee Aisles Online