I'm a Broken Parent Today
Note: I wrote this cathartic piece for myself earlier this week. I went ahead and posted it today, though, on the off chance there are a few other parents out there who need to these reminders, too. The rest of the day and week went better after this self-reflection and reminding myself of some important truths.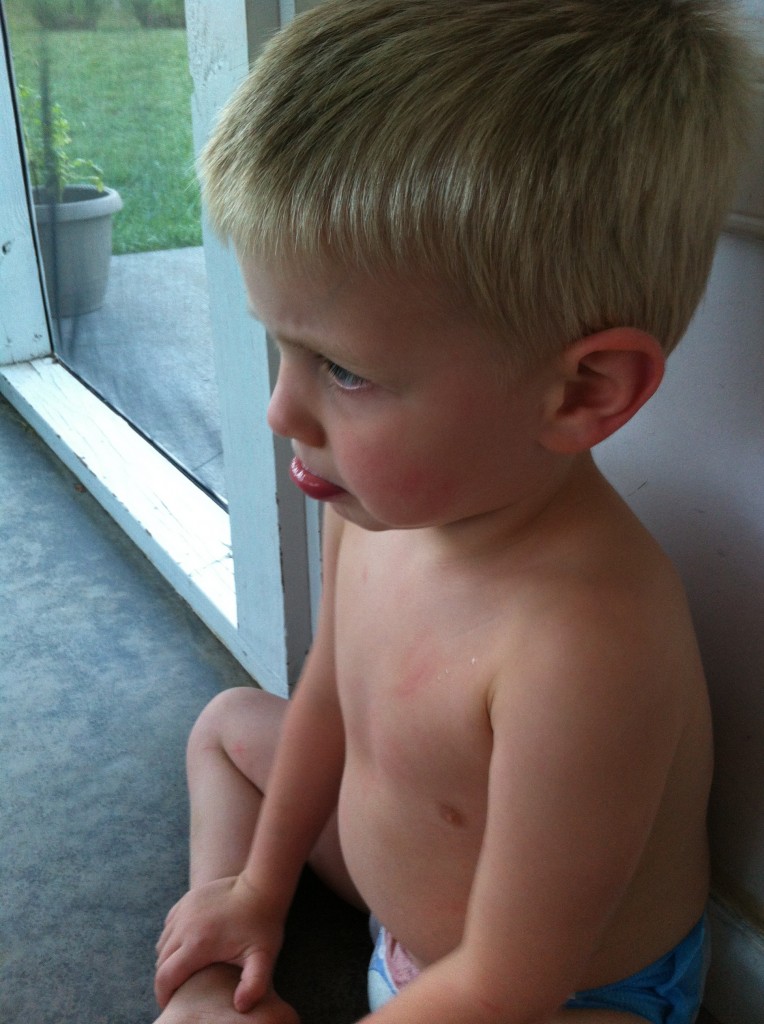 I'm a broken parent. By a 2-year-old.
My little man is my third and last child. My third. I should have some idea of what I'm doing by now, right? But, God doesn't dole out cookie cutter kids to us. He knits together every human being uniquely even before we are born. Different personalities, strengths, and weaknesses. And, add into that mix, that each of us are also born in to sin. It's been in our genetic make-up ever since that day our first father and first mother chose to disobey God. From that time on, the perfect world and our perfect relationship with God have been marred with sin. From that time on, disobedient, stubborn 2-year-olds and prideful, impatient (and discouraged) moms have existed.
After eight pairs of wet underwear, a pee-soaked couch, and multiple arguments during another potty-training morning, I threw up my hands and put him in a pull-up. This much I know. Potty training ain't fun. It takes time. The kid will eventually get it. But, I won't lied. I'm discouraged by this potty training thing. I'm not broken over it, though. I'm broken over what God revealed to me through it.
————————————
I'm a broken parent. Full of "I think I know what I'm doing" pride.
How could I have missed it? When I care so much about shaping my kids' hearts? When I believe very much in "first time obedience"? When I pray so much for my children? The potty training challenges aren't rooted in my skill (or lack there of). They aren't rooted in the fact that my 35 month old boy isn't clever enough to get the potty concept. They are rooted in some major character issues that I haven't addressed well. I've ignored, cajoled, smoothed over bursts of anger and disobedience instead of steadfastly teaching and correcting him. And, now I'm reaping the harvest I've sewn. It's easy to see from the outside. Even my husband has been telling me and trying to help when he's home. But, I just didn't really see the big pink elephant in the room until today.
————————————
I'm a broken parent. Who can't fix my 2-year-old son's heart alone.
"Now is the time to catch the anger issues. Now is the time to work on disobedience. Before these issues grow bigger," a trusted, 18-years wiser mom-friend reminded me. "Potty training has brought it to the surface. This is a good thing." Oh, how my I want to hide under the covers and pretend my job isn't shaping the characters–perhaps in a way that will affect their entire eternity–of the little people under my charge. When I dare to think parenting is all on my shoulders and that all hope is lost, I am crushed under the weight of the task.
Thankfully it isn't all on my shoulders. Thankfully, all hope is not lost. God has not left crushed parents alone. We need not pull the covers over our head and pretend issues in our kids' or our own hearts don't exist. Because He is at work in those who believe in him. And He alone has the ability to turn hearts of stone into hearts of flesh.
————————————
I'm a broken parent. Who can imperfectly, yet by faith, do my part.
I can take a step forward because God will be with me and go before me. I'm praying more than ever for wisdom from above…since I clearly need it!
James 1:5, "If any of you lacks wisdom, you should ask God, who gives generously to all without finding fault, and it will be given to you."
Hebrews 4:16, "Let us then approach God's throne of grace with confidence, so that we may receive mercy and find grace to help us in our time of need."
I will make a parenting "action plan" with input from others, including some wise parenting books. I'm just starting Christian Parenting Handbook by Turansky and Miller. After reading and highly recommending, Good and Angry by those authors, I'm eager to learn more and apply wisdom from their new resource.
————————————
I'm a broken parent. And that's a good place to be.
Psalm 51, "My sacrifice, O God, is a broken spirit; a broken and contrite heart you, God, will not despise."
Psalm 34:18, "The Lord is close to the brokenhearted and saves those who are crushed in spirit."
James 1:2-3, "Consider it pure joy, my brothers and sisters,whenever you face trials of many kinds, because you know that the testing of your faith produces perseverance."
https://thrivinghomeblog.com/wp-content/uploads/2013/10/IMG_0273.jpg
2592
1936
Rachel Tiemeyer
https://thrivinghomeblog.com/wp-content/uploads/2019/10/thrivinglogo.png
Rachel Tiemeyer
2013-10-05 07:21:44
2020-11-13 06:53:09
I'm a Broken Parent Today