This post may contain affiliate or sponsored links. Please read our disclosure policy.
Psst. We know you are here for Polly's amazing master bedroom makeover. (Yeah, hi!)
While we love a good before and after project, our wheelhouse is truly in the food department. In fact, we'd love for you to snag our best of the best, Top 10 Easy Freezer Meals before you go!
Master Bedroom Makeover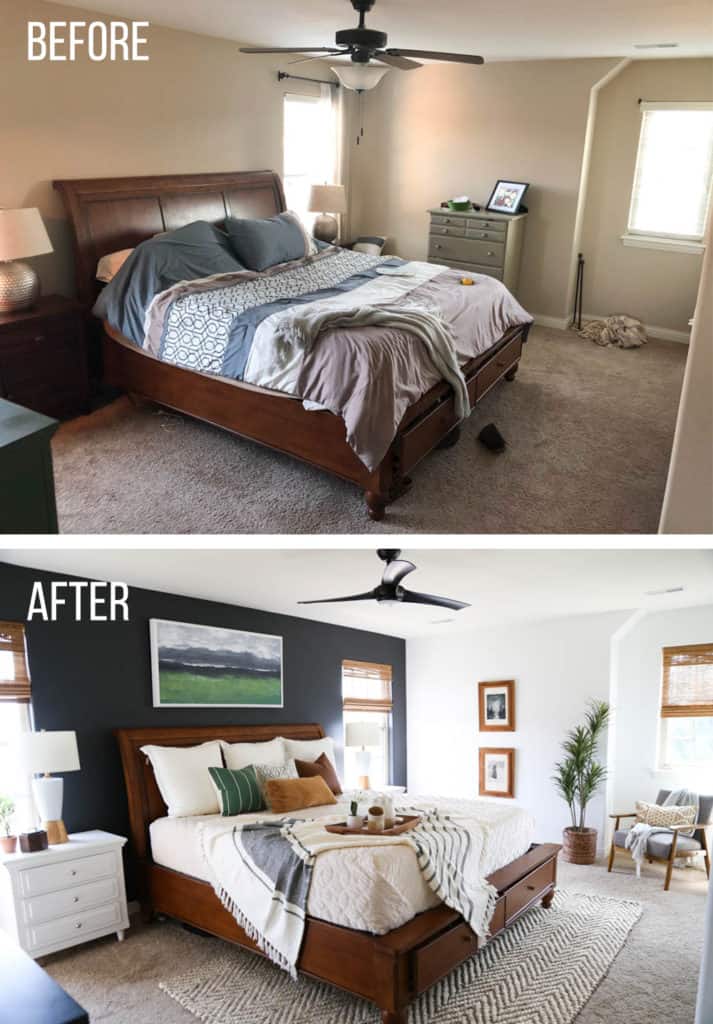 I enjoy decorating and all things home design. My husband is no longer surprised by coming home to a new furniture rearrangement or seeing the things on the walls constantly changing around our home.
However, when it came to our master bedroom, I just kind of ignored it. I'm not entirely sure why. I think the project just felt too big and I was paralyzed on where to start. I mean, we were both using dressers from college, had no decor on the walls, and curtains that were still there from previous owners. It was hurting. See below…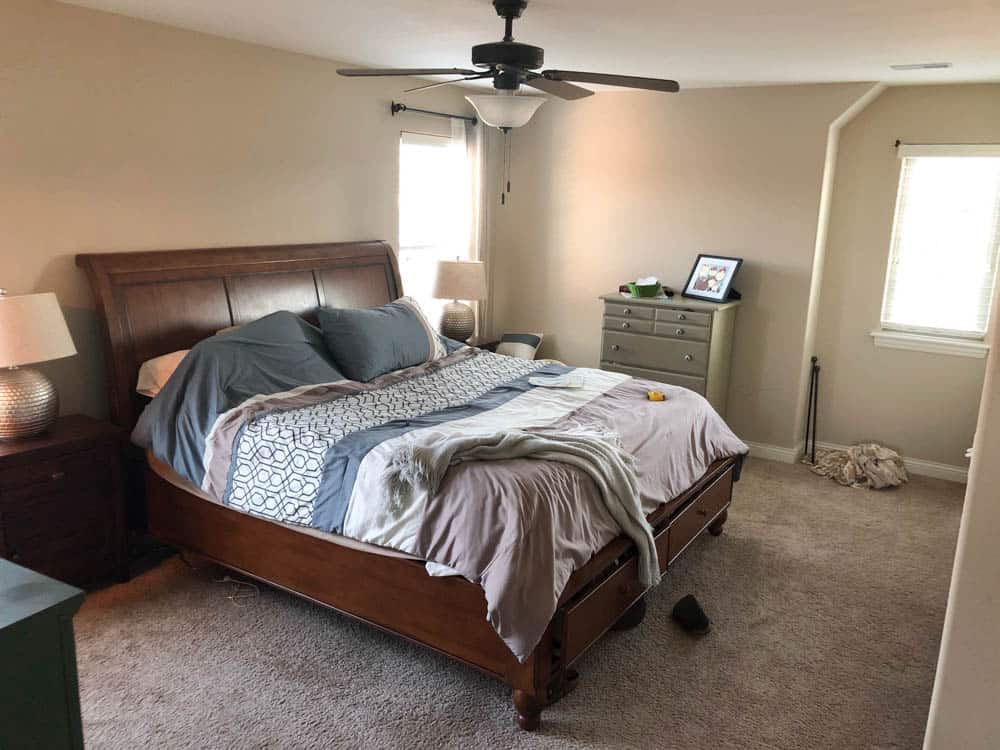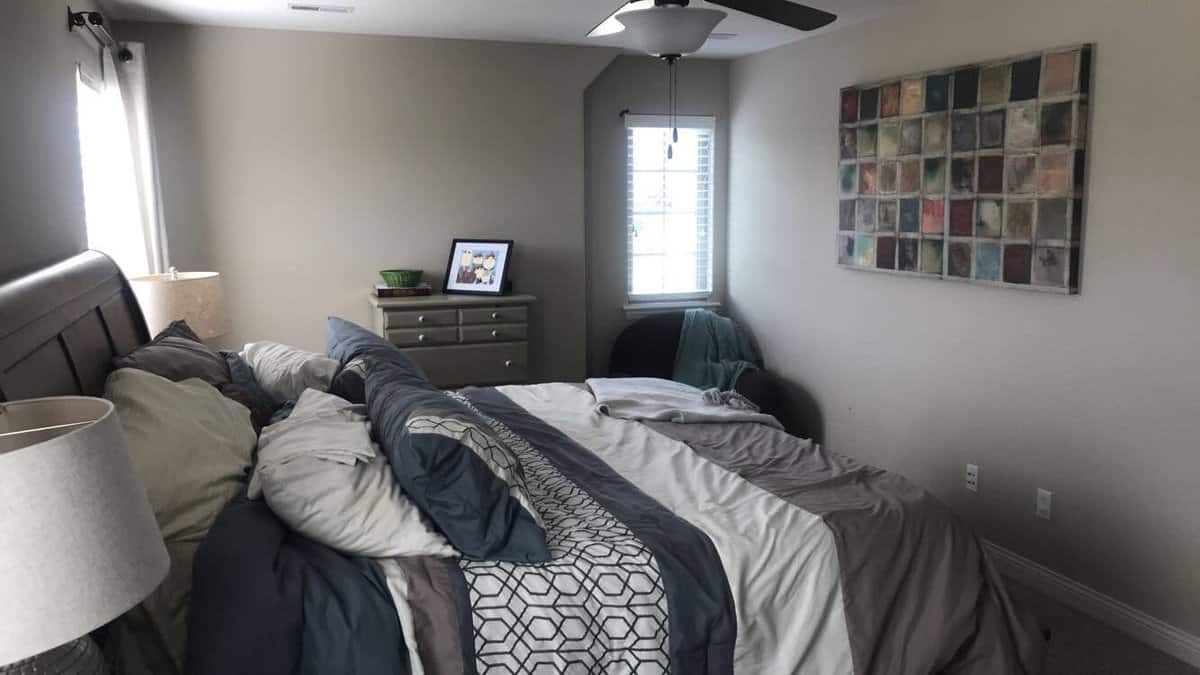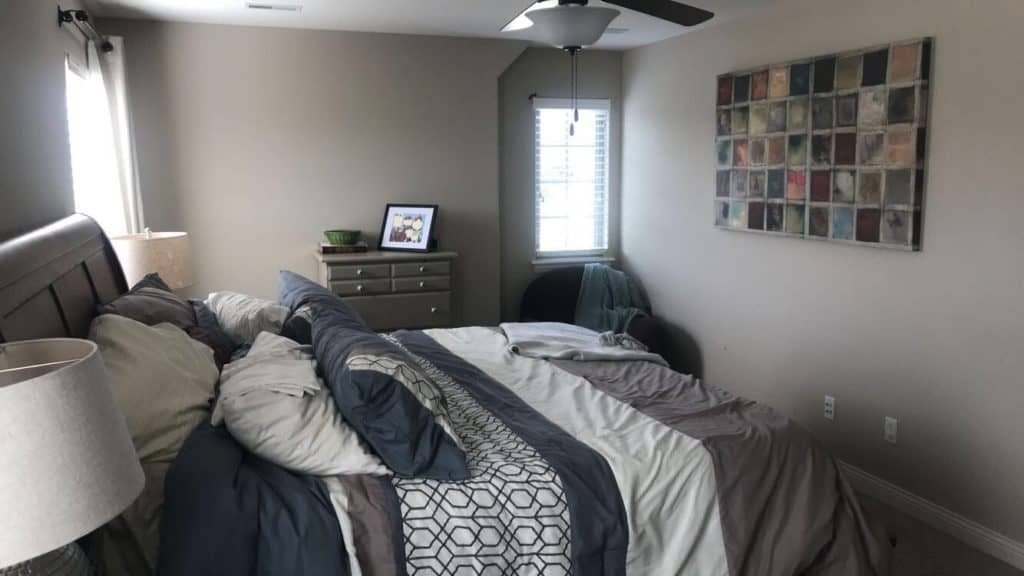 When my interior-designer-friend, Bethany Strodtman, threw out the idea of working together in some way, I thought having her help with our bedroom would be the perfect project to collaborate on.
I have never worked with an interior designer so walking through this process was SO fun. After making a visit to our house and talking through some details (i.e. budget, goals for the room, etc.), I pretty much was hands-off after that.
The first thing that came back from Bethany was a mood board. Because I asked that she work around our existing bed frame, she built the design and feel from there. What I loved so much about this was that I would have never picked this feel/colors on my own but after seeing it all pulled together, I loved it. LOVED IT. We worked together to find a few alternatives and tweaks but we did stay pretty close to the original plan.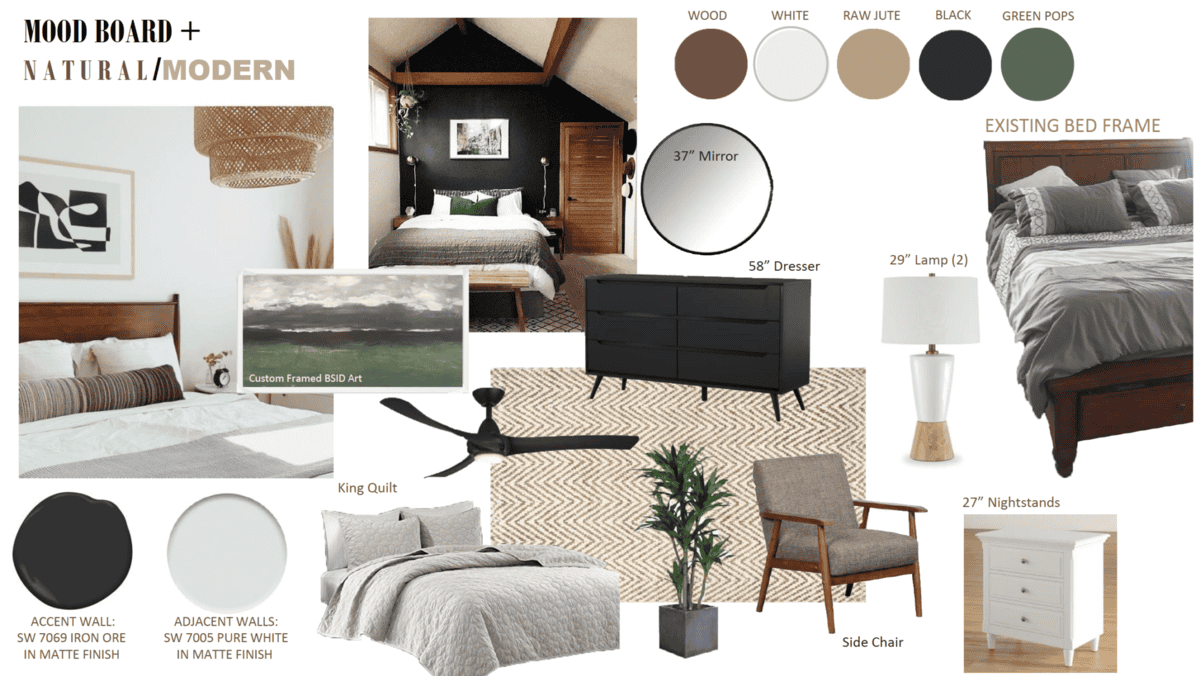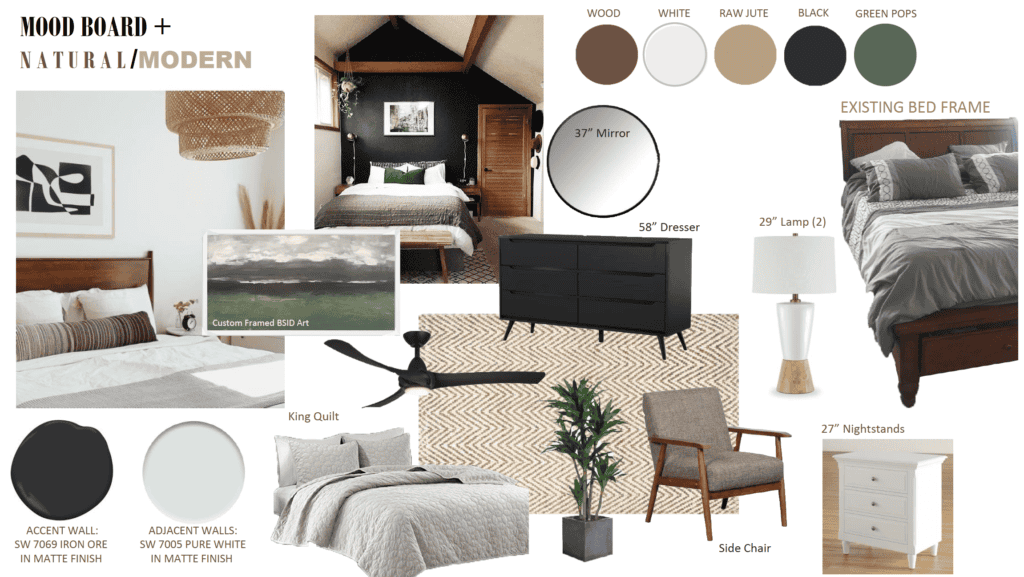 After we got the walls painted, Bethany began the ordering of these items. Boxes and boxes began to show up on my doorstep. It was better than Christmas!
My husband and I put things in place as best we could but the finishing touches would come later. Here is a shot of it being in progress.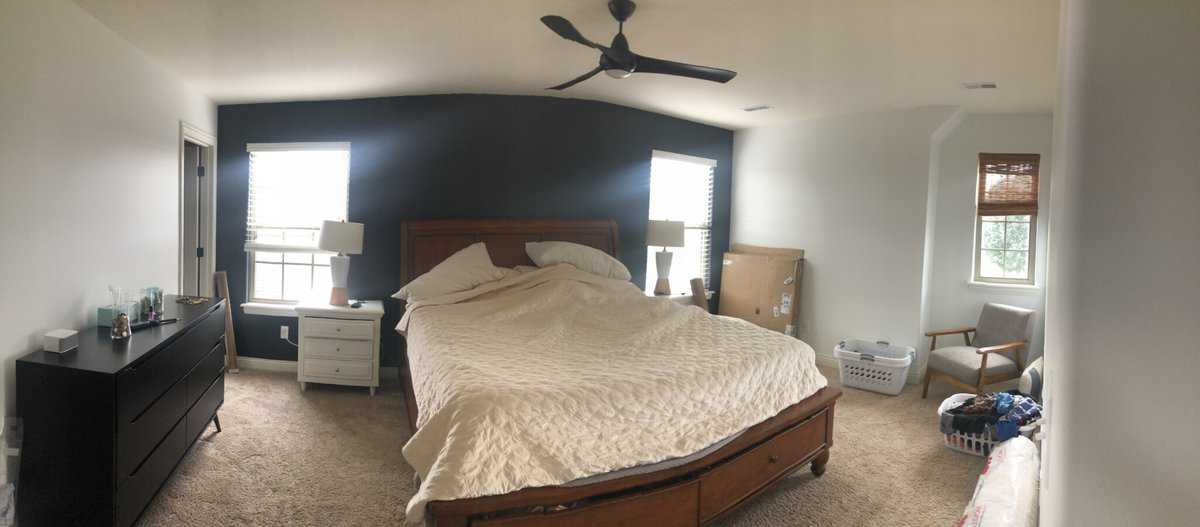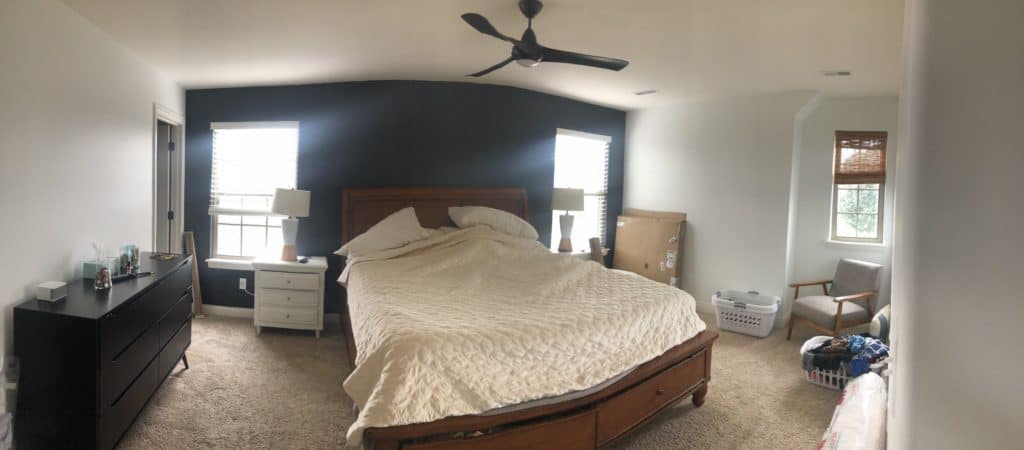 Once everything had been delivered and installed, Bethany came back to accessorize. I honestly had no idea how much the details in the design would matter but they took a pretty cool looking room to an AMAZING room. Like, I never want to leave this room.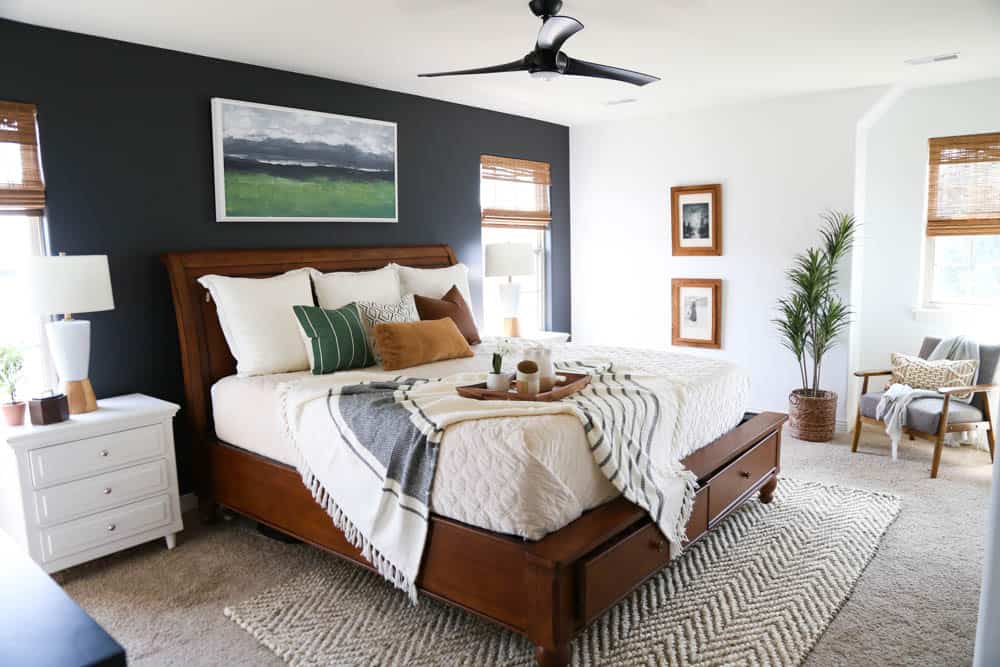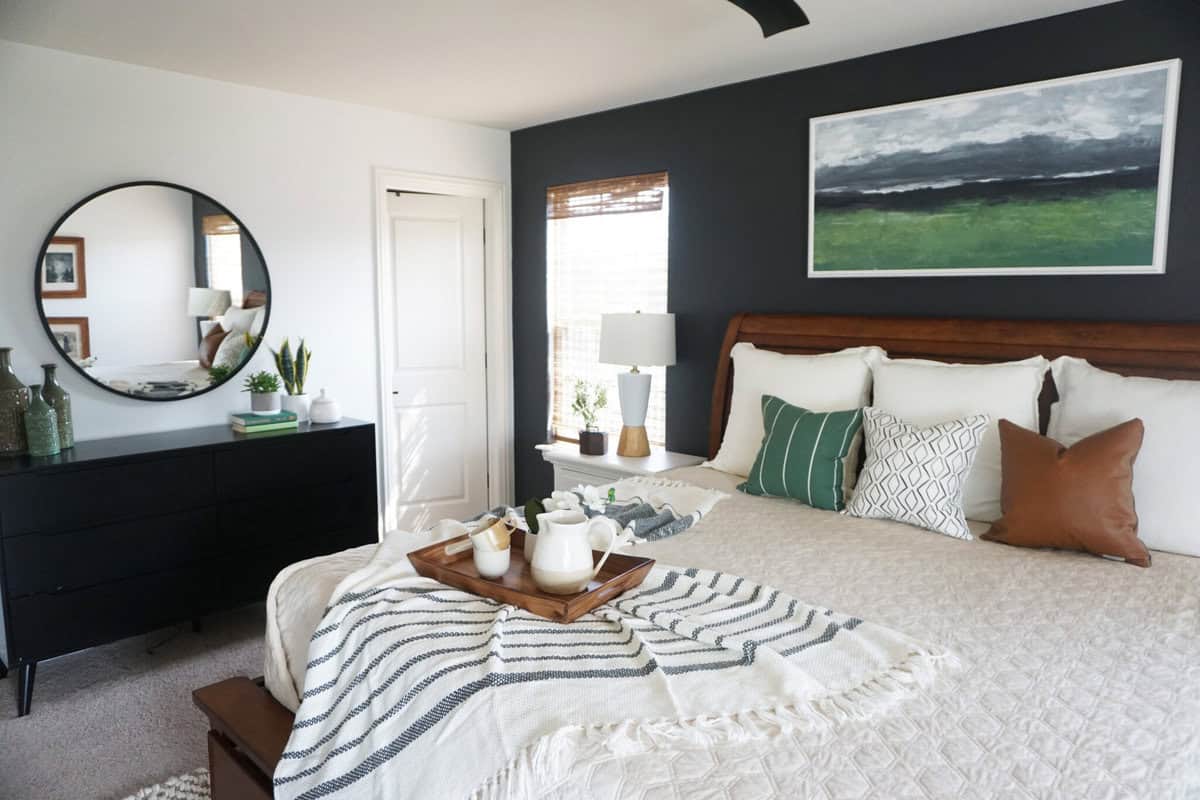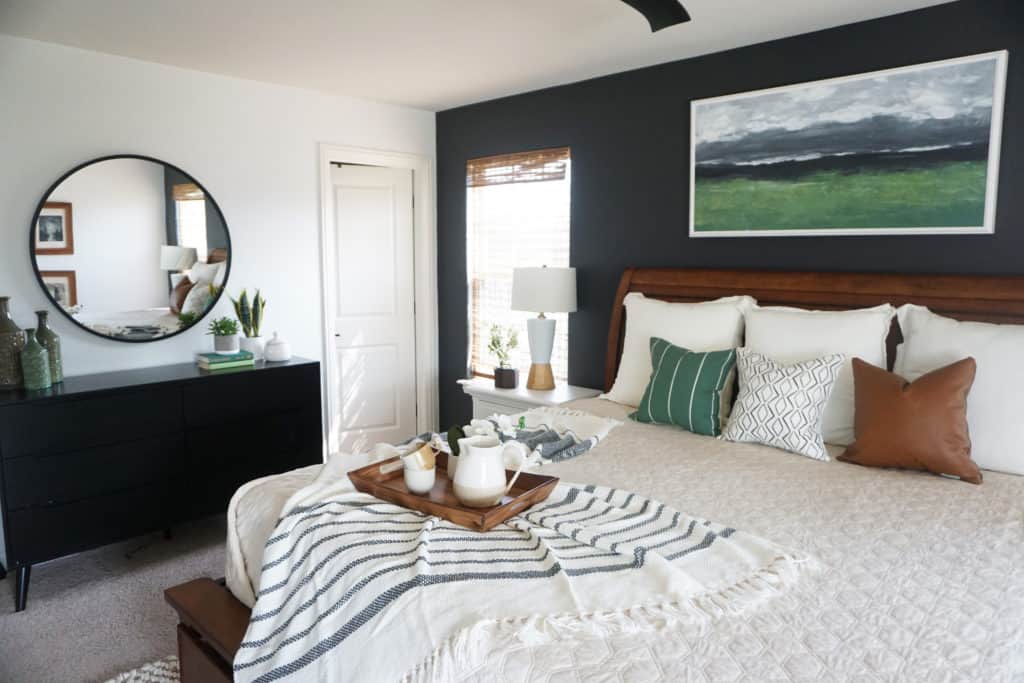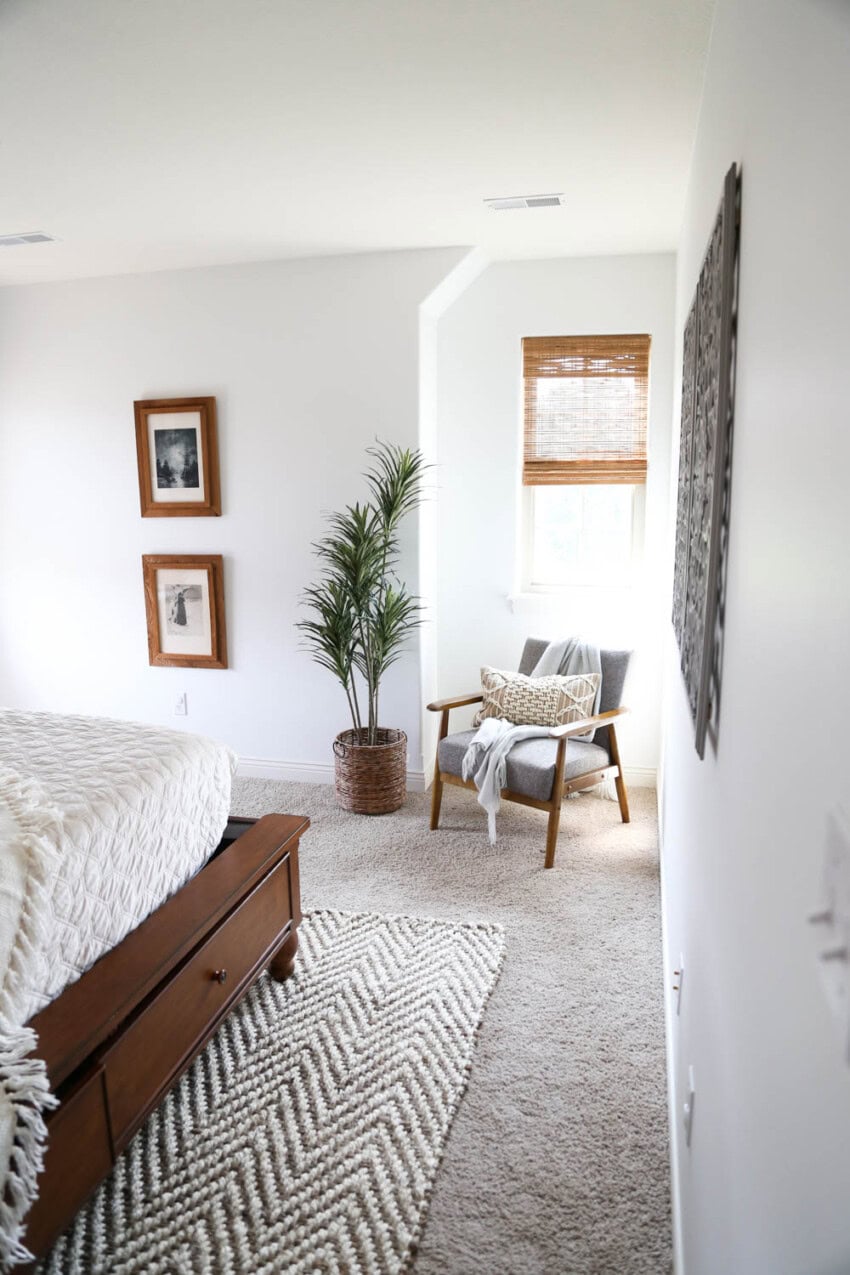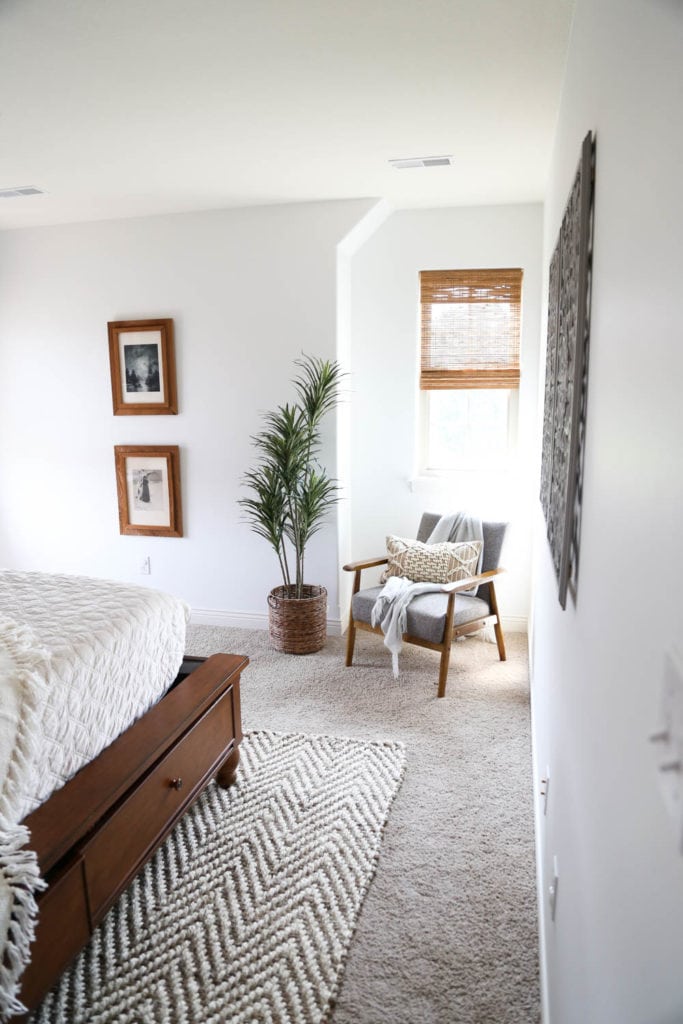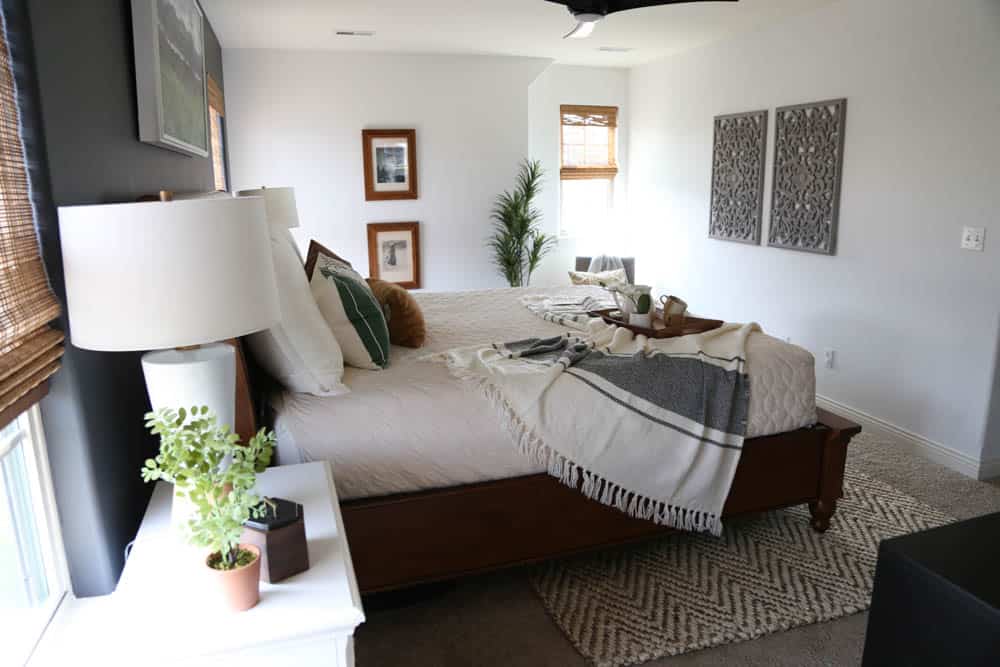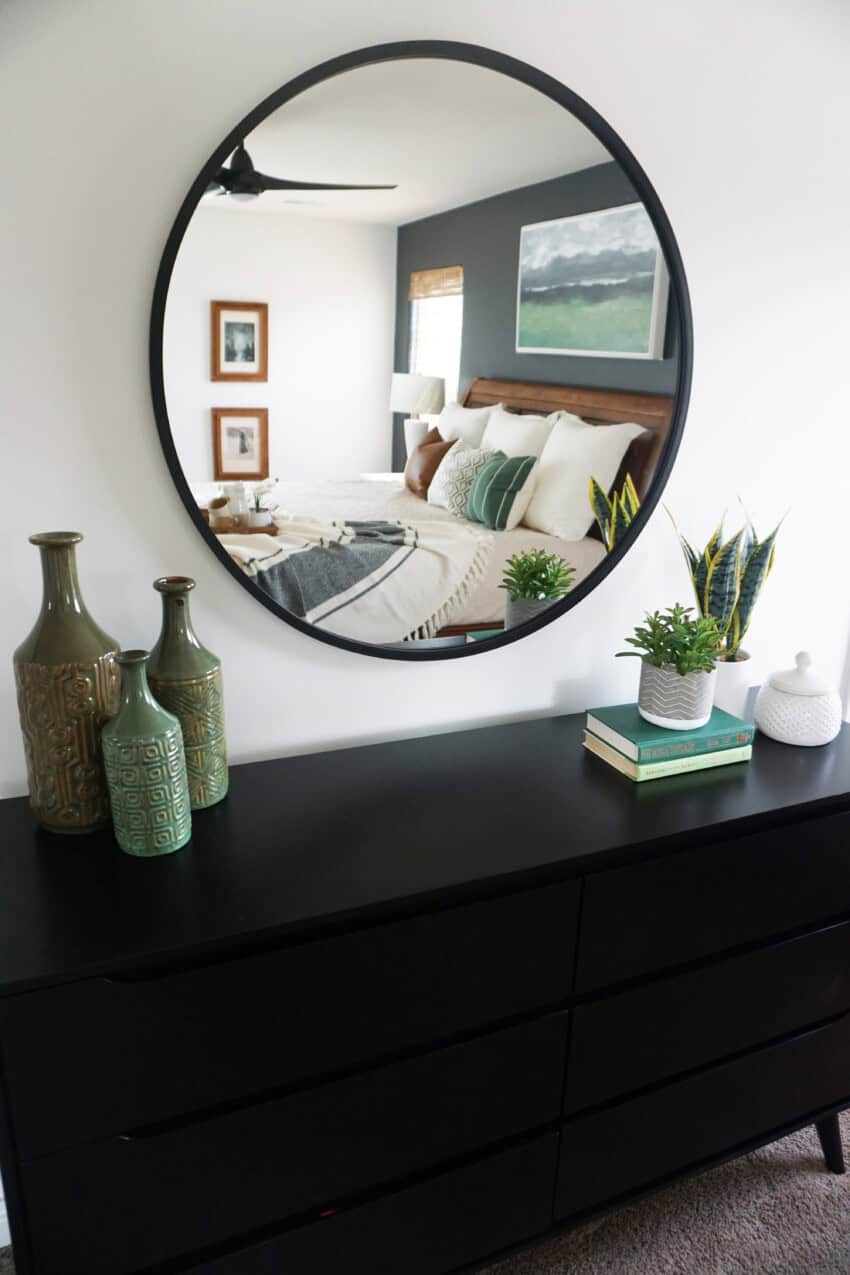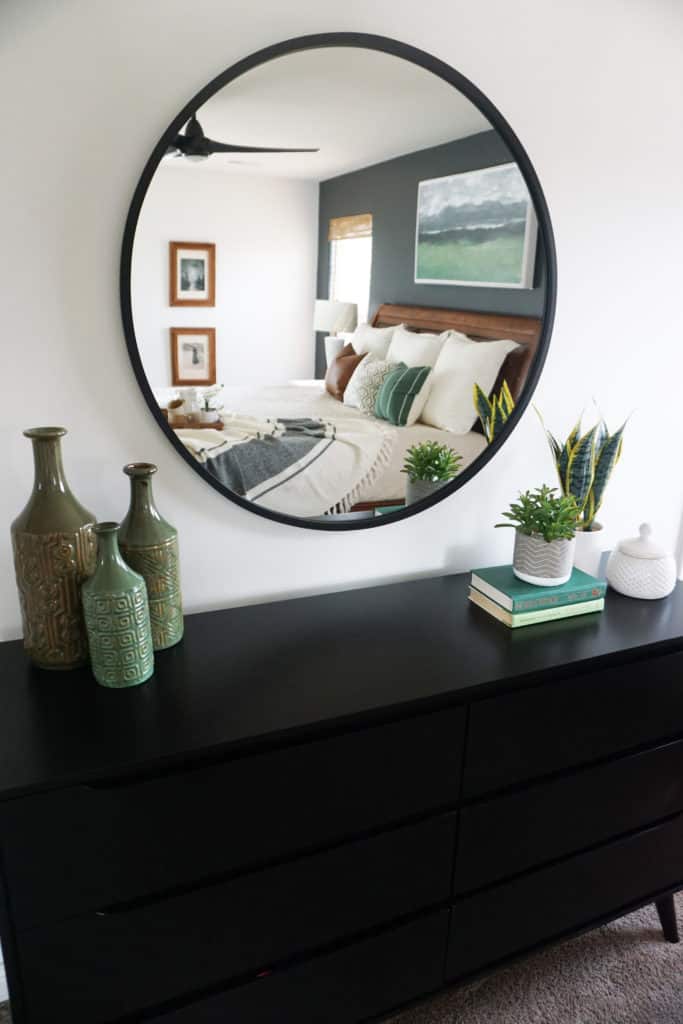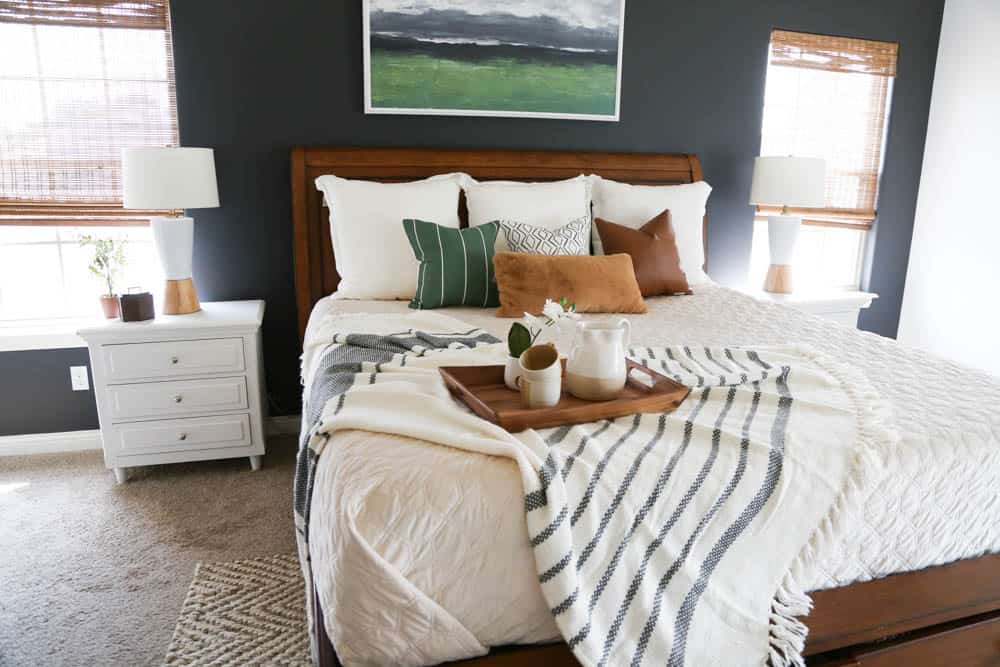 Before and Afters
Just to give you a little reminder of the incredible change, here are some before and afters.
Following these photos, I've provided all of the links to things we used to furnish and decorate the bedroom. Make sure to pin a few of these so you can come back to them when you are wanting some bedroom inspiration!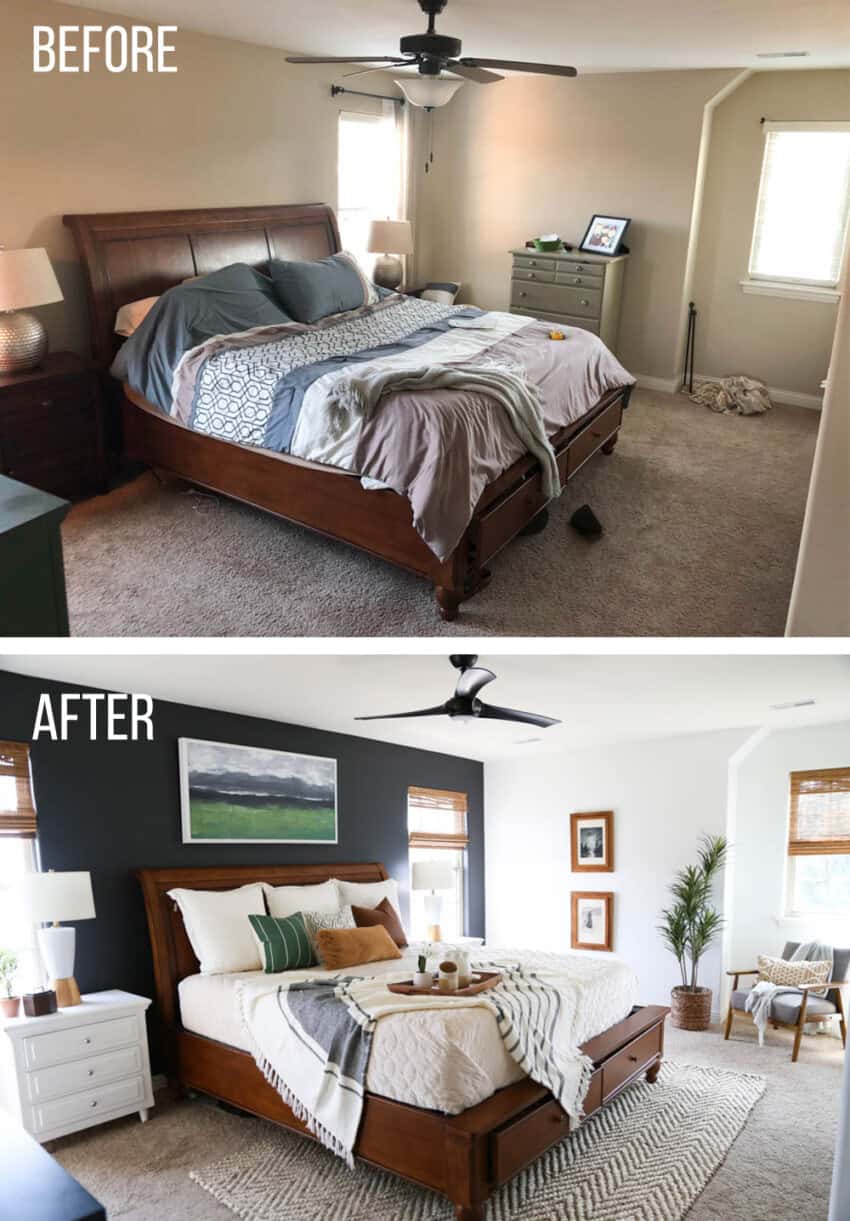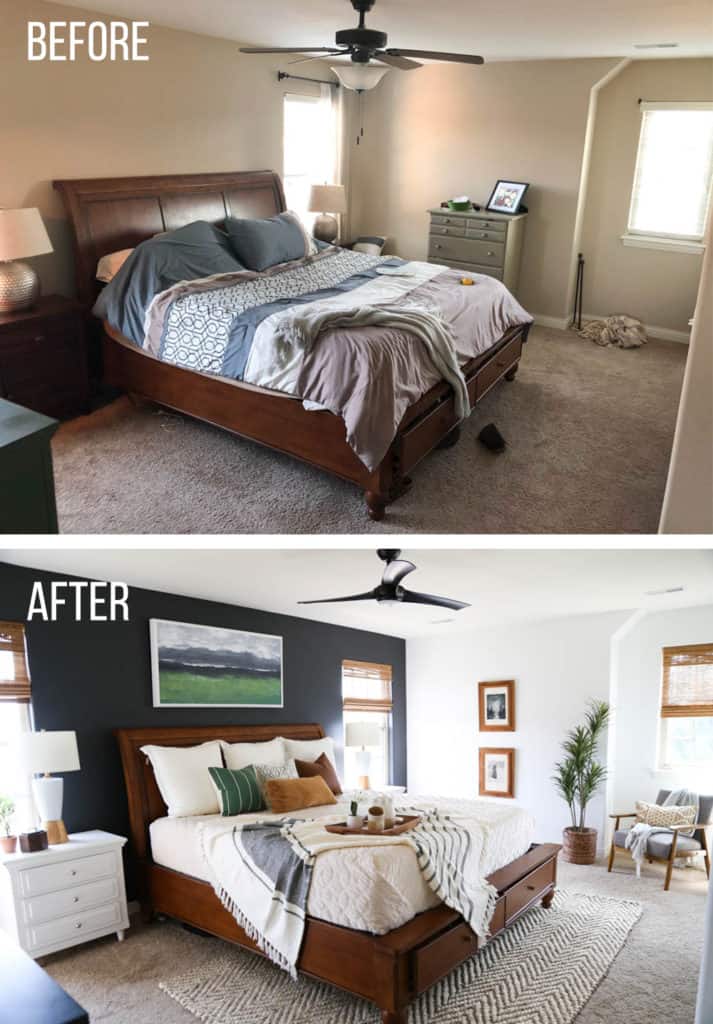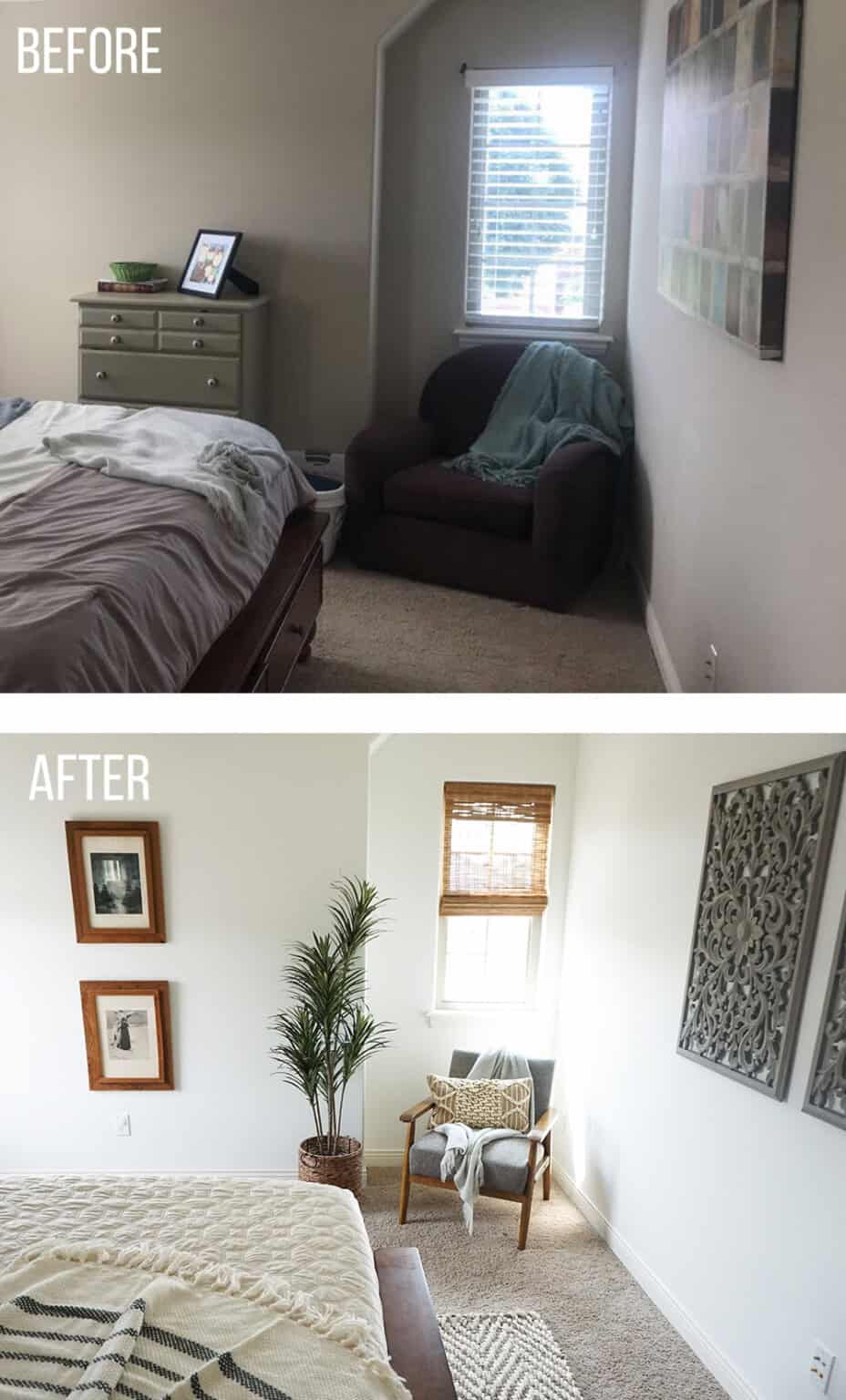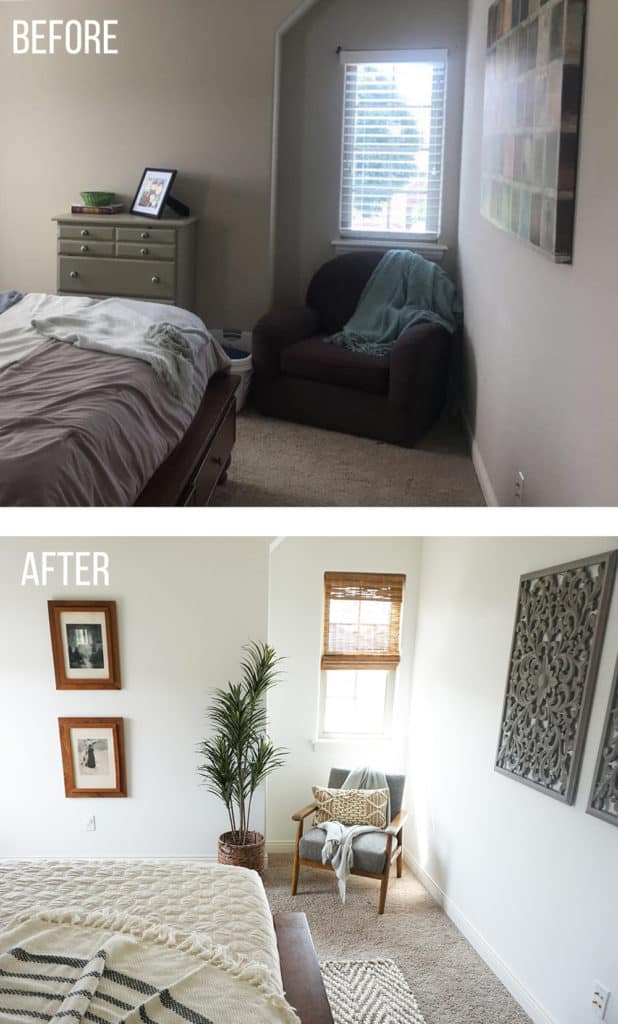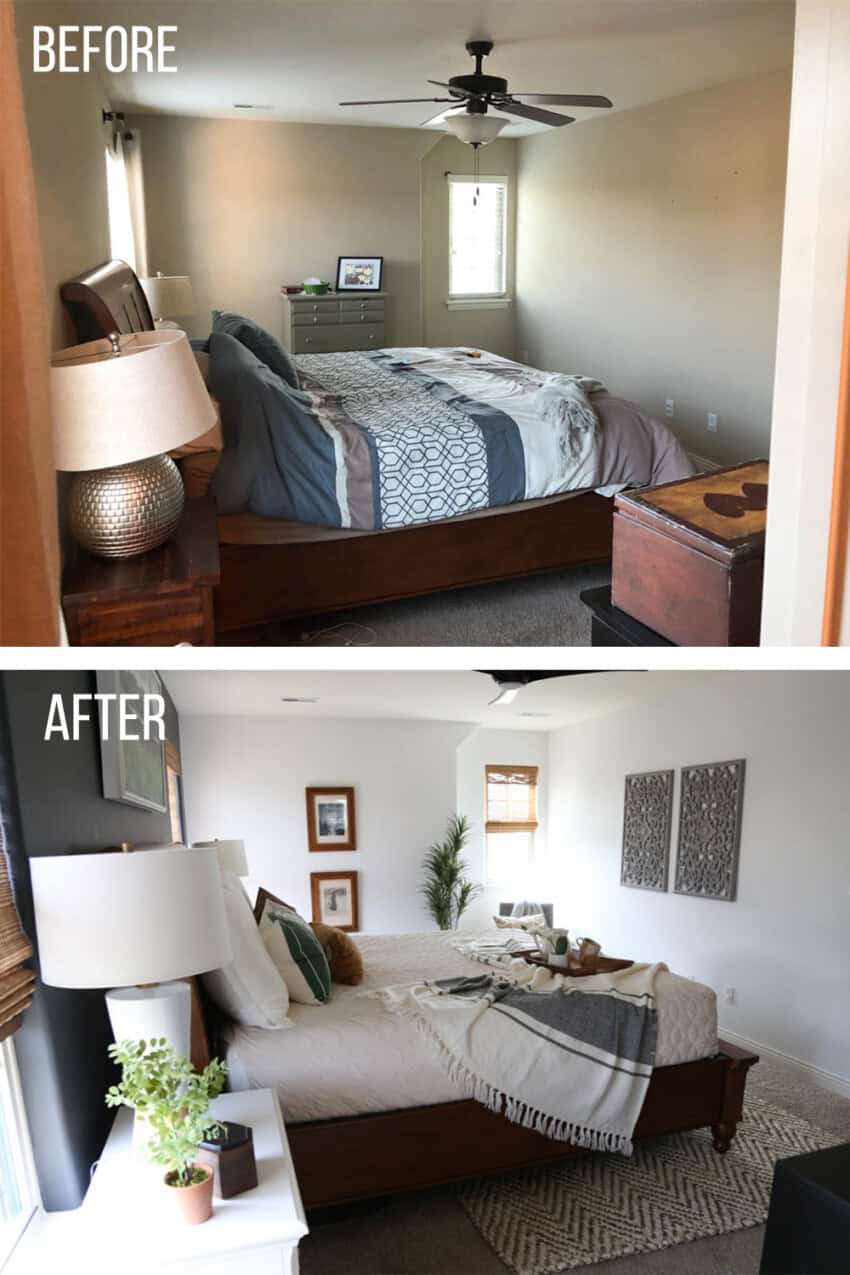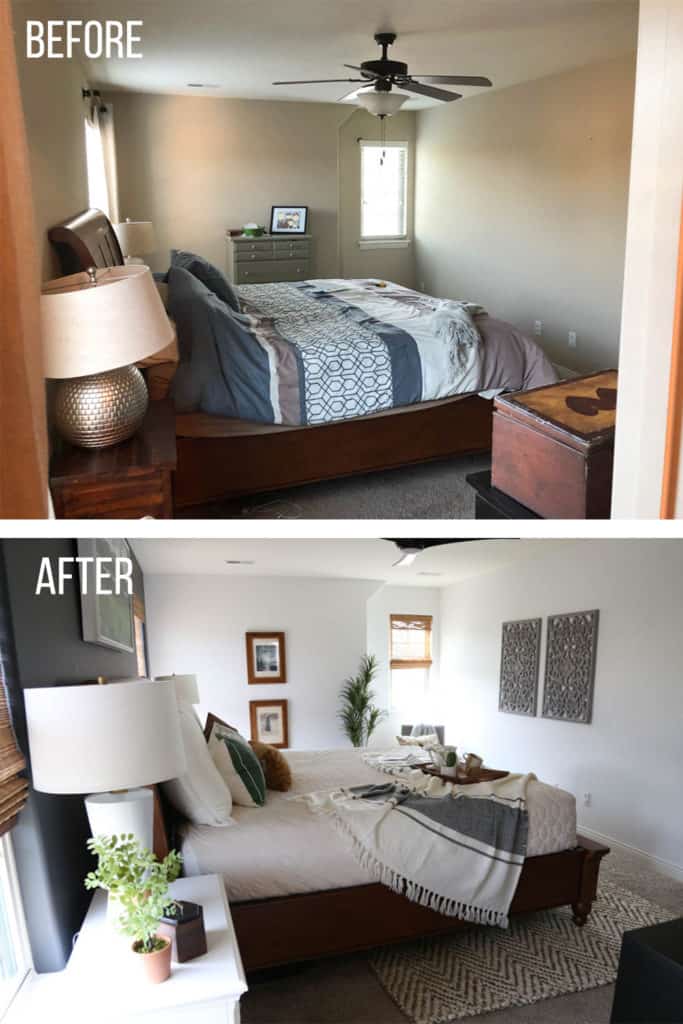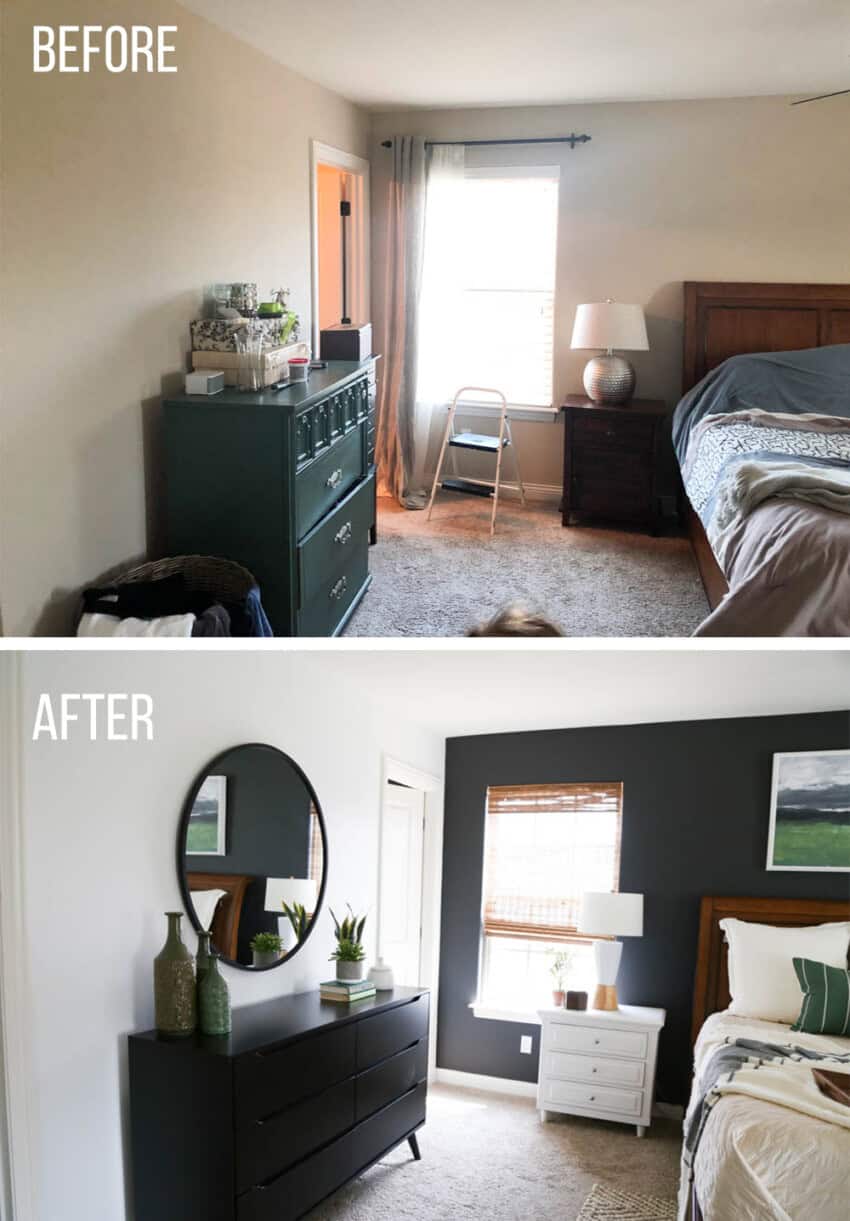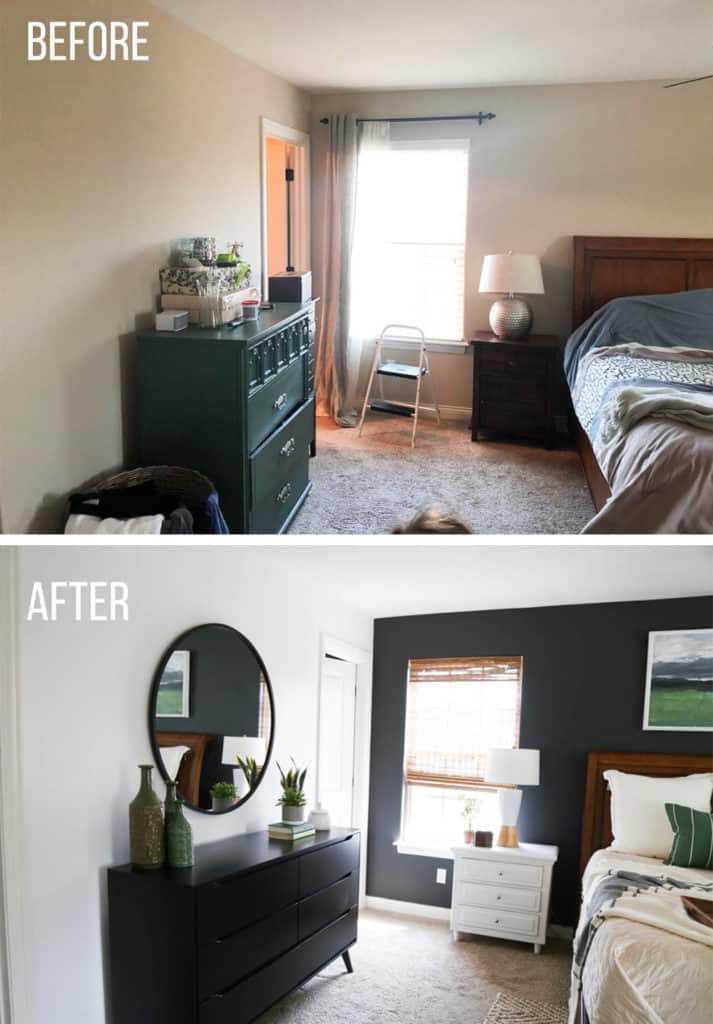 To see more of Bethany's work, make sure to follow her on Instagram!
Links to Items & Furniture Used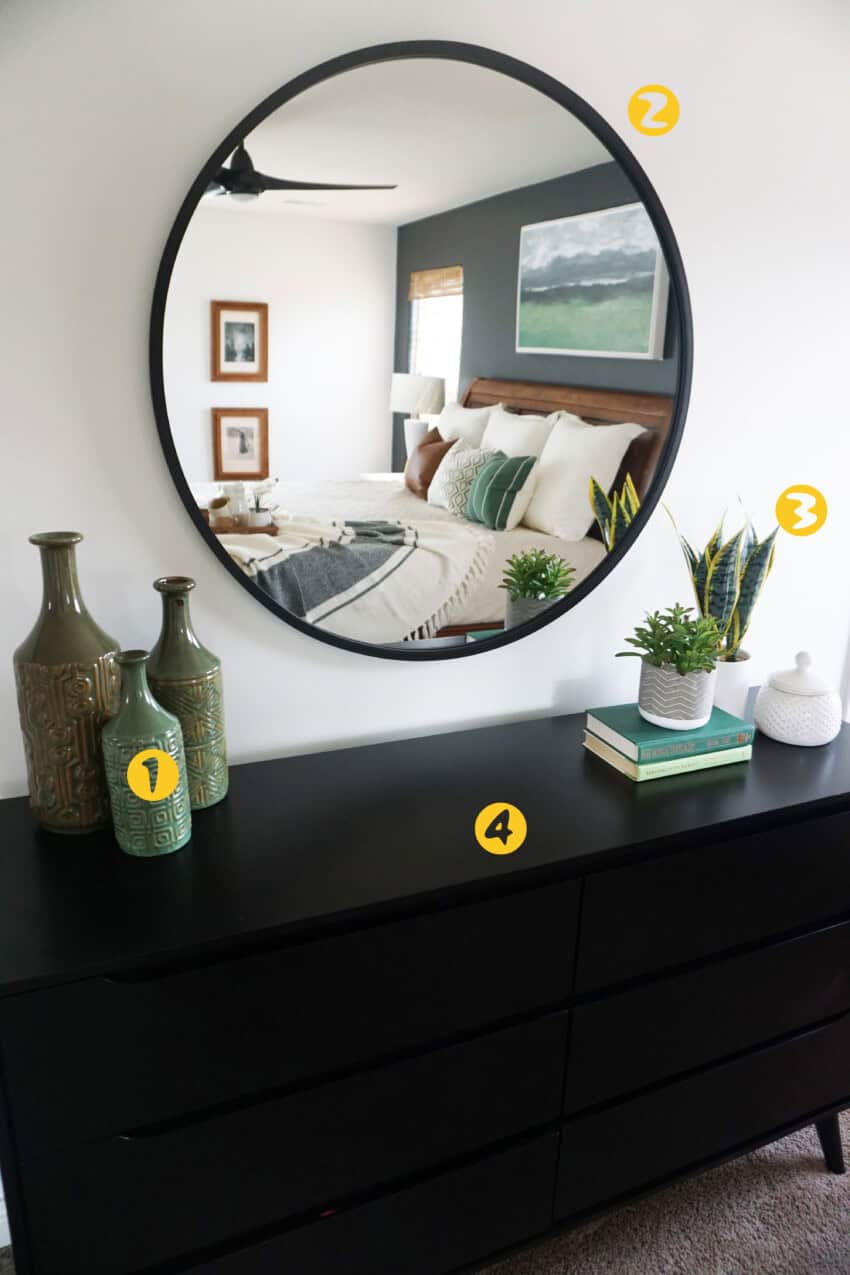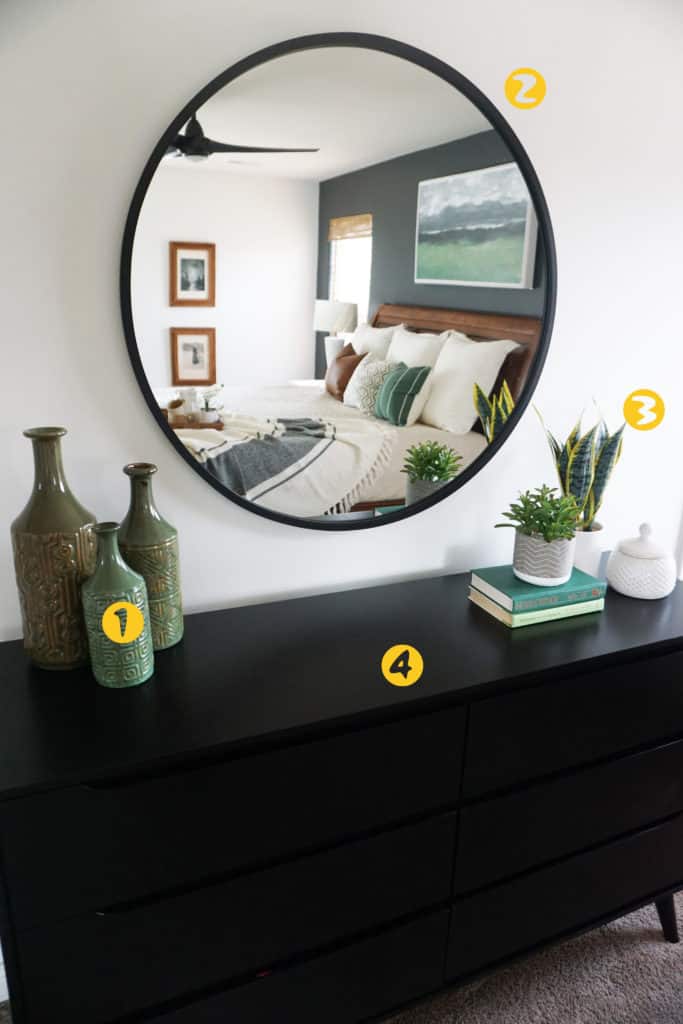 Note: We are a participant in the Amazon Services LLC Associates Program, an affiliate advertising program designed to provide a means for us to earn fees by linking to Amazon.com and affiliated sites. Read our full disclosure policy here.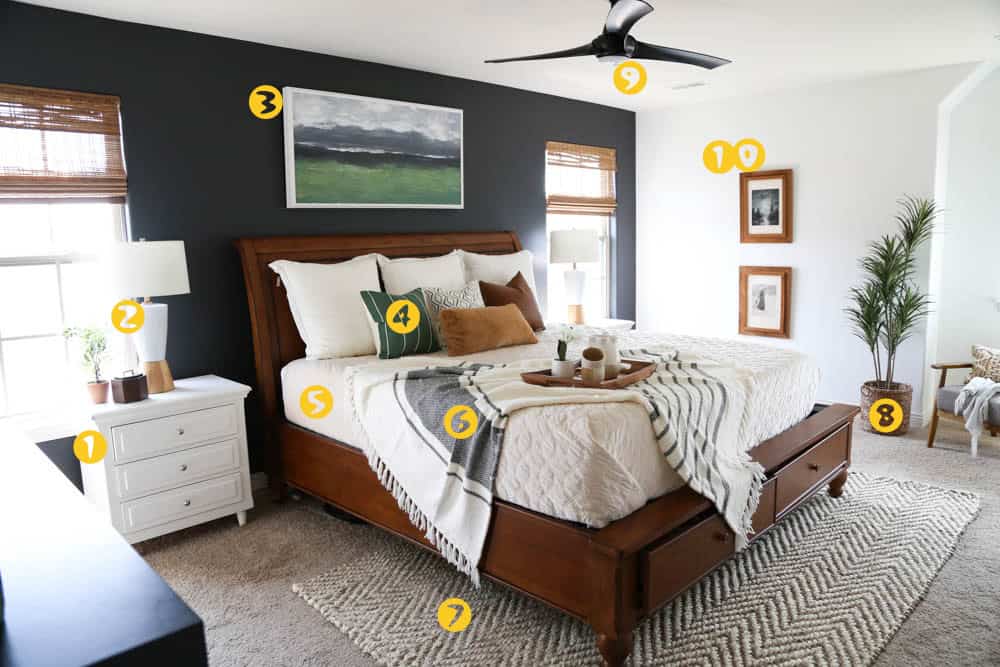 White Nightstands (Wayfair) (Similar from Target), (Similar from Amazon)
Lamps (Similar from Wayfair) (Similar from Amazon)
Original 48×24 painting (by Bethany Strodtman) WITH custom white framing. (Use this hack to hang perfectly straight pictures every time!)
Throw Pillows: Inserts & Covers (Amazon)
Quilt Bedding Set (SOOO comfy and can be washed in the washing machine!!) (Amazon)
Throw Blanket (So soft!!) (Target)
Rug (6×9 from Rugs USA)
Plant & Basket (Hobby Lobby) (Similar from Amazon)
Ceiling Fan (Wayfair)
Wooden Framed Pictures (Goodwill!)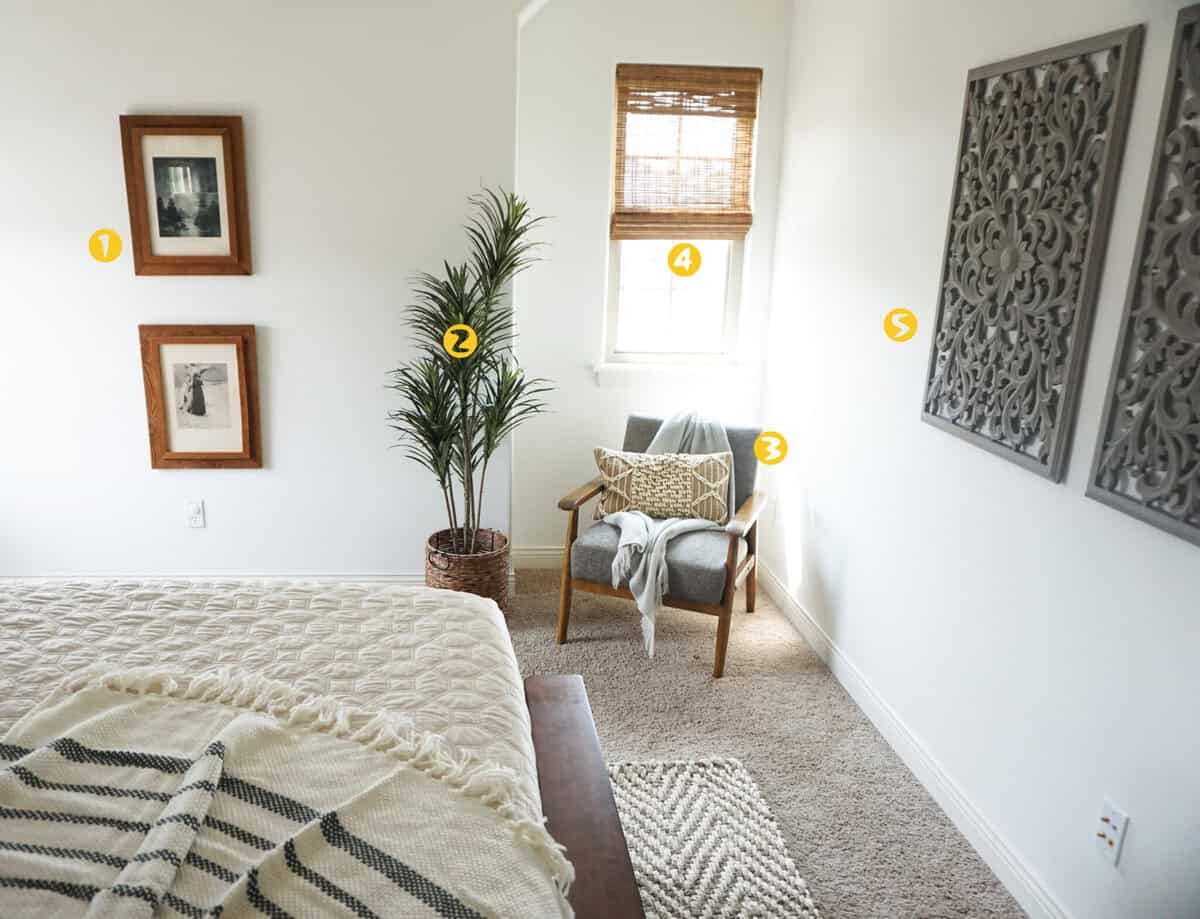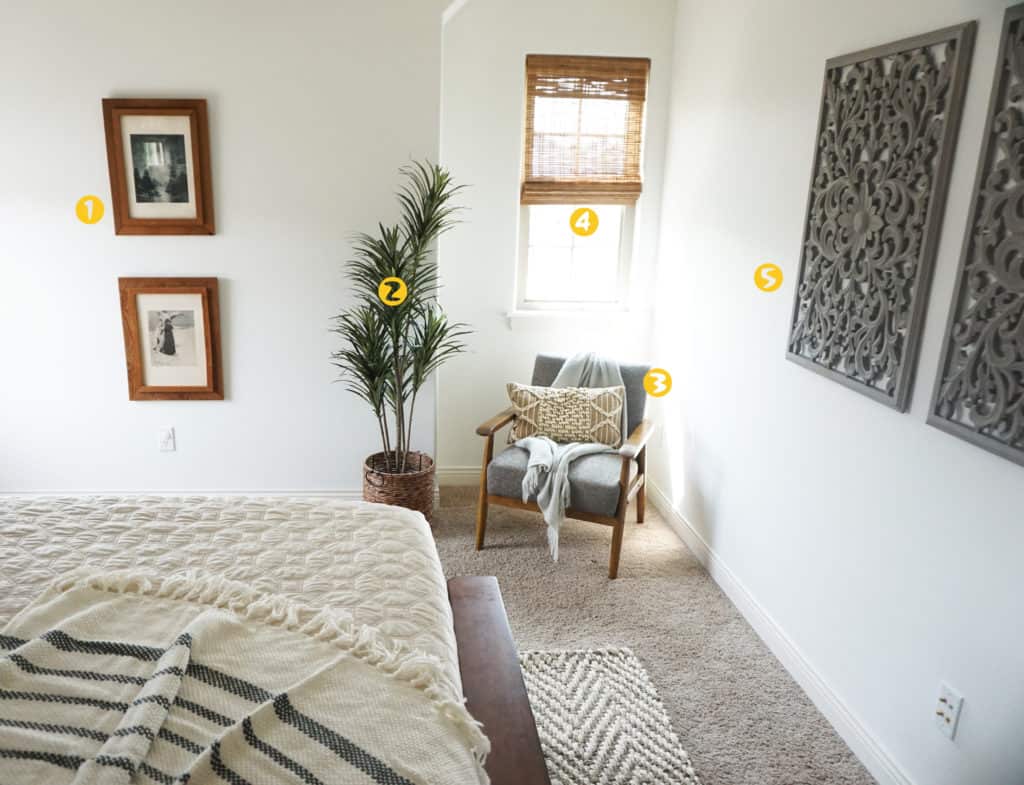 Wooden Framed Pictures (Goodwill!)
Plant & Basket (Hobby Lobby) (Similar from Amazon)
Accent Chair (Wayfair)
Large gray wood pictures (Tuesday Morning)
Paint Colors:
Accent Wall: SW 7069 Iron Ore in Matte finish
White: SW 7005 Pure White in Matte Finish
A Few Other Decorating Posts You Might Like:
Dinged Up Dresser Finds New Life