An Open Letter from a Doula About Her Miscarriage
This post may contain affiliate or sponsored links. Please read our disclosure policy.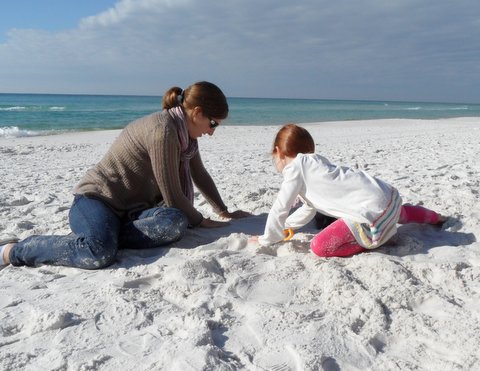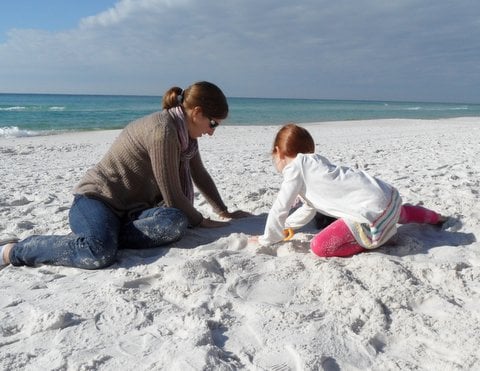 Guest post by Holli Best
Four years ago this month our family of three experienced a miscarriage. It was my second pregnancy, and we learned we were pregnant around New Years. My confidence was already a bit shaky because I never got a really good pregnancy test. The second pink line was really light and in some tests it didn't even show up. I called my midwives and they proceeded as though I was pregnant. We told our 2-year-old, who then told everyone that she was going to be a big sister. It was really important to her–being a big sister.
I was at work and when I was using the bathroom it appeared as though I might have had a tiny bit of brownish blood when I wiped. I had been a doula for five years at this point and knew that that can be normal. But, because of those faded pregnancy tests, I had a "feeling" that something wasn't right. I should have been about nine weeks along and still had not felt pregnant–meaning I didn't get sick or even a bit queasy. I wasn't tired or overly emotional yet either. Maybe I was too busy for that I thought.
I waited a few days, and then there was a bit more spotting. I called my midwives, and they wanted me to get an ultrasound. I did and the baby measured only six weeks and the OB said my dates were just off. I was told to go home and rest. Once again, I called my midwife and told her what the OB said, but we confirmed that my dates were not off. So we knew something was going on, but I would go home and rest and drink my raspberry leaf tea and make Valentines day cookies with my neighbor and our toddlers (because making cookies with toddlers is always restful!). Later that evening I felt a bit crampy and when I went to the bathroom, I felt my cervix open and I lost the baby. It all happened just like that. I knew it right away. So I called my husband, told him what happened and asked him to please call my neighbor, who was not only an excellent cookie decorator but also a wonderful nurse.
Miscarriages are birth. It's not a live birth, but your cervix dilates, you have contractions, pass an egg sack and tiny placenta and then shed the whole lining of your uterus (which looks like a lot of blood and is called lochia). It's messy, and I needed another woman with me. Not because I didn't want my husband, but I needed a woman near me to be a part of my delivery and nurture me through it. (I also wanted my husband to be available for my daughter in case the commotion woke her.)
My friend and I sat in the bathroom while my body did everything it was supposed to. I called my midwives and told them I had a nurse with me and they didn't need to come. They said ok and they would see me in the morning. After things calmed down, I put on a nightgown, crawled into bed, had my husband retrieve our daughter from her slumber and warm bed. We said goodnight to the  nurse-cookie-decorator-neighbor-friend-midwife-hero (who I think detail cleaned the bathroom for us and then let herself out). We laid in bed breathing in our sleeping daughter, crying about how we would tell her, and yet her warmth in our bed brought us unending comfort and joy in the midst of loss.
As a doula I have been to many beautiful births. As a doula, I have also sat on the the side of the bathtub and held the hands of friends as they, like me, miscarry. Here is what I have learned: Miscarriage happens a lot. About 1 in 4 pregnancies end in miscarriage, from what I have read in various places. Many women don't talk about them until someone has one and then everyone tells their story about their miscarriage. Miscarriage is normal. They are common. They are real. They are usually unexplainable. They are emotionally painful. They can be physically painful. Families grieve. Mothers feel severe hormonal swings. Miscarriage is the loss of a child.
Here are ways you can care for a friend who is going through this loss:
1. Offer to let people know for her. I was supposed to teach the preschool Sunday school class the Sunday after my miscarriage. Because it was two days after I needed a substitute. That meant I had to call someone the morning after the loss, explain what happened, and ask her to figure it out for me. During this conversation she offered to let people know about the loss who knew we were expecting. This was awesome. Now people just knew, I didn't have to explain my story over and over. Weeks later people didn't ask how my pregnancy was going or wonder what happened. They just knew. As a result of her telling our friends for us they began to bring us meals (see number 2).
2. Take them meals. Set up a food-train for the family. Just like any other birth or crises (and this is both) this is a good time to have meals taken care of for about two weeks, or longer.
3. Offer to run errands. Some mom's want to get out and about and have the distraction. Other's don't feel well and want to hunker down in their nest.
4. Listen. Just listen and hold her hand. Don't feel like you need to say anything. If you don't know what to say, you can read her a Psalm and give her another hug. Its not something you can "fix" or "solve" for her.
5. If she has other children, offer to take them to the park or pick them up for a play-date. Or if she wants her children close offer to come over and help in other ways so she can rest with her children.
6. Offer to come over (without your children) and help her clean. Often because mom doesn't feel very good for a few weeks after the loss, things in the house have gone awry. A good cleaning, laundry catch up, and a detailed kitchen feels really good. As Oprah once said, a clean home equals a clean head which equals a clean heart.
7. Ask mom months later how she is doing. Ask mom a year later how she is doing. A mother who has been through a miscarriage knows the due date of the baby that was lost. I still know mine and its not because I'm morbid. Its just a date in my head that I notice each year. I don't get sad anymore, but I know the date. While mom's grieve the time around the miscarriage, they will grieve again on the baby's due date. Even if its 8 months later.
8. Ask the family if they want to have a memorial for the baby. This was a real baby, a real pregnancy and in their minds and hearts a member of their family (they were probably already thinking of names). Offering to do something special as a way to honor that little soul, it also helps bring about closure. It doesn't have to be a big production, it can be a prayer, gathering a few friends for lunch and presenting mom with a plant, ring, book, favorite verse in a frame, anything special as a way to say that her community honors the baby's life.
9. Be patient. Some mothers move calmly and smoothly through a miscarriage. While other mothers grieve deeply for long periods of time, and experience postpartum depression off and on for months and even years. Neither are wrong or better its just the way we are different.
We told my daughter the next morning that her baby was going to live with Jesus and that she was still a big sister. A few days later when she and I were headed somewhere in a quiet car she asked, "Mommy, is my baby with Jesus?" I said yes. She was quiet for a moment and then said to herself, "My baby and Jesus are eatin' at Moe's".
Four years later when I think about our story, it's not about our loss but about the ways our midwives nurtured me, the ways our church and community friends came in and fed us, taught the preschool Sunday school for me, cleaned our tiny apartment, sat with me in the bathroom, counseled us through ways to tell our daughter, and shared their stories of loss with us. It's a story of God pulling our community together to take care of us in that broken moment.
About the Author
Holli's married to Todd and has two crazy red headed kids, ages 7 and 3.  She works part-time for her church as Coordinator of Early Childhood Ministries and has been a doula for 9 years now. She primarily teaches birth and postpartum readiness classes, care for families postpartum and occasionally gets the privilege of attending a birth.