This post may contain affiliate or sponsored links. Please read our disclosure policy.
Peach Crisp is a delightfully sweet, fruity, and crumbly dessert that all ages enjoy. This easy recipe features fresh peaches, brown sugar, oats, and a collection of seasonings that add so much flavor.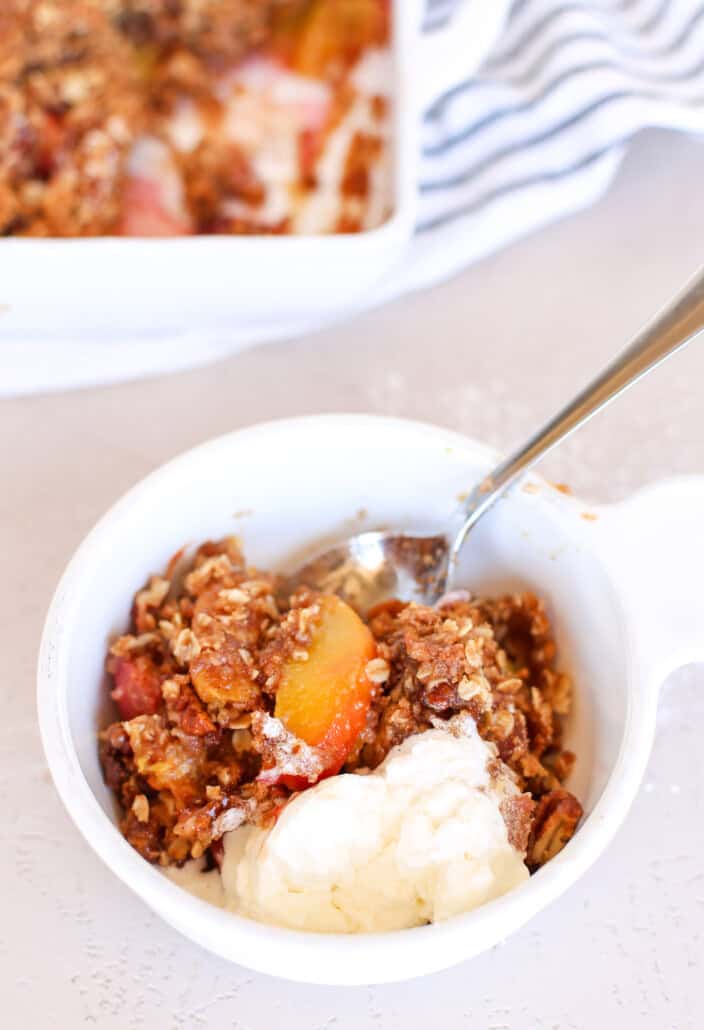 This easy peach crisp recipe comes together in less than an hour, making it ideal for busy summer days.
"Oh my lanta. So flipping good! Thank you for this yummy and easy recipe!" – Ellie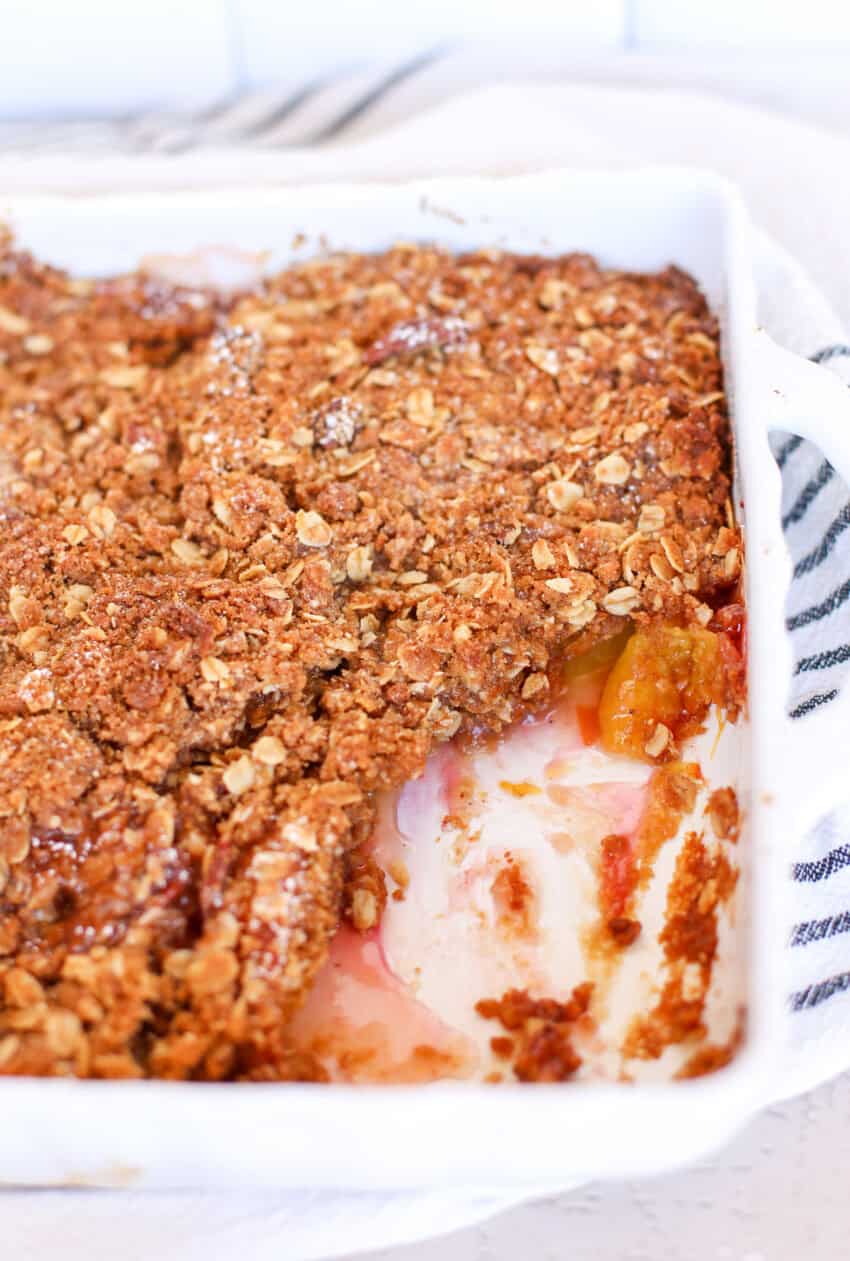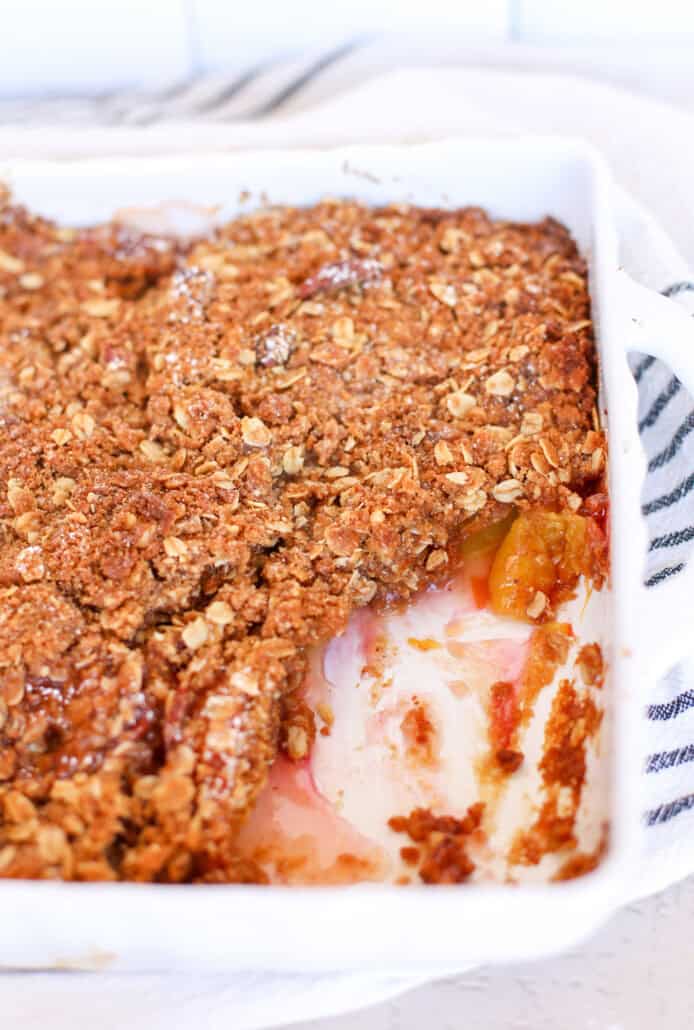 What's the Difference Between Peach Cobbler and Peach Crisp?
I had to do a little research to figure this out myself. According to Master Class:
"Fruit cobblers are a freeform dessert with a fruit base and biscuit topping. The name cobbler comes from the shape of the batter or biscuit dough dropped in dollops on the fruit, which puff up to look like cobblestone streets."
"Fruit crisps have a golden brown streusel crumble topping made of a combination of butter, brown sugar, oats, flour, and more. Both the fruit and the topping tend to have a slight "crisp" to them."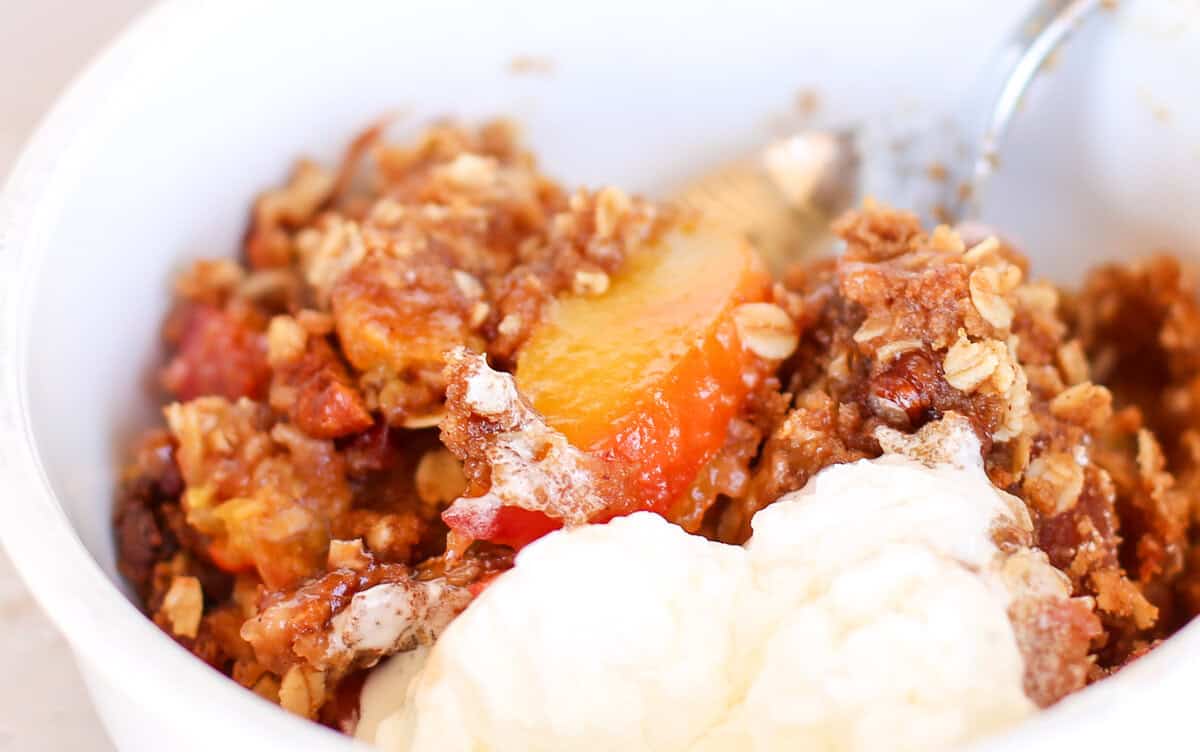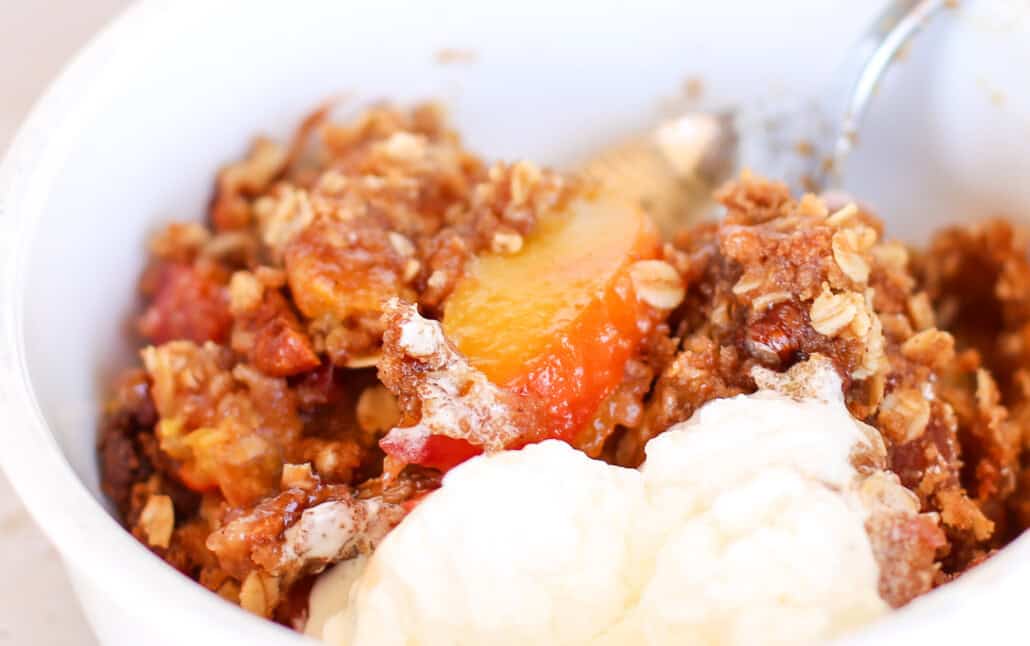 What Type of Peaches Should I Use?
Here's the good news: any variety of peach will work! Just keep in mind, the riper the better.
If you find yourself working with peaches that are firm and not at their peak ripeness, panic not. You can just add a bit more sugar to the peach filling to compensate.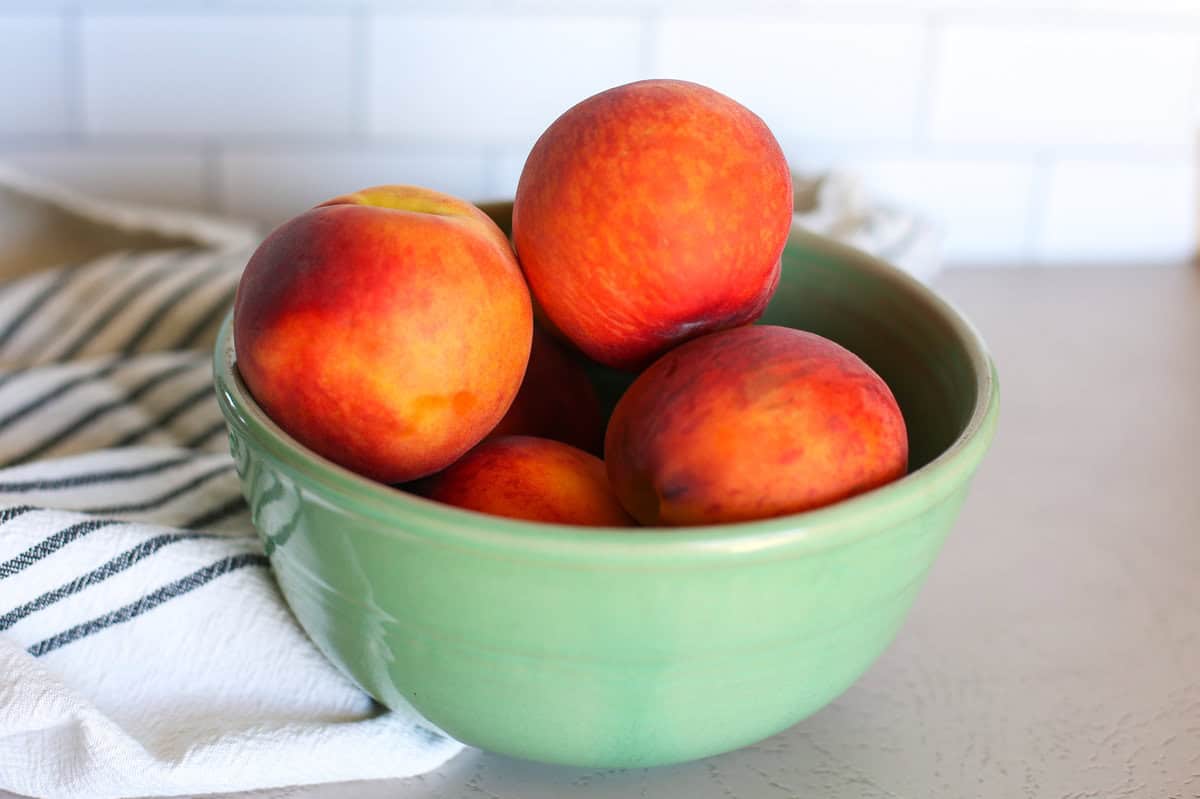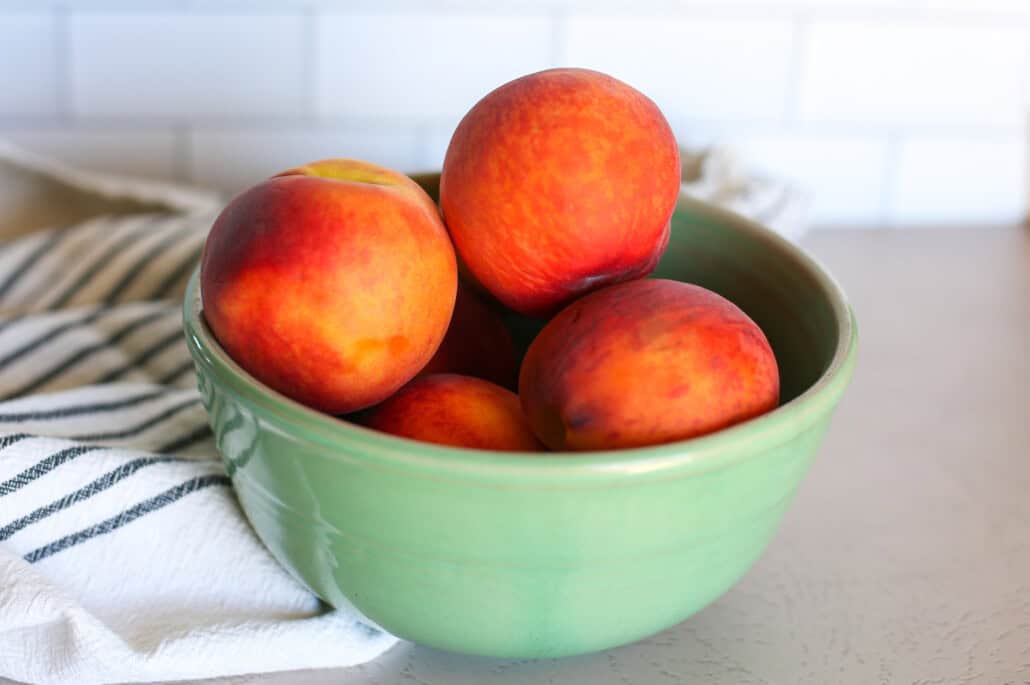 Can I Use Canned Peaches?
While I have never actually used canned peaches for this recipe, I have read from other sources that it works to use them. I'd suggest draining the peaches of their juice before any of the steps below.
Do I Have to Peel the Peaches?
Whether you peel the peaches or not is a matter of preference. I never do.
It doesn't affect the flavor either way. The skin brings a pop of color and touch more nutrition, so I choose to not peel my peaches.
Plus it takes a lot of extra time to peel 5 peaches. So… no thanks to that option.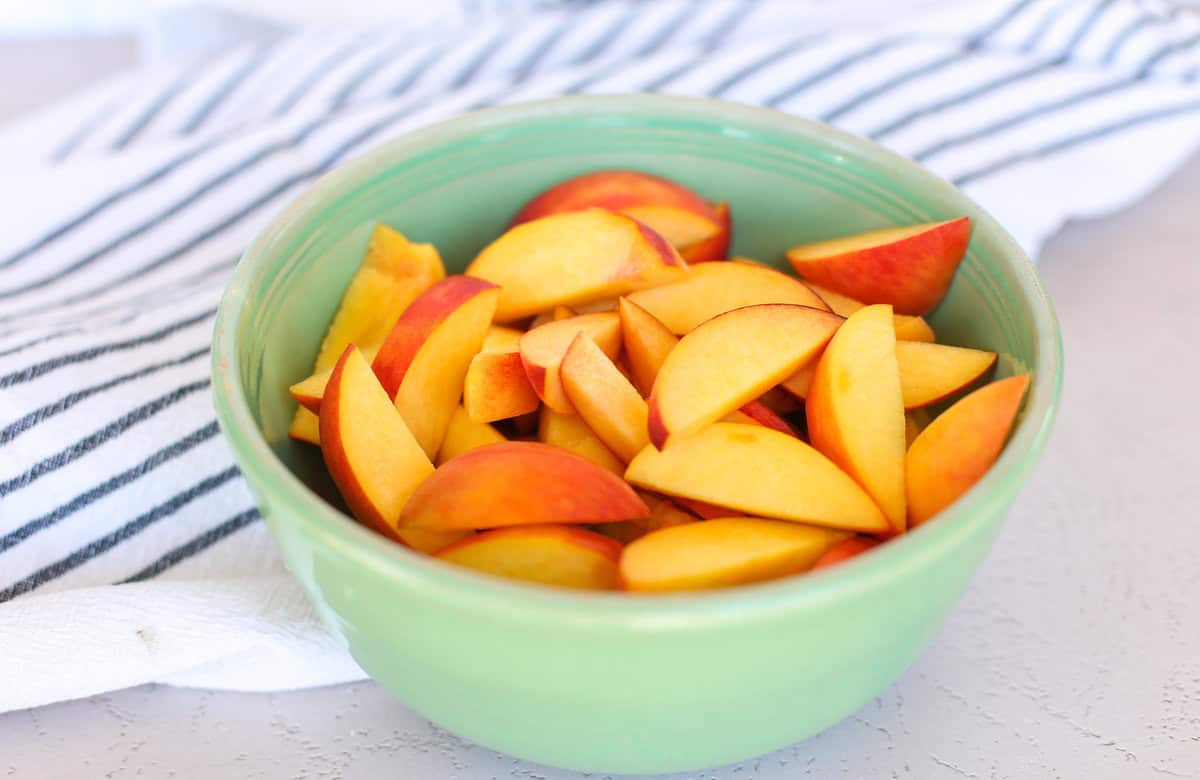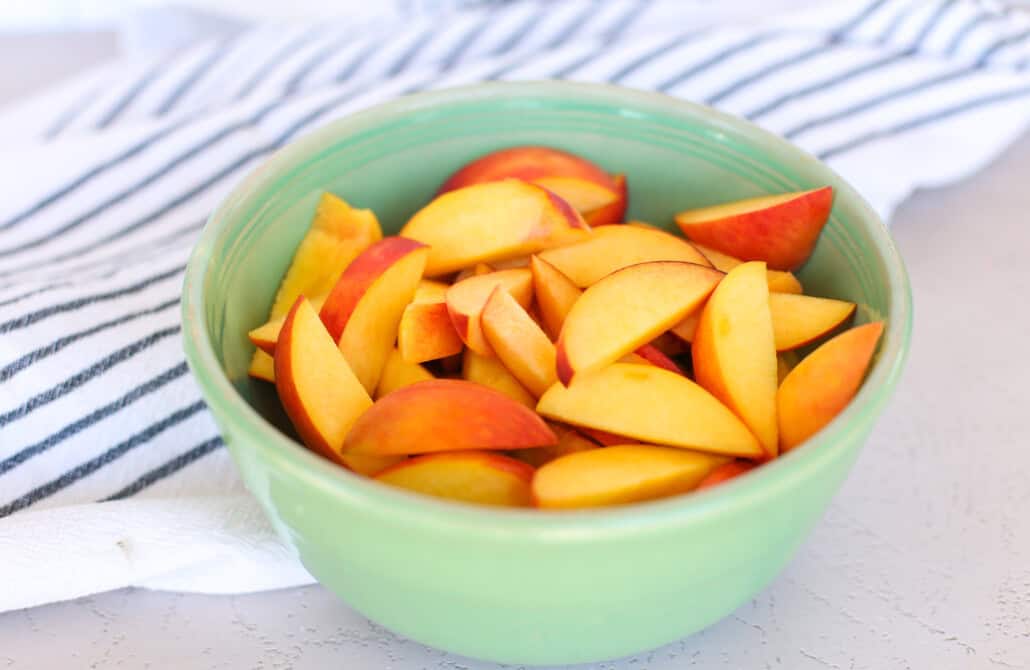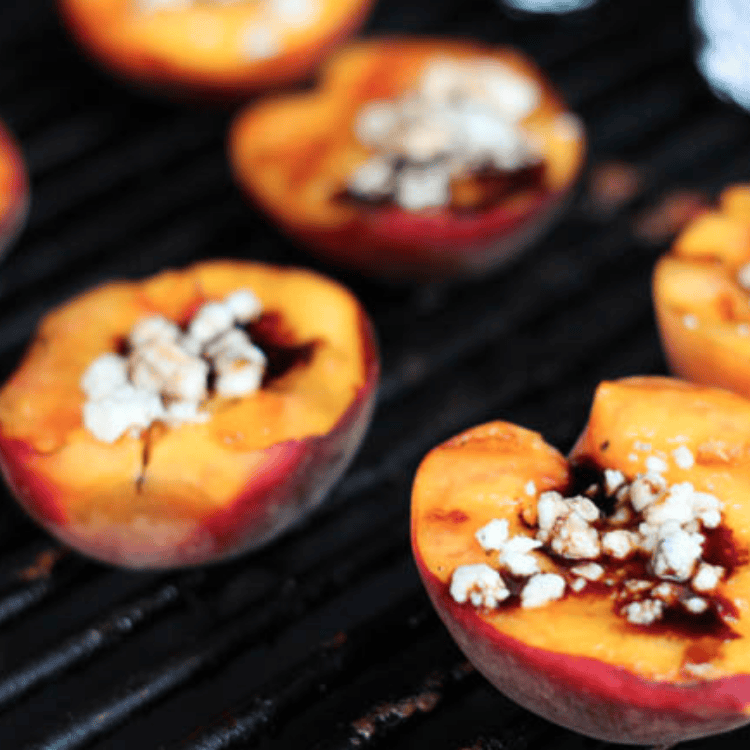 Try Grilled Peaches!
If you love peaches, be sure to check out our Grilled Peaches recipe.
See the Recipe
How to Make Peach Crisp
This recipe comes together fast! Here are the steps:
Preheat the oven and grease an 8×8 inch baking dish with cooking spray.
In the baking dish, toss your sliced peaches in some sugar, flour, and lemon juice. If they are super tender, be sure to toss them gently! Spread them out evenly.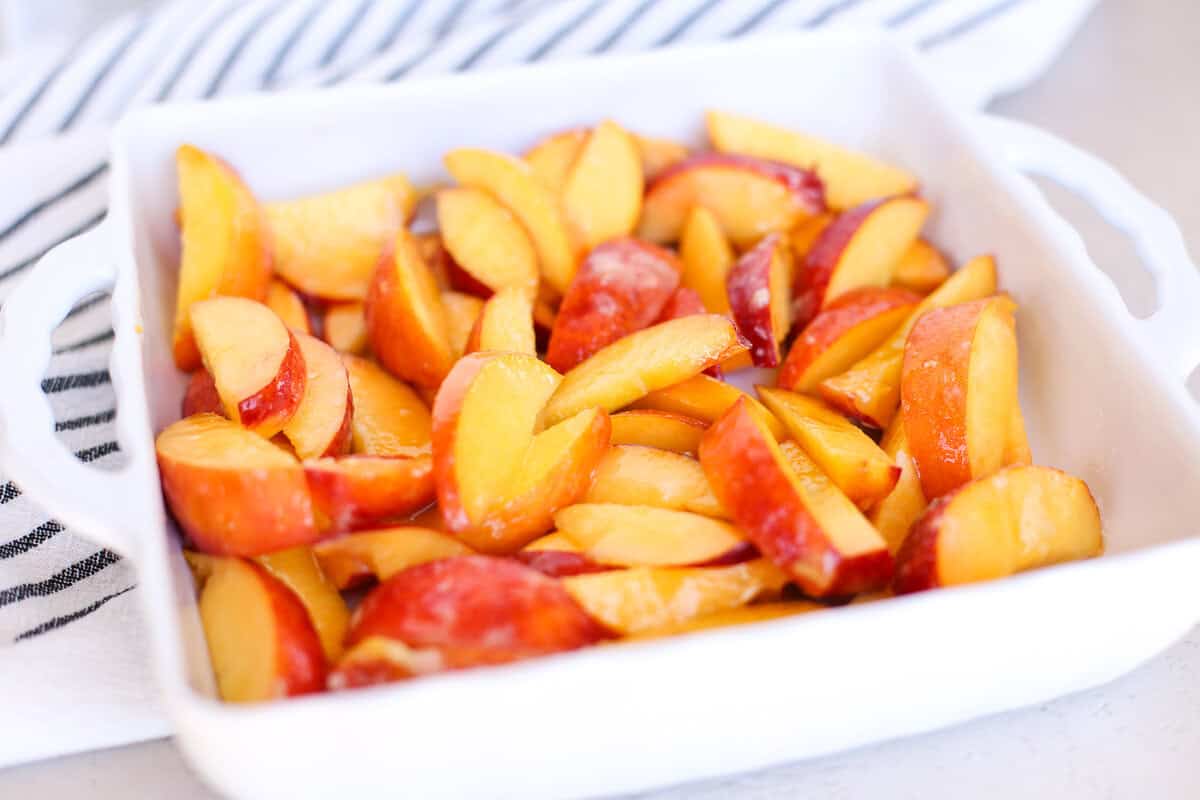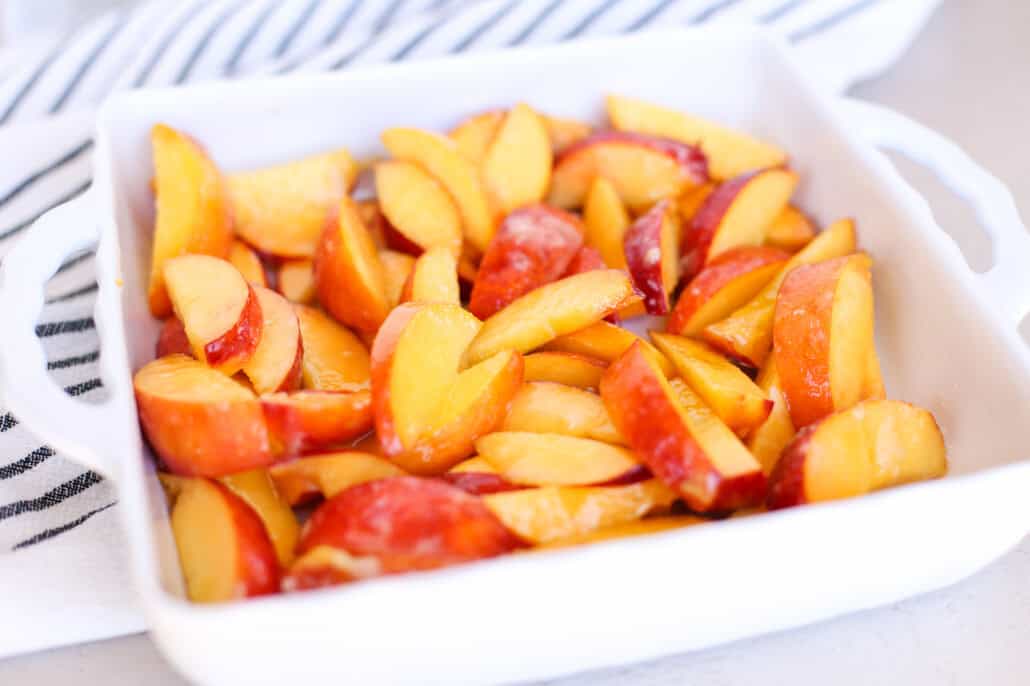 Aren't they pretty?!
In a mixing bowl, add the topping ingredients. Stir those together.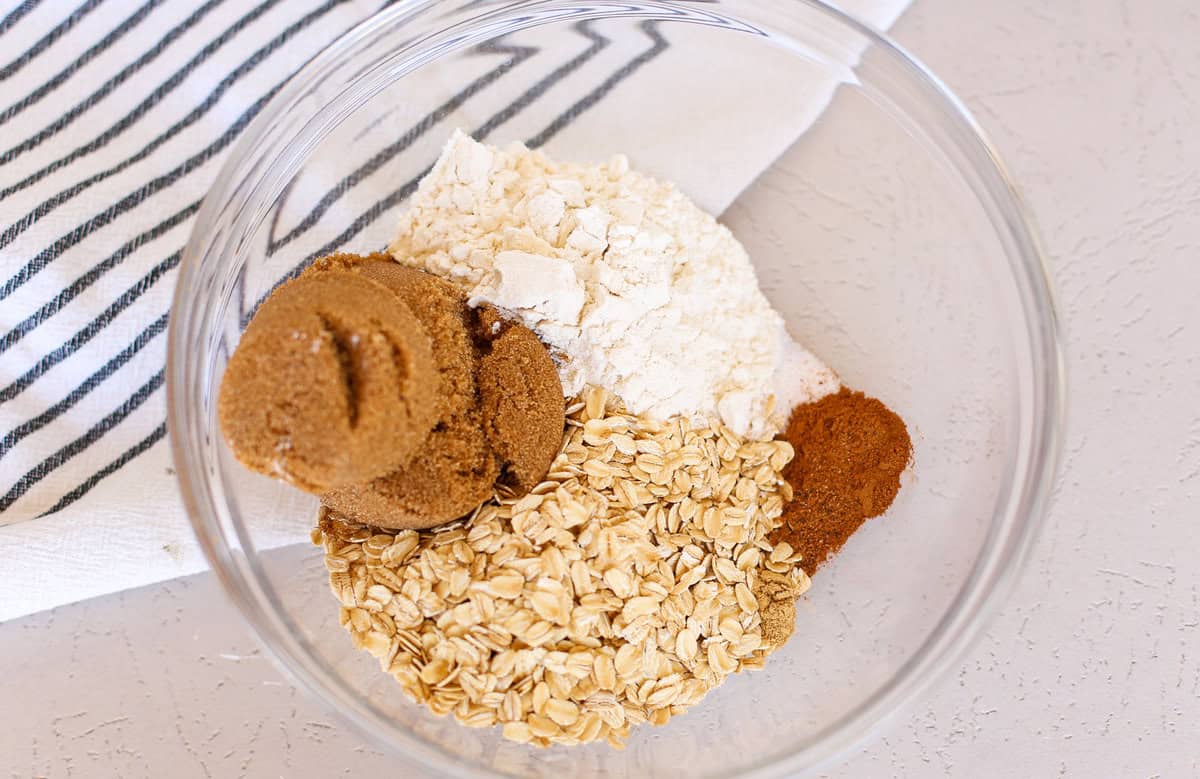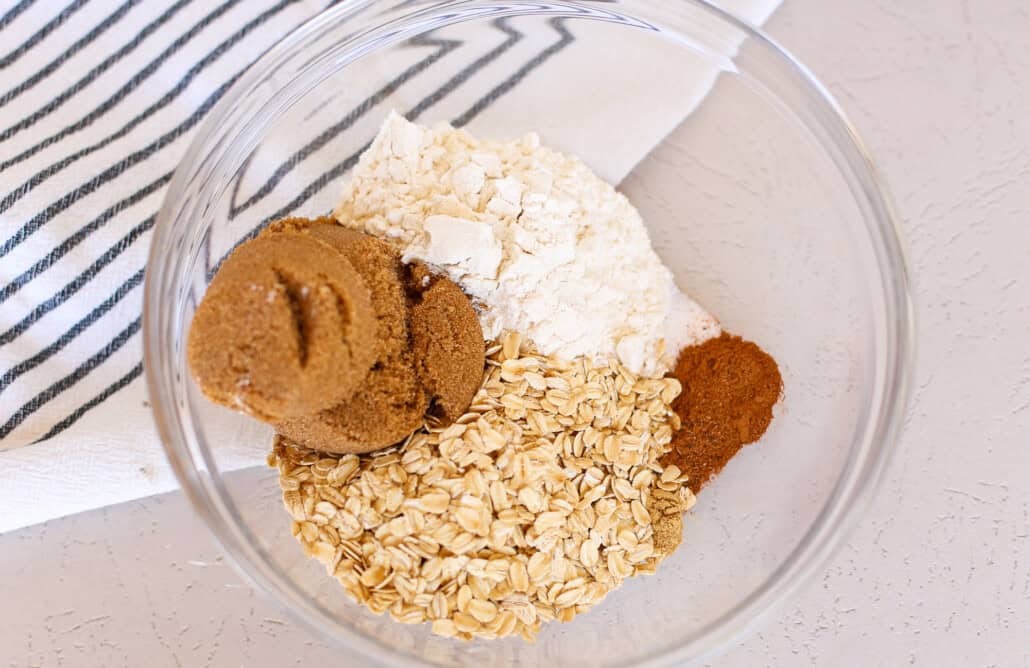 You'll need to cut in the butter before you sprinkle the topping over the peaches. Use a pastry cutter, a fork, or your hands.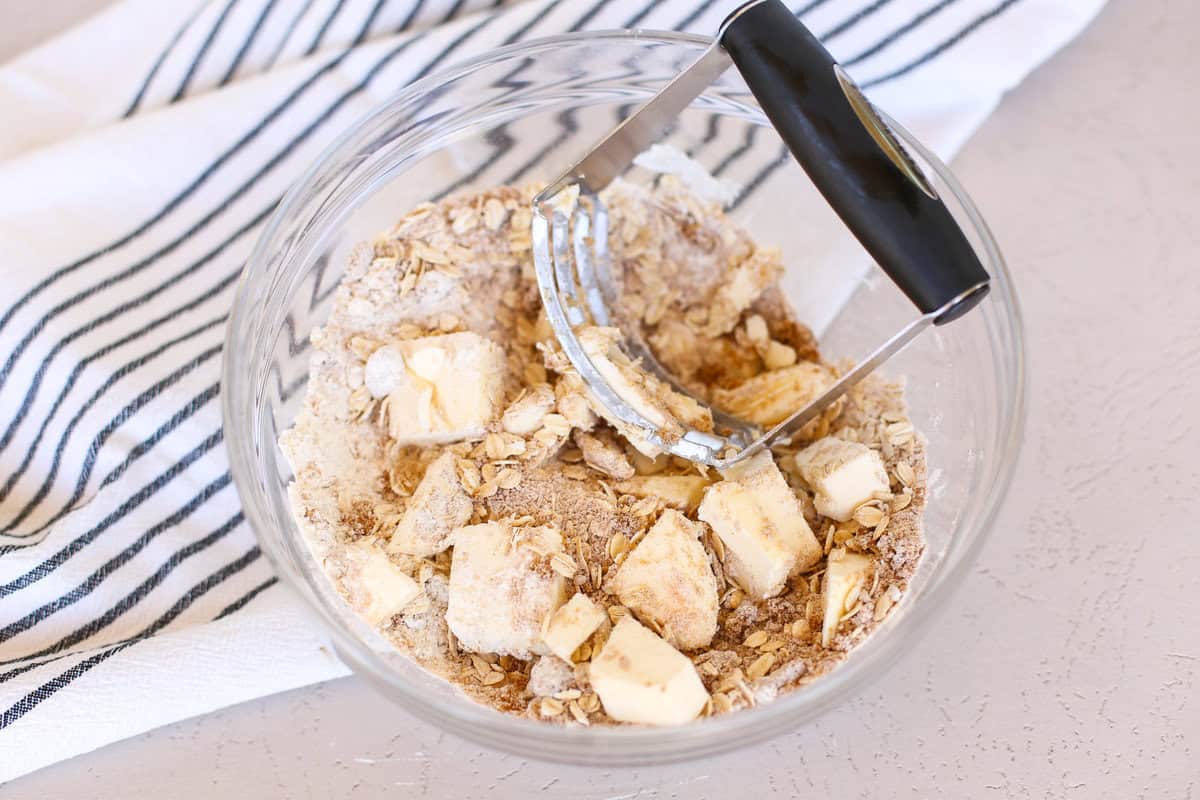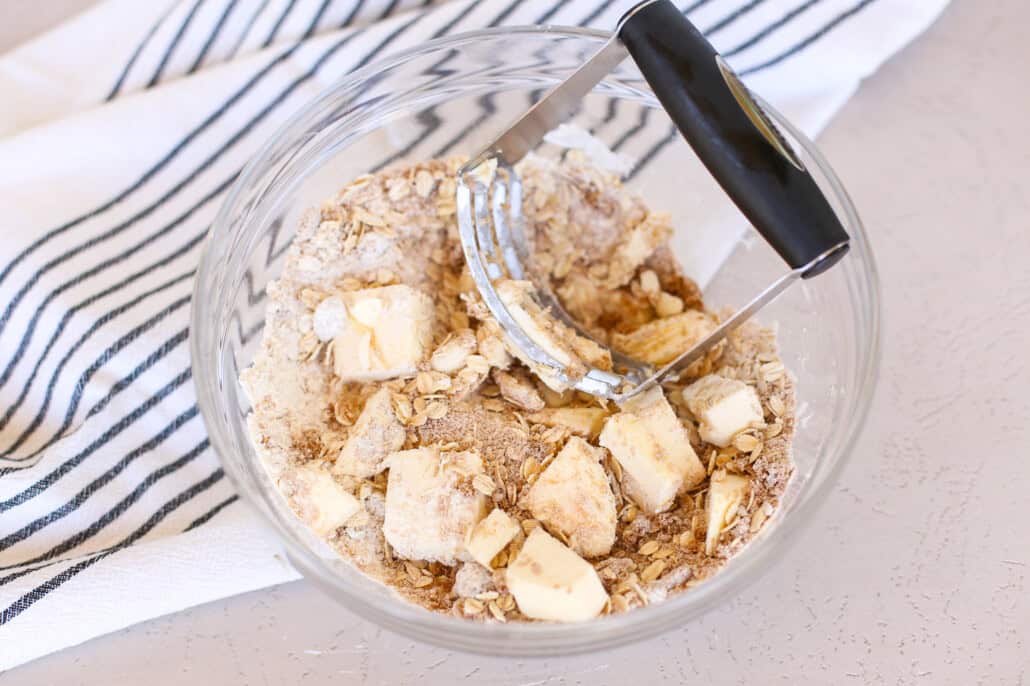 Sprinkle that topping goodness all across those peaches you just prepped.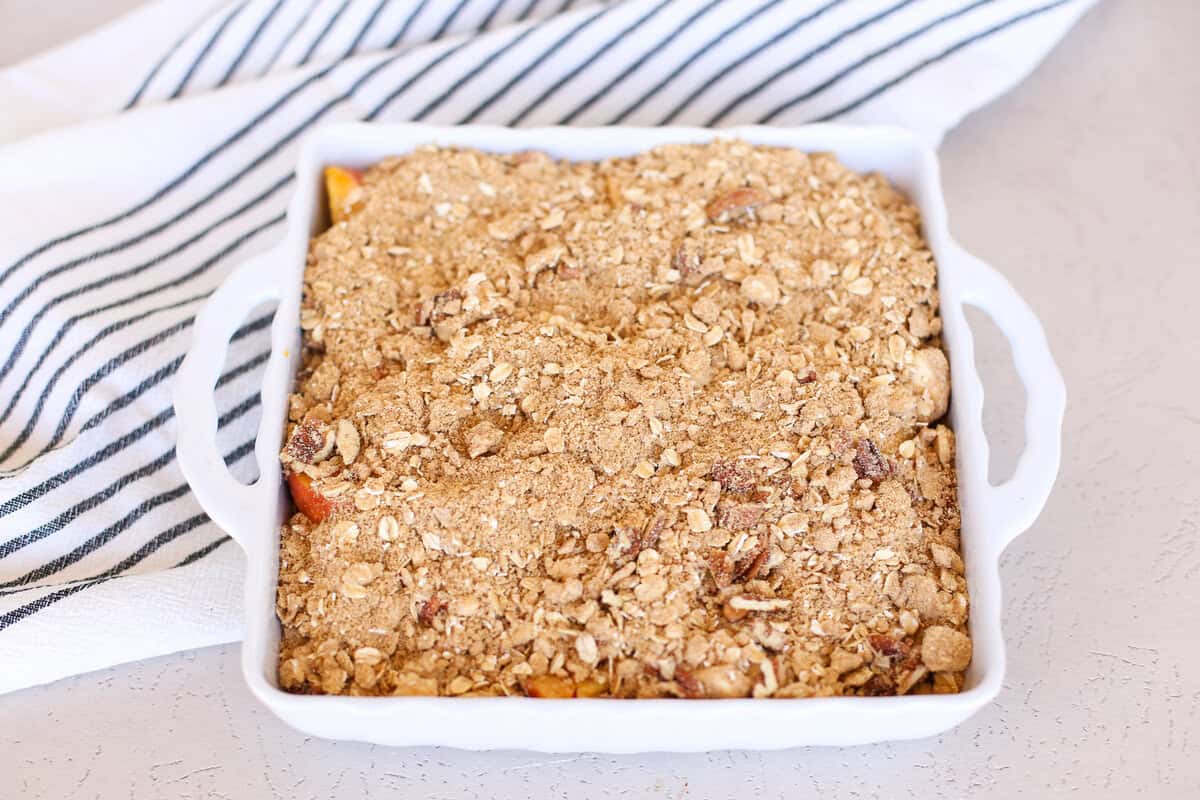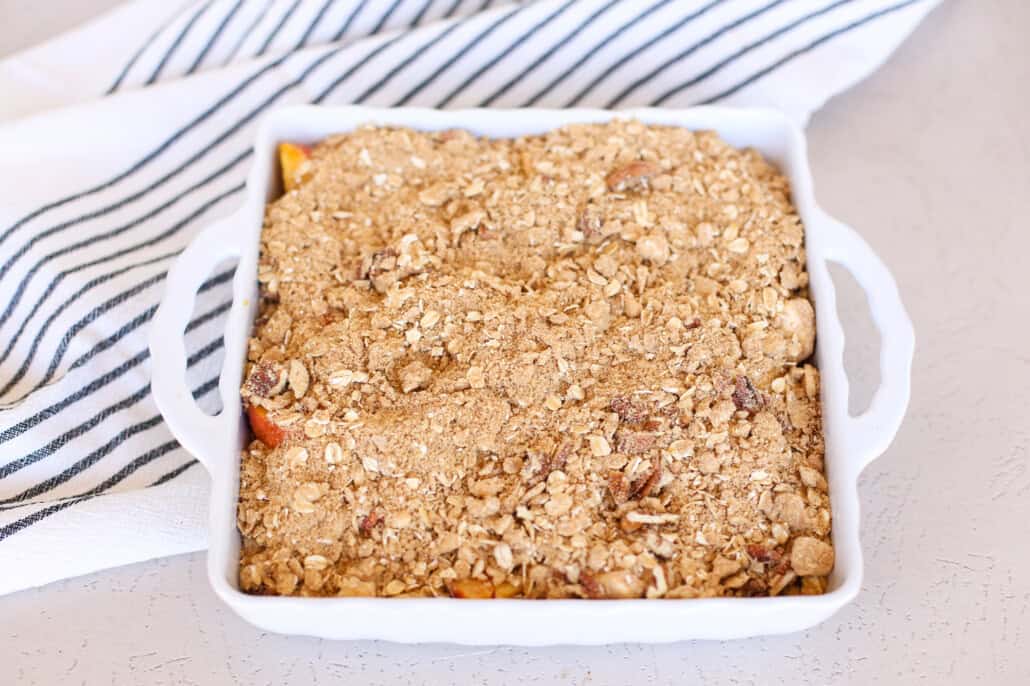 Freezer Tip
If you plan to freeze the Peach Crisp, this is where you stop! Follow freezing instructions below.
Bake the Peach Crisp until the top begins to brown and you can see bubbling on the sides of the dish.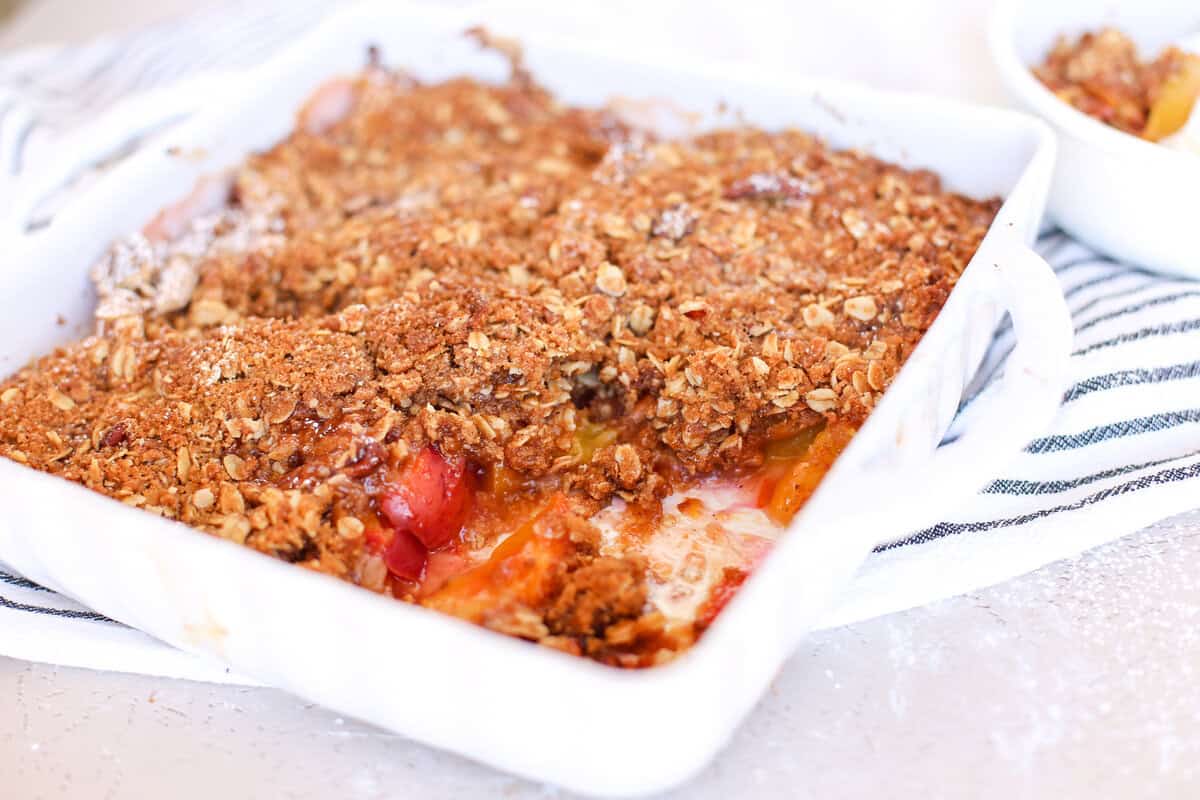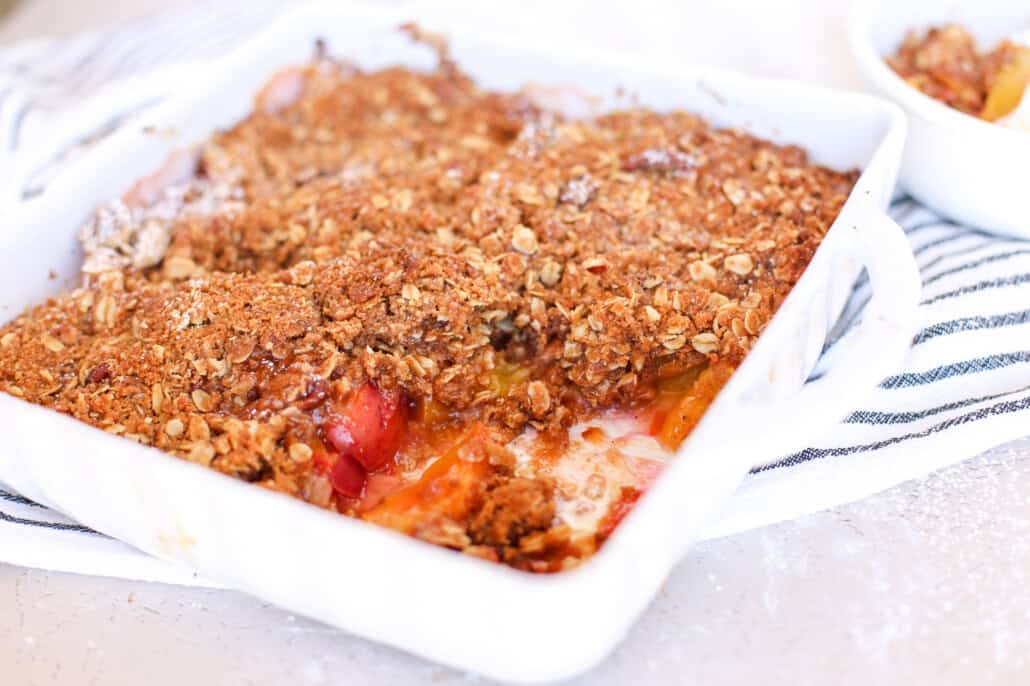 My favorite way to serve Peach Crisp is with a scoop of vanilla ice cream on top.
You can also serve it with whipped cream.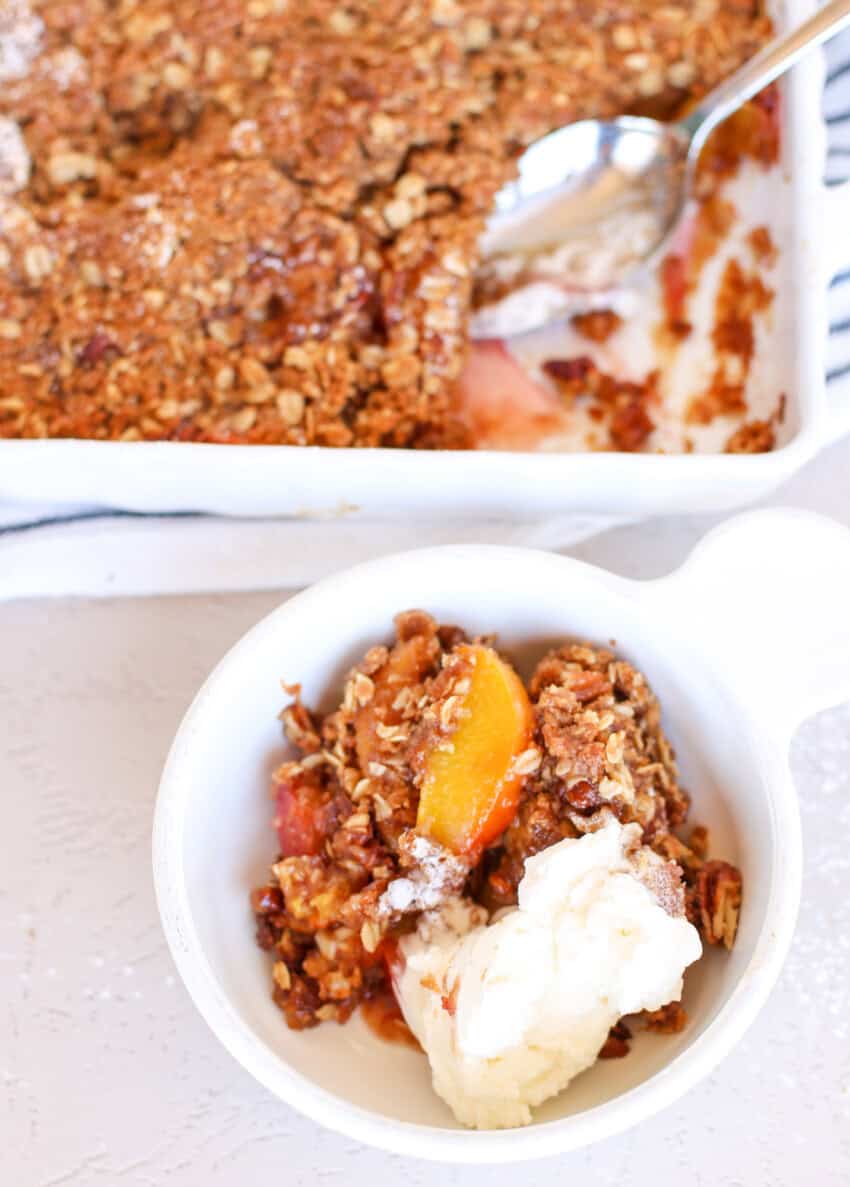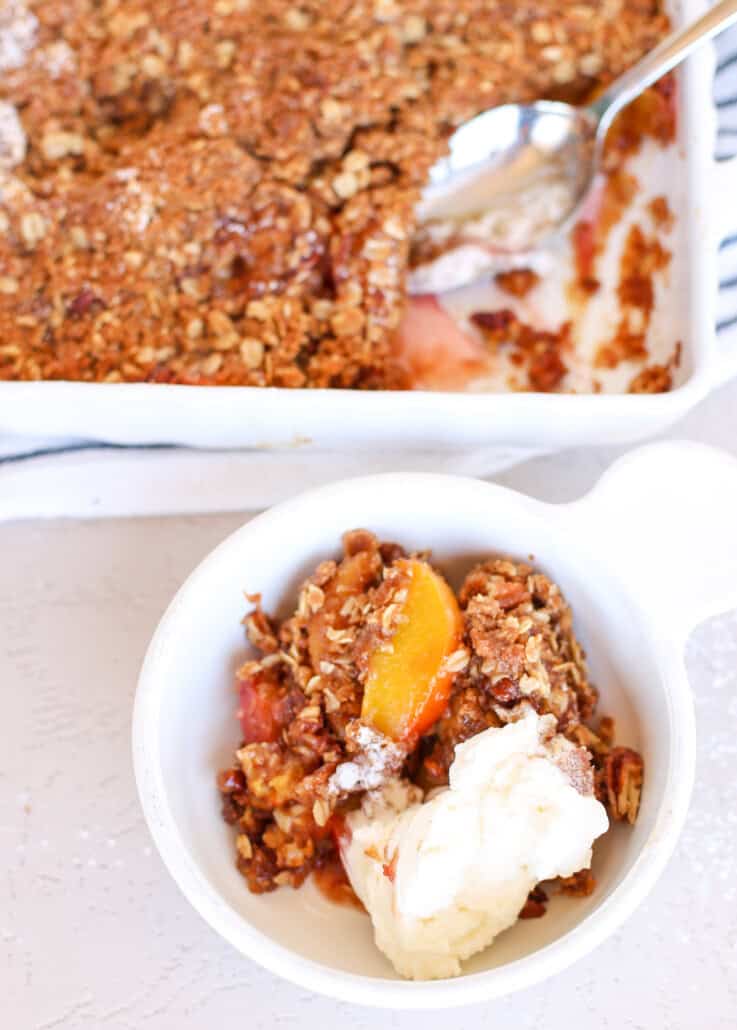 How to Freeze Peach Crisp
Like many of our freezer meals, you will prep the Peach Crisp all the way up until baking. Freeze before you bake it.rnrnu003cbu003eFreeze For Later:u003c/bu003ernrnFollow Steps 1-4, but do not bake. Tightly wrap the dish in a few layers of plastic wrap or foil (or a tight-fitting lid).rnrnu003cbu003ePrepare From Frozen:u003c/bu003ernrnThaw completely. Follow Steps 5 and 6.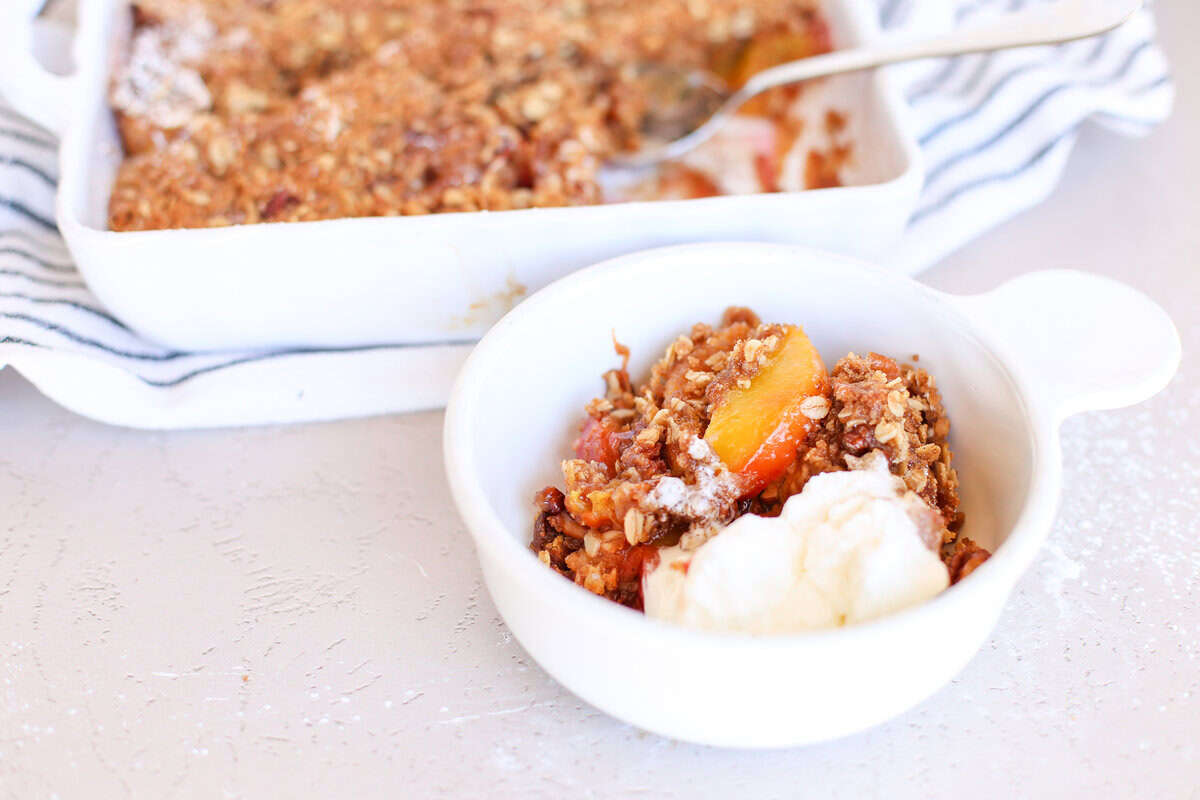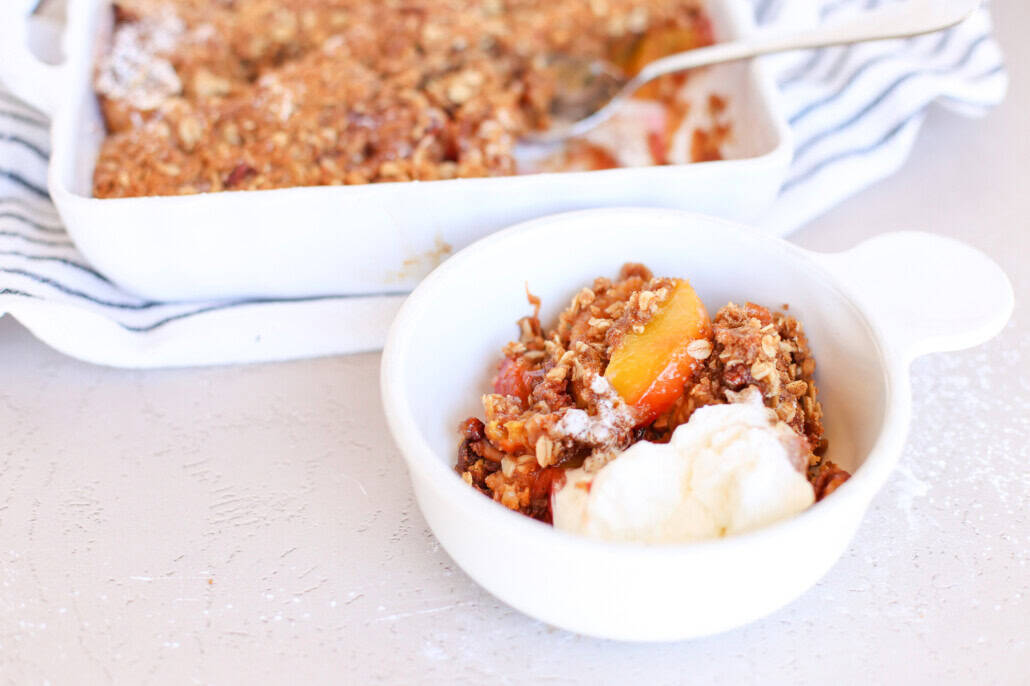 Recipes to Serve with Peach Crisp
Here are some recipes that would go well with Peach Crisp.
Did you make this? Snap a photo and tag us on Instagram at @thrivinghome so we can see your creations and cheer you on!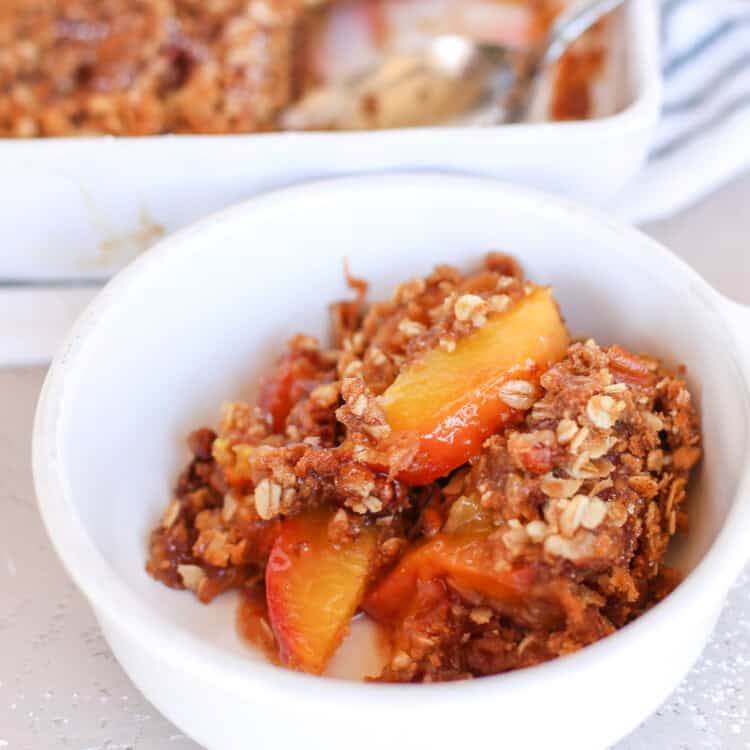 Peach Crisp
This Peach Crisp dessert is delicious. The key to incredible flavor is to use peaches at their peak of freshness.
Prep:
15 minutes
Cook:
40 minutes
Total:
55 minutes