This post may contain affiliate or sponsored links. Please read our disclosure policy.
Satisfy your sweet and salty cravings with these bite-sized Pretzel Rolo Bites! A pretzel base topped with a melty Rolo caramel chocolate creates a delightful treat perfect for parties or a quick snack. Top it with a peanut butter M&M for an irresistible, delicious snack or dessert.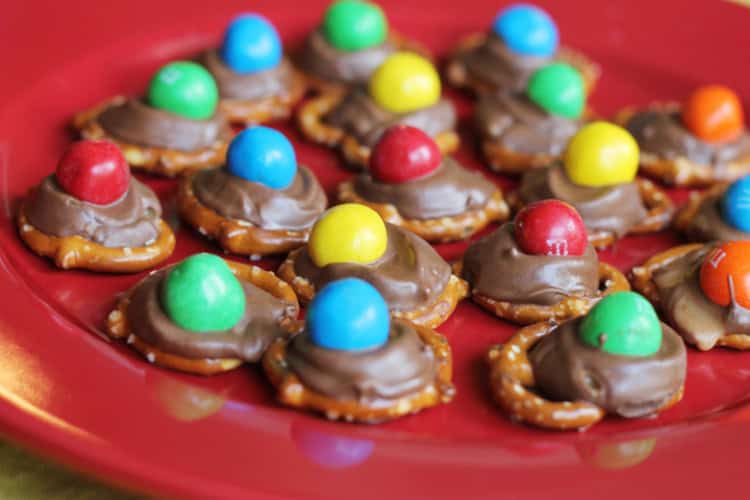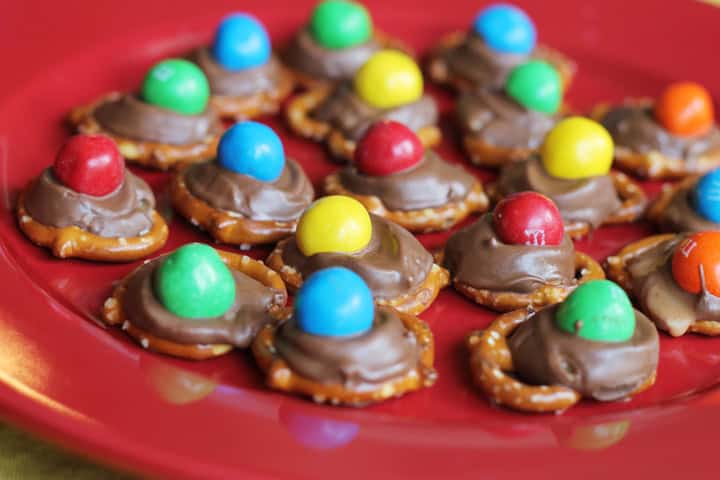 "So easy and so fun!" ⭐️⭐️⭐️⭐️⭐️ – Samantha
About This Recipe
Let's go ahead and state the obvious. These are not healthy. In any way. If you're looking for a healthy, all-natural treat for your child's birthday party, look away. I said LOOK AWAY! (Same goes for our Chocolate Covered Oreos!)
OK, you're still reading. Good. I like people who are OK with a tasty treat every now and then. Everything in moderation, right?
There are 3 main ingredients in this Pretzel Rolo Bite recipe.
Pretzels – It needs to be the braided kind. You could easily do off-brand!
Rolos – The chocolate and caramel is packed all in one place!
Peanut Butter or Pretzel M&Ms – These are optional but add an extra delight to every bite.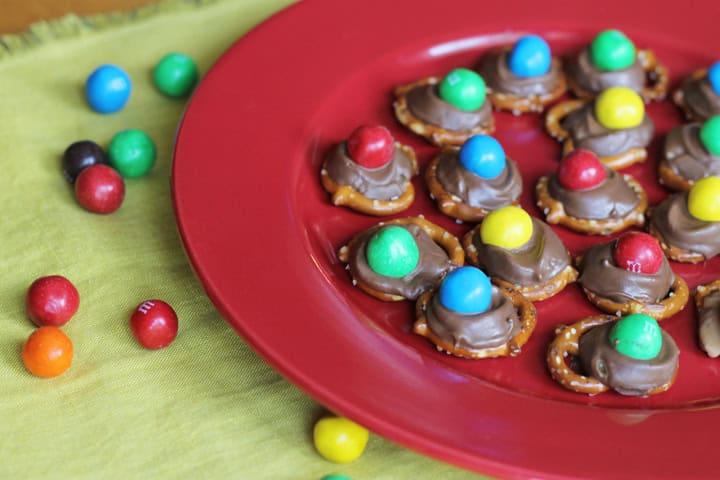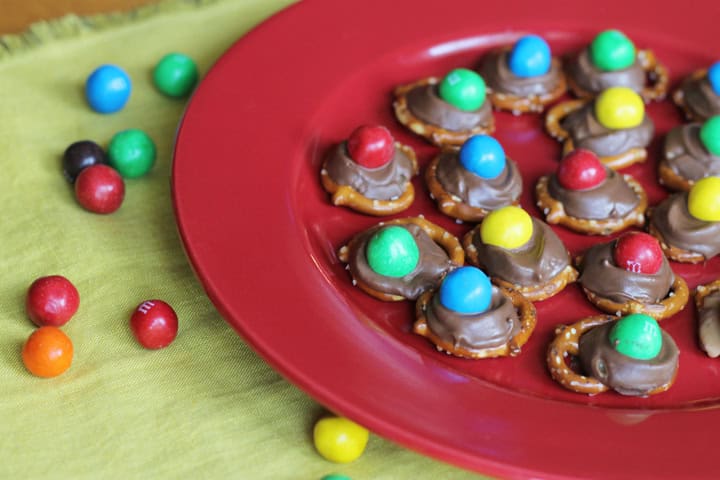 How to Make Pretzel Rolo Bites
Preheat oven to 350 degrees. Place pretzels on a baking sheet lined with parchment paper or foil.
Place one unwrapped Rolo on top of each pretzel.
Cook Rolos and pretzels for about 2 minutes. Rolos need to be softened but NOT melting.
As soon as you remove Rolos and pretzels from oven, gently press an M&M into the Rolo.
Let cool. This can take almost an hour!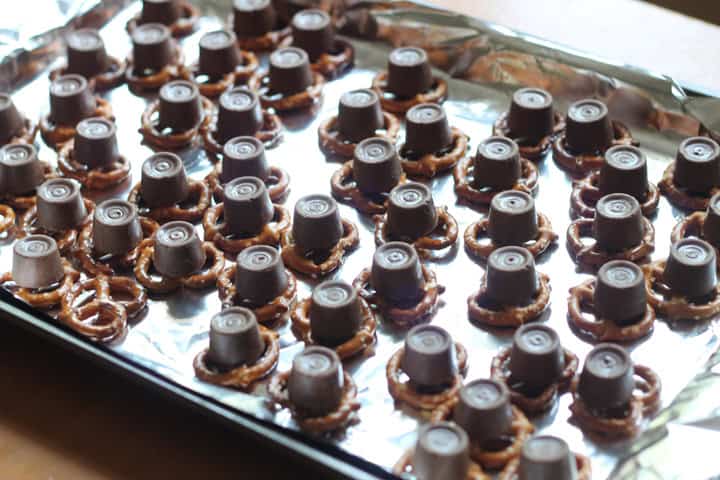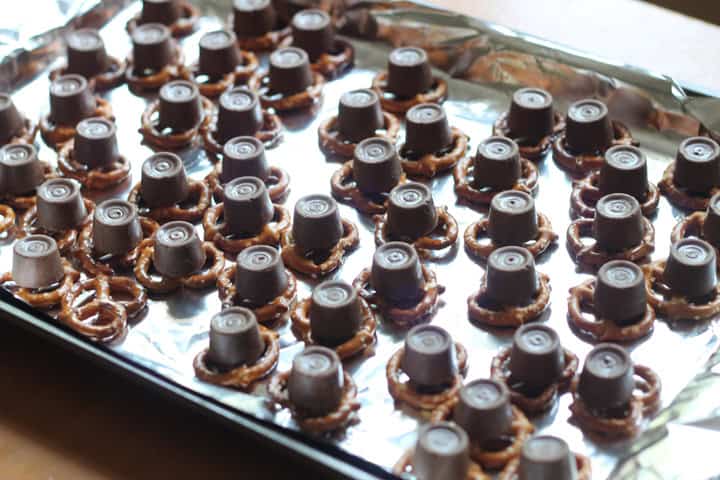 Variations
Here are some variations of Pretzel Rolo Bites that you can try:
Pretzel Nutella Bites: Instead of using Rolo candies, spread a small dollop of Nutella on each pretzel and sprinkle with chopped nuts (such as almonds or peanuts) for a delightful combination of chocolate and nutty flavors.
Pretzel Kiss Bites: Substitute the Rolo candy with Hershey's Kisses. Place a Kiss on top of each pretzel and gently press down, then bake until the chocolate is softened for a mouthwatering treat.
Pretzel Caramel Bites: For a different caramel experience, use soft caramel candies (like Kraft caramels) instead of Rolos. Place a caramel on each pretzel and warm them in the oven until the caramel is soft and gooey.
Pretzel Peanut Butter Bites: Replace the Rolo candy with a small dollop of peanut butter on each pretzel. You can even drizzle melted chocolate over the top for an extra touch of decadence.
Q: How do I store Pretzel Rolo Bites?
A: To store Pretzel Rolo Bites, place them in an airtight container at room temperature. They can be stored for up to 1 week, but they are best enjoyed within a few days of making them.
Q: Can I make Pretzel Rolo Bites in advance?
A: Absolutely! Pretzel Rolo Bites can be made in advance and stored until needed. They are a convenient treat for parties or special occasions.
Q: Can I use different types of chocolate instead of Rolos?
A: Yes, you can experiment with different types of chocolate. Hershey's Kisses, chocolate squares, or even homemade chocolate ganache can be used as alternatives to Rolos.
Q: Can I use gluten-free pretzels for this recipe?
A: Yes, if you have dietary restrictions or prefer gluten-free options, you can certainly use gluten-free pretzels to make Pretzel Rolo Bites. Just ensure that the other ingredients you use are also gluten-free.
Did you make this? Snap a photo and tag us on Instagram at @thrivinghome so we can see your creations and cheer you on!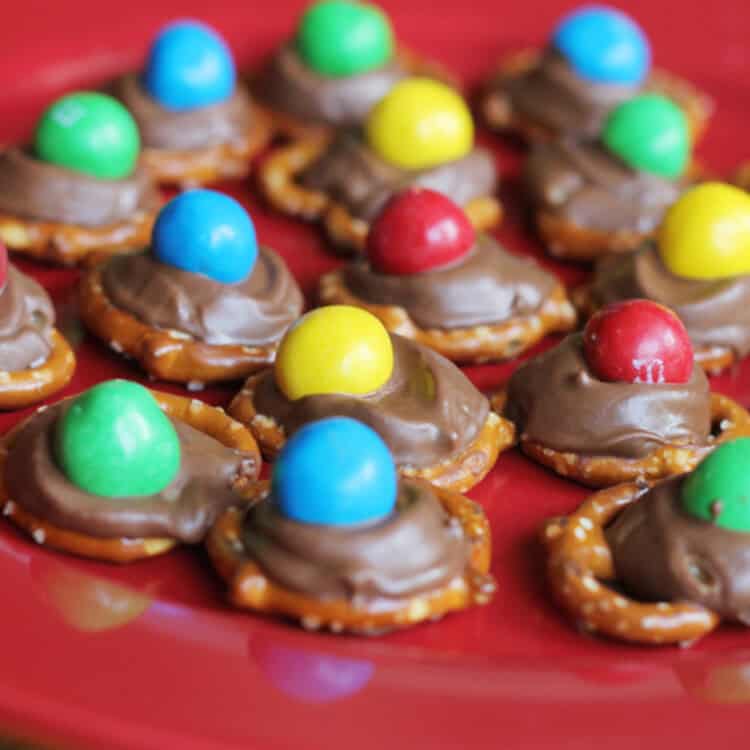 Pretzel Rolo Bites
Delicious, bite size Rolo pretzel treats. Takes just a snap to make them and can be made a few days in advance.
Prep:
5 minutes
Cook:
2 minutes
Total:
7 minutes
Ingredients
One bag of Rolos

1/2

bag small pretzels

1

bag of Preztel M&Ms OR Peanut Butter M&Ms
Before You Begin! If you make this, please leave a review and rating letting us know how you liked this recipe! This helps our business thrive & continue providing free recipes.
Instructions
Preheat oven to 350
Place pretzels on a baking sheet lined with parchment paper
Place one unwrapped Rolo on top of each pretzel
Cook Rolos and pretzels for about 2 minutes. Rolos need to be softened but NOT melting
As soon as you remove Rolos and pretzels from oven, gently press an M&M into the rolo.
Let cool (mine took over an hour before they were cooled down enough to solidify)