I've been trying out quite a few freezer-meal-to-crock-pot recipes as of late. You know, the kind you assemble ahead of time, freeze, then defrost and throw in the crock pot for a hearty, healthy meal. The idea is genius but I'll be honest, I have found it hard to find a GOOD slow cooker recipe that can be frozen ahead of time. If you have one, PLEASE share with me in the comment section of this post! Anyway, after a few very mediocre slow cooker recipes, I finally found one that my husband and I deemed, "A keeper."
It was a cilantro lime chicken recipe with corn and black beans. After cooking it you serve it on tortillas along with the typical toppings that you would want on a taco (salsa, sour cream, cheese, etc.). We really liked it.
However, what I liked even better is what we did with the leftovers!
This was inspired by our Baked Nachos recipe. We simply spread out chips on a cookie sheet, spread out our leftovers over the chips, and topped it with shredded cheddar cheese. After baking it in the oven at 350 for about 10 minutes, we scarfed down our baked nachos.
There are lots of ways you could consume Slow Cooker Cilantro Lime Chicken with Corn and Black Beans. Be creative!
Adapted from Six Sisters Stuff recipe
Print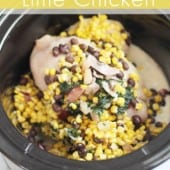 Slow Cooker Cilantro Lime Chicken Recipe
---
Description
Cilantro lime chicken recipe. So easy to make! Dump ingredients into a slow cooker and come back hours later for a delicious, family friendly healthy dinner.
---
Ingredients
1 1/2 pounds chicken breasts
Juice from 2 limes
1 bunch fresh cilantro, chopped
1 (16 oz) bag frozen corn
2 minced garlic cloves
1/2 red onion, chopped
1 can black beans, drained and rinsed (I only used 1/2 can because I'm not crazy about beans)
1 tsp cumin
salt and pepper to taste
---
Instructions
Cook on LOW for 2.5-3.5 hours.
Serve with tortillas and toppings such as with sour cream, guacamole, salsa, and cheese.
---
Notes
Freezer Meal Instructions:
To Freeze:
Place all ingredients in a resealable gallon-sized freezer bag. Mix together and zip bag closed. Store in freezer for up to 3 months.
To Prepare:
When ready to eat, remove from freezer and thaw in fridge for 24 hours.
Idea for leftovers:
If you find that you have leftovers after cooking the cilantro lime chicken, try the baked nachos (idea in post).