This healthier version of a Meatball Sub is hands down one of my favorite sandwiches of all time. And, more importantly, my whole family from ages 1 to 40 loves it! That's a rare treat at this stage of life. Not only is this Meatball Sub Sandwich delicious, but like many of my recipes, it's full of hidden veggies. Bonus!
Here's what I did to make our healthier Meatball Sub:
1) Using my grass-fed, organic ground beef (here's why I only buy this kind of beef), I made my meatballs using the recipe below. These meatballs are delicious, moist, and full of vegetables!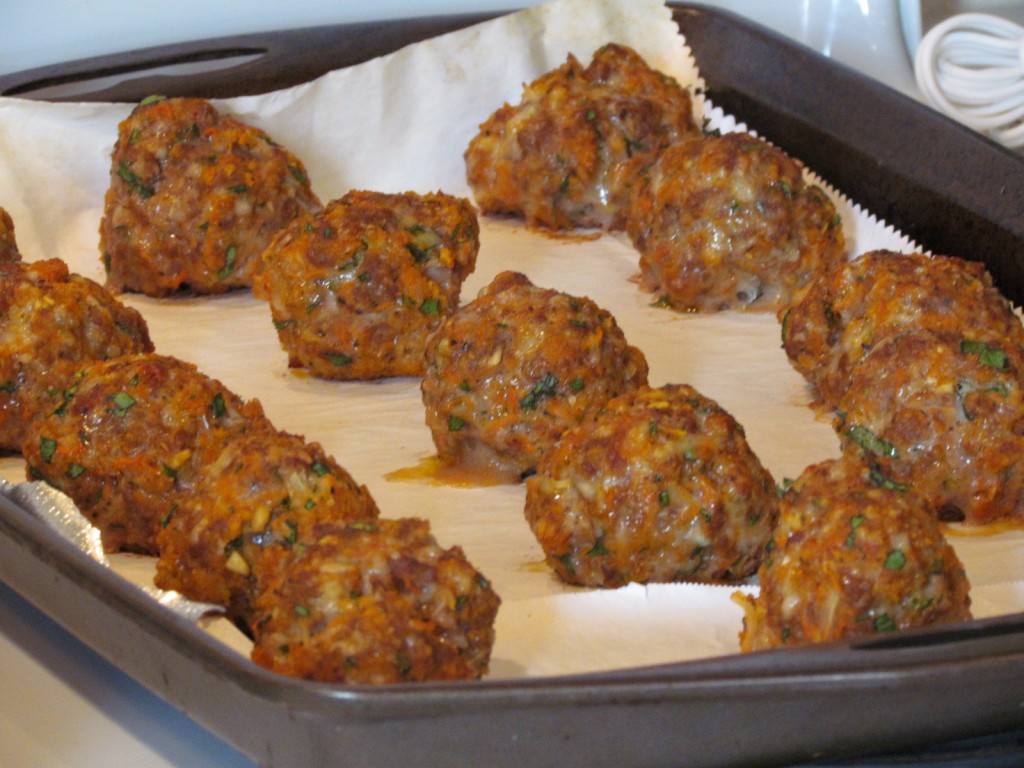 2) Next, I split and toasted some whole wheat rolls or subs under the broiler for 1 minute. I've used both, as you'll see in these pictures.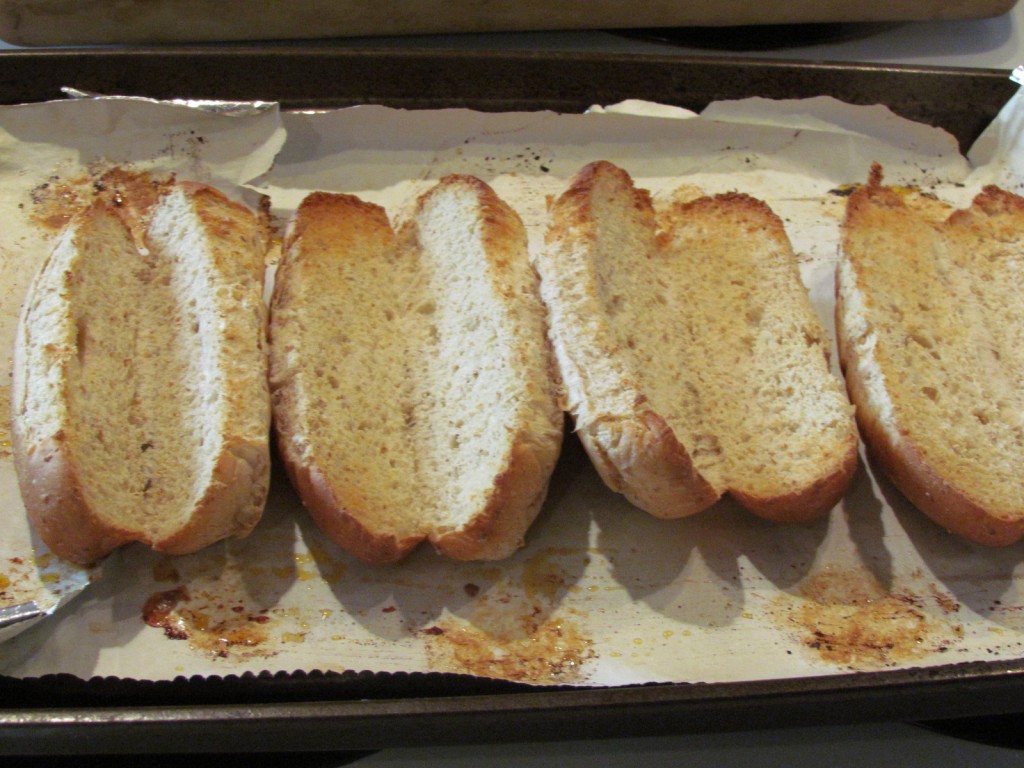 3) Now on to putting together your delectable sandwich.
First a meatball (or two if you're using a sub) on top of the toasted bread. You may have to cut them in half if they don't fit easily on your sub roll.
Next top the meatballs with a healthy marinara sauce. I also love Newman's Own Marinara because of its simple ingredients, great flavor, and affordable price.
Lastly, lay 1 slice of Provolone or Mozzarella cheese (cut it in pieces to fit) over the top of the sauce.
4) Toast your sandwich in a 350 degree oven until sandwich is warmed through and cheese is melted–about 10 minutes.
Fast Week Night Tip: To make these on busy week nights, I make a huge batch of meatballs and sauce in advance on the weekend. Then, the sauce and meatballs are ready to go. Putting the sandwich together and toasting it takes less than 15 minutes that way! I freeze any sauce and meatballs are leftover or use them over spaghetti the next night.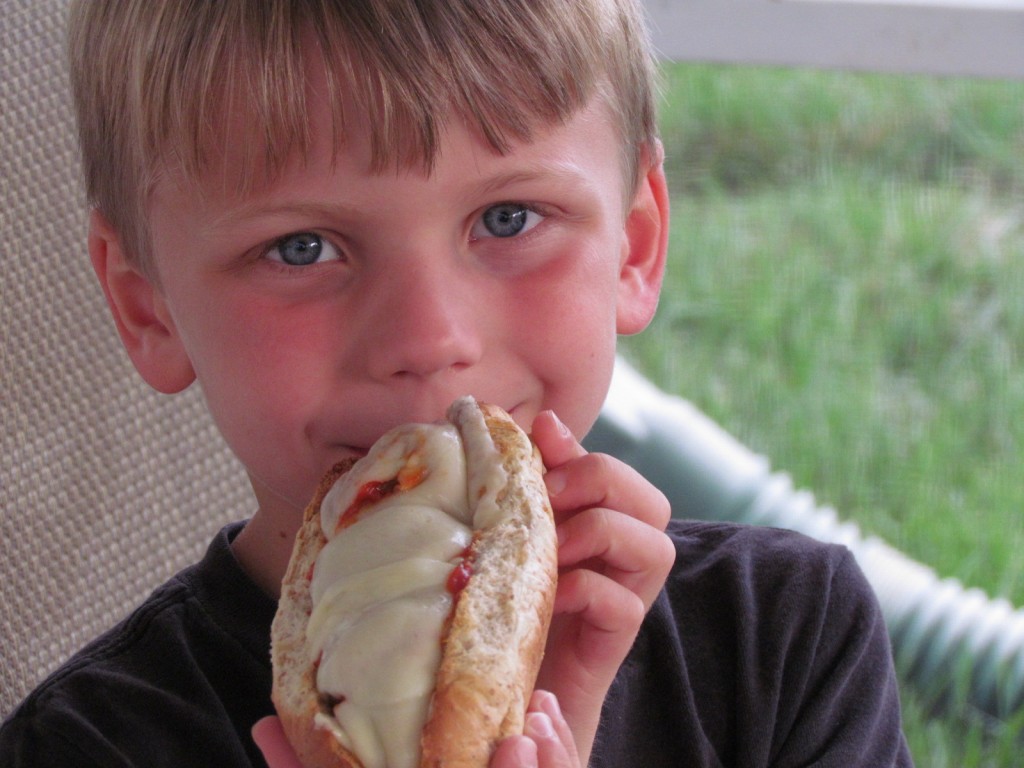 Here's my healthier meatball recipe. Feel free to sub ground turkey for the grass-fed beef.
Healthier Meatballs with Veggies
These moist, delicious meatballs are packed full of veggies to make a healthier version.
Ingredients
1 medium carrot, minced in food processor
1/2 small onion, minced in food processor (saute these in a little olive oil if you want a milder onion taste)
3 cloves garlic, minced
1/3 cup fresh loosely packed parsley, finely chopped in food processor
1/2 cup fresh, finely grated Parmesan cheese
1 egg
1 cup whole wheat bread crumbs (I made my own with leftover stale bread in food processor)
3 tablespoons organic ketchup
1 1/4 teaspoons salt
1/2 teaspoons pepper
1 lb grass-fed ground beef
Instructions
Preheat oven to 400 degrees. Cover a cookie sheet that has sides or a 9x13 casserole dish with parchment paper or foil (for easy clean-up).
In a large bowl, add the carrot, onion, garlic, parsley, Parmesan, egg, bread crumbs, ketchup, salt and pepper to a large bowl and combine.
Mix in the ground beef. Use your hands to combine well.
Using about 2 tablespoons of mixture per meatball, roll out 15 meatballs. They will be about 1 or 1 1/2 inches in diameter. Place these on the cookie sheet, leaving a little room between each one.
Bake for about 20 minutes or until cooked through. I cut one open and make sure there is no pink in the middle.
http://thrivinghomeblog.com/2012/10/meatball-sub-recipe-my-healthier-version/
Print this recipe along with 4 other of our most popular recipes!


style="display:inline-block;width:336px;height:280px"
data-ad-client="ca-pub-7372395114828302"
data-ad-slot="1310208108">

Check out our other healthy beef recipes!
Pin It
You might also like...