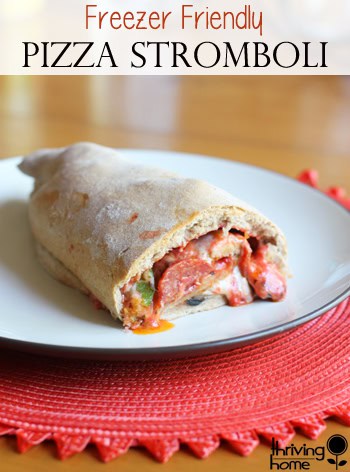 Tired of the same old boring pizza?  Want something that looks impressive (especially when you slice into it), is comforting, and kid-friendly and parent-friendly in one dish?  This Pizza Stromboli might just be it!
I made eight Pizza Strombolis last night for my freezer club, and then we baked one for dinner. (You'll find 60+ more freezer-friendly recipe HERE.) It was cheesy deliciousness.  I'm going to call it "healthy" because of the whole wheat crust and vegetables, ok?  The recipe below is for the amounts for half kid-friendly (ham and cheese)  and half adult-friendly (ham, veggies, and cheese). However, feel free to use your own favorite toppings. That's the beauty of this recipe.

In fact, what I learned after we ate it last night was that you can easily hide veggies in this dish because it is rolled up and smothered in cheese.

Wondering what the process of making this looks like? It's not hard at all…


Pizza Stromboli
Ingredients
½ cup pizza sauce
¾ cup ham, chopped
¾ cup mushrooms, sliced (about 3 mushrooms)
½ cup (loosely packed) organic baby spinach, torn in pieces
½ cup red pepper, chopped
1 tablespoon fresh parsley, minced
garlic powder, enough to sprinkle over the top
Italian seasoning, enough to sprinkle over the top
1 ½ cup Italian Mix shredded cheese
1 ½ cup Mozzarella shredded cheese
1 egg + 1 tablespoon water (to make the egg wash)
Instructions
1) Preheat the oven to 375 degrees F. Grease a large baking sheet and set aside. On a lightly floured surface, roll out the dough to a large rectangle, about 10 by 14 inches.
2) Next, spread the pizza sauce leaving a 1-inch border.
3) Then, sprinkle around other items in order listed: ham, mushrooms, spinach, parsley, garlic powder, Italian seasoning, Italian mix cheese, and mozzarella cheese.
4) Here is what it looks like with the cheese over the top. Using a pastry brush, paint the border of one long edge with egg wash.
5) Starting at the opposite long end without egg wash, roll up the dough into a cylinder, pinching the edges to seal. Place on the prepared baking sheet. Brush the top of the Stromboli with egg wash.
6) Bake until nearly completely golden brown, about 25-30 minutes (mine took at least 30 minutes). Optional: Sprinkle Stromboli with Parmesan cheese and return to the oven until the cheese is melted and the dough is golden brown, about 3-5 minutes.
7) Remove from the oven and let stand 10 minutes. Slice thickly and serve.
Freezer Instructions:
Assemble pizzas with desired ingredients. Roll up. Freeze before baking. When ready to eat, thaw overnight in the fridge. Then, bake according to directions. You may have to bake longer if it's still a bit frozen or very cold.
You might also like...