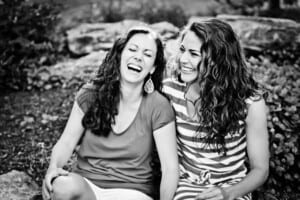 We are two stay-at-home moms who are striving to create thriving homes. Our motto is "living for more than just me." That's what we aspire to and hope to inspire in you through our blog. And, that's why we share healthy family-friendly recipes, DIY projects, Christian parenting resources, and healthy living tips that we've found helpful.
Thriving Home is ultimately about equipping and encouraging moms to serve God and others faithfully day in and day out in every area of home life. Our hope is that we can be a blessing to you and your family in some small measure.*
Featured Posts
Here are a few of our most popular posts to introduce you to Thriving Home:
60+ Healthy Freezer Meals for Busy Moms
Homemade Wheat Sandwich Bread: A Complete Guide
Cultivating a Heart That Obeys: Strategies for Dealing with a Whiny Child
Baby Gear: What Do You Actually Need?
10 DIY All-Natural Household Recipes
Helping the Homeless: On-the-Go Bags
More About Polly and Rachel
My name's Rachel. I'm a wife and mom of three young kids with a bent toward natural, healthy living. I love learning and talking with others about the topics of just about any health-related topic, cooking and food, parenting, and faith. You can read more about me here.
Hi there. My name is Polly. I'm a wife and mother of two little ones. I've been described as a "high tech grandma" meaning that I enjoy the hobbies of an old lady but have the skills of a techie. I'm embracing the nickname because yes, I love to craft, sew, knit, find new uses for old things, garage sale, bake, and wear slippers. I'm an on-the-go person who loves the outdoors and being creative. You can read more about me here if you're interested!
Want to come along?
We invite you to join us on our journey of striving to create thriving homes. Sign up here to receive weekly email updates or follow us on Facebook.
*Let us be upfront with you. Our homes are far from perfect. Kid temper tantrums that register on the Richter scale, dinged up walls and stained carpet, and the occasional marital spat mark our homes as much as the next. So, for all the pretty pictures and edited posts you see on our blog, just know that our journey of striving for a thriving home is bumpy at times. We need grace that only comes from Christ, and we have to remind ourselves of that truth every.single.day.