10 Thanksgiving Tips Our Readers Swear By
If the thought of preparing an elaborate holiday meal sounds daunting to you this year, take a deep breath and relax.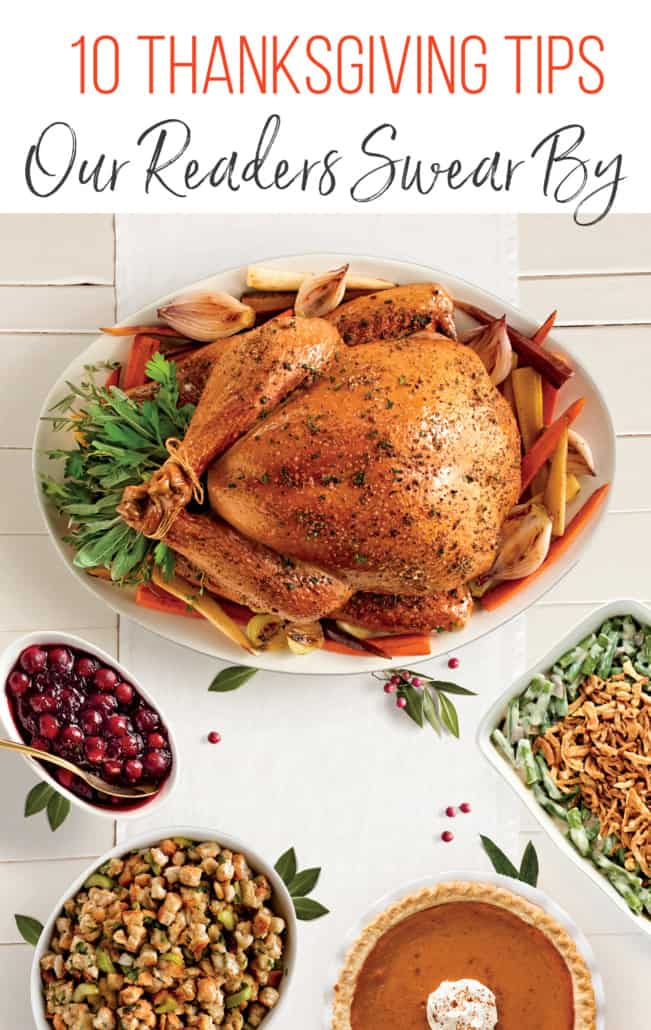 We asked our readers recently "What do you do to make Thanksgiving less stressful?" and were flooded with over 200 amazing tips! We've consolidated our reader ideas and shared the best of the best below.
This post was created in partnership with Hy-Vee (Columbia).
1. Keep Focused on What's Most Important
If we forget the "why" behind our holiday meal, it's easy to stress over the smaller details. Keeping the big picture in mind can help us enjoy the preparation, the day of, and all our loved ones all the more!
"We try to keep the meal simple so that we can enjoy family time together. We divide the work between families…I'm not tied to traditions, so being willing to go without traditional items can help. I prefer to enjoy the meal with my family more than to stress over it because to me, I gather for family more than food!"

– Katelyn M.
Seriously less is more and focusing on being thankful and not making it a production

– @swritebol
---
2. Shop Early
More than one savvy reader recommended getting a jumpstart on stocking up on groceries now. This will help you avoid crowded stores and any ingredients running out of stock.
"Shop early! We have everything but the turkey and rolls ready to go."

– Beckyross1
"Shop for the staples NOW."

– @rachelmichelle1313
Hy-Vee makes it super easy to shop early for Thanksgiving staples. Use Aisles Online to order and pick up or have your groceries delivered to your door. If this is your first time using Aisles Online, use promo code WELCOME to receive 10% off your entire order!
---
3. Prep as Much Ahead of Time as Possible
Many of our readers responded by saying how helpful it is to prepare food in advance, from mashed potatoes to pies to chopping the veggies for stuffing. And, several of you make freezer-friendly sides ahead of time, chipping away at them several weeks in advance. So smart!
"Peel potatoes in a.m. and let them sit in water so all you have to do later is boil and mash."

– Jennifer R.
"Make pies and do all dicing a few days ahead."

– @ajgerber13
"I peel and cut Yukon gold potatoes and then pour enough whole milk to cover. Let set overnight in the fridge. Simmer them the next day until tender, drain off milk but save to add back. Then prepare as usual mashed potatoes with butter, warm milk and salt."

– Lauren F.
"My usual contribution is Sweet Potato Casserole, so I make it a few weeks ahead of time and freeze it. Thanksgiving morning, I pop it in the oven at my house, then it only needs to be warmed up when I get there."

– Kimberly R.
"My mother usually makes her homemade dressing several weeks before Thanksgiving and freezes it (without baking). Then pulls it out about 2 days before to thaw in the refrigerator and bake. She makes a double batch to have one ready for Christmas dinner so that she really only has to do all that work once."

– Christi S.
"I bake my turkey the day before and carve it, pour broth over to keep moist and reheat slow the day of."

– Cindy V.
Here are a few Thanksgiving recipes to make ahead:
To make it even easier, you can order a Heat and Serve Turkey from Hy-Vee ahead of time. Order now and schedule to pick it up anytime you want, even weeks from now!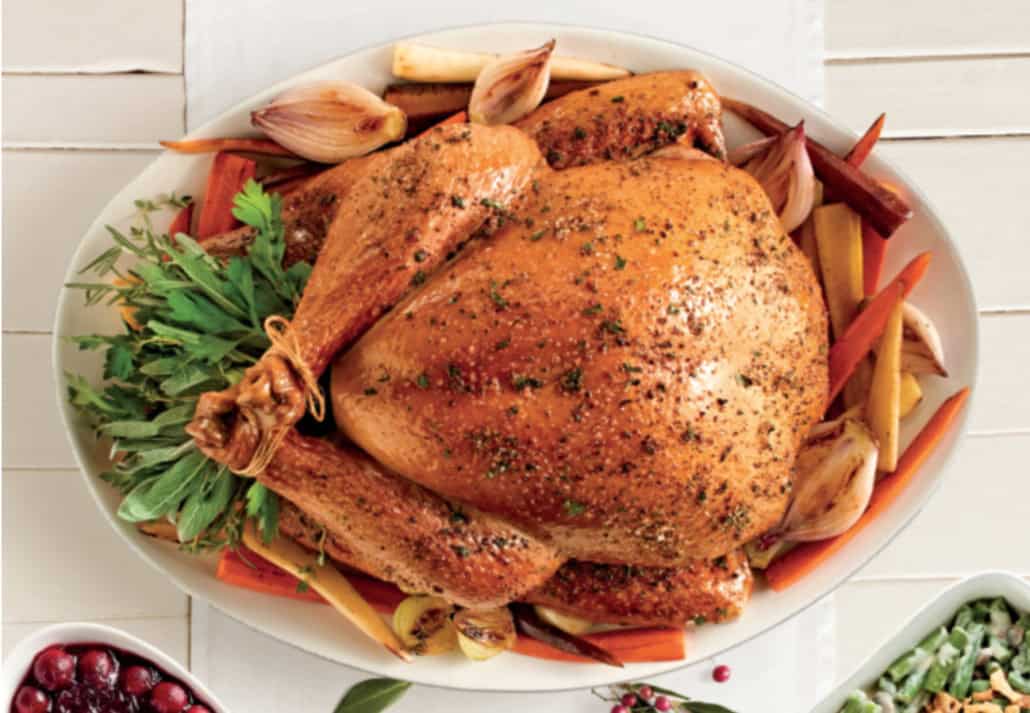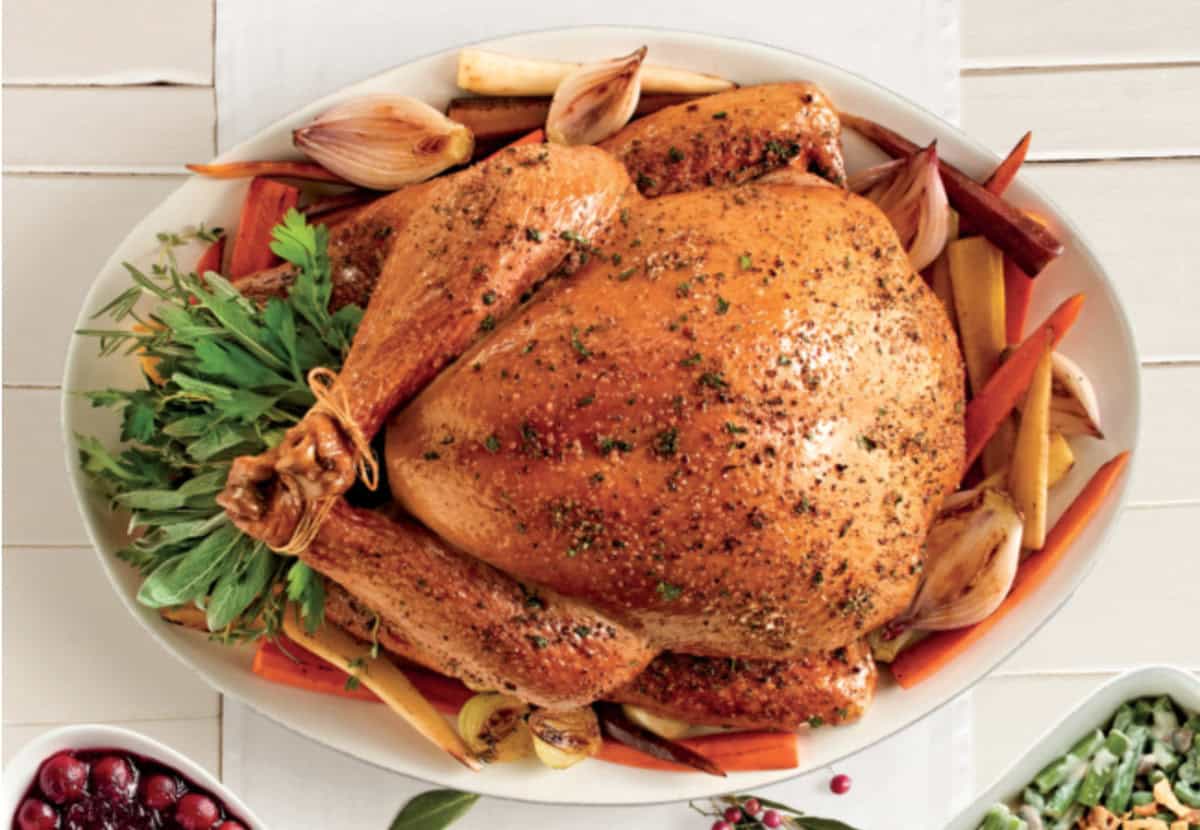 ---
4. Splurge on Throw Away Items
There is no shame, we repeat, no shame in taking shortcuts this Thanksgiving. With 2020 as the backdrop, we all deserve a little grace. And that grace could come in the form of some paper plates or plastic silverware this year…
"We splurge on Sam's high quality plastic plates. They look nice in the place setting but we recycle them afterward. It frees up the dishwasher on the day of and allows all 20+ guests to have the same place setting…the kids feel just as special as the adults."

– Jennifer A.
"Dollar store serving spoons = like 12 less things to wash!"

– Sarah
---
5. Set the Table Ahead of Time
It's funny how setting the table and knowing which dishes go where can reduce stress. I know first hand that it really does help! Love these tips…
"Lay out serving pieces and utensils a few days before. Post it notes on what goes in each dish."

– @dirt_dr_dreamer
"I set out and label the serving dishes and bakeware on Monday. I put it all out on the dining room table so I can see everything and triple check the menu for week of shopping."

– Dawn B.
---
6. Accept and Recruit Help
Amen. Amen. Amen…
"If someone offers to bring something or to help, never turn them down!! Even though you might think you don't need it. I find that people generally love to contribute, and if they're offering they really mean it."

– Calista F.
"Husbands are great for peeling potatoes!!"

– Lee P.
"I used to get so stressed doing everything by myself and trying to get it all on the table at the same time – looking for perfection. Years ago I started getting the kids involved. Then the grandkids. We spend the entire day before prepping together. It turns the "cooking " into part of the celebration instead of being a chore for me. Everyone becomes part of the process, and the prep becomes the celebration instead of just the eating."

– EJ H.
"My tip for saving time is that I let my Mother-In-Law do most of the cooking." 🙂

– Sarah A.
---
7. Keep the Kids Entertained
If you have younger kids, it's always a good idea to have a few activities planned for them on Thanksgiving so you can finish up the meal.
"Have a craft for all the kids to do so they are gathered in one spot and not getting too wild."

– @ordinaryhomemaker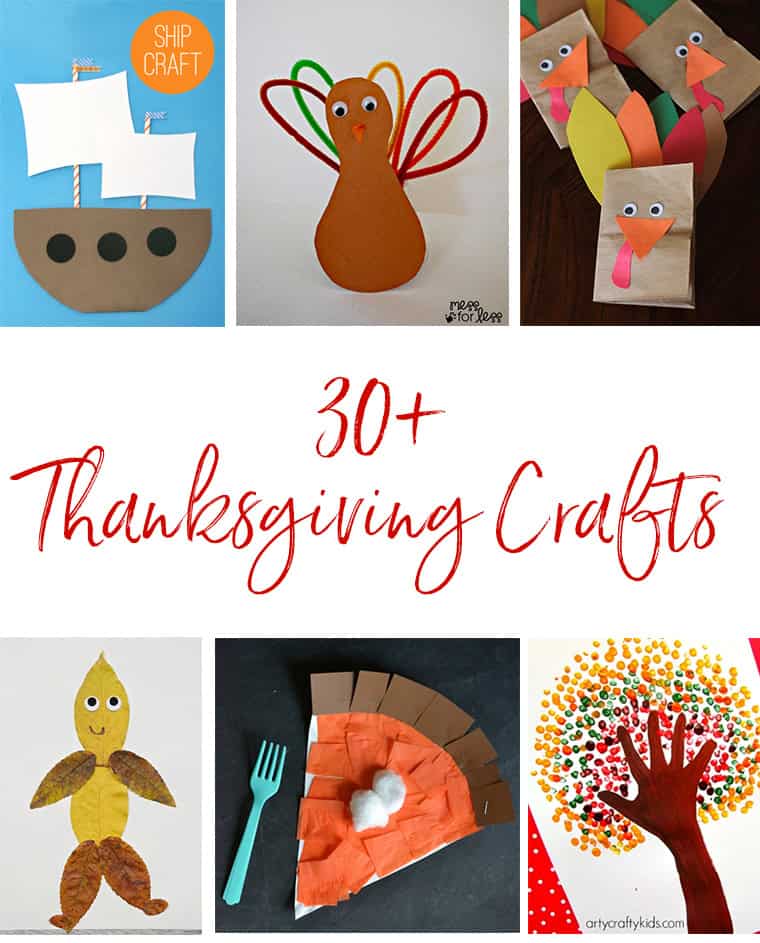 ---
8. Clean Up Faster by Gifting Leftovers
Clean up can sometimes be as daunting as the preparation. I love Alex's idea of how to make this go faster…
"I took "orders" for leftovers the year that I hosted Thanksgiving. Then, I bagged up each family's leftovers in quart bags that then went into a larger gallon bag. As casserole dishes were emptied, my sister-in-law washed them. The whole thing was done in about 30 minutes, and I was left with a clean kitchen."

– Alex E.
---
9. Take Shortcuts from the Store
Ain't no shame in shortcuts from the store! Check out what hacks our readers use…
"I recommend outsourcing at least one course. Buy the rolls, buy a smoked Turkey, get your pies from a bakery, or buy a veggie platter from the grocery store."

– Marie Fiebach from Feed Your Family Tonight
"I only make 2-3 things myself and the rest is store bought or brought by others."

@brownabb2616
"Bagged lettuce salad leaves time to make another salad from scratch."

– Pam M.
"Buy pre-baked cakes and pies. Pies are easily warmed in the oven."

– @rachelmichelle1313
---
10. Order Your Entire Thanksgiving Meal from Hy-Vee
Here's the lowest stress Thanksgiving tip of all…
"Order from HyVee and fill in with a few homemade extra sides."

– Jenny F.
From the turkey and/or ham to the sides to the pies, you can pick and choose your entire meal. Schedule a time to pick it up when it's convenient for you. All you have to do is heat it up and serve on Thanksgiving Day! The prices are very reasonable.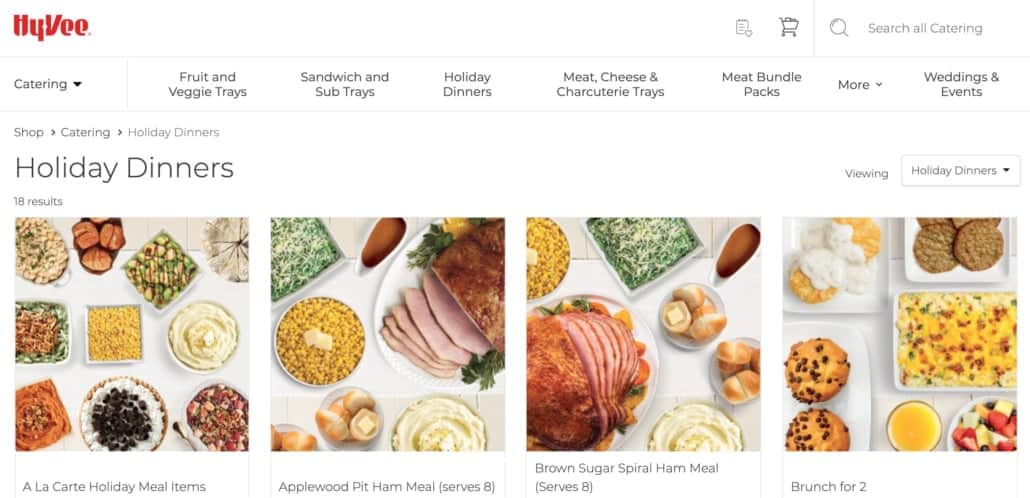 EXCLUSIVE PROMO CODE: If you live in our area, the Columbia Hy-Vees are offering a two special promo codes for our readers!
Use promo code "513" when ordering Small Crowd Meals (brunch that serves 2-6, and the ham/turkey dinner that serves 2-4) and receive a 25¢ Fuel Saver.
Use promo code "514" when ordering Traditional Meals (turkey, ham or prime rib meals that serve 6-12) and receive a 50¢ Fuel Saver.
Those Fuel Savers can really add up at the pump!
https://thrivinghomeblog.com/wp-content/uploads/2020/11/Screen-Shot-2020-11-05-at-2.41.56-PM.jpg
1120
976
Rachel Tiemeyer
https://thrivinghomeblog.com/wp-content/uploads/2019/10/thrivinglogo.png
Rachel Tiemeyer
2020-11-06 02:14:00
2020-11-13 06:45:37
10 Thanksgiving Tips Our Readers Swear By