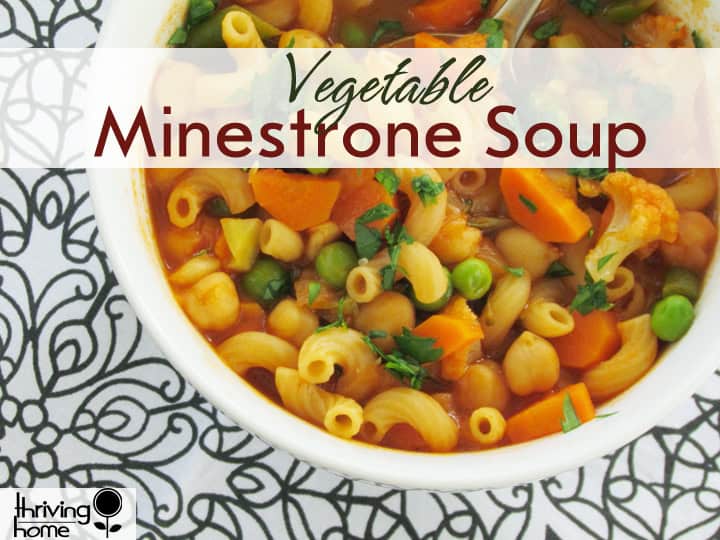 Update on 8/4/14: I tested this soup again and made a few tweaks. It's incredible! Who knew this many veggies in one bowl could be so scrumptious? Serve with some crusty bread and you're good to go.
Need to use up some vegetables quickly?  Here's an idea.  A brief perusal of my refrigerator and freezer this morning revealed some aging celery, onions, garlic, green beans, and a host of other veggies that had to go soon. So, I tried my hand at a vegetable minestrone soup.
Although I passed up using meat in the ingredient list (I'm sure Italian sausage would be great), I was pleased to learn that my farm-boy-carnivorous husband liked it!  Not only that, but much to my surprise, my kids even ate this vegetable soup (a minor miracle!).  Of course, feel free to substitute in the things you like and omit the ones you don't; it's hard to mess this one up.
Hope you enjoy this filling, healthful, and cheap soup!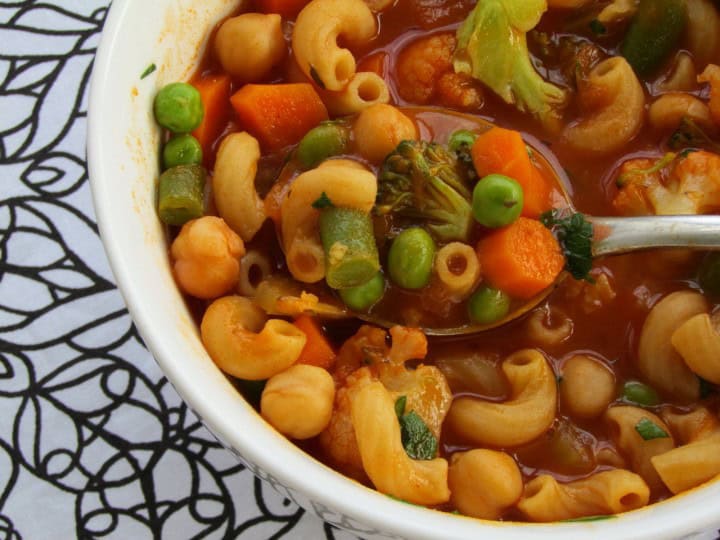 Vegetable Minestrone Soup
Who knew you could enjoy so many vegetables in one bowl of soup? Try this hearty vegetable minestrone for your next weeknight meal. You'll be so glad you did!
Ingredients
1 tablespoon olive oil
1 small onion, diced
3 cloves garlic, minced
1-2 celery stalks, chopped
2-3 large carrots, chopped
1 (15 oz) can garbanzo beans (drained and rinsed)
6 cups low-sodium, all-natural chicken stock
4 cups tomato juice (i.e. V8)
2 cups water
1 bay leaf
1½ teaspoons dried Italian seasoning
2 teaspoons salt, plus more to taste
1 teaspoon freshly ground black pepper, plus more to taste
1 cup whole wheat elbow pasta
1 cup green beans, cut into 1 inch pieces
1 cup broccoli, roughly chopped
1 cup cauliflower, roughly chopped
1 cup frozen sweet peas
fresh parsley, chopped (for garnish)
freshly grated Parmesan cheese (for garnish)
Instructions
Heat oil in a large stock pot over medium heat. Saute onion, carrots, and celery until soft (about 3-4 minutes). Add garlic and saute 1 minute.
Add garbanzo beans, chicken stock, tomato juice, water, Italian seasoning (crush in hand before adding), salt, and pepper. Bring to a boil. Turn heat down and simmer for 10 minutes.
Add whole wheat macaroni noodles and cook for 4-5 more minutes (or a few minutes less than the directions say to cook it.)
Then, add green beans, broccoli, and cauliflower and cook for 4-5 minutes (or until crisp-tender).
Stir in the frozen peas and turn heat to low (no need to cook these, as they will warm up in the soup). Taste and adjust seasoning. Remove bay leaf.
Serve warm and topped with chopped fresh parsley and Parmesan cheese.
Notes
Freezer Meal Instructions:
To Freeze:
Fully cook the soup, let it cool completely, and freeze in a BPA-free gallon freezer bag or other air-tight freezable container for up to 3 months.
To Prepare:
To reheat, defrost in the fridge overnight and warm up over low heat on the stove.
You might also like...