We love blogging.
We love helping people blog.
We love getting potential bloggers like yourself set up on the right track to find the joy and success that we have found in this hobby-turned business. If you're wanting to start a blog, the very first thing to do is to sign up for a host.
Take my hand and I'll walk you through this simple, three-step process. Off we go!
Disclaimer: This Post contains affiliate links. If you use our links in the post, your costs will be the same but Thriving Home will receive a small commission. This helps cover some of the costs for this site. We appreciate your support! 
The Three Steps Towards Your VERY OWN BLOG:
Domain Name and Hosting
Installing WordPress
Making it Pretty (or handsome, awesome, flashy, whatever you're in the mood for)
Step One: Domain Name & Hosting
So, what do you want to be the domain of your blog? Ours is thrivinghomeblog.com. (We wanted it to be just thrivinghome.com but it was taken-boo!) Once you've decided, head over to Bluehost to see if your domain name is available.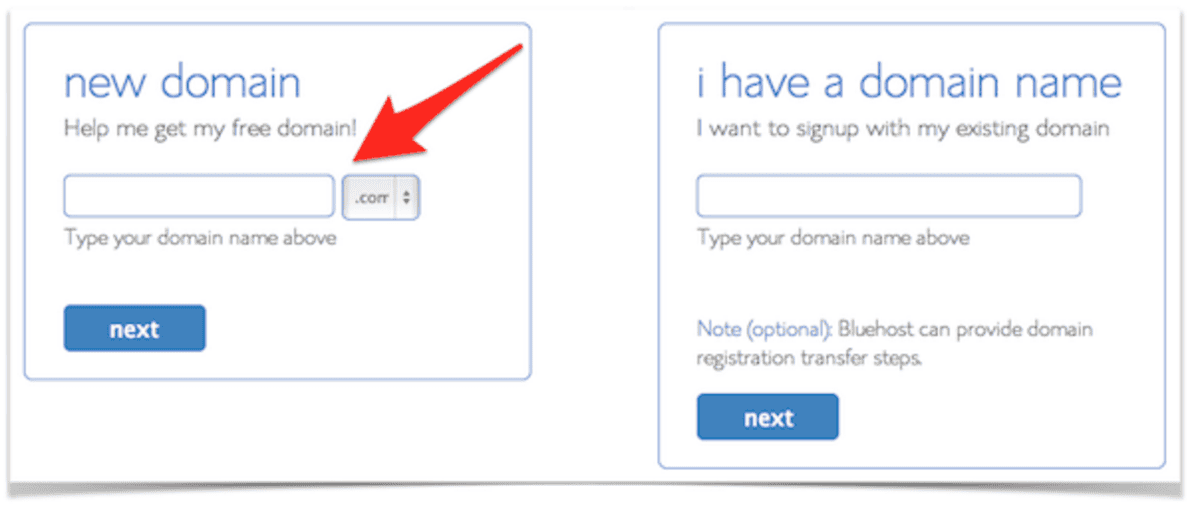 Select a plan. Go with the basic plan. Oh, and save some cashola and sign up for AT LEAST 12 months. Don't panic, you can always get a full refund if blogging just 'aint your thang.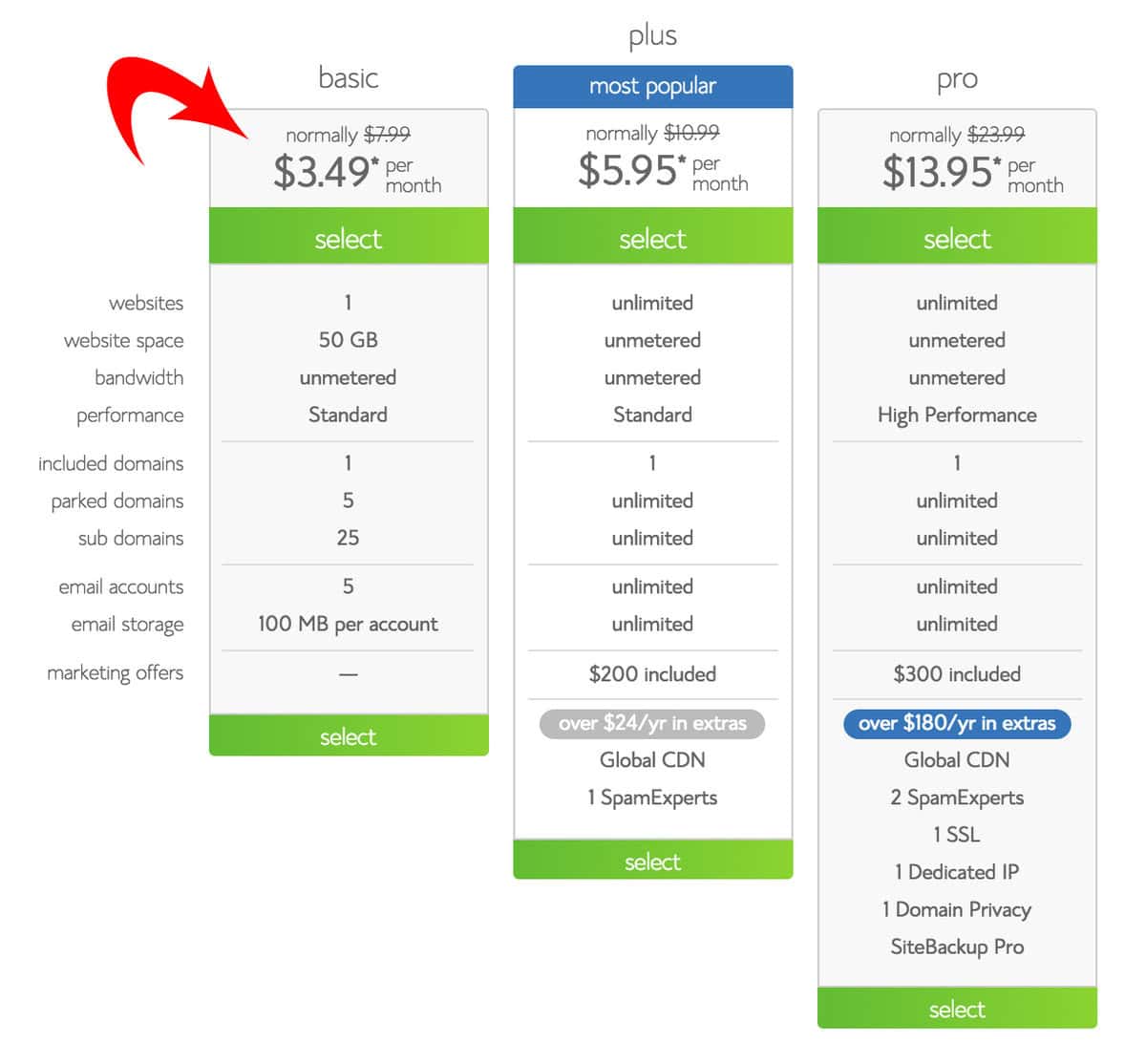 So you've got your domain name locked in. Awesome! Now, you need to HOST your domain your domain name. Hosting is kind of like renting space on the internet. Bluehost is a great place to start. It not only has great rates but also gives you FREE domain name. Boomtown.
Here is a screenshot on what I would recommend on your package settings.
36 months because it's the best deal, duh. (Again, you can always get a refund for the months you don't use if you end up quitting.)
Domain Privacy Protection keeps your personal address and contact information shielded from the public.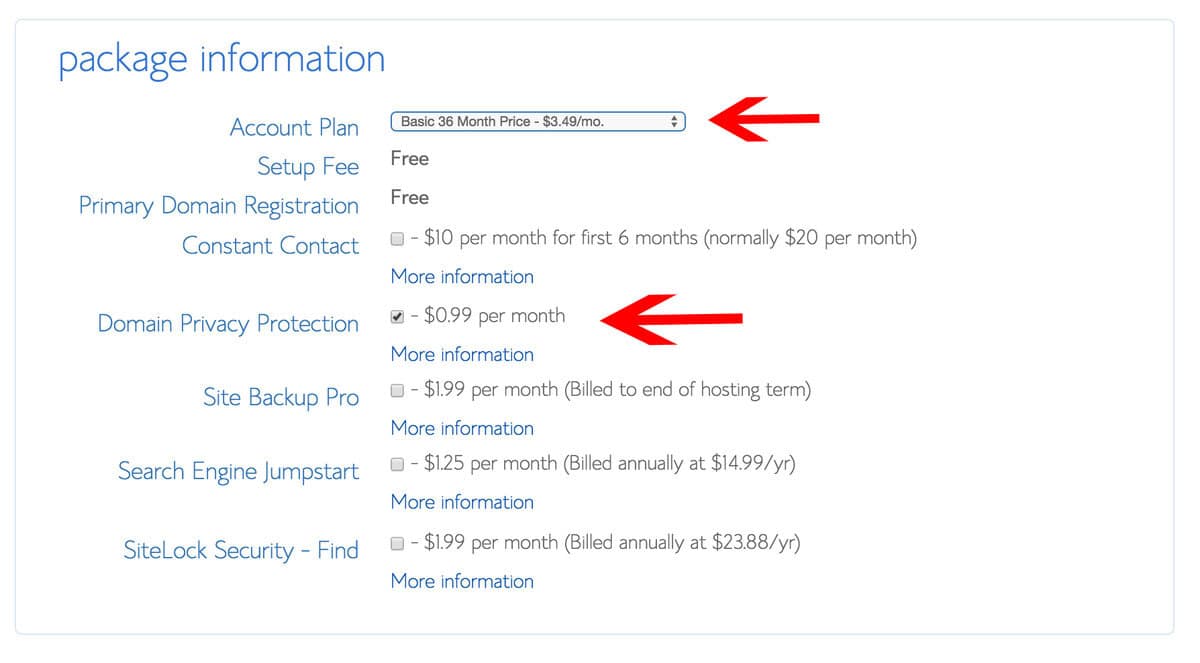 2) Installing WordPress
Once you've completed your Bluehost registration, you'll need to set up WordPress. WordPress is the blogging software that you will use to write and create your posts.
Login to Bluehost and find the Website Builders section. Click on the WordPress logo.

Click Install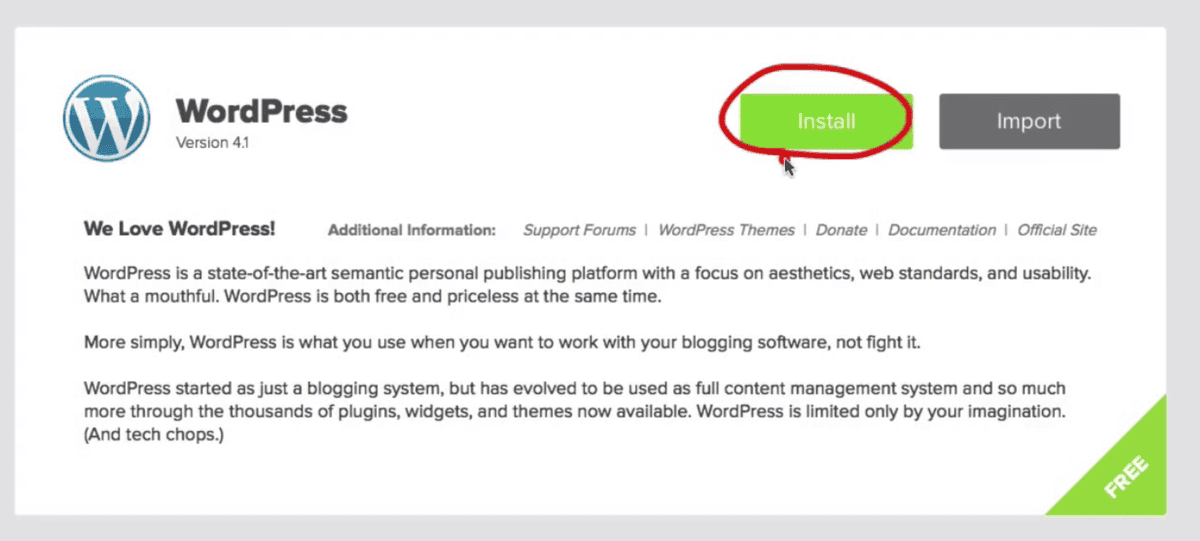 Select your domain name from the dropdown menu and click Check Domain.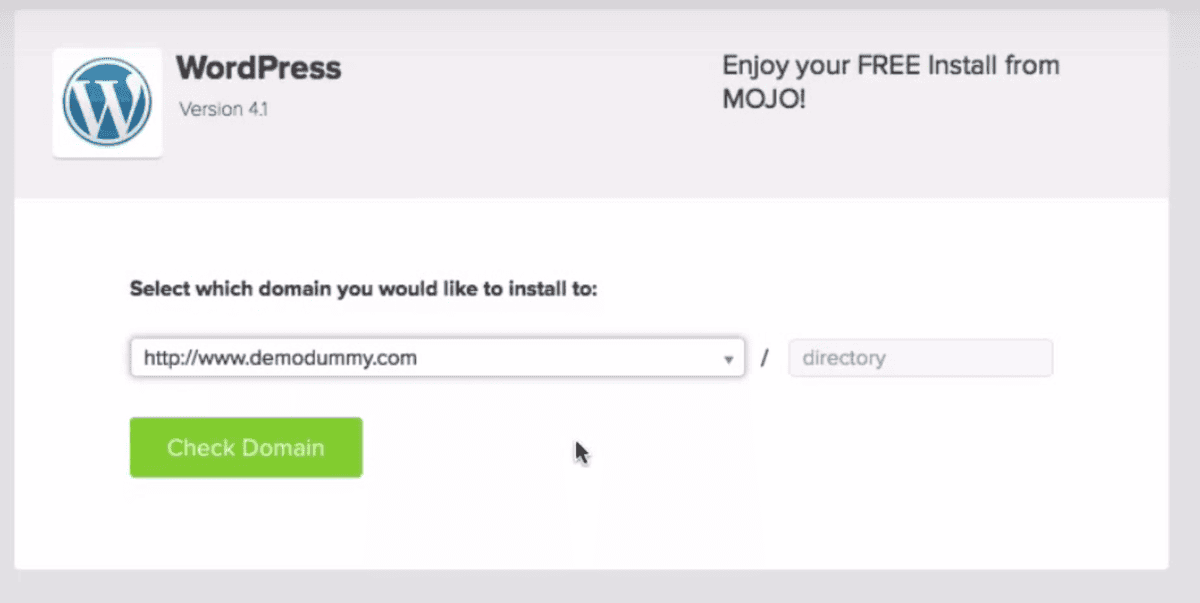 At this point, I'd recommend checking "advanced options" to edit email address, username and password. This isn't necessary though.
Select the Install Now button.

Once your install is complete, click View Credentials. You'll want to write down your Admin URL, Username, and Password. You can change these to something more memorable later, but you'll need them for your first time logging in.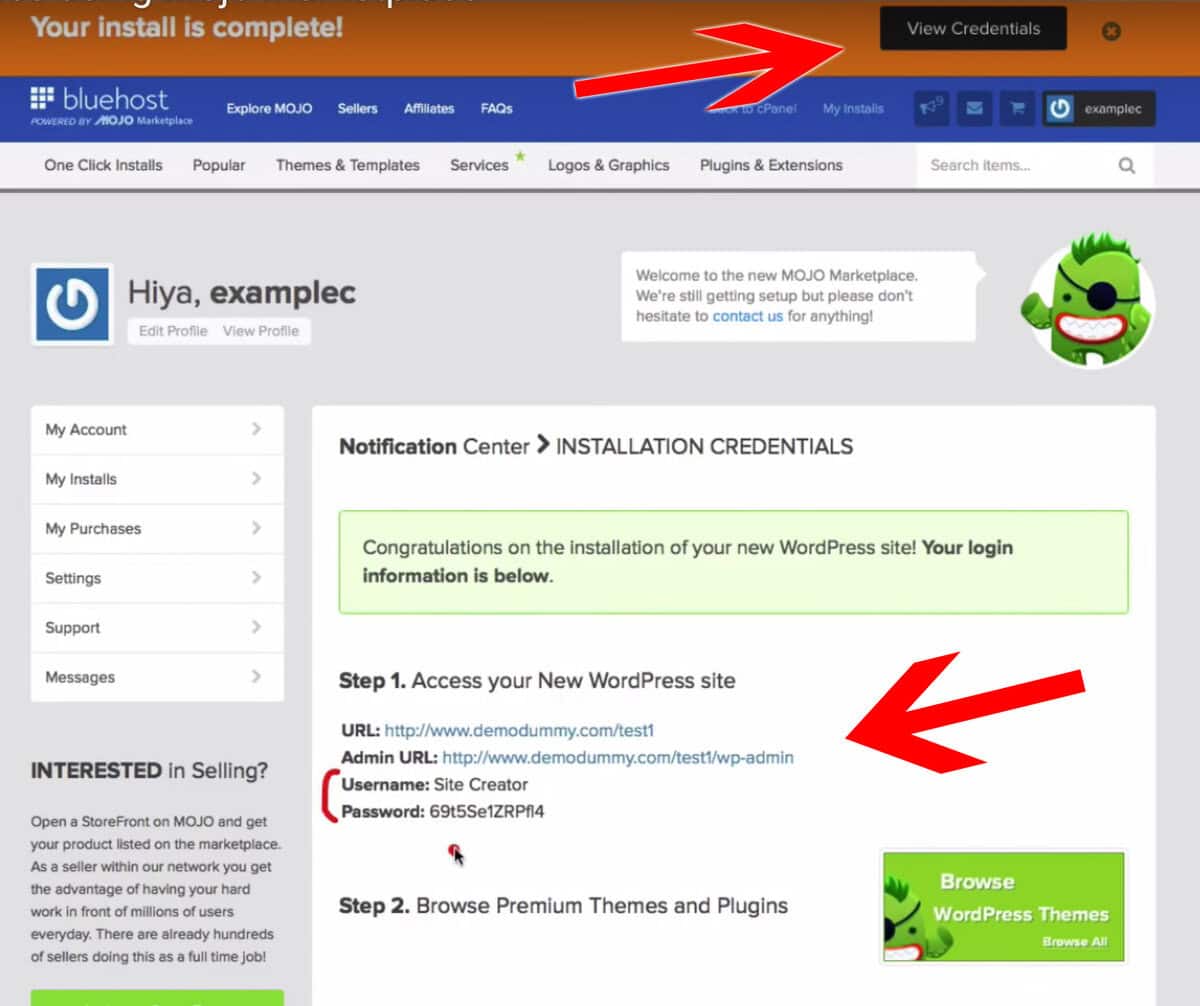 Click on the Admin URL Link and sign into WordPress using the Username and Password you see on this page.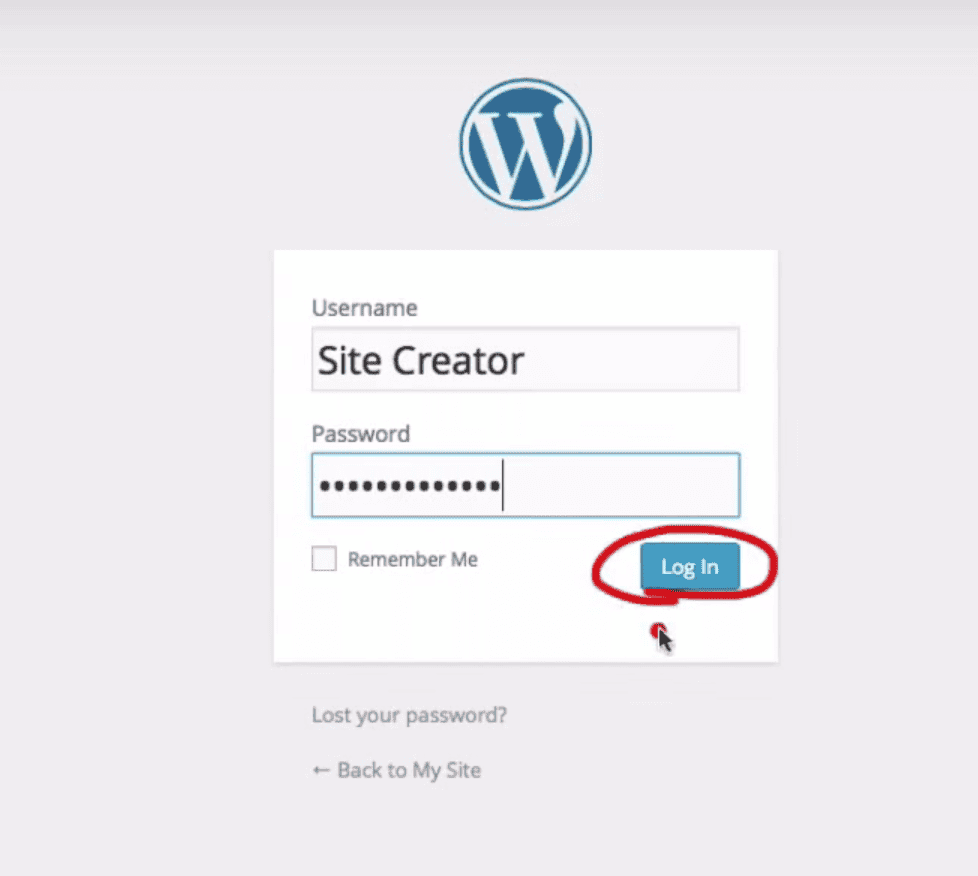 You're IN! Congrats!
3) Making it Pretty
At this point, you have stepped into the crazy, fun world of blogging. Welcome!
Now the fun part–picking a blog theme (i.e. what your site will look like).
You can find a wealthy of free WordPress themes under "Appearance" on the left sidebar.
A free theme (like the ones you'll find under appearance) comes pre-packaged with WordPress, but I recommend a premium theme. Other than better features, the main benefit of a paid-for theme is that you have access to support. A place to ask questions and report problems is extremely valuable, especially when you're just getting started.
I recommend starting with Genesis Framework as your first theme.
Genesis is built on a 2-part framework. A good theme consists of a 2-part system with two layers: the main "parent" theme underneath and the "child" theme on top. The "parent" theme provides the main functionality of the site; the "child" theme allows design customization without touching (and potentially messing up) the framework underneath. Hopefully that's not too confusing.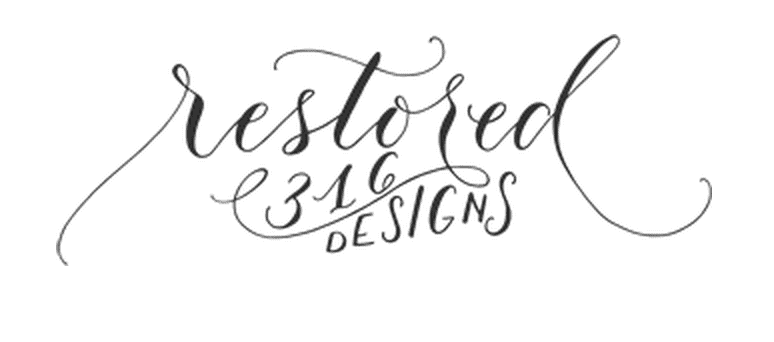 Basically you buy Genesis Framework and then a "child theme" to work within the genesis framework. A great place to start when browsing for child themes (after you've purchased Genesis!) is Restored 316 Designs. Oh my gracious, these sites are beautiful.
Oh Wait, Two More Things:
1) If you sign up through our Bluehost link, we have a special bonus for you!
We'd love to feature you on Thriving Home!
As a start-up blog, nothing is better than having a larger site share about your new blog, right? We want to do that for you*.
So here's the deal: if you sign up with Bluehost, send us an email (thrivinghome at gmail.com) and let us know the url you signed up. (We will confirm it with the monthly list of signups we get from Bluehost). In that same email you send to us, include the blurb & images that you'd like us to share with readers.
We will share about your site along with any others who signed up that month. We would also be happy to personally give you some feedback and/or a few ideas to help you get your blog started on the right foot. We've enjoyed getting to know our new bloggers over email and helping them get a leg up!
Isn't that fun? I know we would have loved to have a sizable blog share about Thriving Home in the beginning. Plus, did you know that the more bigger sites that link to yours the better your Google Ranking will be? Hopefully, our shout out can give you a jump start in the blogworld.
*Note: We reserve the right to deny this bonus if the blog contains or the premise is to share inappropriate, harmful content. 
2) Sign Up for Our Thriving Bloggers Newsletter

There is SO MUCH blogging information that we want to share with you. We want you to skip the mistakes we've made along the way, learn about all the different ways you could potentially make money from your blog, know which plugins, websites and software that we have found most helpful and so much more insider information.
Lastly, we will be sharing our income reports with email subscribers. Like, whoa.
This is not information that we toss around lightly but we know how helpful this can potentially be to follow bloggers so we want to give you the inside scoop. Information like, how we make money and exactly how much blogging brings in. On the flip side we will detail how much we spend and where it goes.
You might also like...