Our Family Vacation to Estes Park: Recommendations and Lessons I Learned
This post may contain affiliate or sponsored links. Please read our disclosure policy.
We just returned from the best family vacation we've had to date: Estes Park, Colorado! Have you been yet?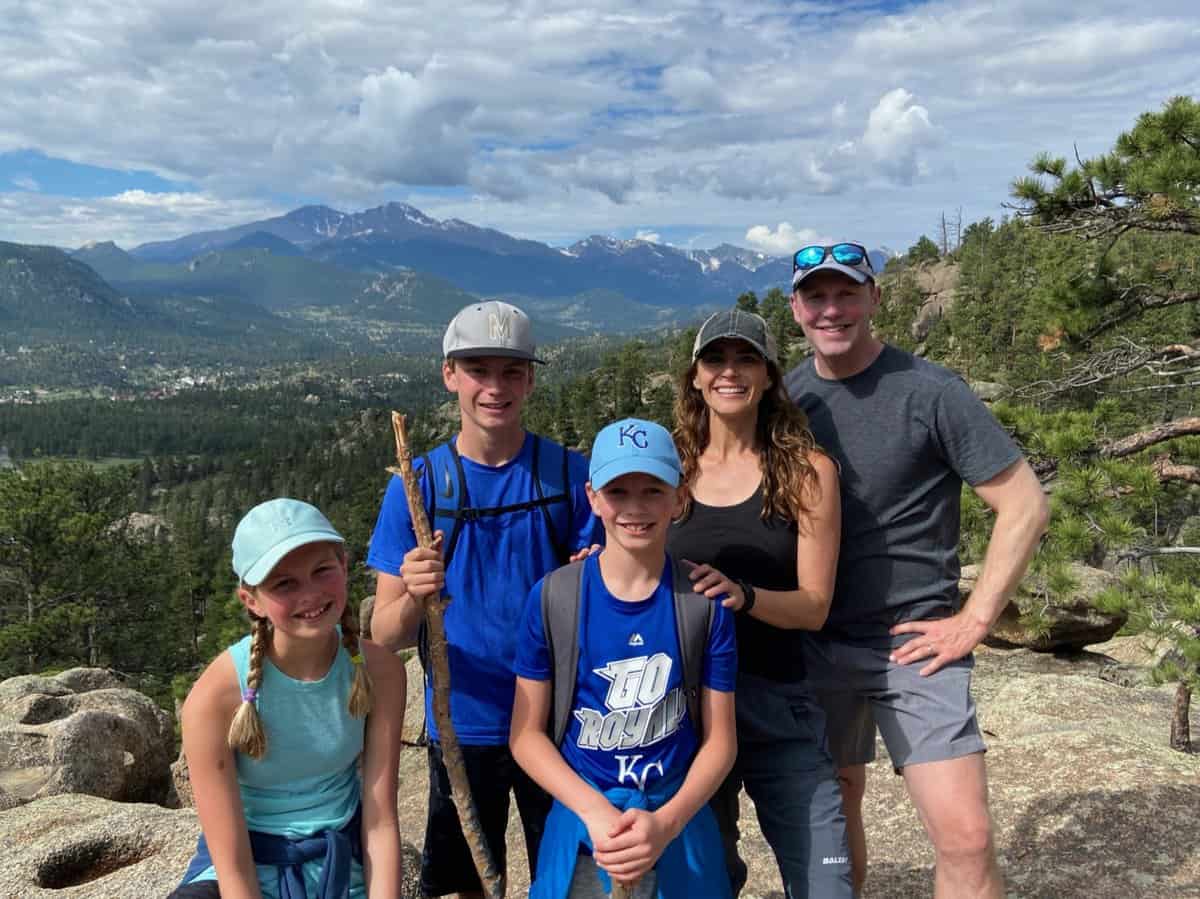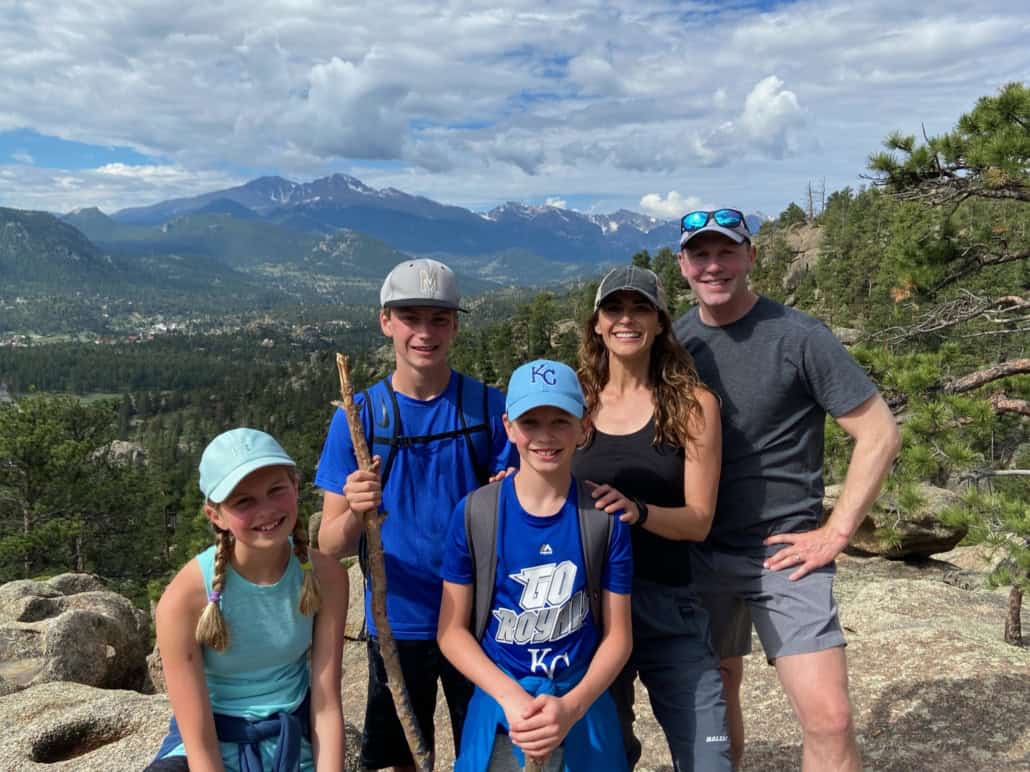 Our Trip Details
Along with four other families (24 total people!), we stayed 7 nights and filled our days with views of and hikes through Rocky Mountain National Park, fun activities, shopping in downtown Estes, and time together around the campfire or at the pool.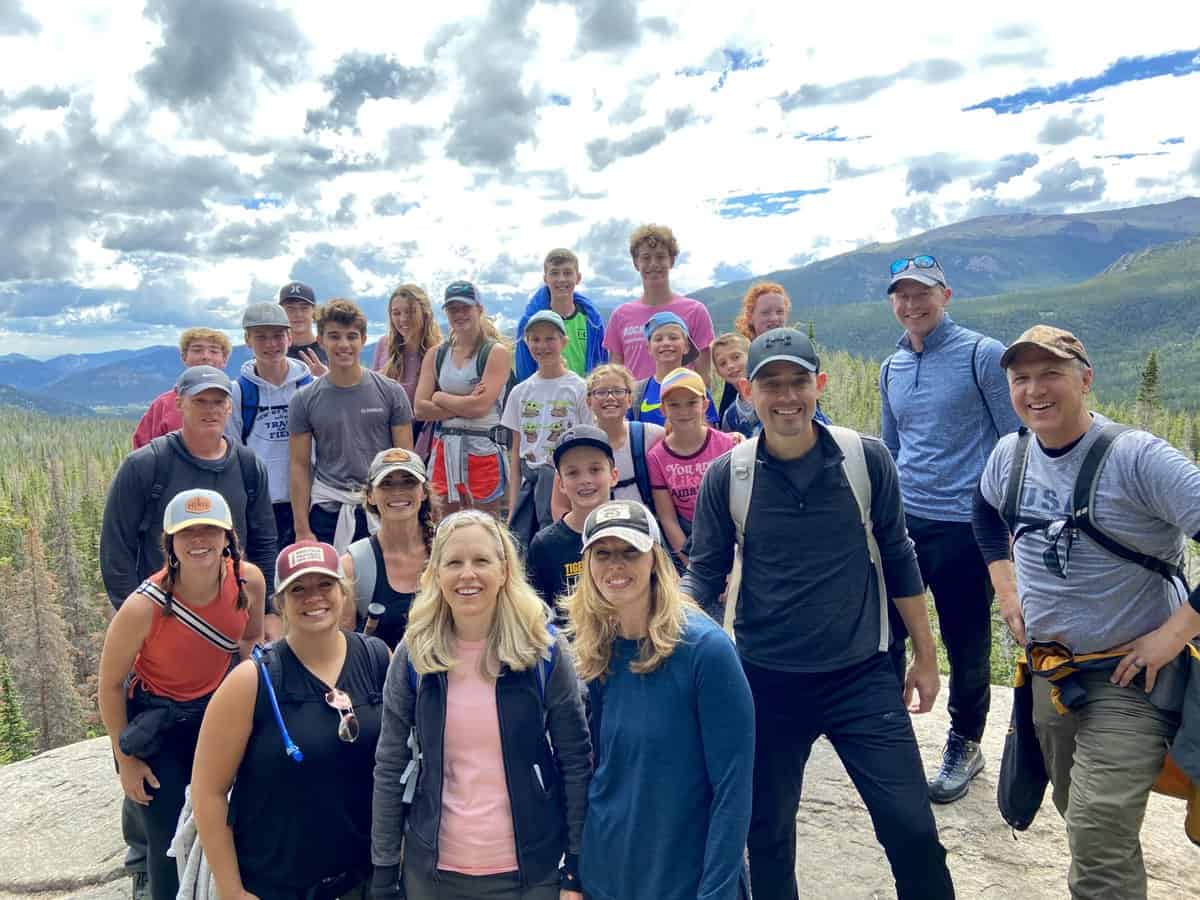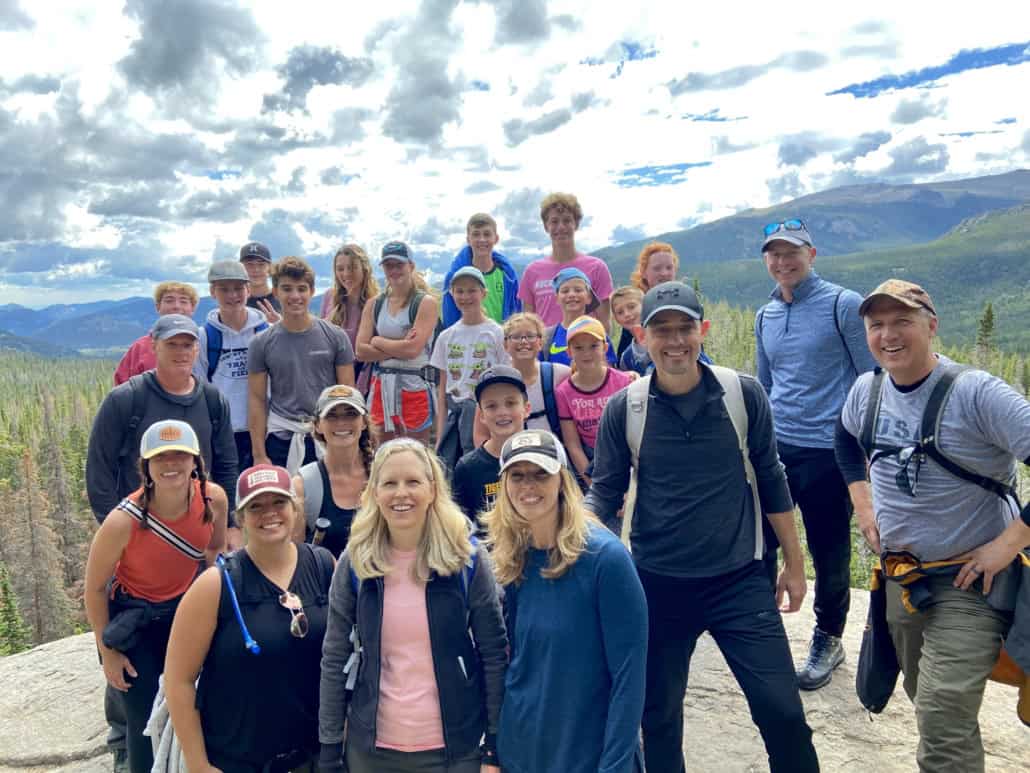 In case you're interested in going sometime, I thought I'd share the things we did, what I'd recommend, and the lessons I learned. It's probably important to know that my kids are ages 10, 12, and 14, and most of the other families' kids are similar ages. I don't have nappers or stroller-riders anymore, so I'm not sure our trip would have been as fun or easy during that stage.
Note: I know many of you have been to RMNP many times and know more than I do about this amazing destination. Please comment at the bottom and share your recommendations. I want to go back, because there's so much left to see and do!
Where We Stayed in Estes Park
We stayed at Fall River Village, which is a small community of two story condo buildings. It's newer and backs up to Fall River. In fact, we could walk right out our back door to a path along the river, which was peaceful to sit by and listen to from our condo. That same path led into town and was only a 2 minute walk.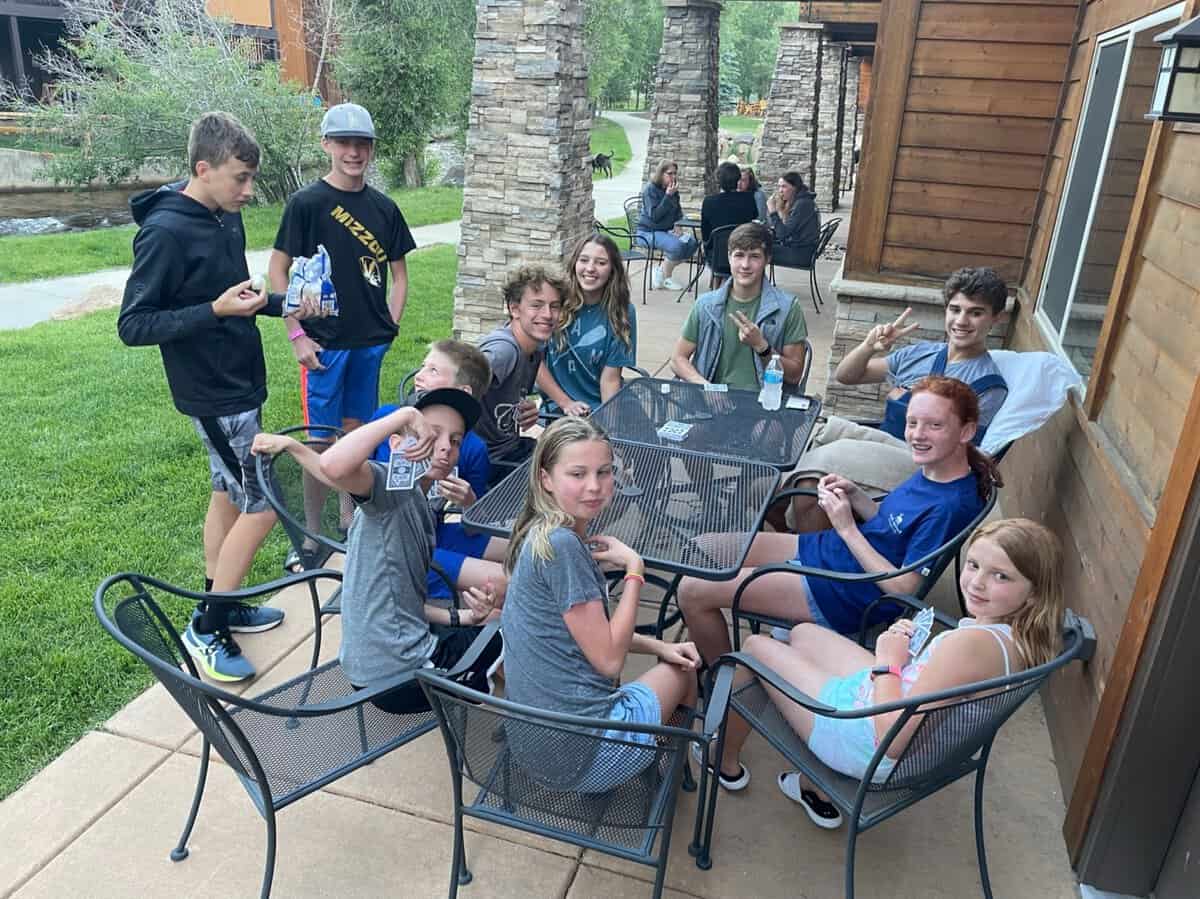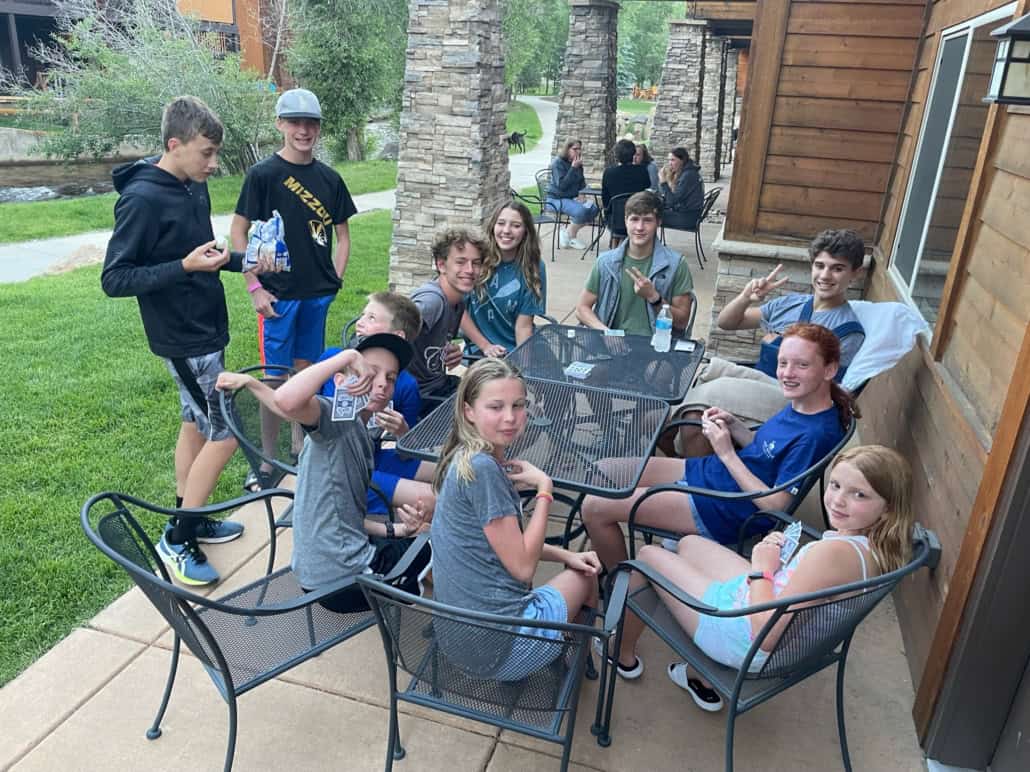 The pool, multiple hot tubs, and group seating around fire pits, worked out quite well for our family and our whole group.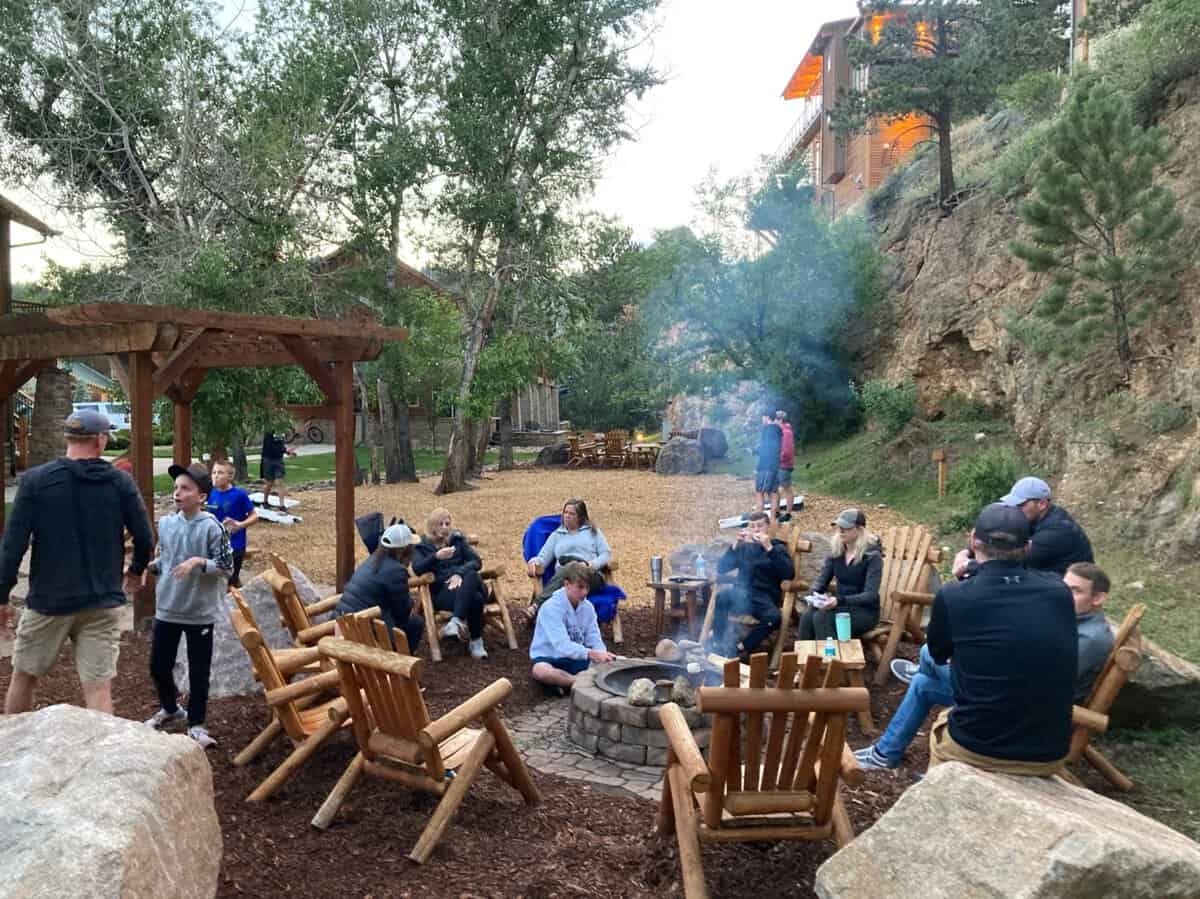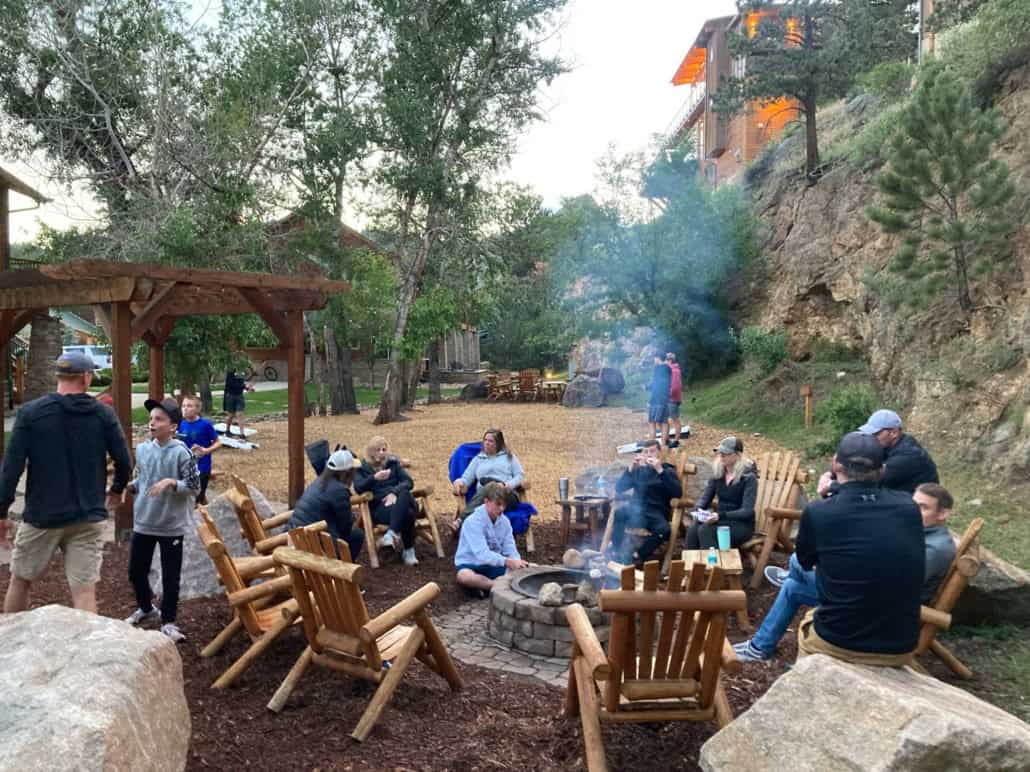 The youngest kids in the group are aged 10, and we felt like it was safe to send them in a group with older kids to explore downtown together during the day. This small town/village is filled with unique, local, family-oriented shops and restaurants and really is adorable.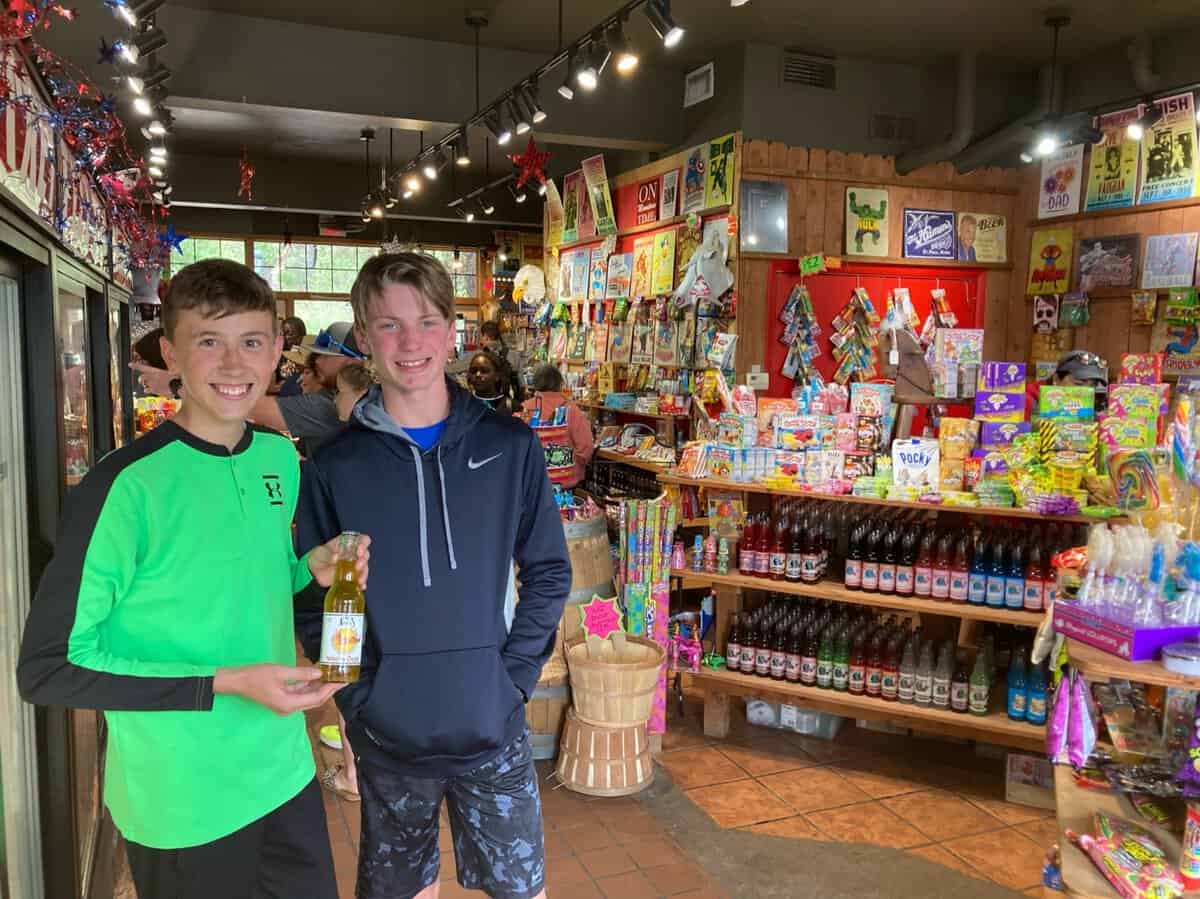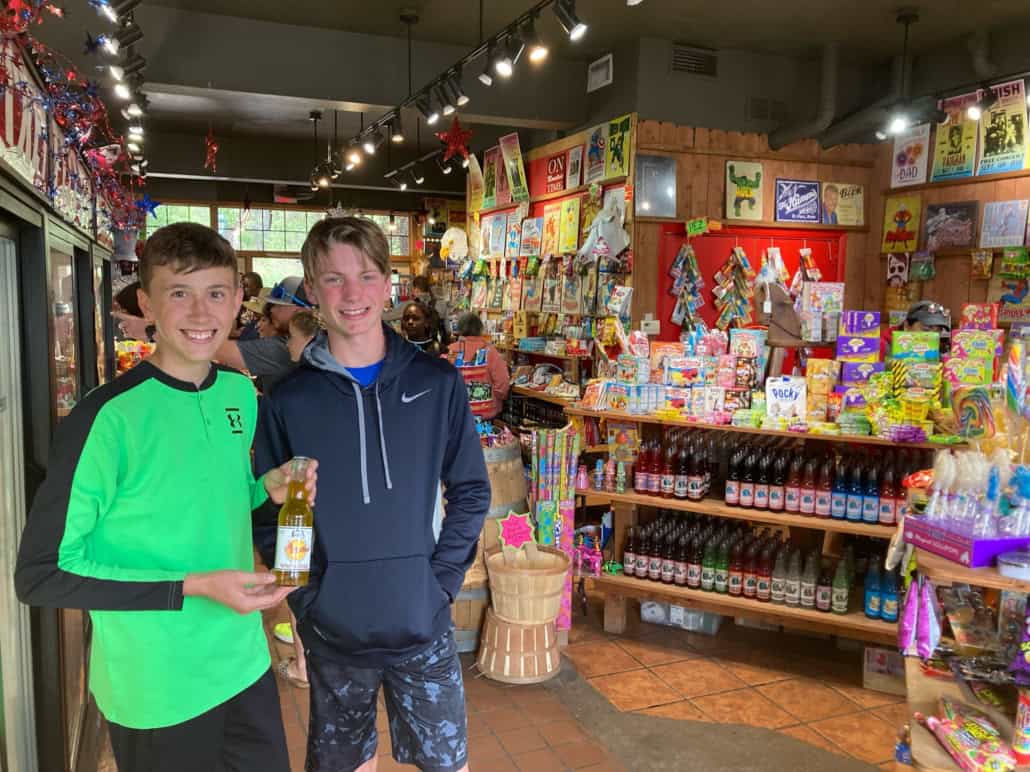 As for the condo itself, it was fairly small but comfortable, clean, and had everything we needed. I'd for sure stay there again!
Hikes We Loved
Bear Lake Trailhead
We did this roughly 4-mile round trip hike to Emerald Lake starting at Bear Lake Trailhead. Along the way, we passed Nymph Lake and Dream Lake, which were beautiful in and of themselves.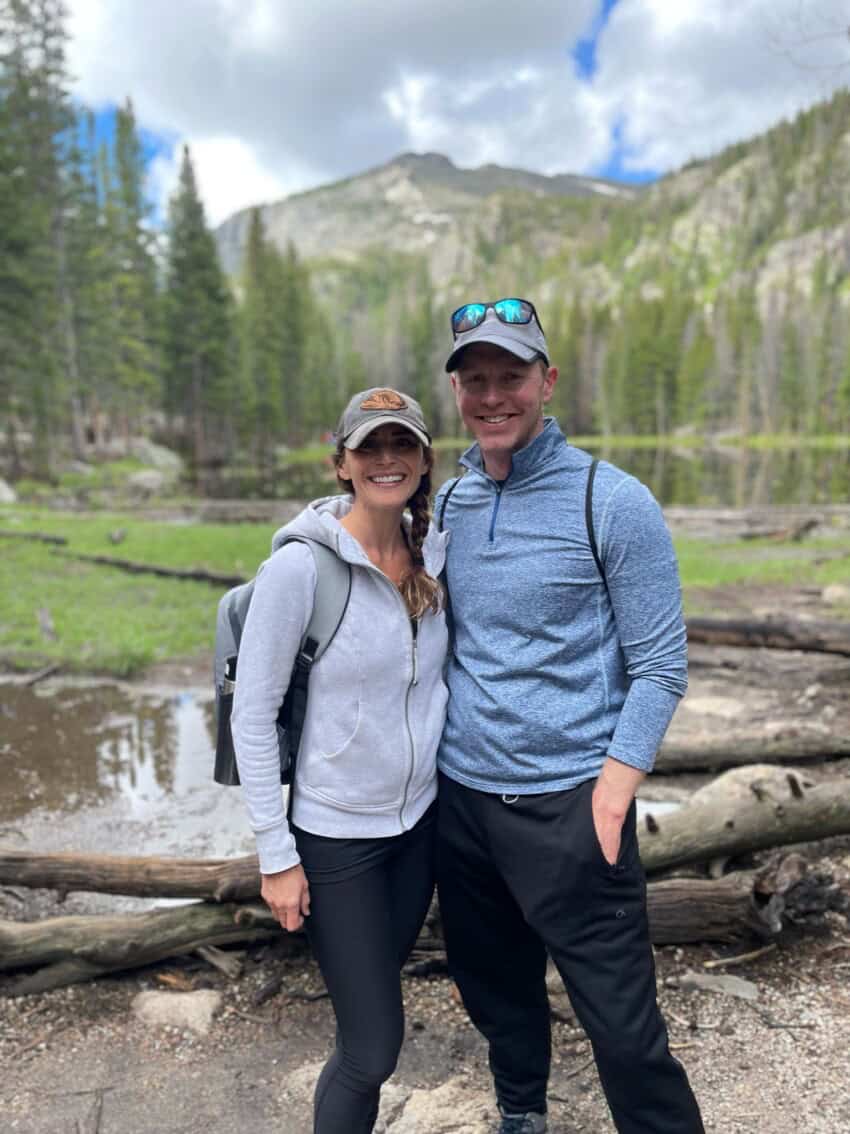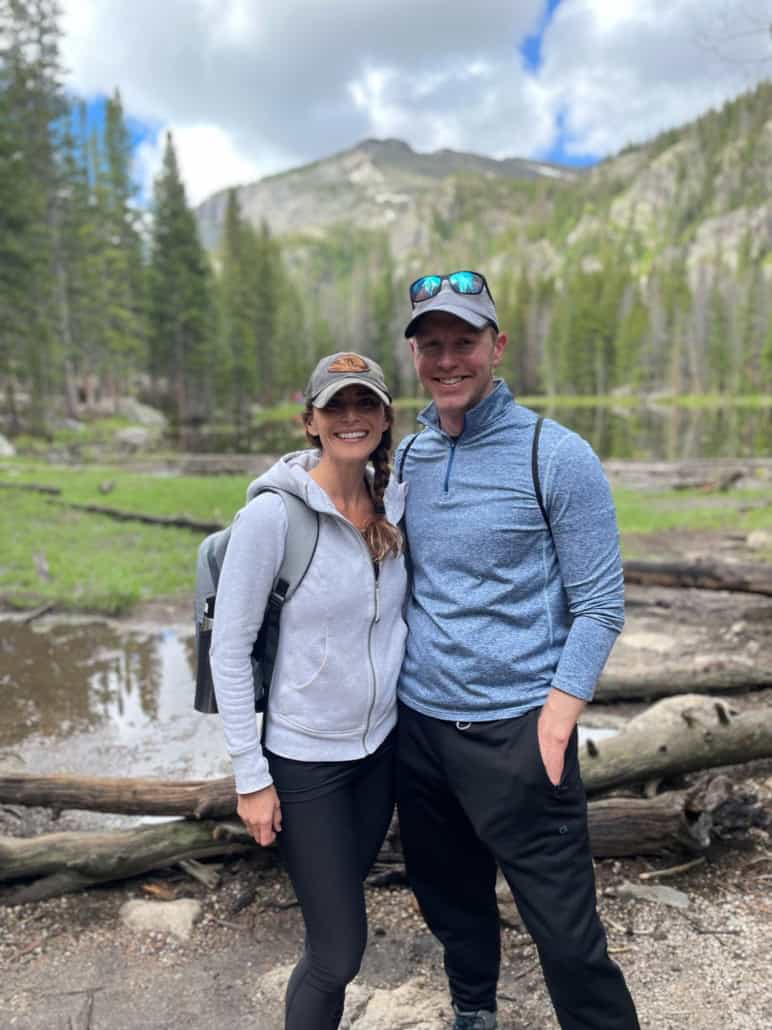 The kids zipped up and down boulders along the way and we all soaked in the beauty of the lake at the top.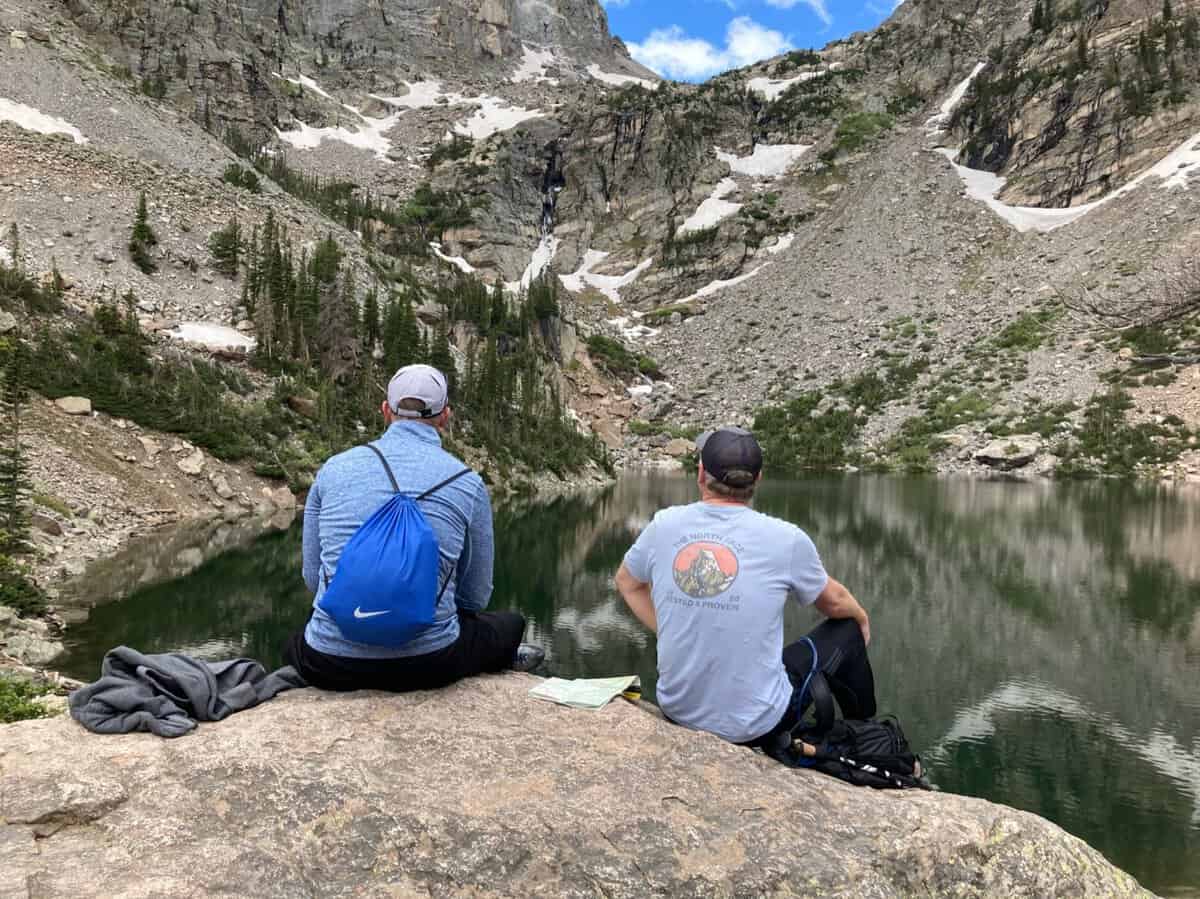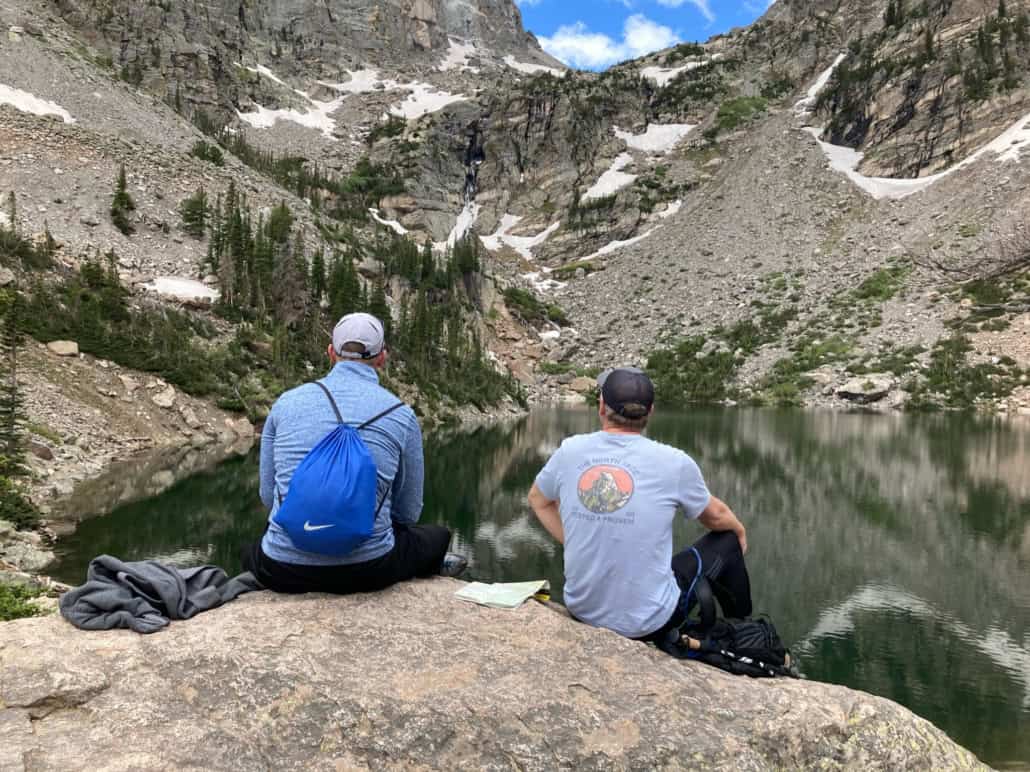 So, the hike took us longer than it probably should have…about 3 hours. Although this was a busy trail, I highly recommend it with kids. The earlier you start, the less crowded and higher chance you'll have of getting a parking spot (and not having to take the Park and Ride shuttle).
Gem Lake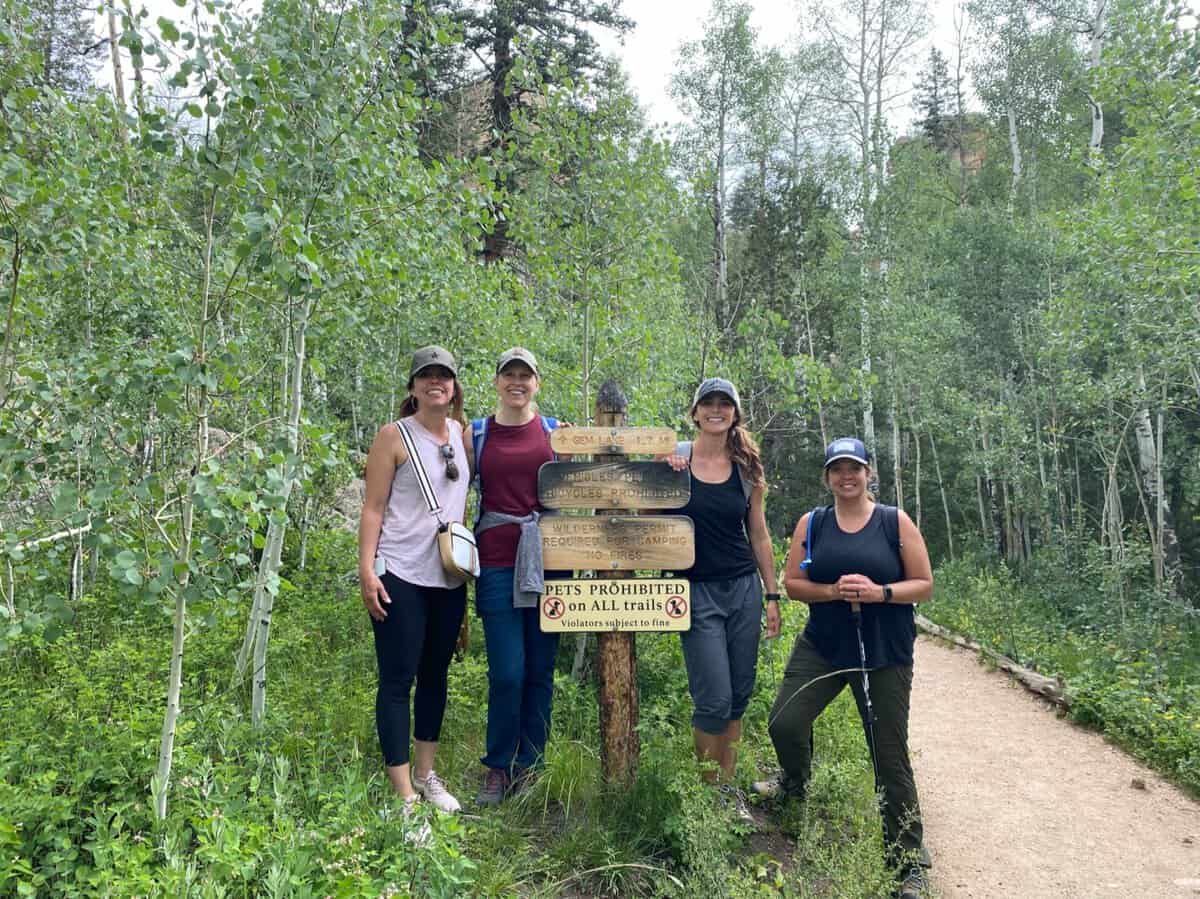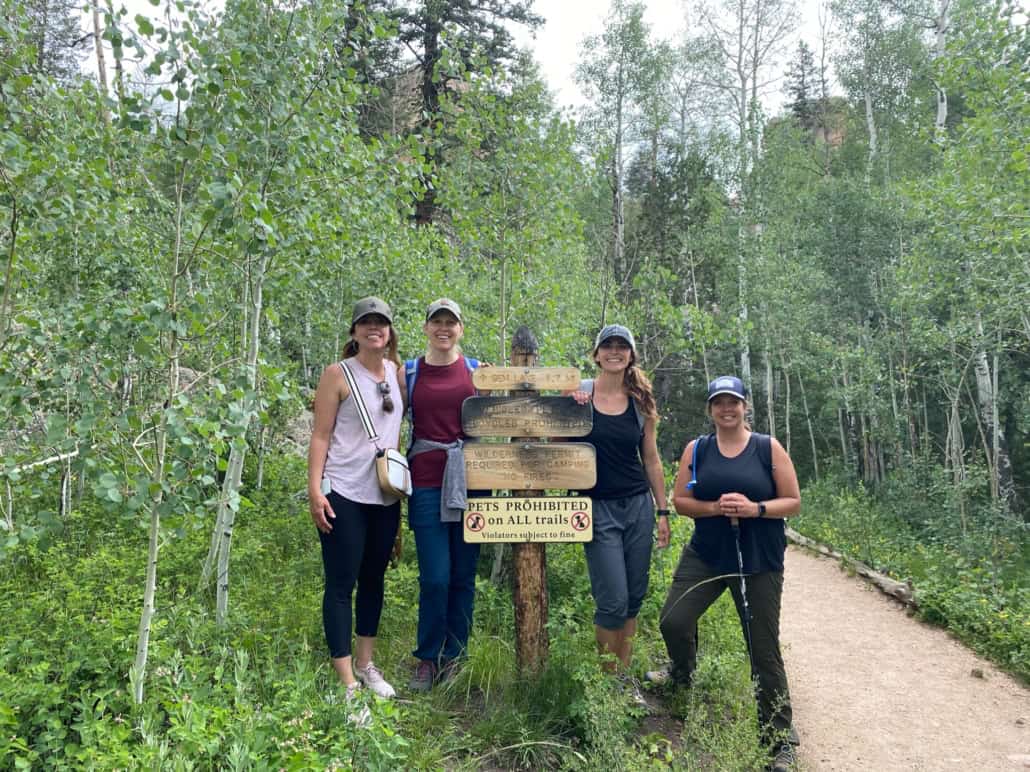 Only about 7 minutes from our place, we took off on a hike that looked like completely different terrain from our RMNP hike. You do not need a pass for this one, since it's not in the National Park.
Large granite boulders, unparalleled views of Estes Park and RMNP mountains, and a LOT of steps characterized this trek.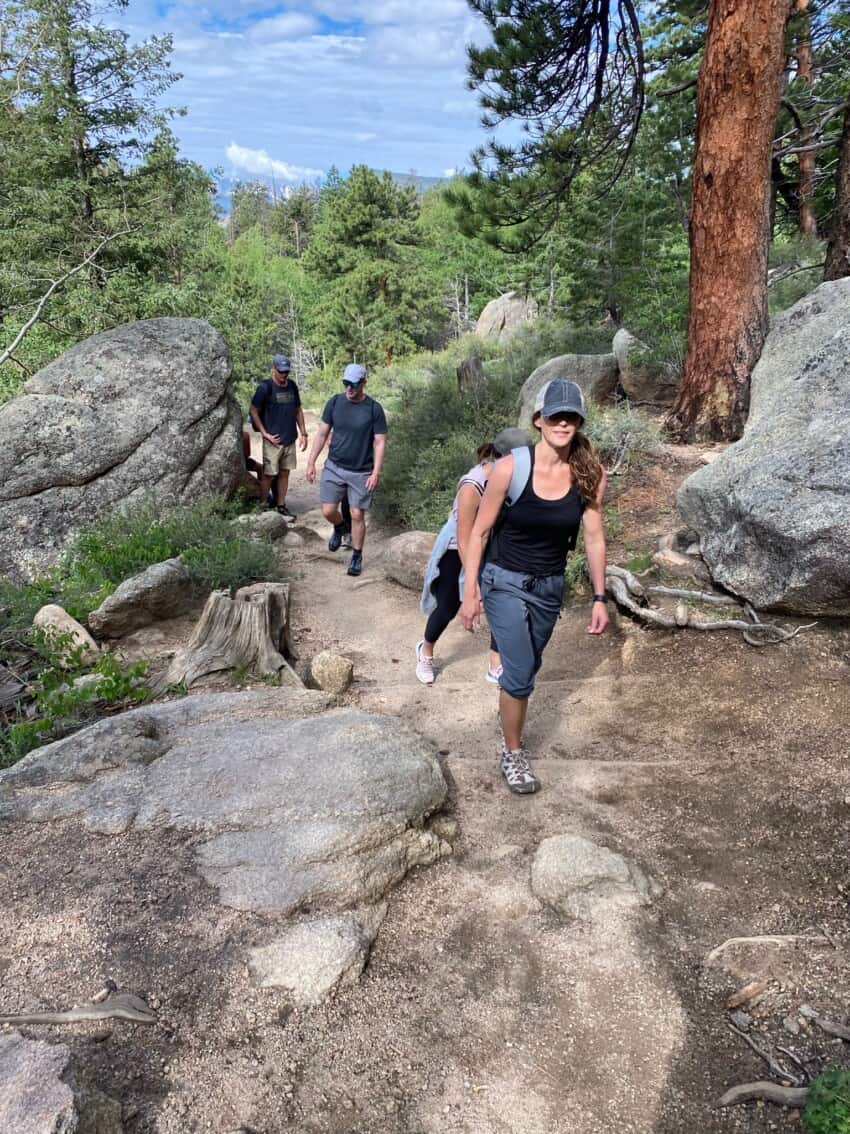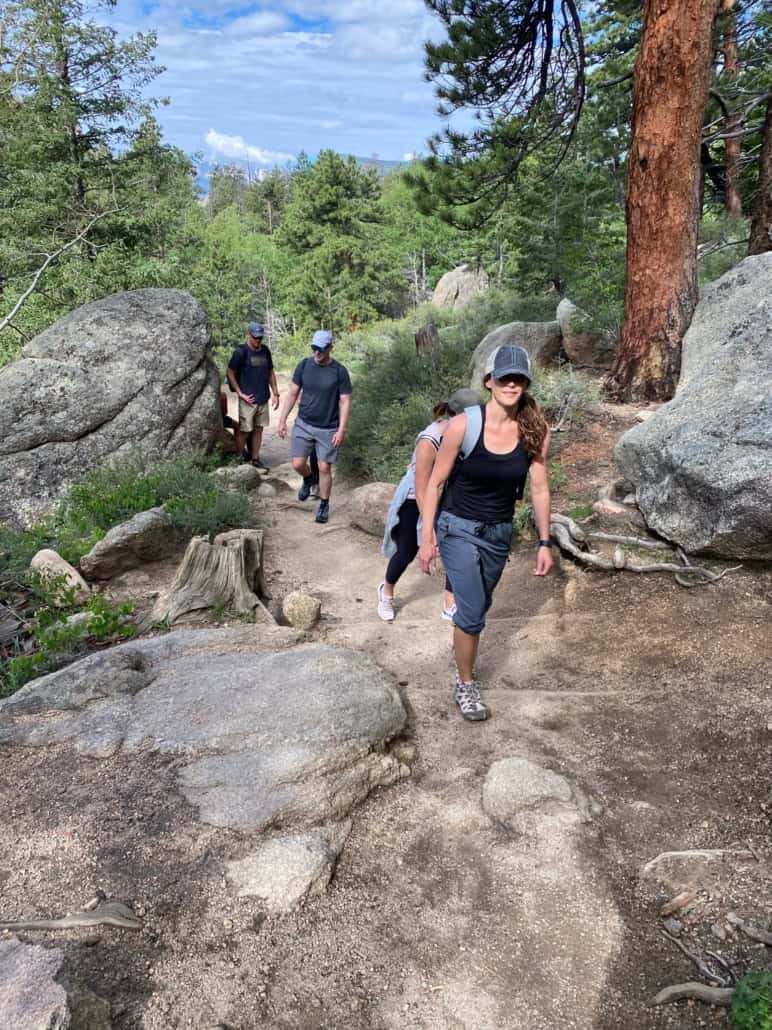 At the top, we were rewarded with a small yet lovely orange-hued lake and even more boulders to scale.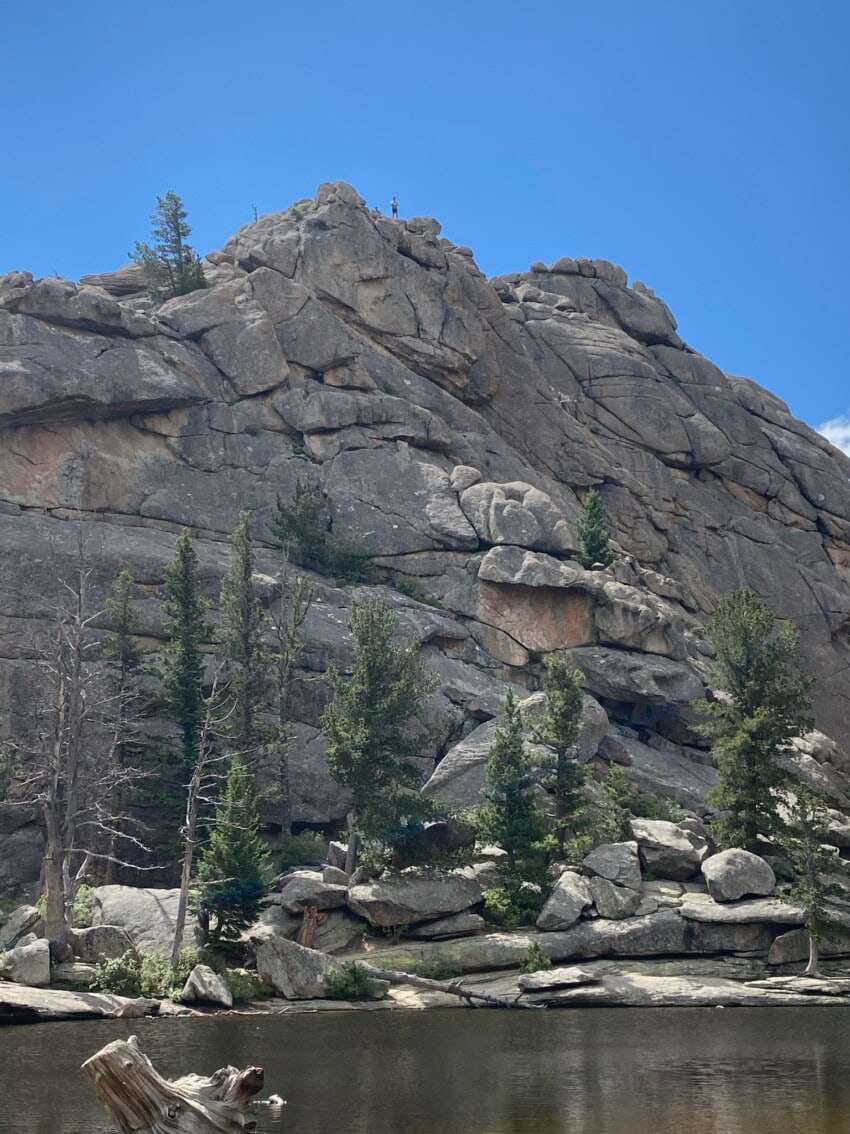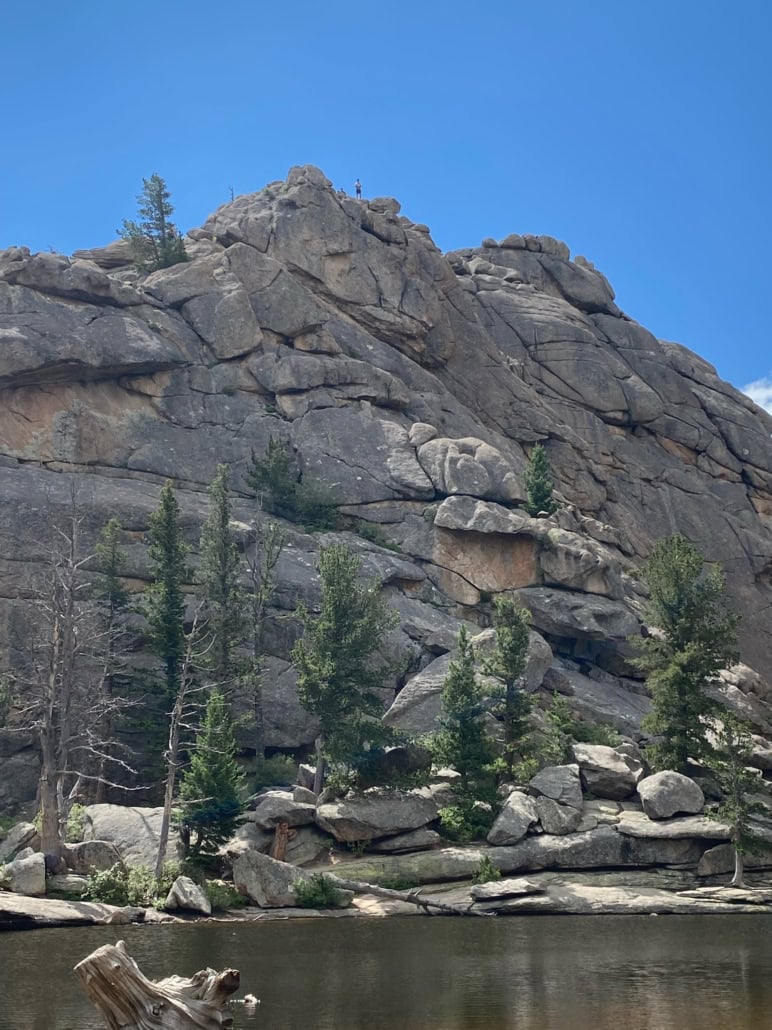 Chipmunks came out of the woods in droves to entertain the kids, too.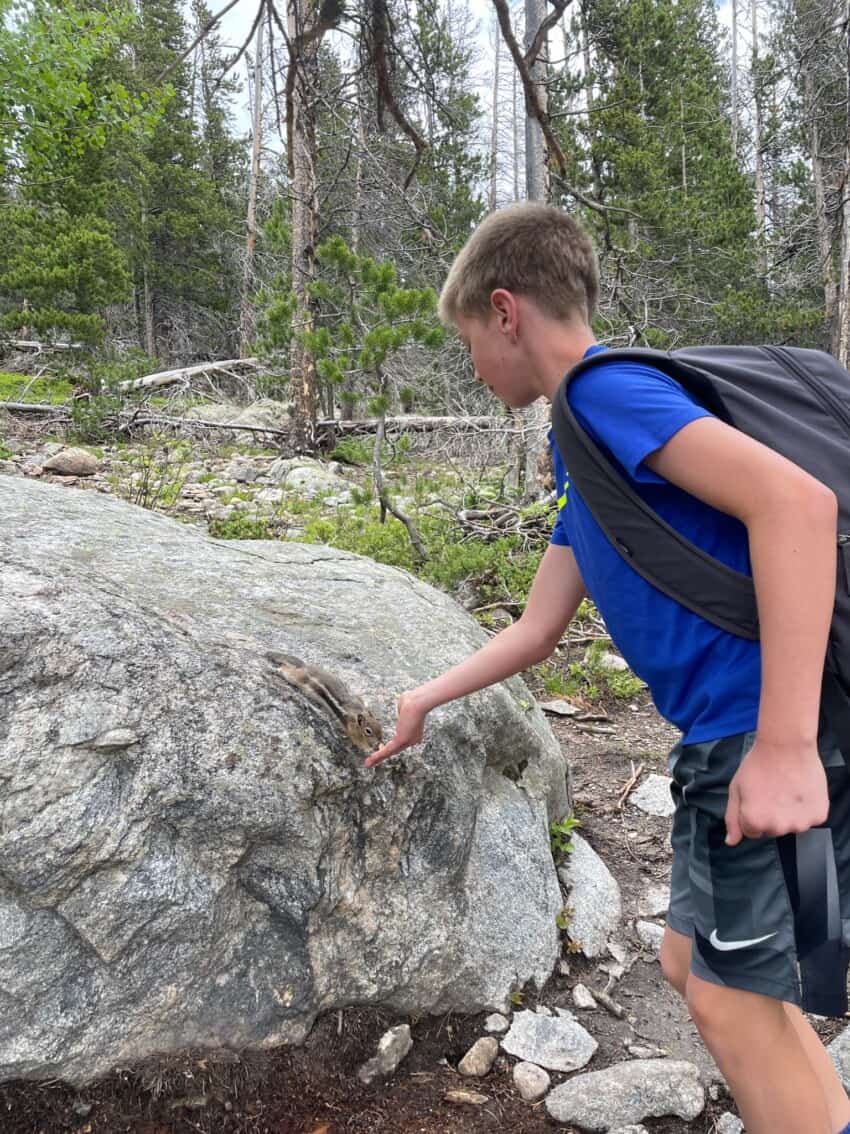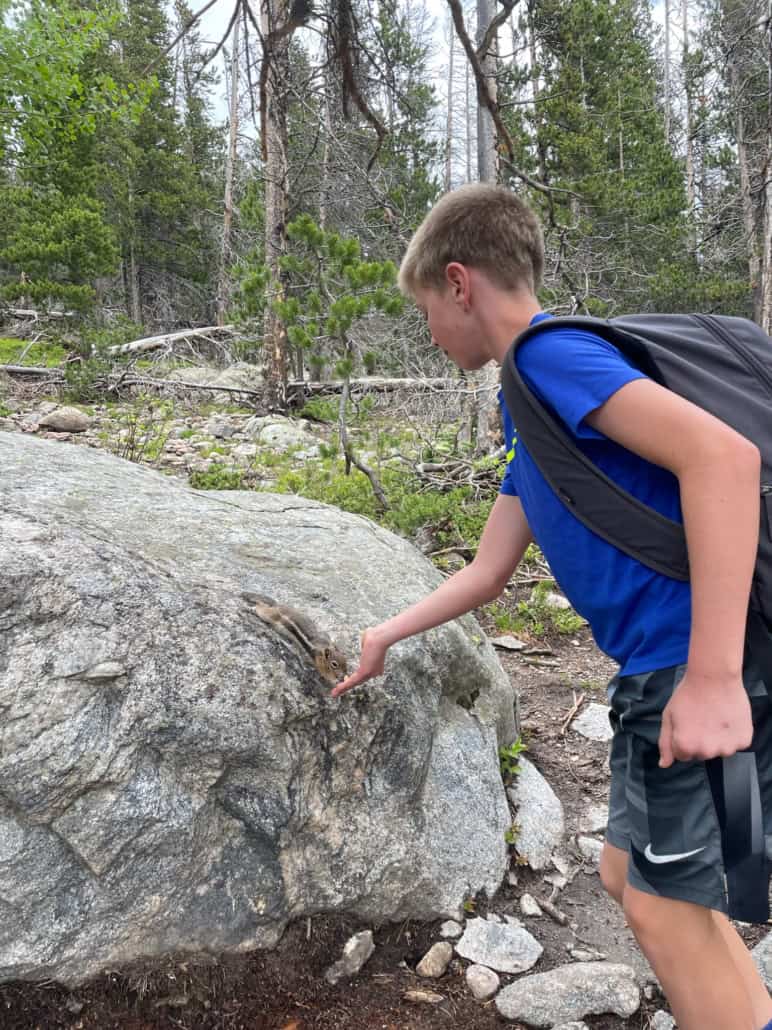 This trail wasn't overly packed and took us about 2 1/2 hours with all our stops and boulder climbing. We all LOVED this one.
Sprague Lake at Dusk
On our last night, despite a rainstorm that cropped up, we headed back into the park. (You can drive in after 6 p.m. at the Bear Lake Corridor entrance with no pass.) We were rewarded with seeing a double rainbow over Moraine Park as we pulled in. I couldn't help but feel God's presence in this place.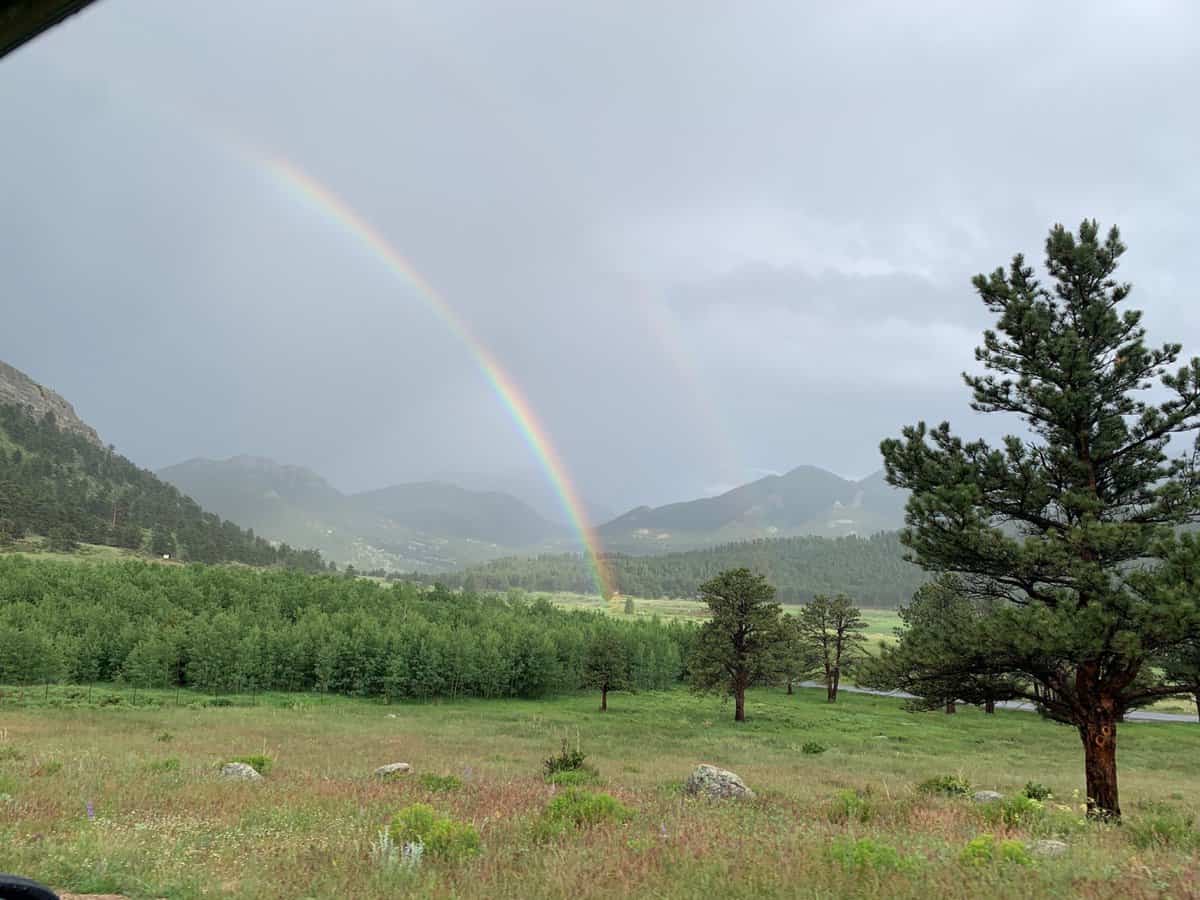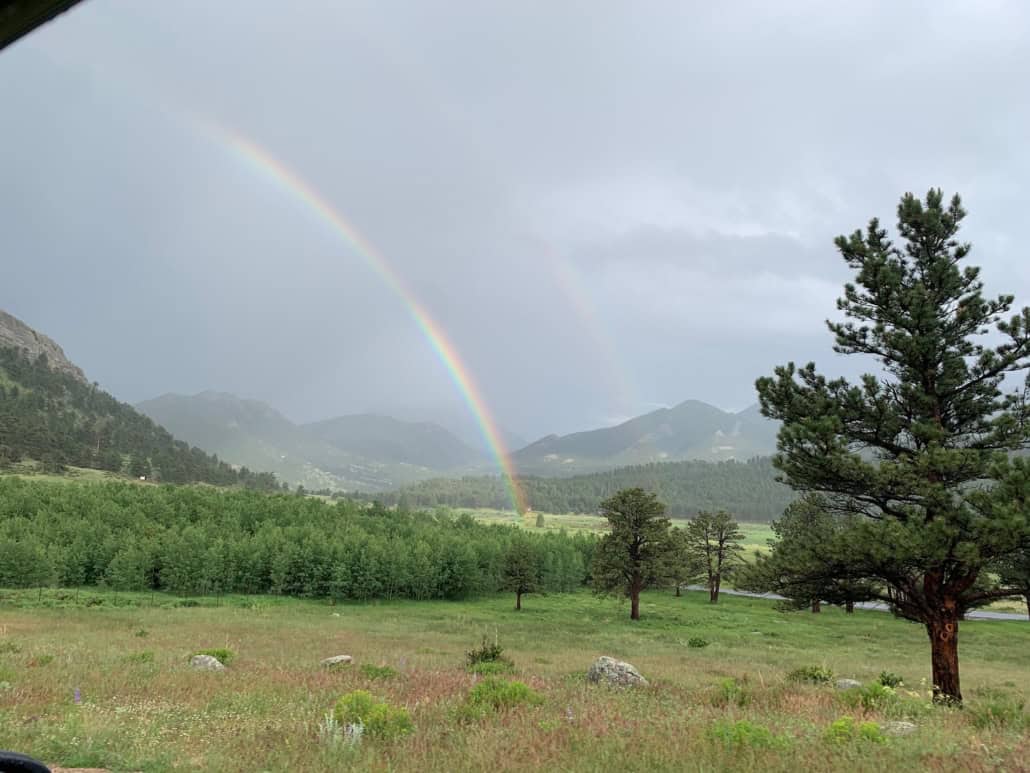 We also saw several huge elk with full racks on the side of the road. This one was just a few feet outside my car window! They don't seem phased by the awe-struck onlookers.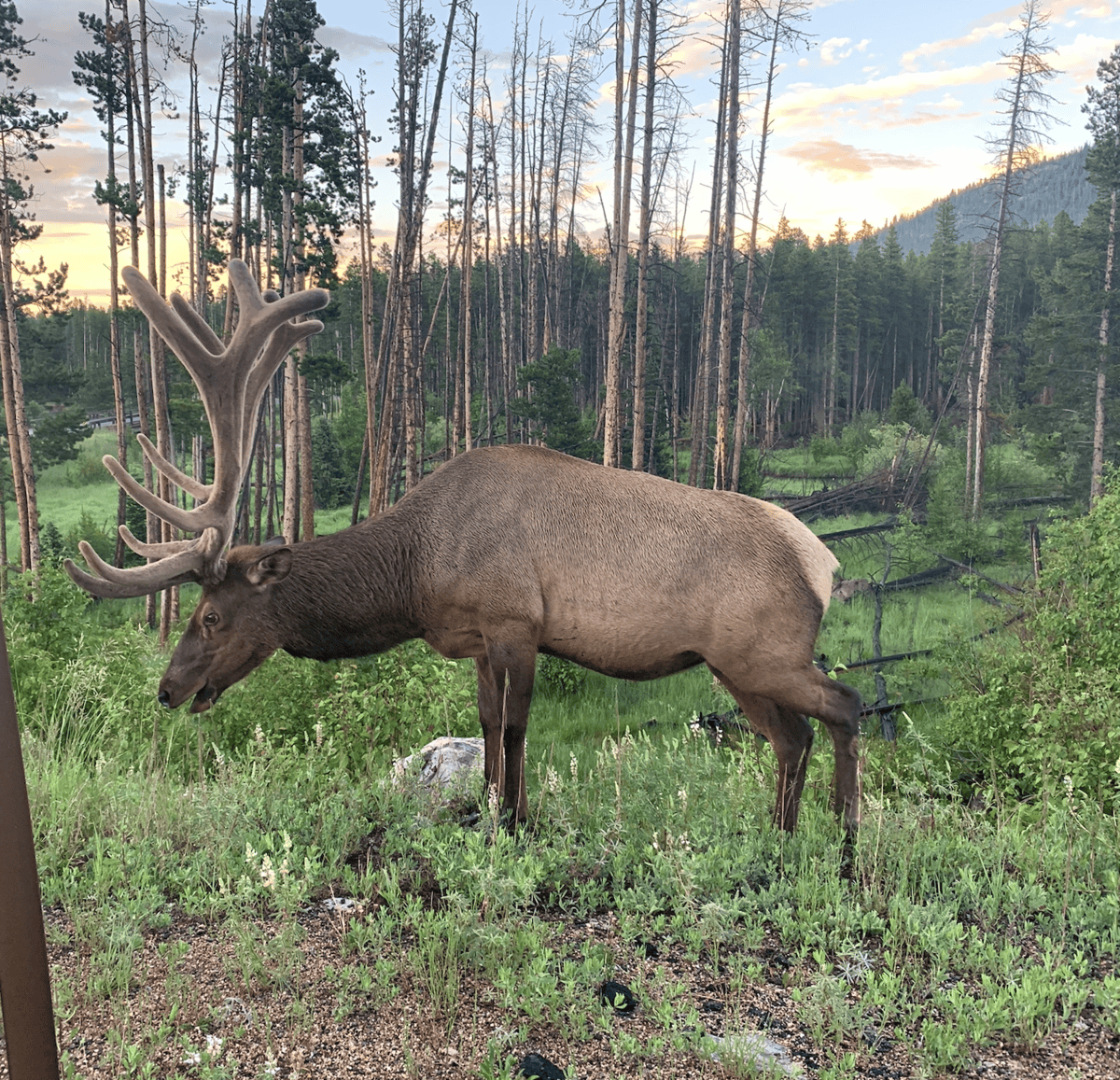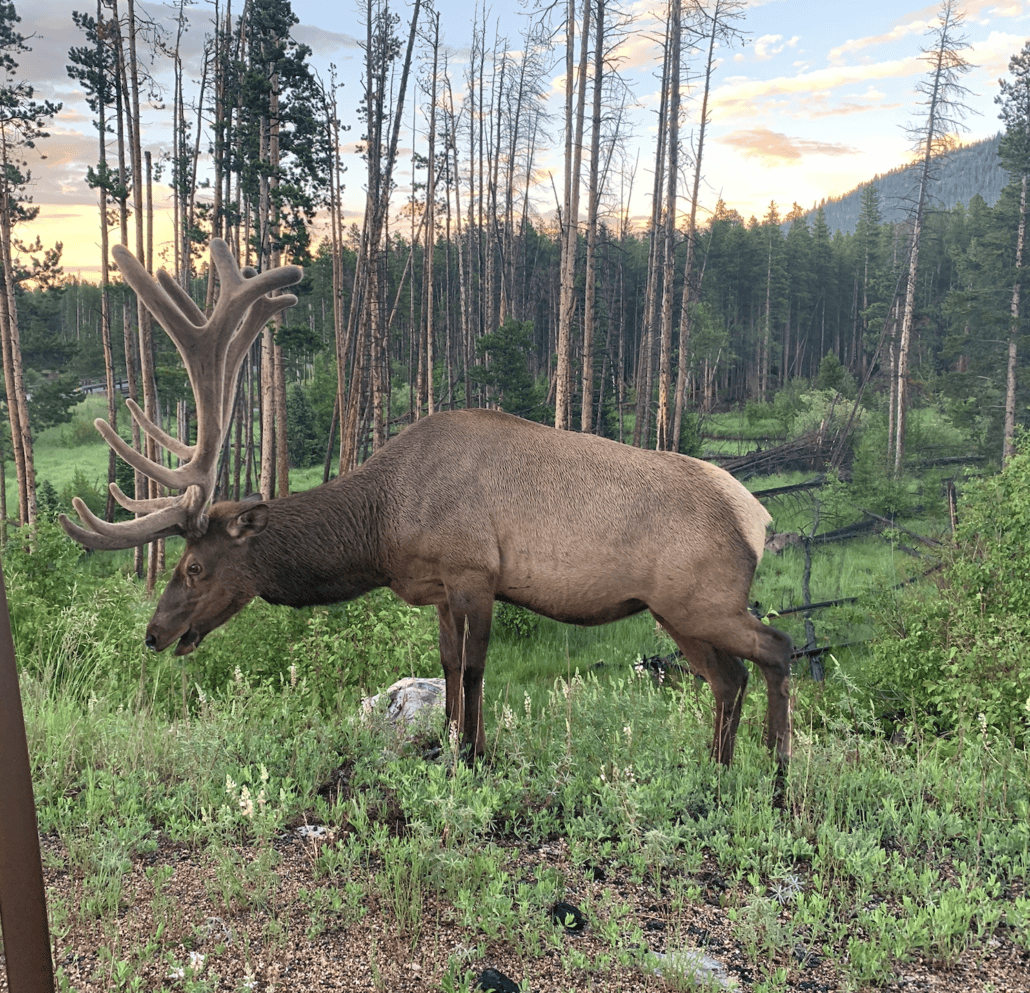 Lastly, we witnessed a mama moose eating vegetation in the lake and her baby nearby in the woods during our walk around Sprague Lake (only ¾ mile). The rainbow even reached the mountains behind the moose. It was magical!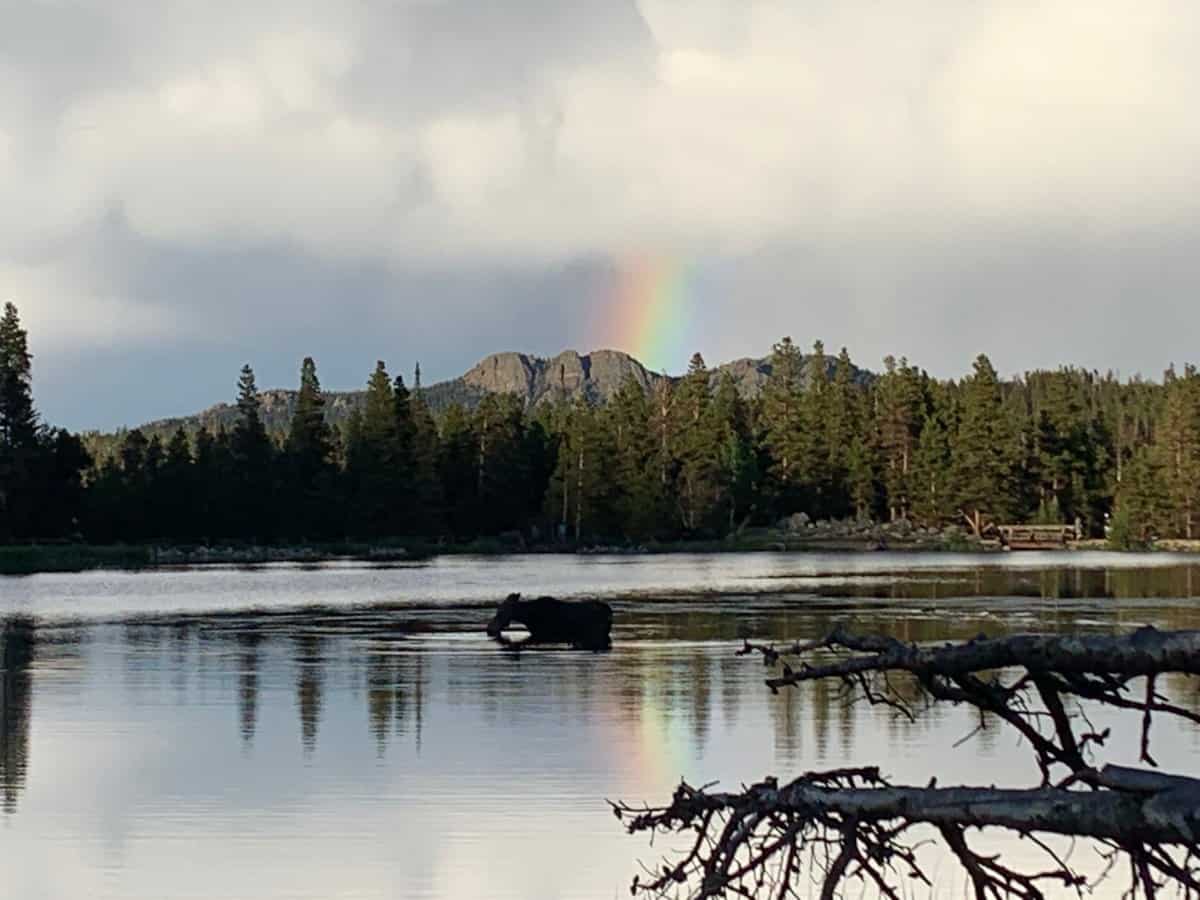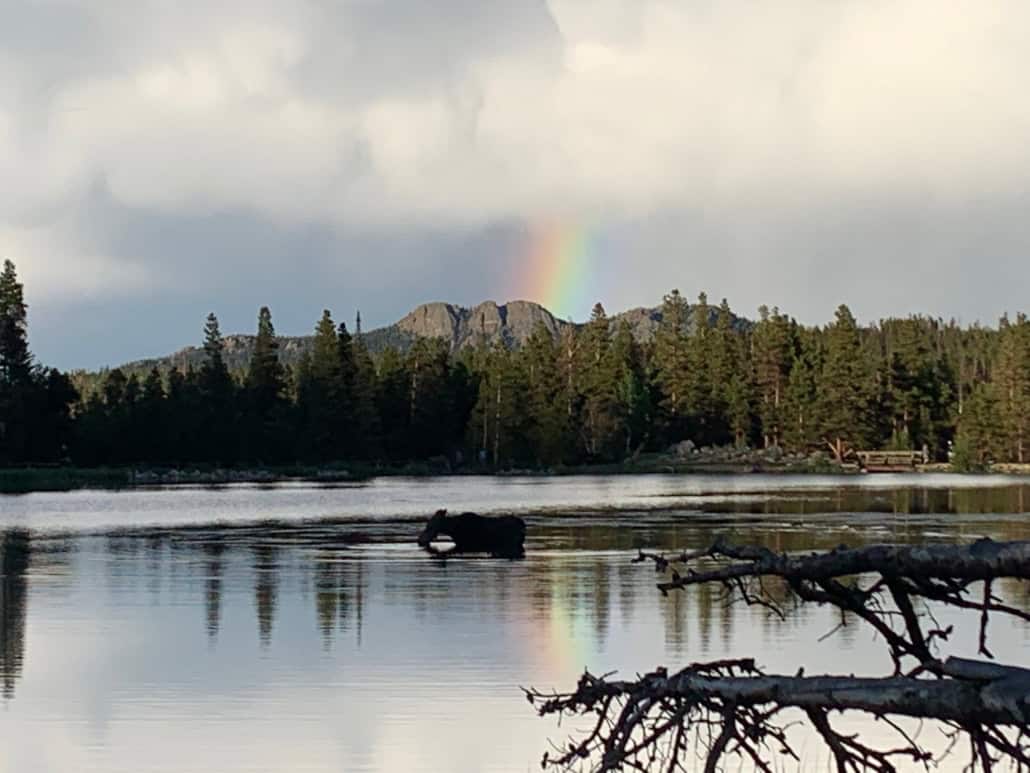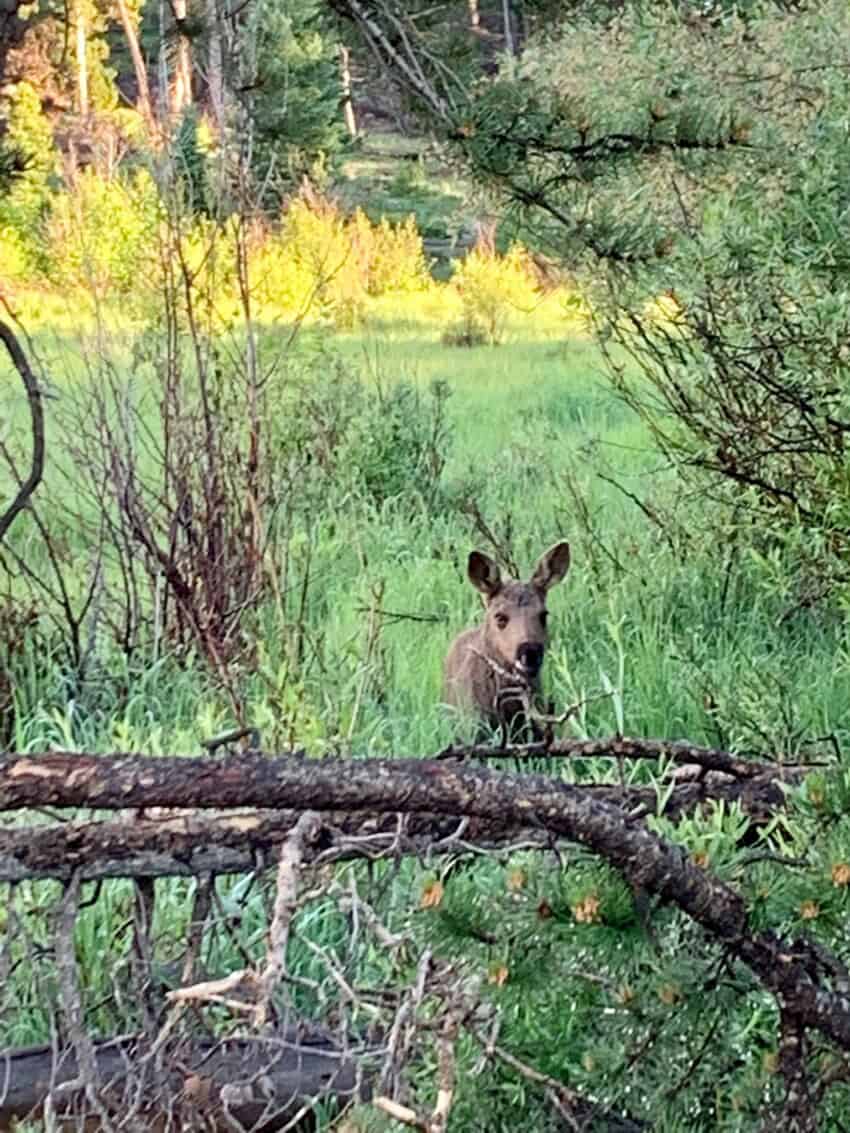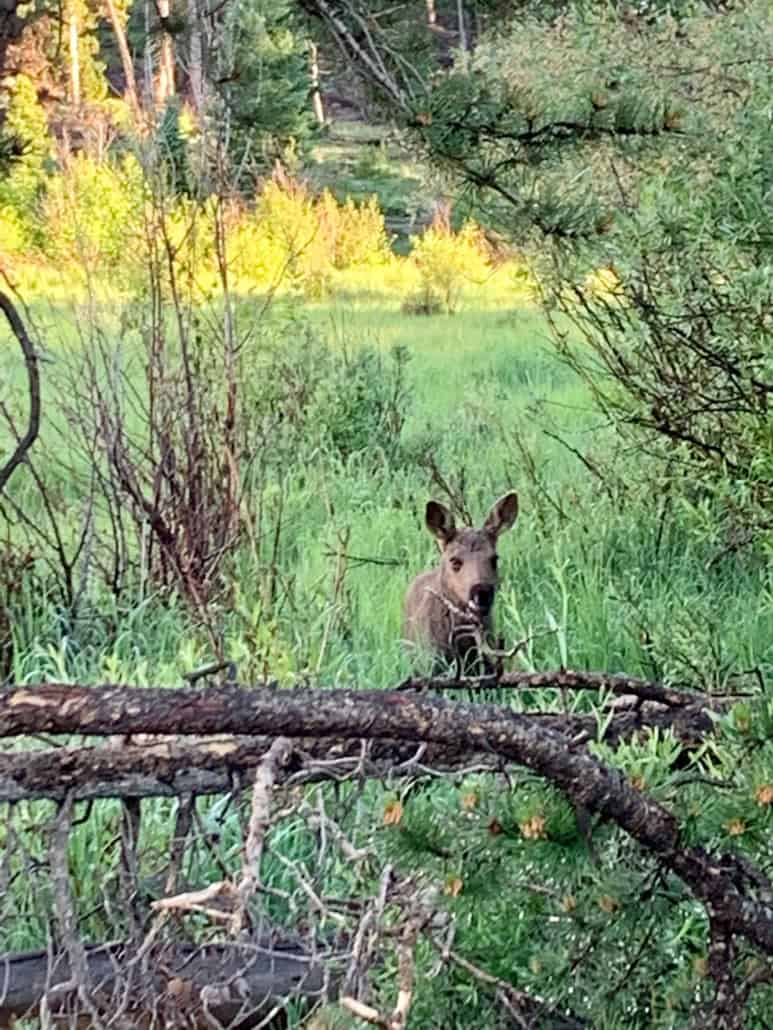 Other Activities We Enjoyed
White Water Rafting
We decided to hit rafting down the Poudre River on the way to Estes Park, since we had time to kill before checking in the first day. While we all enjoyed it, we agreed we wanted more excitement next time. If we ever do it again (and not sure if we will because of the price tag), we will look for Class 4 rapids and the opportunity to potentially flip over.
Biking Around Lake Estes
My husband and I rented bikes from a local shop and rode on a paved trail around Lake Estes and on an extended trail around Estes for about an hour one day. Great exercise (I was huffing and puffing up those hills in high altitude) and the most gorgeous scenery! We decided we would take our own bikes next time and definitely ride more. If you have kids, there are some fun four seat bikes for rent, too.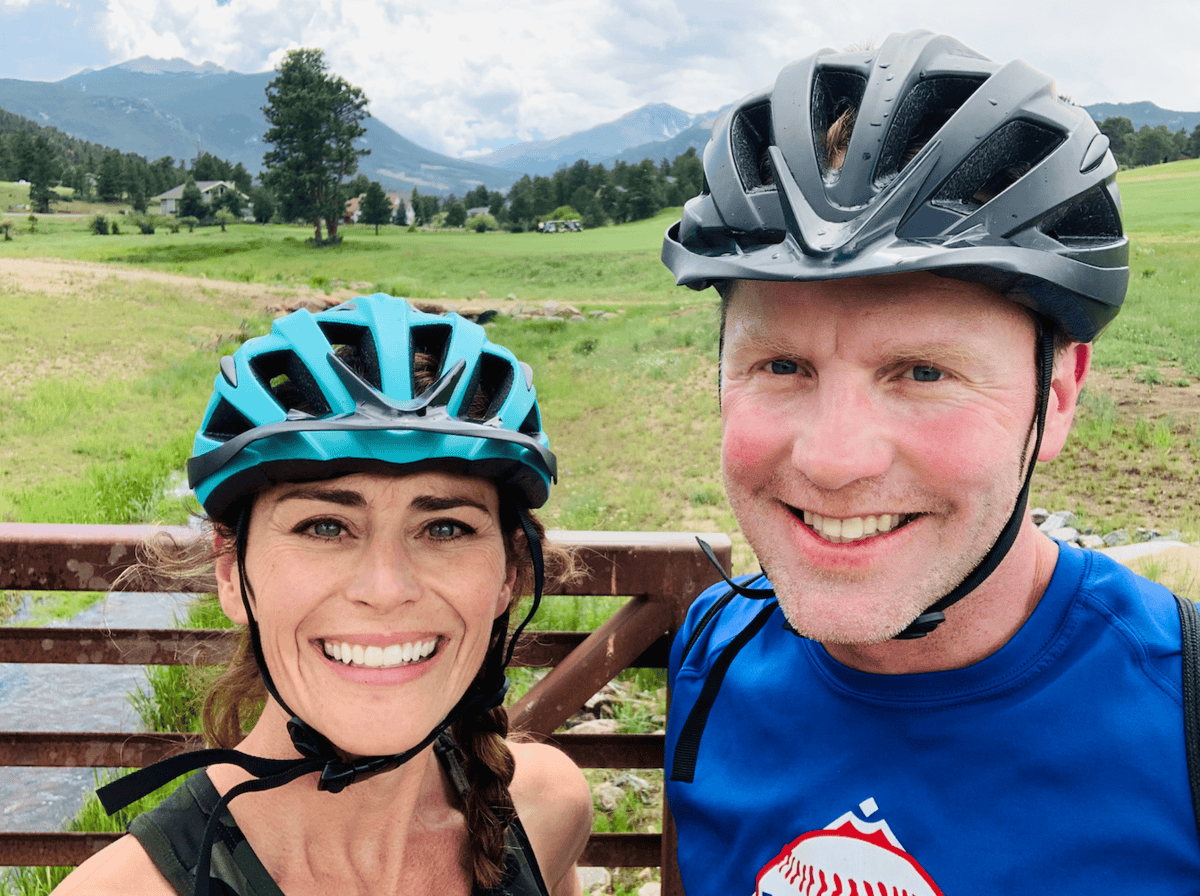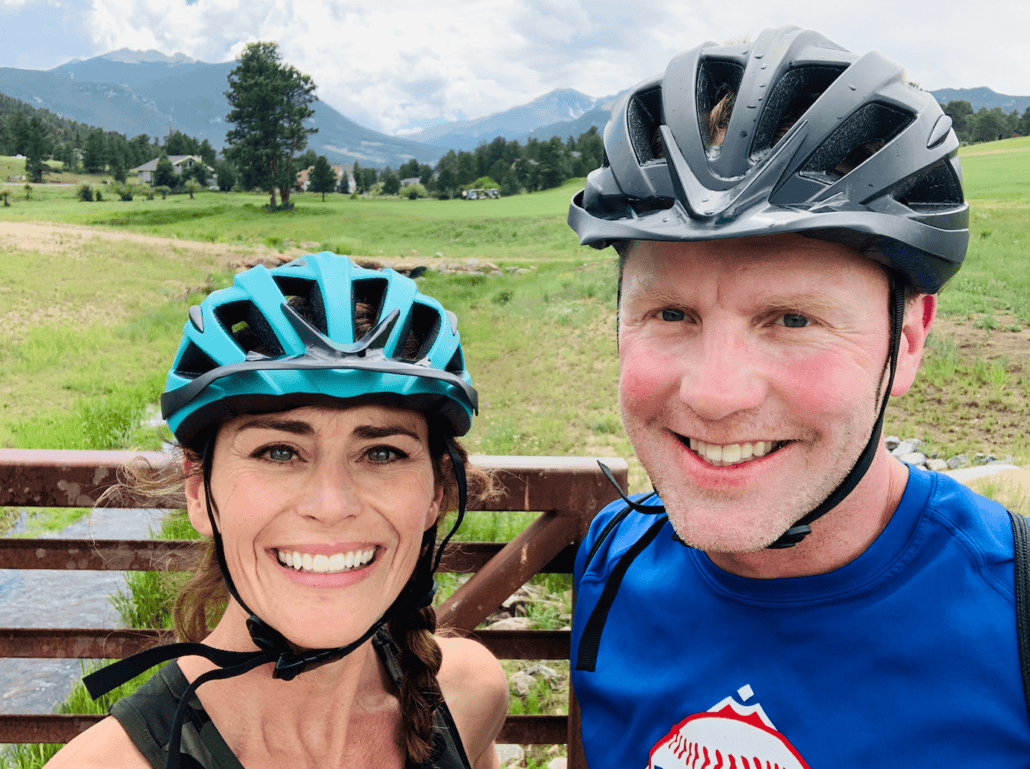 Or, if you want something more difficult, rent bikes at the YMCA and try some of the mountain biking trails, like my husband and his friends did.
YMCA of the Rockies
We all enjoyed a day trip to the YMCA of the Rockies! $25 for ages 13 and up and $10 for younger kids. We hit almost every free and some paid activities we could: a big kickball game, putt putt, fishing, hiking, mountain biking, frisbee golf, Gaga ball, 4-square, tennis, the game room (pool and ping pong), and indoor pool (really fun!). Our friends went on the half day fly fishing excursion and said it was totally worth it, too.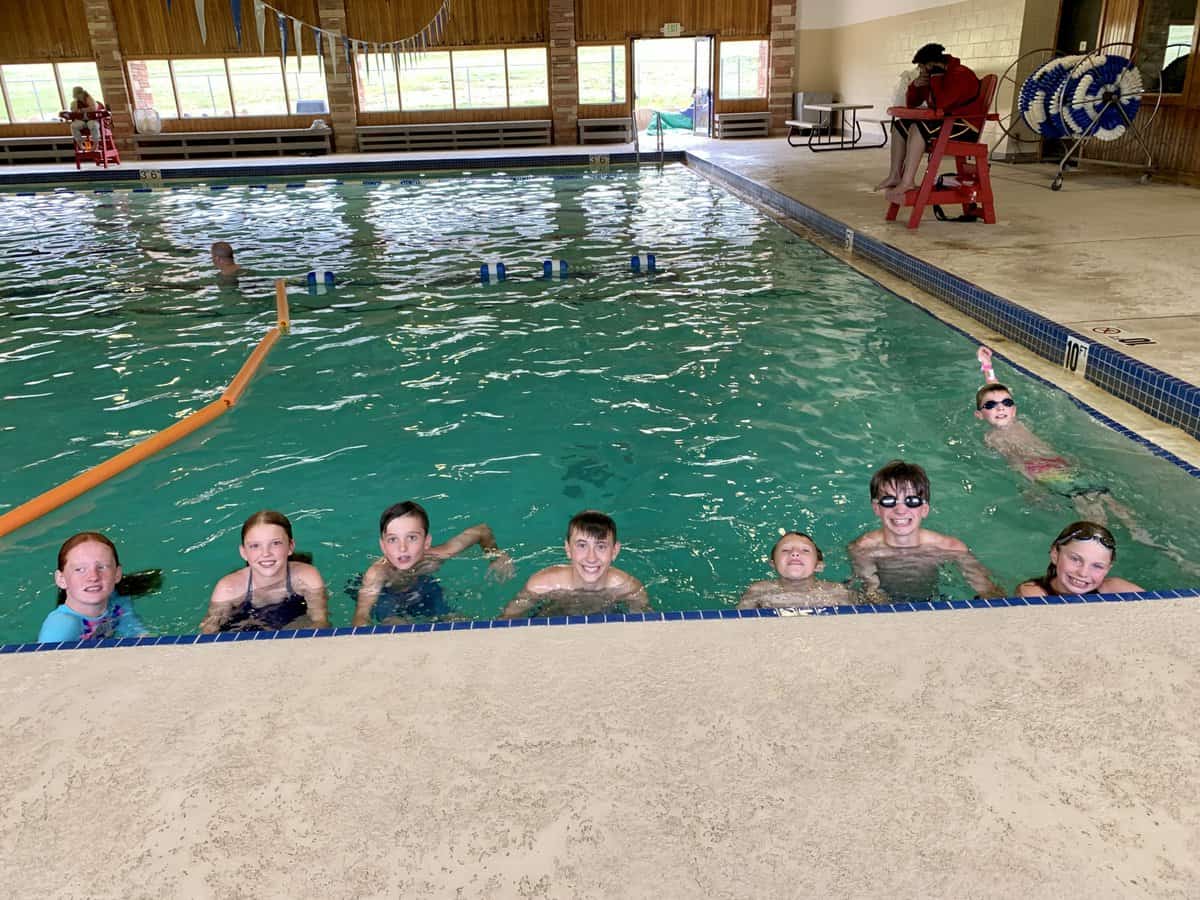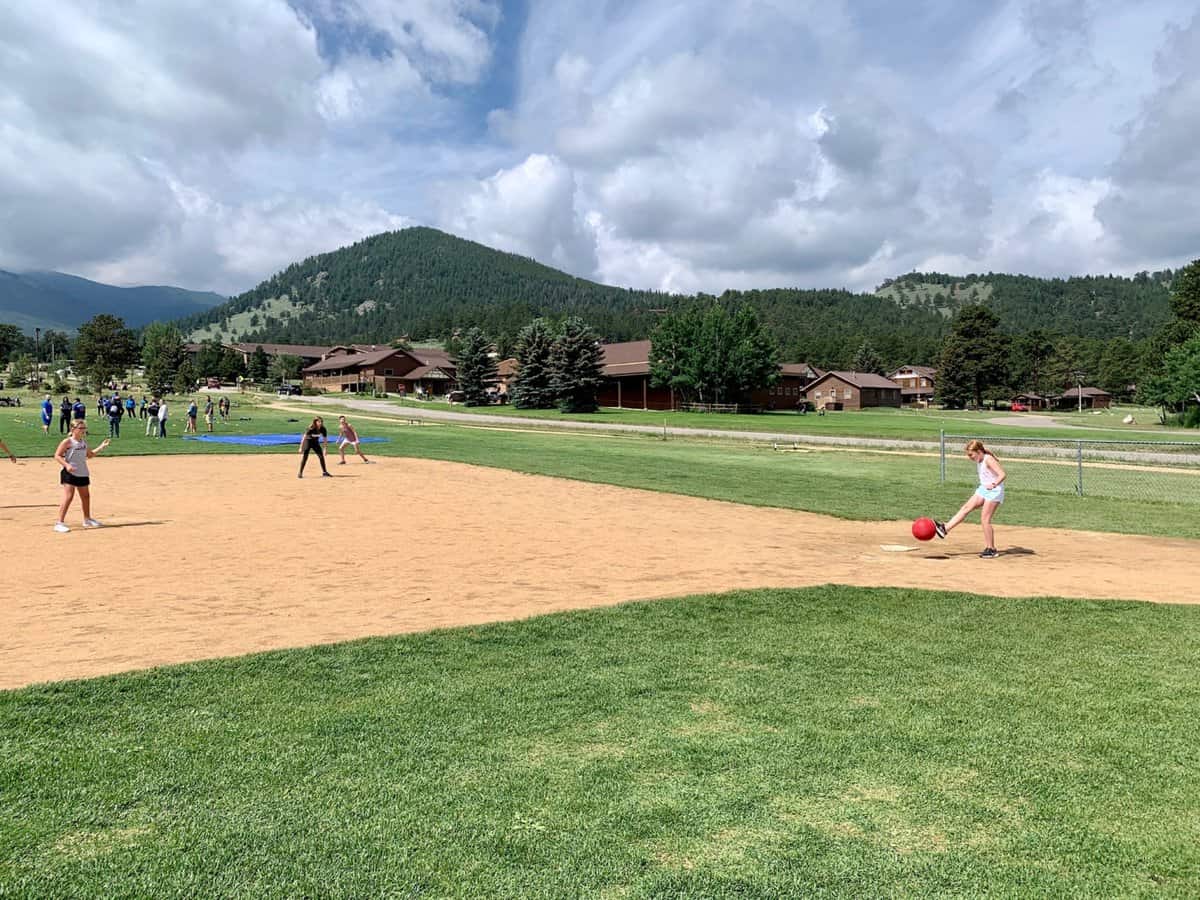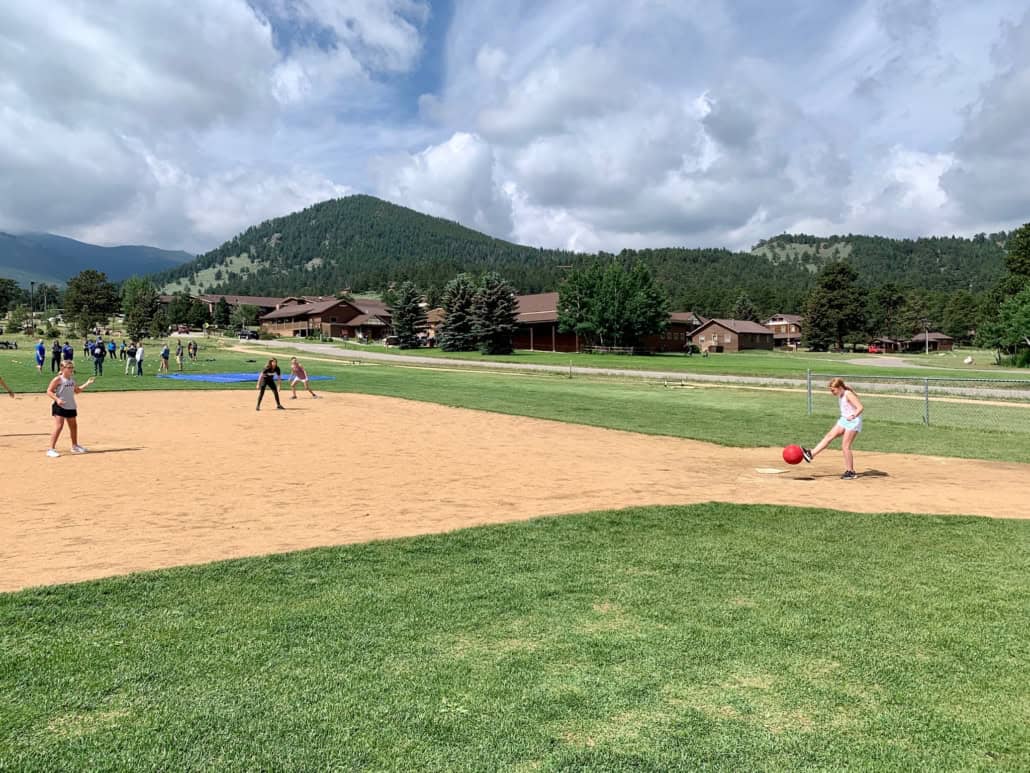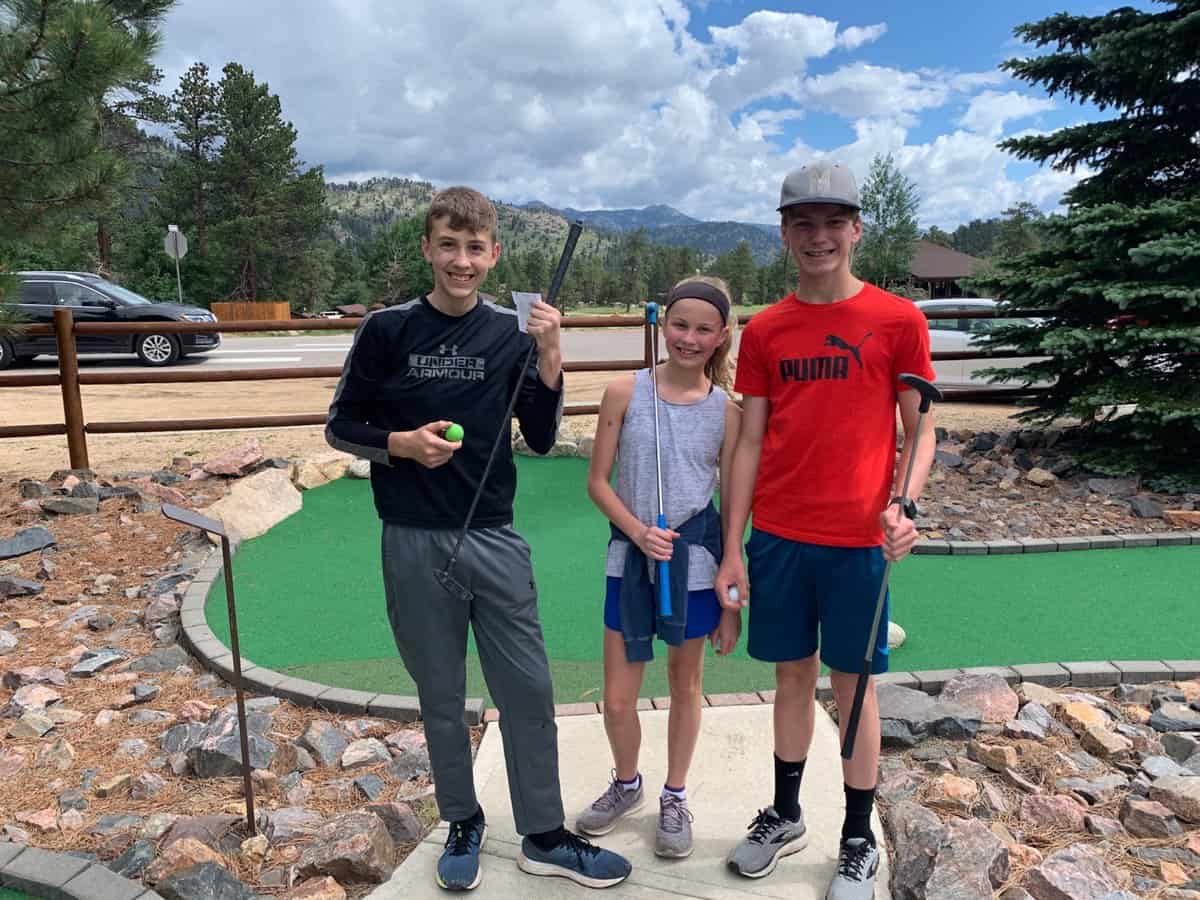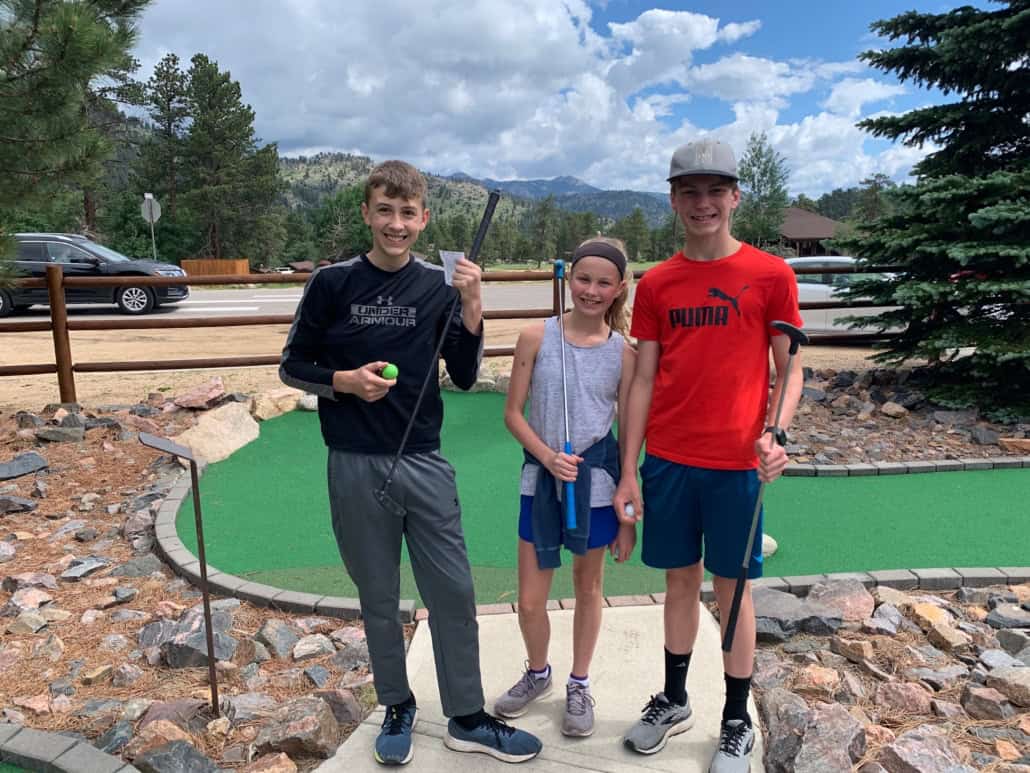 I'd recommend bringing your lunch, since the Café food wasn't very good. I LOVE an "all sports day". We'd for sure do this again.
Horseback Riding
On a separate day, my daughter and I rode horses at the Jackson Stables at the YMCA.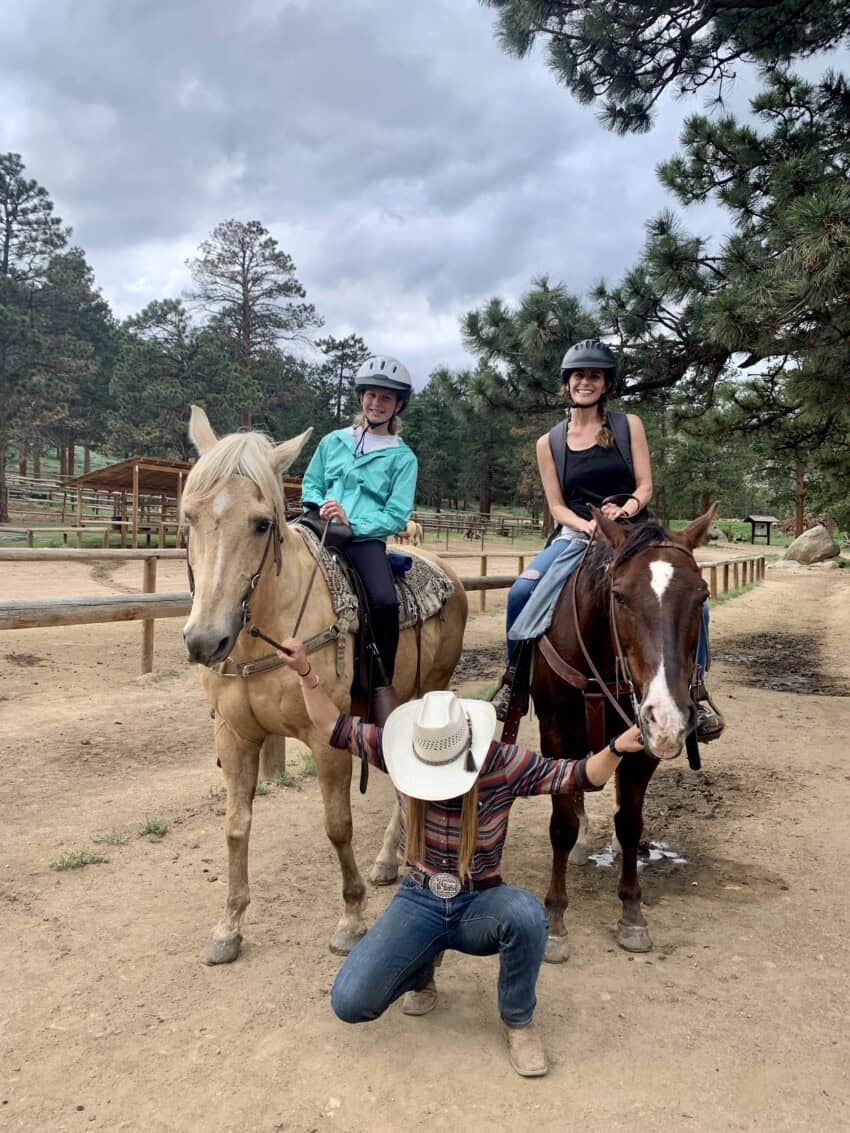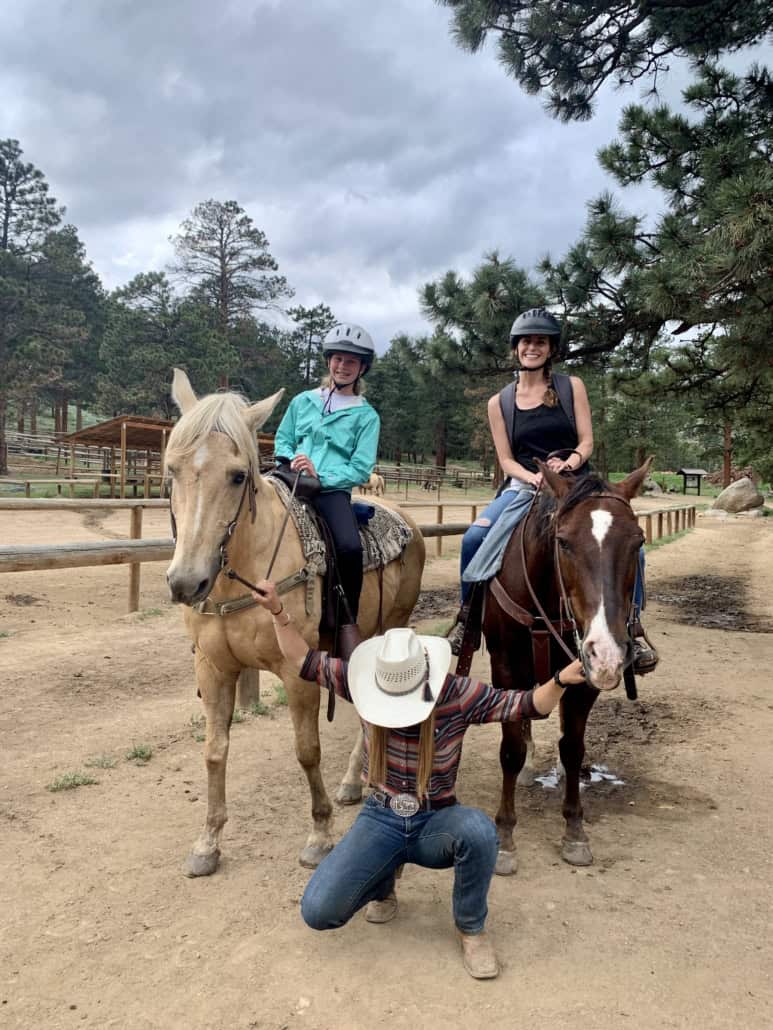 If you're afraid of heights, this is not the ride for you. We rode around the side of a mountain, through Moraine Park, and up and down the mountain again. I've been on this ride twice now (years ago with a church group) and it was lovely. One mistake I made was taking a backpack, which is not fun when your horse is trotting! Wear long pants, closed toed shoes, and just bring your phone and keys to put in the little saddle bag.
Food
We found a few places we would return to, but let me know what restaurants you recommend.
All of the families we vacationed with ordered the Big Kahuna Belly Buster one of the nights. Includes: Full Rack of St. Louis Pork Ribs, Whole Chicken, ½ lb Brisket, ½ lb Pork, 4 large sides, and 6 pieces of cornbread. For $76, you get enough food to feed a family of 4 or 5 for several meals! I'd recommend this for the ease, value, and taste!
I enjoyed breakfast out twice at this restaurant that overlooks Lake Estes—once with my girlfriends and once with my family. Everything we had was tasty and the view is worth the pricier ticket (we spent about $90 as a family of 5). I got the Denver Omelet both times and didn't regret that decision.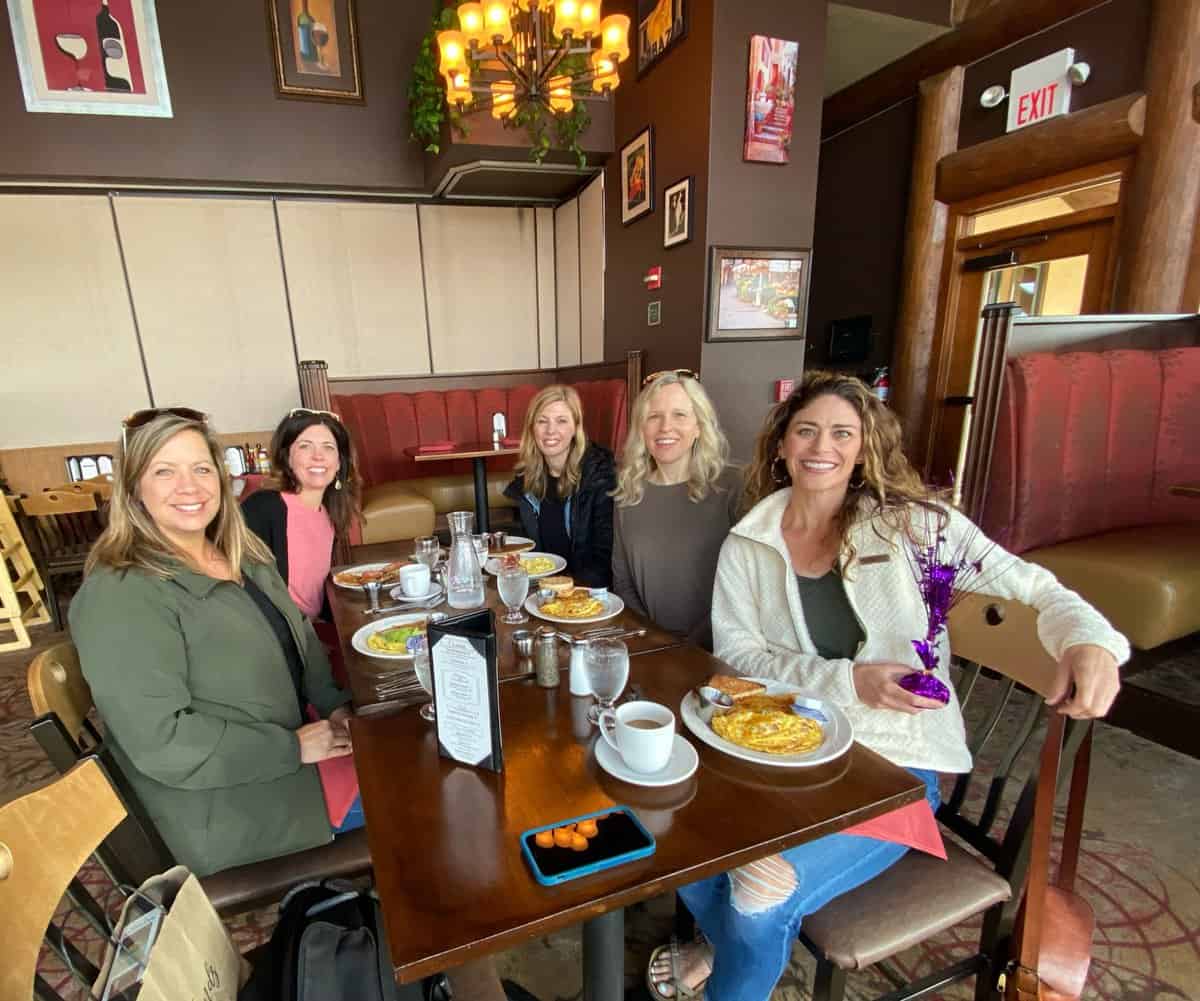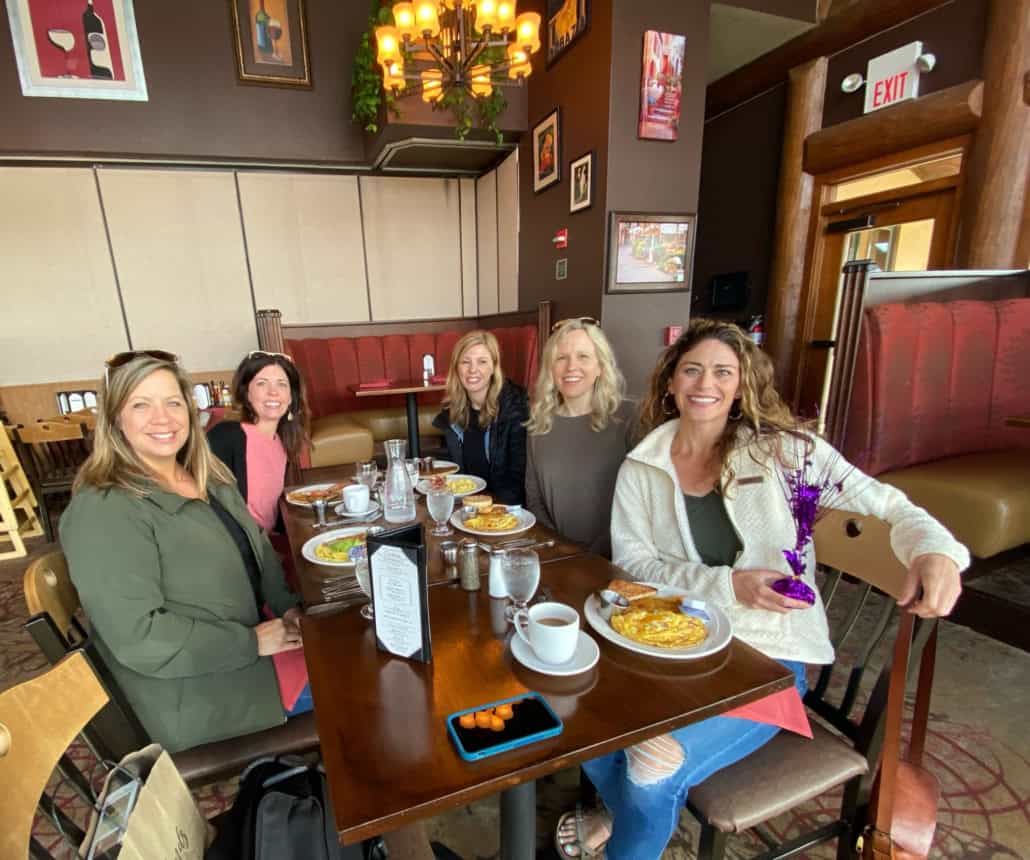 Coffee
We enjoyed the coffee, snacks, and the back patio at both Kind Coffee and Mile High Coffee. My son and husband recommend the tiramisu at Mile High Coffee.
Easy Meals in Our Condo
Lessons I Learned On Our Estes Park Vacation
Take it easy at first.
I wish we had layed low the first few days and let the kids acclimate before hiking anything high. My youngest son got very sick after our first hike, and my daughter felt terrible too. Actually several of us in our group had pretty bad headaches that day. Thankfully, after a good night of sleep, all of us recovered. Be prepared by drinking lots of water beforehand and during your trip, and give your body a few days to get used to the atmospheric difference before hitting the high trails hard.
Don't trust the weather apps.
During late June/early July, when we were there, the weather fluctuated daily and hourly. The apps apparently couldn't keep up. We learned by the end of the week that most storms come quickly and disappear just as quickly. It's important to pack for warm weather, cold weather, and rainy weather, because it changes throughout the day. Layers are your friend!
Book activities ahead of time.
Rocky Mountain National Park has 2 hour window timed entries right now that you have to book in advance. Check their website for details and to reserve your times. This could change after Covid is over, but as of time of publication, this is how things work.
Book activities at the YMCA like axe throwing, archery, and rock climbing ahead of time. We couldn't get in the week of.
Book horseback riding ahead of time, especially if you have a large group. The good thing is you can cancel anytime if the weather looks bad or you change your plans.
Schedule a grocery pick-up from Safeway Grocery ahead of time.
This saved us so much time the day we checked in! Plus, it's free. Don't forget to use the $20 off promo code if it's your first time, too. Plan your meals out ahead of time, so you know what to order and how much.
Please Share Your Experience!
If you've been to Rocky Mountain National Park or Estes Park before, please share your favorite hikes, views, activities, food, and/or anything else in the comments below!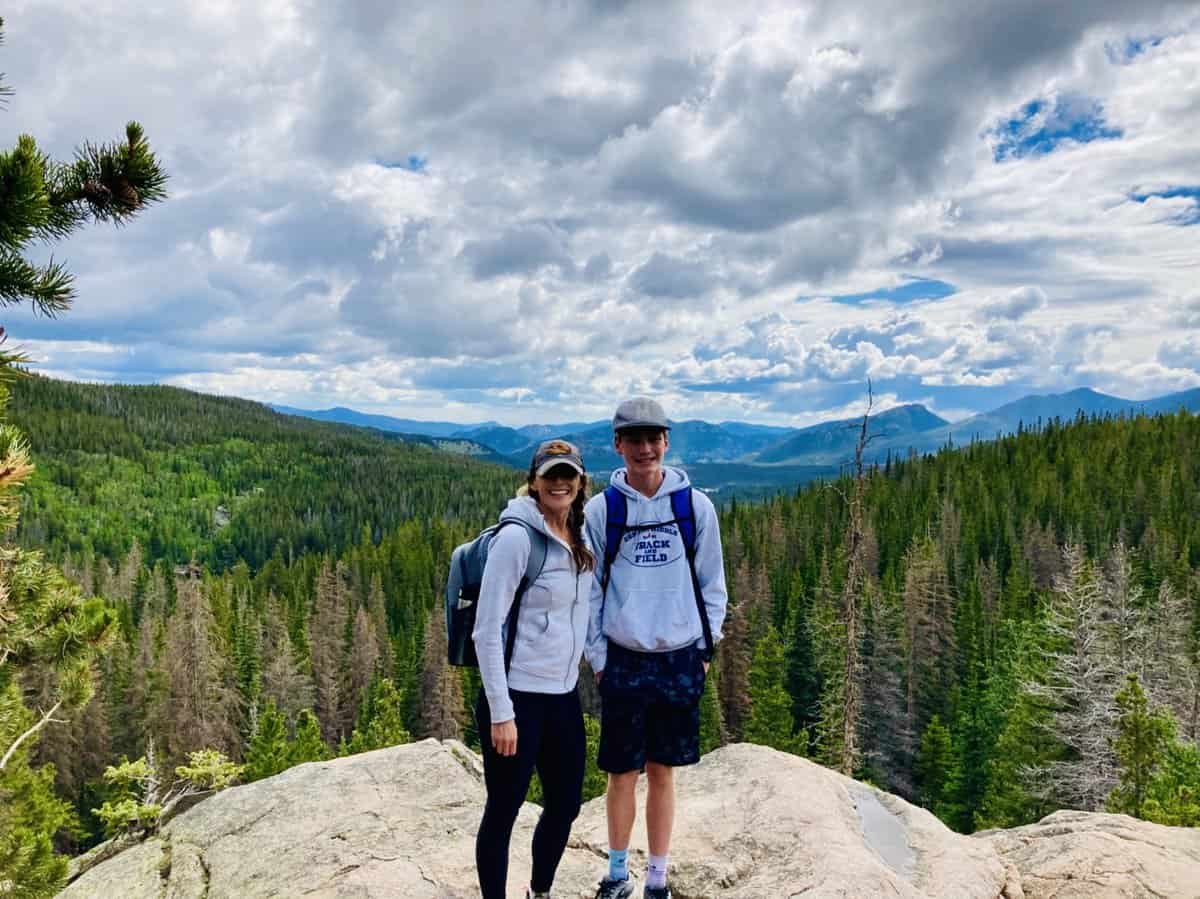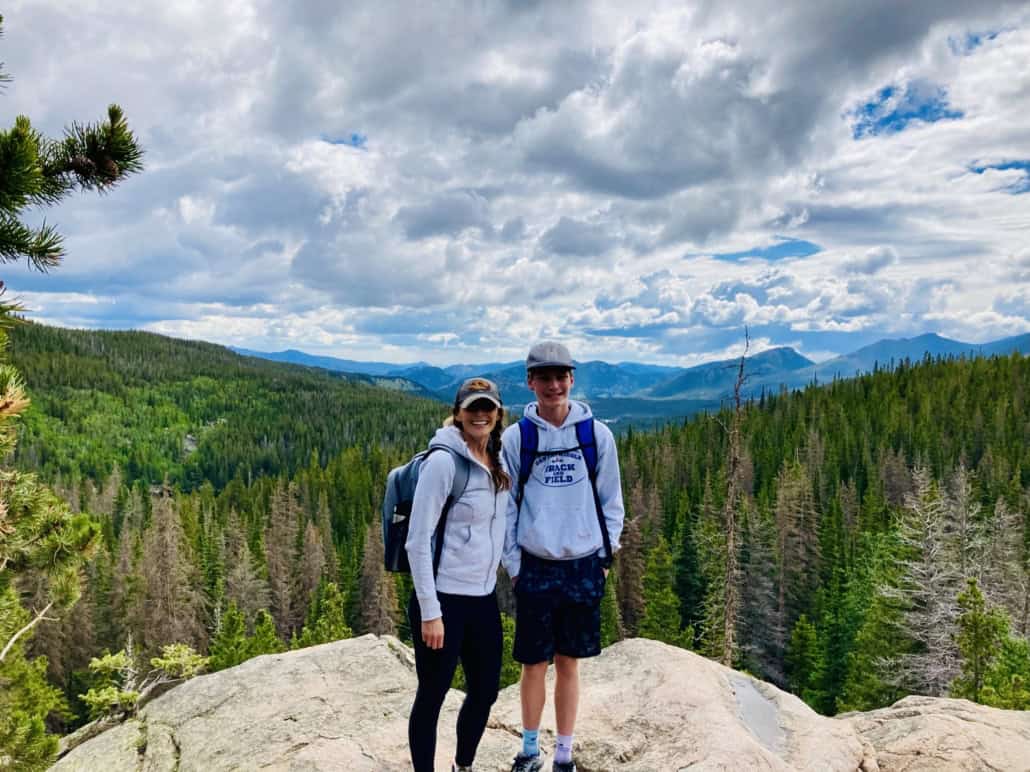 More Vacation Ideas
Polly and I have written about several of our vacations over the years. Feel free to grab ideas for your own family from our reviews and tips.
Polly is the queen planner and shares 35 things she learned from their first Disney trip.
Rachel's family hit the beach one year and it rained almost the entire week. But, here are 10 things I'm so glad we did together no matter what!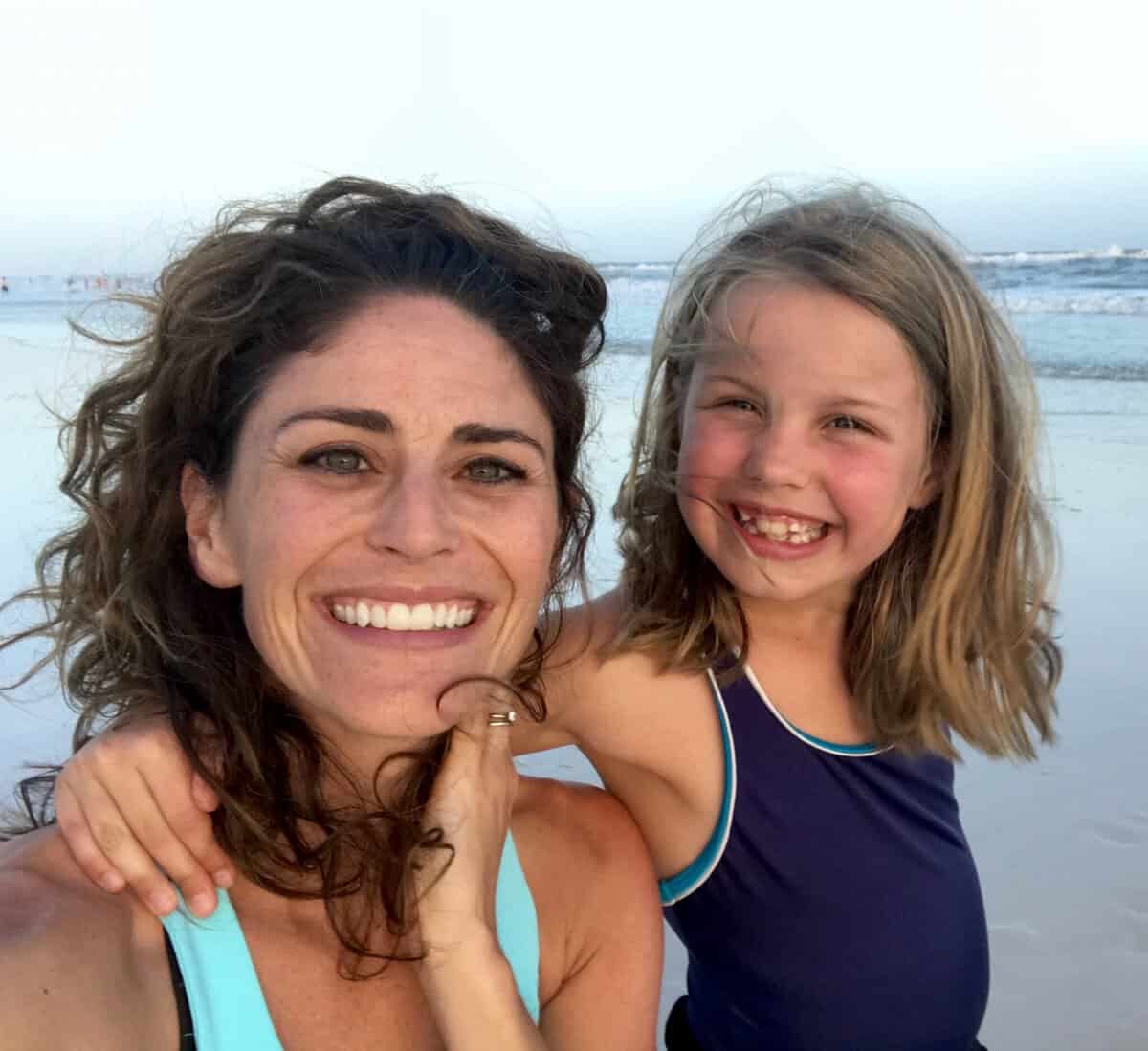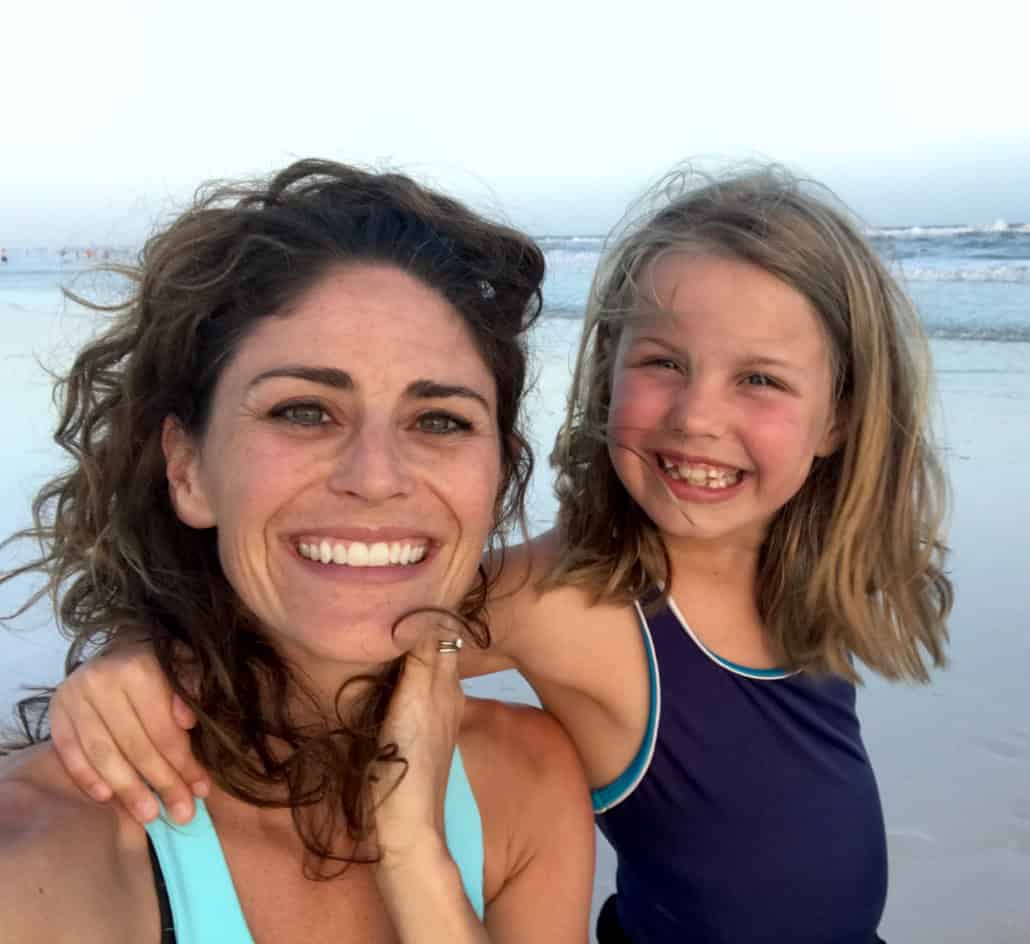 Rachel and her husband get away to Kansas City every few years and have found some great local places to hit.