Whole Wheat Pita Bread
Updated: 6/16/22
This post may contain affiliate or sponsored links. Please read our disclosure policy.
It's easier than you think to make your own Whole Wheat Pita Bread, especially when you let the bread machine do the work for you! This recipe has the perfect balance of softness, yet structure. Thanks to the whole wheat, it's extra nutritious too!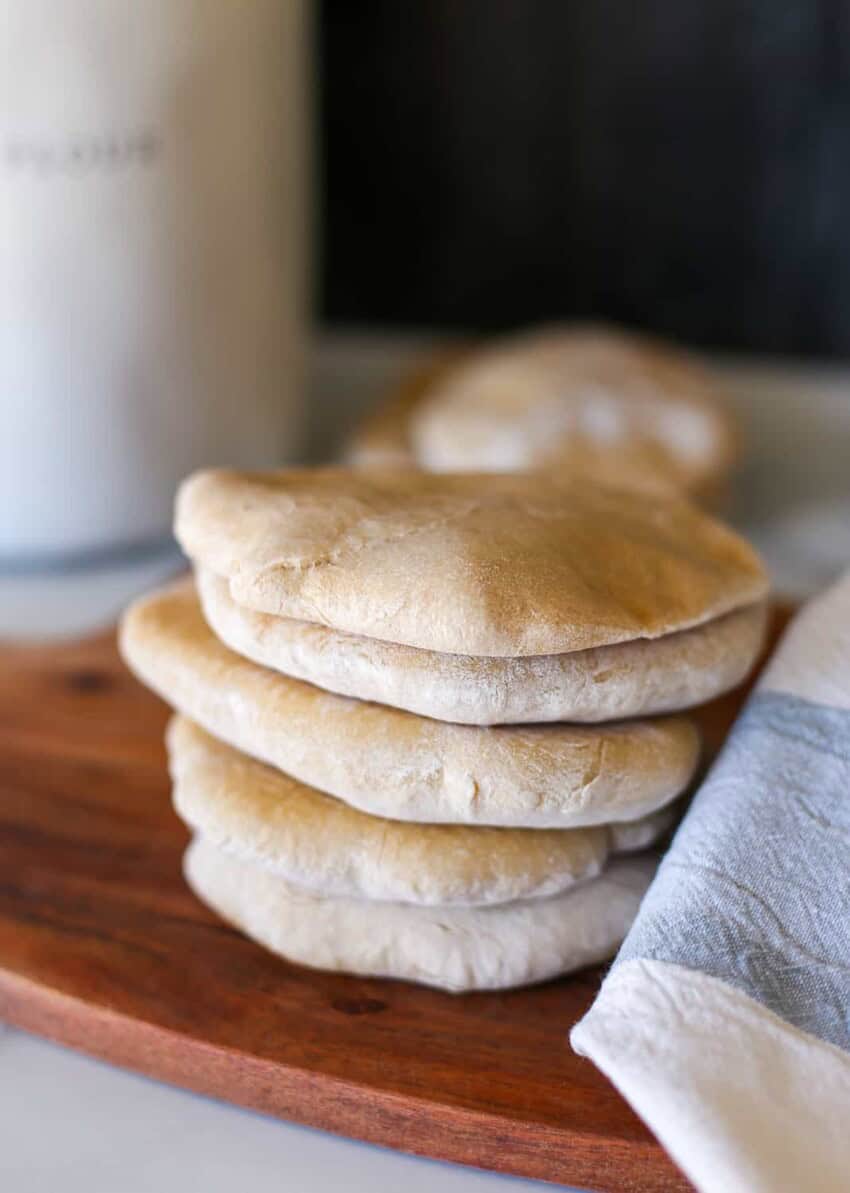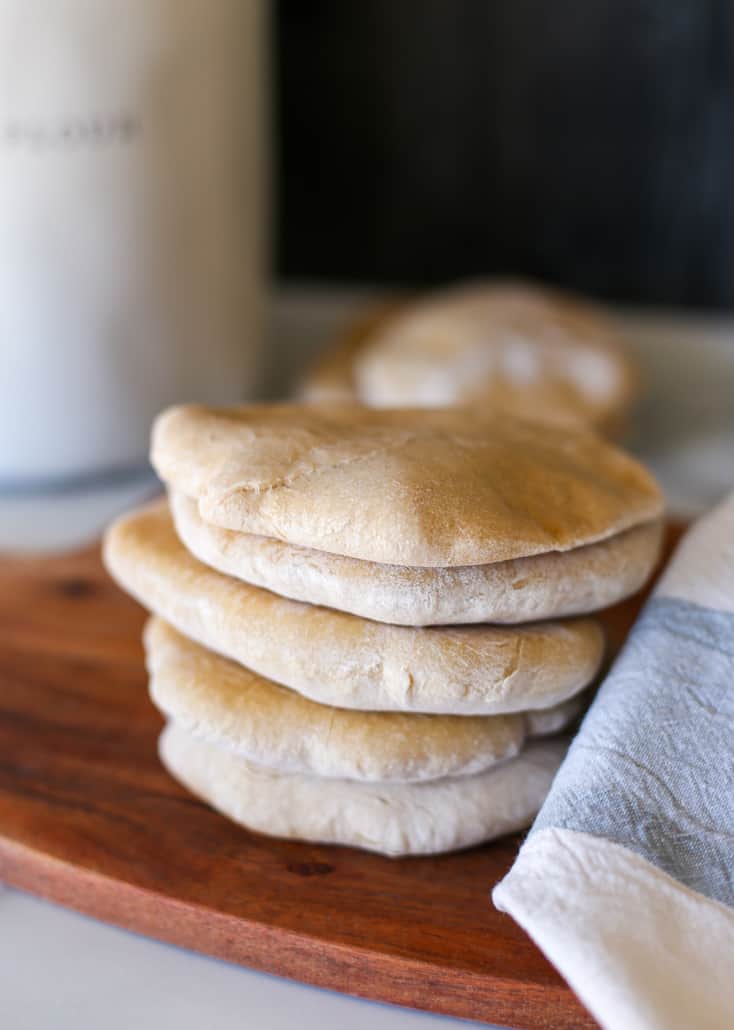 Note: We are a participant in the Amazon Services LLC Associates Program, an affiliate advertising program designed to provide a means for us to earn fees by linking to Amazon.com and affiliated sites. Read our full disclosure policy here.
Why Make Your Own Whole Wheat Pita Bread?
Let's state the obvious: you could easily buy pita bread at the store. I do it all the time. It's fine. It's good. But it's not great.
Homemade Whole Wheat Pita Bread is not only a fun and easy recipe to make, but the result it yields is SO much better than store bought. When you make recipes from scratch, you won't be eating the additives and preservatives that come in the pita bread from the store.
Lastly, it's fun! After a bread machine does its work on the dough, kids love to help roll it out. The pitas only need to bake for 5 minutes too!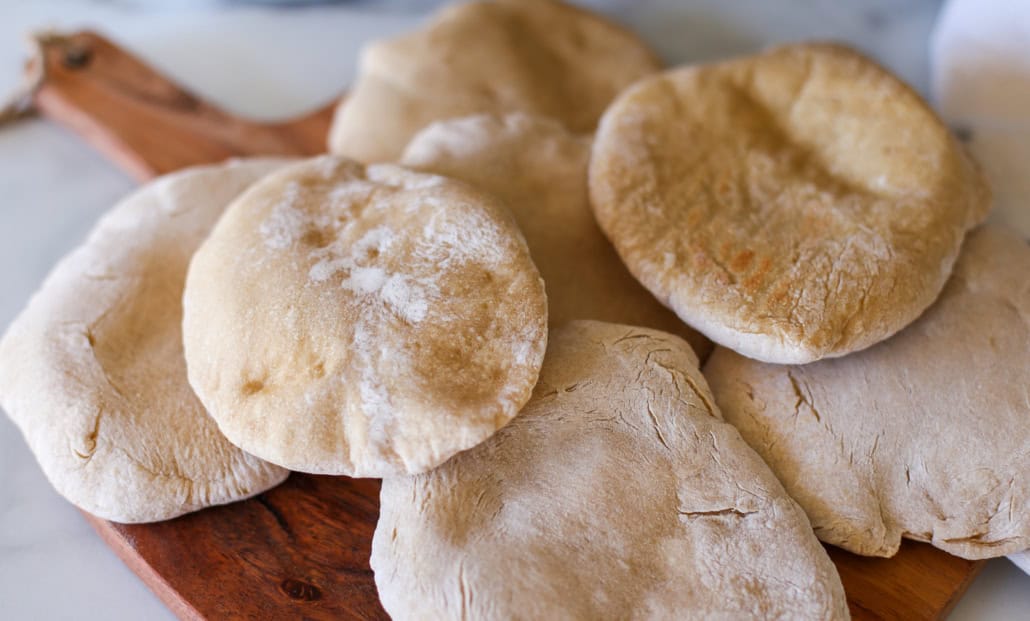 What Type of Bread Machine Do You Use?
The bread machine I use and recommend is the Oster Express Breadmaker / 2 pound capacity.
It's worth noting that this model does not have a yeast dispenser. Because of this, I have found that Quick Rise Yeast works best when using this bread machine. I primarily use it for making dough for recipes but it's worked great for other types of bread recipes as well.
I've had this exact one for 4 years now and use it regularly. It's been great!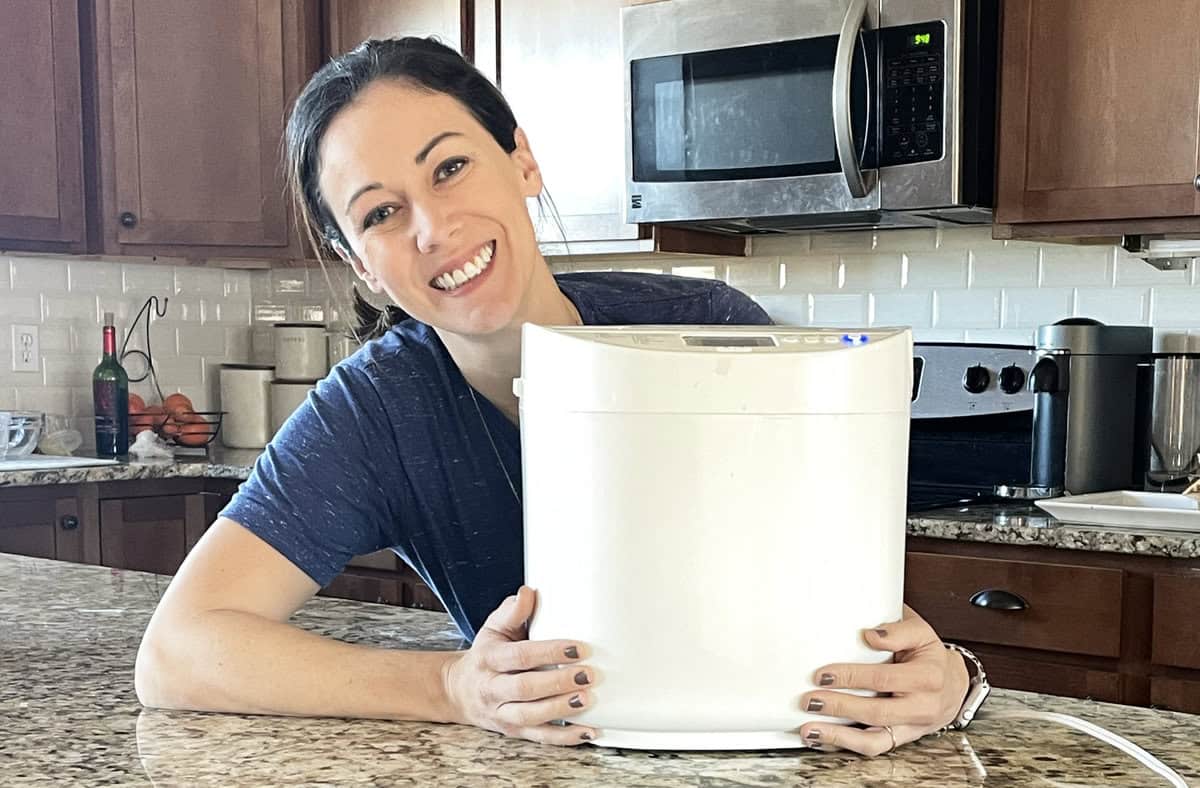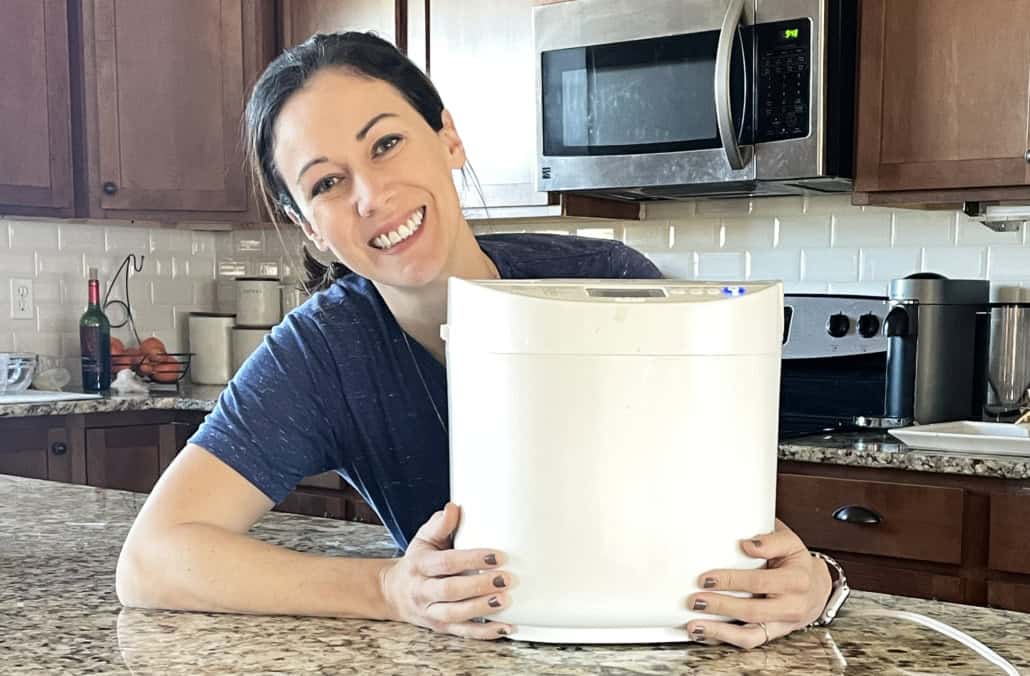 How to Make Whole Wheat Pita Bread
Step 1: Make the Dough
As mentioned above, I let my bread machine do the hard work of making the dough for me. I love dumping in my ingredients, walking away, and coming back to fluffy dough ready to play with. That being said, if you don't have a bread machine, here is another Pita Bread recipe you could use.
Compared to other bread machine recipes I regularly make (like Cinnamon Rolls or Panini Bread), this dough comes out a bit more sticky. Be sure to add a lot of flour to your surface before dumping it out. I also sprinkled additional flour on the top of the dough mound so I could work with it more easily.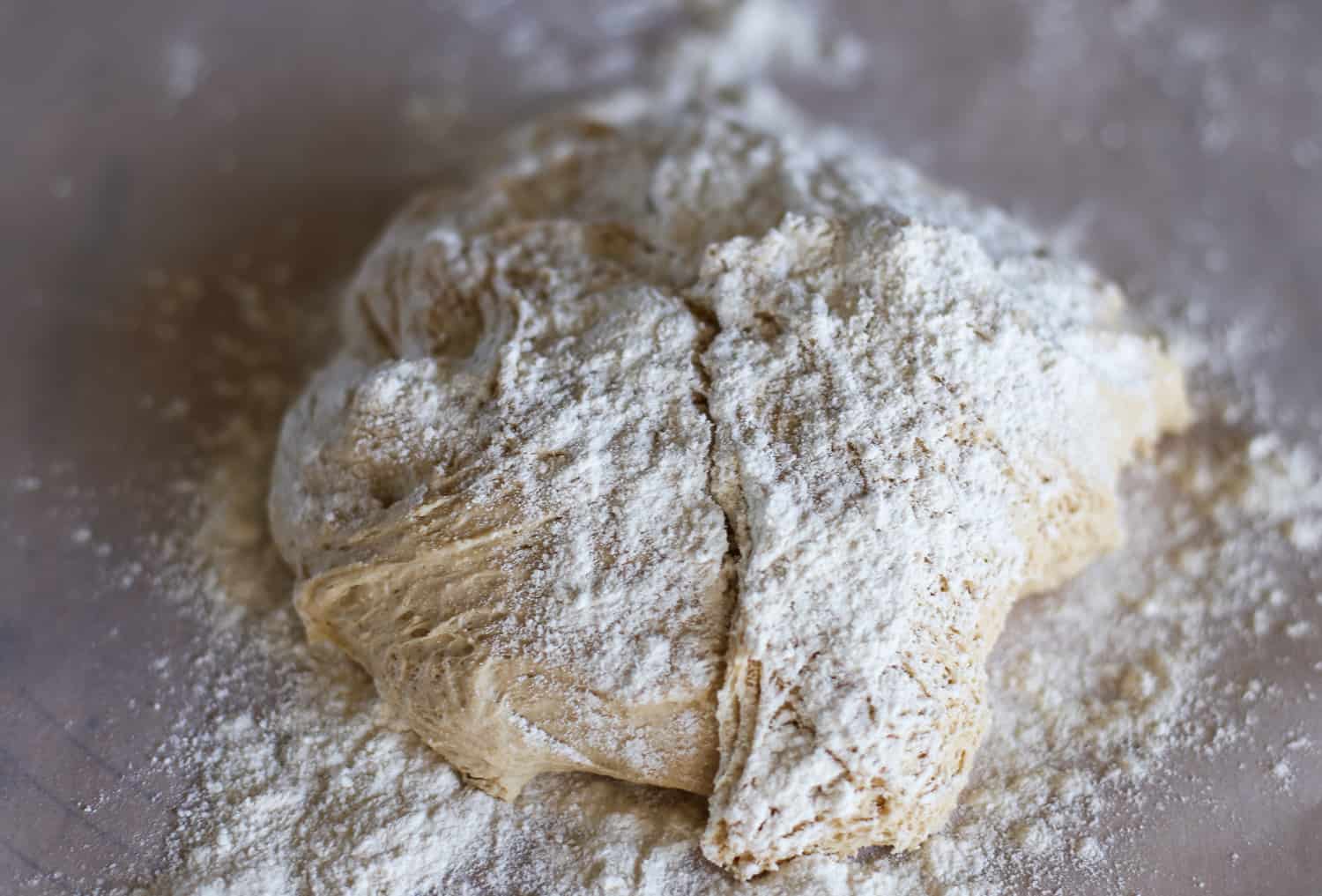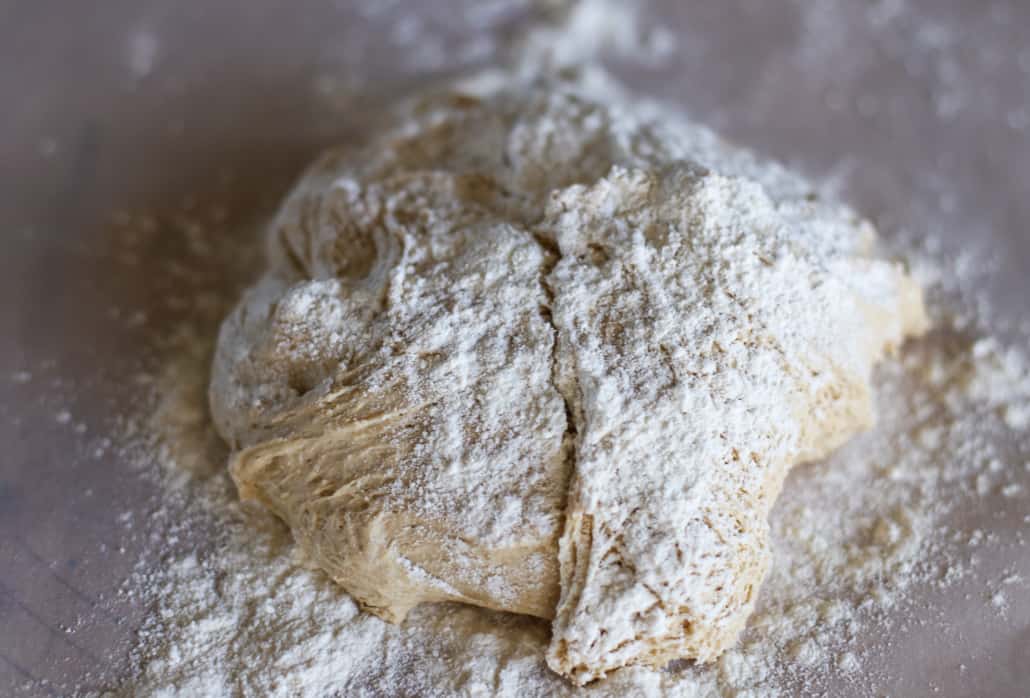 Once it's floured up, roll the dough into a loaf form. This makes it easier to split apart evenly.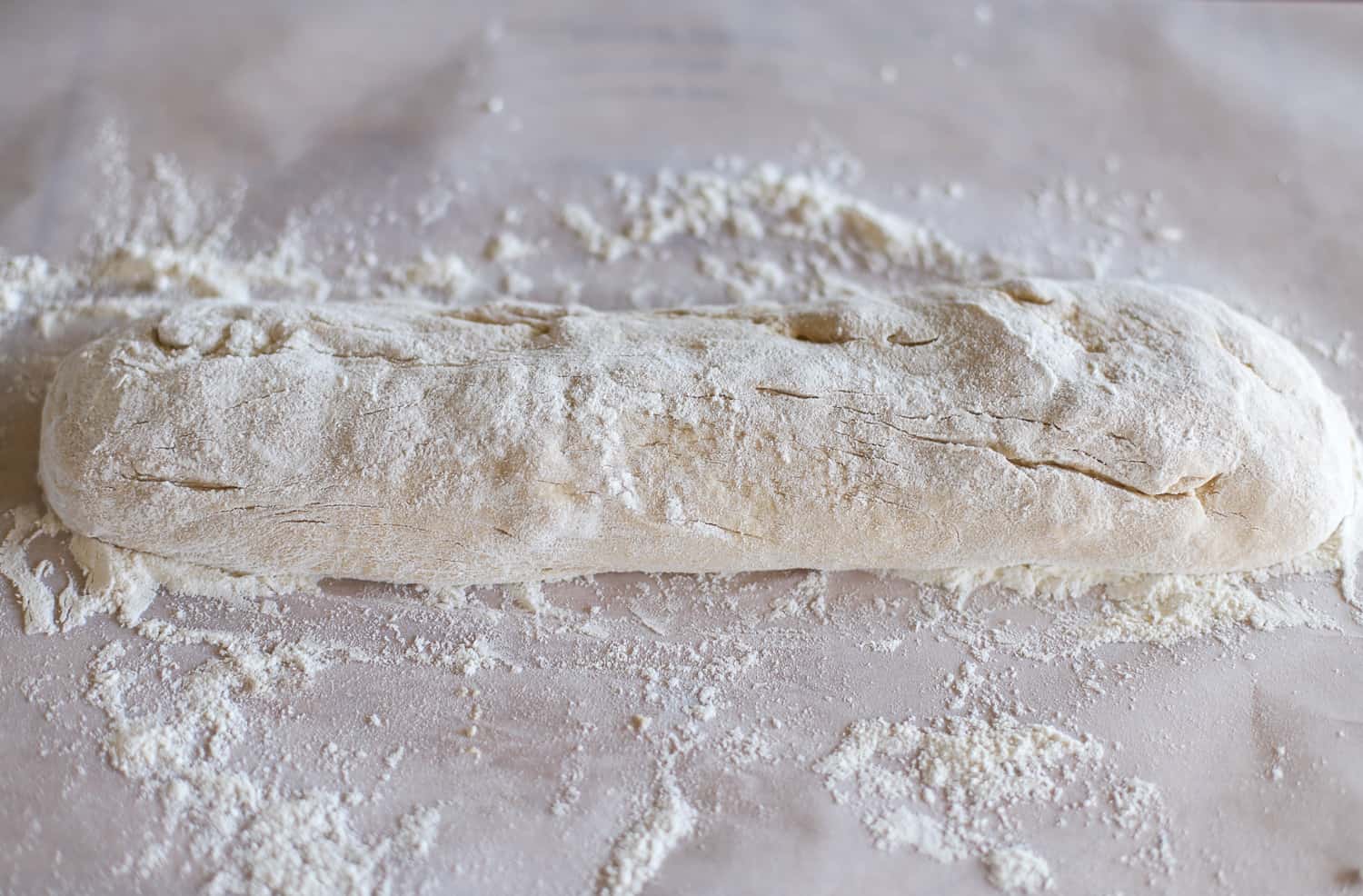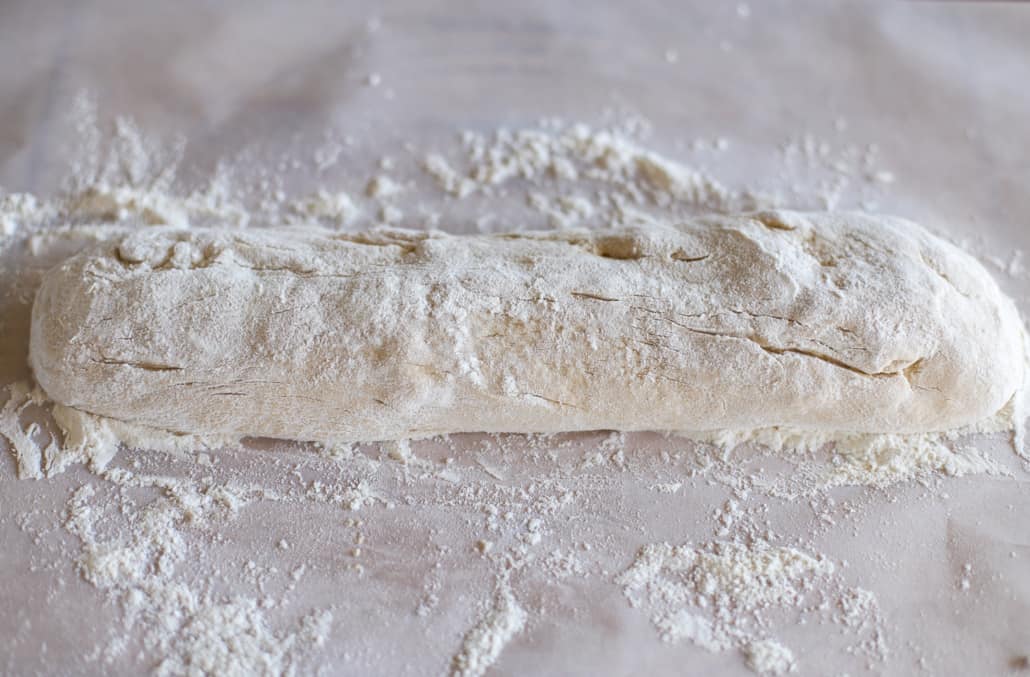 Using a knife or a steel scraper (my tool of choice), slice the dough into 8 equal pieces.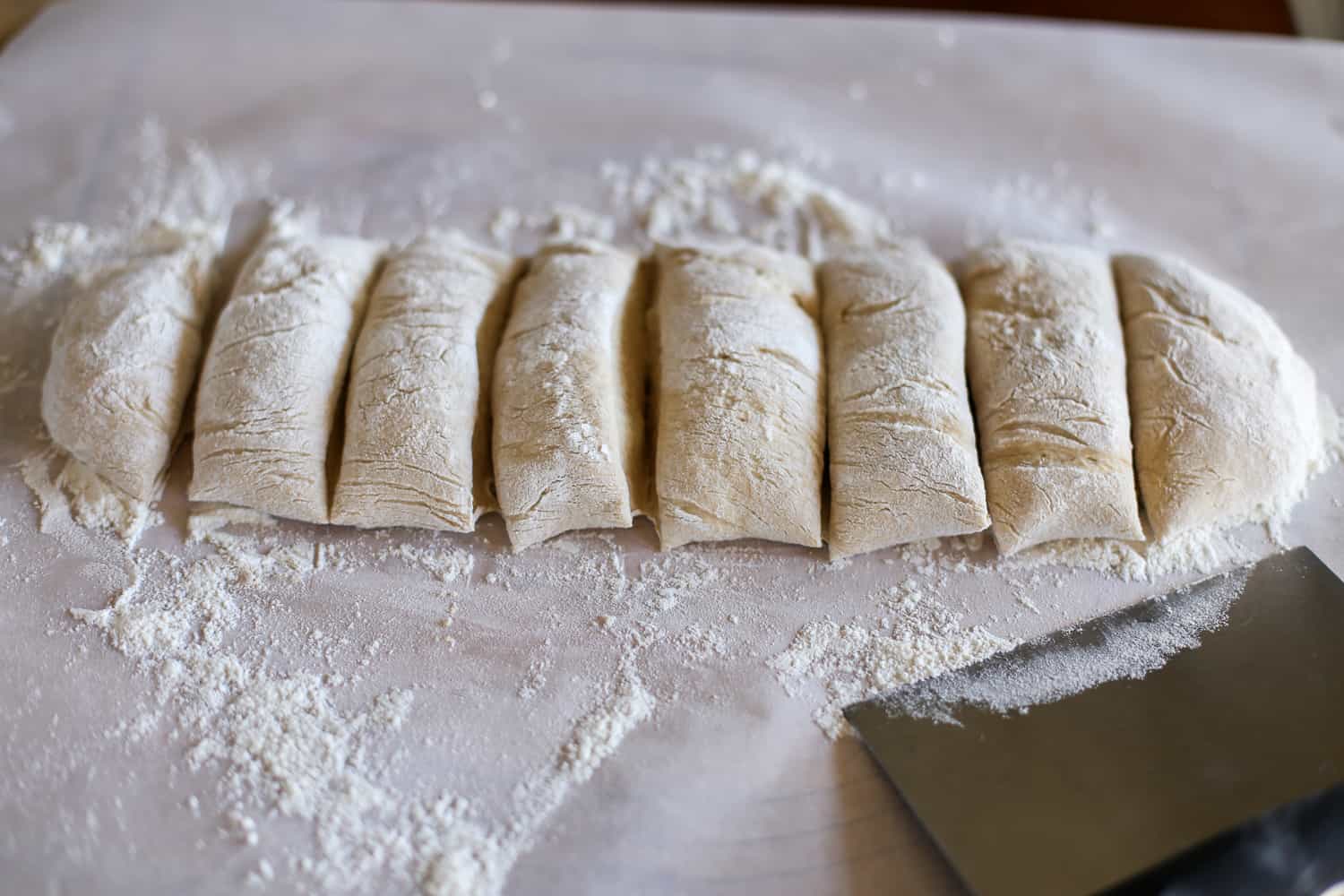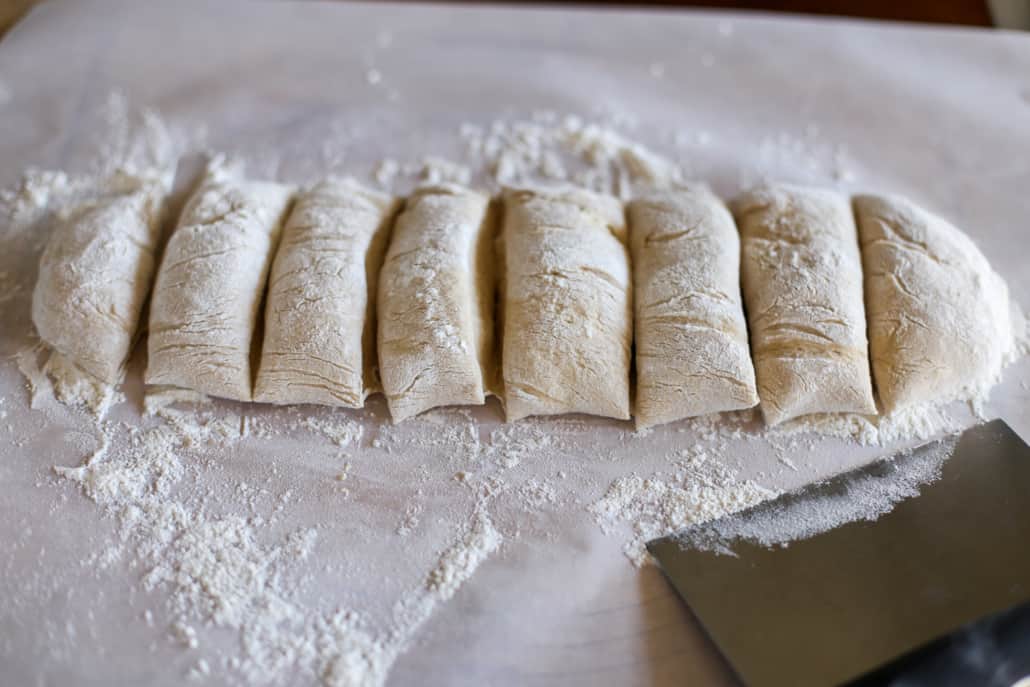 Step 2: Roll Out the Dough
Using the palm of your hand or a roller, roll out the mounds of dough into small circles–about 1/2 inch thick is just about right. You will likely need to use more flour so it doesn't stick.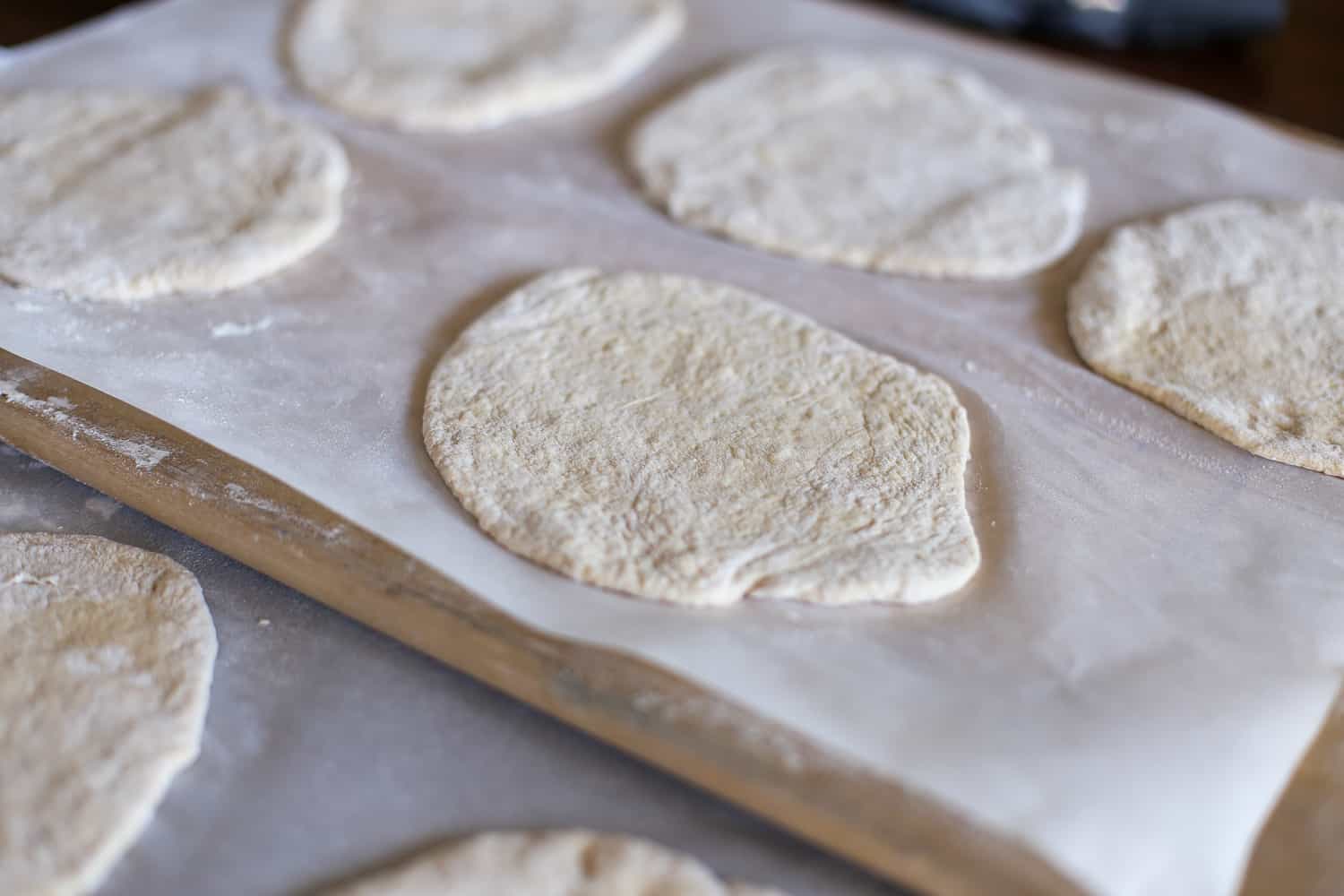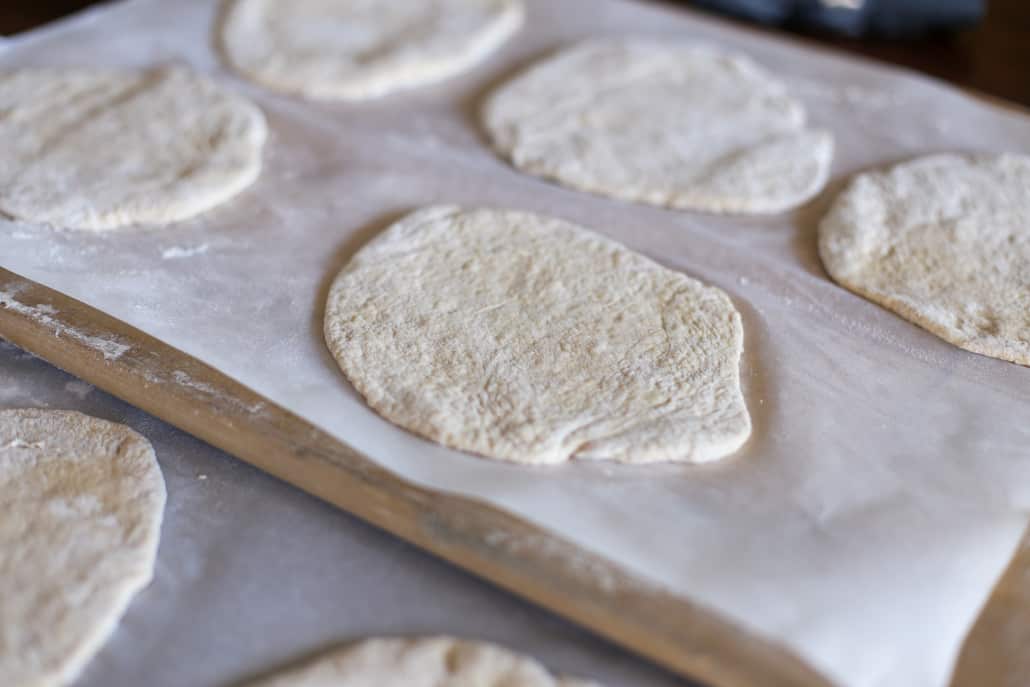 Once they are rolled out, cover the dough with a lightweight dish rag and let it rise for about 30 minutes. I've found that they need a little extra time in colder weather. The warmer it is, the faster they will rise!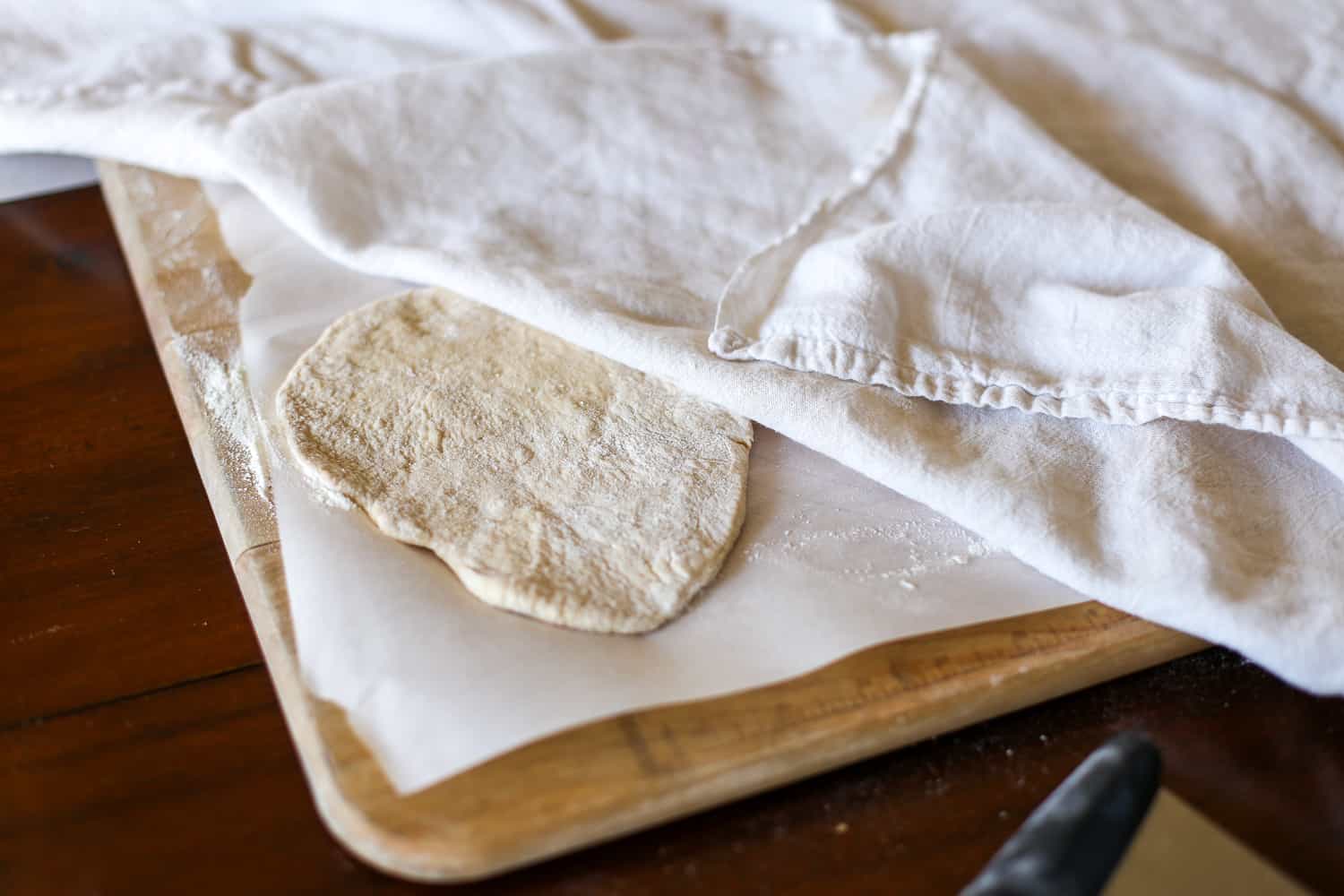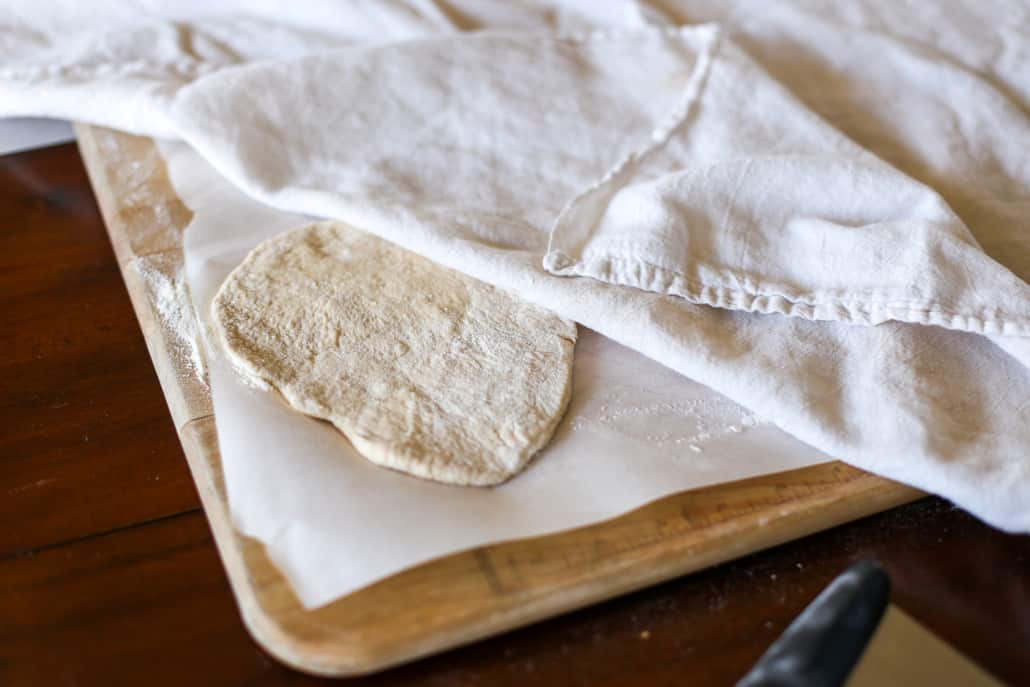 Step 3: Bake the Pitas
While the dough is rising, preheat your oven to 500°F degrees. Yes, 500!
In the picture below, you will see that I put parchment paper on top of the baking sheet. However, I would not recommend doing this. It's just a touch too hot and I noticed some of my parchment paper was getting pretty toasty brown in the oven! If your pitas are well-floured, they won't have a problem sticking to the pan.
You could also spray the pan with cooking spray if you want.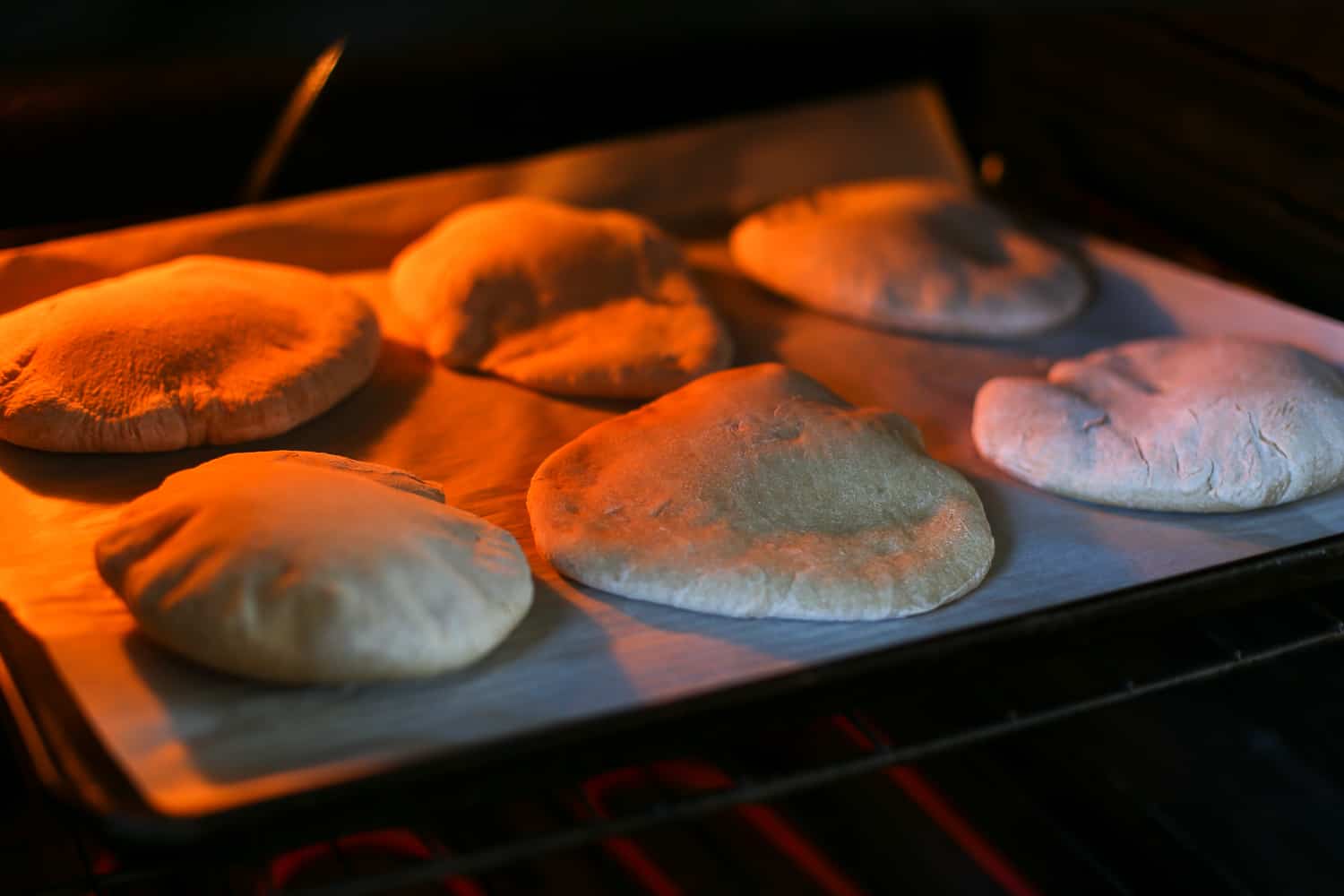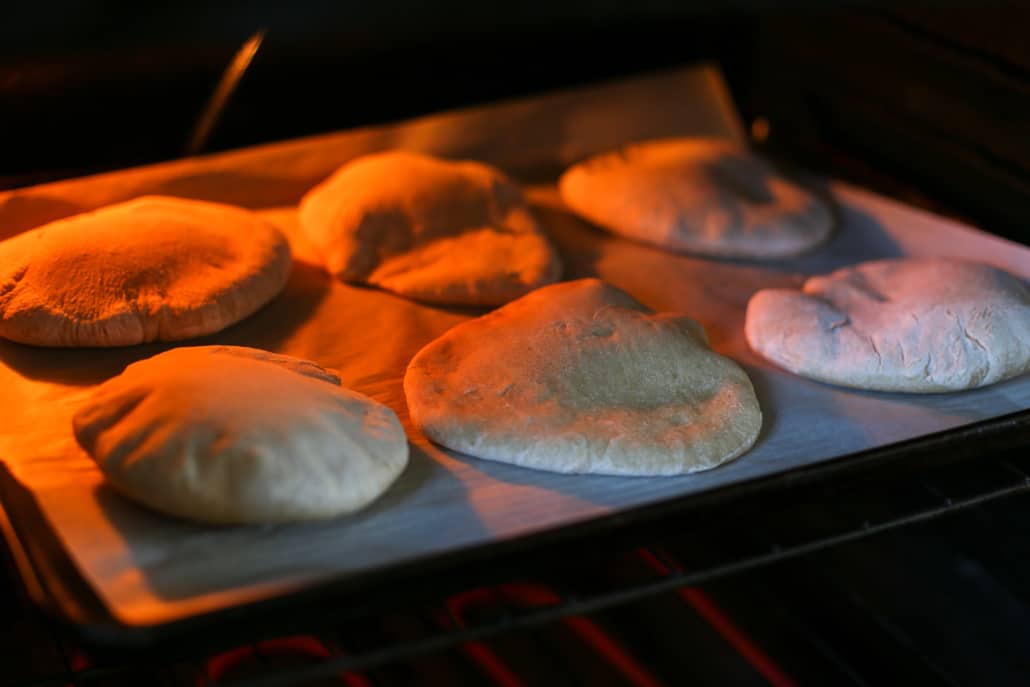 As soon as they come out of the oven, cover them back up with the same towel for about 5 minutes. This helps keep some of the moisture in and keep those pitas nice and soft.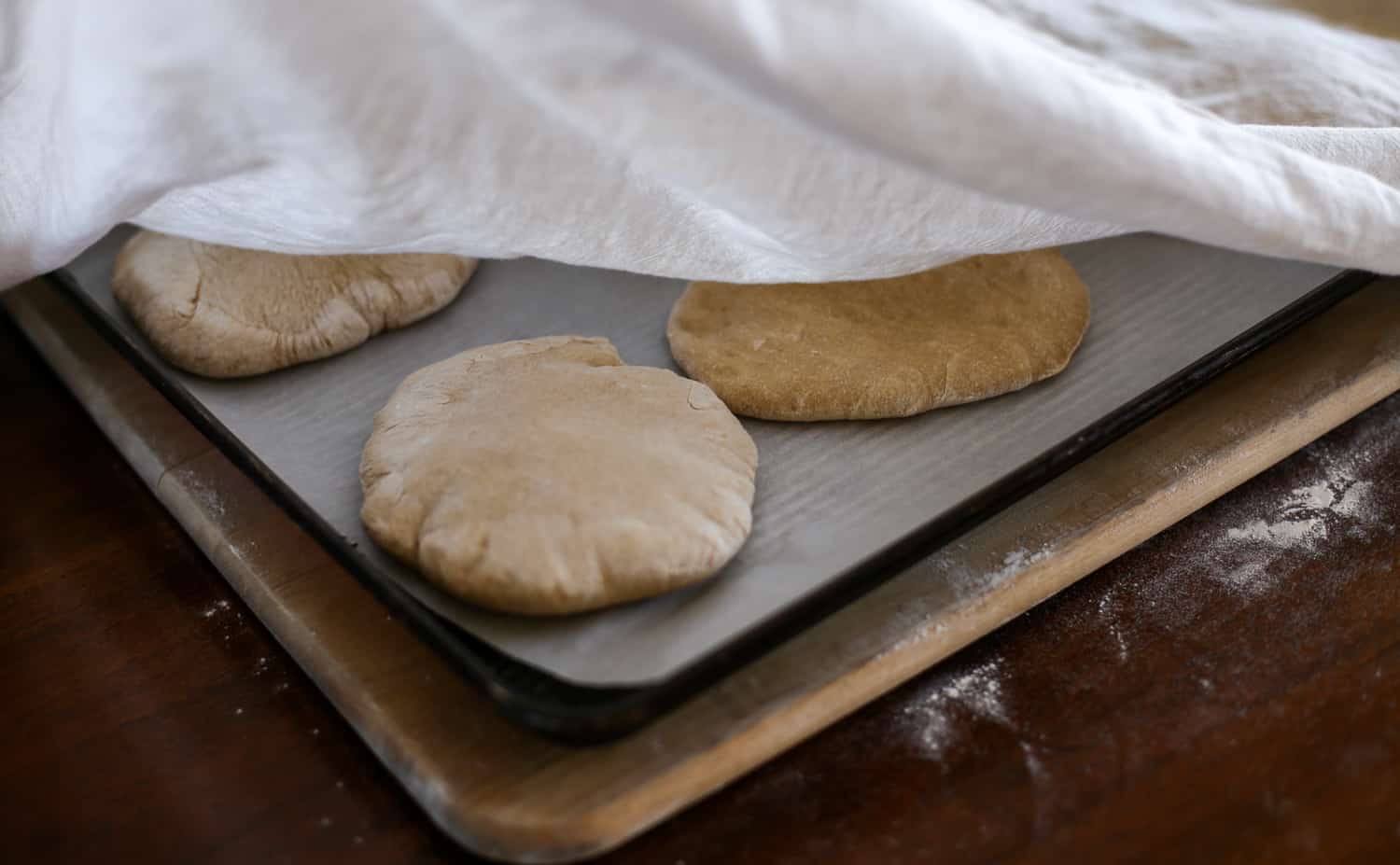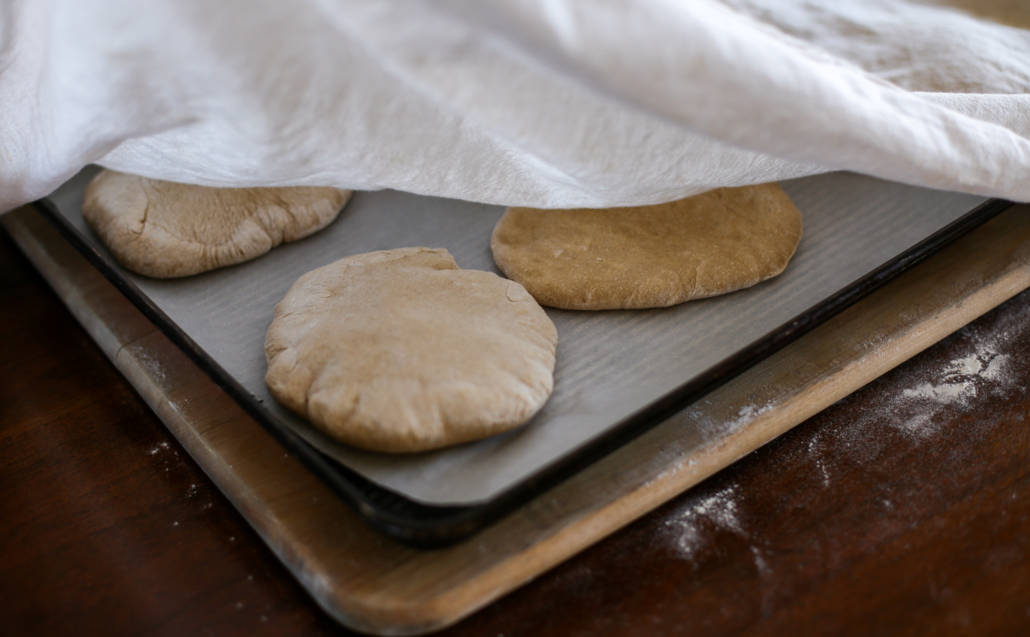 Congratulations! You just made your own Whole Wheat Pita Bread!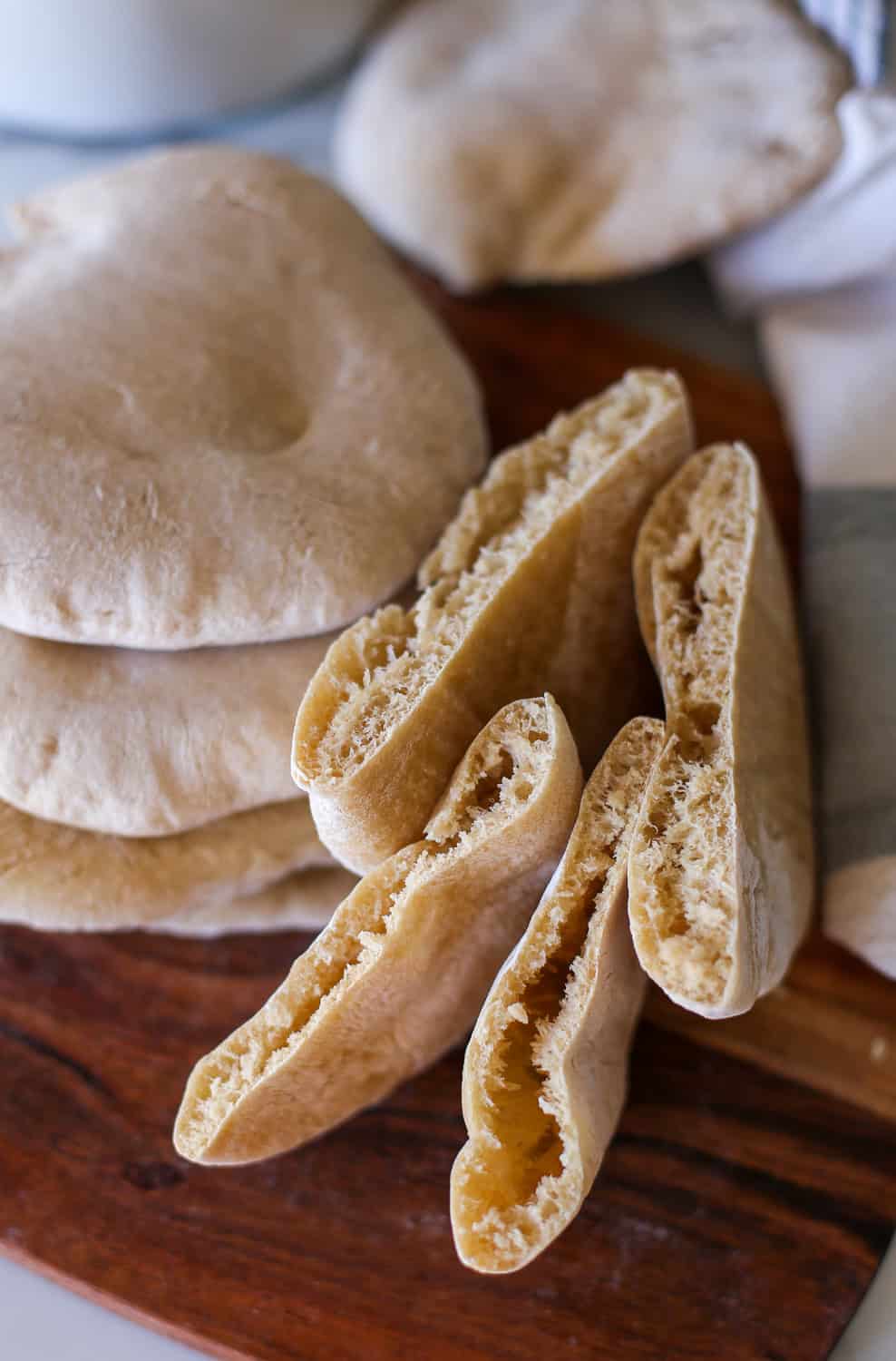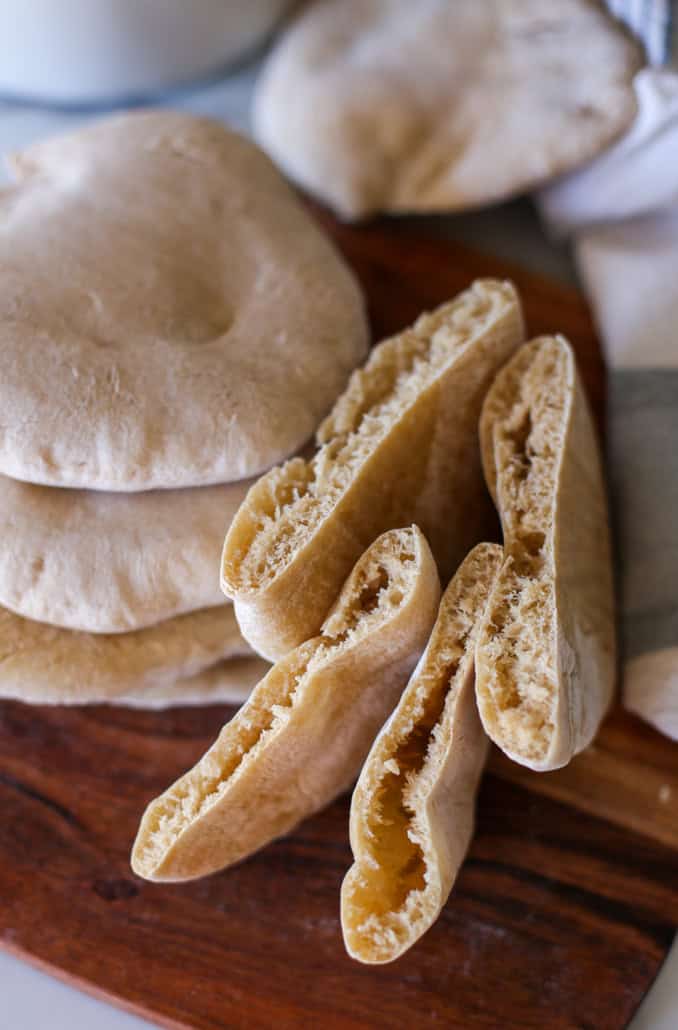 Can You Freeze Pita Bread?
We are all about maximizing your time in the kitchen. Using your freezer is a great way to do that. Similar to freezing muffins, or other baked goods, you will want to let the pitas completely cool. Then place the pitas in an airtight bag. Use parchment paper to separate the layers.
They won't take long to thaw. Simply set them on the counter for 20-30 minutes and they should be good to go!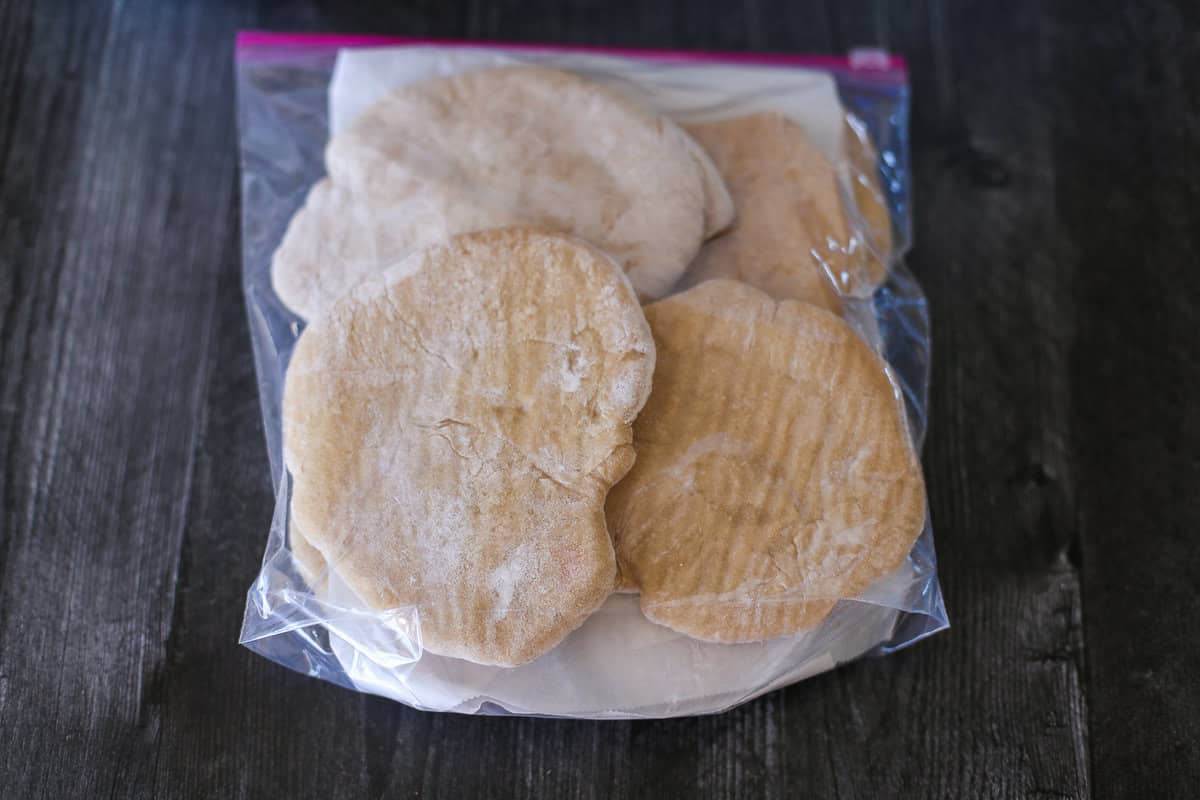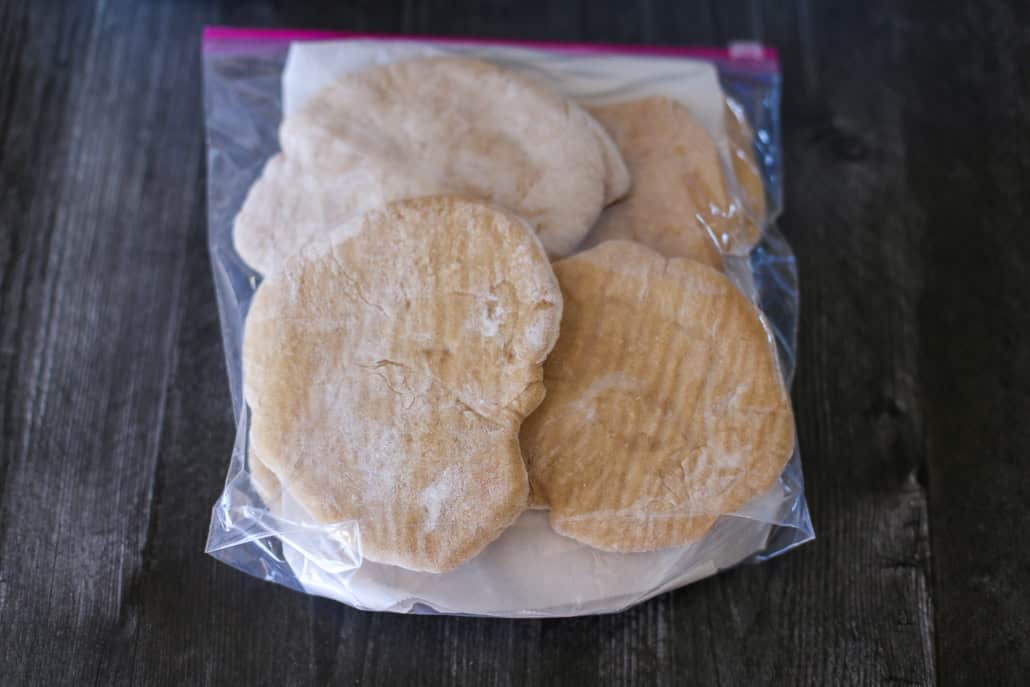 Ways to Serve Whole Wheat Pita Bread
Here are some delicious ways to use your freshly baked Whole Wheat Pita Bread: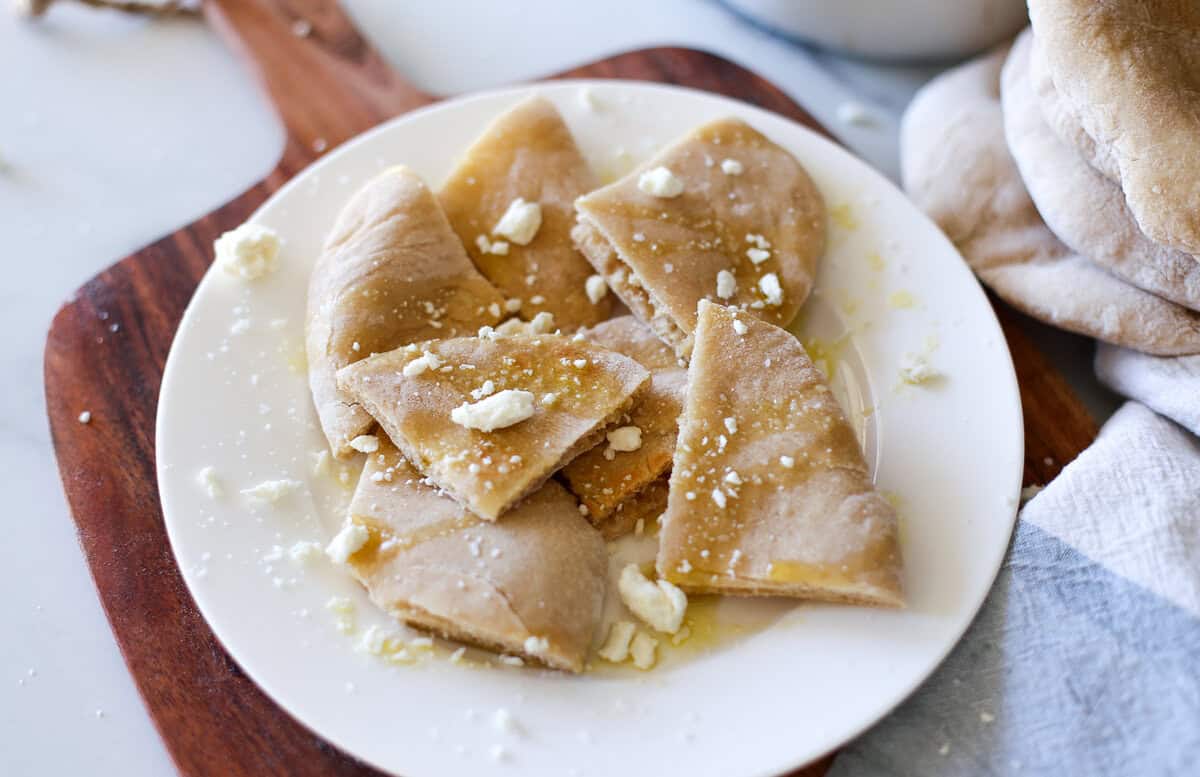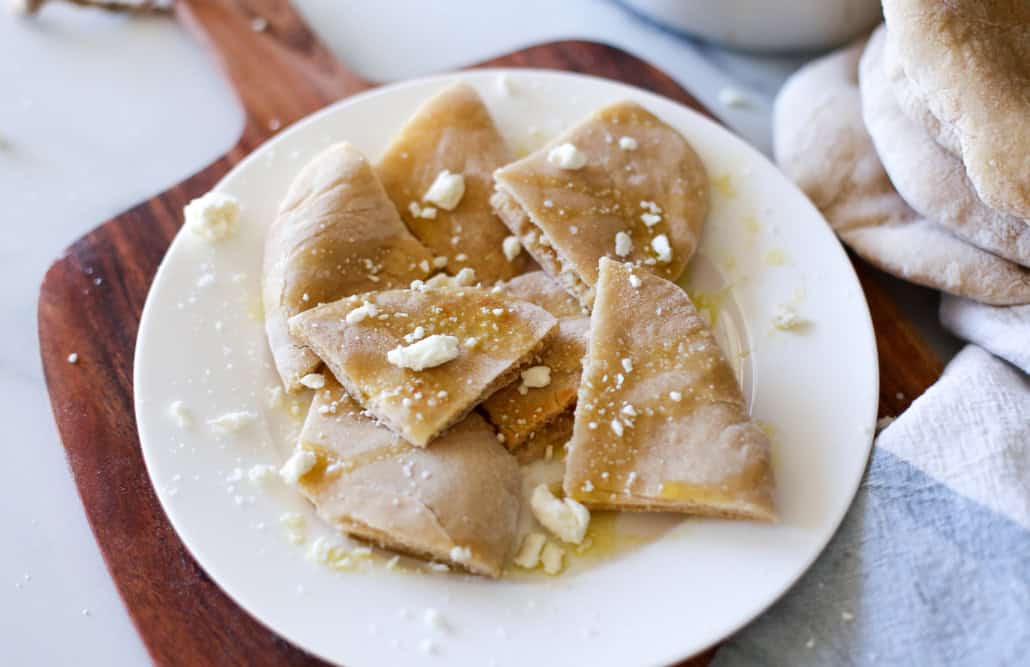 Is Pita Bread Healthy?
This is a hard question to answer because the definition of "healthy" is a bit different from person to person.
That being said, using whole wheat flour in recipes vs white flour is always more nutritious. So, yes, this Whole Wheat Pita Bread recipe is healthier compared to white pita bread.
The ingredients are also simple and recognizable, so it's healthy in this way as well.
But, if you are wanting to minimize carbs or gluten, this recipe may not fall into the healthy "category" for you.
How's that for a solid answer?!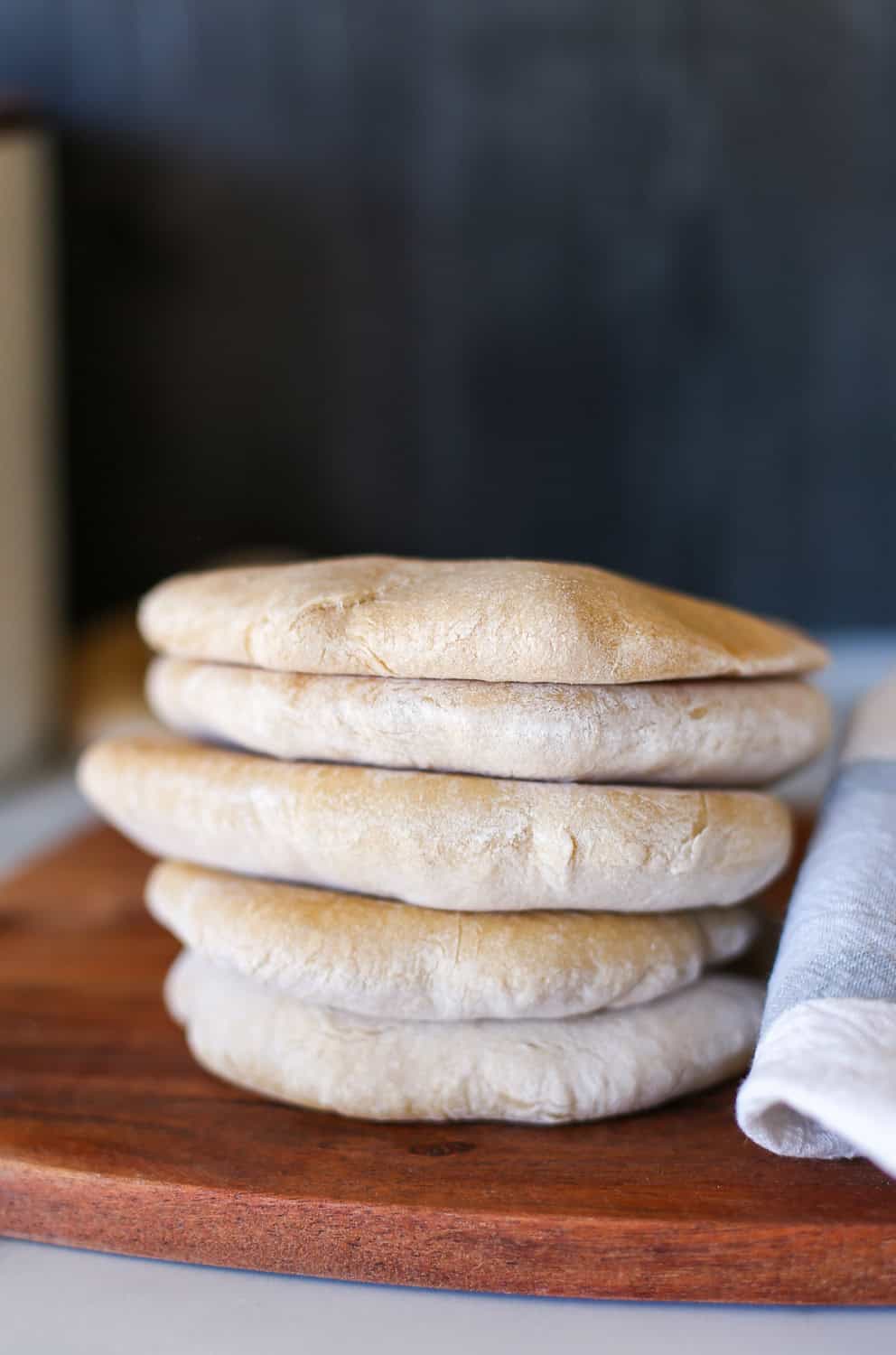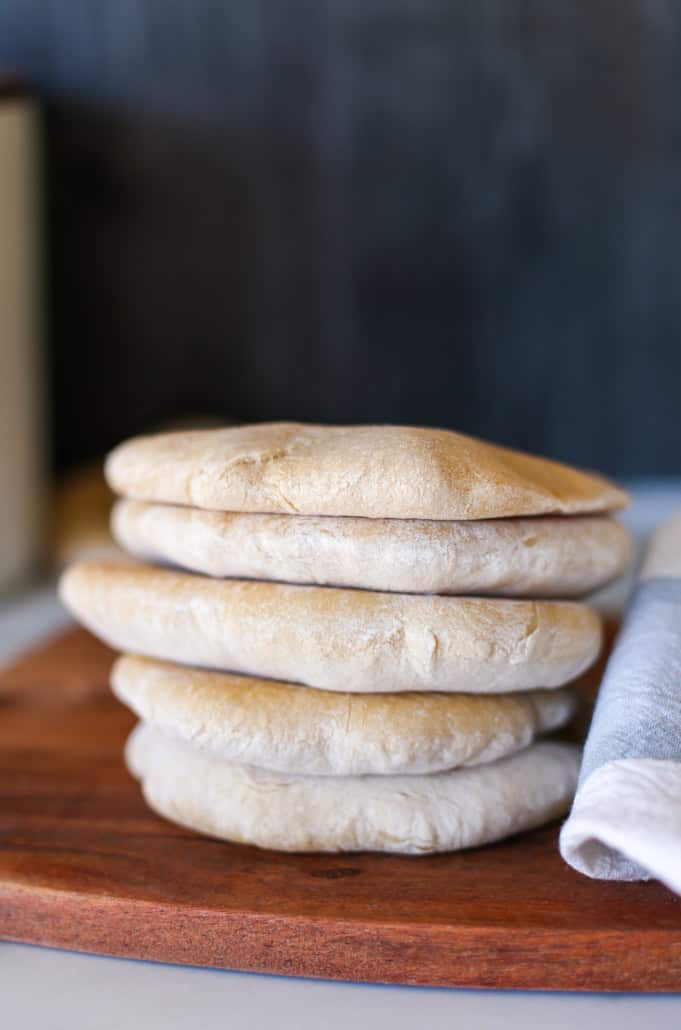 Ready to make your own?
Did you make this? Snap a photo and tag us on Instagram at @thrivinghome so we can see your creations and cheer you on!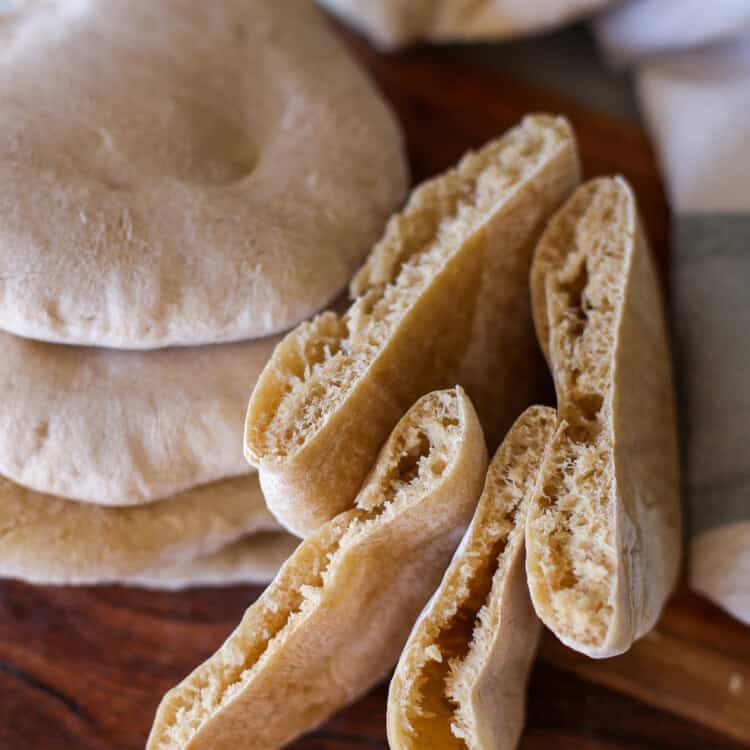 Whole Wheat Pita Bread
It's easier than you think to make your own Whole Wheat Pita Bread–especially when you let the bread machine do the work for you! This Whole Wheat Pita Bread recipe has the perfect balance of softness, yet structure. Thanks to the wheat, it's extra nutritious too!
Prep:
10 minutes
Cook:
5 minutes
Total:
135 minutes