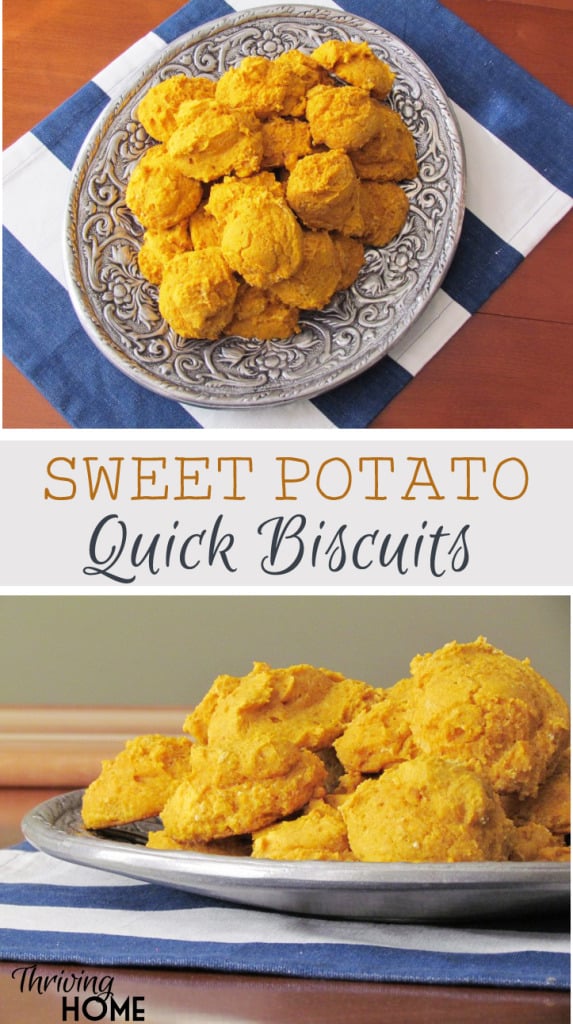 As you might know, I love finding ways to sneak more vegetables into food for my kids.  One of our favorite and fast side dishes is Sweet Potato Quick Biscuits.
The sweet potato adds moisture and a hint of sweetness, and the whole grain mix makes them more nutritious than your average biscuit.  Even my husband–who was raised on amazing buttery homemade biscuits–likes these.
Check this out. Your biscuit dough will look orange because it's full of Vitamin A and C-rich sweet potato.
Then, you'll simply drop biscuits by the spoonful onto a cookie sheet. I doubled the recipe for my fam, because the people will eat these for breakfast, lunch and dinner.
Last night we had them for dinner with Homemade Chicken Nuggets and some steamed broccoli. Success for all ages, I cry!
One ingredient you'll need to have on hand is a good whole grain baking mix. I found mine in the bulk food section of our natural grocer, or I've bought it at Trader Joes in a box before, too. This shortcut is what makes the recipe so quick and easy!
You'll also need some buttermilk, which isn't something I normally have in the fridge. Instead, I've found that dry buttermilk mix (something like this) is handy to keep in the pantry, since the fresh stuff often goes to waste. The dry mix works very well!
A Quick Side: Sweet Potato Biscuits
Serves:
Makes: 12 regular biscuits (or 8 jumbo)
Ingredients
1 medium sweet potato
1¼ cups whole grain baking mix
2 tablespoons chilled unsalted butter, cubed
½ cup low fat buttermilk
¼ teaspoons ground allspice (or cinnamon works)
Instructions
1) Preheat oven to 400°.
2) Wrap sweet potato in a paper towel. Microwave on high until soft, 4 minutes. Scoop flesh into a bowl and mash; set aside.
3) Place baking mix and butter in a bowl; rub butter into mix with fingertips until large pea-sized crumbs form. Add sweet potato, buttermilk and allspice; mix until just combined.
4) Drop dough by big spoonfuls onto greased cookie sheet (making eight total).
5) Bake until biscuits are firm to the touch, 8 to 10 minutes. Transfer to a wire rack to cool. Once cool, store in an airtight container for up to 3 days.
You might also like...