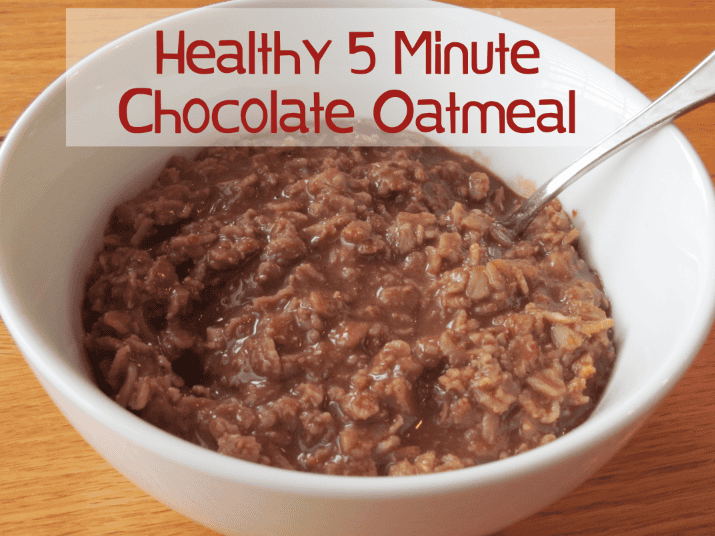 You'd never know it from the looks or the taste, but this oatmeal is overloaded with nutrient-dense foods.  It's full of fiber, protein, antioxidants, vitamin A, calcium, healthy fat, and even probiotics.  Bottom line is that it's full of real foods your body needs, not processed junk and sugar like the store-bought packets.  My kids often beg for it at breakfast or even lunch.  I like it because it's a one bowl meal in a pinch, supplies the energy we need to start our day, and it's a warm comfort food I can feel good about feeding everyone.
Here's my 5 Minute Chocolate Oatmeal Method: 
I make some organic regular rolled oats that take 5 minutes.  I find these in the bulk food section of my grocery store.  Feel free to use steel cut oats or regular oats, but they'll take longer. After the oats are cooked, I add in all kinds of healthy things (including dark chocolate and cocoa powder that are full of antioxidants) to taste.  I start with a little bit of each item and taste as I go.
For two servings, here are my add-in preferences and rough measurements:

– organic plain yogurt (1 big spoonful)
– unsweetened dried coconut flakes (a tablespoon)
– unrefined organic coconut oil
(1-2 teaspoons) – I buy in bulk, because we go through it fast.
– almond meal (1 tablespoon) – I find this at Trader Joe's in the baking section.
– ground flaxseed
(1-2 teaspoons)  (Why eat flaxseed?)
– cocoa powder (start with 1 tablespoon and add more until it's a rich chocolaty color and flavor)
– honey (1-2 tablespoons or to taste, until it's sweet and delicious)
– cinnamon (a dash)
– pumpkin puree (1 big spoonful) – Note: You'll never taste this.
– dark chocolate chips
(1-2 tablespoons)
– milk (a dash, if needed to thin it out)
Other add-in ideas:
– chopped walnuts or pecans
– peanut butter or almond butter
– wheat germ
– sliced or diced banana
– applesauce
– raisins or craisins
Other Oatmeal Recipe Ideas:
If you have a bit more time and want an oatmeal dish that you can keep on hand for a few mornings in a row, try out my Brownie Baked Oatmeal or Peanut Butter and Banana Baked Oatmeal recipes.  They are killer, and they freeze well (before you bake).  I always double the batch, so I can freeze one for later.  Just defrost in the fridge the night before you plan to bake it.
Like this recipe? Be sure to sign up for our weekly email updates or follow us on Facebook and never miss a delicious and healthy recipe from Thriving Home.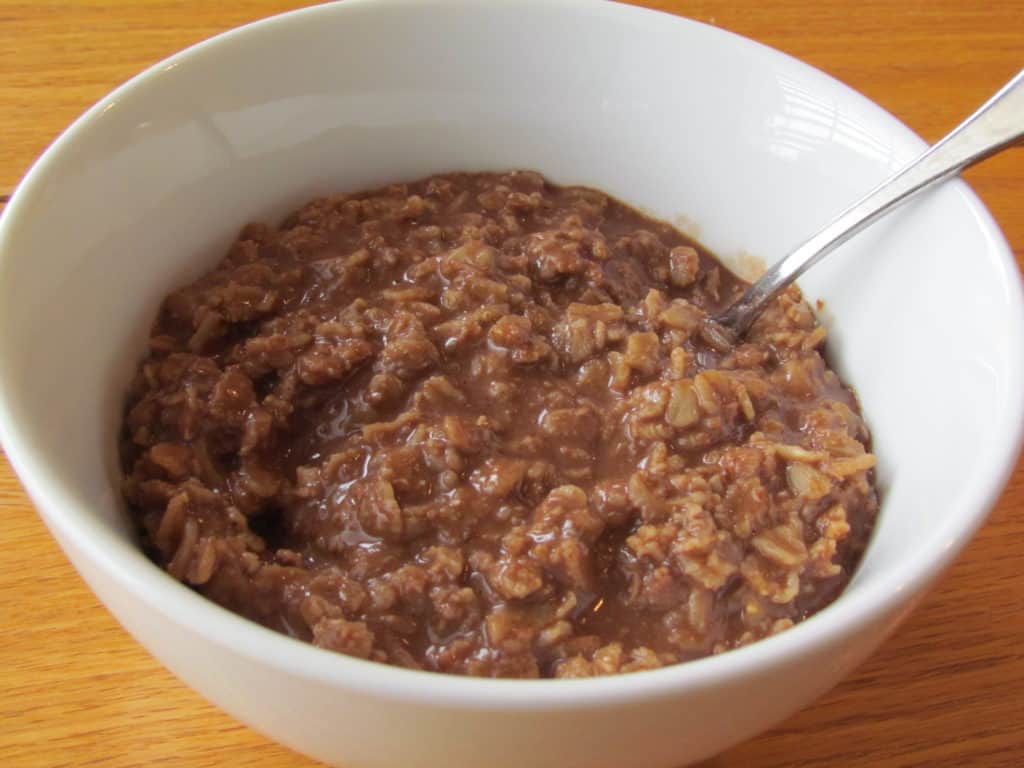 You might also like...